Home » Interior Design Concepts » 16 Interior Design Rules Every Interior Designer Should Follow
What Should Every Interior Designer Know?
Running a small business is hard enough, especially when you're doing things completely on your own. If you've started an interior design business, or if you're freelancing as a side gig, then you know the challenges associated with doing excellent work, managing client relationships, invoicing and accounting, marketing and sales, and the countless other daily tasks competing for your time. Being an expert in your field simply isn't enough to cut it as a business owner. 
Whether or not this feels fair isn't the point; what matters is that you have the resources, knowledge, and advice to keep your head above water and take your business from surviving to thriving. Amidst the businesses of entrepreneurship or your everyday work, it can be easy to forget some of the basic principles of your craft or let them slip in the rush to get work done. Only after a project is done will you stop and think, "did I remember the basics of good design? Did I follow the right rules?"
Think of this article as your cheat sheet for tasks, habits and interior design best practices to follow that will keep you centered and on track without skipping a beat. Our goal is to help you give expert advice to clients and feel confident when approaching any situation by following time-tested advice about how to think about and practice excellent interior design. 
Specifically, this article will provide 16 interior design rules (2 Bonus tips) sourced from expert interior design resources and cover topics ranging from how to choose furniture to business management. We'll review some of the top interior design rules from both residential and commercial design, and provide lots of additional reading recommendations for readers who are feeling extra studious.
Read also – What Does An Interior Designer Do?
Top 16 Rules Every Interior Design Should Know and Follow
In this section, we'll cover some of the top interior design principles (i.e., rules) that are almost universally applicable and remain true regardless of the style you're working with, or your client's unique preferences.
These guidelines will make you a trusted partner to clients who are having trouble reigning in their ideas or expectations for a new space. These recommendations below are divided into two categories: residential and commercial to address your specific needs and situation. At the conclusion, you'll find bonus tips on how to grow and operate your business more effectively!
7 Basic Interior Design Rules for Residential Spaces:
1. Less is More
Beautiful interior design is not about adding more; it's about balancing function and form. By attempting to mix styles, contrasting paint colors, types of furniture, clashing lighting fixtures, or any other elements that clearly don't work together you can easily ruin the functionality and appeal of a home.
A good rule of thumb is to ask yourself (or the client) does the element that we're considering contributes to the purpose and decorative needs of the space? If the answer is no, and you're adding design flourishes just for personal taste, consider cutting them out and paring the scope back.
New features and interesting design aspects can always be added at a later time. It's especially difficult to scale down components that are more integral to the construction of a specific room.
Read also – Interior Design Basic Concepts, Elements and Principles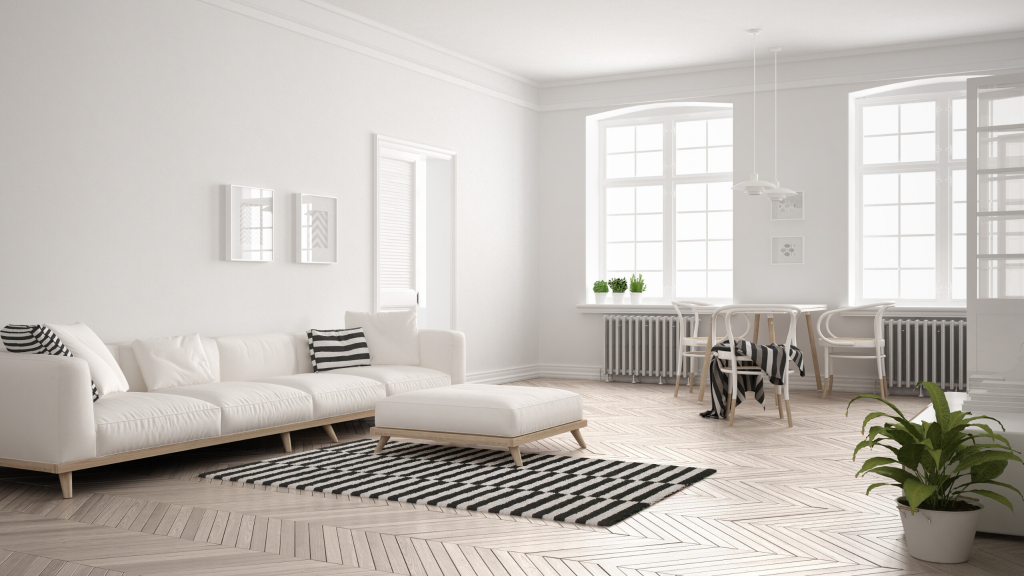 Image Credit: Decoraid
2. Always Create a Focal Point
All expert designers agree that a focal point is crucial for tying a space together and determining what kinds of furniture, lighting, and decor are most appropriate. In some rooms, the focal point might be very naturally determined by structural components like a fireplace, bay window, or kitchen counter.
In other spaces, the focal point can be "artificially" constructed using a particular and intentional arrangement of the furniture. For example, a large couch centered against a wall with evenly space chairs positioned opposite to the couch can make the purpose of the space clear and set the tone for how the space should be used.
Read also – Guide To Space Planning in Interior Design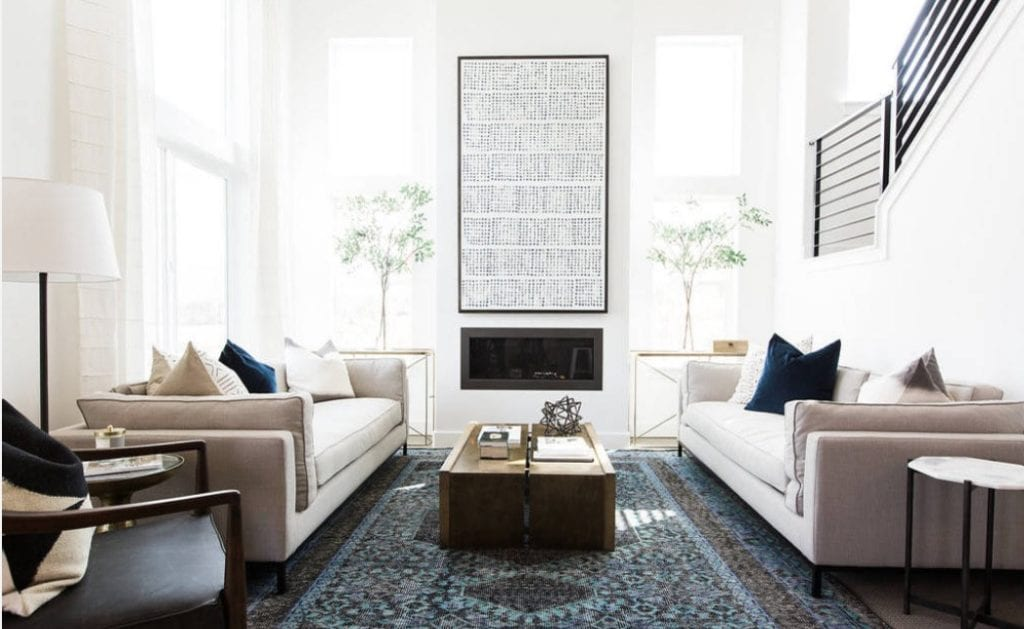 Image Credit: Mymove
3. Cohesiveness is King
Tie each element of the design together, making them somewhat similar and cohesive through intentional choices. The cohesiveness should be apparent from the conceptual level all of the ways down to specific details (e.g., style to specific choices about colors and furniture). Don't break the theme for the sake of a personal interest piece.
The best interior designers can make seemingly random decisions feel cohesive and interdependent, even when they appear to be breaking rules or parting with traditional choices. Think about how cohesiveness can be achieved through choices about colors, materials, patterns, textures, and more.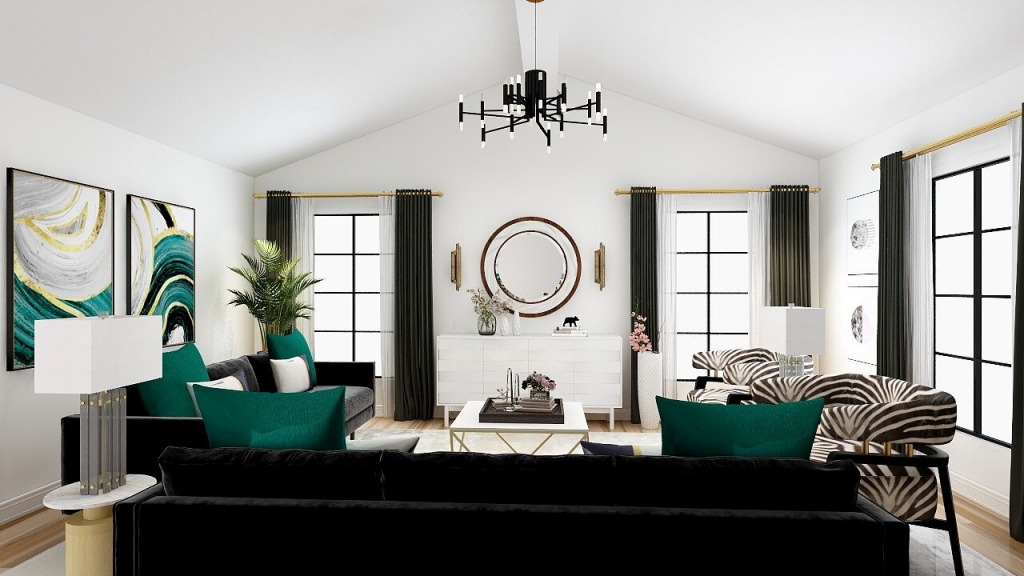 Image Credit: Jenny Cohan Interiors
4. Use Multiple Forms of Lighting
Mix lighting to achieve the right effect and moods depending on how the room and space need to be used. Lighting is one of the most overlooked and critical aspects of interior design because amateurs perceive all lighting options to be somewhat similar. However, there are at least 4 different types of interior lighting, and these can make the space more or less welcoming, practical, and safe depending on how they are used.
A kitchen needs task lighting placed over work areas while a living room likely needs softly layered lighting to evenly illuminate the space without making it too bright. Striking just the right balance will make your space feel comfortable no matter the amount of natural light.
Read also – Best Kitchen Lighting Ideas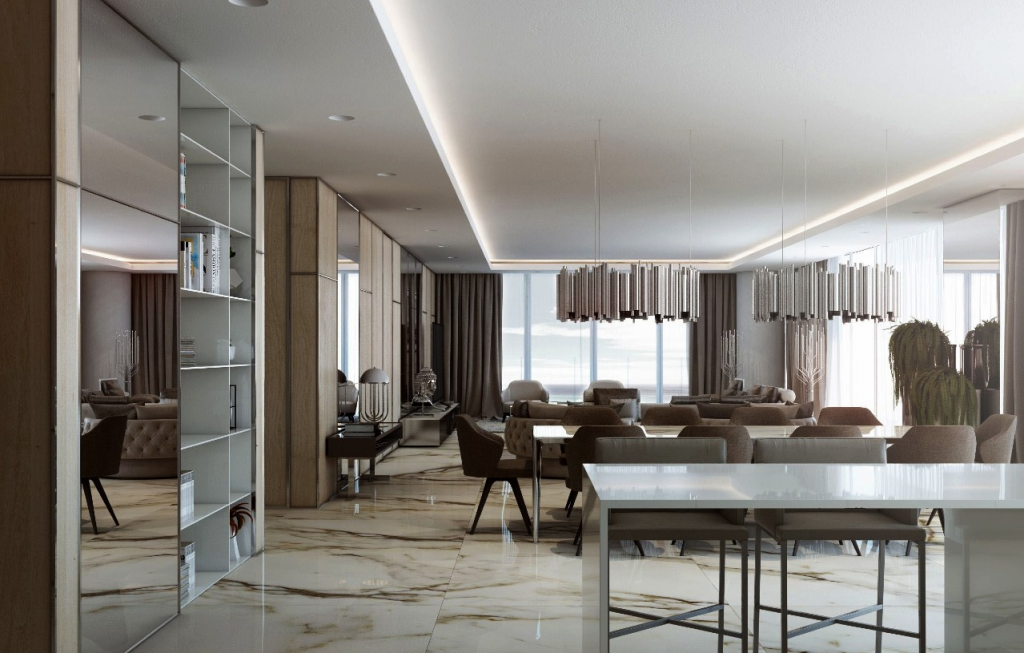 Image Credit: Delightfull
5. Design for Human Experience
Create human spaces – places that will be lived in, used, and enjoyed. The overemphasizing function can rob a room of its human appeal. Human needs can be accommodated with ample, comfortable, and naturally placed seating options in addition to engaging and welcoming colors, art, and other decorations.
Remember that people need space to walk around and natural walkways through rooms or around furniture or decorative items will make the space safer and easier to navigate.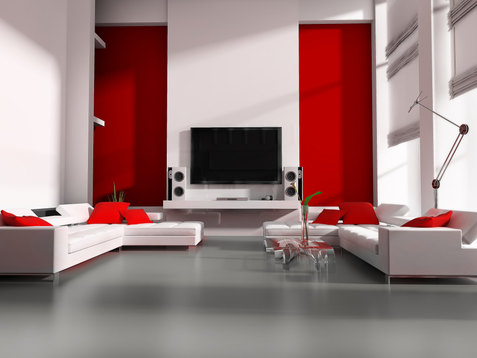 Image Credit: J. Design Group
6. Measure Twice, Order Once
Don't leave important details to chance. Whether you're measuring a window frame, calculating square footage, or finding the center of a wall, double and triple-check your results to ensure their accuracy before finalizing plans or ordering materials. Easy to make measuring mistakes are one of the most common reasons that projects get delayed or go over budget.
Read also – 20 Common Interior Design Mistakes To Avoid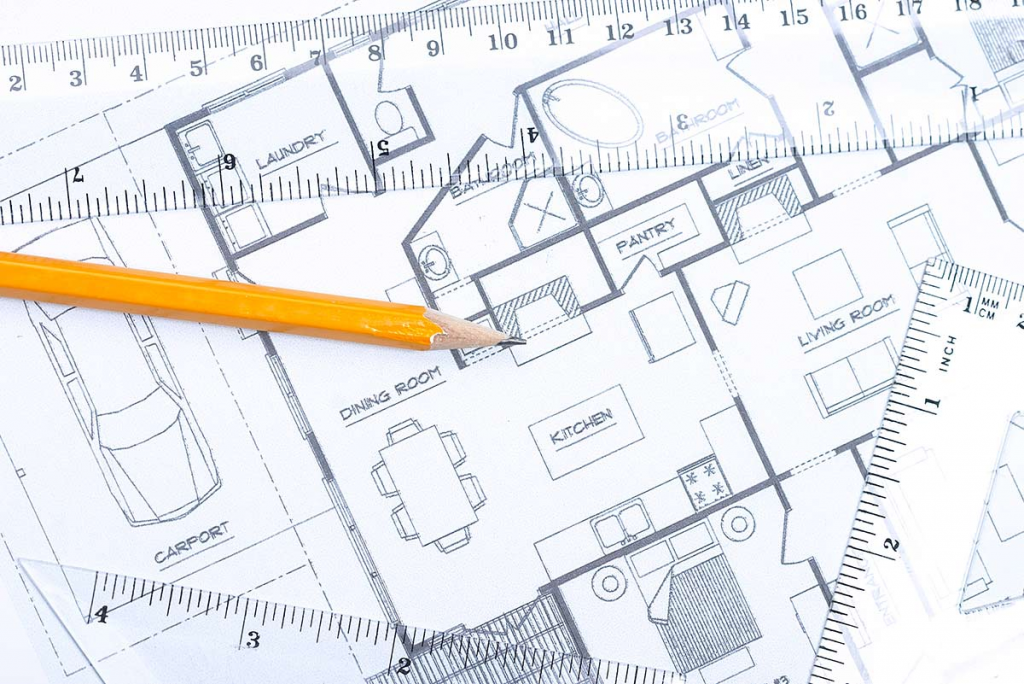 Image Credit: Tallie Jane Design
7. Scale Your Decor to Fit the Space
Ensure that the furniture, window dressings, rugs, etc. all fit the actual space that you're designing. While they might all fit on paper, it might not feel natural once each piece is actually installed or moved into place. Understanding and accounting for scale is incredibly important both from an aesthetic perspective to meet functional requirements.
A small room can't accommodate a huge couch and still work well for hosting a gathering. In addition to space constraints, other decorative components should be properly sized to the room. Some of the most important rules to remember regarding where to place items in a specific room include the following:
Artwork should be hung at eye level (not too low or high)
Curtains should be installed above the top of the window frame and set to barely touch the floor
Rugs should extend a little beyond where the furniture sits.
Reada also – 10 Best Small House Design Ideas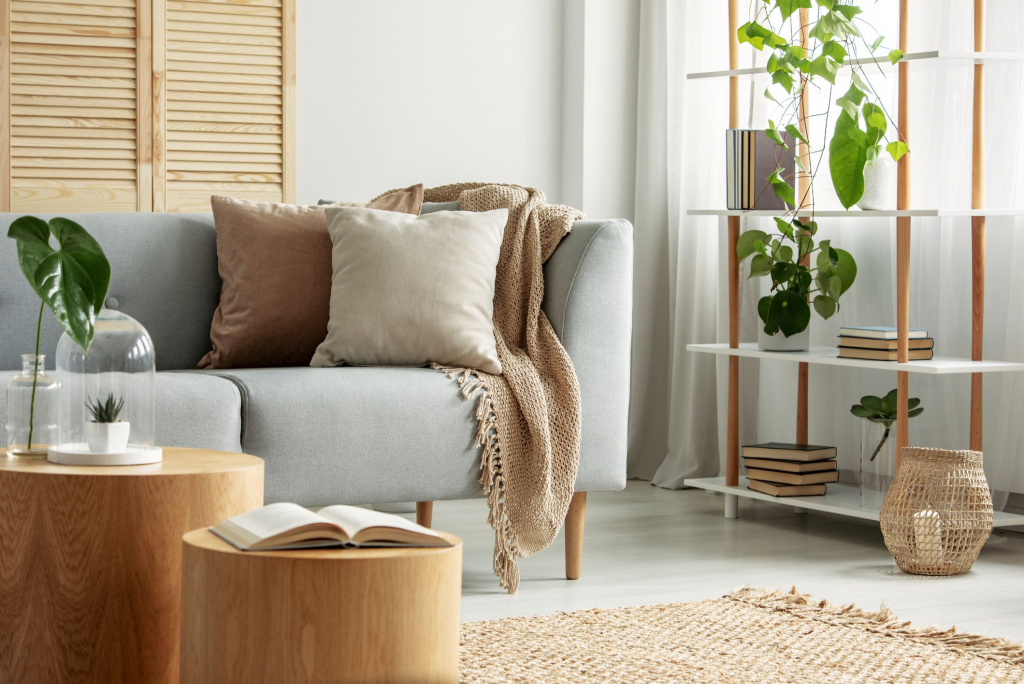 Image Credit: The Spruce
6 Basic Interior Design Rules for Commercial Buildings:
1. Know Industry Regulations
You need to know best practices AND specific regulations that are relevant to the industry for which you are designing. This is important at each phase of the project, from initially consulting with the client to completing the design. Requirements vary widely depending on the commercial purpose of the building (e.g., food preparation, entertainment, etc.) and will affect how the space comes together.
Read also – Rules for Successful Commercial Interiors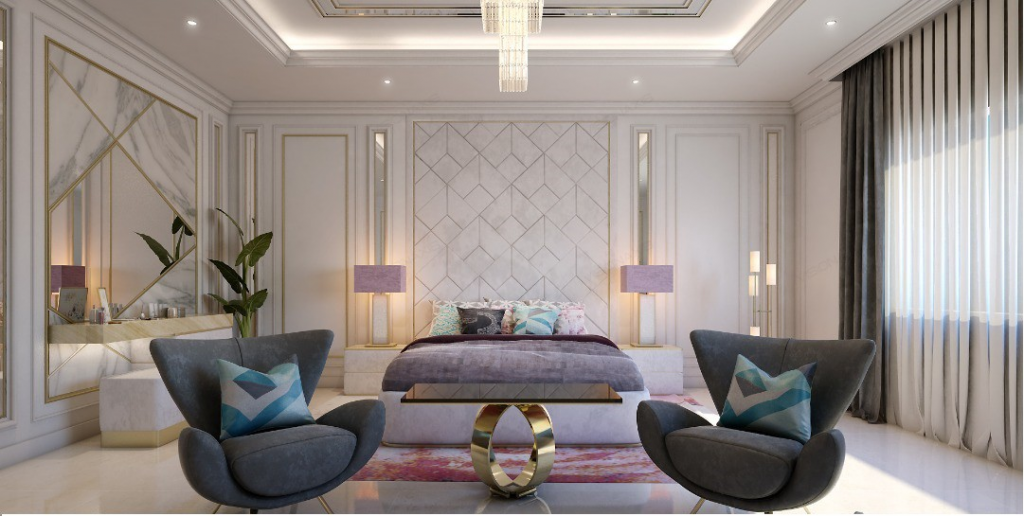 Image Credit: Medium
2. Design for Flexibility
Make sure that the space can be updated or reconfigured without too much hassle. This is particularly important if the space will have multiple purposes. You can achieve maximum flexibility in commercial design by reducing the number of immovable fixtures, allowing for the easy addition of furniture or changing of paint color. Choosing or recommending furniture that is modular can also increase the versatility of space.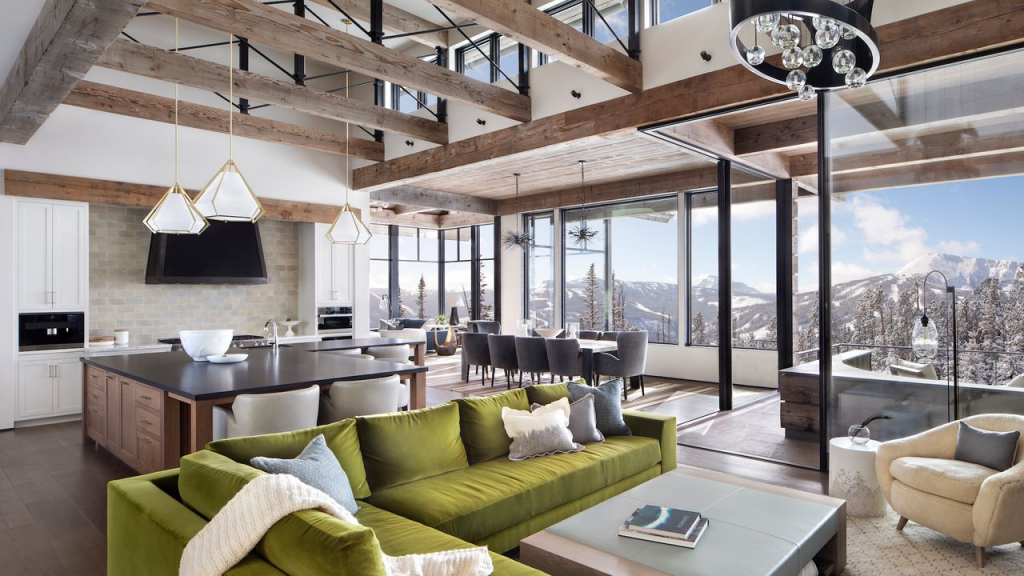 Image Credit: Mansion Global
3. Create Space
Open spaces will help with traffic movement, which can be controlled and guided based on the layout of a room. While there are regulations about entrances and exits, other parts of the building's design will be up to you to solve.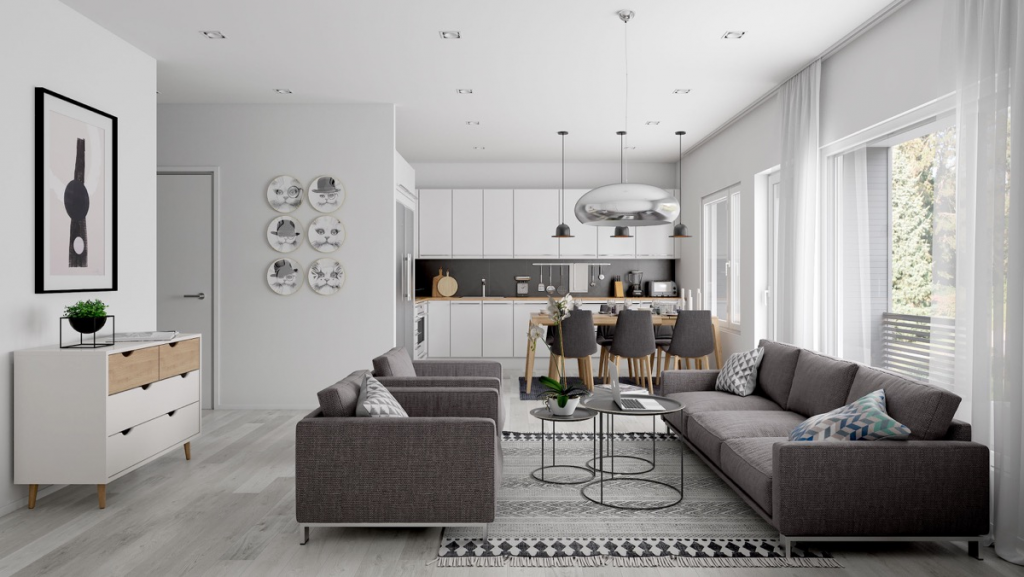 Image Credit: Interior Design Ideas
4. Incorporate Branding Where Needed
The interior and exterior of a commercial building typically have at least some branding elements included reflecting the personality of the business. Make sure that you know how to incorporate branding features of the business if needed (like colors, signage, logos, etc.). Understanding the brand will likely affect your high-level stylistic choices.
Read also – How To Build Strong Interior Design Brand?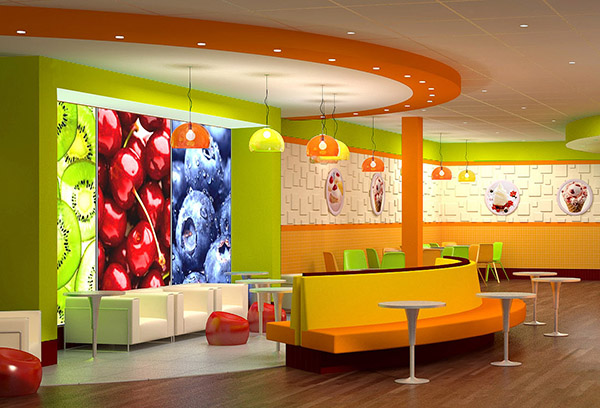 Image Credit: Mindful Design Consulting
5. Take Small Project Steps
Moving smartly does not mean moving slow. Tackle commercial projects in phases, ensuring that stakeholders are consulted at every step. Many clients will either require or prefer that you use effective project management processes and templates to ensure that the proper checks are applied before proceeding to the next phase.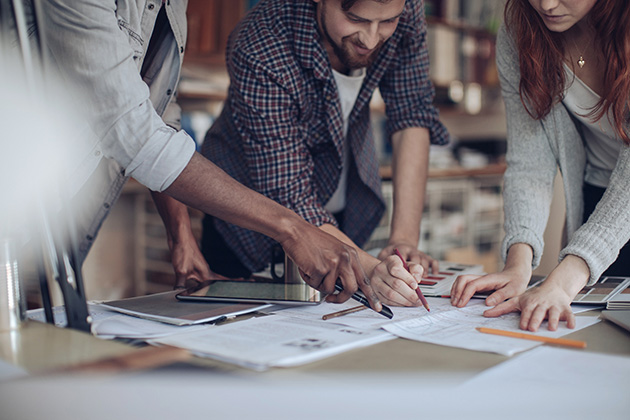 Image Credit: MultiBriefs
6. Don't Forget the Human Factor
While this might sound obvious, we're ending this section on commercial interior design tips with a simple reminder that even corporate spaces will be used by humans. This means that you should deeply consider how to add things like accessible seating, power outlets, public restrooms, coat racks, etc.
Commercial spaces can still be inviting and hospitable without being homey or allowing people to loiter for hours. For example, hotels often have places for guests to sit while waiting to check in or together with others before heading out to explore. The seating might be somewhat industrial (spill-resistant fabrics), but it offers the guests a needed place to rest when not in their room.
Read also – 5 Ways that Interior Design Influences Your Mood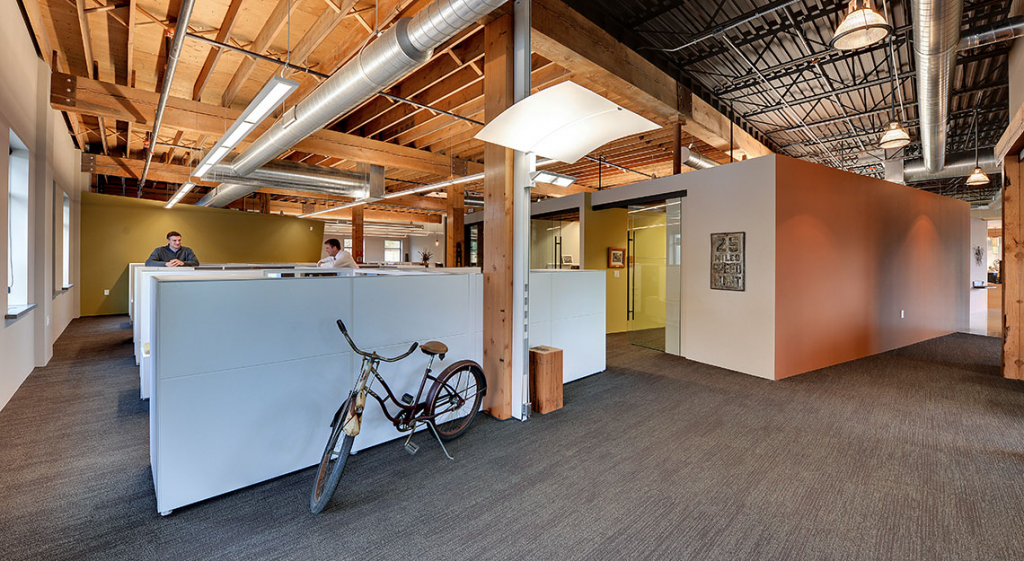 Image Credit: Planforce Group
5 Bonus Rules for Running a Successful Interior Design Business:
1. Always Be Networking
New business can take months (or longer) to develop. This is due to many reasons: the client might not be ready, they might be in the middle of their decision-making process, they might have been unexpectedly delayed, etc. Aim to consistently have new prospect conversations, even if they don't immediately result in a proposal. This will help you build a list of people to qualify and communicate with overtime, staying top of mind.
2. Develop Referral Relationships
If your goal is to "catch opportunities," don't you want to have lots of lines in the water at once? What if you can catch new business without even trying? Solid, mutually beneficial referral relationships can help you consistently get introductions to new clients.
3. Practice Disciplined Financial Management
Your business relies on good financial management, from new business forecasting and goals to proper expense tracking and reporting. In fact, we think that this topic is so important for interior designers to understand that we wrote an entirely separate article on it called Sales Tax and Accounting Basics for Interior Design.
4. Use Foyr Neo to Wow Clients and Work Faster
Legacy interior design software is slow, cumbersome, and unimpressive to clients that expect the best from their design consultant. Plus, old software is unintuitive for users and expensive, requiring you to spend valuable time and money learning an outdated platform.
Foyr Neo is a powerful, all-in-one interior design software built with interior designers in mind. Quickly create 4K renders to show clients their long-awaited design concepts, and pick from thousands of templates and preloaded models of common items like furniture, lighting, and other decors. Set the mood with precise controls for interior and exterior ambiance. Do all of this from your laptop with our browser-based software that easily stores your work.
5. Join the Foyr Community
Remember when we said to always be growing your network? What better way to get connected than by joining a community for interior designers at community.foyr.com? Members will receive tons of opportunities to learn about interior design from proven experts, find other freelance interior designers, find jobs posted specifically for freelance designers, and participate on a social networking platform exclusively for interior designers. What are you waiting for? Get inspired and get connected today!
Meaningful takeaway and encouragement for practicing these items, and a list of other relevant articles for a deeper understanding of the areas covered in this article. Specifically, you can read more about how to become successful interior designers, Don't forget that continuing to learn and improve your skills is a key part of staying competitive and essential for being able to get new clients and charge more for your services. If you want to continually receive the latest in interior design trends, recommendations, and professional development, sign in to Foyr Community.