Home » Interior Design » 10 Best Smart Technologies for Interior Design
Smart Technologies in Interior Design
Gadgets and gizmos have taken over the world, and today, every home is incomplete without interior tech elements. As homeowners march into the future, they become more conscious about their interior spaces. People want sustainable and smart homes, and to build these, we need technologically advanced and proficient interior designers. 
Smart technology and the use of tools are the need of the hour as interior designers, builders, and real estate moguls focus on creating homes for a better tomorrow. There was a time when adopting and integrating technology in interior design was expensive. Today, interior designers find ways to use smart technologies and incorporate them seamlessly into one's home.
Let's take a look at the top technological advancements in interior design, which have completely shifted the way the industry works.
Read also – Latest Interior Design Trends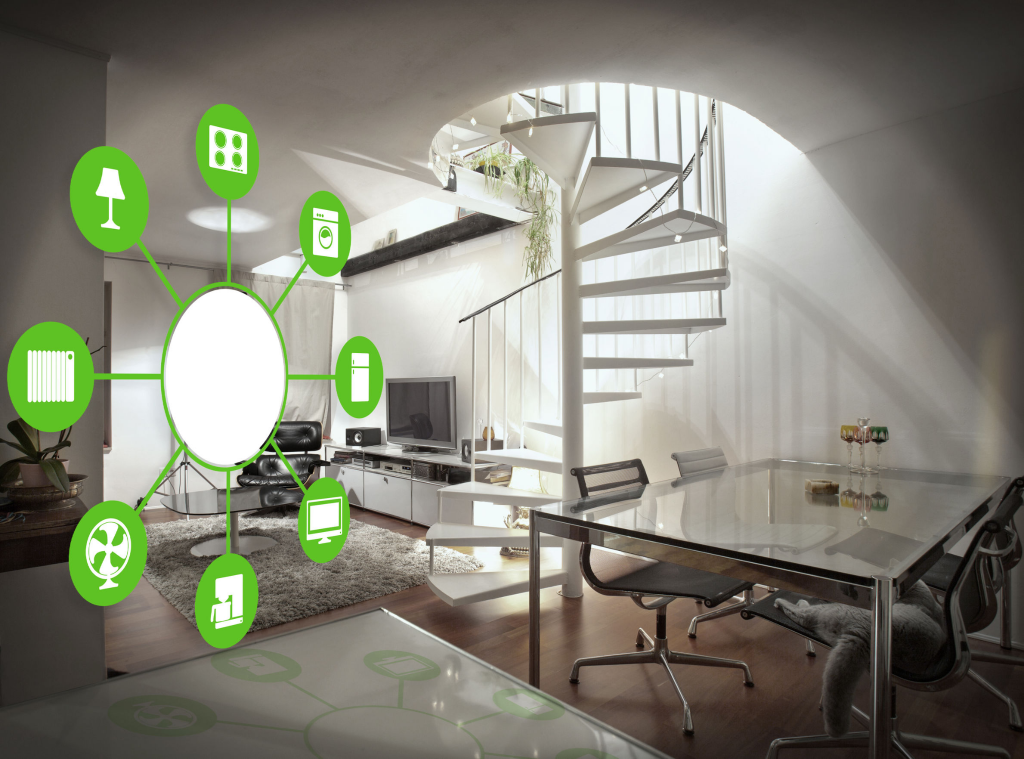 Image Credit: strattondesigngroup.com
Technologies for Interior Design
From making a positive impact to being used for functionality and purpose, technology has made life easier for interior designers significantly. Tech gadgets add an elegant, modern, and sophisticated look and feel to any home and are catching on all over the world. Like the internet, smart homes have become the next big thing to watch out for as they make life much easier for people. 
The expertise exhibited by interior designers helps them make the most of smart technology without compromising on their intrinsic aesthetic qualities and capabilities of design. They know how to integrate homes with smart technology to offer clients a holistic and modern experience.
Read also – 5 AI-Powered Interior Design Software Tools
How Smart Technologies are an Essential Part of Interior Design?
Smart technologies are an integral part of interior design in two ways—from the perspective of the designer's work, as well as the project they execute. 
When it comes to working on projects and running the business, interior designers use a host of technology and tools such as project management tools, sketching tools, virtual staging tools, and 3D modelling and 3D printing tools, to name a few. In terms of doing up a space as well, interior designers make use of smart technologies such as smart lighting, using energy efficiency, smart disposal systems, etc.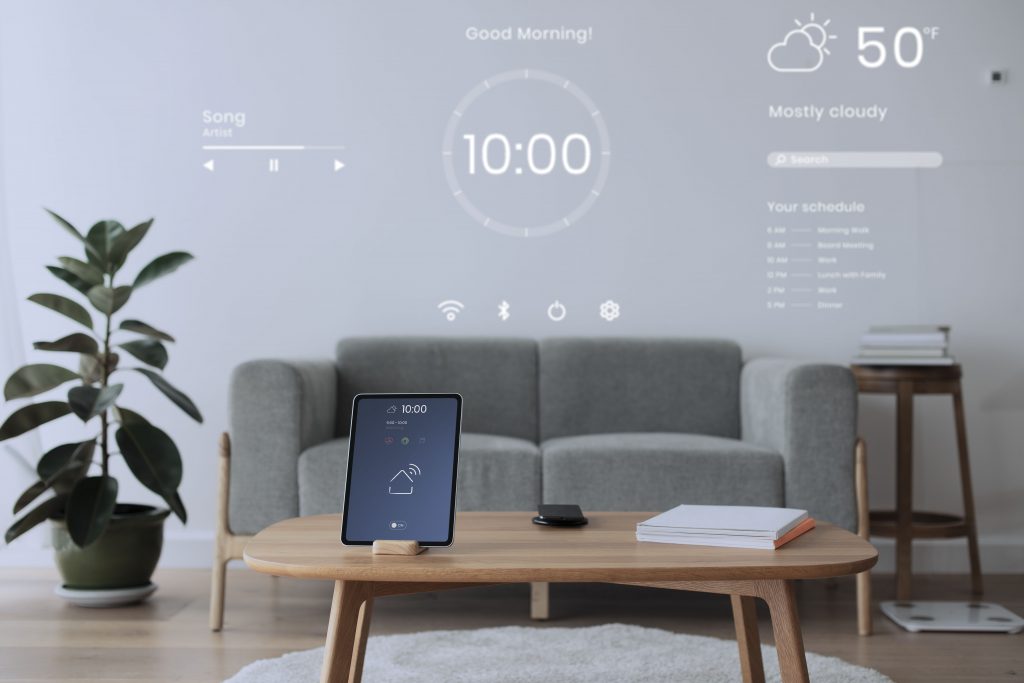 Image Credit: purvastreaks.com
10 Smart Technologies for Interior Design:
Let's take a look at the top 10 ways smart technologies can be used in interior design. 
A marvelous tool of an interior designer is the ability to use the internet to create designs for their clients. Designers can create smart designs using a variety of technology—AR & VR technology, use virtual staging platforms to showcase designs to their clients, and even 3D modeling and 3D printing tools such as the ones available at Foyr Neo. These tools help designers to collaborate easily with their clients while cutting down on physical visits and the overall cost of designing the interior space. 
When taking up a design project, every interior designer knows that they will need to undergo several rounds of the design process to arrive at the final output—so what better way than to use augmented reality and virtual reality to achieve this without cutting into costs and time per project?
Read also – Best Interior Design Software To Design Your Smart Home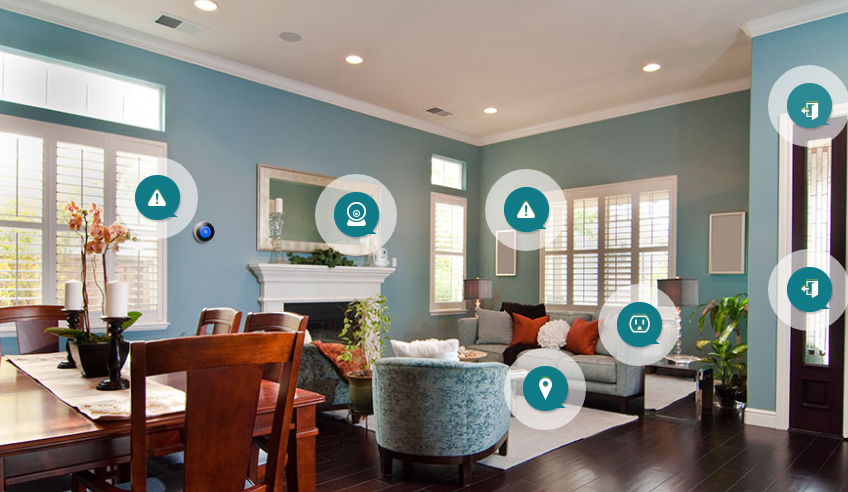 Image Credit: livegulfshoreslocal.com
Ever since the internet of things has become a phenomenon, so have improvements in the overall interior design industry. Ever been impressed by a smart kitchen that communicates with the user? Smart and modular kitchens are typically in-built with a host of technological integrations, which include the ability to follow instructions, adjust lighting, and even set the temperature.
Interior designers use modern technology in the form of smart refrigerators, voice-controlled equipment like ovens and dishwashers, and other smart appliances. Imagine being able to set the oven's temperature from an app, even when you're not at home, so you can get started on your dinner early! 
Read also – 80 Beautiful Modern Kitchen Design Ideas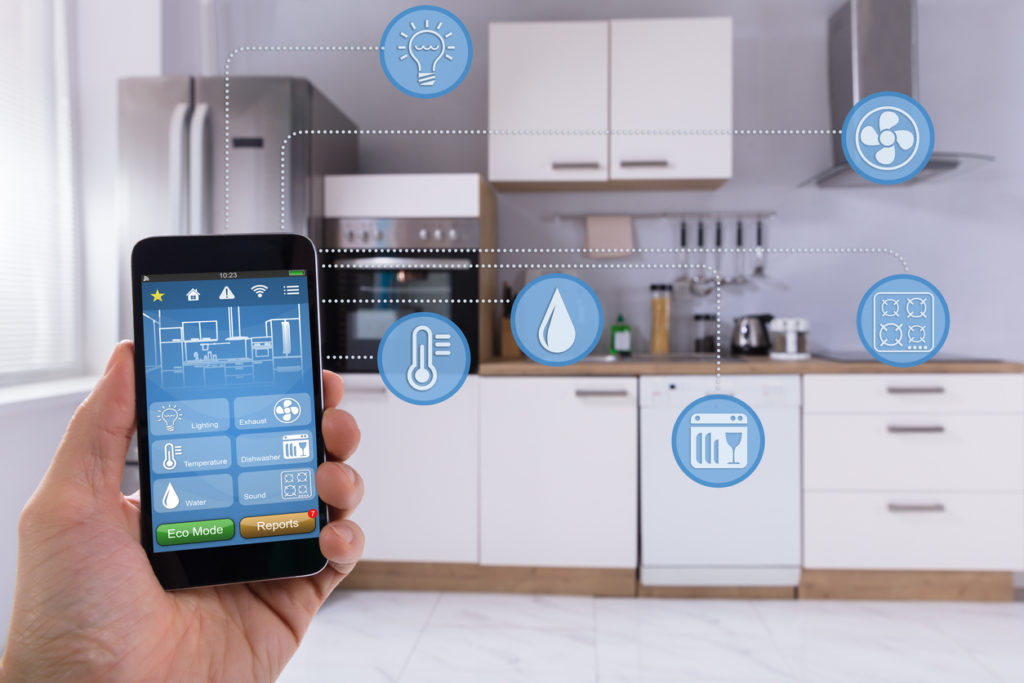 Image Credit: industrywired.com
When you think about home automation, you can't leave entertainment behind. These days, most people use voice-controlled devices like Google Home or Alexa to control the entertainment in their homes. Interior designers hook these systems up to a home's entertainment unit—the TV, speakers, or sound systems.
All you need to do is provide the commands to play music, movies, videos and more. Based on the client's requirement, interior designers have the option to integrate smart entertainment systems into a home to keep all the members of the house easily engrossed. Smart home devices like smart speakers make a great addition to the home's value. 
Read also – 10 Best Game Room Decor Ideas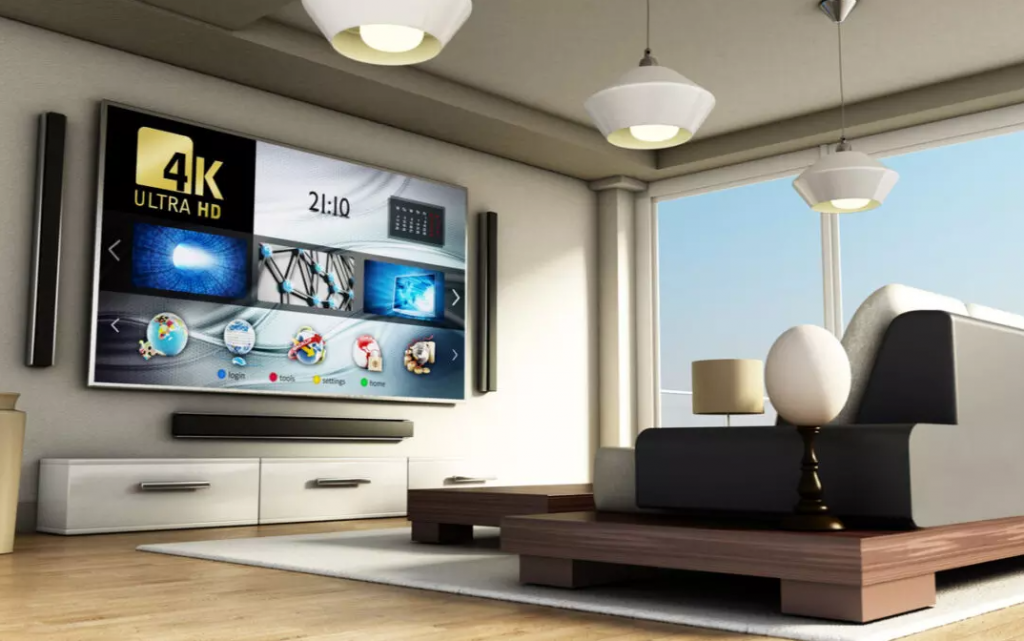 Image Credit: bestcablesatellitetv.com
Interior designers use smart lighting to automate lights inside a home. Smart lighting eliminates the need for traditional switches and they can be controlled remotely. Smart lighting brings down the overall cost of energy used by a home—you don't need to keep replacing light bulbs in your home.
In fact, smart lighting systems also tend to last for a longer duration of time than traditional lighting systems and don't need to be replaced that often. Smart lighting can be customized for festivities, holidays, and even regular days. With lighting control, you can give your client's home a smart home design they'd love coming home to. 
Read also – Best Kitchen Lighting Ideas and Trends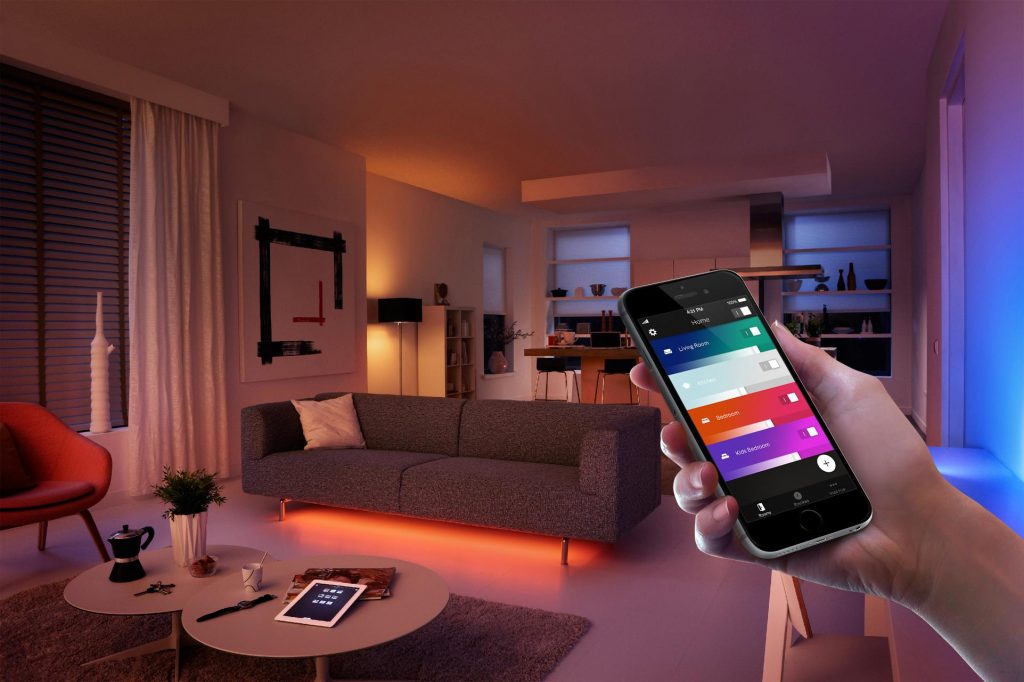 Image Credit: yimg.com
As an interior designer, the main objective is to create an affordable home that exudes a feeling of luxury. Another great way to make the overall cost of the home affordable is to install smart switches. This is even helpful for designers undertaking a renovation project.
Instead of upgrading appliances inside the home or the kitchen, one can simply install smart switches which are controlled by a single remote or smartphone, over the WiFi. The controls of a smart switch can be extended to the home's lighting, fans, and even entertainment system, and over time, it helps the home become more energy and cost-efficient.
Read also – Best Home Interior Design Tips To Improve Your Home Value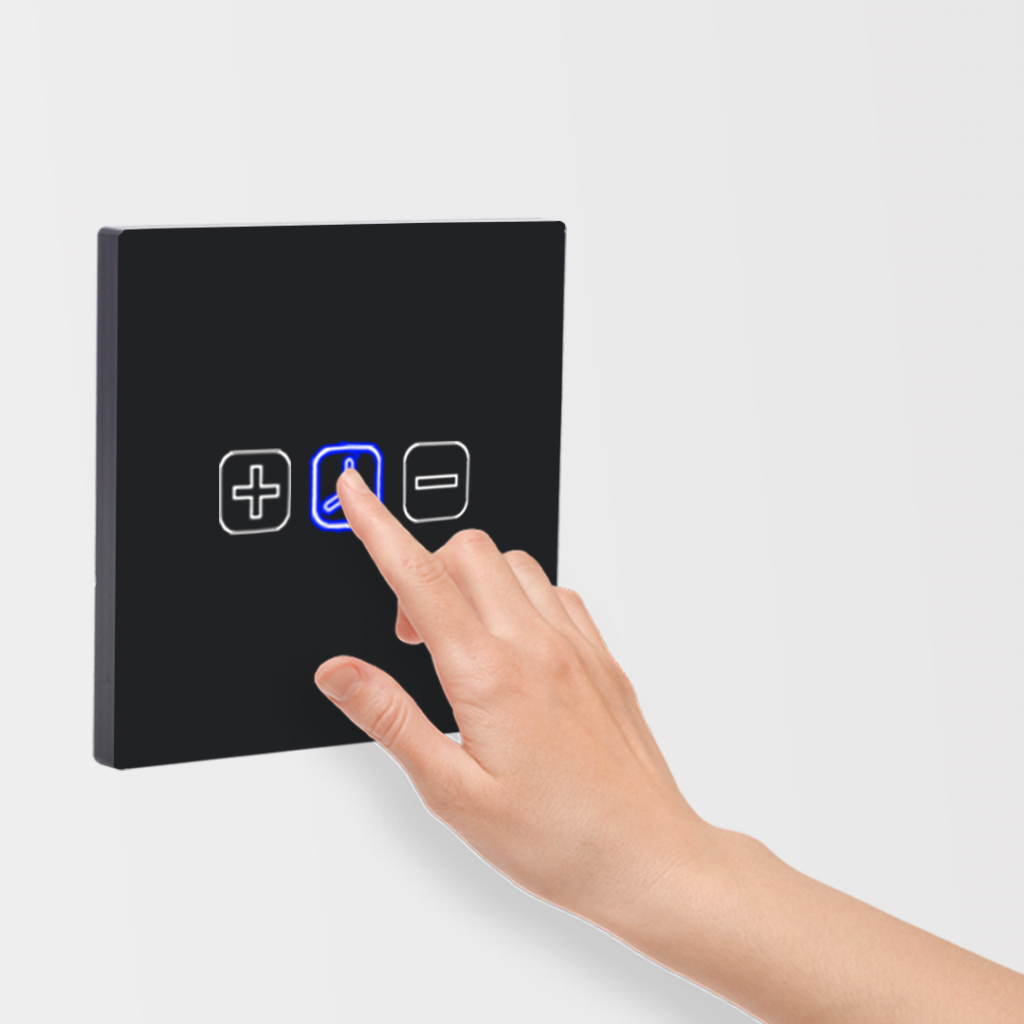 Image Credit: y5home.com 
Living spaces such as the living room, study, or bedroom can be converted into smart areas of the home by simply installing intelligent lighting systems and smart switches. As an interior designer, if you are looking for inspiration to upgrade a home's interiors, turn to audio-visual design.
AV designs include installing built-in entertainment units and screens and projectors. Many designers even use storage more optimally by building closets and shelves into the walls. This allows for better aesthetics, storage, as well as leaves homeowners with a state-of-the-art modern living space. 
Read also – 14 Best Living Room Interior Design Ideas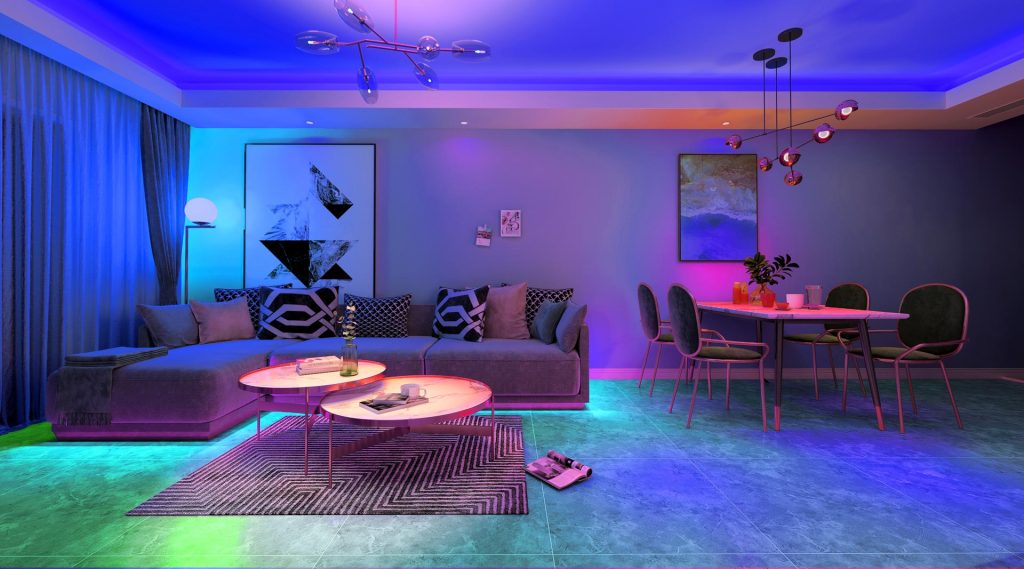 Image Credit: expo.tuya.com
7. Smart security systems
Smart home security systems are becoming highly popular. Most clients want to keep track of their home's safety even remotely. Security cameras connected to apps allow homeowners to see who is at the door.
It allows them to control the opening and closing of the door and allow visitors or interact with delivery persons. Smart security systems also consist of alarm systems and motion detectors that can detect intruders, so clients have peace of mind over their property. 
Read also – 20 Best Home Design Apps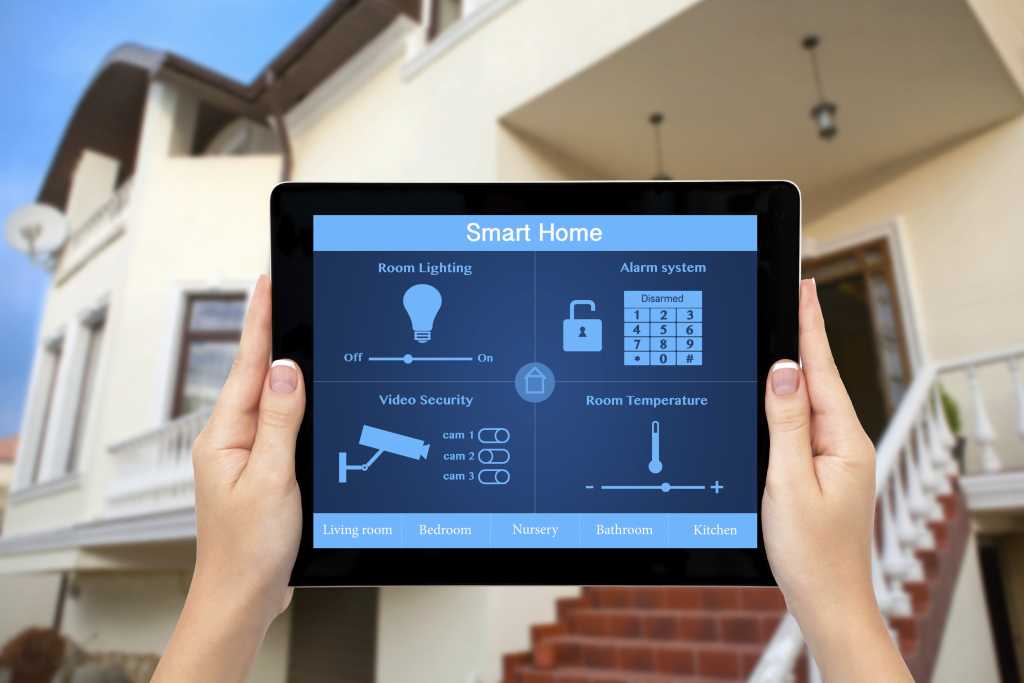 Image Credit: techhive.com
8. Smart heating & cooling systems
Temperature control and energy efficiency are a significant part of smart homes these days. Interior designers use smart heating and cooling systems to ensure that homeowners avoid racking up high energy bills. Gadgets, from smart thermostats to Google Home, can be installed into a home to help its overall energy costs go down significantly.  
Read also – 10 Tips To Create Healthy Spaces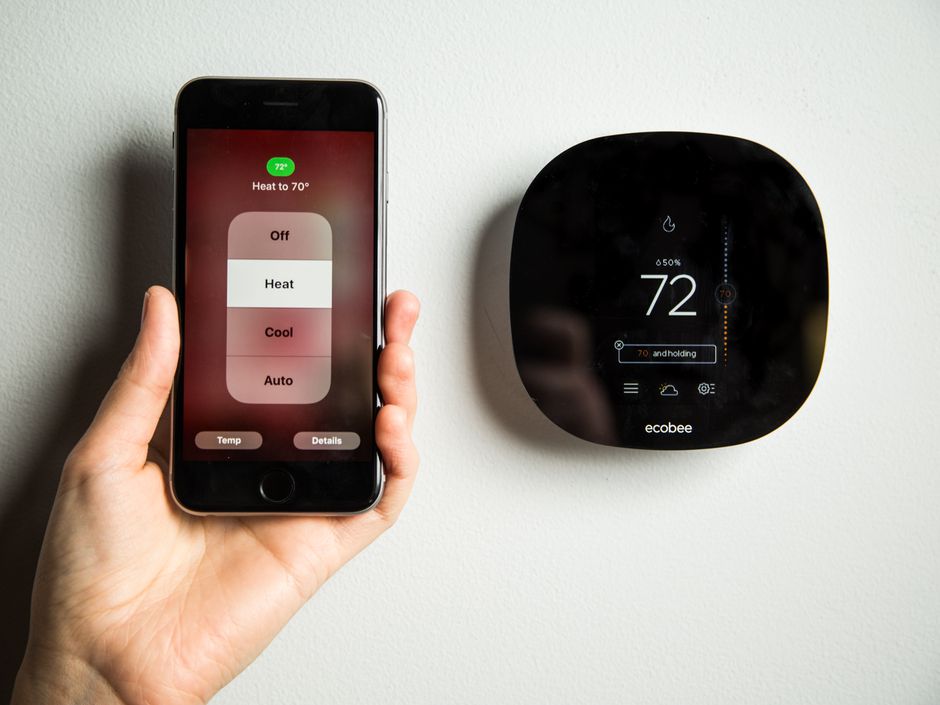 Image Credit: cnet.com
Interior designers tend to install smart sensors in people's homes. These include smoke sensors or heat sensors that can help save lives during accidents or emergencies. Smoke and heat sensors can send notifications to the phone and even get in touch with emergency services if and when they go off. Generally, smart motion sensors sense the presence of an individual and switch on when a person is around. These also help with identifying any intruders that may enter the house. 
Read also – Everything About Interior Design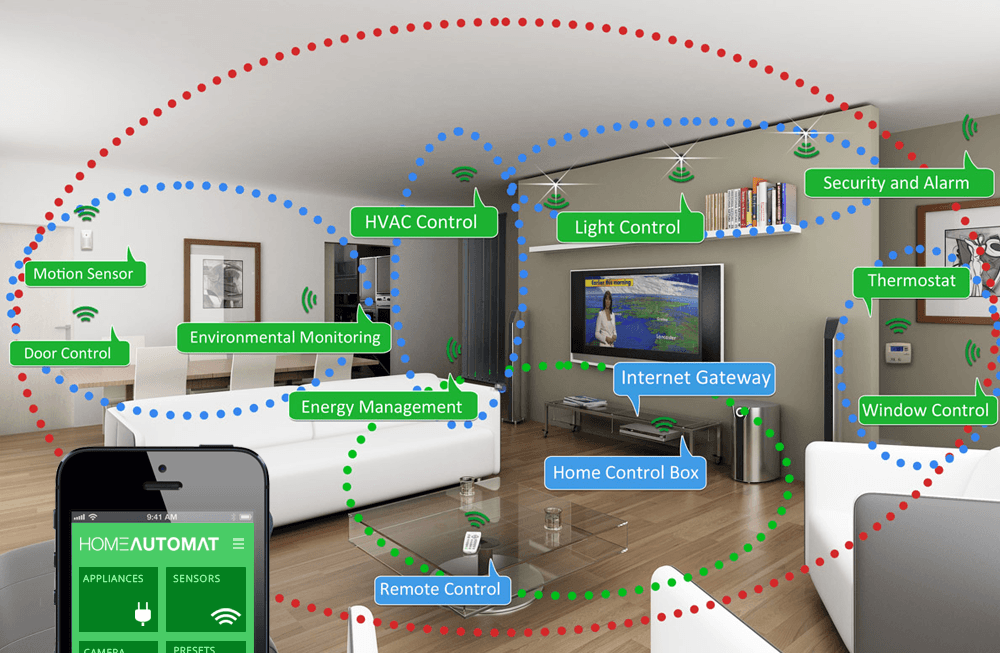 Image Credit: homeautomat.in
Everything in a home can be converted into a 'smart' object—including your curtains and blinds! In addition to offering smart lighting adjustment, interior designers also provide clients with the ability to fix the ambiance through curtain adjustment. With smart curtains, one can schedule when the curtains need to be drawn or open. Smart curtains also make homes feel safer with the ability to stimulate through the presence and draw themselves when no one is around.
They act as a barrier from heat and natural barriers. They also tend to keep the home cool and lower energy bills. Smart curtain technology also uses the app's geolocation to understand when the homeowner is home and when they are away, to accordingly open or close.
Smart locks are another form of smart security system which can be used to easily lock and open doors, safes, and other spaces in the house, through an app.
Read also – Psychology of Interior Design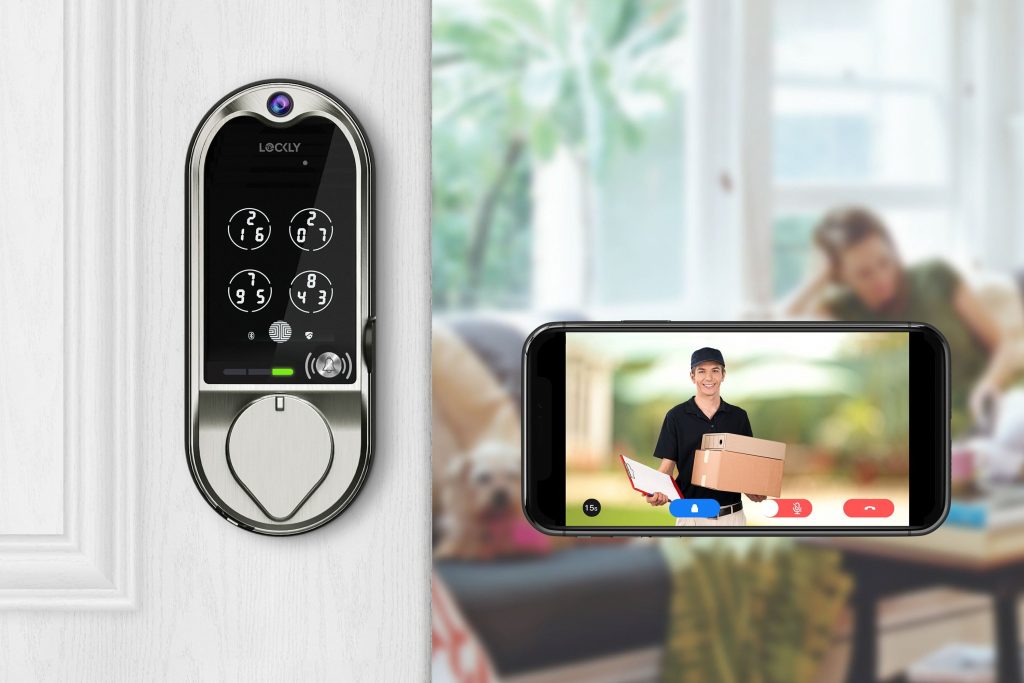 Image Credit: digitaltrends.com
Experience the Power of Technology In Interior Design
Smart homes are the future of automation in interior design. Interior designers need to learn how to use technology to their advantage in order to make a homework for the client. These days, homes can be customized to suit a person's needs. For example, curtains can be drawn, lighting can be in accordance with a person's mood, and appliances can be turned on or off easily. Smart homes and home automation help make a person's daily routine easier, so they spend less time on manual work and more time enjoying their home. 
Interior design trends in the smart technology space have been coming up rapidly. As an interior designer, make sure you check out social media from time to time to get the latest information on smart technology, and how it can help you create smart homes. 
If you're an interior designer, learn how you can use tools at Foyr Neo to improve your knowledge about smart technology. Its is a one-stop-shop for all your design needs. The multifaceted design software has so many features to choose from that it makes it easier to visualize your design ideas more effectively. 
60K + ready to use products 

Build Floor Plans, edit in 3D

Drag and Drop Interface

4K Renders in minutes
Furthermore, it doesn't take up a whole lot of space due to its incredible cloud computing feature. It saves time and money on licensing. Anyone can create absolutely remarkable home designs with these design tools. Foyr Neo is now available for a 14-day free trial, allowing you to explore the potential of infinite creation.