Home » Design Software & Tools » 5 AI-Powered Interior Design Software Tools in 2023: Revolutionizing The Industry
AI-Powered Interior Design
Time and again, some building's interior work has mesmerized us with its exotic and powerful designs. People invest a lot of time preserving the interior beauty of their homes, that many will view and get inspiration from. In other words, it is an art in its own league – a science fiction that is as real as it gets.
Think of it this way –  If there is a new music album on the market, and we don't like it, we will just stop listening to it.  But the interior of a building is not an art like music. We, as humans, spend most of our time indoors. One study even shows that 90% of our total time is spent indoors. It need not always be home. It could be your office or any other entertainment place. Having a beautiful interior definitely has a positive impact on your health. 
If interior designing is an art, then the interior designer is the artist. An Interior designer has a lot of responsibilities; they have to plan, research, coordinate, inspect, communicate, design, to name a few. They ultimately build a healthy and aesthetically pleasing interior that will convert your 'house' into a 'dream home.' Interior designers are in great demand, and it is estimated that there will be a 31% increase in their needs within the next decade. The average pay for interior designers is estimated to be around 26.94 dollars per hour.  Their demand is fueled by an ever-growing interior design market that is valued at 121.054 billion dollars in 2021.
Interior designers have become way more efficient today by incorporating various disruptive technologies into their day-to-day processes. One such technology is Artificial Intelligence (AI). By embedding Artificial intelligence in interior design, the industry is expected to grow even faster in the coming days. In today's world, where work from home has become a new normal, it is essential to have a good ecosystem around us to keep us calm, focused, and at peace. A combination of AI and interior design has the power and ability to help this in a short time. Let us understand how.
Read also – 15 Best Interior Design Software
How has AI simplified Interior Design?
Artificial Intelligence has found its way inside almost all industries over a period of time. As consumers, we use AI in most of our day-to-day life, both knowingly and unknowingly. From using Siri or Google Assistant to play a beautiful song, all the way to picking the best stocks for purchase, AI is everywhere.
Products like Alexa and Google Home have made our house a digital powerhouse, thanks to their AI technology. AI and its subsegments such as machine learning, neural networks, and deep learning are helping through its human-like thinking and advanced problem-solving capabilities, especially in Interior Designing.
The introduction of AI tools in the interior designing sector will help fill the burgeoning gap between customer requirements and the practicality of solutions, thanks to impressive visualization tools and structural calculations.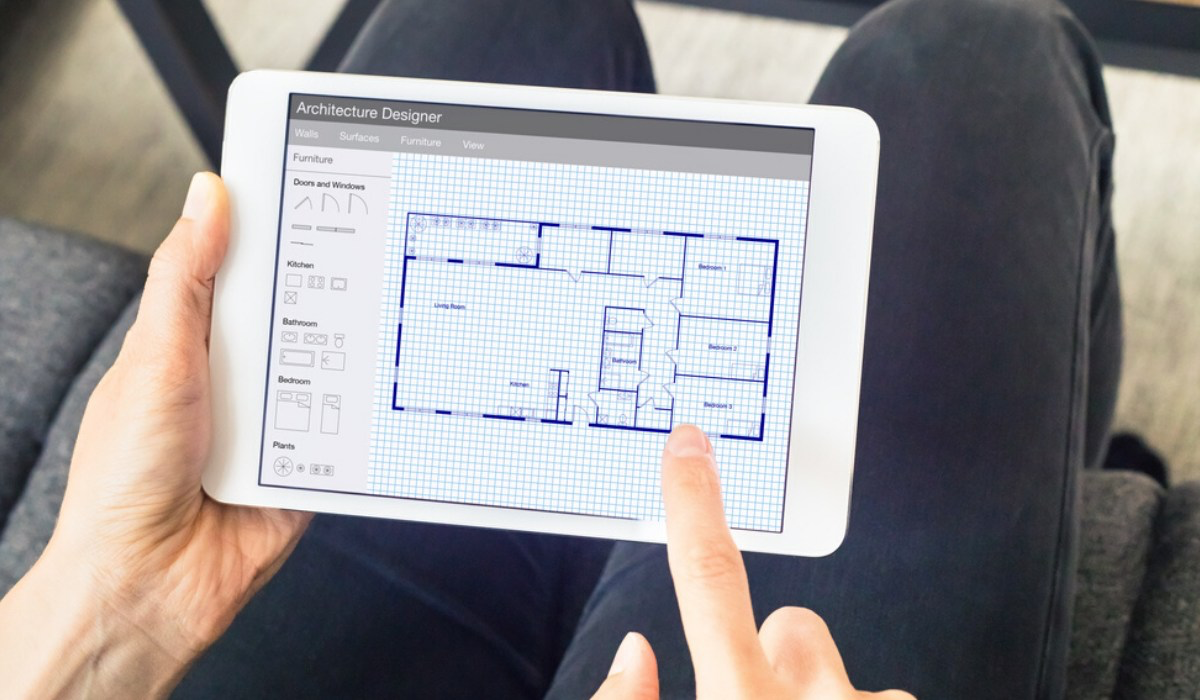 Image Credit: housing.com
Some tools have the capability to organize a survey to understand the customer's requirements and use AI to find the best interior designer with similar tastes and who has worked with similar designs. Some tools might even convert this survey into a gamified task. The AI will study the customer's taste and give them ten alternative solutions that they can use. They even go one step above and allow designers to purchase all the necessary stuff through the same tool.
AI can even help the designers get the exact dimensions and structure of your living room or any other room that they are going to work on. It can be used to create various solutions before finalizing and building on one. Earlier, there were never-ending meetings between the designer and the client during the process to make sure everything is going as per the client's requirements. But thanks to AI + Plus advanced designing tools, the client will get a 3D view of how the place will look like today.
Also, thanks to AI, the designers can bring even the most complex ideas of the customers to the computer. With thousands of preloaded designs and styles that are shown intelligently to the customers, they can pick the exact idea they had in mind.
In any interior designing project, choosing the color and material are very important activities. AI will present you with the ability to view the interiors in the exact color you want and how they are complimenting the accessories in your house.
All these applications have made the life of Interior designers very simple. The best part – the solutions are fast and affordable.
The #1 on our list of interior design software is Foyr Neo. It can be considered an all-rounder as it suits all categories of people. The best part of this tool is that it comes with an intuitive user interface that is easy to understand and navigate. It is so simple that even a first-timer can instantly start using it for home designing and home renovation.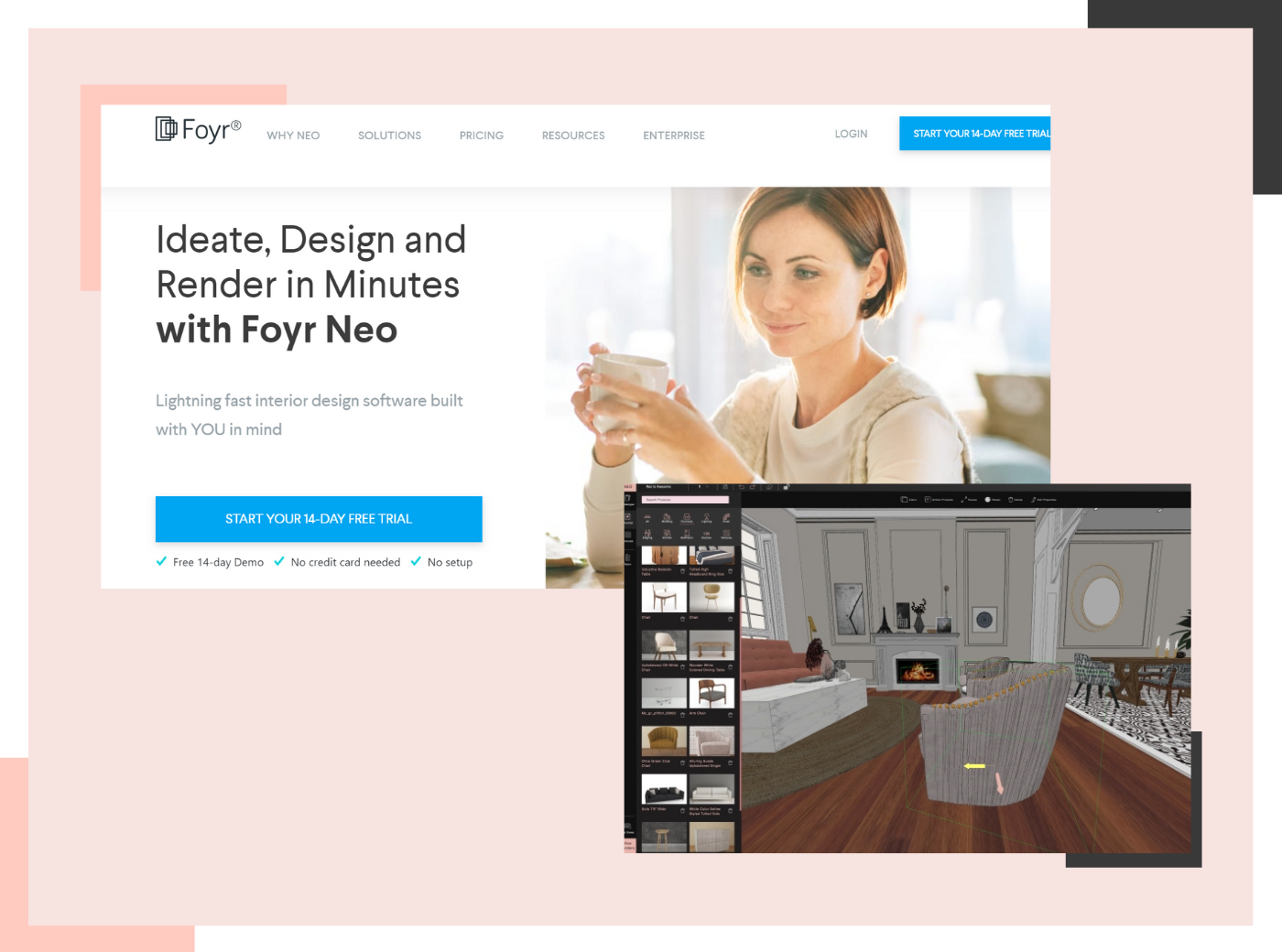 So, if you are someone who is not experienced but interested in interior design, look no further than Foyr Neo. It's an excellent tool for designers, homeowners, and real estate investors. The design technology is robust with support for multiple formats like 3D view, 3D image with details such as building material, paint color, room layout, space planning, and much more.
The qualities of good software are never-ending. Foyr Neo gives a 14-day no-questions-asked free trial version to all the users. You can use the software to its full potential, after which a minimal fee of $49/mo is charged. The software leverages the power of cloud rendering and ensures that all the process happens within the cloud. This means the software is device agnostic – you can access your files from anywhere and on any device.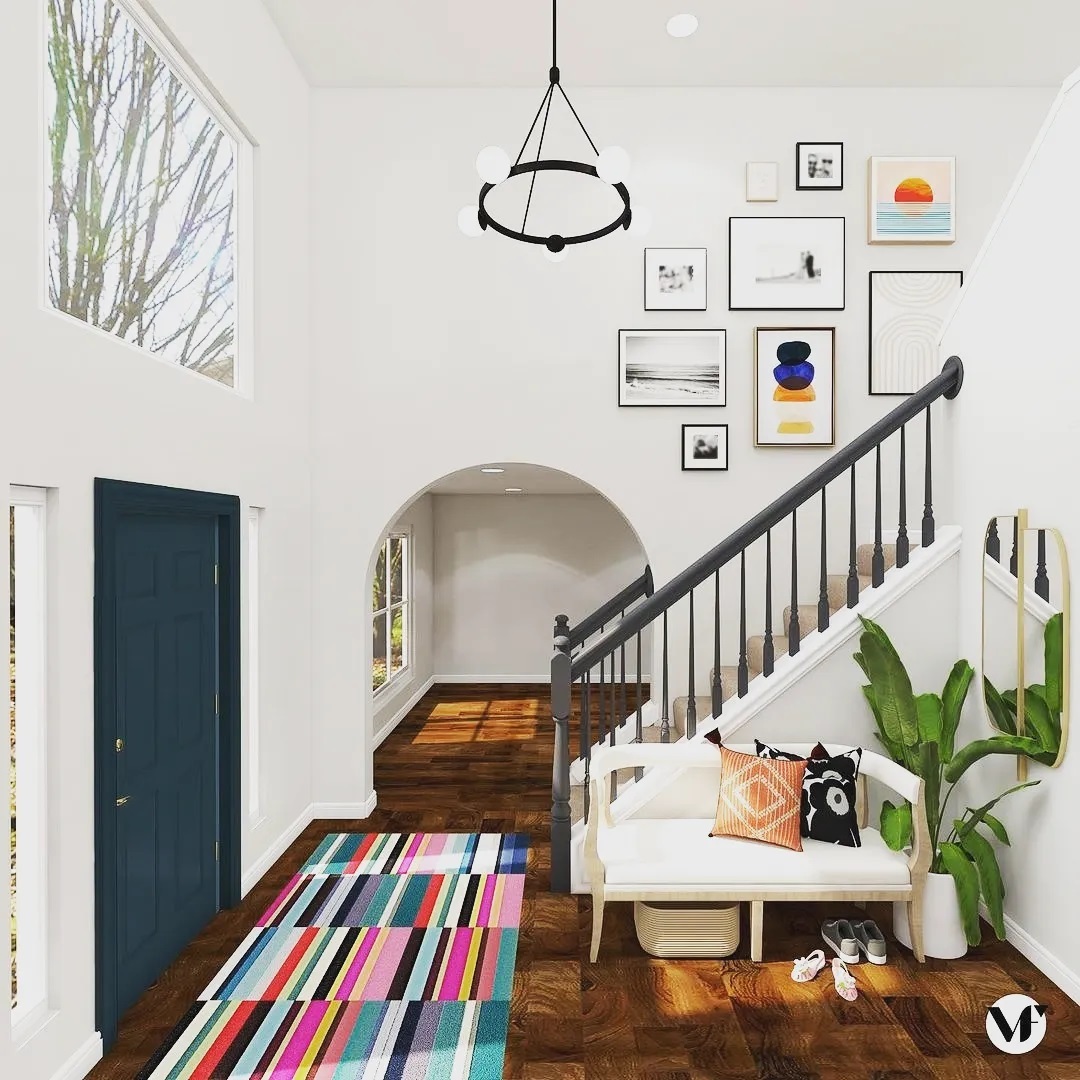 "This stunning entryway is designed on Foyr Neo by @vanessafordinteriors for her virtual eDesign clients for their new home".
If you have no prior knowledge of CAD or CAM, you can use this software as it requires no prior experience and has 50,000 pre-built models/templates within the library. At the same time, if you are a professional designer, it comes with many powerful features that let you bend the tool to your will.
Read also – Best Kitchen Design Software
If you want to give your users a film-like experience, then Maya is one of the top design platforms to pick. You can create Augmented Reality and Virtual Reality-enriched designs using Maya. The tool is also versatile as you can find many video games creators and animation film producers using Maya.
The same feature can be used in your interior designing business. For instance, you can create a nice film and give your clients a virtual tour of a house's interior. This software is also packed with features like 3D rendering, simulations, high-quality tools, photorealistic planning models, to name a few. You can create a real-time home styler pattern as well – a really nice functionality to have.
The trial version of the software comes with a 30 days expiration time. The monthly subscription is $195, which is way more expensive than Foyr Neo, even though both have similar features. Also, the learning curve is steep for beginners and those with no CAD and CAM experience. But professional designers can use the software with ease.
Read also – Best Home Design Software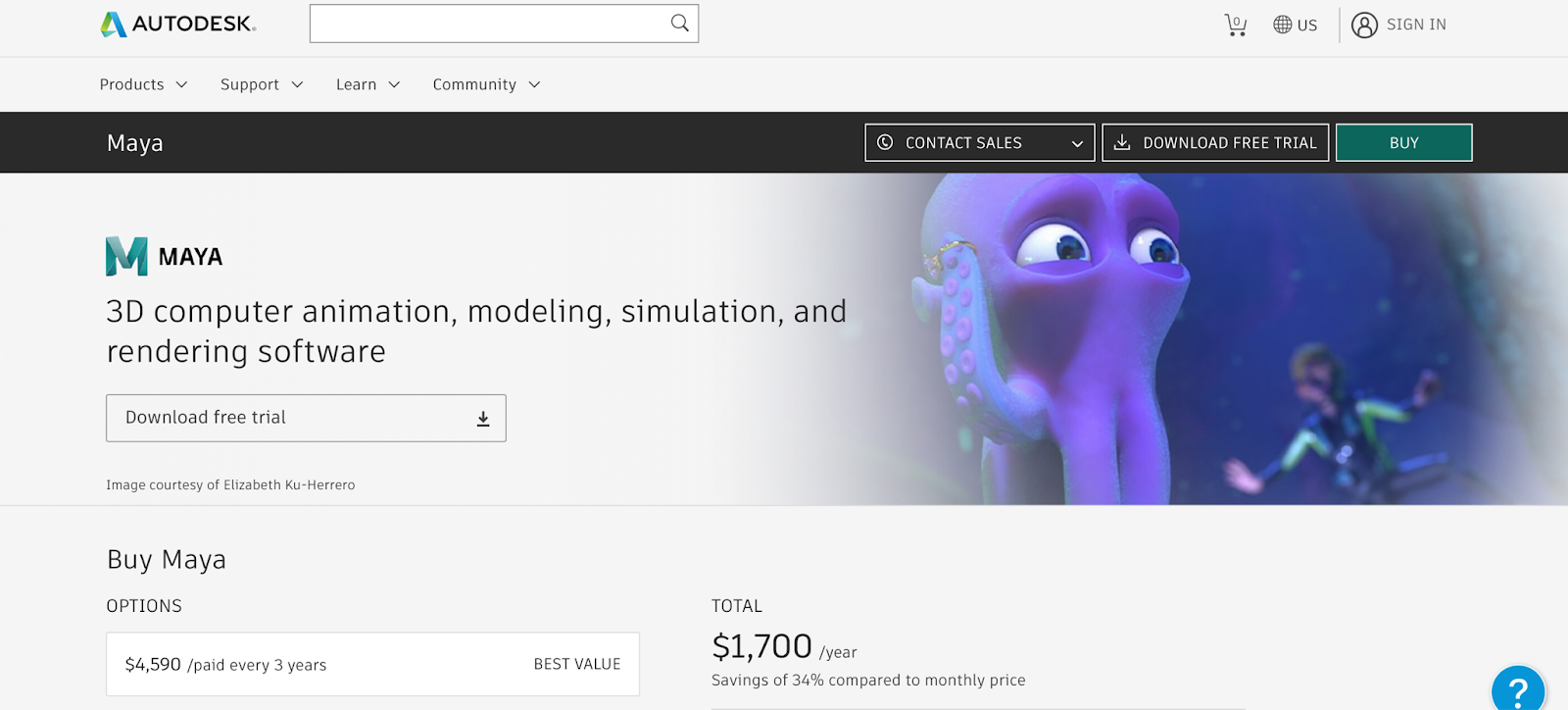 Image Source: Screenshot from autodesk.com
Autodesk itself has built numerous software to facilitate interior designers' scope. But most of Autodesk's apps are costlier when compared to their competitors. But it differentiates itself by offering a complete suite of powerful tools that professionals love. If you are a homeowner or real estate investor with limited design skills, it is highly unlikely that you can leverage the benefits of this software.
Whereas a professional interior designer can do wonders with the software as they can create exceptional 3D renderings, smooth simulations, and much more with the software. The price of the software is in the range of $195-$355/month with a 30-day free trial.
Read also – Best 3D Rendering Software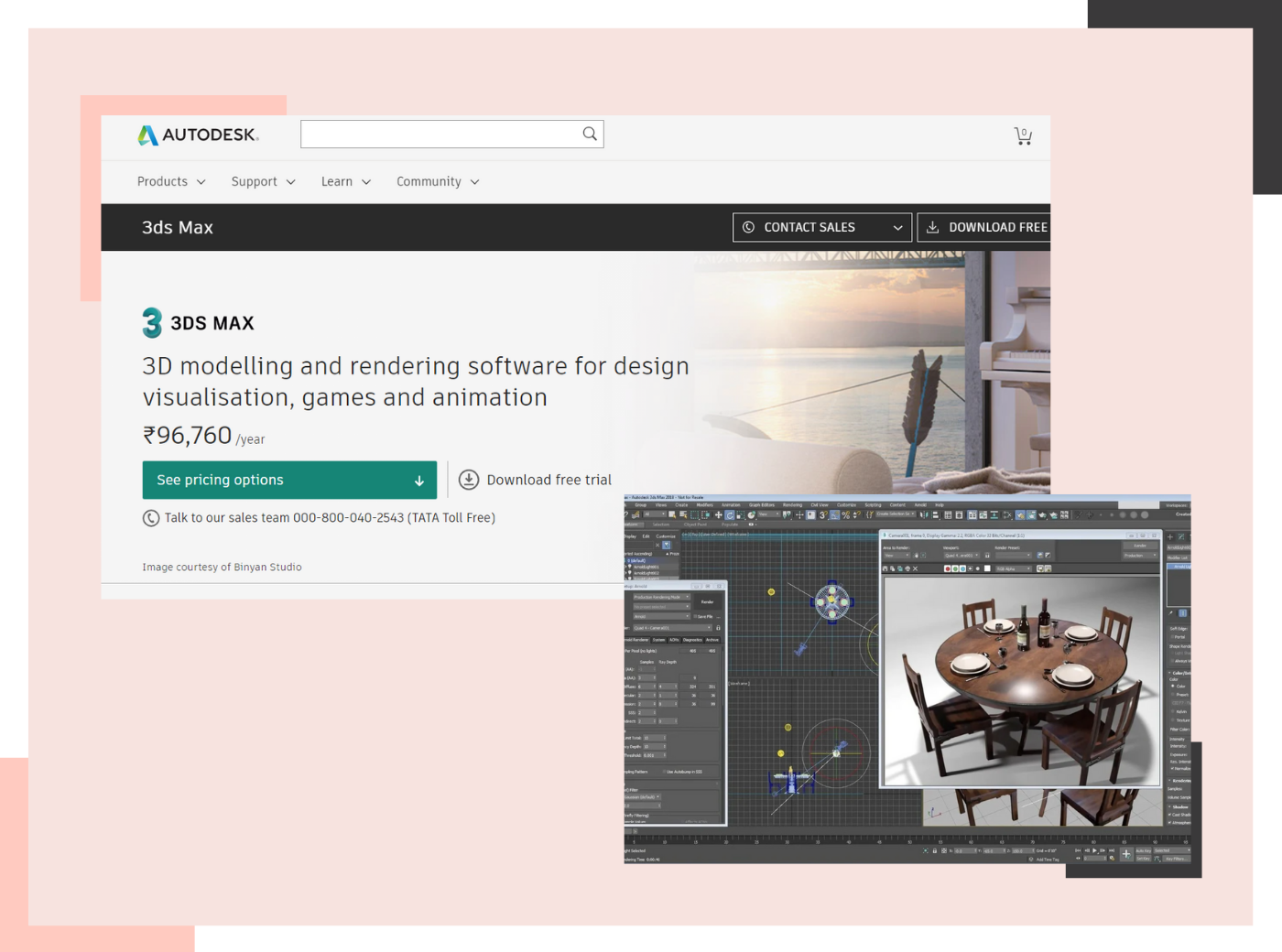 Image Source: Screenshot from autodesk.com
The most attractive part about this software is that it lets you add furniture to your design so that you can have a very realistic rendering of the interior. You can also choose the furniture color that compliments the interior design.
This is also one of the few interior designing tools that are completely free of cost. It has an easy and smooth interface, making it accessible to everyone. But there is a catch – This software is not for professionals as it has very limited features. Still, it's a great product for real-estate owners, beginners, and students. The software also has a mobile version available for both Android and iOS platforms.
Read also – Best Furniture Design Software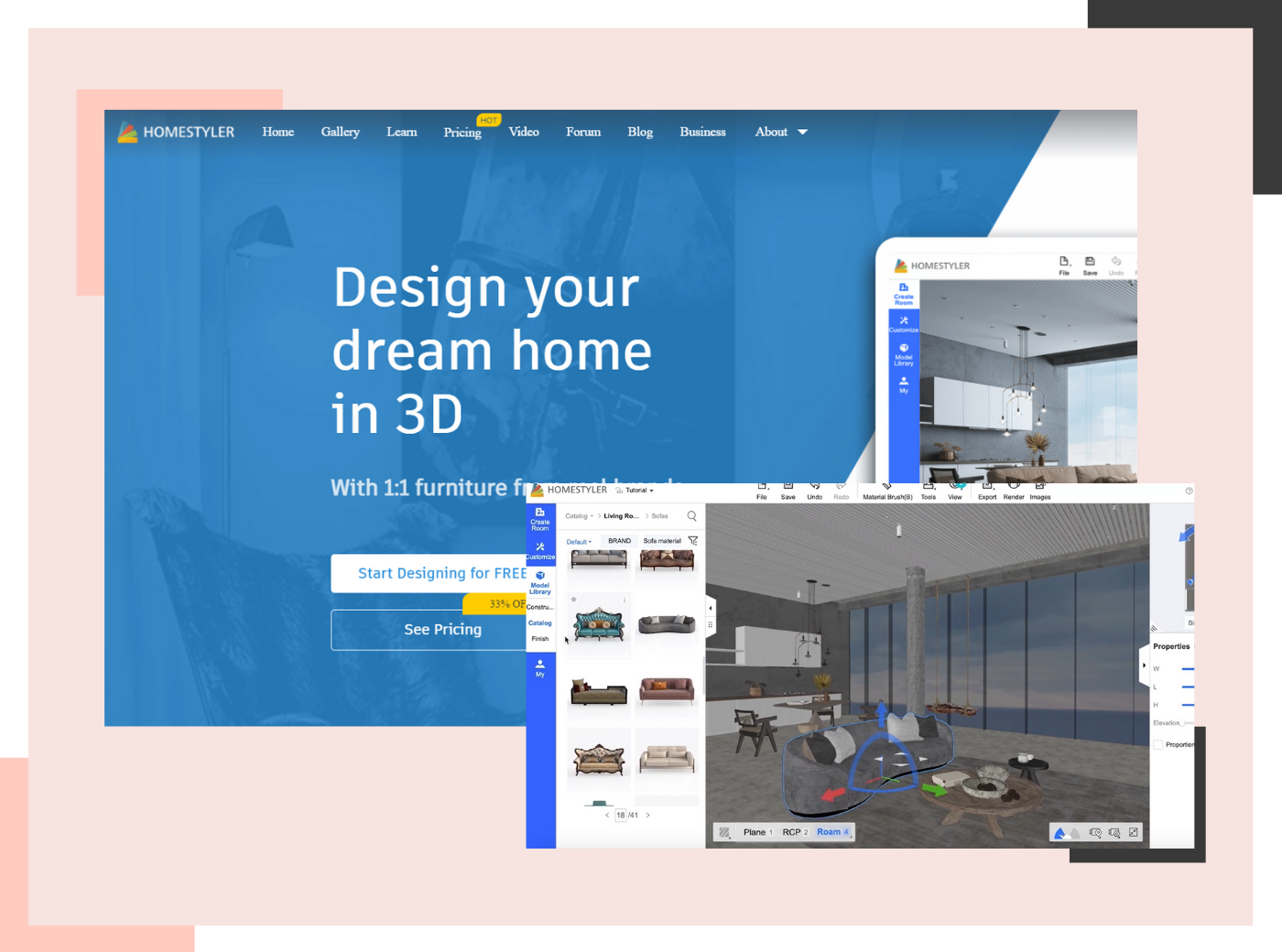 Image Source: Screenshot from homestyler.com
This is the Picasso of design software. It's an absolute beauty for people who love elegant home designs. It has various features at your disposal, such as 3D rendering of the design and easy creation of floor plans.
This tool is free, but you need to pay a premium to unlock more features. However, if you want a photorealistic 3D rendering, it will cost you more. Primarily 20 new designs can be availed at $9.99, but as renders increase, so will the price.
The software has been primarily designed for amateurs making it easy to use. Also, it's cloud-based, so it does not affect your storage place. The app is available on all mobile platforms helping you to design on the go. It's also a good choice for homeowners and new designers.
Read also – Best Floor Plan Creator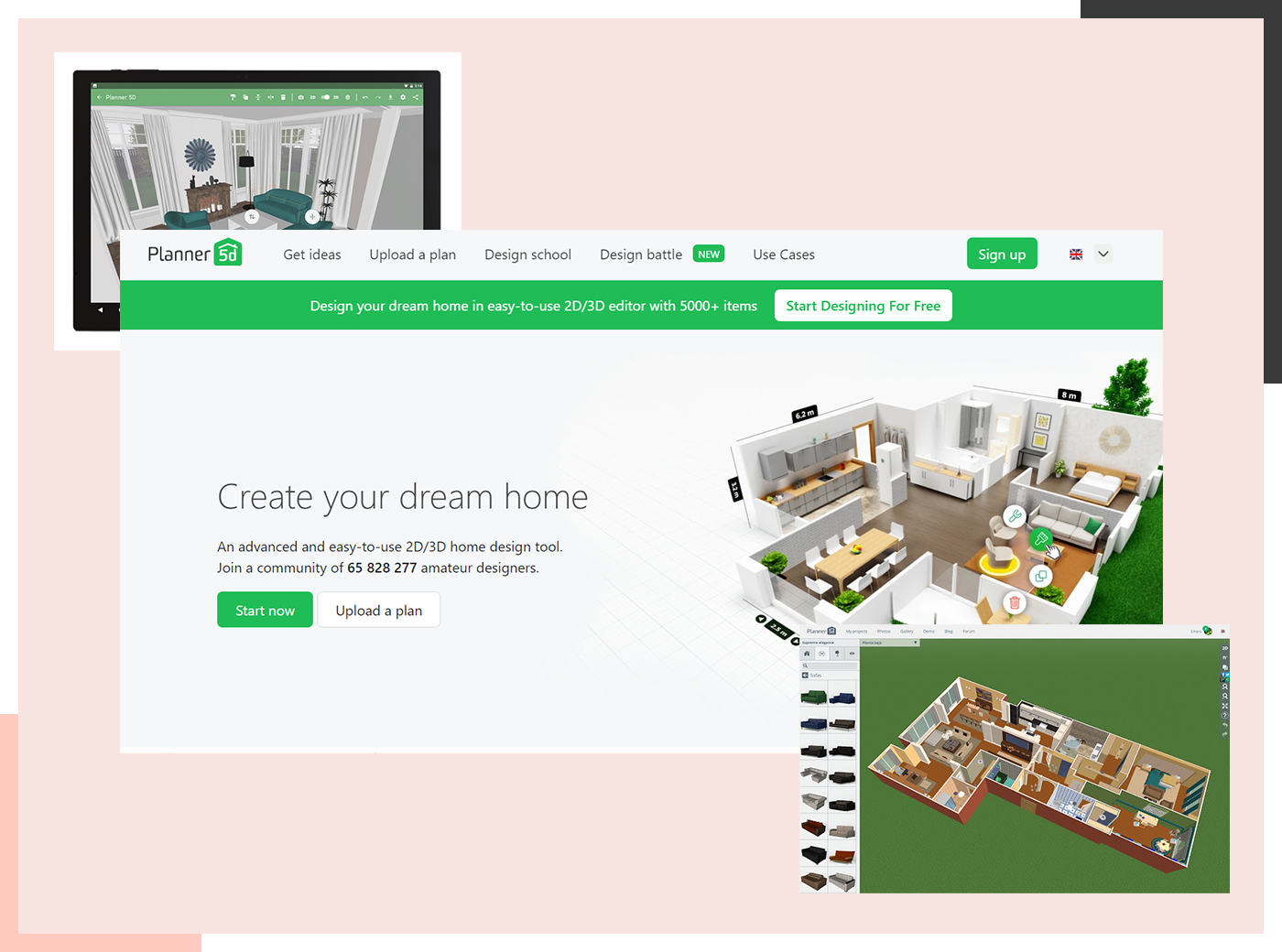 Image Source: Screenshot from planner5d.com
Benefits of Artificial Intelligence in Interior Design
There are numerous benefits of having artificial intelligence in interior designing software. Let's discuss a few of them here –
1. Quicker Rendering
The rendering of 3D images is getting way faster with the use of AI. Today, most tools come with millions of pre-rendered designs in their libraries which reduces the rendering time. AI algorithms fully simplify the process. Using these, users can build their environment and design the interior of their place more efficiently.
2. Stronger Lighting
As we have seen above, some tools used for interior designs are also used for video game creation and animated movies. This is primarily because they have a strong lighting feature. The AI can recreate any light you need, from sunlight to a desk lamp. The lighting effect can be produced in no time and is also very simple to create. Using various lighting, the designer can visualize the design space in all the scenarios.
3. More Accessible
Thanks to AI, most of these tools are becoming user-friendly and are accessible even for people with no prior CAD knowledge. Even an inexperienced person can use the software to its fullest extent. Many freelancers, students, and homeowners have started using these to learn and make a living. At the same time, professional designers have the freedom to use more advanced features of these tools to utilize the software fully.
4. Cloud-Based
The world has become extremely flexible today. People can do anything from anywhere, and this includes interior designing. This is possible mainly due to cloud storage. It has helped the users to use the software on any device, irrespective of its hardware specification. The storage happens in the cloud, so there is no loss of data.
Read also – 15 Best 3D Rendering Software for Alternatives
Conclusion
Artificial intelligence has become the de facto technology behind most industries today. It is no different in interior design. Many people at the beginning saw no use of AI in the field of interior design, but the software developers and technologists were not convinced and went ahead to build feature-packed AI software for interior designers. The tools highlighted in this post are some of them, and they have changed the perspective of interior design completely.
Software like Foyr Neo is easy to use and extremely powerful, striking the perfect balance for all types of users. Thanks to its myriad of features, it helps avoid multiple software and plugins to make your entire design process stay in one system. It not only makes complex workflows simple but reduces the cost and dependency on powerful hardware due to its cloud nature.
AI is powering the interior design industry, and this is the right time for everyone to leverage the benefits it has to offer.
Try Foyr Neo free for 14 days now to experience its world-class features and become a top interior designer.