Home » Blog » How To Earn From Houzz As An Interior Designer?
Houzz for Interior Designers
Gone are the days when the only way to spread the word about your brand was by spending a ton of money on advertising. With the monumental rise of social media and design community portals, it has never been this easier for interior design businesses and professionals to undertake organic marketing that costs a reasonably lesser amount.
 If you are an interior designer and haven't heard of the Houzz platform, you probably are living under a rock. It is one of the many platforms that have risen in prominence due to the increase in people looking and buying home products online.
But can interior designers use Houzz to get traction and make money? Yes.
This article discusses how to earn from Houzz as an interior designer.
Founded in 2010, Houzz.com or Houzz is a community of people of real estate designing professionals and others, such as interior designers, photographers, homeowners, and architects. The portal allows these individuals to communicate and learn about their trade.
Today, the site garners over 50 million unique visitors every month, with more than 10% of it being professionals looking to use it for their business and make some money. However, a good chunk of its traffic also belongs to clients who already own properties and are looking to innovate, remodel, decorate or undertake DIY projects for honing their skills.
Given the audience, Houzz presents a unique opportunity for design professionals, design firms, and others in the interior design industry to land potential clients and partner with them for new projects. 
Read also – 10 Platforms To Find 3D Rendering Jobs Online
How to use Houzz to earn?
Earlier, interior designers would have to depend on referrals or invest a sizable sum in advertisements to find new clients. Today, having a robust online presence can help you establish yourself as a strong player in the home décor business and make finding consistent and quality work easier.
The Houzz community is one such place that helps not only interior designers come up with novel design ideas but also meet potential clients and discuss business opportunities. Given that the platform is essential for home décor, it is graphics-heavy and enables you to showcase your art and expand your business using Houzz.
But how to market your business on Houzz so that you can earn from it? Here is the process broken down into actionable steps to make life easier for you –
Read also – How To Market Yourself As An Interior Designer?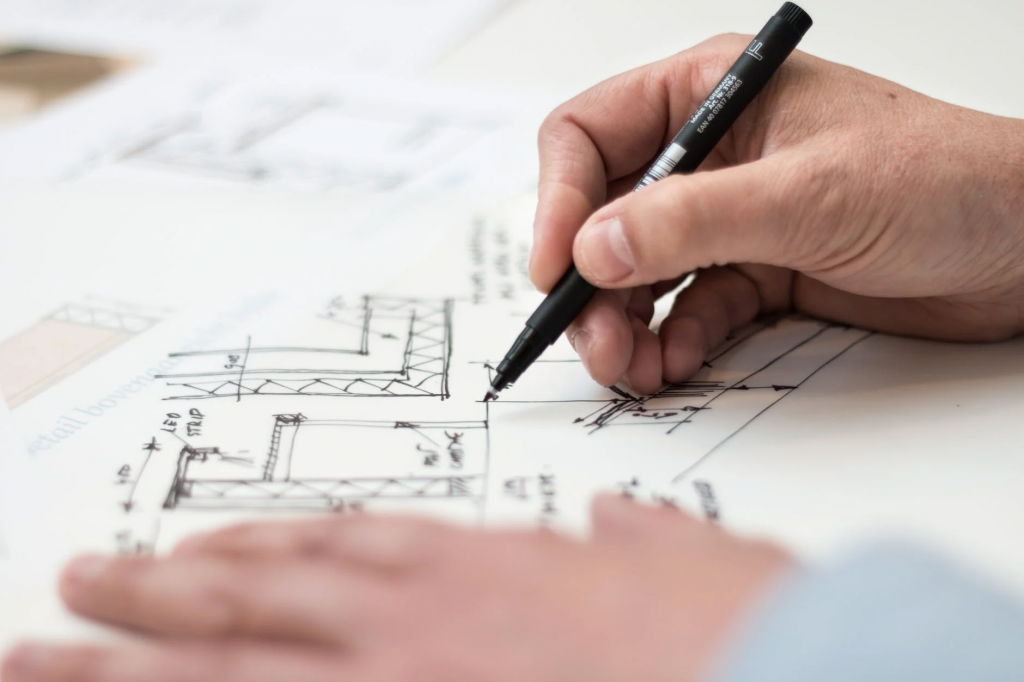 Image Credit: pexels.com
1. Complete your profile on Houzz
While scanning through the Houzz community, you may come across a myriad of interior designers' profiles that are incomplete or do not give a complete picture of who they are and why people should choose them.
In the internet world, your profile is your sales pitch. If the first impression doesn't feel right, the new client will be reluctant to take the next step and contact you, and in most likelihood, will leave.
Your Houzz profile's completion level will also impact the SEO algorithm and how Houzz decides to rank it. Ideally, it should contain a brief about you, including your story, experiences, and primary skills. Make sure that you fill all the necessary sections. Everything should be crisp and easy to understand for the target audience and easily crawlable by search engines.
In addition, make sure that you have listed all the interior design services you offer along with the locations and your contact information to allow people to reach out to you if they have some queries or new business. Houzz also will enable you to list a tentative price you charge, allowing potential customers to gauge what to expect before dropping a text.
Read also – 10 Best Online Interior Design Services
2. Showcase your experience
As a consumer, what would you prefer? A portfolio comprising several aesthetic shots showcasing the intricate living room design along with the versatile paint color OR having a handful of kitchen design images that are low resolution. Every sane person would choose the former, and the reasons are understandable.
Design professionals have to be particularly careful about the images they upload and their quality. If you are not good at photography in interior design, consider hiring one to help unearth the real-world value of the interior design projects you undertake.
In addition, make sure that you bifurcate all the projects and present them separately. Remember the need to make them searchable so that consumers can easily track the relevant work. If you cannot think of an appropriate name, use the location and the project type to create something meaningful.
Houzz provides you with multiple text boxes to fill while uploading a new project. These are key to its algorithm, and filling all of them up would also boost its chances of showing up on Google or any other search engine. Also, if there is someone else clicking the photos on your behalf, do not forget to tag them and give them credit.
Read also – How To Create A Successful Interior Design Portfolio?
Houzz allows users to link their social media handles, such as Facebook or Instagram, to their Houzz profile. In addition, it also lets you showcase your interior design website if any. By doing so, you are allowing your repeat or new clients additional gateways to know more about you. It helps design firms and interior designers develop a robust online presence to boost their business further and provide more confidence to their audience.
In addition, there can often be times when you skip uploading minute home décor works on your Houzz profile, but such projects may inadvertently become part of your Instagram handle, and connecting it all will help showcase a wide range of work to your clientele.
Read also – How To Find Your Niche As An Interior Designer?
If you have been frequent on any social media platform, you are well accustomed to blue ticks and the hysteria around them. Houzz offers something on similar lines for recognizing its users' contribution and expertise.
It lends an additional layer of attraction and can help rank your profile better. It, therefore, makes it easier for people stuck in design dilemmas to contact you for their home redesign or any other home decor needs.
While there are multiple badges on offer, one of the best has to be the 'Best of Houzz Award.' It is provided to the profile with the most famous photographs (those that have been added to most ideabooks). You can also win the Best of Photography, Best of Service, Best of Design, Influencer, or the more common 25K Saves and such and showcase the same on your Houzz profile for increased traction.  
You can also add these badges to your interior designer website if you wish. Houzz allows users to access the badges they have won and add them to their site with ease. 
All you have to do is visit https://www.houzz.in/buttonsAndBadges or tap on the Buttons option at the end of the Houzz profile for more information. Then, choose the one you want to add to your site, copy the HTML code, and embed them on your site. These small additions go a long way in helping you earn from Houzz as an interior designer.

Image Credit: houzz.com
The ideabook is an integral part of how to market your interior design business on Houzz. The ideabook is in line with Pinterest and how it uses boards to showcase similar ideas. But the only difference here is that the topic revolves specifically around interior design.
Ideabook is an umbrella of images from your portfolio or the image database that the portal provides and can help establish your knowledge in home design work and contribute to SEO.
Houzz allows you to name and write a short description for each of the ideabooks you create. Add a lot of images, and ensure you inculcate the target keywords to help readers find it out and contribute to your rankings.
The portal allows you to keep your ideabooks private or public. The former can be used as a reference for the kind of works you draw inspiration from or want to excel at in the future, and the latter can be to showcase the work you have done for your potential clients.
In addition, you can also use private ideabooks for each client you are working with or have completed the work for. It would act as a historical reference, and you can use them for drawing critical insights.
If multiple design professionals are working on the same project, you can also invite them to make the requisite changes. An ideabook is an all-rounder and a vital element to excel if you want to earn from Houzz.
Read also – Digital Marketing for Interior Designers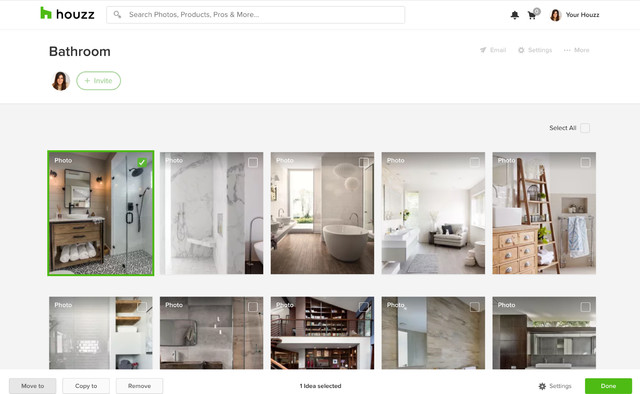 Image Credit: houzz.com
Testimonials are an excellent addition for any business having an online presence. If you are already in the mix for some time, there is a high chance that you have worked with multiple clients on diverse projects. Naturally, testimonials play their part in the interior design business landscape too.
You could request your client, after completing a project, to leave feedback if they were satisfied with your work. You can also ask your colleagues and experts in this sector to write some kind words for you and your skills.
Adding these to your Houzz profile can showcase your ability to understand clients' needs and deliver on them. Recommended on Houzz badge is another nifty addition that opens up once you have enough reviews on the portal. All of it contributes towards improved visibility, paving the way for more new clients to find you. 
Read also – Online Reputation Management for Interior Designers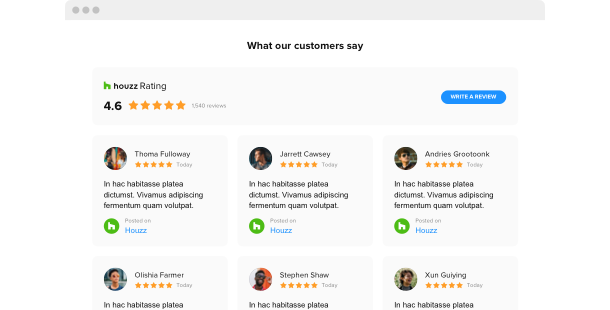 Image Credit: houzz.com
7. Participate actively on the forum
As discussed above, Houzz is a community of like-minded people looking for answers or inspirations. It also doubles up as a discussion forum for mind hunting and design dilemmas by bringing together professionals, contributors, and clients on the same page.
It gives interior design professionals an excellent opportunity to shine and showcase their capabilities. You can be the expert and answer queries, provide relevant suggestions to people looking for them.
It would not only help you garner more followers but would also enable others to gauge your abilities, design sense, and disposition, thereby helping you find potential clients willing to hire you for their home design needs.
Read also – Best Interior Design Communities
If you are unable to figure out how to generate new business from Houzz, we suggest you try Houzz Pro. 
Houzz also has a Pro service for its community members. It allows interior design professionals an added leverage by adding additional elements, such as video and featured reviews, for their profile to look more professional and reach new clients.
As per the portal, there are over 2.3 million Pro accounts, including specialty contractors, architects, interior designers, and builders & remodelers, who benefit from this service.
The Houzz Pro has been built with business in mind and aims to save time and increase the profits of design professionals. You can choose from any of the three plans available –
Starter at USD 65/USD 59 (for annual billers)

Essential at USD 99/USD 65 (for annual billers)

Ultimate at USD 399/USD 349 (for annual billers)
Read also – Highest Paying Interior Design Jobs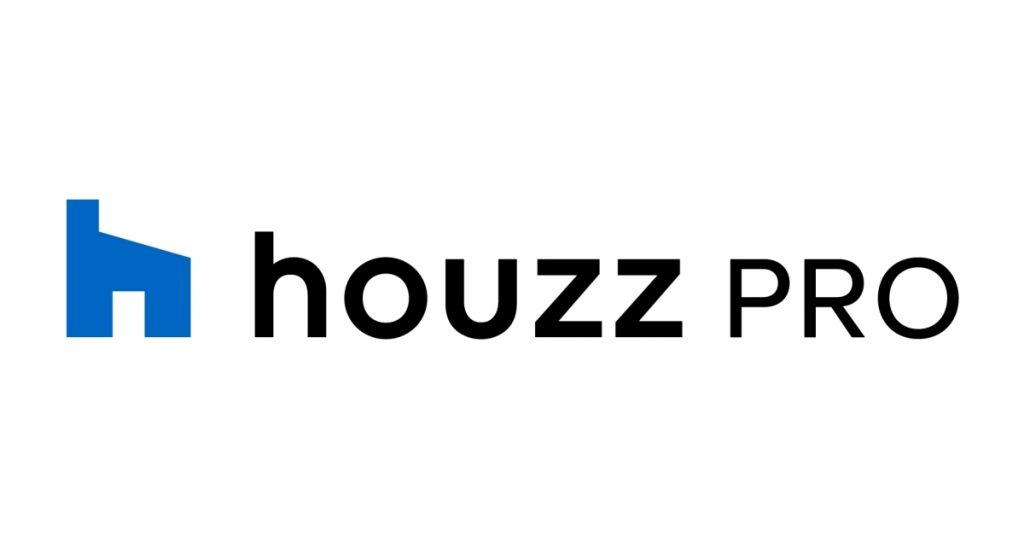 Image Credit: houzz.com
Start a Successful Interior Design Business With the Right Software
It is imperative for designers to hone their skills consistently if they want to find new interior design business projects regularly. Houzz is one platform that allows the knowledgeable to stand out and find new clients with ease. Especially when you have optimized your profile, it becomes easier to find work continually and create exciting pieces every now and then. 
If you have the right business tools, each stage of the interior design process will be easier and more efficient.  Foyr Neo is a one-stop-shop for all your design needs. The multifaceted design software has so many features to choose from that it makes it easier to visualize your design ideas more effectively. 
60K + ready to use products 

Build Floor Plans, edit in 3D

Drag and Drop Interface

4K Renders in minutes
Furthermore, it doesn't take up a whole lot of space due to its incredible cloud computing feature. It saves time and money on licensing. Anyone can create absolutely remarkable home designs with these design tools. Foyr Neo is now available for a 14-day free trial, allowing you to explore the potential of infinite creation.