Home » Interior Design » 20 Instagram Marketing Tips For Interior Designers To Build Your Brand
Building Your Interior Design Brand
Instagram completed ten years on October 6, 2020. Within the first three months of its inception, it already had a million people with their accounts on it.
Instagram is a free tool for every interior designer's marketing endeavors. However, if this statement seems like a distant truth to the marketer in you, you may want to reconsider your opinion before cementing it.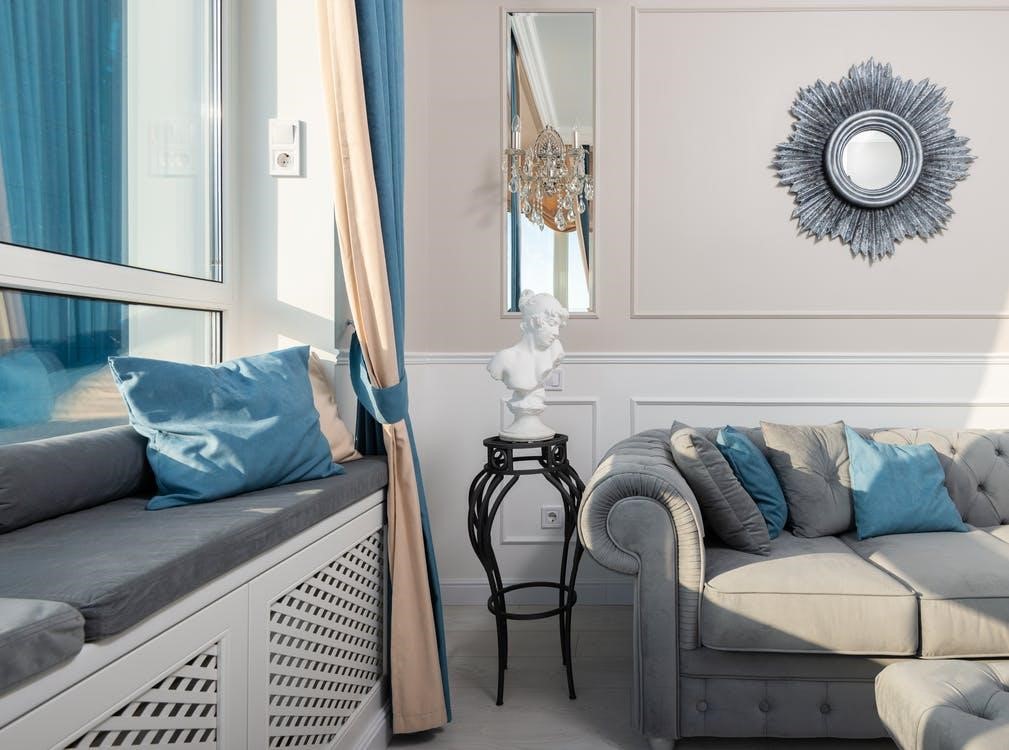 Image Credit: pexels.com
In the last few years, Instagram has been continually growing in stature. The Facebook-owned platform's unique scrolling style has become popular with Gen Z. It has brought about the possibility for marketers to use it to drive traffic and inform people of their existence.
Interior designing is one sector that had always otherwise shied away from advertising, but digital marketing and Instagram have helped them prosper and have quickly become ideal marketing solutions.
The result? Instagram for interior design is no longer an underutilized resource but is quickly becoming one of the designated platforms for every marketer out there. As a result, many interior design brands on Instagram are now showcasing their work, and the numbers are only rising.
This article discusses tips for Instagram marketing for interior designers to excel at building a successful Instagram marketing profile for their brand.
Read also – 20 Pinterest Marketing Tips for Interior Designers
Why Should Interior Designers on Instagram Promote Themselves?
Instagram is the world's sixth-most visited website. If it is not enough for interior designers to promote their home decor abilities on the platform, read on to know other reasons that make it a must-have for social media strategy.
Interior designers and Instagram share similar characteristics; Both are aesthetically heavy and require creativity to succeed. They together make a deadly combination. Social media marketing, especially Instagram marketing, is a must-have for several reasons for an interior designer.
Here are some reasons why interior designers, especially small businesses and bloggers, should promote themselves on Instagram –
Instagram helps interior designers invite potential customers into a bifurcated, personal space by showing them home images high on aesthetic values.
It lets the artists showcase their full range of creativity on a platform without having to run here and there.
Once interior designers start garnering attention, they can grow at a phenomenal pace and charter an unknown pool of clients they would probably never have without the Facebook-owned site's help.
Instagram allows clutter-free advertising and finding a host of relevant influencers who can further drive the brand's growth.
There are a plethora of interior designers who exist because they have Instagram on their side. They do not even promote their offerings on other social media platforms as they do on this one.
Read also – Digital Marketing Strategies for Interior Designers
20 Marketing Tips to Level-up Your Interior Brand on Instagram:
Social media marketing can be tricky. So it is imperative for an interior designing business to understand what would bring more audience and help them convert.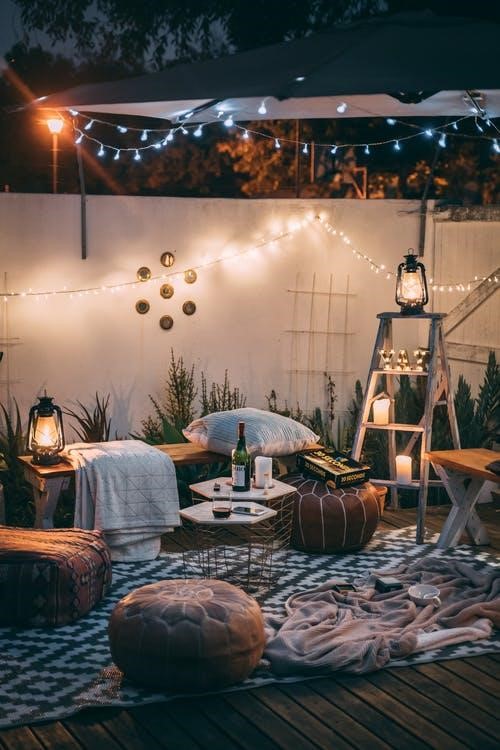 Image Credit: pexels.com
Here are 20 marketing tips to help interior design brands on Instagram leverage their existing resources to woo more customers and excel on the social media platform.
There are so many things that you can do on Instagram that a beginner may lose their way. So it is vital to have a clear-cut marketing strategy to make the most of the opportunities you have.
If you indulge in unwanted social media interactions, it will take you nowhere. It can also lead to wasting your brand's resources. Therefore, it is crucial to have a strategic presence instead of merely doing things as they come.
2. Find your target audience
Instagram lets its users undertake highly targeted posts. So it is imperative to find the people you want to target before embarking on your social media journey. One of the advantages of social media and its audience is that they teach you about themselves. So keeping a tab on their activities and using polls and other activities will help in creating meaningful content.
3. Create content your audience would like to watch
Interior designing has its niche audience, but there can be other people who are interested in your content and can even convert. So, it is imperative to create content that would make every potential customer pause when scrolling on their Instagram feed.
Read also – How Much Do Interior Designers Make?
4. Follow the right set of people
Your following list should comprise accounts that –
Your ideal clients would follow
Inspires you, and
Can be your potential clients
Interacting with the right set of accounts would increase the page's visibility and potentially lead to Instagram suggesting your page to your potential clients itself. If you interact with people who don't contribute to your cause, you will find it hard to gain organic followers.
5. Do not forget to greet your new followers
When an Instagram account follows you, there can be a possibility of them becoming more involved if you make the right move. So, it is crucial to greet them and ask them about their interior designing preferences. However, make sure not to appear spammy and only send them relevant, high-quality stuff.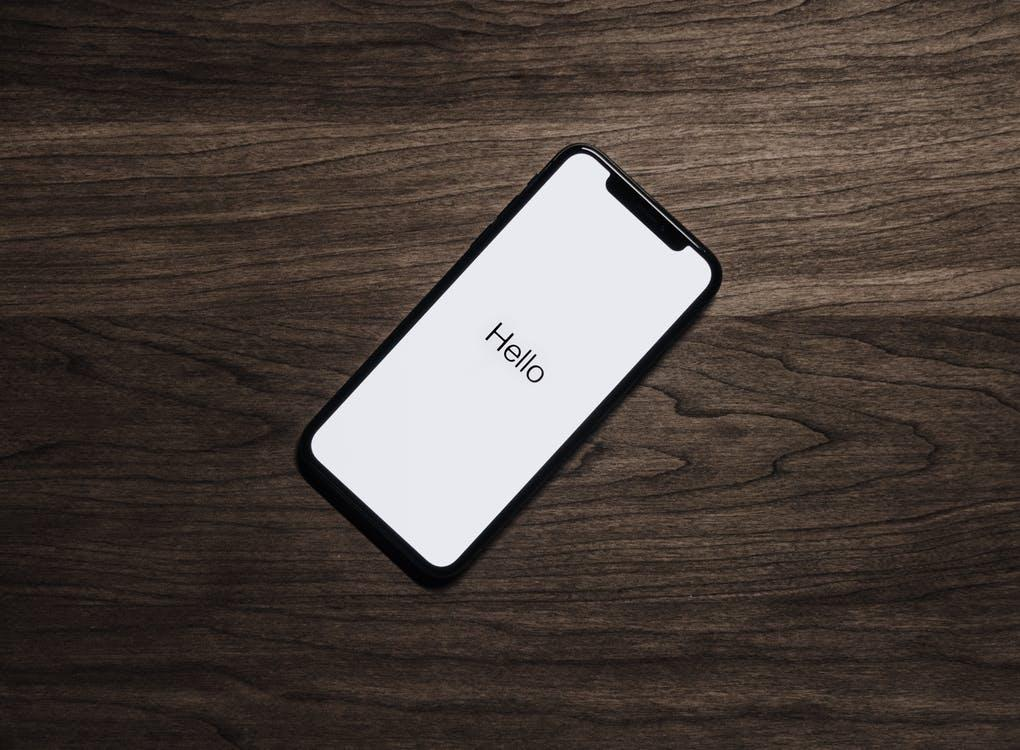 Image Credit: pexels.com
Instagram allows businesses to use keywords on their profile descriptions. It helps improve visibility and also augments your overall SEO score. However, do not overuse them as they would unnecessarily clutter your profile.
Read also – 10 Interior Design Career Paths To Become An Interior Designer
7. Create a timeline
Instagram lets you connect, comment, follow and do a plethora of other marketing activities. Make sure you bifurcate your marketing goals into long-term and short-term ones. For example, where do you see your interior designing brand in the next couple of years? What are the events you would like to capitalize on, and how? Answering these would allow you to be better prepared and churn out a viable plan of action.
8. Find the influencers to partner
Since you are a business, it is imperative to find people who can help you grow and reach a wider audience. An influencer in the interior designing space can be anyone, such as a textile expert, celebrities, designers, and others. When you partner with the right influencers, it will help you increase your traffic manifold.
9. Understand your competition
A business will have competition. So your interior design brand on Instagram must figure out all its competitors and look into their activities. Then, it will direct your next moves on Instagram and find people who can help you grow.
10. Create versatile content
Instagram is a place that allows you to create and utilize content in more ways than one. For example, you can upload an IGTV video, posts, or reels depending on the content and your audience. Reels are one of the latest additions on the platform. They are helping creators post short, crisp videos pertaining to a plethora of topics and are a proven way to improve engagement. For example, Hootsuite's engagement went up faster after they embraced reels.
11. Be active regularly
Instagram is an interactive place, allowing you to engage with a world of people. It will enable you to express, garner critical insights, and find ways to make more people look for your page. The more active you are, there are more reasons for people to interact with your content. You can use trending topics to give your page a chance to perform better.
12. Make sure you post content regularly
An average Instagram business account posts once per day.
Posting regular content helps build curiosity amongst your audience. It also helps your SEO performance and improves your brand visibility. Posting regularly and having a workable mix, such as publishing Instagram stories, visual content, social media tips, and more, would allow a diverse mix of traffic to engage with your posts.
13. Showcase your expertise
If you are an expert, there is no harm in showcasing it. For example, an interior design expert should often give its Instagram audience a walkthrough of an artwork they created and explain the reasons behind their choices while making it.
Read also – How To Start Your Interior Design Business?
14. Motivate your audience to spot details
The longer someone watches your content on Instagram, the better it performs in terms of reach. So you should motivate people to spot details.
15. Use slider images for improved detailing
Instagram is conducive for vertical images, but there can be instances when you think that a vertical snap may not justify what your team has created. In such cases, pick a wider image and do not shy away from using a slider image. You can bifurcate the ambiance into multiple images to ensure better presentation.
For example, see how Foyr has showcased the Double Island Kitchen using a slider post –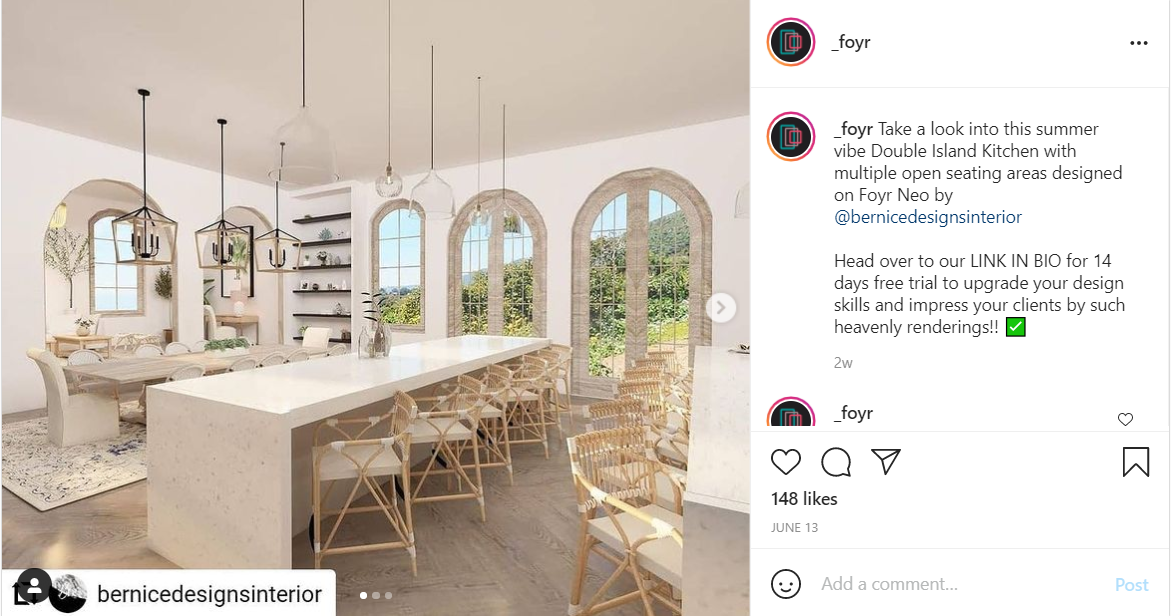 16. Add white space wherever necessary
White space helps augment the overall value of the piece you showcase. Use a single product (if feasible) on a solid background to make it aesthetically pleasing.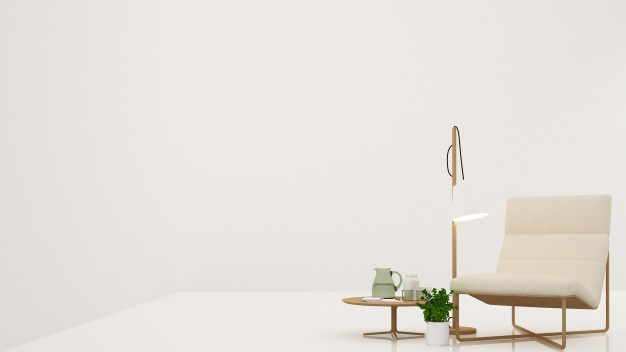 Image Credit – Freepik.com
17. Do not shy away from educating
If you are an expert, there should be no reason you should not try to educate your audience. If you come across a problem, you can make a video and post it on your Instagram feed to ensure others may not suffer from it.
For example, one of your clients was suffering from poor sound attenuation in their office building. So you suggested a shift from mortar plaster to gypsum boards for better acoustic performance.
Read also – How To Market Your E-design Services?
18. Conduct polls
An underrated way of engaging the interior design industry is to conduct polls. These can range from choosing a design that the audience likes over others or asking them to tag you on strategies they find appealing. It will not only improve engagement but also help understand people better.
19. Use posts on LinkedIn
LinkedIn is a place that lets you connect with professionals in the interior design industry. Use it to determine the clients and your favorable demography. It will also help use content marketing to improve brand awareness. You can share your Instagram design content on the Linkedin platform, but the content copy may change as the audience on Linkedin is different.
20. Work on optimizing your profile
Your Instagram profile is a reflection of who the brand is and the way it perceives itself. Optimizing it will give the visitors more reason to connect with the brand. Start by optimizing your profile picture and using relevant hashtags to improve visibility. Improving your Instagram description can help visitors better connect with your endeavors.
Read also – 15 Best Software for Interior Designers
Content Ideas for Your Instagram Page:
Social media content by Interior design brands is heavily focused on aesthetics. Given that Instagram shares the same values, it makes for a great camaraderie if done right. Think of it as an online window dressing for your brand.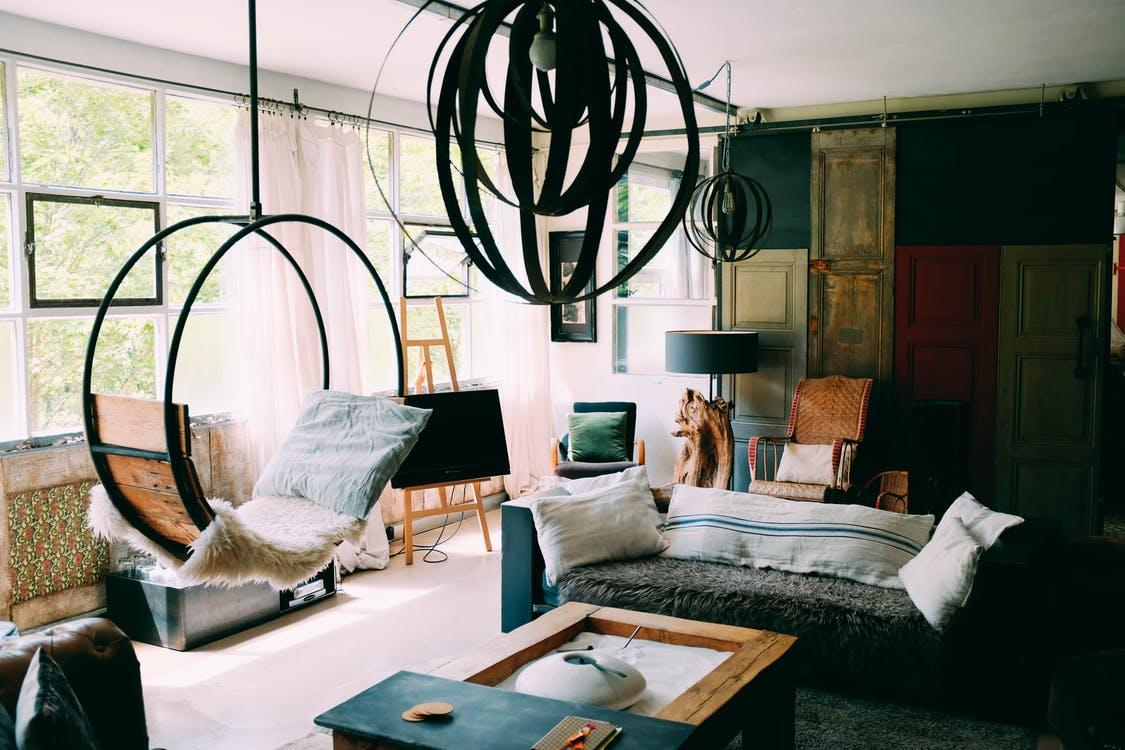 Image Credit – Pexels.com
Do you design homes primarily with marbles, or are you more inclined towards gypsum or other items? Instagram lets you establish an identity separate from the plethora of competing brands.
Here are some content ideas for taking your Instagram brand page a few notches higher –
1. Details matter
Interior designing is more about the intricate details. Instagram allows you to showcase your expertise by focusing on the primary focal point and using multiple images to guide the viewers' attention to what you want them to focus on and the right way to do it.
2. Using Image Dimensions to Your Benefit
Instagram is a graphics-heavy platform. It allows interior designers to experiment with different angles and focal lengths. But given its scrolling outlook and the majority of its audience using it via their smartphones, vertical and square images work the best.
3. Symmetry
Humans love symmetry. So using a plethora of colors that do not work together may not be best for SEO. Instead, using a neutral background and limiting the usage of colors that pop can work best for your Instagram endeavors.
Read also – How To Become An Interior Designer?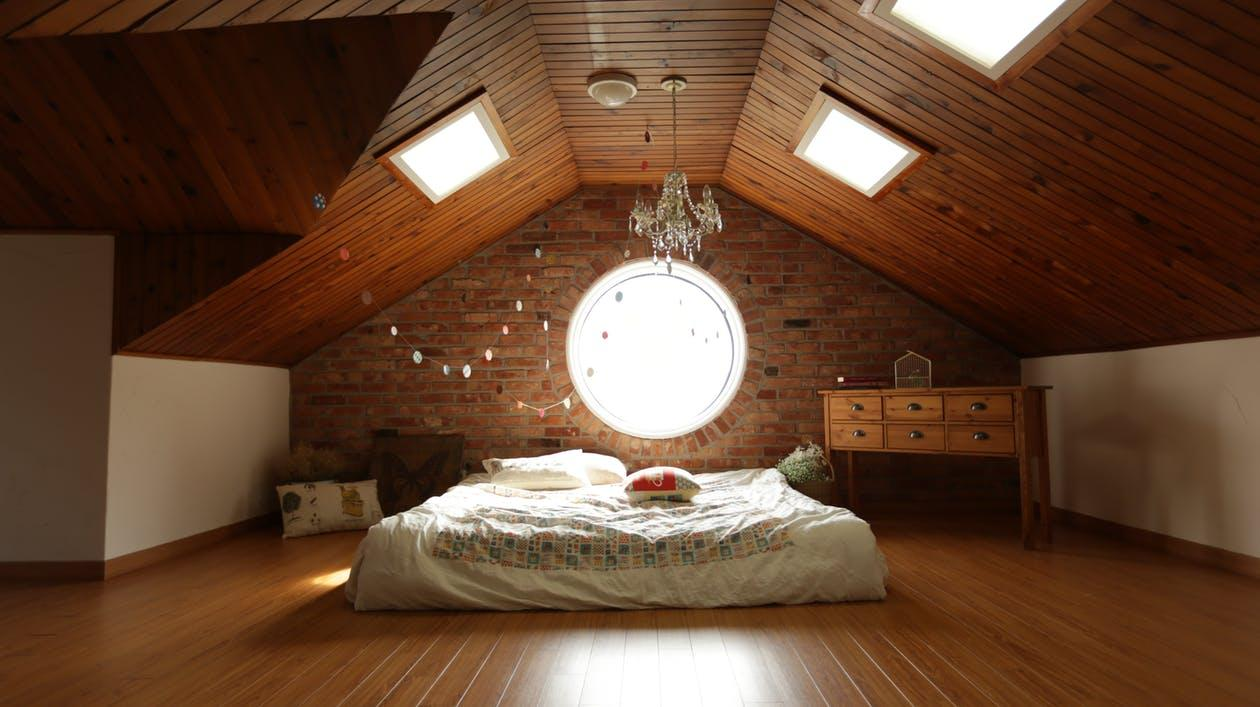 Image Credit – Pexels.com
4. Show how you do it
The process is more important than the result. So it becomes imperative for an interior design business to showcase how it accomplishes its tasks. A BTS (behind the scene) video can help users to gauge the level of detailing and attention that your team pays for every designing task it undertakes.
5. Bring the faces to the forefront
Brand stories have an 86% completion rate on Instagram. There is an increasing need to find ways to build an emotional connection with the audience on the social media platform. Most successful brands regularly post candid images of their employees and owners and have helped people find more reasons to connect with the brand.
6. Be original
There are many interior designing brands in the market, but only some care about morals. Many blatantly copy other brands' images and are called out for their nefarious activities. So, it is imperative to present original work, irrespective of the scale on offer, to the audience on Instagram. It will help you stand out from the crowd and connect with the audience holistically.
We understand that there can be times when a specific work from your competing brand can inspire you, and you would want to have it on your page. But before you repost their Instagram post, request the owner to ensure there is no copyright strike to plague afterward.
Read also – How To Get New Clients For Interior Design Business?
10 Best Pages to Follow on Instagram for Interior Designers:
Here are some of the best interior designer pages to follow on Instagram –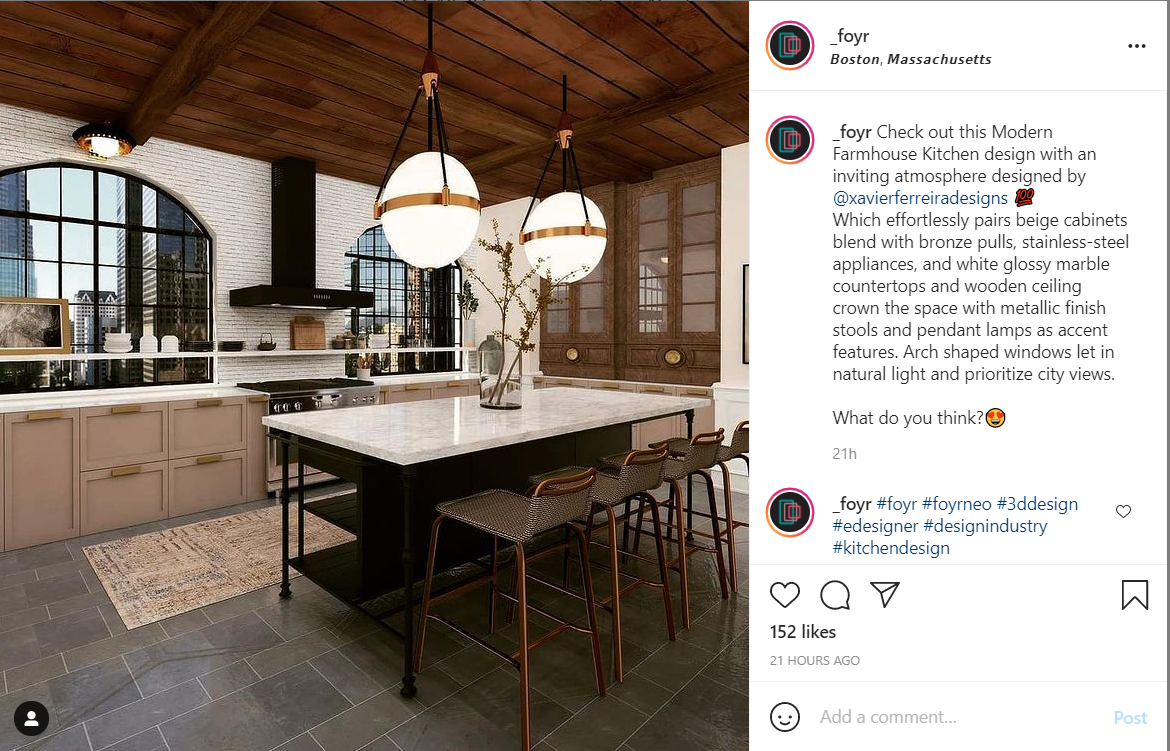 A new-age interior designing brand and community focused on using technology to drive productivity and improve results. The Foyr Community is a treasure trove of interior design knowledge, experiences, and ideas for running a successful interior design business.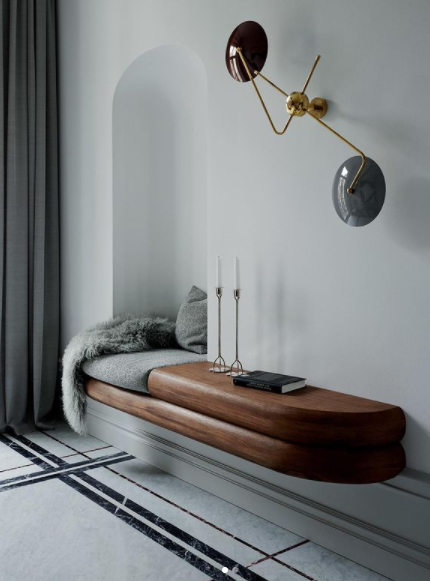 This page focuses on using subtle color elements to augment the overall aesthetic value of the interior decor. There is a lot of focus on getting the elements to work in synergy with each other.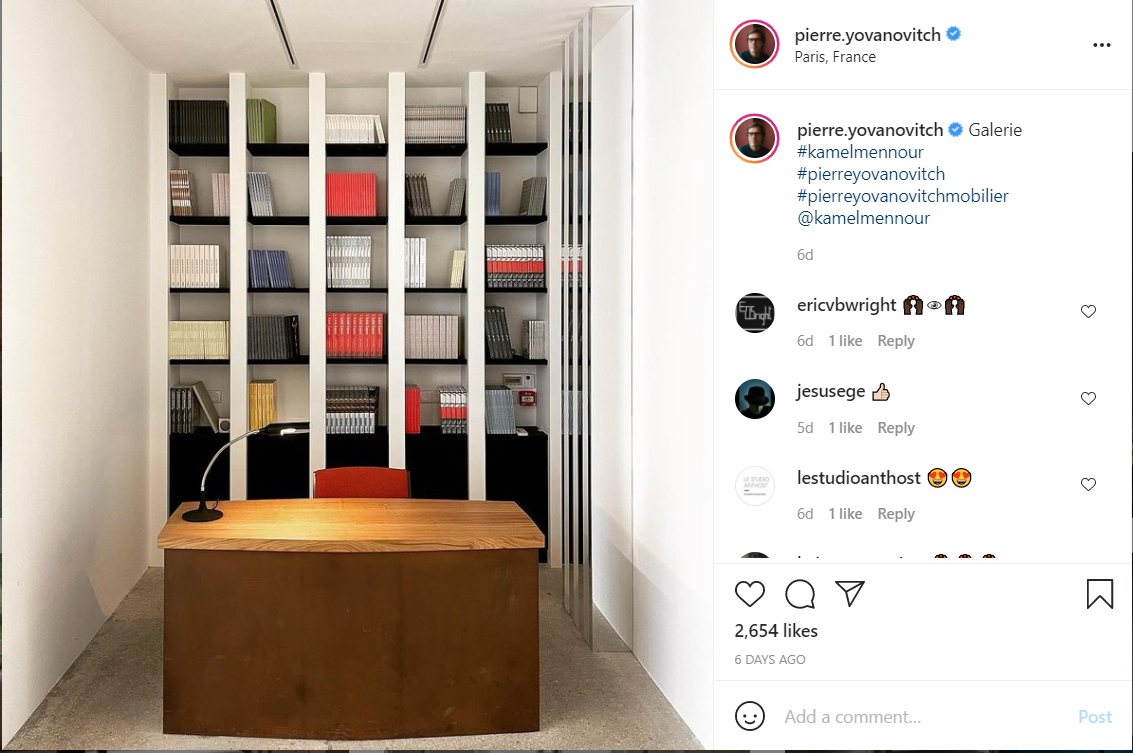 The page focuses on contemporary designs, and you will find a bucket load of posts with different hues.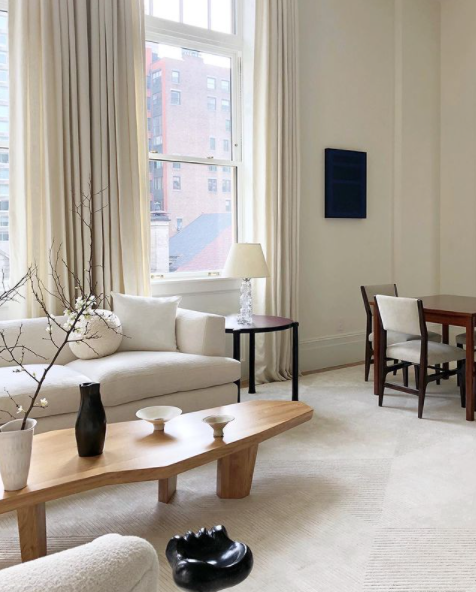 The creator focuses on designing living rooms that contain a lot of earthy and neutral tones with a mix of geometric shapes and unusual patterns.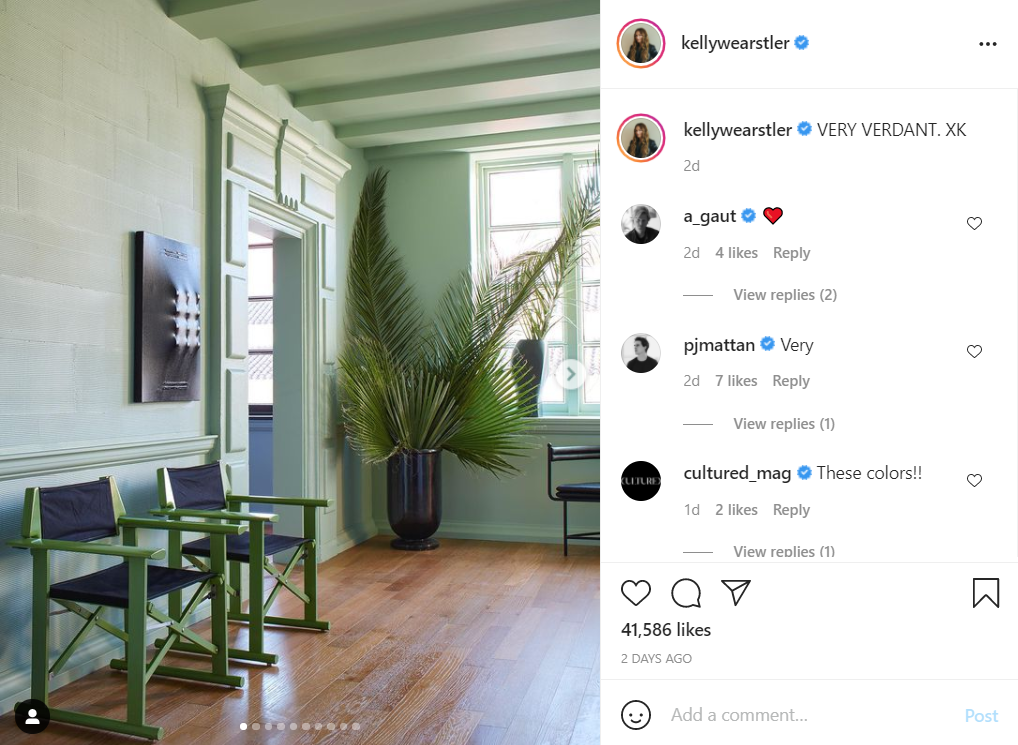 A high-end interior decorator, her page is full of innovative presentations. She has a knack for mixing rich hues with texture to give them an artistic touch.
Read also – Interior Design Sourcing and Procurement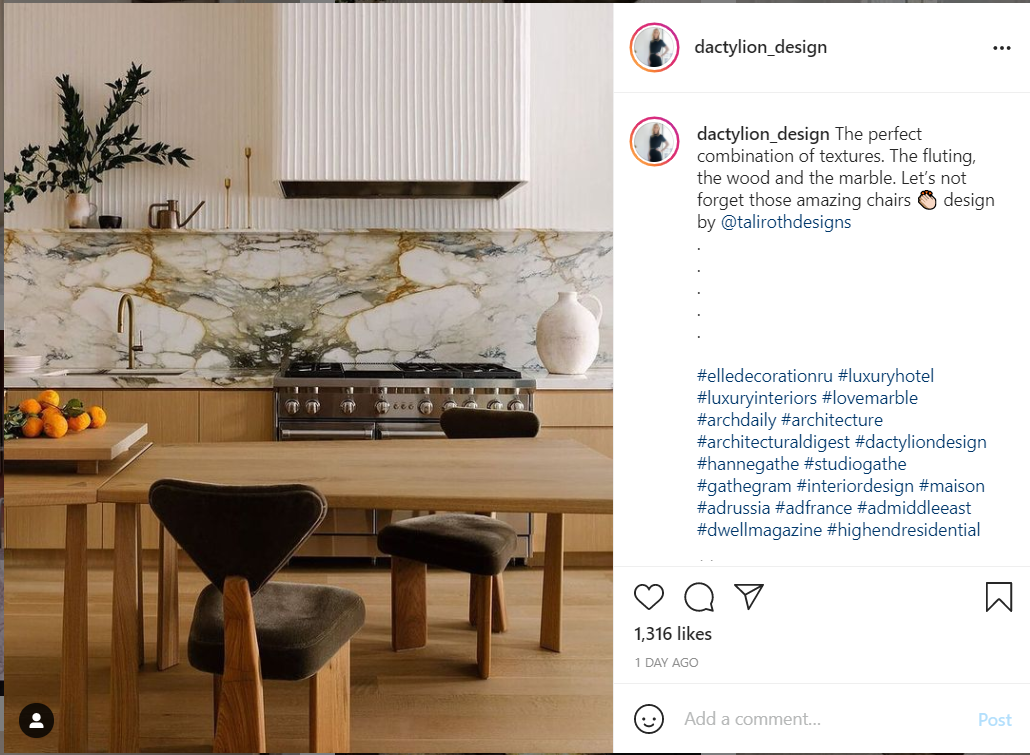 The designer has partnered with some of the top brands in London, such as Jump Studio and Fiona Baratt Interiors. Scrolling through her Instagram page would present you with a plethora of intricate modern designs.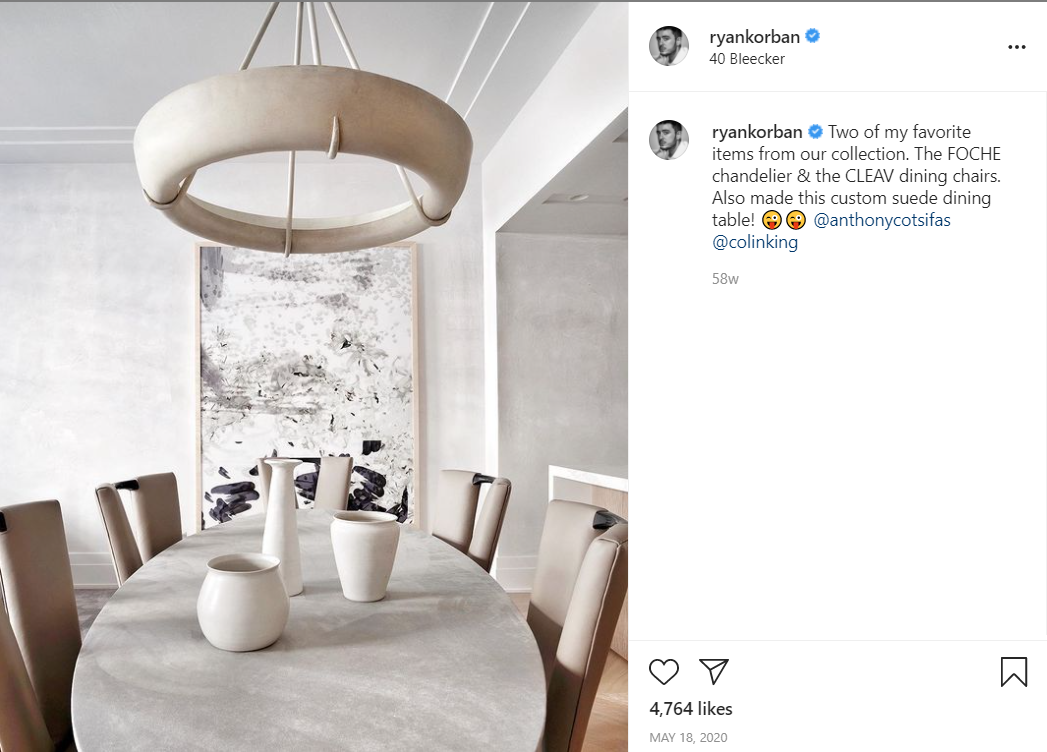 This Instagram page focuses on contrast being the central character of designing. Its feed has a lot of texture and can come off as bold to some.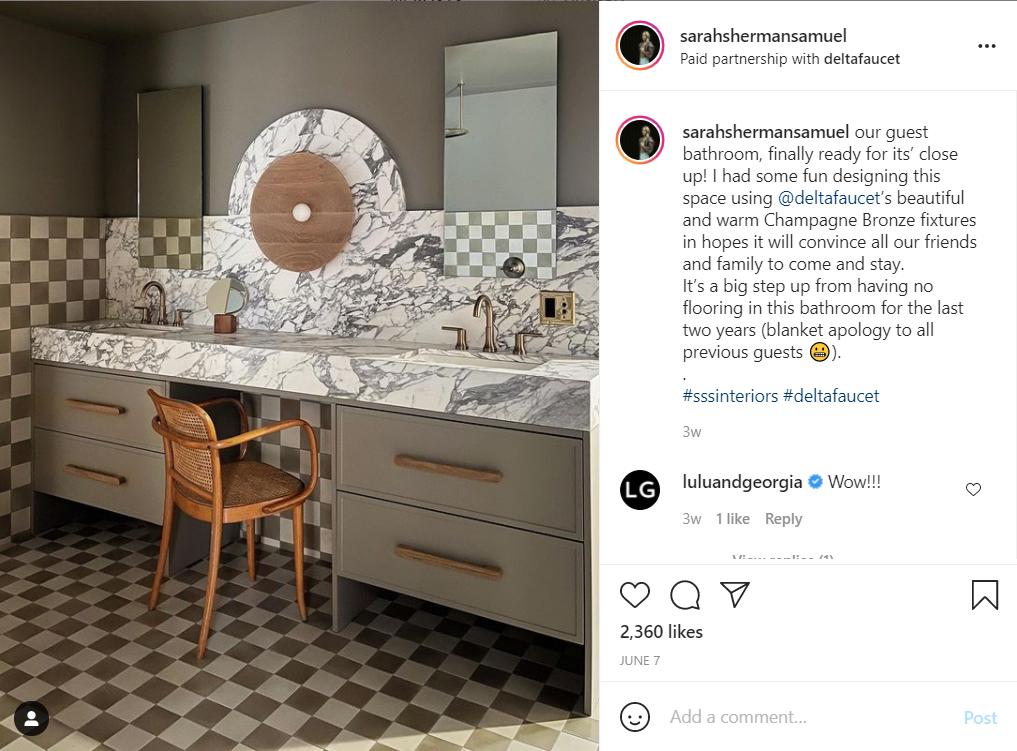 Sarah Sherman Samuel's Instagram page is full of fun tones and patterns mixed with geometric shapes to create a result unique and pleasing to the eye.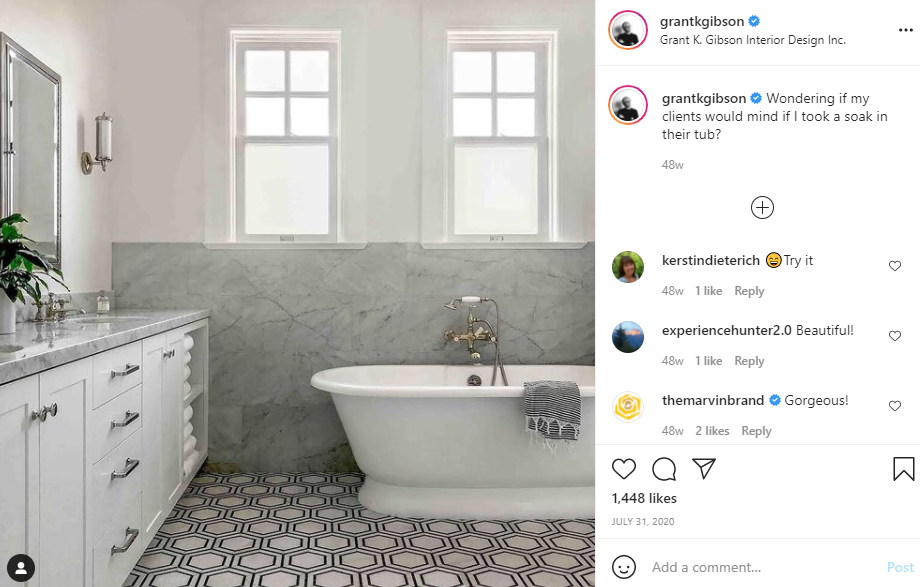 Grant K. Gibson focuses on the right mix of functionality and aesthetics. The posts depict interesting takes on interior decor without overutilizing the available spaces.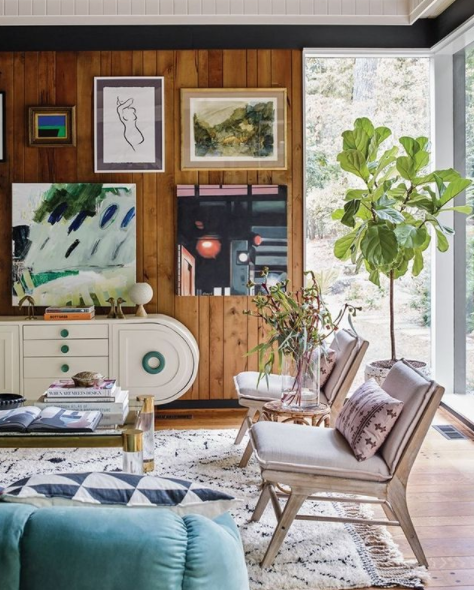 Emily Henderson's Instagram feed is full of artistic decor shots with a Bohemian edge.
Conclusion
Building your interior design brand on Instagram is one of the most crucial aspects of its social media marketing strategies. Having a plan in place, creating meaningful content, and engaging with your audience would help you find new prospects and improve the aesthetic value of their living spaces.
Follow @_Foyr on Instagram for more interior design tips.
Foyr Neo is a one-stop-shop for all your design needs. The multifaceted design software has so many features to choose from that it makes it easier to visualize your design ideas more effectively. 
60K + ready to use products 

Build Floor Plans, edit in 3D

Drag and Drop Interface

4K Renders in minutes
Furthermore, it doesn't take up a whole lot of space due to its incredible cloud computing feature. It saves time and money on licensing. Anyone can create absolutely remarkable home designs with these design tools. Foyr Neo is currently available for a 14-day free trial, allowing you to explore the potential of infinite creation.