Home » Interior Design » The Ultimate Guide To Pinterest Marketing For Interior Designers
Pinterest Marketing
Pinterest has to be the first social media that comes to one's mind when one thinks of home decor inspiration. There are tons of ideas for all style preferences, and if you are an interior designer, there truly is no reason for you not to be on Pinterest.
As the Facebook and Instagram audience gets spoilt for choice because of sheer volume, Pinterest is a god sent! It's a great place to target your audience well and get them into your sales funnel. When used to its full potential, a visual search engine like Pinterest can help you establish a brand and bring in real clients. 
In this article, we go over everything you need to know about Pinterest marketing for interior designers and how you can make the most of it.
Read also – 20 Instagram Marketing Tips for Interior Designers
Why Should Interior Designers Promote Themselves on Pinterest?
There is so much to reap if you make Pinterest a part of your interior design social media marketing strategy. Whether you are a small business or a seasoned one, a Pinterest business account can help you take things a notch up.
Interior designers everywhere are taking to Pinterest to put a word about their business out there. Here are a few reasons why you should hop on too.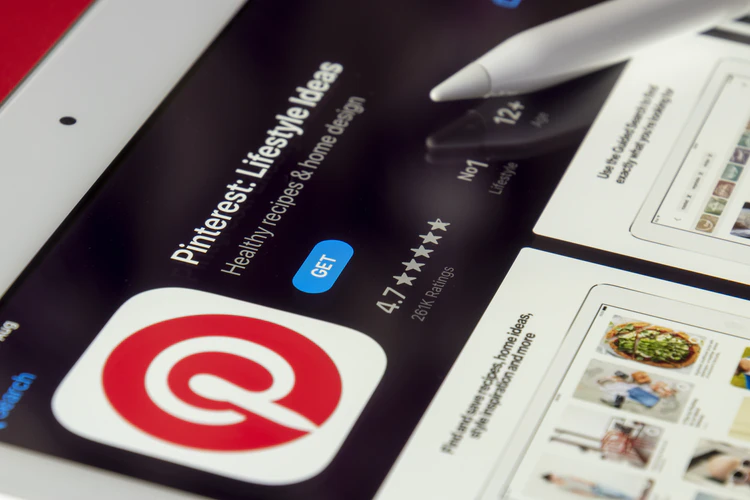 Image Credit: unsplash.com
1. It is Where Your Potential Clients are
Pinterest is the ultimate destination for aspirational decorators to seek home decor ideas. The visual search engine attracts the right crowd for all the right reasons. Pinterest users browsing through the app for DIY inspiration or renovation ideas are hot leads ready to buy.
These are opportunities to find ideal clients that you are missing out on if you're not using Pinterest for your business. It's marketing 101 and the place where your audience is. As of 2021, there are more than 478 million Pinterest users. Among these are your potential clients browsing the endless aisles of pins. It's essential you be there too.
2. Pinterest Boards Help Sort and Organize
Marketing and SEO benefits aside, Pinterest as a tool is a great way to keep your work organized. Whether it be inspiration pins or your work, you can use Pinterest Boards to put your ideas together.
Not only do Pinterest Boards make easy mood boards for personal reference, but you can also use them to communicate ideas with clients or your team. When public, they work as discovery pieces and allow Pinterest users a peek into the bigger story that makes your design special.
3. Makes for a Great Entry-Point to Your Sales Funnel
Not all Pinterest users that discover your business may be ready to sign-up for your services. However, that does not make them an unqualified lead. Their interests still align with yours, and they probably are a few more nudges away from getting in touch with you.
Showcasing your work on Pinterest adds an extra entry point into your sales funnel. From there, you can lead users to your website and use your social media platforms to keep them hooked. Pinterest is, overall, an amazing tool to help you boost your brand recognition and build a community.
4. Lets You Create Trends, Not Just Follow Them
Its massive impact on the interior design world makes Pinterest the birthplace of trends. It is where you can present your design ideas that create waves of their own. If promoted right, Pinterest can be where general pinners, bloggers, and influencers discover your trend.
The potential Pinterest marketing offers to take your design work and make it viral is tremendous. From the experts to the amateurs, everyone's on Pinterest to seek interior advice. This makes it the perfect place for your business to let its quirkiest ideas shine brightest.
5. Creates Brand Awareness and Recall Value
The struggle to stand out as an interior designer in a saturated market is real. We feel you! Getting the crowds familiar with your business, so they start recognizing your style is a feat we're sure you want to achieve.
Pinterest proves to be a powerful branding tool for interior design business owners and small businesses. It opens the doors to a world of like-minded individuals who share the same passion as you. If you manage to crack the communication code through Pinterest marketing, you can start building your community. A cohesive branding style across your pins can help users tell you apart from the rest. Pinterest can help you create brand recall value that is truly priceless.
Read also – 12 Digital Marketing Strategies for Interior Designers
20 Pinterest Tips To Get New Interior Design Clients From Pinterest
1. Switch to a Business Account
This is the first and most essential step in getting your Pinterest marketing right. A Pinterest business account allows you access to creator tools that a regular Pinterest account doesn't. With a business account, you can access your analytics, enable Rich pins (more on these later), plan your strategy well, and promote your business better.
2. Choose the Right Name
While Pinterest is mainly a visual search engine, it is still a search engine. The basics of SEO still apply to elements on your Pinterest. Your account name is no exception. You should add a keyword or describe your service in your Pinterest account name.
Example: Foyr | Lightning Fast 3D Interior Design Software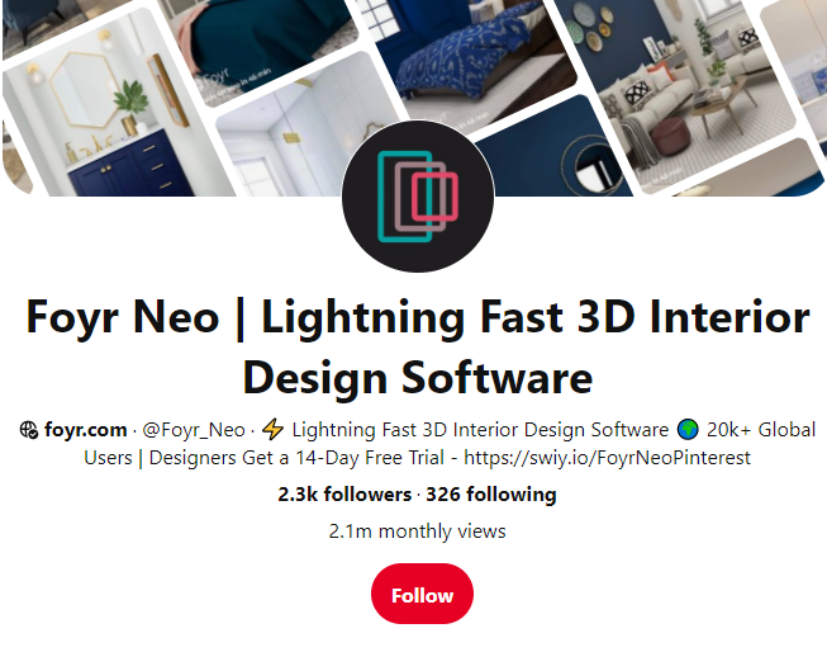 3. Pin Consistently
Like any other social media, consistency is the key with Pinterest too. Create a pinning schedule as part of your strategy and stick to it. You can do this manually or use tools to automate your pinning process. Maintaining consistency in the design language of your pins too helps create recognition for your style.
4. Use Rich Pins on Your Website
Rich Pins are a feature you receive by upgrading to a Pinterest business account. These make pinning content you upload on your website easier. Rich Pins automatically sync your website content, including any updates with your pins. You can choose from various rich pins for your application—Article Pins, Product Pins, etc.
5. Enable the 'Pin-It' Option on Your Website
The 'Pin-It' option allows pinners to easily save your pin or pin it to their board. It lets your website users discover your Pinterest account. Accidental image-theft too can be avoided by offering an easier way to pin images your viewers like. It is easy to enable the feature on most website builders; you can also find plugins for the same.
6. Post Original Content
Speaking of image theft, it is always a good idea not to steal content. If you come across a pin you appreciate, you can always re-pin it. However, avoid reuploading someone else's content without permission. Instead, use your images; after all, you're trying to showcase your interior design projects.
7. Create Pins with Text Overlay
Love them, hate them, images with text overlay perform on Pinterest. It could be a blog title or a catchy headline; adding simple text to your image boosts its performance. Use easy tools like Canva to make designing easier. You can also use set templates to speed up the process.
8. Pin Long Images
Long images let you occupy maximum screen space on Pinterest. Opt for them in your website images, or create a separate Pin-able image to include in your blog posts. Long images are more impactful and frequently re-pinned. Use them to your advantage by creating how-to's, infographics, or even long photographs.
9. Utilize Seasonal Content
Seasonal content is a seasoned phenomenon that never fails to perform. Pin relatable content relative to the season, festive, weather, or even trends. Seasonal content manages to create a connection with the viewer and subconsciously gives them more reasons to engage.
10. Use Keywords
You also need to pay attention to keyword placement in other areas of your Pinterest account and your account name. Use basic SEO & digital marketing to write your Pin descriptions, Pinterest image alt text, titles, or any other text. Pick the keywords you want to target and include them as naturally as possible.
Hashtags are a tightrope walk. Too many hashtags and your content look spammy; too few hashtags and you lose potential reach. However, skipping hashtags may not be the wisest thing to do. Choose a few relevant hashtags and incorporate them well.
12. Organize Your Boards Well
The organization is one of Pinterest's key features, and you wouldn't want to stand out for a cluttered, messy feed. Label and theme your boards correctly. Try to arrange them in a manner that is neat and makes it easy for users to find what they need to. The goal is to make your account a place they come back to for inspiration.
13. Create a Blogs-only Board
Pinterest is a wonderful way to increase the reach of your blogs. A blogs-only board lets you promote your content. Whether you are just getting into blogging, or enjoy creating informational pieces from time to time, yield a substantial increase in your website traffic through Pinterest.
14. Add Some Fun Boards
Don't keep it all work. Let your brand's personality shine through with a few curated, off-beat Pinterest boards. These can be completely unrelated to interior design. Make a board with delicious pizza shots, film portraits, or anything else you fancy. Some fun boards hurt no one.
15. Map Out Your User Journey
We can't stress enough how important it is to have intention and goals for your Pinterest strategy. You've heard it in the marketing tips, and we'll repeat it, always go in with a plan. Chalk out your user journey from Pinterest, down your sales funnel, and up to the final purchase. Then, guide your Pinterest audience through the course you mapped out for them.
16. Pin Your Free Guides, Freebies, etc.
To guide your audience through the path you have mapped out for them, you need to display the directions loud and clear. Make your CTA (Call to Action) visible. Pin any freebies, free guides, or other free tokens you are offering. Build your database of emails.
17. Set Up Your Email List
The emails you collect through newsletter sign-ups, free guide downloads, etc., are a goldmine of potential interior design clients. Incorporate some email marketing tips in your digital marketing strategy, and put your email list to good use. You could share regular newsletters, service updates, case studies, client testimonials, etc., to encourage any interested leads to get in touch with you.
18. Consider Promoted Pins
You can choose to dip your feet into the Pinterest paid marketing realm with Promoted Pins. Like any other digital ad, choose your content well and target your audience right. You can choose to use these regularly once you get the hang of what works best for your business.
19. Analyze Competition
Pinterest for business has updated the landscape of the interior design business. Do your research and keep track of your competitors to get insight into what works for them, what you could replicate, and what you should definitely avoid. You can use the Foyr Community feed to check out what other interior designers in the industry are up to. You can evaluate their portfolios, engage in meaningful conversations, and even spot trends.
20. Track & Engage
Pinterest analytics for business accounts lets you track engagement, reach, and other pin-specific metrics. Analyze these regularly to reevaluate your Pinterest strategy. Respond to any comments on your pins as quickly as possible to maintain good engagement and expand your reach.
Read also – Interior Design Sourcing and Procurement
10 Accounts You Should Follow for Interior Design Inspiration
1. Foyr - Lightning Fast 3D Interior Design Software
Foyr is a 3D interior design software that 20K+ interior designers across the globe love. Foyr's Pinterest and Instagram are a collection of stunning interior design and render inspiration and business tips for interior designers.
Profile Link – Pinterest | Instagram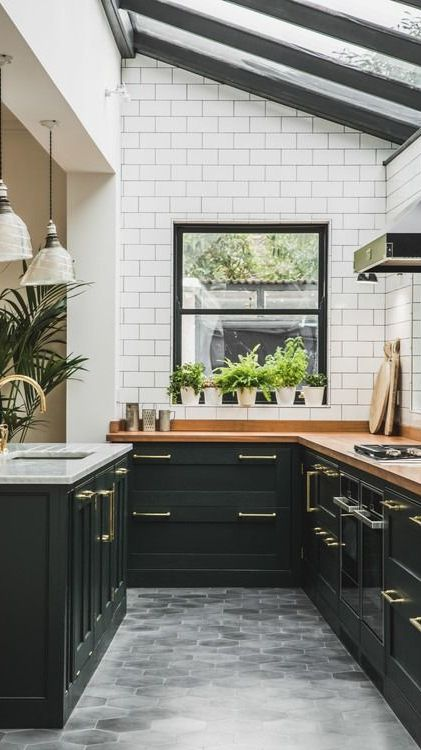 2. Elsie Green - Sustainable Home Decor Inspiration
If you love everything sustainable and vintage, you'll love Elsie Green's Pinterest and Instagram. We particularly love the glass, wood, and stoneware gems showcased from around the world.
Profile Link – Pinterest | Instagram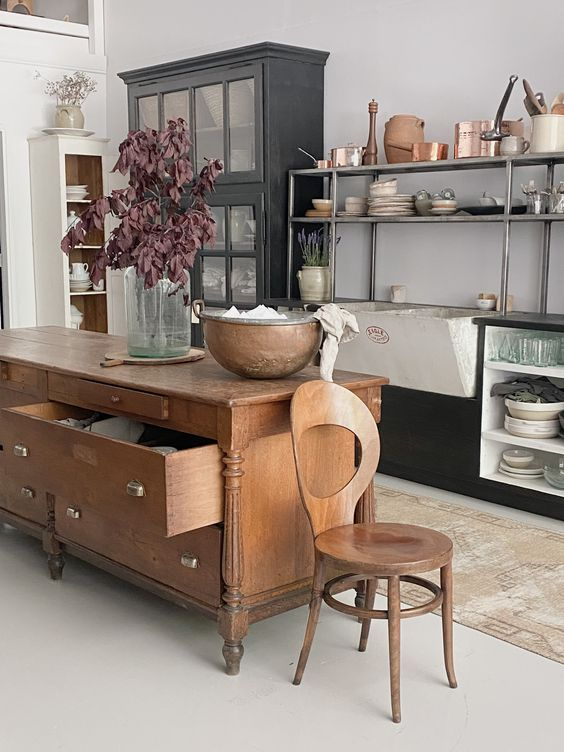 3. Anthology Creative Studio - Home Renovation and Decoration Projects
Warm wood tones, classic flooring, arched doorways are Anthology Creative Studio's signature style. You can find some beautiful home renovation and decoration projects on their socials.
Profile Link – Pinterest | Instagram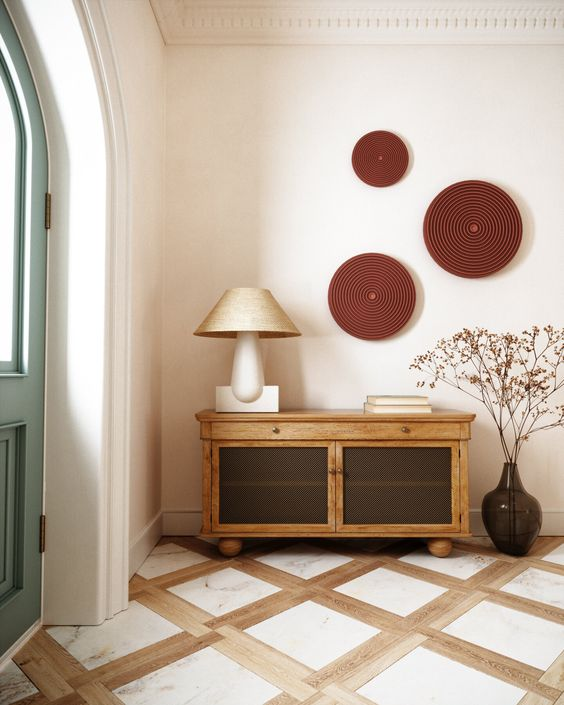 4. Steve Cordony - Interiors and Event Decor Inspiration
Steve's Pinterest and Instagram are the perfect places to find inspiration for trendy interior design with a glam touch. The cherry on top, though, is the editorial and sometimes avant-garde event decor work.
Profile Link – Pinterest | Instagram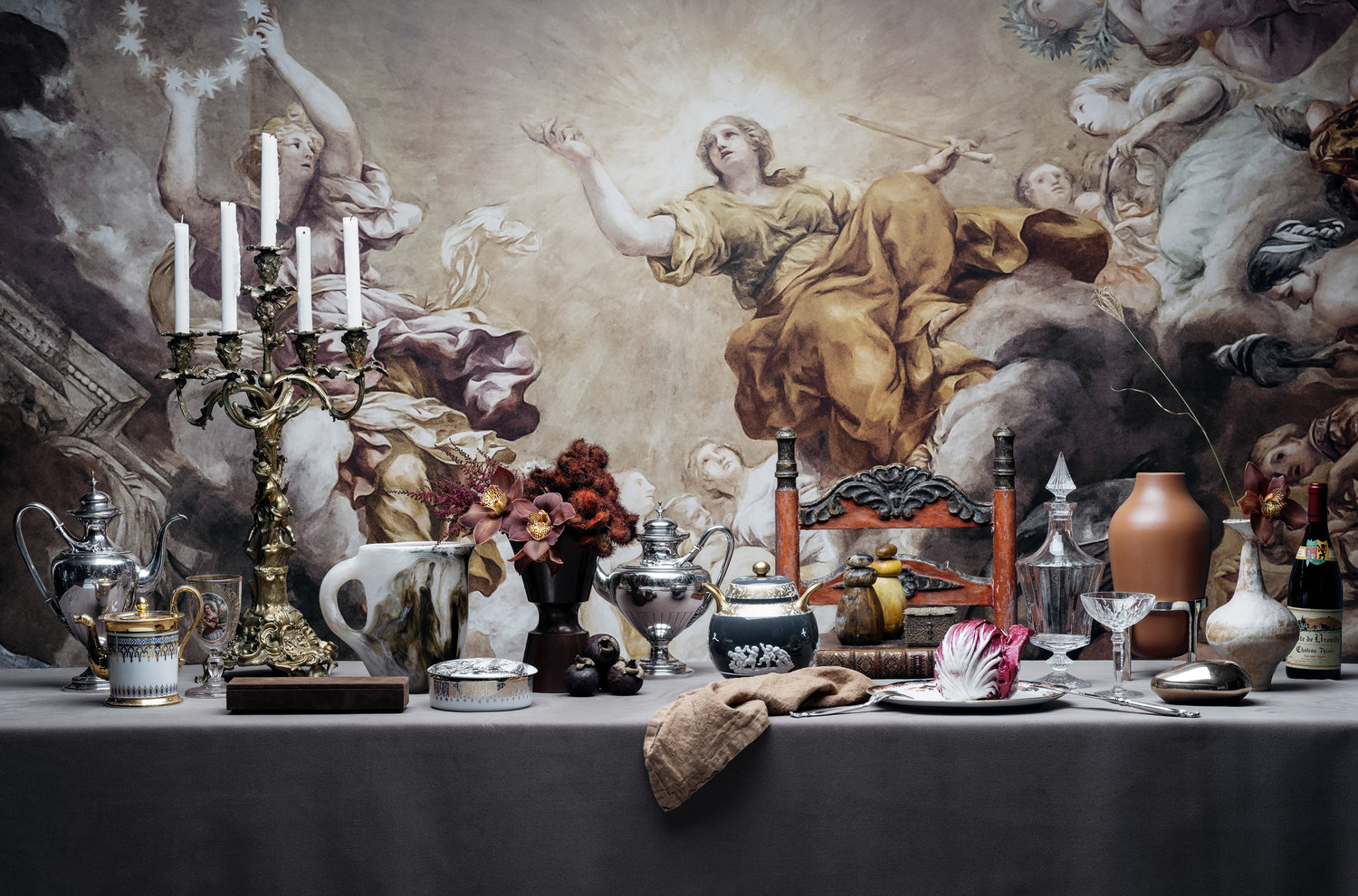 5. Athena Calderone - Interiors, Styling, and Creative Direction
Athena's social media accounts are what interior dreams are made of. There's a lot of beiges and greens accented with marble or black. She also puts together some great advice posts on her Pinterest, lifestyle and fitness inspiration on Instagram and food on both!
Profile Link – Pinterest | Instagram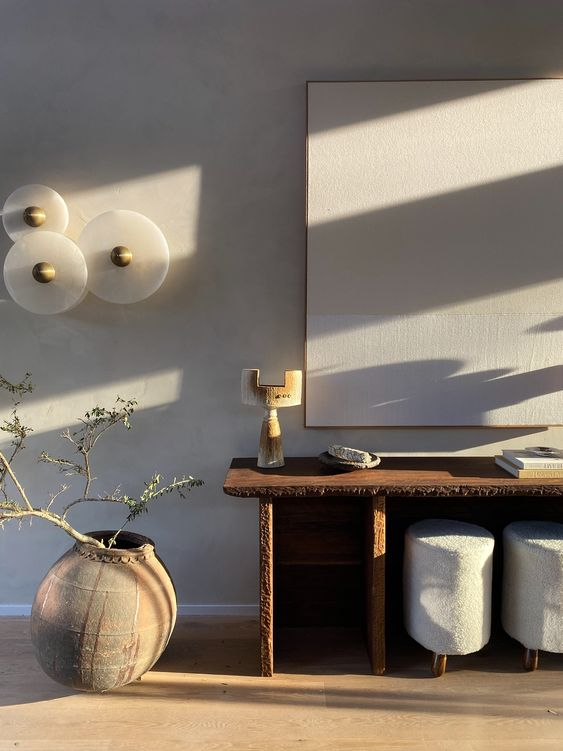 6. Jeremiah Brent - Lifestyle, Design, & Interior Design Inspiration
Jeremiah's social media showcase some amazing lifestyle & interior design inspiration. His sense of decor incorporates beautiful, unique, sculptural pieces. Human figurines, lighting, or even floral arrangements, Jeremiah knows how to create focal points in a room just right.
Profile Link – Pinterest | Instagram
7. Lulu & Georgia - Decor, Furnishing, & Styling Inspiration
Lulu & Georgia's Pinterest and Instagram are perfect for some inspiring decor, furnishing, & styling ideas. They do a great job mixing materials and textures in spaces, a lot of wood, rattan, linen, and gold. The palette is usually neutral but still unique enough through well-designed furniture, area rugs, and lighting.
Profile Link – Pinterest | Instagram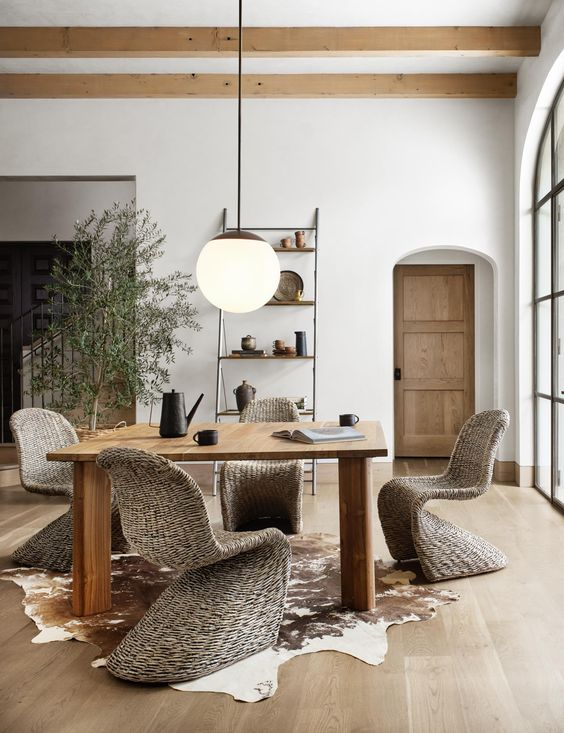 8. Amber Interiors - Styling, Gifting, & Decor Inspiration
Both the Pinterest and Instagram accounts of Amber Lewis Inc. and Amber Lewis ooze great styling and interior design. There's decor inspiration to find for living spaces, so you can create something beautiful and functional.
Profile Link – Pinterest | Instagram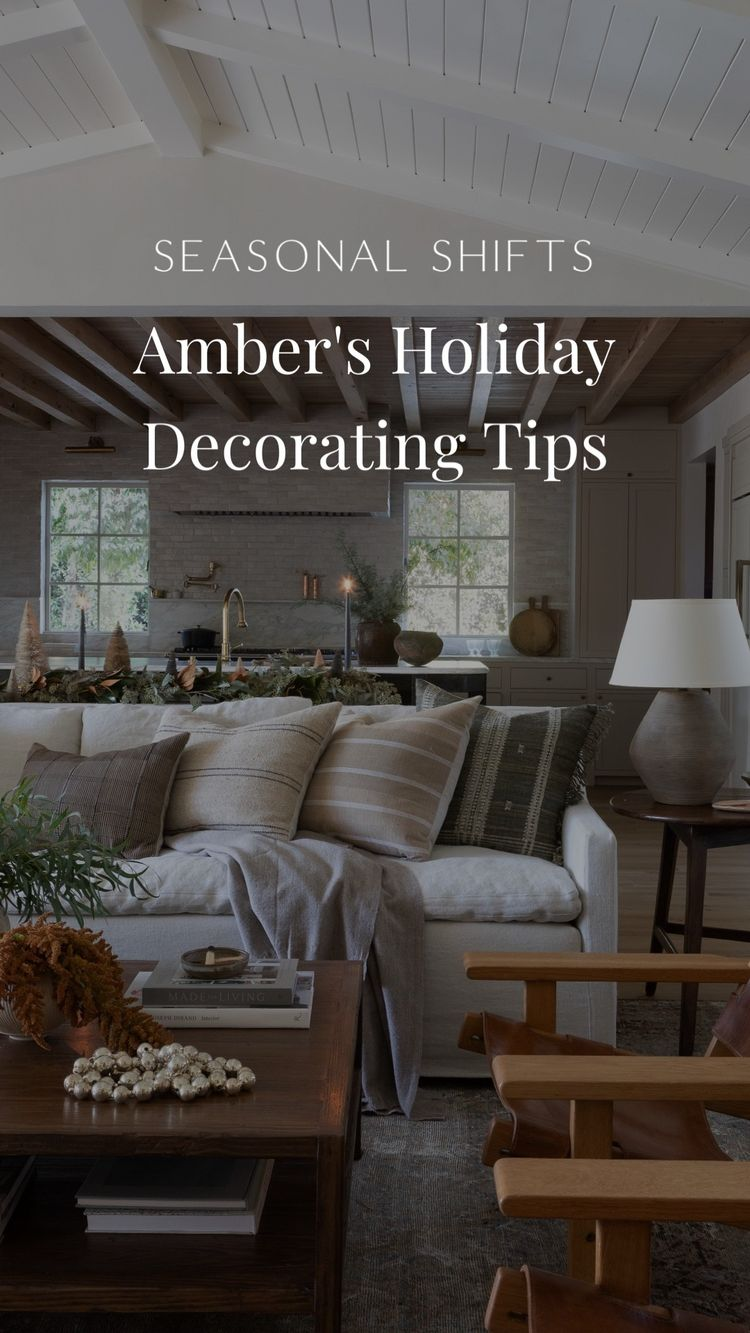 9. Becki Owens- Avant-garde Styling Inspiration
Becki's work is a brilliant showcase of versatility, and she can transform her personal styling taste so her work can fit a space better. The designer dabbles into both larger-scale, avant-garde projects and smaller, cozier living spaces. There's always something on Becki's social media platform that will get your creative juices flowing.
Profile Link – Pinterest | Instagram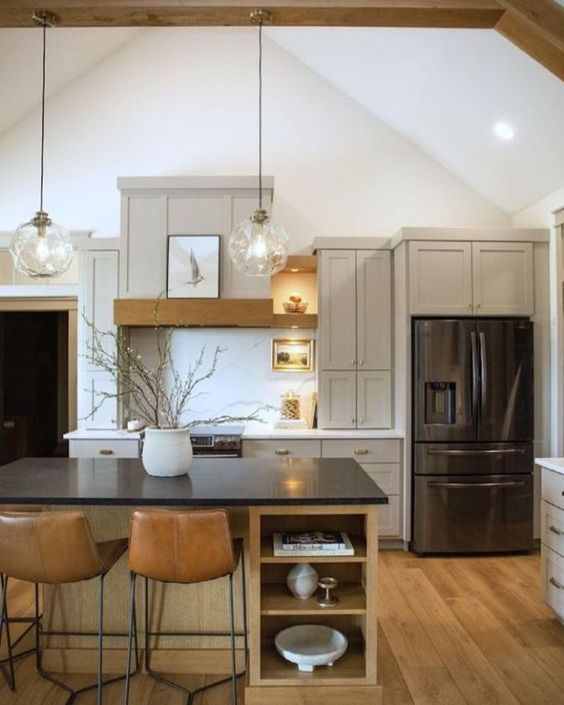 10. Studio McGee - Chic, Modern, and Spacious Designs
Does one ever get bored of Studio McGee? While you might have overexposed yourself to this particular brand, they always have some good interior design inspiration to offer. There's no arguing that Studio McGee does clean, airy, livable spaces perfectly.
Profile Link – Pinterest | Instagram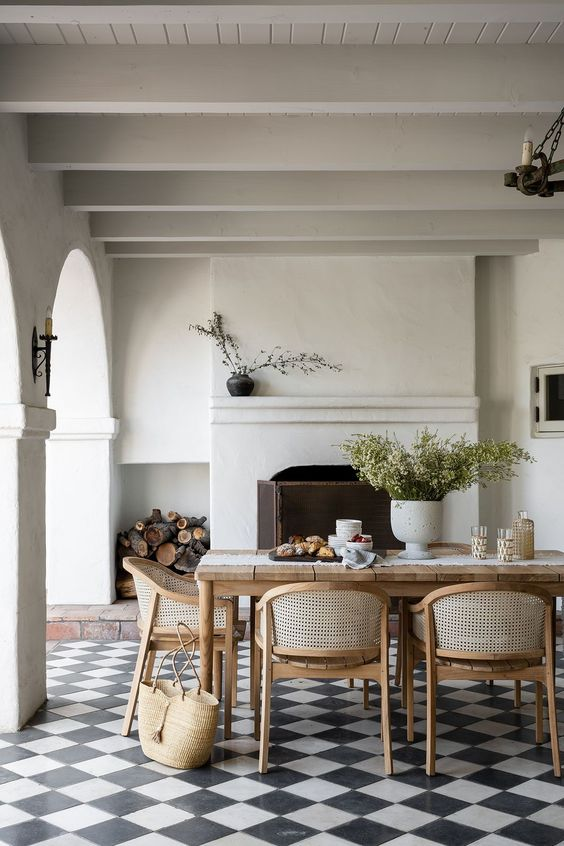 Conclusion
We hope we could get you all pumped up and ready to start leveraging Pinterest for your interior business. There's a whole uncharted territory waiting for you to explore and make the most of. Like any other social media, your Pinterest journey may call for higher initial effort, but what it can offer you in return in terms of brand building, incoming leads, and conversions makes it totally worth it.
Having the right business tools will make each stage of the interior design process simpler and more efficient. Foyr Neo is a powerful interior design platform built with you, the designer, in mind. Take design ideas from concept to a photo-realistic rendering in just minutes with a suite of advanced tools, including:
The ability to choose from thousands of preloaded items like furniture, plants, accessories and much more – or upload your own 3D models to create the exact look your clients want.

Produce 4K, photo-realistic renderings on demand.

Advanced lighting options and visualization settings.

Real-time 3D editing capabilities.
By combining the functionality of multiple tools in one platform we empower designers to spend less time with software and more time with their clients. You can try Foyr Neo free for 14-days now and experience the power of limitless design.
Follow Foyr's Pinterest Board for more interior design inspiration.