Home » E-design » How To Market Your E-design Services? | E-design Marketing Strategies
How to market your E-design services?
In our previous blogs, you first learned about the concept and importance of e-design, and then you learned about the business of e-design and how to establish your services and workflows. Now it's time to put them into action!
But, to do that, you need clients who understand the definition and scope of e-design and want to incorporate it into redesigning their space. And, as you know, clients don't always just magically appear — you have to seek them out and bring them to you.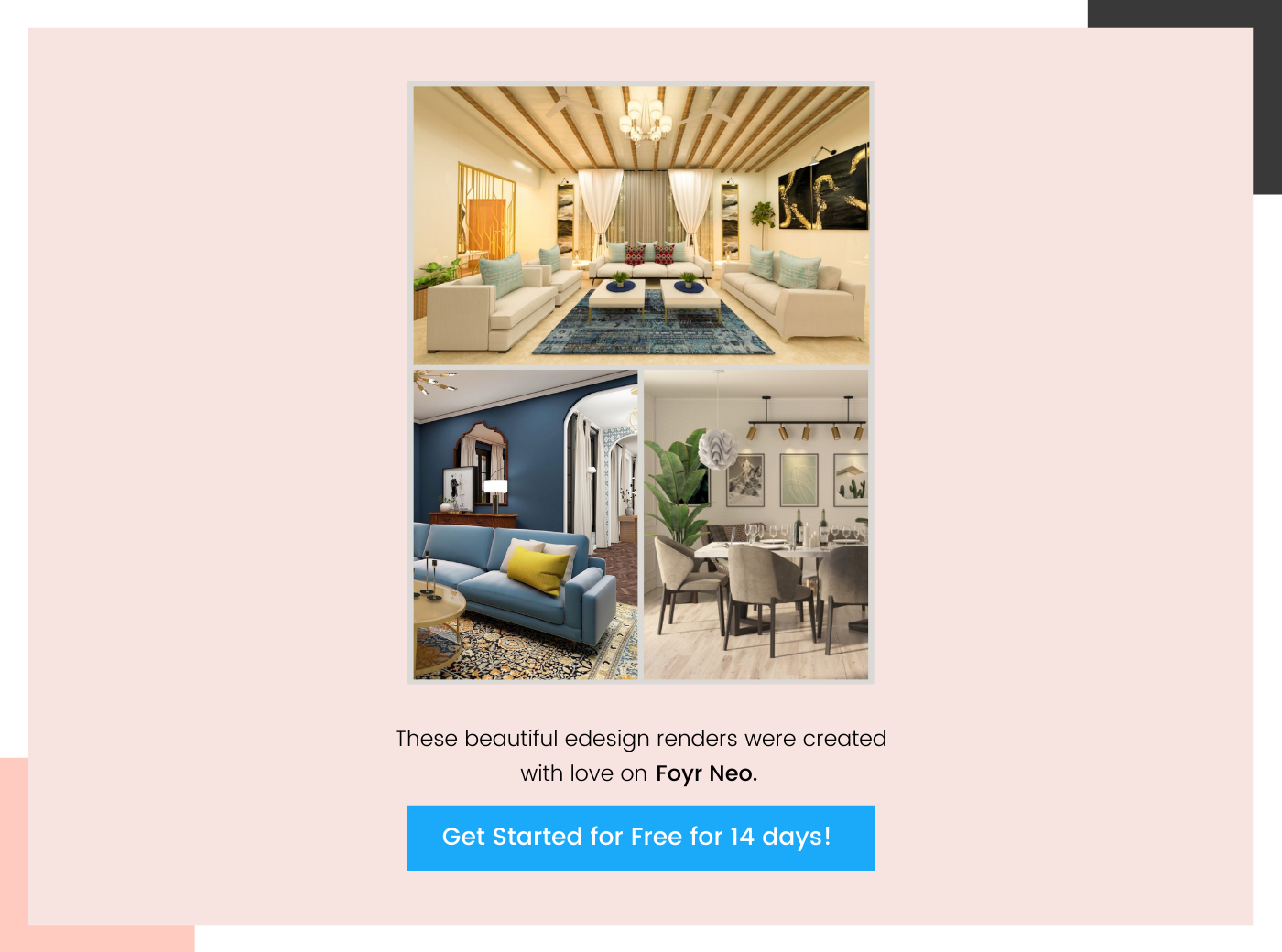 When it comes to promoting your e-design services, it's a bit different from marketing your usual interior design work. After all, it's a virtual offering, which means the bulk of the marketing should be done online (as opposed to in-person mixers, which, of course, can't happen anyway in today's new normal).
And that's where this blog comes in! You'll learn key insights about promoting your e-design services through various useful methods, and you'll be a pro by the time you're ready to implement this in your business.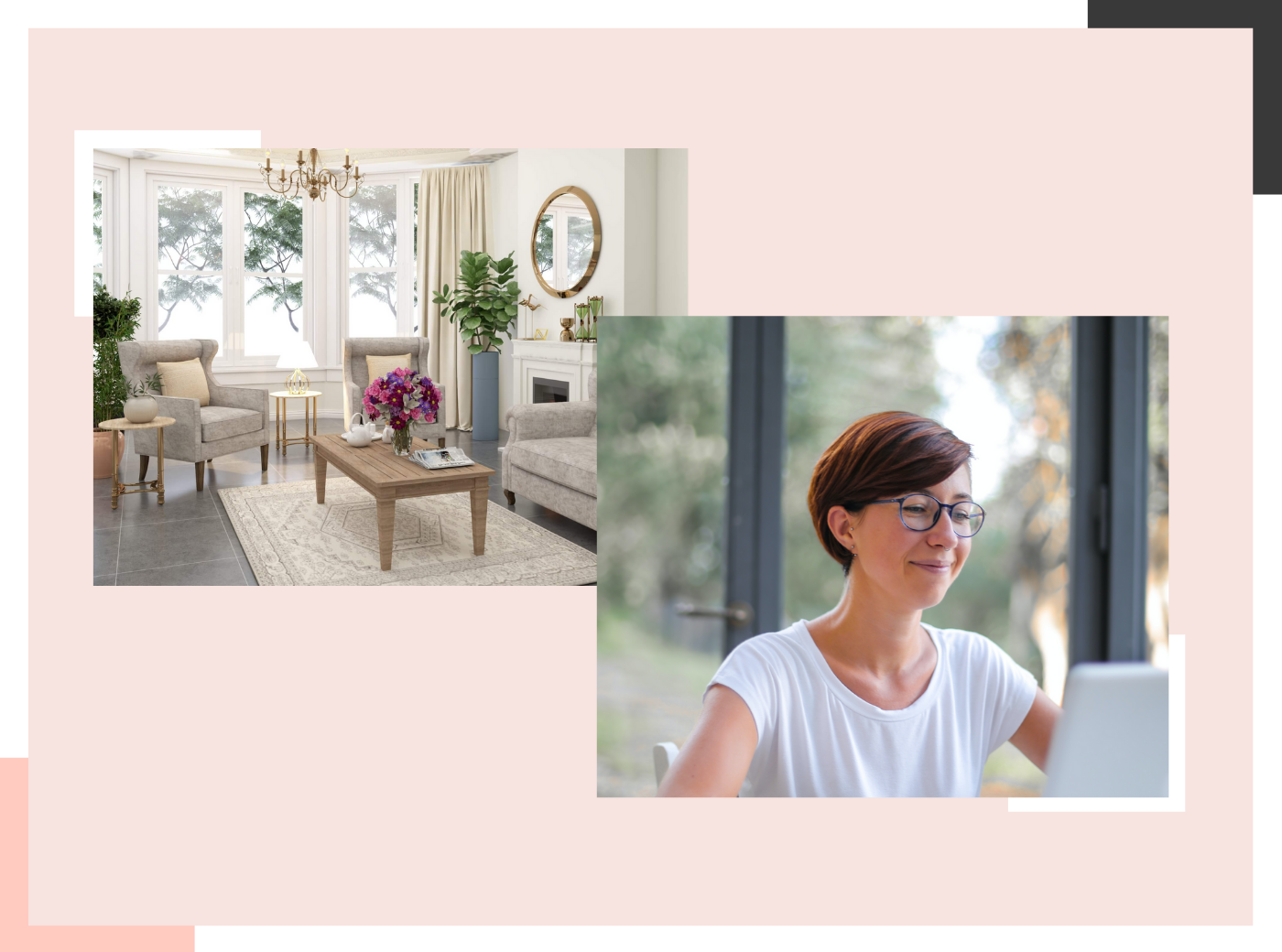 Introducing your e-design business to potential clients
The first tip on this list is deceptively simple — ensuring that you introduce your e-design business to potential clients and describe to them exactly what they should expect.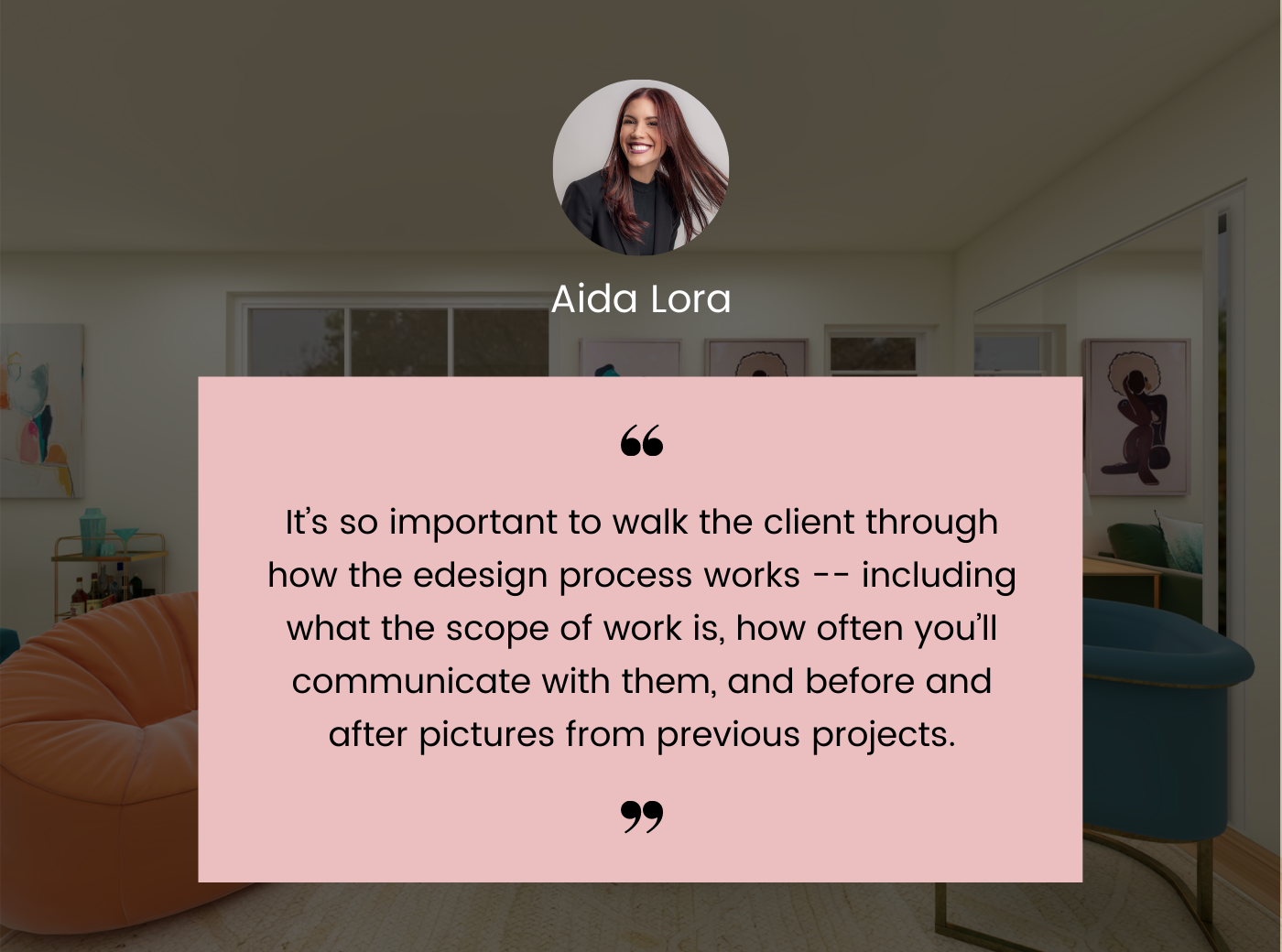 First of all, it's important to elaborate and clearly explain how e-design works. It's key that you're upfront about all the details, in large part because it's relatively new. Before 2020, few interior designers were offering e-design services, and so a lot of clients today might not even realize that this is an option — and in fact, it's currently the safest option!
And so, some clients who might be interested in interior design services but are worried about social distancing might be relieved to learn about e-design.
There are several ways to convey your e-design service offering/s to your prospects and let them know what their options are:
First, put it on your website: As we'll get into in more detail later, a website is a searchable and accessible way to broadcast and store your brand offerings and market it throughout the internet. On your site, it can be helpful to include visuals to go along with your text descriptions, as that can help clients better understand everything. Additionally, it can be helpful to include an FAQs section, or a live chat, to give clients immediate access to answers (as they'll likely have many questions).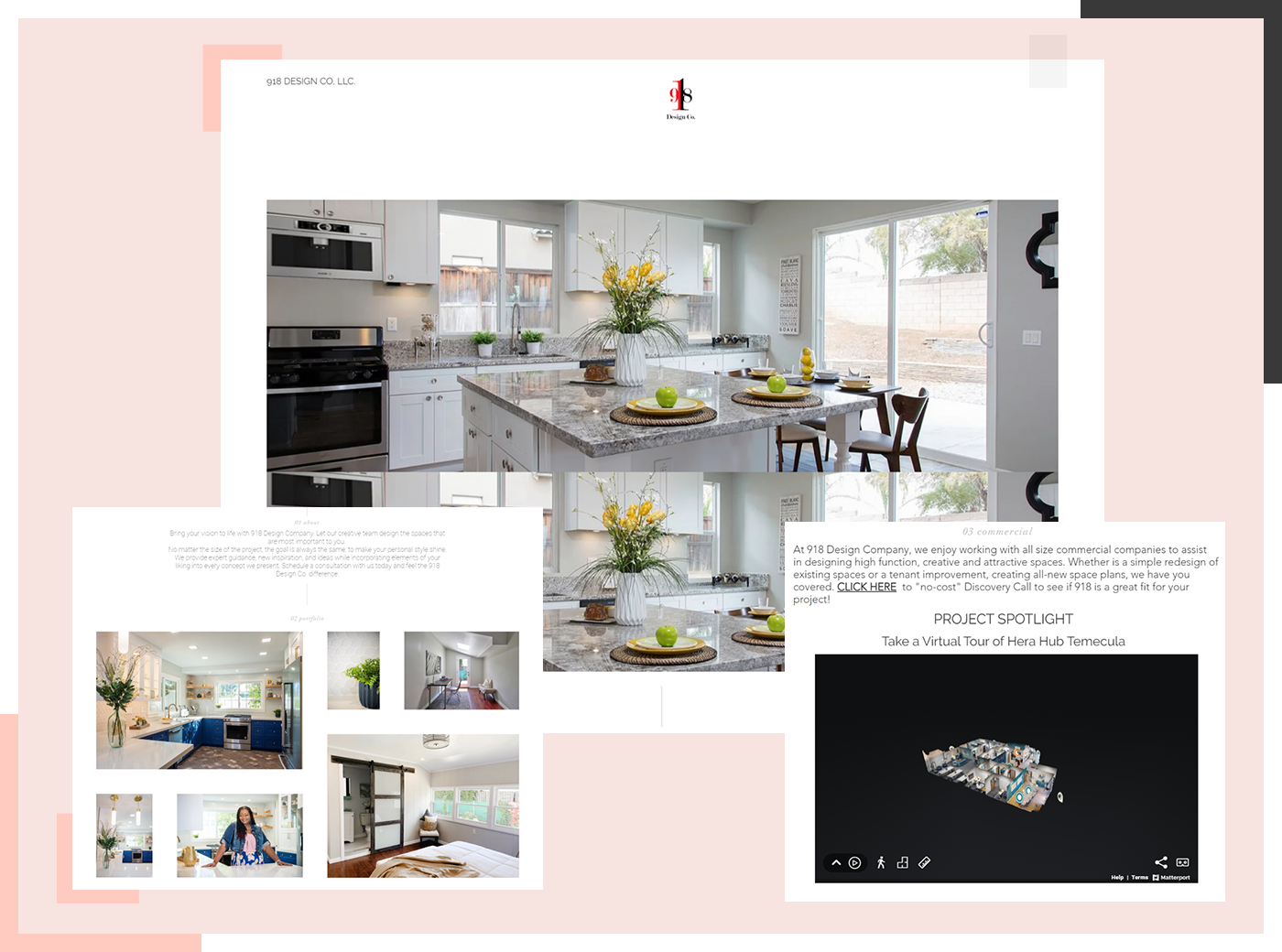 Here's a great example of some graphics that interior designer Laytricia Towery made on her website that clearly conveys her business offerings to potential clients.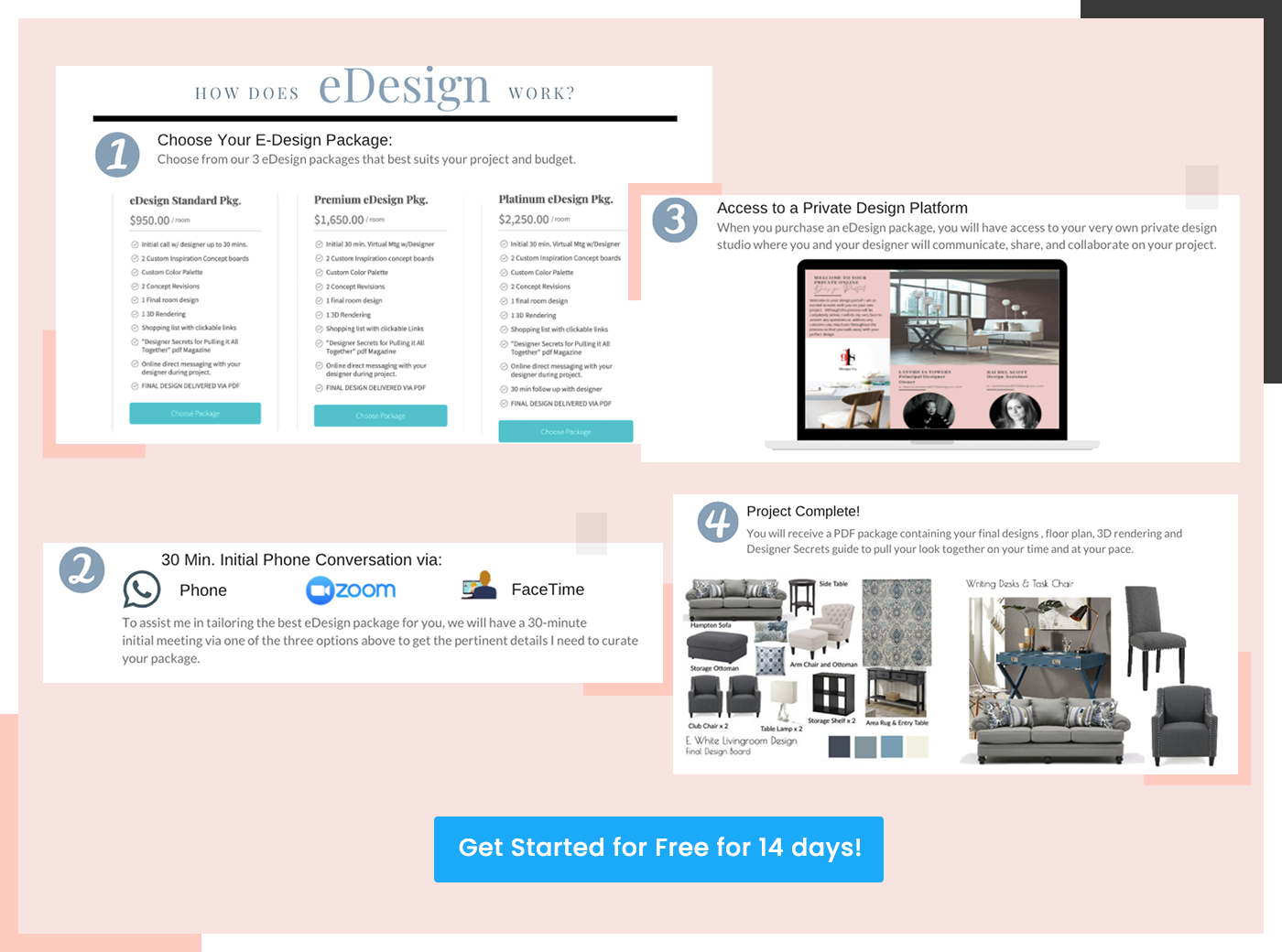 Second, bring up your e-design services in conversations: If you're ever talking with potential clients online, or speaking in any virtual events, you can bring up the fact that you offer e-design services, (and even add it in as a slide in a presentation)! Just ensure that whatever information you share provides value to whoever you're speaking to; because remember, your marketing is not about you! It's about talking directly to your customer and giving them helpful information that solves their pain points (which ultimately makes them want to come back and work with you again).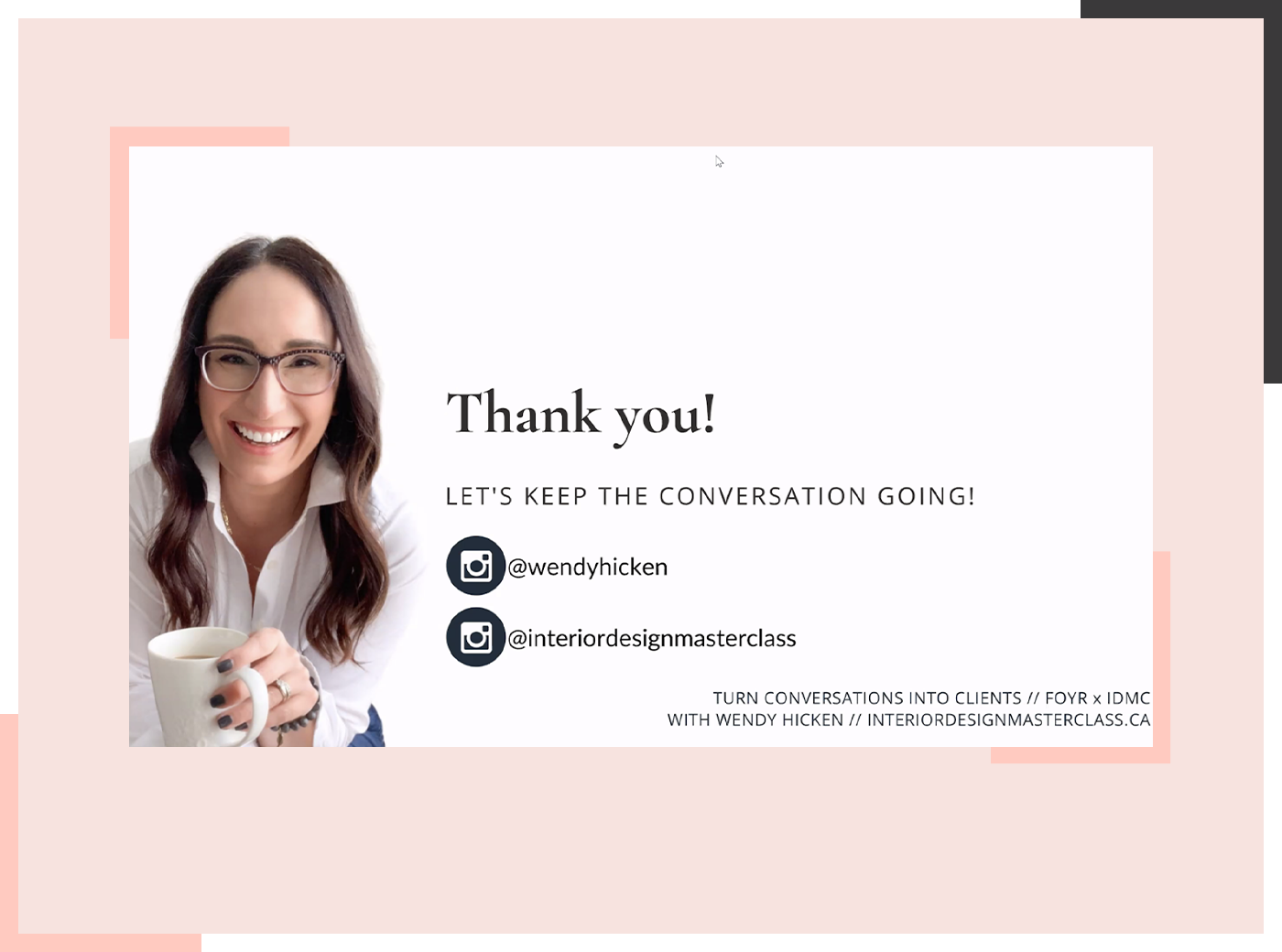 Harnessing the power of social media to market your e-design offerings
One great way to market your e-design services is through social media. It's completely free (not counting any paid promotions, of course!), and there are billions of users online who can potentially see your work and access your services.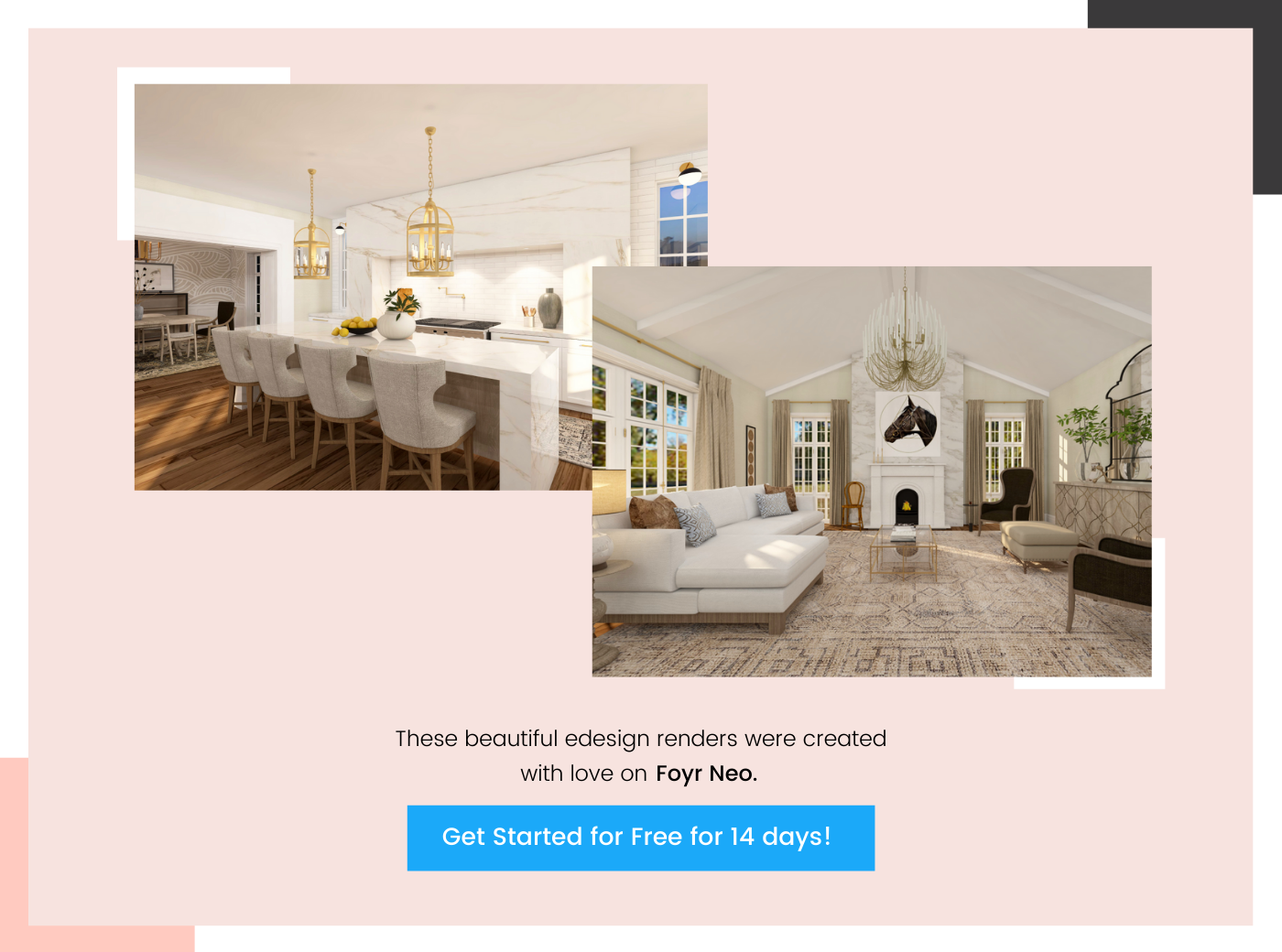 We've found that the top social media platforms that interior designers are using today are Instagram, YouTube, and Pinterest — and they're also slowly migrating to TikTok!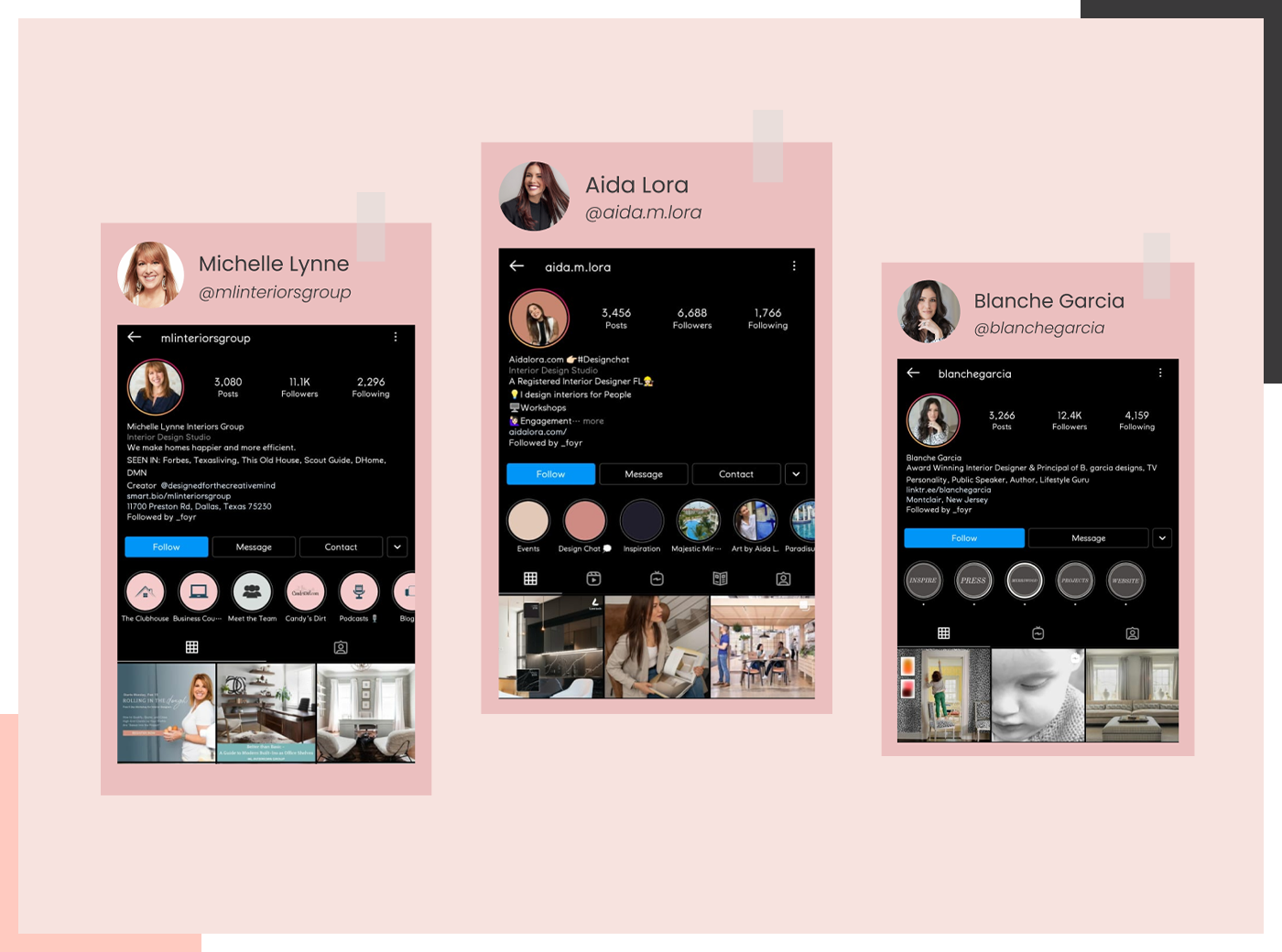 1) Instagram:
This is one of the most popular social media apps for interior designers. There are over 1 billion users on the platform and over 25 million business profiles — so while there's a lot of potentials, there's also a lot of competition.
That's why you want to be strategic about your marketing, and follow all of Instagram's best practices to grow:
Post consistently

 (if you're looking to grow, this should be 3-5 times a week).

Use hashtags

that are relevant to what you're posting about, but that aren't too competitive (if you have a smaller account, target hashtags with a volume of less than 100K).

Write captions

that clearly show your personality and engage your audience (it's great to add a question to the end that encourages people to reply in the comments).

Stay on brand and post content that's relevant to your niche and business offerings — people want to know exactly what they can find when coming to your page.
In addition, you want to take advantage of Instagram's various features, especially those they're currently highlighting.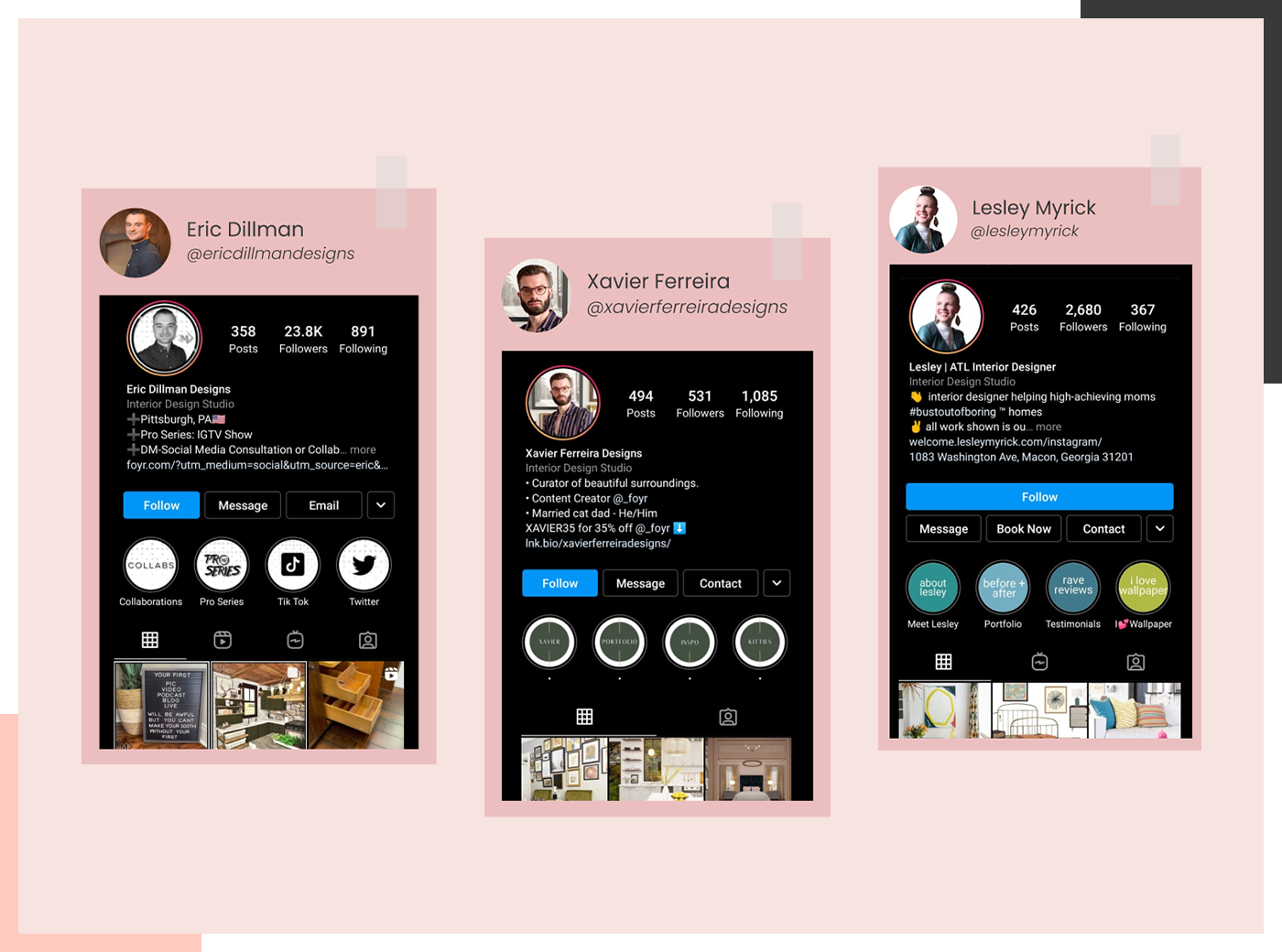 First, Instagram has been pushing its Shopping Feature — on many accounts, they even replaced the notifications tab at the bottom of the screen with the shopping button! They're encouraging people to use Instagram as a search engine for shopping and finding services, which includes interior design. In fact, many interior designers use the shop feature to sell decor and other products, which they then highlight in photos on their feed. (And this fits perfectly with e-design!). Designer Christin Haussman from Terra and Tint does this flawlessly on her Instagram: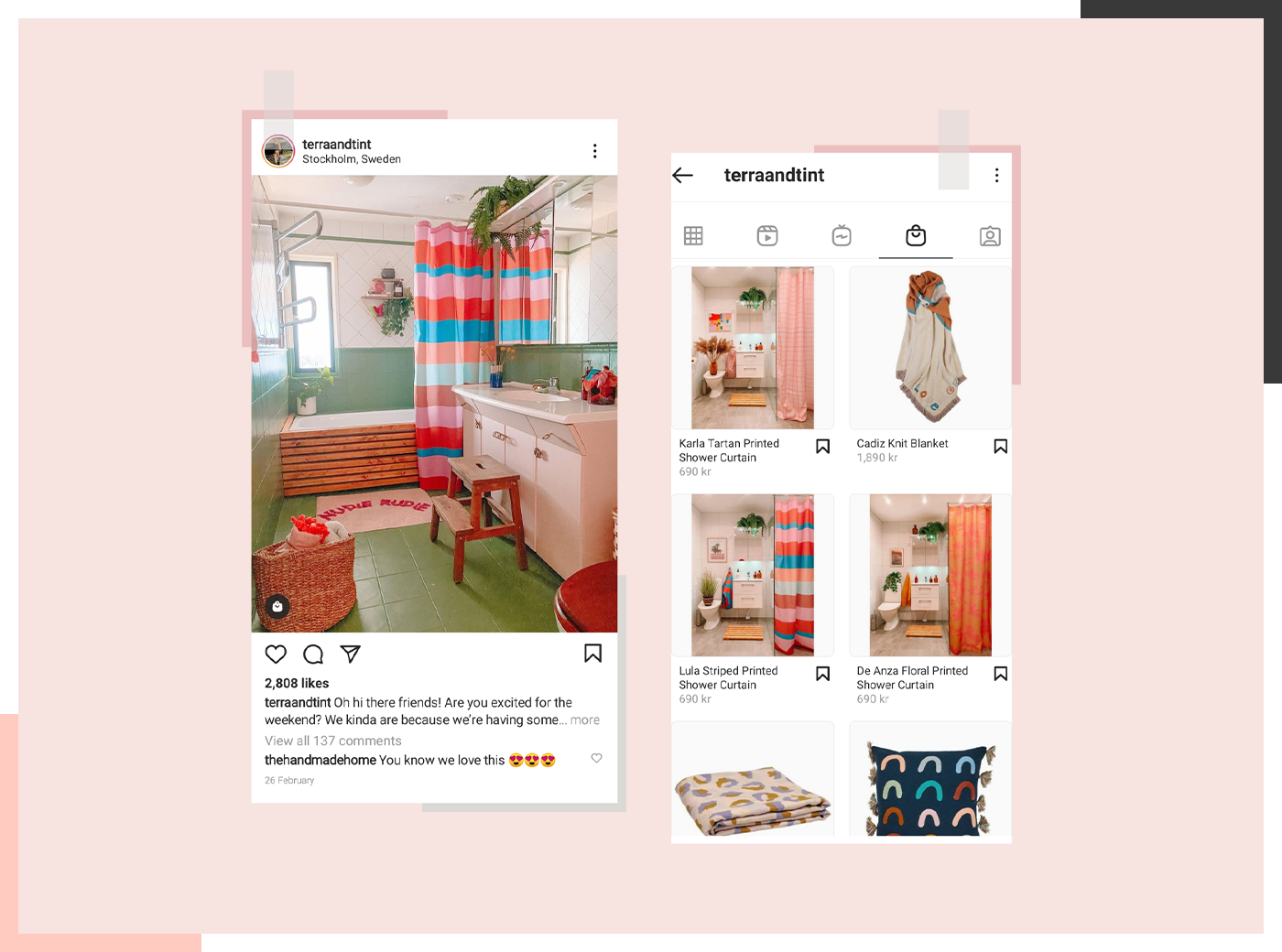 In addition, Instagram has been prioritizing Reels Videos in its algorithm, which they introduced in 2020 as their version of TikTok videos. Currently, users will see more Instagram Reels videos (which can be up to 30 seconds) on their feed than regular photos — and there is also a dedicated explore page for Reels, which means your videos will be shown to more than just the people who follow you. Thus, there's a potential for massive follower growth and engagement, as well as spreading brand awareness! So if you have a video that's under 30 seconds, be sure to share it through Reels.
Designer Jenna Marlar has been doing a great job sharing her interior design work on Reels:
https://instagram.com/cozy.happy.home?igshid=w20gxctj42sd
Another designer who creates delightful IGTV videos on Instagram is Lesley Myrick, providing super-useful digestible nuggets of information such as tips for working with an interior designer. 
Lesley's video: https://www.instagram.com/tv/CLmxSf1JYAg/?utm_source=ig_web_copy_link
2) Pinterest:
Don't we all love pinning? Many interior designers use Pinterest to create mood boards, market their work, compile resources, and more. There are currently over 322 million users on Pinterest, and about ⅓ of these users follow brands and companies (such as yours!) — this means that there are tons of potential clients who could find your page and be inspired to work with you.
There are many strategies for growing your brand on Pinterest, including: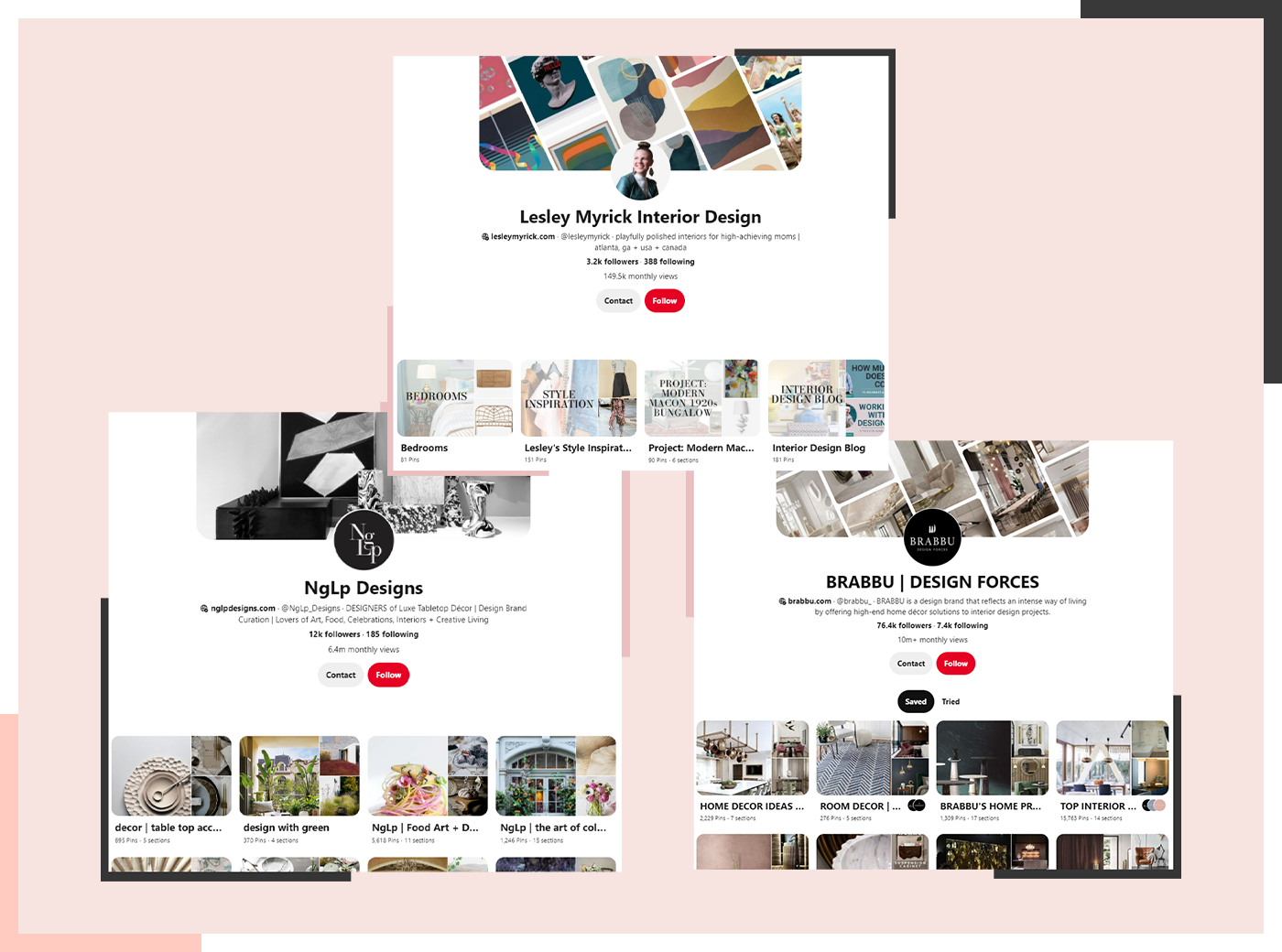 Ensure your pin image matches the content you're discussing. Pinterest's algorithm can figure out what's in your image, in addition to what is written in your descriptions and other text, and if the two don't match, the algorithm will struggle to place you in user search results. This will cause fewer people to see your pin, which, of course, is the opposite of your goal (you want the maximum number of people to see your content — and click through to your website for more information).
Use 2-4 relevant hashtags on your post. As with Instagram, you don't want to use hashtags that are too broad — rather, do some searching and find niche hashtags that perfectly fit your content. This will help the algorithm further decide who to show your content to, and will also show your post as the results of those hashtag searches! Be sure not to use too many hashtags, though, as this will flag you as spam to Pinterest.
Create fresh pins regularly. The number one way to grow — on any platform — is to be consistent and keep sharing content in your niche. The more often you post new pins on Pinterest, the more your algorithm will deem you relevant and show your content to others. (Some people suggest posting a minimum of 3 times a day, though if that doesn't fit your schedule, you could also use a scheduling tool like Hootsuite, and then batch create content every so often.) 
For some more inspiration, check out designer Darla Powell's Pinterest: https://www.pinterest.com/darlapowellinteriors/_created/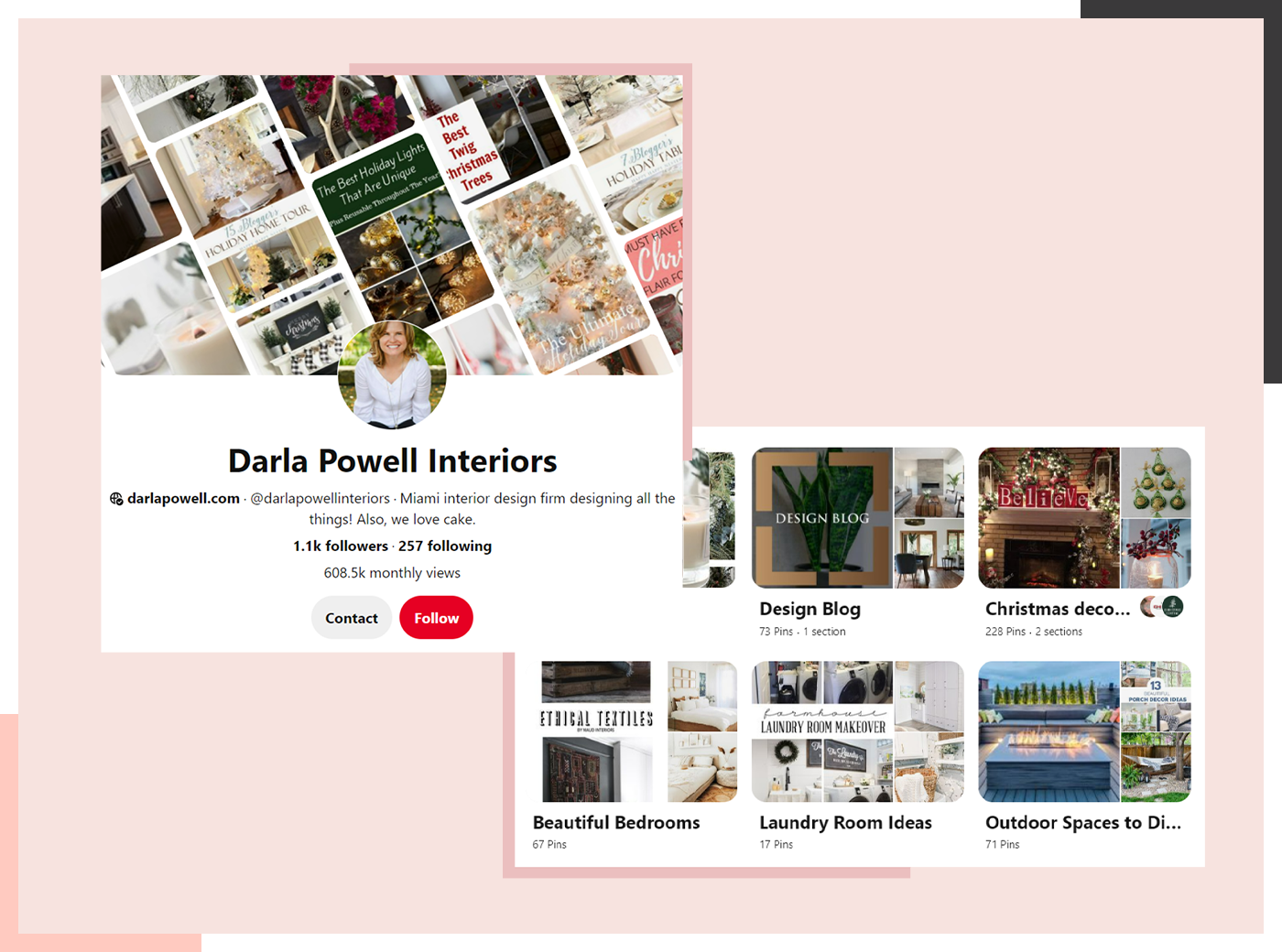 3) YouTube:
Do you have a flair for video? Then YouTube might be your thing! It's best practice to create videos that are 7-15 minutes in length, and post about 1-2 times a week (on a consistent schedule, so people know when to expect another video). You can share a customer testimonial, or create how-to videos about the e-design process. Here are some tips to keep in mind as you're sharing content:
Make sure videos are filmed horizontally

to give users the best experience (so if you're filming on your iPhone, be sure to turn your phone sideways!).

Don't use any copyrighted music

,

or Instagram might remove your video (and at least won't monetize it or show it to users).

Include your website and other contact information

in the caption of your videos, as well as a relevant CTA.

Build a community with your followers

— reply to their comments, create videos based on their suggestions, and make them feel valued.

Research your competition — this can definitely apply to every platform, but it's a great inspiration to see what kinds of content your competitors are making that is successful, and then create that in your own style.
For some more inspiration, check out designer Nina Takeshh's YouTube channel: https://www.youtube.com/channel/UC5ZicI8d3JYU1FewGvP4-_Q
4) Bonus! -- TikTok:
Interior designers are still making the transition to this platform (though there are many designers who have hundreds of thousands of followers, such as @staybycorisamuel) — but the app has been seeking to add more informational and educational content to its platform and become a place for learning (not just dancing and lip-syncing!). This means now is the perfect time for interior designers to experiment with sharing short-form video content (under 60 seconds, but 30 seconds is best practice) on the platform.
Regardless of which platform(s) you choose, there are several key points to keep in mind:
Tie in e-design to your content. You don't have to mention e-design in every single post you share, but it's good to do so consistently to keep this service on the top of your customers' minds! We recommend sharing before / after or documentation photos of your projects, describing the scope of work and your process, and, at the end of the post, encouraging users to take a next step. This can be a direct "contact me to learn more," CTA or it can be something like "check out my blog for the rest of the story."
Here are some examples of great social media posts that tie in e-design: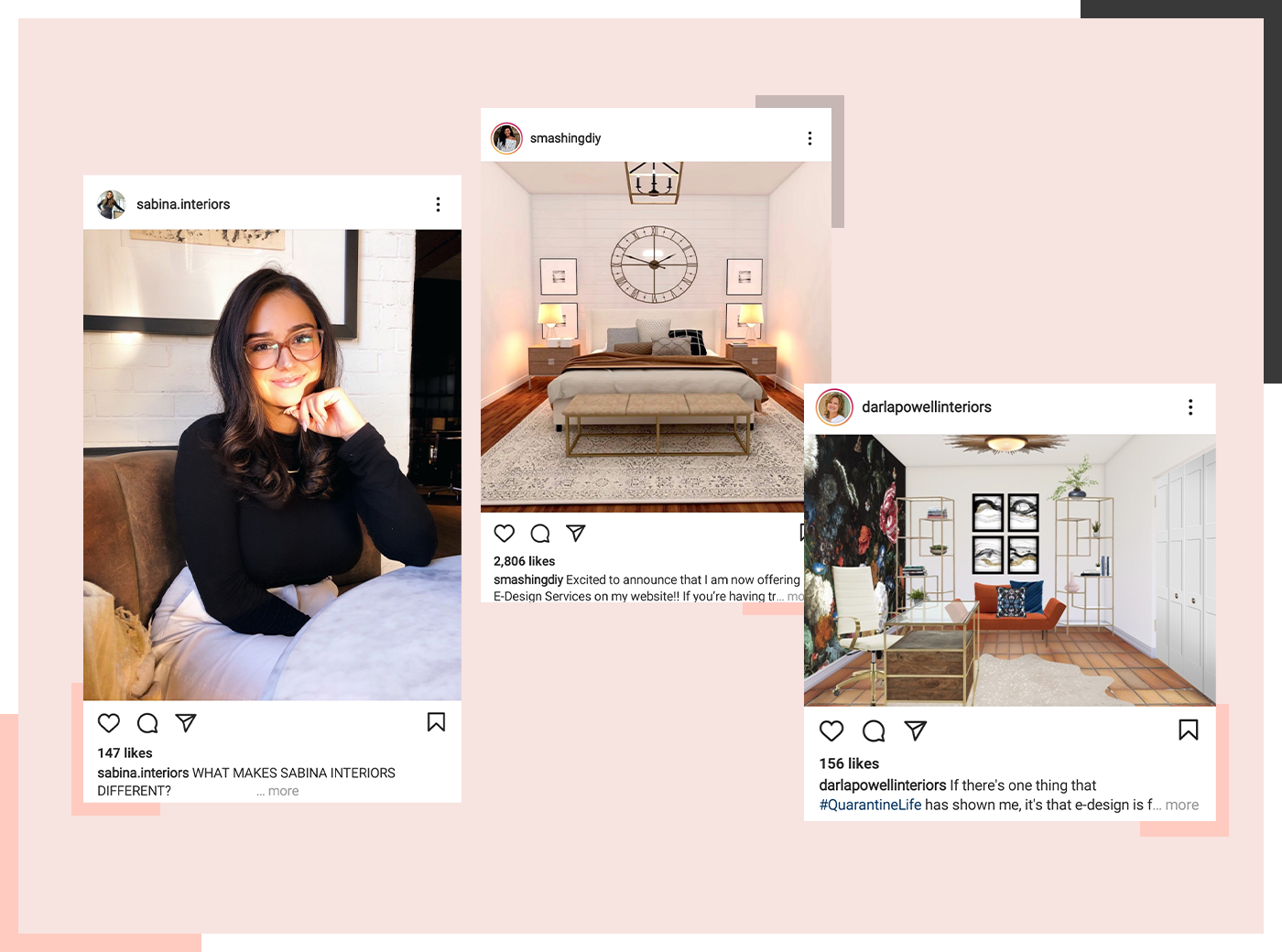 Whatever platform you choose, be your authentic self. Your exact social strategy will differ depending on your chosen platform, as each has its own algorithms and requirements. But the piece of advice that rings true for all platforms is that it's important to be your authentic self. Share your story, your work process, why you love designing, and any other distinguishing features about you — and tie your posts into your e-design services!
Here are some examples of posts where the designer's authentic self shines through:
Marketing on social media isn't a competition. Don't get discouraged or compare yourself to other people who have been "more successful." Your follower count doesn't matter as much as the messages you're putting out there, and the kinds of design help you're offering! No matter how quickly you grow, if you share your true voice and message, you will attract the type of clients that best fit you and your business — and you'll be a success.
Using the full power of your website to market your e-design services
The next marketing method on the list is your website (if you don't already have one, you can create a website easily through a platform like Squarespace, WordPress, or Wix). We touched on this a bit earlier, but now it's time to dive in!
Create a page on your site that describes your e-design work as a service. It should also explain everything clients need to know and do in order to utilize this service. If you already have a website, you likely have similar pages dedicated to your other interior design services that describe your offerings, your processes, and any other information customers need to know.
One great example of a website page focused on e-design offerings is Whittaker Interiors. They do a great job of outlining what exactly e-design is, and then enticing clients to join in on the services.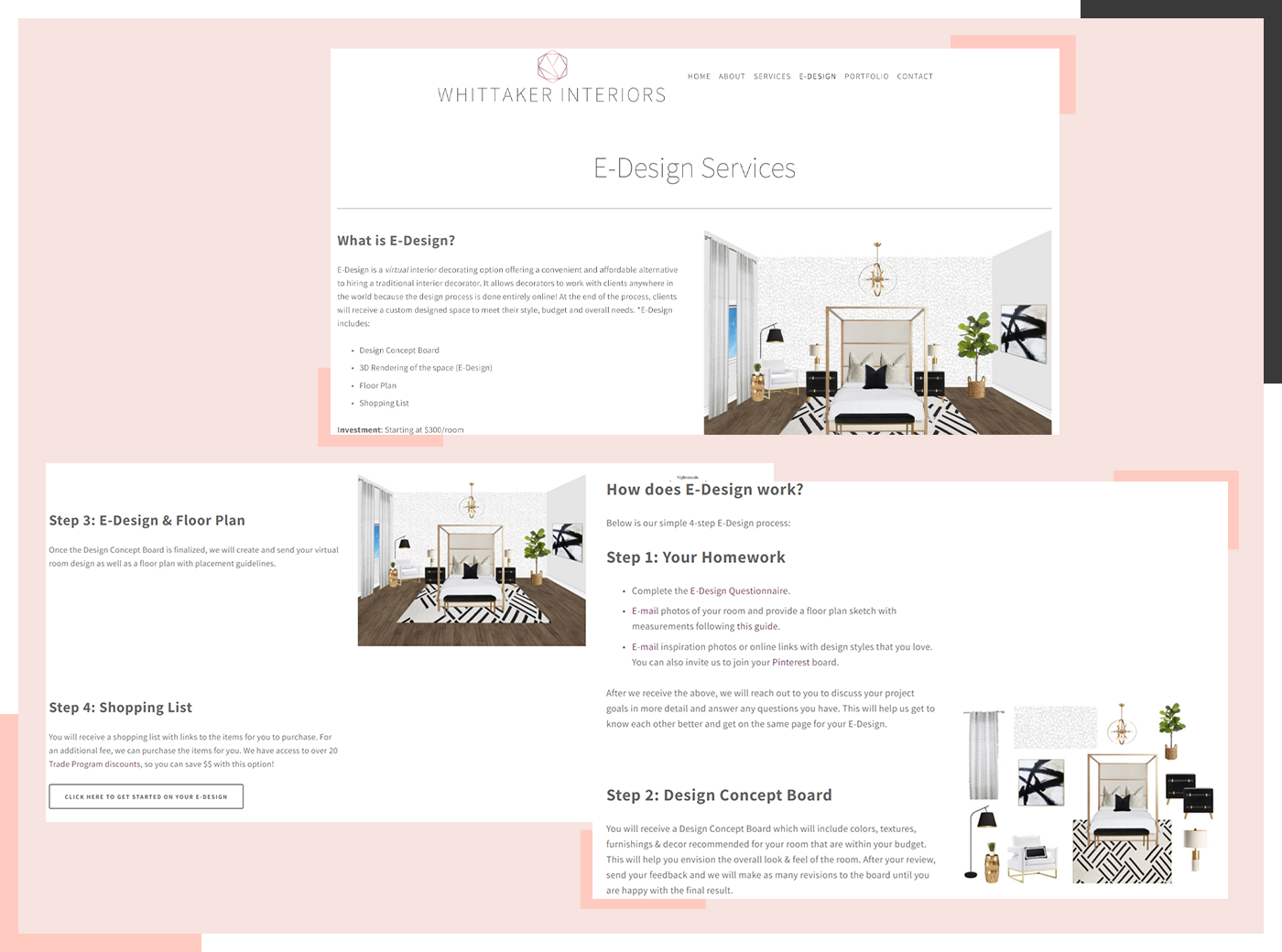 Create personalised and helpful content about e-design on your site. This can be educational – about your offerings, your process, or the work that you've done within this realm. From something as simple as documenting an e-design project from start to finish to even discussing myths or fun facts about e-design – you can honestly get as creative as you like! This will make your website a truly helpful place that people will bookmark and come back to if they ever have an e-design project. It'll also establish you as an expert and go-to resource within the field of e-design. Besides getting you free Google juice (aka SEO), helping to boost your brand in search results, and gaining you more clients.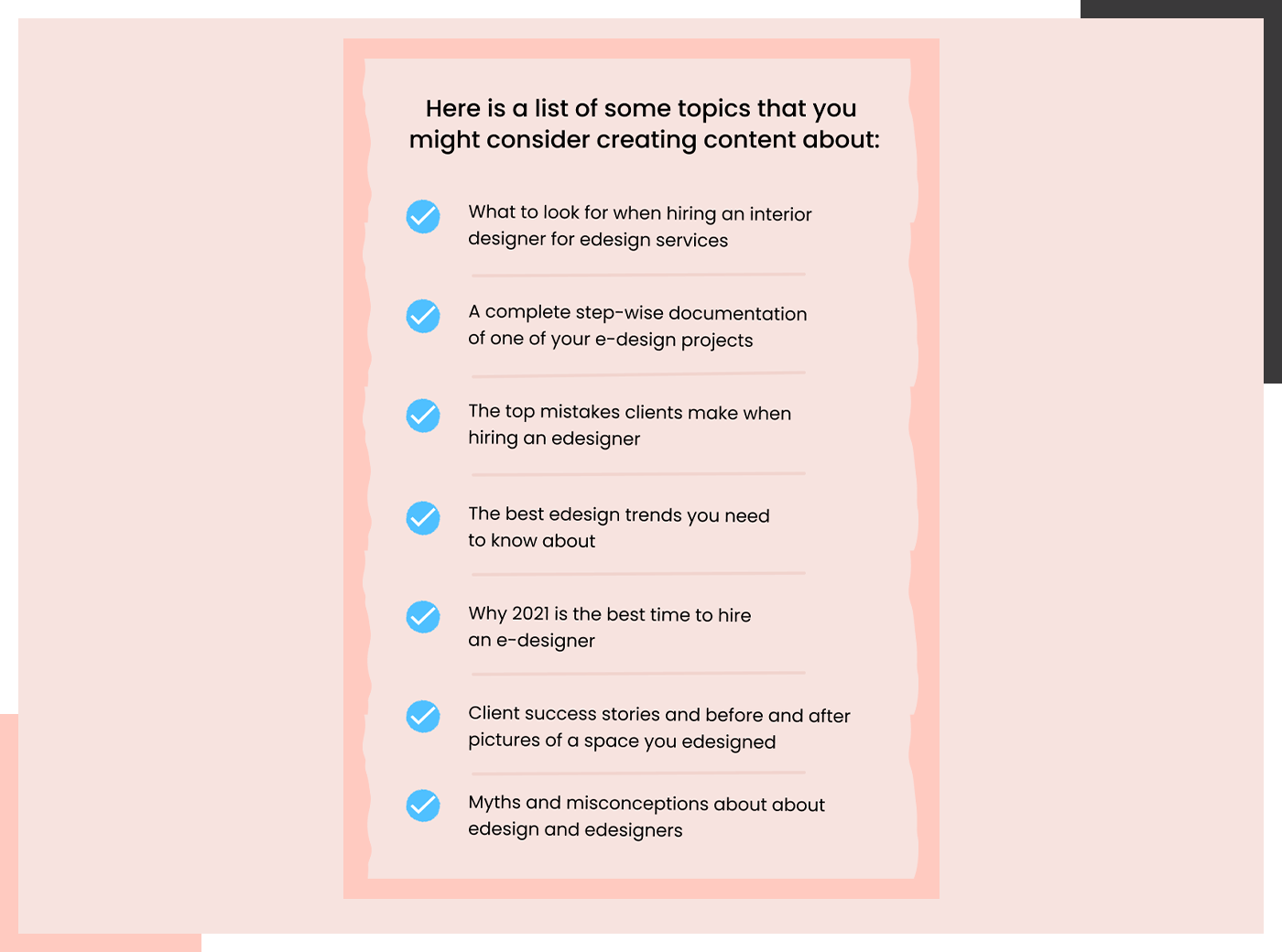 Include case studies or success stories about past clients. Prospective clients may not know people who have gone through the e-design process, which means they won't get the power of personal testimony to help them make their buying decisions. But this can be easily remedied by adding dedicated sections to your site that show how clients have succeeded with your e-design work.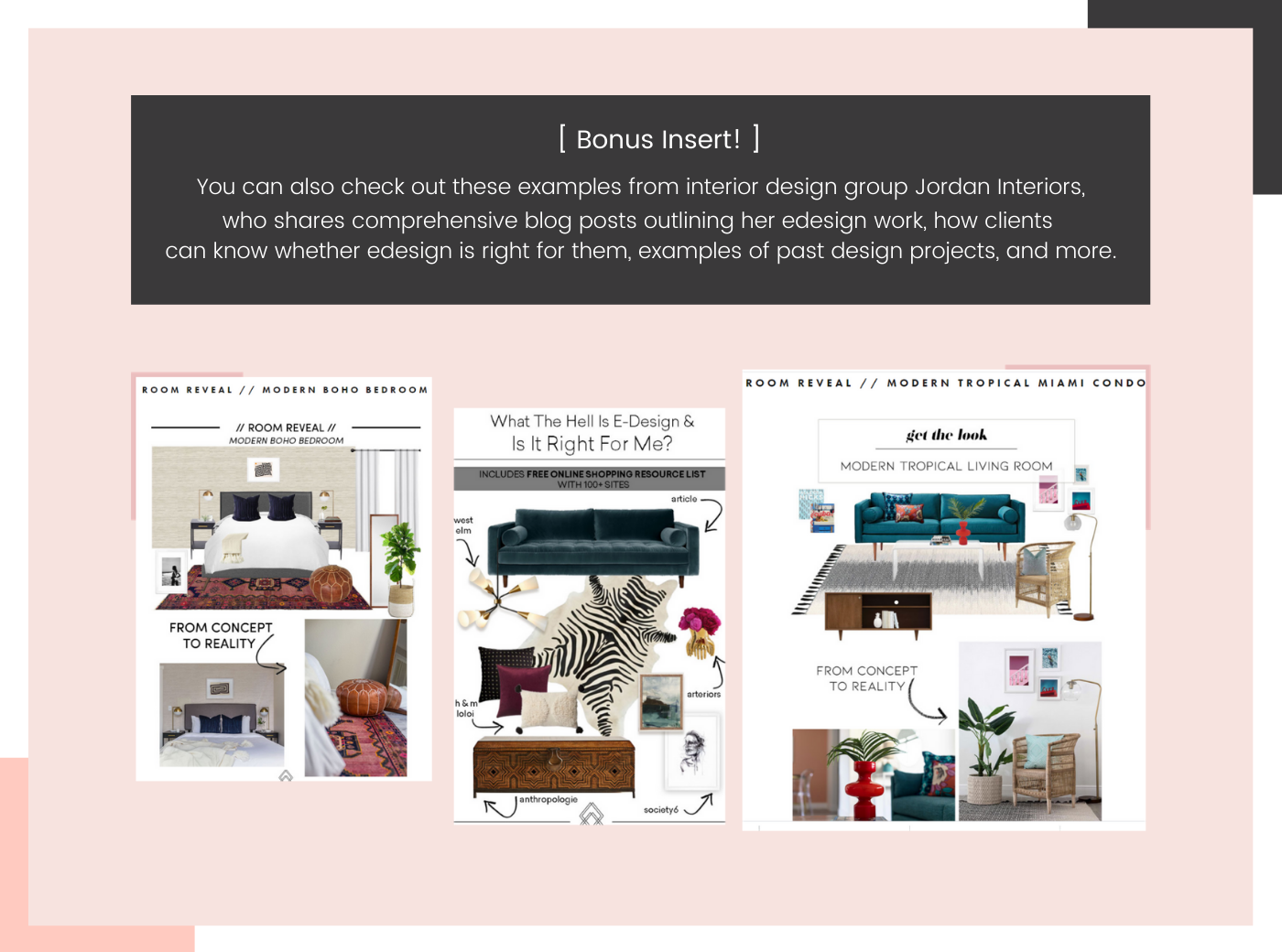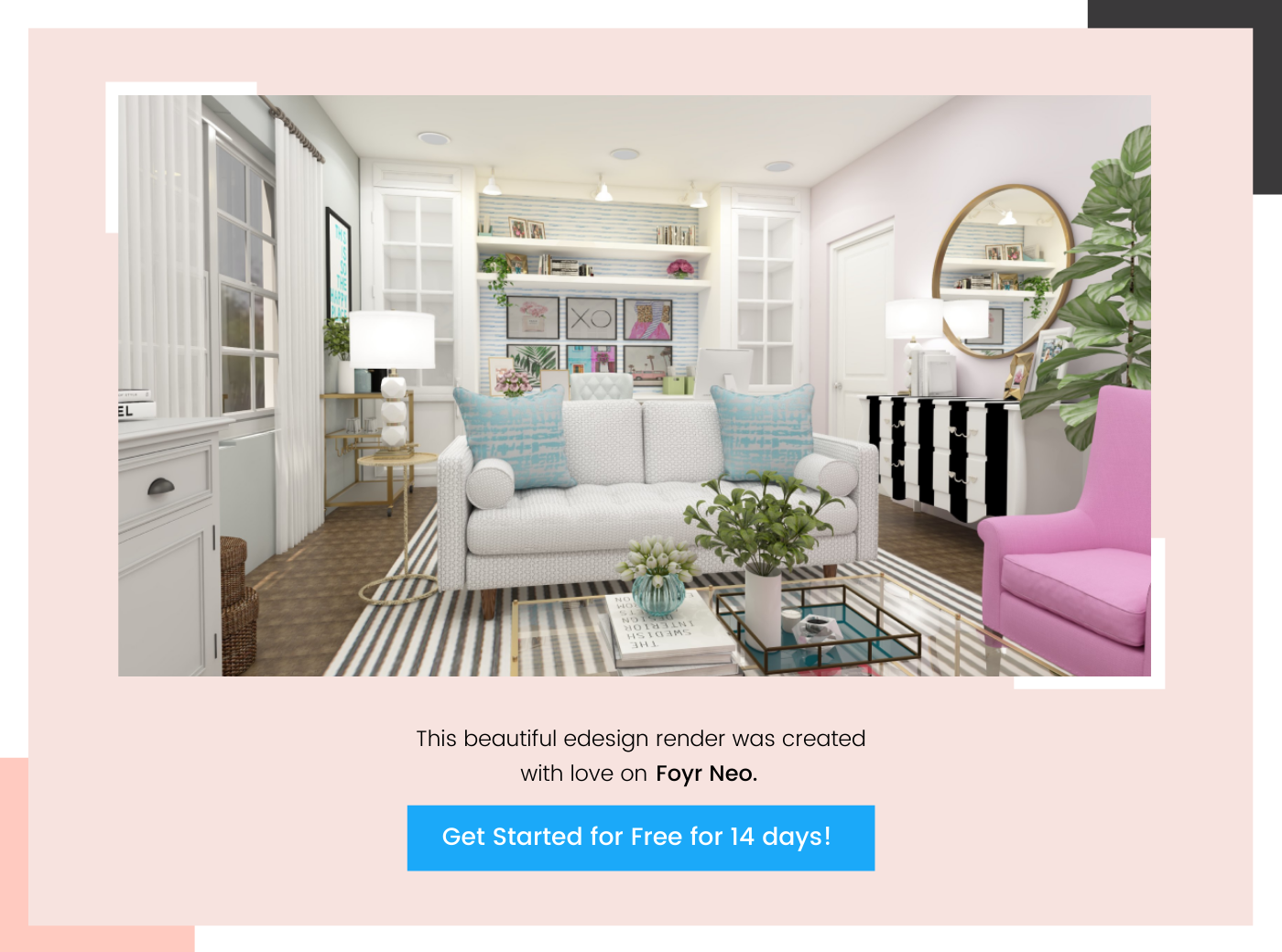 Read also – Marketing Strategies for Interior Design