Socializing in the lounge room is a great fun activity, but bonding over your favorite games is certainly better. The inclusion of a gaming room in the house is becoming increasingly popular. Homeowners include it in their homes either for their kids or for themselves. Now, the game room in your home needs to be presented in a manner to invite attention. It shouldn't be just another room or another enclosed space because it definitely is not one. The gamer should enter the room with excitement and joy, and exit the door feeling all the more refreshed.
This list of well-collected ideas will help you engineer your game room to create an aura of action.
1. Consider the Space Available
The area for the game room should be chosen wisely. Although you are not creating a gaming zone for the public, your friends and family will be a part of the room. You do not want to make your gaming room too crowded, nor would you like it if there's plenty of space in it. An empty space will be just a waste of quality space you can also go with some design ideas and make it worth making use of an outhouse space. Pick enough space that accommodates the games and the accessories, and just enough space for the room to breathe.
2. Lighting in the Arena
Lighting in the game room is a significant factor as it affects the performance of the players. Game rooms should have ample lighting. A mixture of lights creates interest and excitement, increasing the adrenaline level for an exciting game session.
You can choose from a variety of lights available such as hanging lamps, bar lights,  track lighting, pool table lighting, etc. It is advised to consult with an expert while considering the lighting in order to create just the right kind of effect. Neon and UV lights fuel the whole gaming thrill and experience, being one of the top choices for game rooms.
3. Choosing the Appropriate Speakers
Just like the cheering in most outdoor sports that enlivens the stadium, sounds of action that are complementary to the games also enliven the player's energy. Good quality of speakers will produce the sound energy which will translate into the needed dynamic energy in the gaming room.
4. Soundproofing
The noises from your game room are part and parcel of the lively and joyful environment in the game room until they start bothering others outside of your game zone. Soundproofing your gaming room is the best solution same as a home theater. This way, you will neither compromise on your game frenzy, nor will disrupt your neighbours' peace.
5. The Big Screen
Gamers love to play their games on a large screen. A PC screen does not provide adequate fun. Therefore, you will need to choose from between a streamlined LED display or a projector to enhance the experience furthermore.
6. Decorate with console and accessories
Just the way people adorn their homes with prizes and trophies, a gaming geek takes pride in the collection of his games and the gaming merchandise. Adorn the walls of the game room with your prized possessions, and decor ideas making a gaming library with all your consoles and accessories.
Image courtesy: National News
7. Comfortable Seating
Gamers can get so immersed while playing that they lose track of time. Long hours of sitting can be tiring and hamper your health in the long run. Choose a comfortable seating arrangement to minimize the weariness. Shop for recliners or chairs specially designed for gaming.
8. Wall Decors
When looking to decorate the video game room, floral or scenic frames do not help to improve aesthetics. Add a sense of gaming value by framing a flag, adding a gaming poster, placing gaming figures near the screens also increase the vibe in the room.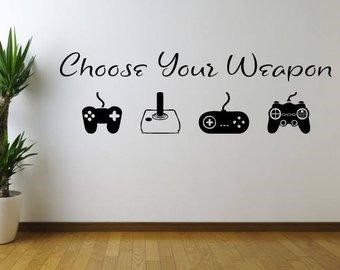 9. Themed Decorations
You can choose the decorations for your room in accordance with your favorite games. There are rooms that are laced with Super Mario decorations, angry birds decorations, star wars decor, etc. Invest in some cool furniture to materialize your preferred theme. How about a theme of the Assassin's Creed?
10. Comfort and Celebrations
Gaming is energy draining. It doesn't matter if there's a single player or there are many players, all of them are going to be exhausted after the game. It will be sensible to place a table in the game room to hold trays for food and drinks. The seating arrangement needs to be comfortable. Adding sofas and narrow beds can help you relax.
A game room is that area of the house where you head to revive your energy and stimulate your creativity if played in moderation. Safe to say, the colors of the room play a crucial role too here. Light and dark shades, both can be used to your advantage. Experiment with colors, themes and decor, and design a gaming room that is truly an interior paradise.
Click to rate this post!
[Total:

0

Average:

0

]