Do you remember when you were younger and all the family members would gather together on Christmas, or Thanksgiving, or just for Sunday dinners? All the adults would be cooking together and the children laying around the house. Perhaps the grandparents would sit by the fireplace and share beautiful stories before everyone gathered in the dining room to share a meal together, laughing and joking. It is a precious memory, isn't it?
Maybe you still have that tradition going for the high holidays or perhaps you have your folks over all the time through the week. Those moments are not just memories, they are a part of you and you want to treasure them, don't you?
We understand that. We have our own beautiful moments too. That is why today we will share a few dining room design ideas that will not only provide you a place to create more memories with the future generation but also add to the vibe for a dinner party or Sunday brunch.
During most home makeovers, homeowners and interior designers alike, tend to overlook the dining room. Instead, they focus all their creative genius into the bedroom, living room, and even the home office. While these living spaces are incredibly important not to mention require attention to detail, the dining room is a significant nook of the household.
Let us show you how you can transform your traditional dining room into a beaut.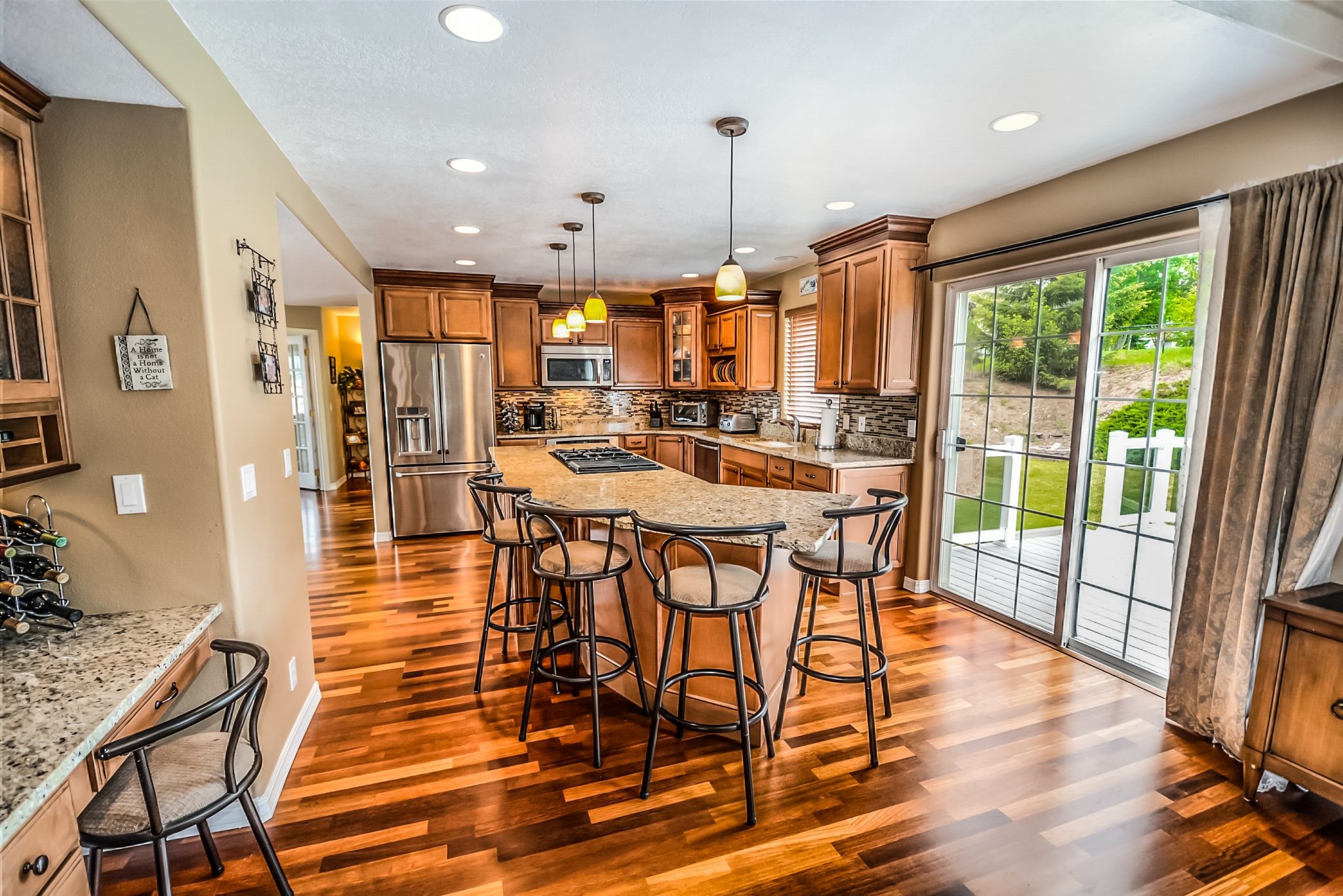 Image credits: pexels.com
Dining room decorating ideas for all
To begin with, let us just say that all dining spaces no matter if it is a modern dining room or a farmhouse dining room, or a formal dining room or a breakfast nook in a small dining room, or even a banquette hall for dinner parties, they all deserve a little glam and styling.
When you have made the decision to redesign your home, then why not put in a little time to beautify the dining area during your home remodel, right? So here goes.
Selecting the layout of the room
The first thing you need to do during a home remodel is to figure out the layout of each room. The floor space you assign will heavily influence what kind of design ideas you can implement and where everything goes.
A dining room usually features a rectangular floor space. You can choose to create an open floor plan conflating the dining area with the kitchen or the living room. If, however, you would like an enclosed room, then make sure that your dining area is either off the kitchen or situated in between the living room and kitchen for easy access.
It is a popular choice to install door frames instead of doorways but if you so choose, you can always mount a door. You can even choose sliding doors to befit a minimalist interior design or choose heavy ornate doors for farmhouse dining rooms. If you wish to combine the two styles then consider a Scandinavian wooden door with a contemporary design to reflect a modern farmhouse.
Next, your dining room layout must not only accommodate your preferred choice of a dining table, dining chairs, and accessibility to the kitchen but also facilitate cabinetry for dinnerware. Trust us, it is not feasible to run to the kitchen every time you need a spoon or ladle or napkins. Make sure your dining room floor plan can accommodate at least the bare minimum storage space.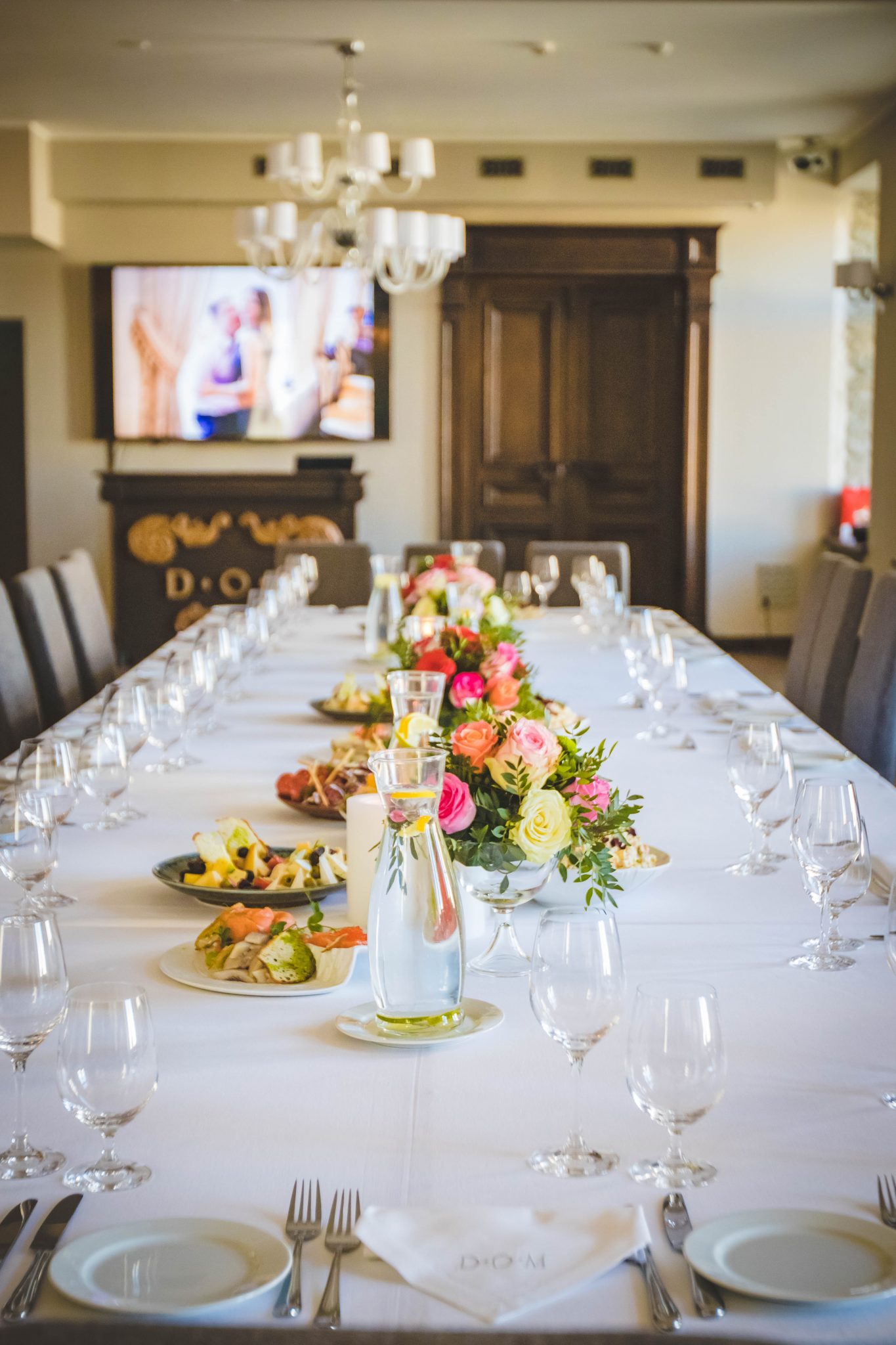 Image credits: pexels.com
Picking a theme for your dining space
Now, speaking of a theme, you probably need to have that down pat before you start remodeling your home. there are a number of choices from which you can select one that best suits your personality or explore innovative options by combining a couple of design themes.
Here are a few themes for your dining room makeover:
Farmhouse dining room: Works best with natural colors and wide, claw-footed, wooden furniture pieces.
Modern farmhouse dining area: Best combines the country lifestyle with wooden furniture but also features clean edges and neutral colors.
Modern dining room: Uses accent walls, white walls, and inspiring wall decor. Features furniture with clean edges and form follows functionality to the very end.
Minimalist dining space: It is usually simplistic with a comfortable flow of chi into your dining area.
Traditional dining room: The classic design trend accommodating the dining table, dining chair, a china cabinet, preferably a chandelier, and table decor featuring centerpieces to create a focal point.
Convertible dining area: A small dining room or a wall-mounted dining nook that doubles as a home office, study room, reading corner, etc.
Banquette hall: The extravagant meets the essentials in a formal dining room that is big enough to accommodate guests as well as everyday meals. It is always well-maintained and ready to entertain. Features chandeliers, centerpieces, exquisite wall art, and other luxurious objects to befit the expansive space.
Define the purpose of the dining space
You must be rolling your eyes right now thinking isn't the purpose of the dining space defined in the name itself?
Well, you're not wrong, however, dining spaces in different households accommodate other purposes besides eating your meals.
For instance, in a studio home or a one-bedroom apartment, or even a tiny house, the small space in the dining area also doubles as a home office, workspace for children's homework, a place for hi-teas when there is a lack of a living room or other such instances.
Furthermore, a dining room can also be the designated space where you host a dinner party for your colleagues or organize a banquette for special occasions.
So, you see, a dining space can be many things. You could use it only for the big family dinners while utilizing the breakfast nook in your kitchen during the day-to-day requirements. You could make this space a haven for when your loved ones gather together at the end of each day to share their stories. This is where you might find out that your teenage daughter just got invited to Prom or that your son is now interested in Football instead of Lacrosse. This could be where you and your spouse enjoy a date night, or your parents share the embarrassing childhood memories that you now find extremely funny.
The purpose of the dining room can be plentiful and the home decor must inspire beautiful memories. Hence, you need to define the purpose.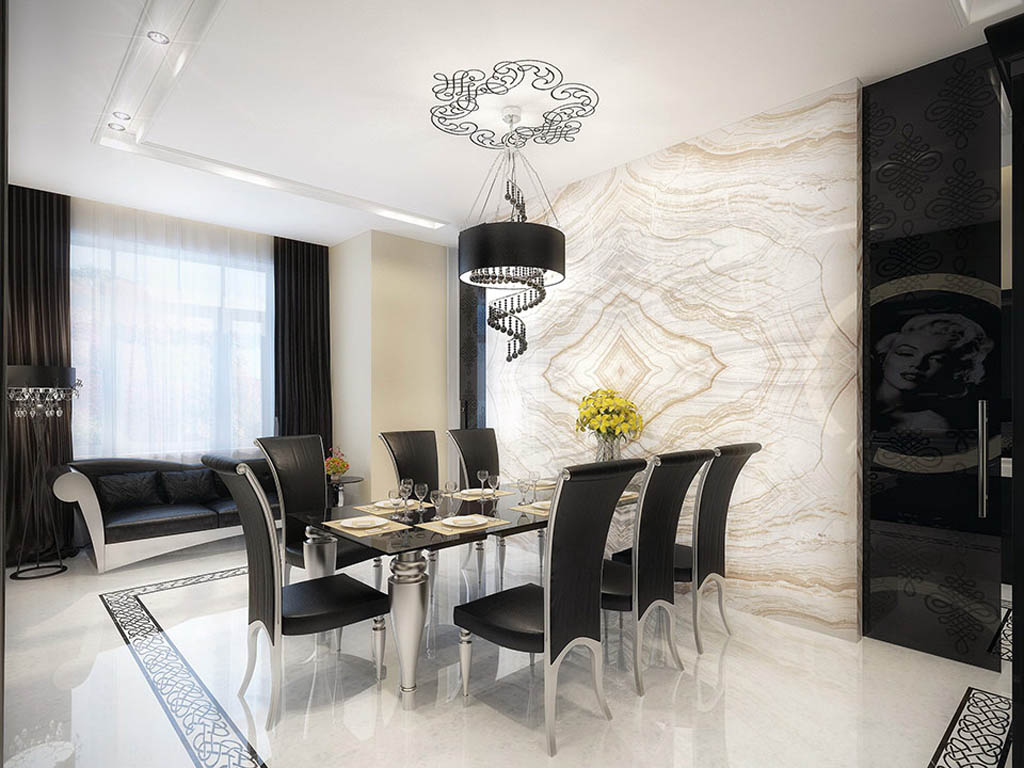 Image credits: pexels.com
Choosing your color palette
The color palette makes a huge difference in any room of the house. If you have read our article on the psychology of colors, then you know how each color affects your disposition and mental balance.
The dining room is a shared space where your loved ones, friends, and peers come together to exchange beautiful memories. Therefore, the dining space must always appear joyful if not neutral.
Ideally, the best color scheme for your dining room consists of natural shades of yellow, orange, brown, and green. Keep the hues to the lighter side since bright colors often have adverse effects on your mood.
You can also choose white walls to create a blank canvas and introduce splashes of vigor throughout the dining space. Your furniture need not be brown. Select from a range of bright colors without overpowering the room. Decorators have a keen eye to combine effective color palettes to add aesthetic effects.
If you have neutral paint colors on the walls, choose a bright upholstery and add a bit of greenery to the room with real or artificial plants. If you choose vibrant colors in the backdrop, make sure to balance the color palette with calmer shades. The idea is to inspire a lively conversation without stimulating the participants too much.
Installing appropriate lighting and light fixtures
Now that you've selected the theme and made the basic choices of color and purpose, consider the lighting issue.
It is primitive that a dining room has sufficient lighting. This is the area where you eat your food. You don't want to munch on something you didn't anticipate, right? It is common for flies and insects to infest around areas of food consumption. Even if you clean and sanitize the place repeatedly, something might slip. Therefore, consider bright light fixtures in a dining room.
Small spaces can be easily lit up with minimal lighting. Large banquette halls and dining rooms call for LED lights or overhead lighting. In order to keep up with the theme, consider decorative sconces or modern lighting. A crystal chandelier can work wonders in a large or small dining room to add a little character.
Lastly, don't forget about natural light. It is ideal to either have large glass windows or a skylight, if possible, to let in natural light into your beautiful dining room.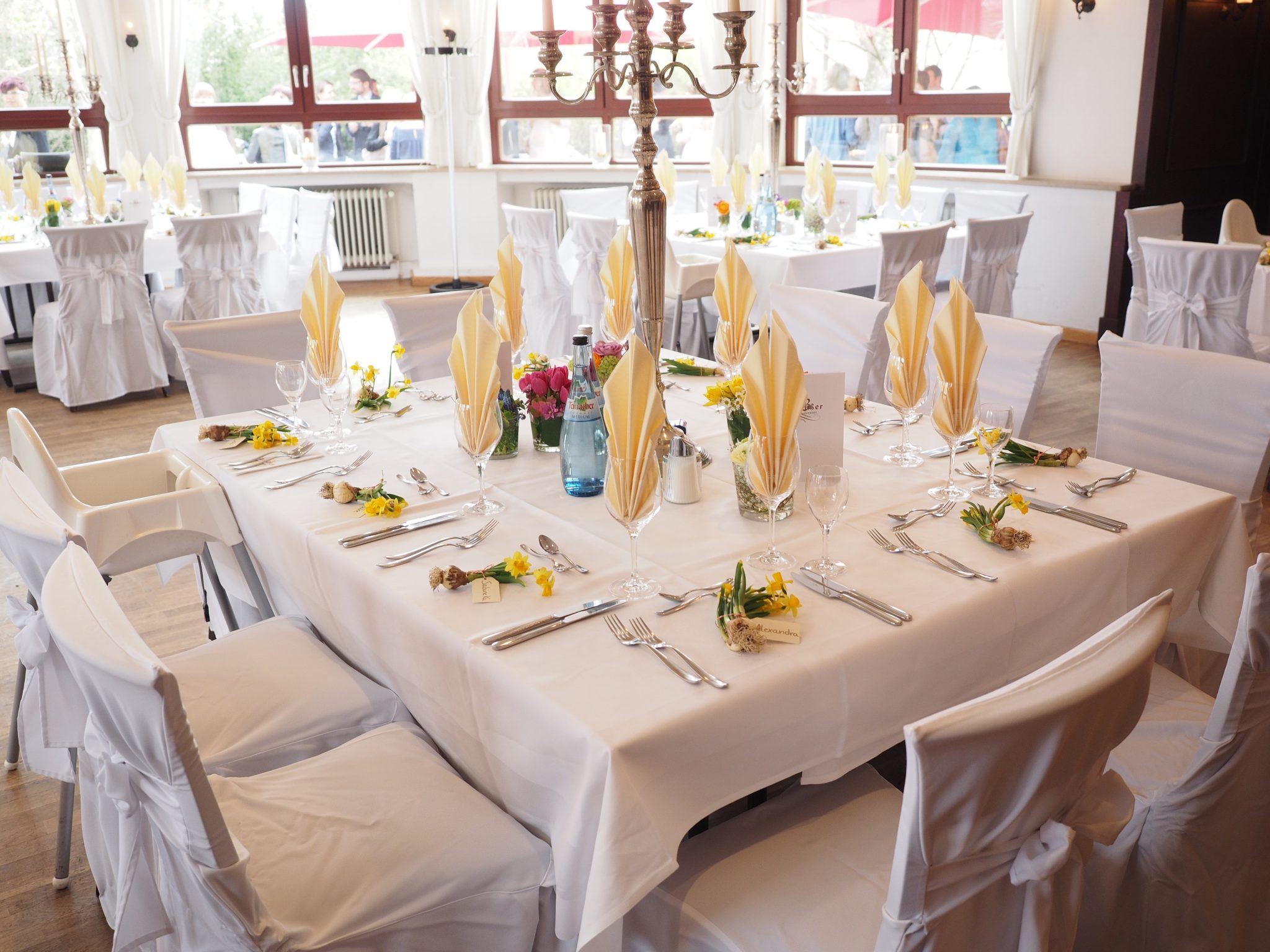 Image credits: pexels.com
The ideal dining room furniture
When choosing your dining room furniture, make sure to evaluate the space. If you have a small dining room then accommodate dining room tables with built-in cubbies to carry your dinnerware. You can install a small cabinet as well for convenience. And don't forget comfortable dining chairs with sufficient back support. Consider using furniture that allows some leg room too as they create an illusion of larger space.
If, on the other hand, you have a large dining room, you can incorporate a large dining room table with sufficient seating, a China cabinet, and even shelving for exquisite dining room decor.
A dining room, in its essence, is quite low-maintenance. Therefore, you need not consider a lot of furniture except for the essentials that tie the whole place together.
Don't forget the dining room walls
A lot of interior decorators and homeowners seem to disregard the dining room walls as irrelevant space. We are here to tell you that cannot be further from the truth.
The dining room is a great place to display some of your treasured wall decor and artwork. If you acquired a piece at an auction, feel free to install some accent lighting and create a focal point to outshine the otherwise dull disposition of the dining space. If you are a creative person and you made a piece of artwork or designed small DIY pieces, hang them up on the walls or line the shelves with your creations.
Not only do these pieces of wall art add aesthetic value to the dining room but they also inspire conversation.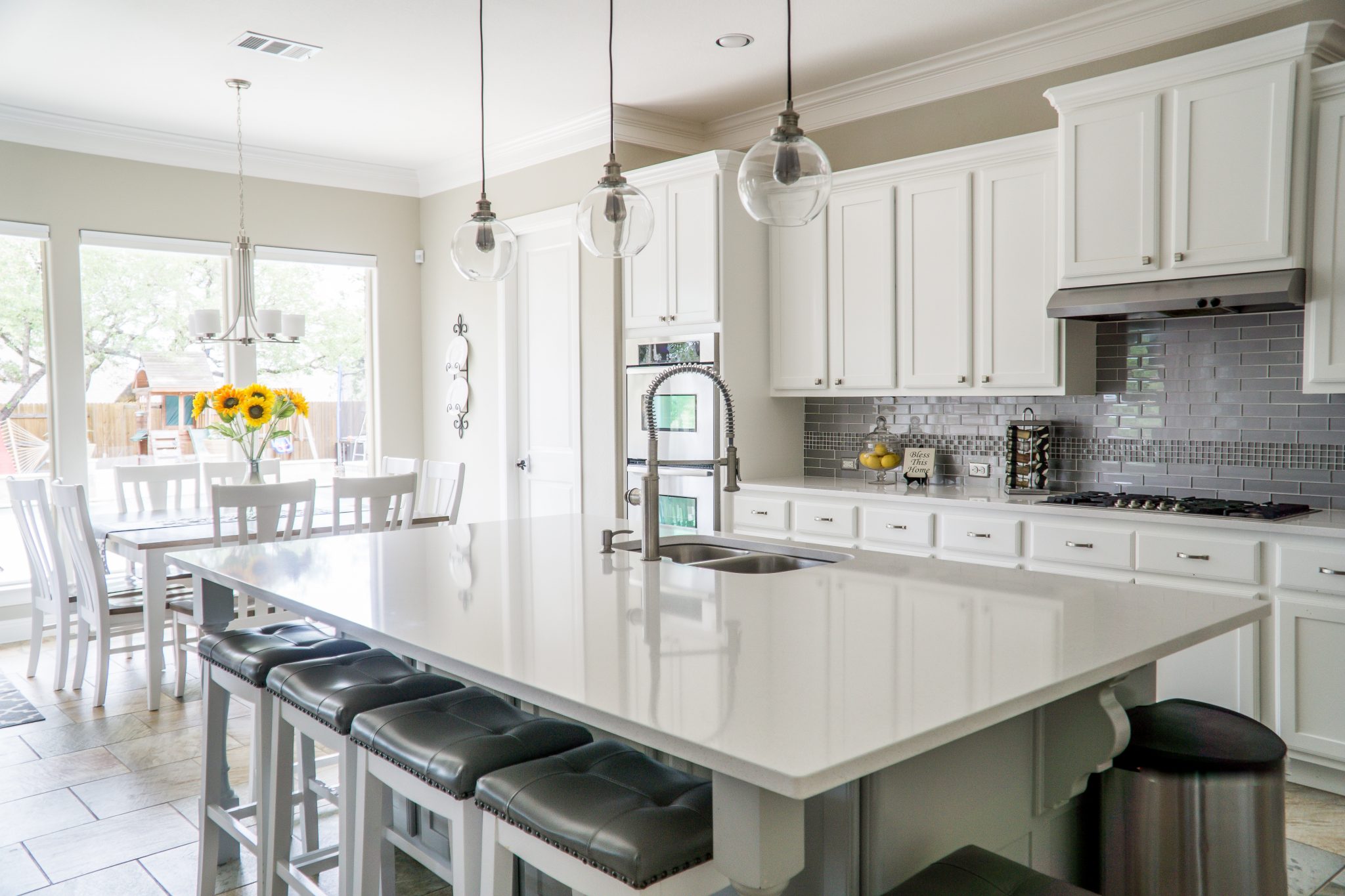 Image credits: pexels.com
Adding area rugs for effect
Area rugs are excellent additions to any room of the house. In the dining room, you can add a large area rug beneath the dining table or in front of your china cabinet. You can also choose to install wall-to-wall carpeting for an elegant feel.
Make sure to choose area rugs that keep on par with your overall color scheme for the room. If you choose classical themes, then go for faux animal skin rugs or printed ones. For a minimalist modern design, you can choose monochromatic area rugs.
Table liners and table decor
Whether you host elegant brunches, dinner parties, or simply enjoy everyday meals with your loved ones, a beautiful table cloth can add excellent styling points. Consider using linens on your cabinetry too if the design seems too dull.
Then comes the table decor. The dining space doesn't call for extravagant home decor unless of course, it is a large dining room for banquettes and parties. Nevertheless, a centerpiece is an exquisite addition not to mention an innovative solution to brighten up the dining space. You can use some bright, colorful flowers or artificial greenery as centerpieces. You can also take the creative route and place some DIY styling elements with Minora candle stands, lava lamps, fruit baskets (both real and artificial), and just about anything else.
Lastly, pay attention to the dining set. The cutlery and place setting should create a contrast against the dining table but efficiently meld with the décor.
Remember, the dining room is a place to make memories. Unleash your creative side and decorate it with innovative dining room design ideas.
So, there you have it. Now you can add a bit of character to what is otherwise perceived to be a neglected, dull space in your household. Discuss your expectations with your interior designer or, if you are undertaking the remodel of your home, then use these ideas to add some flair.
If you have a difficult time narrowing down your options or choosing the right floor plans, color palette, furniture, light fixtures, and home decor for your dining room then may we suggest using some assistance. The Foyr Neo app is a revolutionary solution for homeowners and interior designers alike to try out design ideas for any room of the house. You can use the app to create virtual 3D models of your dining room and see what you like and don't like before you start the home makeover.
We hope you find these dining room design ideas useful and create an aesthetically pleasing dining space to create more memories with your loved ones.