Home » Design Ideas & Inspirations » 9 Best Laundry Room Decor Ideas For Stylish Design and Function
Laundry Room Decor Ideas
When we talk about a laundry room, what comes to mind?
A washing machine? Laundry detergent, fabric softeners, perhaps even a drying rack?
Or if you are a fan of sitcoms then you might be imagining Ross and Rachel at the Laundromat. Perhaps even Kitty Foreman doing the laundry in the basement after her shift at the hospital? Or Sheldon Cooper fighting with Penny in the laundry room at 8:15 on a Saturday evening.
Let's change that image now, shall we?
Poor jokes aside, when people think of laundry rooms, they usually envision gray spaces with a washer and dryer, or several. People running around in a public laundry space, pushing coins in like slot machines. If you have a private but small laundry room in your house then you probably cringe thinking about the dull hours you spend running in and out of there.
But who says that the laundry room has to be gloomy and boring?
The world has revolutionized and so has the art of interior design. When you remodel your home, you can now implement exquisite ideas to brighten up the laundry room and look forward to a truly functional utility area.
Don't worry. We understand that it is a little difficult to picture that but read on. Today, we will discuss a few laundry room decor ideas so you can convert this dull space into something worthy of the pattern and theme of your home decor.
Read also – Best Kitchen Decor Ideas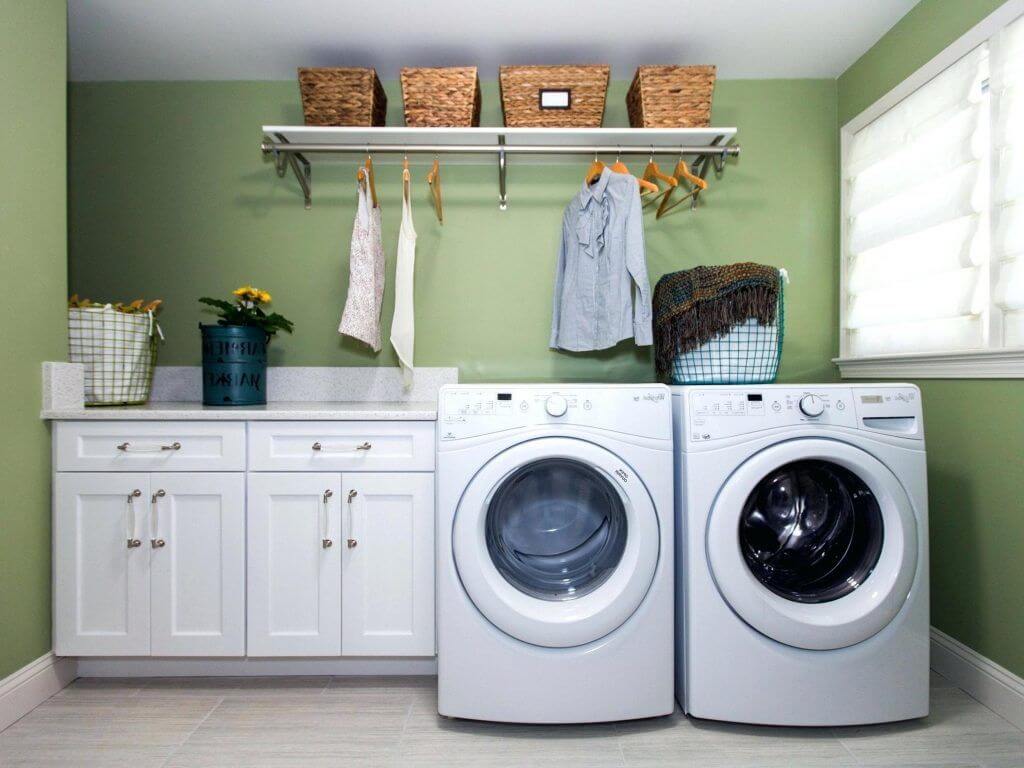 Image credits: pexels.com
Why modern laundry room decor ideas are good for your home?
As a homeowner, you clearly have a vision for your house. Every detail is etched in your brain to the Tee. You want the entire house to look beautiful and elegant, maybe following a country theme or a modern one. Irrespective of that, the laundry room still turns out to be a small space that only inspires gloom and irritability.
We are here to change that.
You see, regardless of you living in a modern farmhouse or a retro home, or a contemporary design house with extraordinary interior design, you can always add a little extra something to the laundry room. This space can become your personal tranquil room, maybe even a multifunctional utility space.
Read also – Modern Rustic Interior Design Ideas
Laundry Room Essentials:
Most laundry rooms follow a theme of storing the essentials dedicated to cleaning, drying, and ironing your clothes. Obviously, you cannot discard these items but you can use innovative design ideas to better arrange the space.
1. Washing Machine – Firstly, no laundry space would be called so without a washer and dryer. Handwashing clothes may still be the norm in several households, which is perfectly fine. However, if you have a designated laundry room, then the presence of a washing machine is sort of mandatory.
2. Shelving and Cabinetry – Storage solutions are a necessity in the laundry space. Even if you have a tiny laundry room, you still require storage spaces to store the laundry supplies. Open shelves would do, as long as you can use innovative organizational ideas to align the essential laundry supplies as per their functionality.
3. Drying Rack – After you wash the clothes, you certainly need a place to dry them. A drying rack is perfect for the laundry room. However, if you have small spaces in your laundry room, then you can opt for hanging your clothes in the backyard. Hangers and clothespins work wonders to hang your clothes outside to dry under natural elements of sun and wind.
4. Ironing Board – Now that your clothes are dry, you will need to iron them; well, most of them. But ironing your clothes in an open space such as the living room may seem a bit unsightly. Therefore, you can move the party into your living room. A standalone ironing board is a popular solution. However, if you have a small laundry room then consider revitalizing the storage ideas with a foldable ironing board attached to the laundry room wall.
5. Counter Space – It may not seem so but a laundry room, much like your kitchen or a small bathroom, requires countertops. This helps organize your essentials, especially if you do not have sufficient space to add a small closet or cabinetry. These counter spaces hold your laundry detergent, fabric softeners, and whatnot. Even if you have innovative storage solutions, it is still a blessing to have some extra room on the countertops.
6. Clothes Hamper – Ideally, a clothes hamper is placed in each bedroom or the bathroom. However, if you are not fond of doing your laundry every day, then a larger clothes hamper, in the laundry room, can be used to dump all the dirty clothes in the individual hampers around the household.
7. Laundry Baskets – Unlike a clothes hamper, laundry baskets are used to carry clean clothes following the washing and spinning. Whether you hang your clothes on a drying rack indoor or outdoor or simply choose to dry them on a clothing line outside, laundry baskets are essential to carry them from the washing machine.
8. In-built Storage Spaces – A small closet in the laundry room is typically placed to hold laundry supplies or double as a linen closet. This can be built-in for convenience in a small space. Small laundry room makeovers benefit largely from in-built facilities, be it small closets, open shelving, cabinetry, etc.
Now that you know the essential items required in your laundry room, let us discuss a few laundry room decor ideas, laundry room storage, and laundry room organization to improve the functionality of this home space.
Read also – Best Living Room Decor Ideas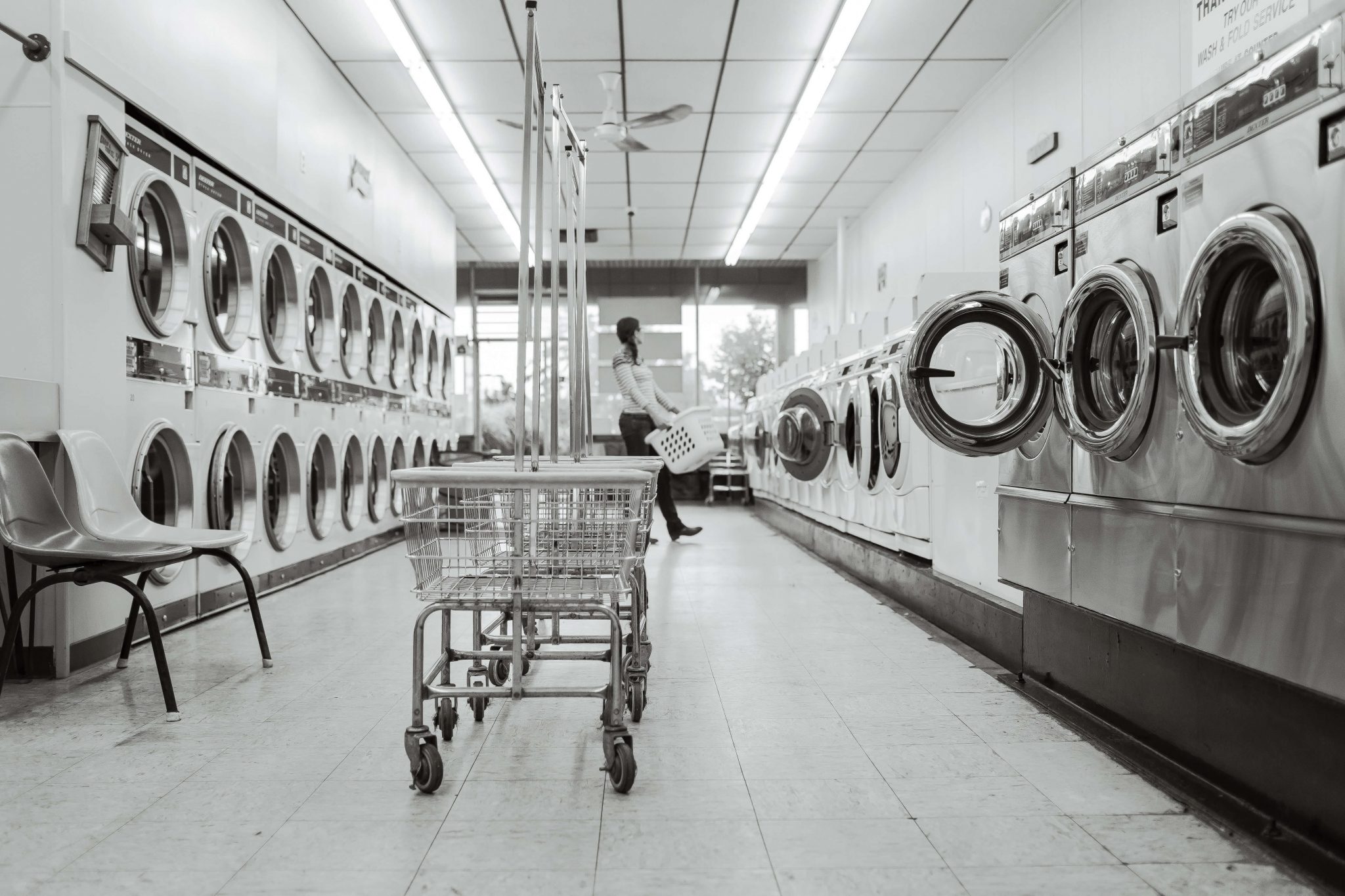 Image Credits: pexels.com
9 Best Laundry Room Decor Ideas:
1. Identifying the ideal location for your laundry space
To begin with, you must choose a location for the laundry room. Ideally, it is good to create a laundry space on the lower floors, preferably the basement. This way, the havoc of your laundry day is limited to the confines of a space that is out of the way.
Furthermore, any haphazard design ideas that do not corroborate with the rest of the home decor do not take away from your beautiful home. You can also instill a zone for relaxation where people won't bother you in your beautiful laundry room.
You can build your laundry room off the entryway of your home too but make sure to keep it enclosed and out of the common area. You can also build it aside from the living room for easier access or beyond the kitchen. The area next to a small bathroom can also feature a small laundry space to befit the pipes and other accessories required for your washing machine.
Read also – 14 Best Living Room Interior Design Ideas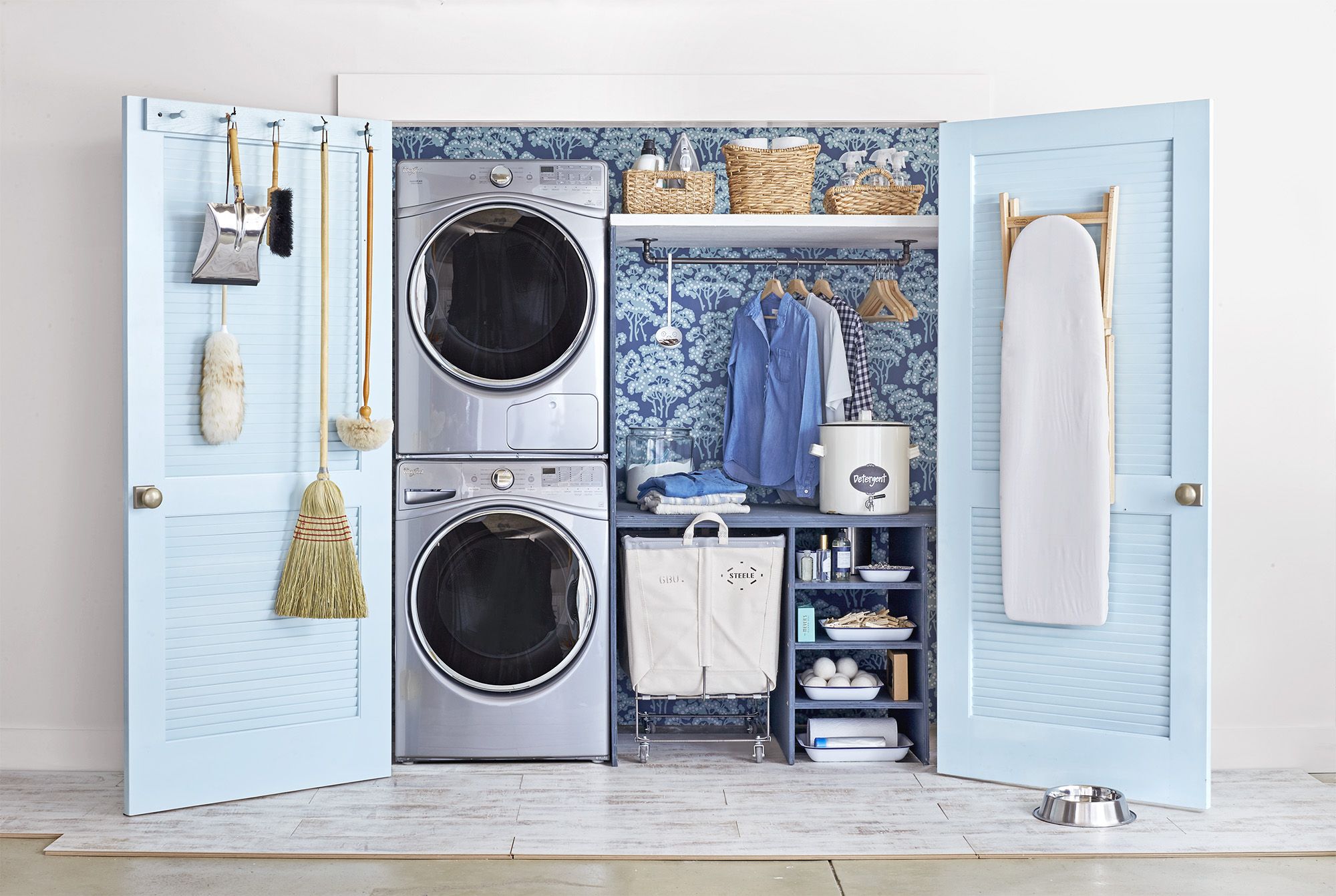 Image Credit: goodhousekeeping.com
2. Choosing lively paint colors to shed the gloominess
It is good to select lively paint colors such as yellow or red for the laundry room. You can also choose a neutral color palette such as white or beige that adds light and removes the dullness.
A white laundry room creates a spa-like effect that instantly brightens up the mood as well as the environment. It also makes it easier for you to spot any molds and infectious growth in the corners. After all, the laundry room experiences extreme amounts of water flow which encourages fungal growth making it highly dangerous, not to mention, unsightly.
Read also – Colors in Interior Design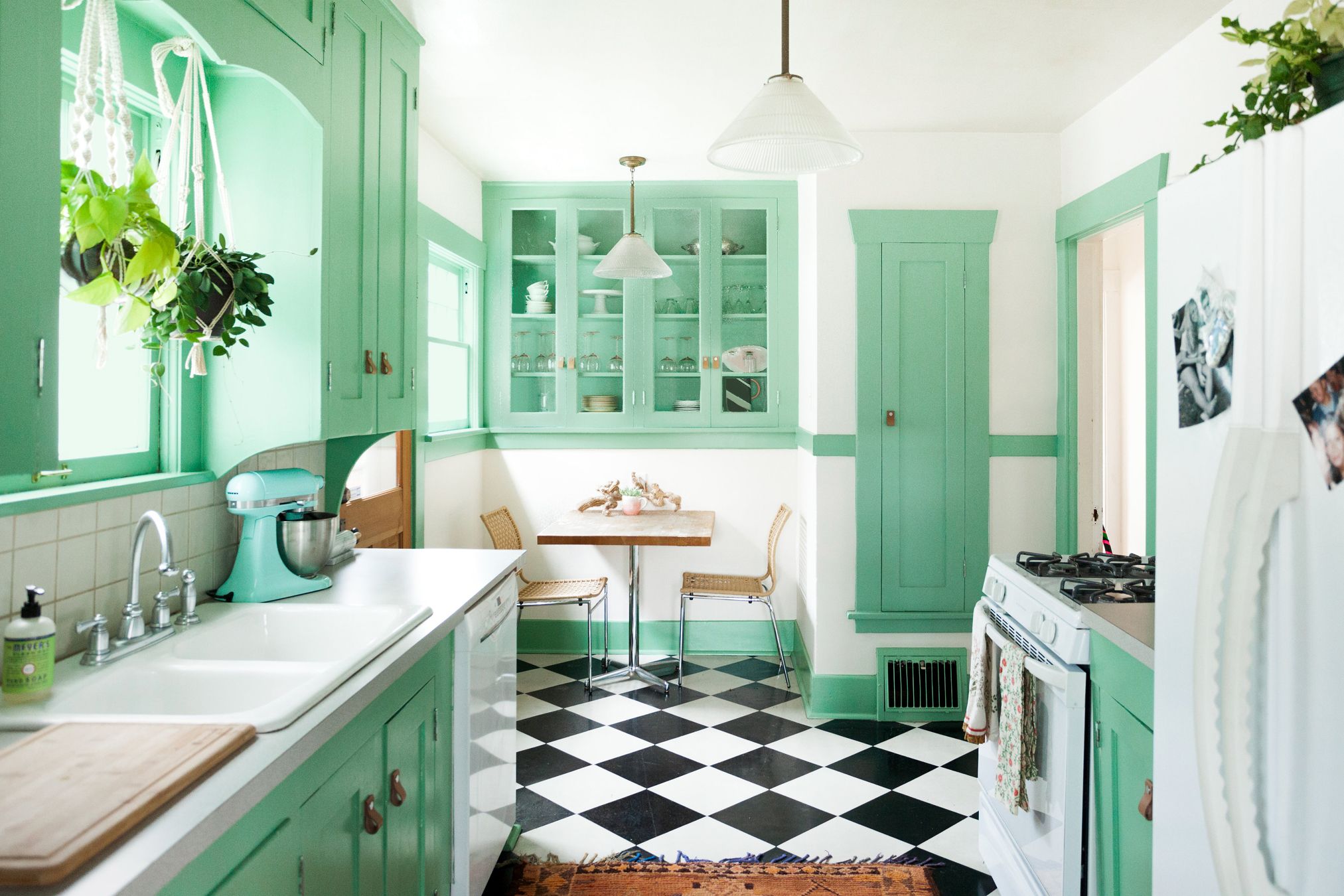 Image Credits: countryliving.com
3. Make sufficient space for storage solutions
You need a designated space to store your laundry supplies. Laundry detergent, fabric softeners, clothespins, hangers, laundry baskets, clothes hampers, etc. must be stored in clean and dry spaces.
A small closet or cabinetry serves well as your storage space. You can opt for open shelving if you prefer or use a retro-style cabinet. You can implement various laundry room organization ideas shared on various channels on YouTube, Instagram, or Pinterest. It is a haven for people with OCD.
If your utility room is well organized, it makes it easier for you to finish the tasks of your laundry day. There are amazing options available on Amazon or Ikea for you to choose from.
Another incredible storage solution is to add a laundry closet. This space can be used to store washed linens, extra curtains and blinds, additional table cloths, blankets, etc.
Read also – Spring Decor Ideas for Living Room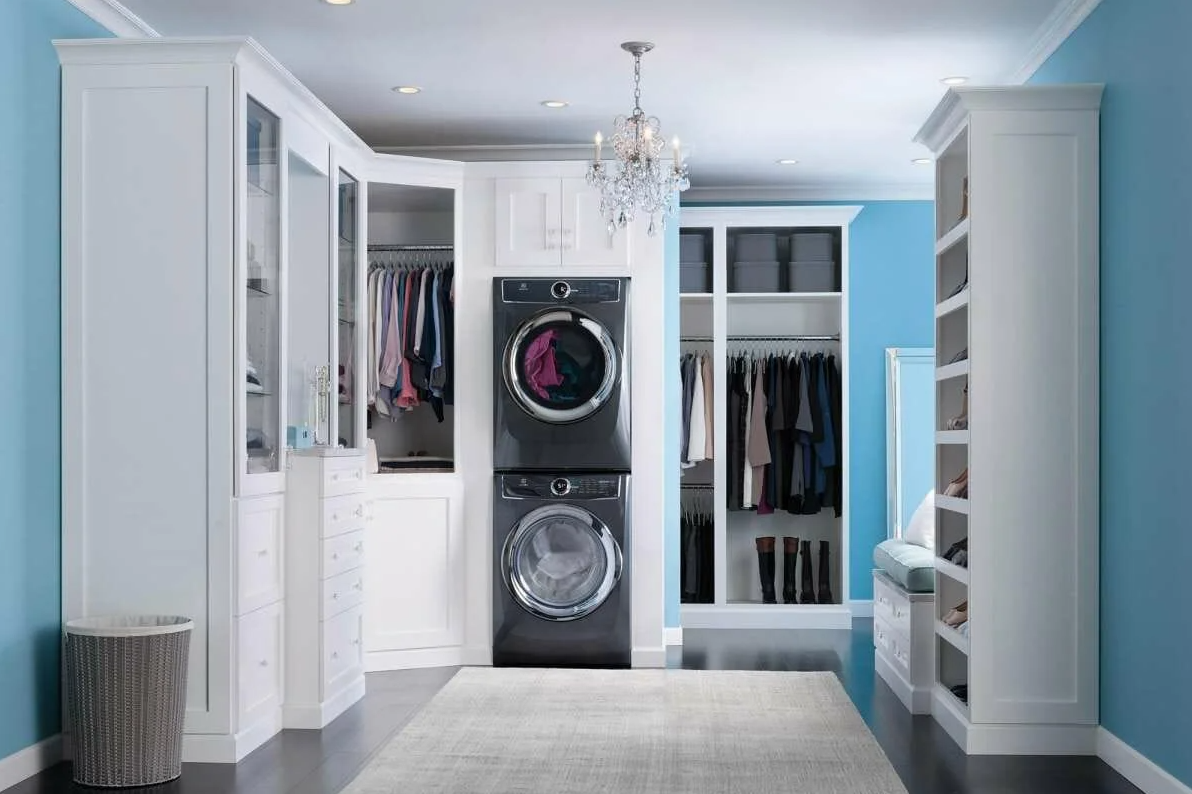 Image Credit: decorilla.com
4. Select your laundry room furniture
Laundry room furniture encompasses anything from your linen closet to ironing boards all the way to backsplashes for the washer. It seems unconventional but a backsplash is a great addition to your laundry space. After all, you don't want the suds splashing around to devalue your beautiful laundry room, right?
If you have a large laundry room, you can also add an armchair or a seating area in a small space to sit and read a book while running the washing machine.
Read also – 10 Best Furniture Design Software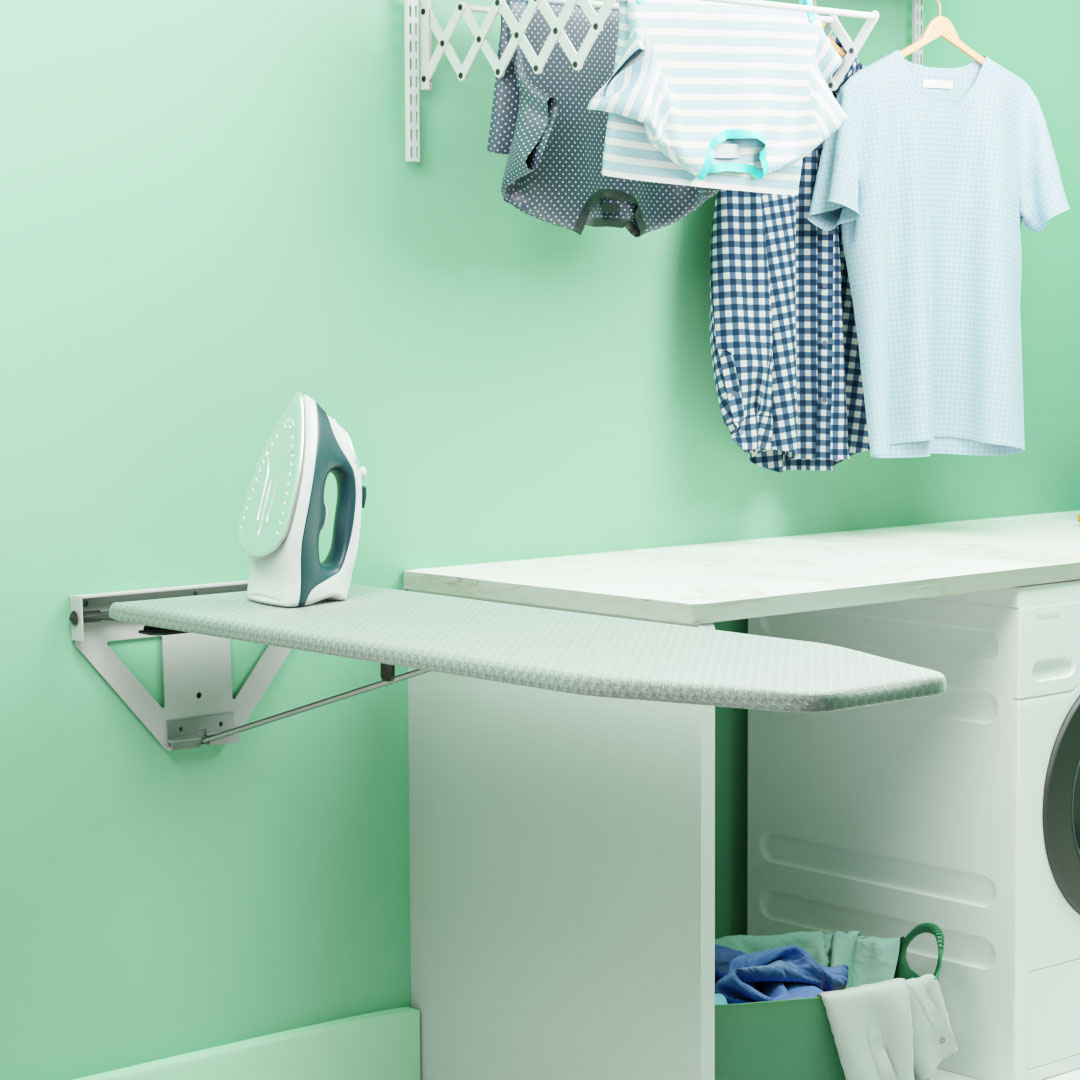 Image credits: venace.com
5. Implement significant counter space
As we have said before, counter spaces are essential in a laundry room. They provide adequate space to place your laundry basket or keep the laundry detergent and other assorted necessities during the process. You can't just keep opening and closing your cabinetry when you're in a hurry.
Sufficient counter spaces also help in keeping the floor tiles clean and devoid of spills. Can you imagine how dangerous it could be if you spilled detergent on the floor? It is a slipping hazard.
Add some decals to your countertops for whimsy.
Read also – Best Kitchen Counter Decor Ideas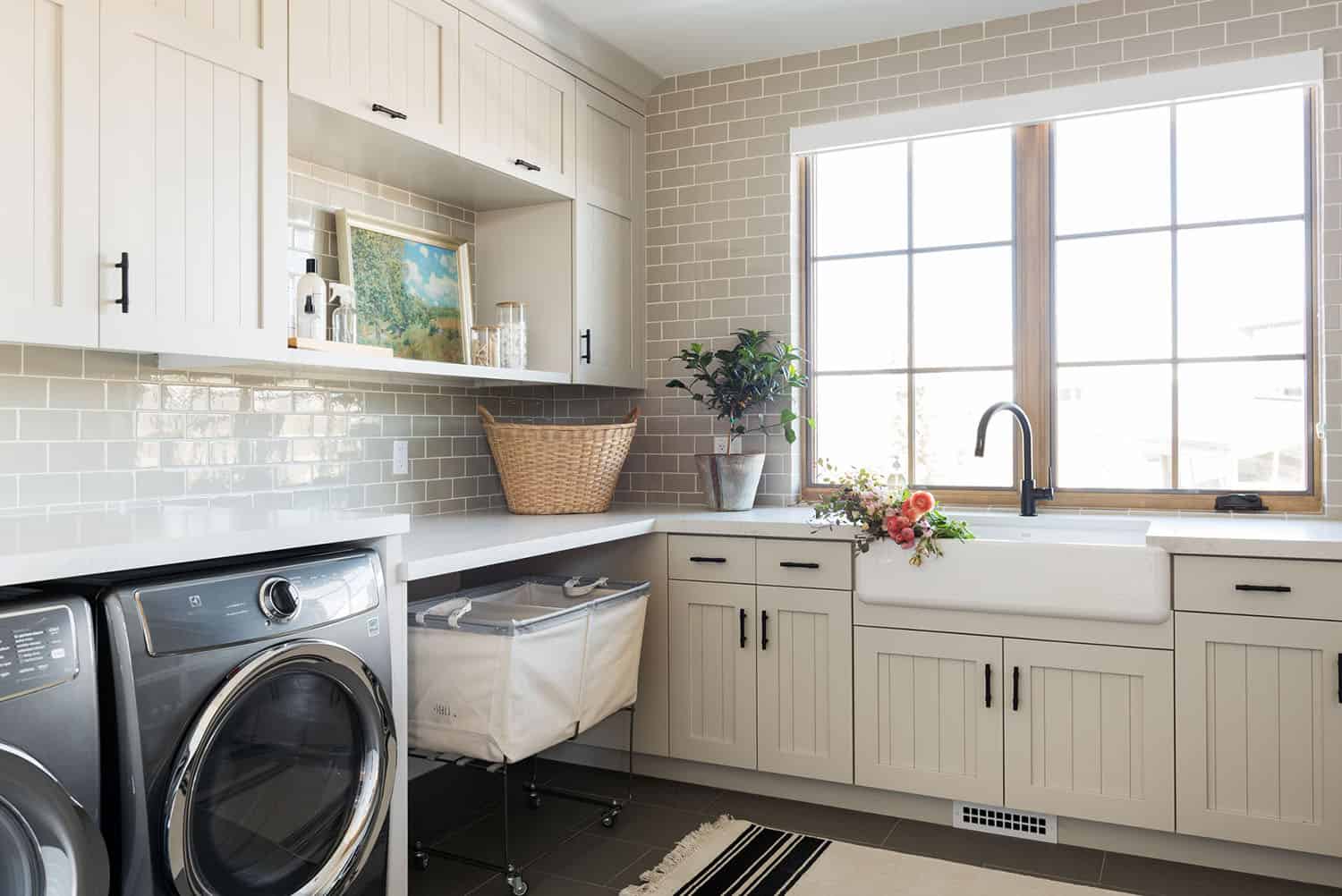 Image Credit: onekindesign.com
6. Use good lighting
Always remember to add significant lighting to your laundry room. This space must be brightly lit so you can check if your clothes are well washed.
Consider using LED lights like those in a small bathroom. These lights are highly illuminating, not to mention, energy-efficient. If you have the means, then install windows, maybe even a skylight to brighten up the laundry space. This is especially helpful if you have a small laundry room that appears dingy.
Read also – Best Bathroom Lighting Ideas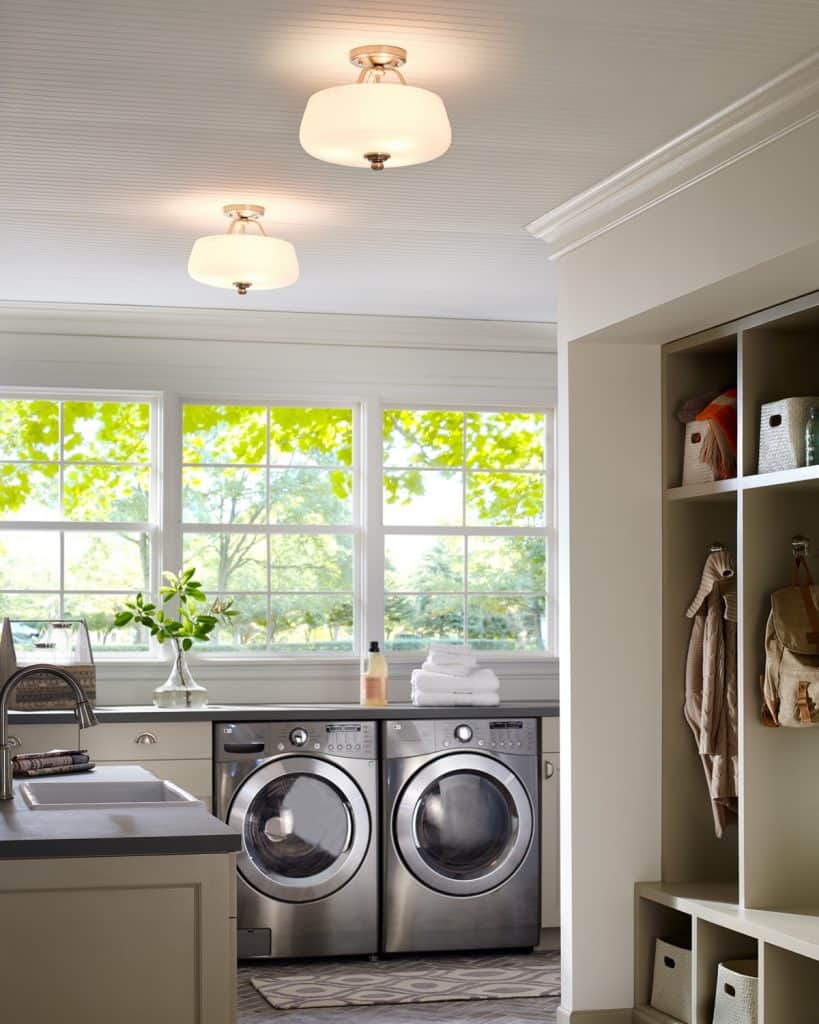 Image credits: unhappyhipsters.com
7. Choose whimsical laundry room decorating ideas
Laundry room decor need not necessarily entail exotic pieces of artwork. However, you can add a laundry room sign and some decals for a whimsical effect. It will always make you laugh, we promise.
If you are inclined towards a retro theme then consider adding some wicker chairs or a macramé wall hanging, maybe a couple of DIY décor items that you cannot otherwise display in your house. Guests don't really visit the laundry room, so why not go little nuts with whatever you want to do in the laundry space.
Read also – 15 Best Guest Bedroom Ideas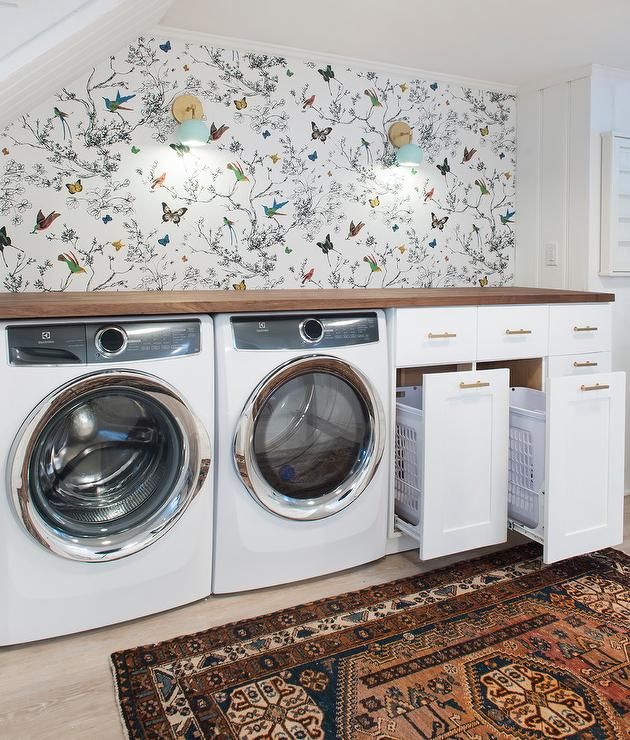 Image Credit: pinterest.com
8. Utilize the laundry room walls
Consider utilizing the laundry room walls to save space. Small laundry room decor ideas comprise of built-in shelving, laundry closet, ironing boards, etc.
Much like studio apartments, utilizing the wall space can help organize your small house more efficiently. Since these small living spaces have small laundry rooms or a designated utility room for laundry, dishwashers, water heaters, and whatnot, it is ideal to use the laundry room walls for further storage solutions.
These small laundry room makeover ideas can be easily transferred to larger laundry rooms where the purpose remains the same to use the wall space. You can have built-in furniture and storage spaces to open up the laundry space. After all, the utility room can consist of more than just laundry room organization. You can use the free space to create a reading area, play area, or anything you want.
Read also – Best Office Decor Ideas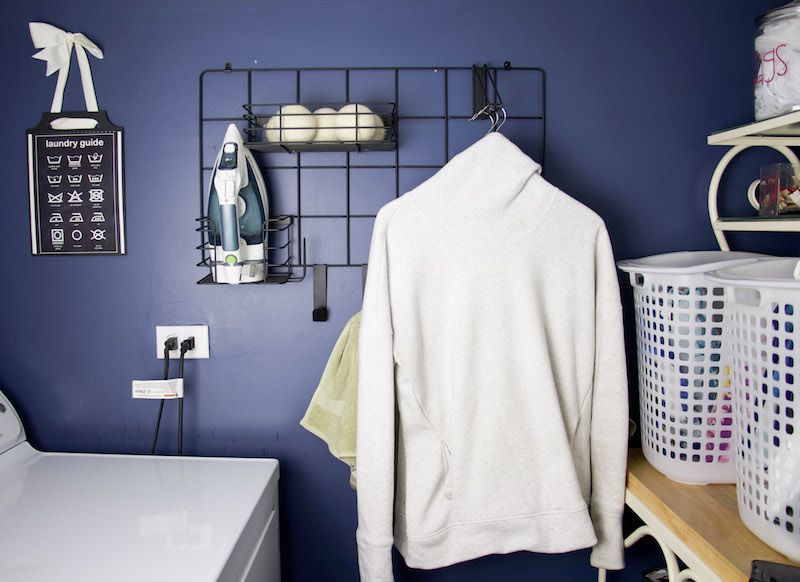 Image credits: theorganizedmama.com
9. Create a zone for relaxation
Ultimately, as we have mentioned before, you can convert the laundry room into a designated space for relaxation as well.
It takes a while to run the washer and dryer cycles. Wouldn't it be wonderful if you could relax on your laundry day in no place better than the laundry room?
Consider this: You have a mudroom, where you can have a spa day. While the clothes are being washed and cleaned, you can take the time to detox yourself.
Another alternative is to create a gaming area where you can play your Nintendo, Xbox, and whatnot while you wait for the laundry to finish. This is particularly helpful for bachelor living.
Read also – 10 Best Game Room Decor Ideas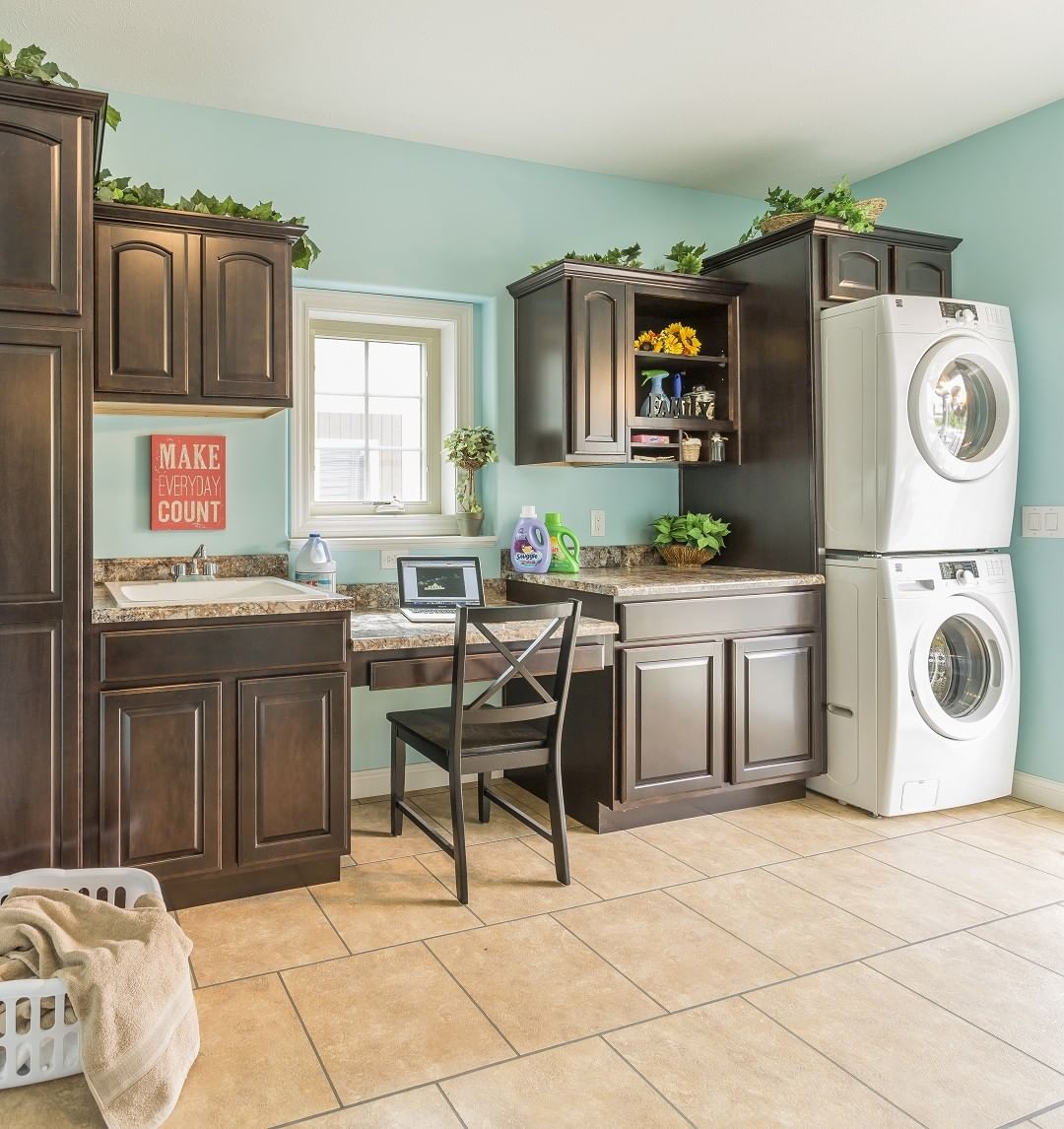 Image Credit: extraspace.com
Conclusion
Now you see? The laundry room, even a small laundry room, need not be a gloomy, dingy space. With a little innovative interior design and whimsical home decor, you can convert your laundry space into a place for laughter and relaxation.
It may seem unorthodox, therefore, we suggest you use the Foyr Neo app to create a virtual 3D model of your laundry room. Select the floorplans, floor tiles, furniture, etc. It will provide an accurate rendering of the laundry space before you implement your design ideas for a beautiful laundry room with extraordinary functionality.
So what are you waiting for? Get started on your laundry room remodel and create the most unique utility room anyone has ever seen.