Home » Floor Plans & Layouts » Average Bathroom Size for Standard and Master Bathroom
Bathroom Size
An attractive bathroom that puts a positive spin on your day ahead and helps peacefully bring to a close a busy day is a coveted dream for most! Bathroom layout and planning are often neglected in a room of such influence. While choosing fixtures, lighting, and finishes may be the most fun part of bathroom design, it's vital to nail down the fundamentals like space planning, functionality, storage, etc.
 Over the years, the concept of bathrooms has undergone a Herculean revolution. The changes have been significant, from the communal toilets of the medieval ages to the current master bath, powder rooms, and half baths. Zoning laws and health codes stipulated that bathrooms as small as 15 square feet be well-equipped and sanitary.
 Apart from the basics, a good designer should get acquainted with the homeowners. They can then understand their requirements better and work best with the constraints. For instance, how big of storage or vanity would they require? Is there a call for a bathtub?
If so, can you fit one without hindering the flow of the space? Are you maximizing the light through the window and providing optimized ventilation? To familiarize yourself with these foundations, we have included below a quick summary of the basics of bathrooms.
Read also – What is the Average Bedroom Size?
What is the Average Bathroom Size?
Many potential home buyers are curious about the standard bathroom size when looking for a new property. Smaller homes or apartments may house bathrooms with a minimum size of 40-50 square feet, while more extensive properties have bathrooms closer to 100sq feet on average. However, bathrooms are usually classified according to their function and amenities instead of their size.
For example, the "average" bathroom can come in all shapes and sizes, depending on the user's personal preference and requirements. However, it is not unusual for new homes to have larger, well-equipped bathrooms than older ones.
Hence, to respond satisfactorily to an average bathroom size, one must understand the different bathroom types and their uses and decide what best suits the client.
Read also – The Average Kitchen Size for All Types of Homes
Types of Bathrooms with Sizes and Dimensions
Master Bathroom or Primary Bathroom Sizes
Often the most opulent and biggest bathroom in the home, the master bathroom, is an en suite bathroom attached to the master bedroom. In newer homes, a typical master bathroom occupies an area ranging from 115 to 210 square feet. The master bathroom in older houses was considerably smaller and used to occupy a modest 75 to 100 square feet.
A typical master bathroom design has room for the toilet, a bathtub, a shower stall, and a double sink. To dial up the grandeur, you can opt for free-standing sculpted bathtubs, brass fixtures to add a touch of warmth or marble wall finishes that are a time-tested classic.
Read also – 14 Best Bathroom Remodeling Ideas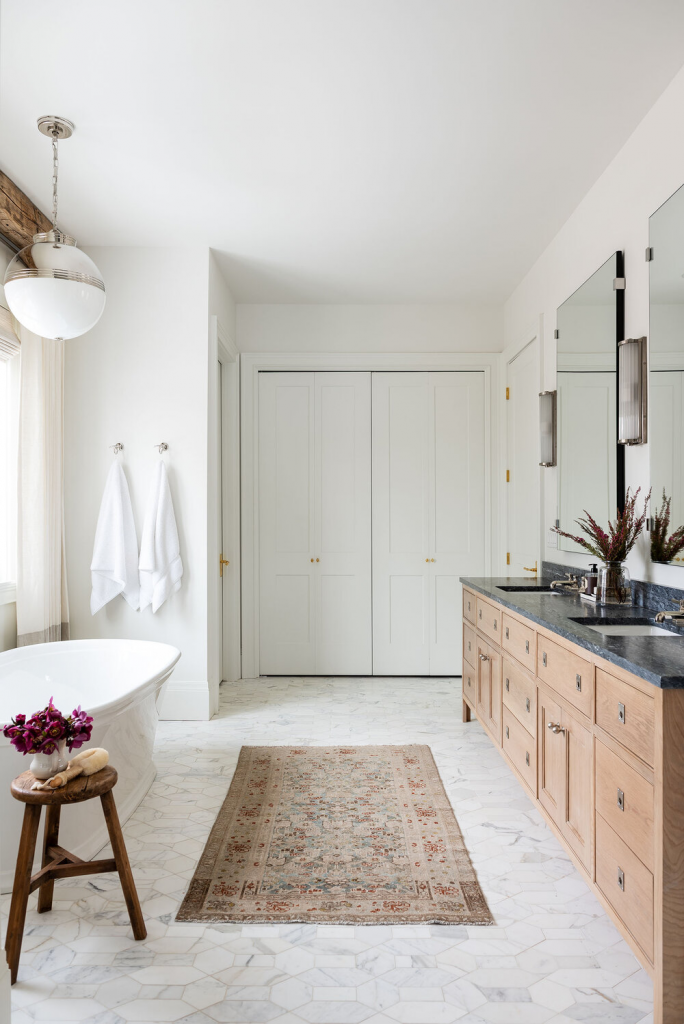 Image Credit: pinterest.com
Depending on the size, the owners can also choose to implement additional features and fixtures such as a fireplace, lounge area, or chandelier.
More recently, master bathrooms or master bedrooms have been retitled as primary bathrooms or primary bedrooms to move away from primitive and negative constructs of a "master" and "ownership" that are not sympathetic in these modern times.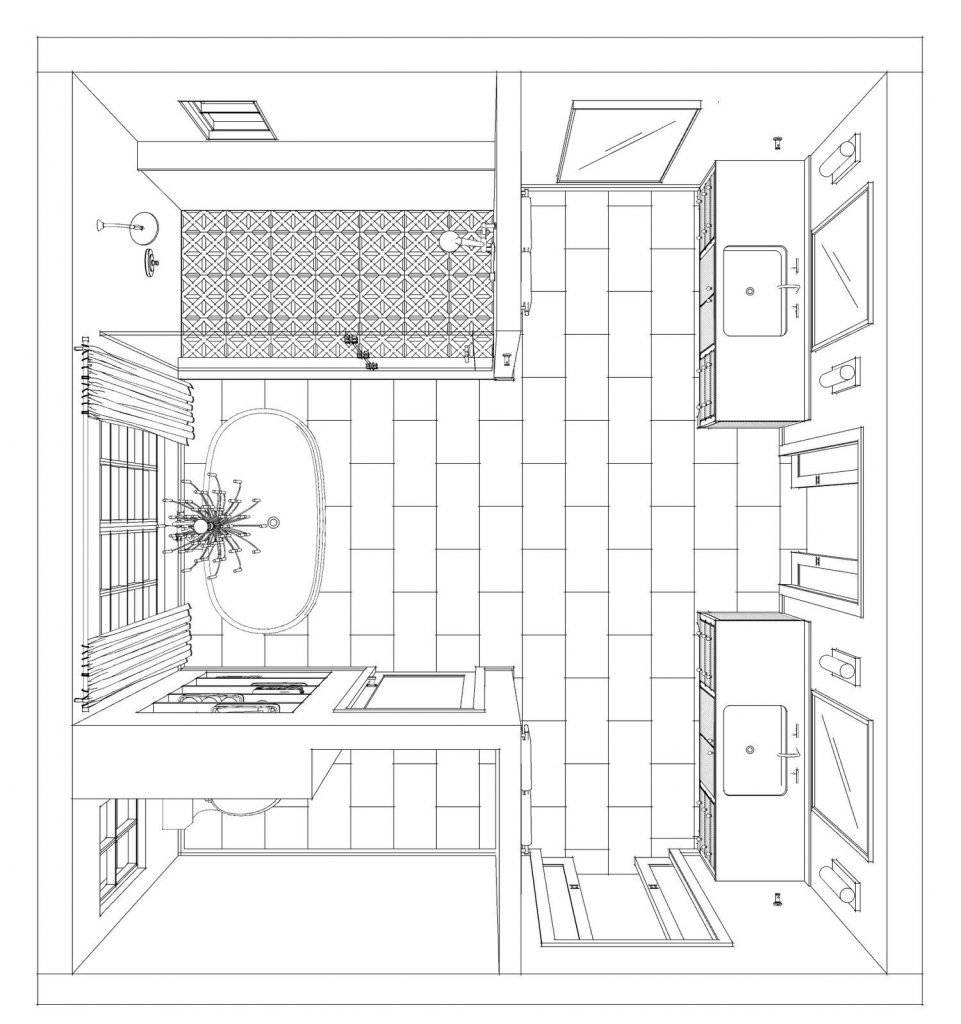 Image Credit: tamifaulknerdesign.com
The full-bathroom is a highly value-boosting and versatile style that can be incorporated into even tight-knit spaces. A full bathroom has all the features of a master bathroom, such as the toilet, shower, bathtub, sink, and shower. The difference is that the shower area may or may not be in combo with the bathtub. This makes it popular in metropolitan cities where the space is premium.
Read also – 15 Common Bathroom Design Mistakes To Avoid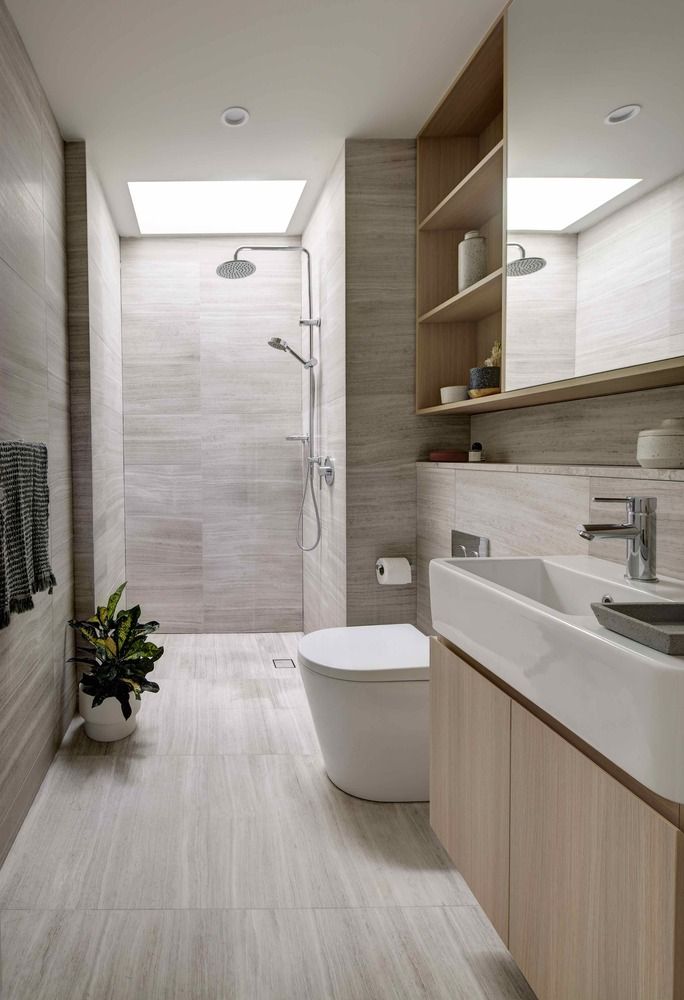 Image Credit: architonic.com
Most mid-priced homes tend to have at least one full bathroom. Many homes find it easy to combine the bathtub and the shower into one since the plumbing is confined to one wall, thus lowering the construction costs. These kinds of bathrooms occupy around 40 square feet on average.
 A full bathroom situated between two rooms and accessible from both rooms is referred to as a "Jack-and-Jill" bathroom. Often shared between siblings, this style is a perfect space and resource saver, thus avoiding the need for separate showers!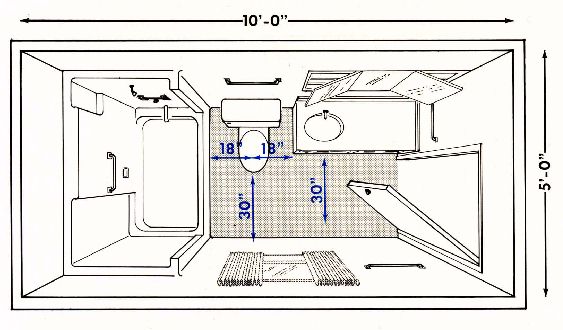 Image Credit: pinterest.com
Half-bathroom or Powder Room Sizes
A half-bathroom or powder room is usually located next to the living area of the house. It's often a small space housing only a toilet and a sink to entertain daytime guests. The concept of a powder room is to provide guests or visitors with an easily accessible toilet and bathroom vanity to freshen up while keeping the rest of the house private. They are easily the smallest bathroom in the house.
A typical half-bathroom is 3 feet wide, around 8 feet long, and about 20 square feet on average. Older homes have powder rooms as small as 11 square feet or around a square meter.
Read also – 15 Best Small Bathroom Design Ideas To Stylish Your Bathroom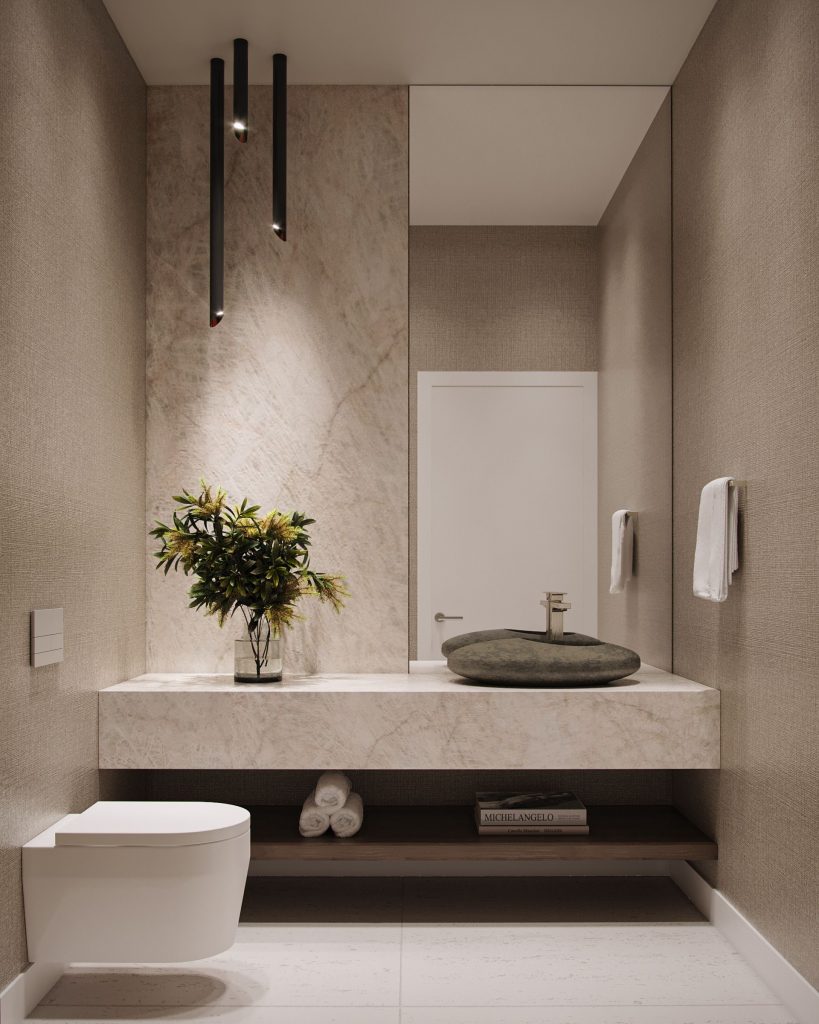 Image Credit: pinterest.com
A power room is also the second bathroom in some homes. We may also find powder rooms fitted in areas like the basement, especially if they were added later as an extra addition.
As a sound designer, you can make the powder bathroom decadent and help inject a little fun personality into the space! Since it's the bathroom that will be frequented by outsiders, it makes sense to up the luxury quotient and renders it stylish and visually appealing.
Light a few scented candles or incense sticks around, pick out a distinguished vanity mirror and douse the room in captivating lights to guarantee that guests leave the powder room only reluctantly!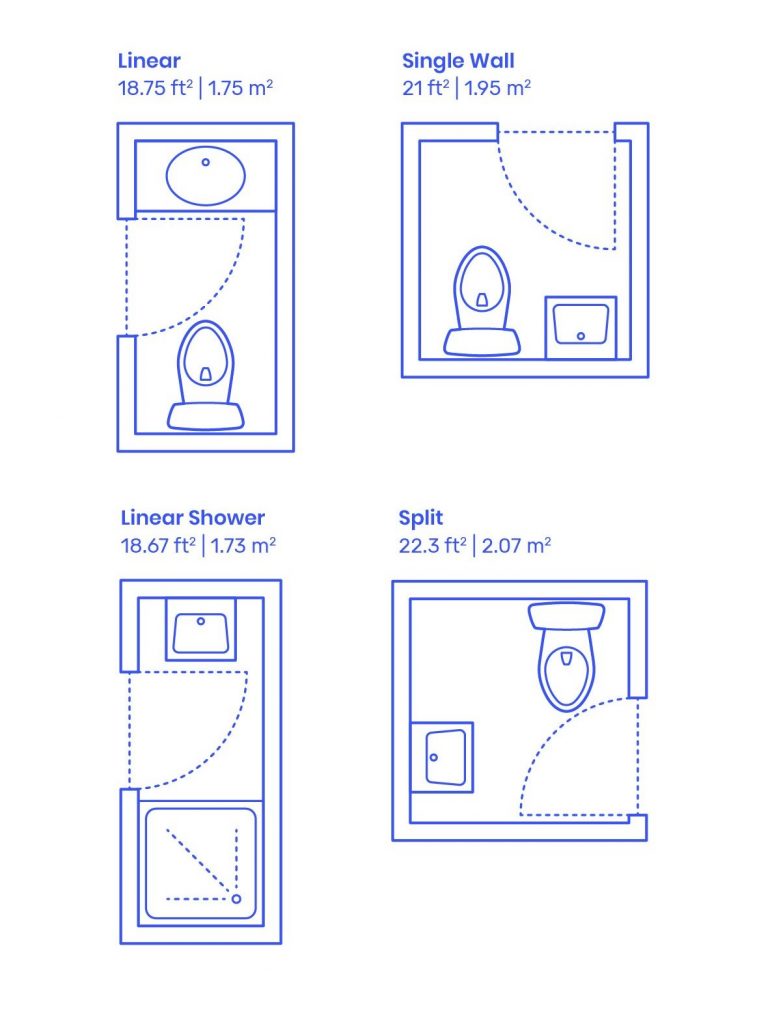 Image Credit: pinterest.com
Three-quarter Bathroom Sizes
In typical homes, a three-quarter bathroom acts as a replacement for a full bath. This bathroom usually does away with the bathtub and has room only for a standing shower cubicle. A 36-square feet bathroom with a 6 feet by 6 feet configuration can be considered the most economical size.
These bathroom styles are popular guest bedroom additions since they usually require minimum storage spaces. These bathrooms house a vanity, shower, and toilet with enough space to move around comfortably.
Read also – 20 Best Bathroom Decor Ideas To Makeover Your Bathroom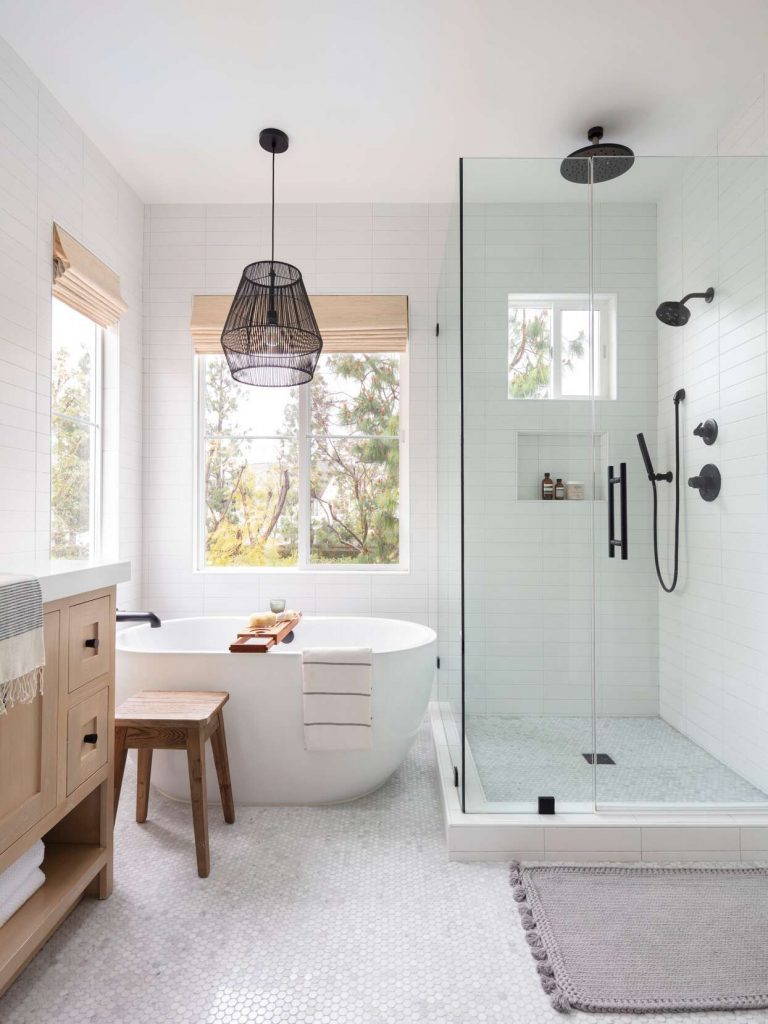 Image Credit: pinterest.com
Finally, the average size of the three-quarter bathroom will also be impacted by the total floor space of the house and the number of additional bathrooms in the place. For instance, the three-quarter bathroom style has recently also gained popularity in modern homes with large bathrooms, quickly replacing full bathrooms as guest bathrooms. This is especially true since showers are considered less wasteful than baths as people move toward more sustainable living.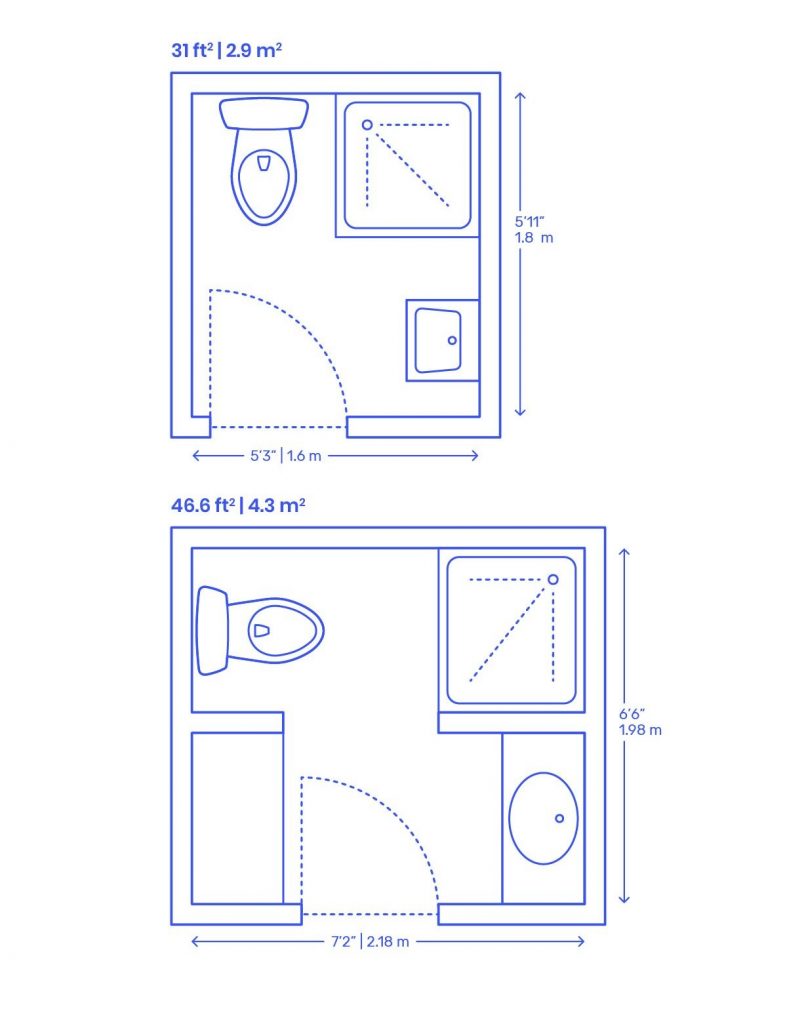 Image Credit: pinterest.com
If a half-bathroom holds two of the standard bath fixtures, a quarter bathroom is a small space that has only one fixture, most often than not a toilet. Thus, a quarter-bathroom is also called a utility toilet. These are typically found in basements of older homes.
Read also – How To Maintain Your Bathroom Cabinet?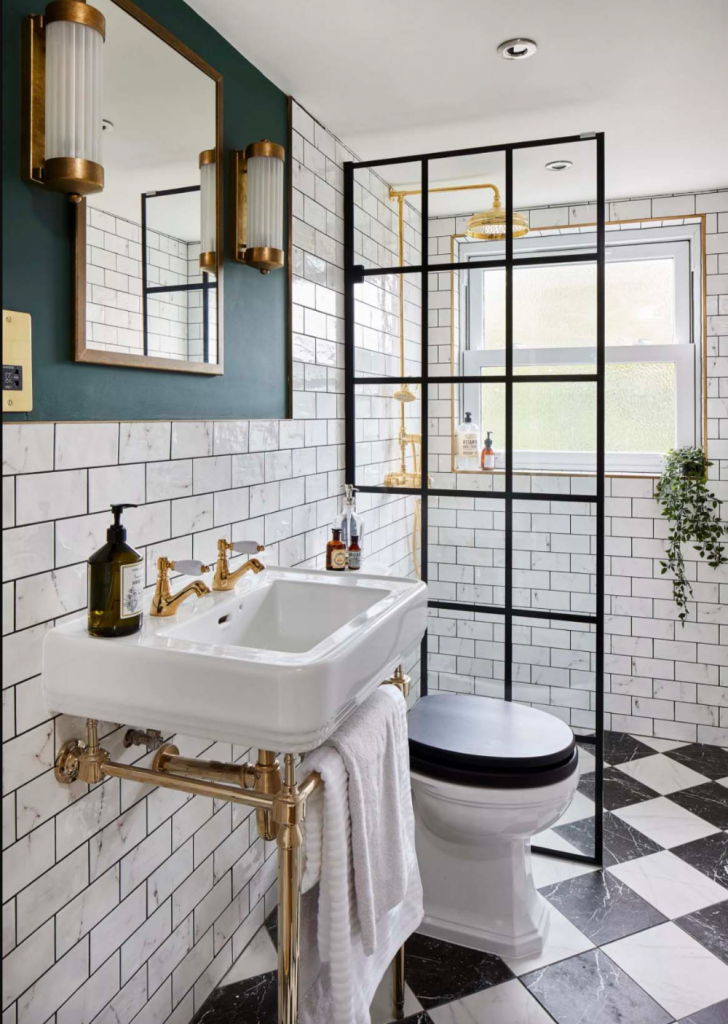 Image Credit: Pinterest.com 
Nowadays, these bathrooms are popular value additions people make to their existing layouts. Just like the powder room, it serves as an alternative for guests or handymen who need not wander around the more private spaces of the home in search of a washroom. These smaller bathrooms tend to be very compact and are just 5 to 10 sq. feet. in size.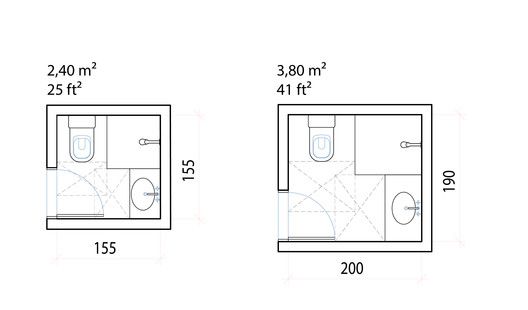 Image Credit: rojgaraurnirman.in
ADA Bathroom Size and Standards
As a designer, it's our responsibility to ensure bathrooms should be accessible to all, including disabled and differently-abled persons. Hence, the American Disabilities Act (ADA) has set specific rules for designing the bathrooms to be used by such individuals.
You would typically see ADA-approved bathrooms in commercial and industrial buildings. Including one in a typical home can benefit a disabled or ageing person who stays or visits regularly.
Read also – 15 Best Master Bathroom Design Ideas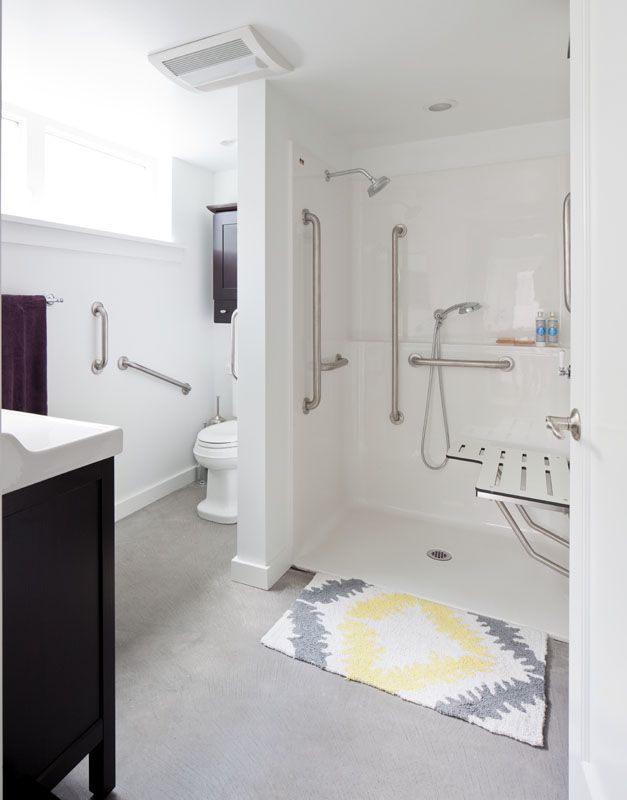 Image Credit: homeimprovementcents.com
You need to make sure that the floor plans have abundant space for movement and a turning radius for wheelchairs unhindered by the bathroom door, the toilet or the washbasin. It is also crucial to keep in mind to install fixtures at a relatively lower height than other bathrooms, as specified.
A proper ADA-compliant half bathroom occupies around 40 square footage. Depending on the disability of the person using them, you can have various configurations for different types of toilets.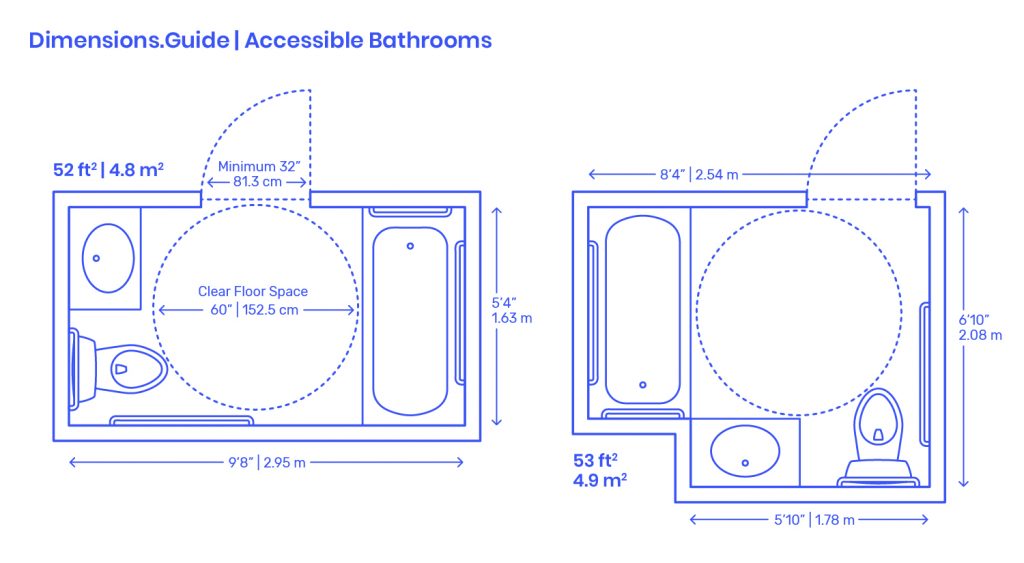 Image Credit: dimensions.com
Bathroom Fittings and sizes
Now that we have covered all the different bathroom types and their average sizes, it's time to move on to the more exciting parts of designing a bathroom. Below are some of the most common and essential elements that make a bathroom and their average sizes.
1. Countertop & Sink Dimensions
The stunning varieties of designs and materials available in countertops and sinks can burnish up bathrooms of any size and shape. Switching up the countertop from royal Calcutta marble to Moroccan plaster can instantly breathe new life into the bathroom remodel. The sink area can become the bathroom's focal point with just a little awareness.
In the case of a small bathroom, you fit in a pedestal sink that takes up very little floor space. The standard height of a countertop surface from the floor is kept between 34″ to 36″. While the minimum length of the countertop to fit one sink is at least 30″, a double vanity would require 5 feet at least.
Lastly, its depth can be anywhere between 22 inches to 24 inches. The options of sinks are varied from modern and contemporary to rustic. A wall mount sink exudes ethereal minimalism, while an under-mount basin will let your counter be the hero and run seamlessly across. Opt for a countertop style if your basin is an exceptionally striking one.
Read also – 21 Best Kitchen Counter Decor Ideas
2. Standard Toilet (WC) Dimensions and Clearances
A standard-size toilet is one of the most consistent elements in all bathroom types because they are based on ergonomics and never really vary by much. The choice you would need to make, depending on the bathroom size and your client's preference, is between a floor-mounted unit and a wall-mounted one.
After picking your preferred water closet, ideally, you will need a minimum of 30 inches free in front of the commode. If one follows the above measurements, the toilet can be efficient. The advancement in sanitation and hand-free technology in bathrooms and toilets is laudable. The options are endless, from the high-end Veil dual-flush toilet that's ADA compliant to the famed Toto's Washlet C5.
 Add-ons such as a bidet, a toilet paper holder or a plush foot mat can make the experience more comfortable. Finally, for a toilet that stays fresh, don't forget to give the air fresheners Bustle swears by a try!
Read also – 10 Best Bathroom Design Apps and Software
3. Shower Enclosure Dimensions
The shower area is a niche where you can let your imagination run wild!
If your clients are looking for a shower enclosure that's relatively light on the pocket, you can install a ready-made cubicle. However, if you are lucky enough to get to design a walk-in shower area, toughened glass panels are just the tip of the iceberg. From patterned tiles and fluted glass to Corton steel panels and curtains, your shower cubicle can look simply stunning with just a few touches.
Now, let's take a look at the basic shower sizes. A square-shaped shower requires a minimum size of 3 feet by 3 feet, while a rectangular one may be 3 feet by 4 feet. The height of the overhead showerhead remains consistent for all bathrooms at 6 feet 6 inches from the floor level. The clean finish of showerheads like the Katalyst by Kohler lends sleek air to your bathroom and cutting-edge technology.
Read also – 6 Best Bathroom Lighting Ideas
4. Standard Bathtub Dimensions & Clearances
Bathtubs have always been a sign of abundance and luxury, helping one soak all the troubles away. A typical tub would occupy an area of 32 inches by 60 inches and be 18 inches in height. The minimum free space required in front of a bathtub is 21inches.
All bathroom fixtures of the tub should be installed at 33 inches from the ground for easy access. The best way to buy a bathtub is to sit inside it and know whether it is comfortable to use or not. Once installed, a bathtub is very cumbersome to replace, so it's better to be sure than sorry!
However, these are used more as a guideline since the designs of bathtubs today far supersede these dimensions. From a classic claw-foot to bathtubs carved out from a single, solid stone, like sandstone, or moonstone. Granite, etc., or the Japanese-style soaking tubs, all take the bathing experience to a whole new level.
Read also – 25 Best Modern Bathroom Ideas
5. Bathroom Door Sizes and Clearances
The bathroom door should have a minimum width of 30 to 33 inches for unhindered passage. In the case of space crunch, you can go as low as 28 inches. As a rule of thumb, the swing of the bathroom door should never hit the vanity or the toilet while opening.
An excellent designer turns a utilitarian space like a bathroom into an exquisite experience. Along with the guidelines above, exceptional lighting, perfect accessories, and capital fixtures and materials will take a bathroom design to the next level.
However, while relying on instincts and client feedback are helpful routines, a 3D model and render of the area before implementation ensures zero snags and an impeccable finish.
While the process and choices that go into 3D modeling may seem overwhelming, software such as FoyrNeo is your best bet! You can choose from an extensive library of pre-made 3d models, textures, and accessories to make an accurate visual of the proposed bathroom to discuss with your clients.
You can try out different layout combinations and produce high-quality, realistic renders in minutes to aid your design journey. You can also sign up for a 14-day free trial to try out and see how best FoyrNeo can help you.