Home » Blog » 12 Unique Instagram Content Ideas for Interior Designers
Instagram for Interior Designers
Being an interior designer means that you have voluntarily taken up the responsibility of turning dreams into reality. You create functional, aesthetically pleasing environments. You have the power to activate all the senses, and yet your creativity remains concealed within four walls. 
Being a part of the interior design industry also means that you struggle to get noticed. You wait for witnesses – users who get an opportunity to experience your creations and pass the word around – to grow your business. 
You also own active social media platforms. You showcase your work on your Instagram profile. From a strategic shot of the living room to an image of a custom-made furniture piece, your Instagram page exhibits everything. You have used potentially all hashtags to maximize your reach and to get noticed. And yet, the number of your followers remains nominal. 
What could you post on Instagram that would make you shine? What kind of content could you use to lure new clients? Here are some unique, eye-catching Instagram content ideas for interior designers that can help them stand out.
Read also – 20 Instagram Marketing Tips For Interior Designers
12 Unique Instagram Content Ideas for Interior Designers
Every interior designer has a unique design style, which may be inspired by a person, an experience, or both. Sharing your personal story in your Instagram post would grab the attention and enable your potential clients to connect with you. 
They would like to know your journey, your signature element in spatial planning, and your perception of an interior design composition.
Read also – Top 20 Interior Design Influencers To Follow On Instagram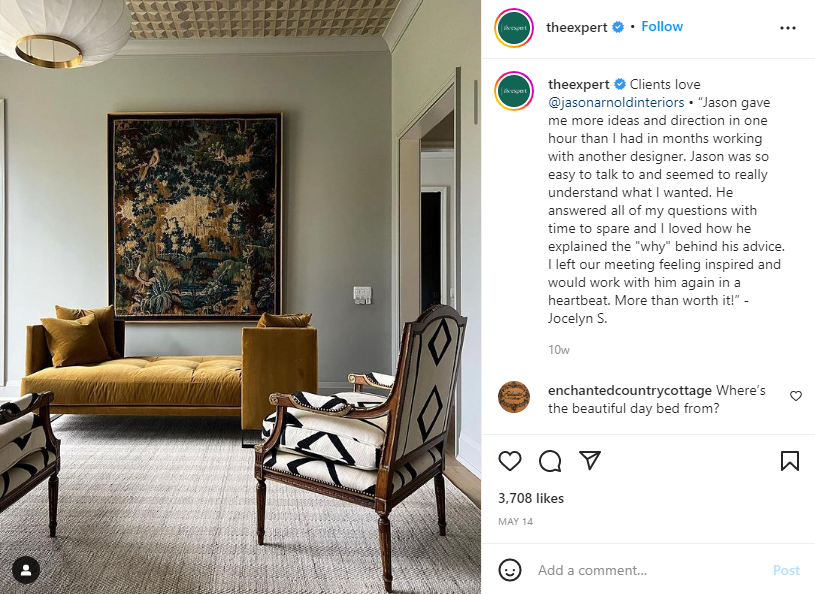 Image Credit: instagram.com
2. Showcase Your New Arrival
In a world where a sure way to get noticed is to beat your drums, you could showcase your newly finished project or a new arrival through your Instagram post or your Instagram story. It would be a great platform for you to talk about your achievements without sounding braggy or annoying.
Did you design a new piece of furniture that is not only functional but also a space-saver? Make an Instagram reel and share it with your followers. Who knows? Your potential client may just be visiting your Instagram page.
Read also – 20 Best Interior Designers Instagram Accounts To Follow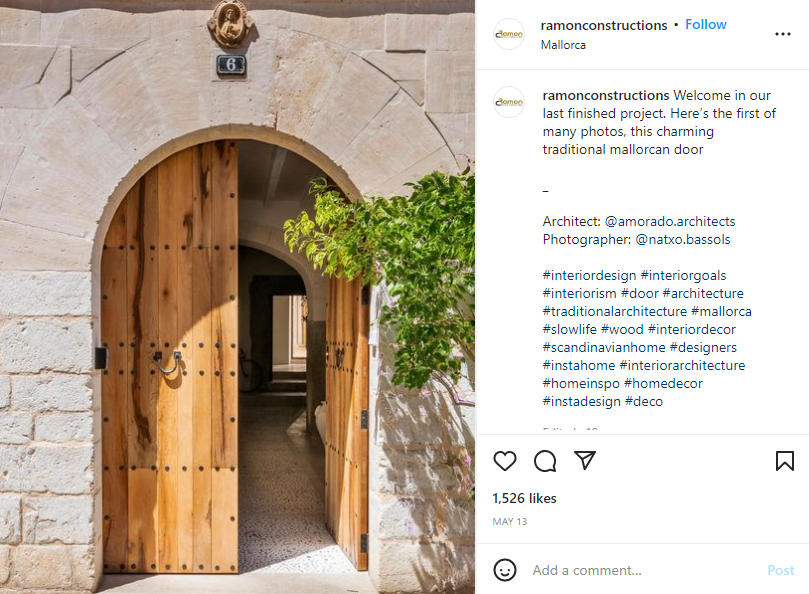 Image Credit: instagram.com
3. Spread Industry Knowledge
You are a professional interior designer running your own business. You have studied hard and worked harder to become an expert in your industry. With the internet overflowing with information on just about anything, there is no way to validate that information. 
Being an expert, you could share your knowledge with your Instagram followers in your Instagram feed. You could also clarify common misconceptions related to interior design or answer queries that your followers may have. Further, having an influencer use your product or promote a space that you designed is one of the foolproof strategies for social media marketing.   
Read also – 14 Best Content Marketing Ideas for Interior Designers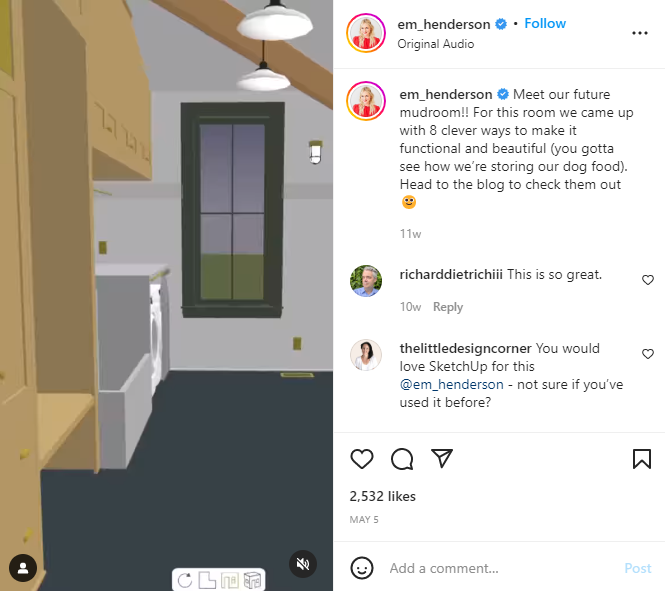 Image Credit: instagram.com
You can make your Instagram page more interesting by sharing interior design tutorial videos. It could be a design idea to redecorate an office space or a Do-It-Yourself guide to creating a home decor item. The options are endless. 
You may also have your Instagram followers try these hacks and share their videos in exchange for a prize or a giveaway. 
Read also – A Complete Guide To Video Marketing for Interior Designers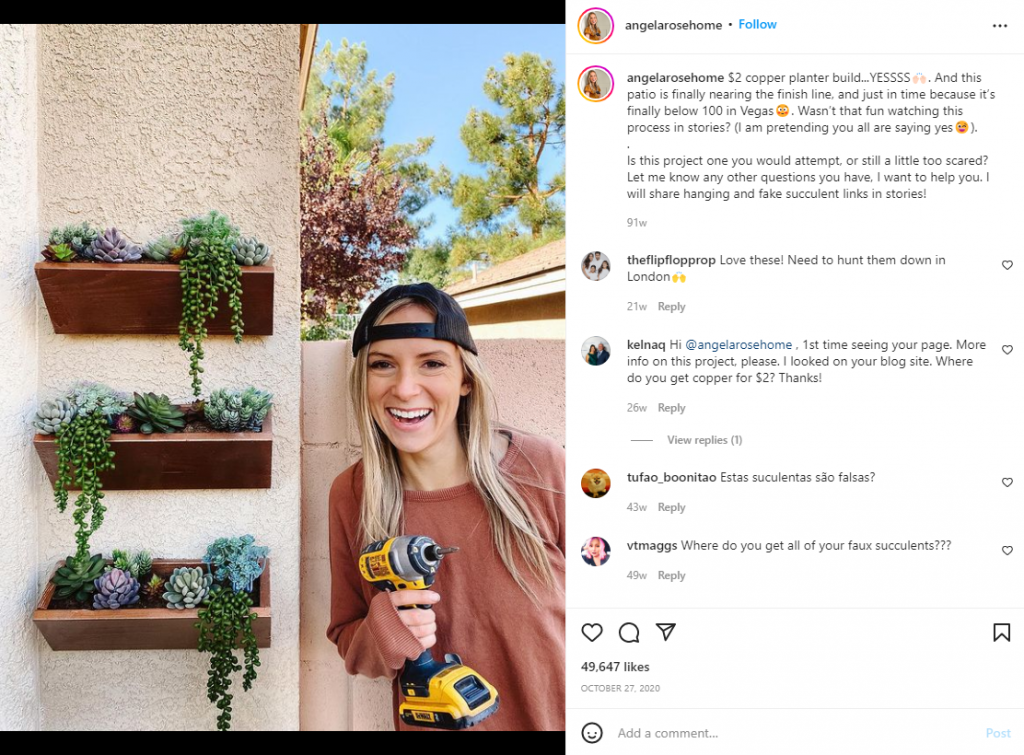 Image Credit: instagram.com
5. Create a Shopping Guide
Each decor item is designed to complement a theme or a vision for a space. The variety of home decor and office decor items available in the market would surely confuse the buyers. The bloggers who showcase an eclectic mix of decor items for their content creation contribute to the buyer's skepticism.    
You could show your expertise by creating a shopping guide for your target audience that exhibits combinations of colors and interior design elements based on the latest design trends. 
For example, you could suggest if a wall should be textured or have wallpaper to match the sofa set in a living room. The idea is to make comprehensive lists based on unique themes or design styles.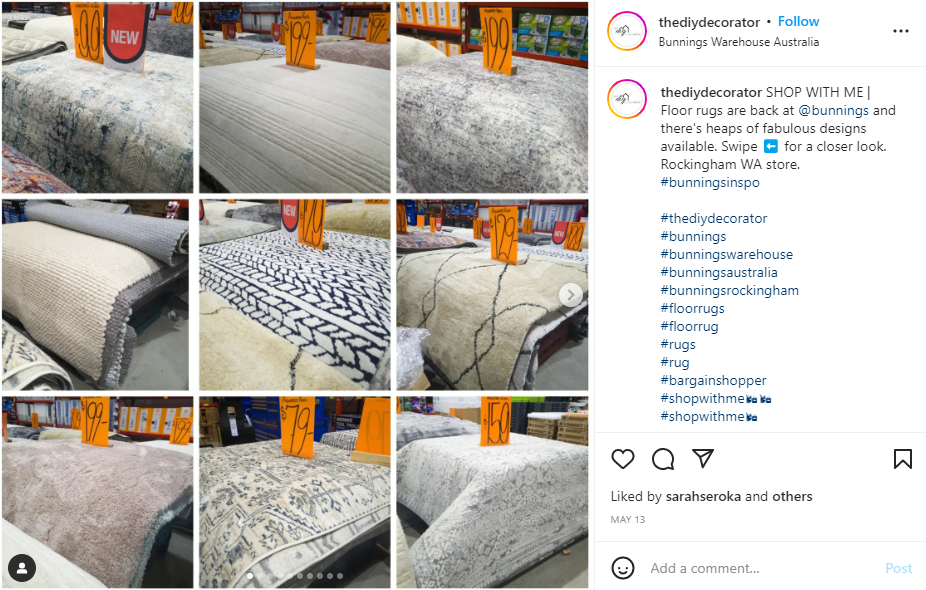 Image Credit: instagram.com
Use your Instagram handle as a marketing tool to grow your business. While it is important to exhibit all your interior design works on social media and on your interior design blog, it is equally important to share the feedback and testimonials received from your clients. 
A lot of people rely on the reviews given by clients and customers to develop their trust in a small business. A greater number of testimonials and positive feedback on your Instagram profile would make the evidence of your work stronger and help in building trust among your target audience.
Read also – 23 Best Ways To Market Yourself As An Interior Designer
7. Before and After Images
An Instagram reel showing before and after images of a space that you designed is a great marketing strategy. Watching a space transform right in front of their eyes would create excitement among your Instagram followers, and they would come back for more.
Whether it is an old project or a new one, the before and after visuals would successfully showcase your skill and industry knowledge and reach a lot more Instagram accounts.
Read also – 12 Digital Marketing Strategies for Interior Designers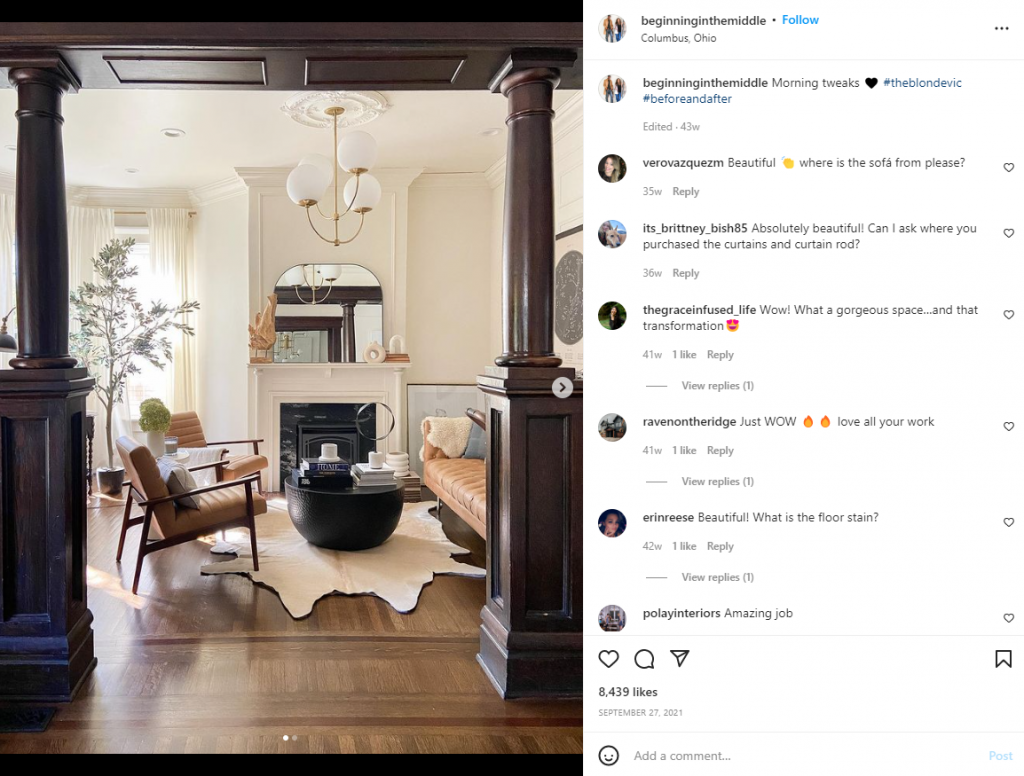 Image Credit: instagram.com
8. Create Behind the Scene
The best thing about digital marketing is that it allows you to be real and be appreciated for it. It is a goldmine of opportunities. 
Your products and services may be sophisticated, clean, and gorgeous, but all your Instagram posts don't have to be. You could post a Behind-the-Scene Instagram story to introduce your design services and the team behind them, followed by a high-quality image of the final product or space.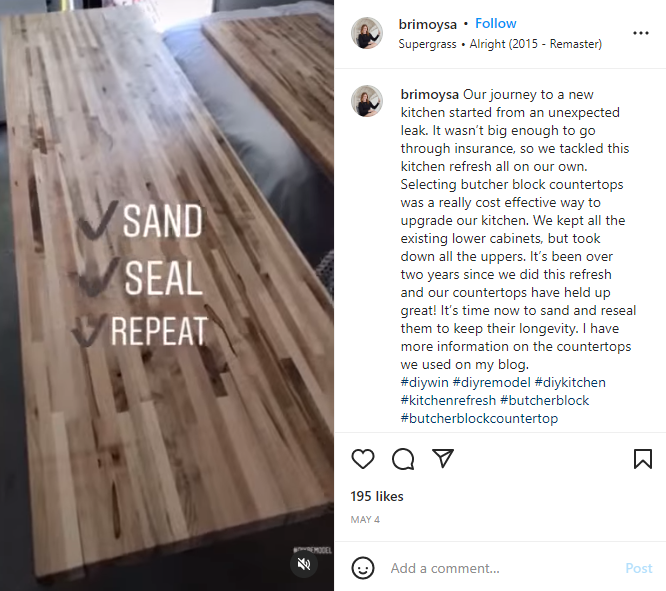 Image Credit: instagram.com
Any achievement is worth celebrating – whether it is the inauguration of your first project or the twentieth, it is the fifth anniversary of your business or the first-year anniversary of a product that you designed, sharing your milestones with your target audience humanizes your presence on the social media and makes you more approachable by the potential clients.
You could announce the milestone on your Instagram profile or share images of the celebration. Sharing your milestones with your followers will make them an important part of your journey and enable them to find a will to share your posts, thus spreading your social media presence.
Read also – How To Market Your E-design Services?
10. Show your Seasonal Projects
Do you have a special strategy to complement nature and its seasons when you design a project? Did you just complete a project for the spring season? Did you introduce bright-colored elements and floral patterns? 
As a new season approaches, make sure you share related decorating ideas with your followers. It could be in the form of a high-quality image of a finished project or a glimpse of an ongoing one.
It could be a winter-themed bedroom, a summer-themed living room, or a fall-themed office space. Showcase your seasonal projects to maintain the interest of your followers.  
Post Instagram stories and reels. Repost. Enhance your social media content by adding a little spice to your posts. 
Read also – 10 Best Inbound Marketing Ideas for Interior Designers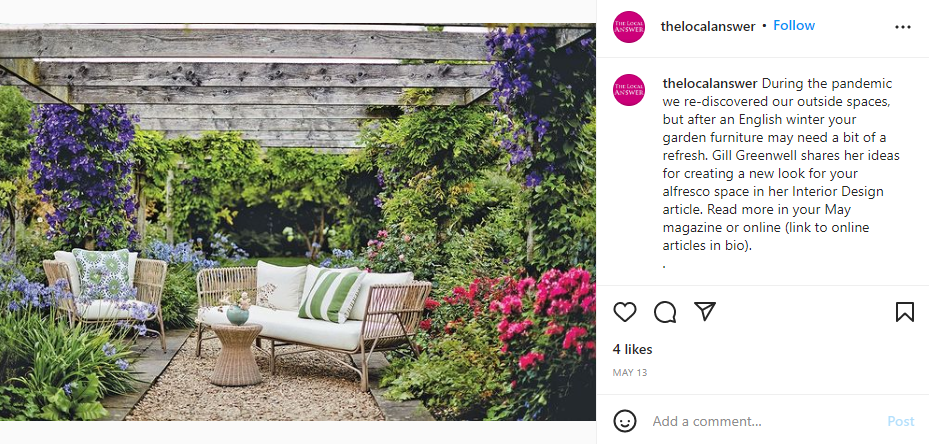 Image Credit: instagram.com
Engage your followers in your brainstorming sessions. If you find yourself stuck on the design of a lamp, create an Instagram post. Let your followers start a dialogue, make suggestions and share their opinions. 
While it would make your audience feel valued and heard, you would also get an understanding of the needs of the larger community. Creativity can be found anywhere. The idea is to stay open and more accepting of the viewpoints of your followers.
Social media content is all about reaching out to a lot of people that you don't know and connecting with them via digital platforms. The only way you would be able to win their hearts and trust is by showcasing the real you. 
As a human being, you are bound to make mistakes in your projects and in your life in general. Posting your mistakes and the consequent lessons learned is a good way to reach a wider audience. Who knows? You may have just prevented someone in the Far West from making the same mistake as you did.
Read also – Editorial Calendar for An Interior Design Marketing Plan
Q1. How do interior designers create content?
Showcasing your work is one of the best content ideas to introduce yourself and grow on Instagram. It's always suggested to use original content, be it photographs or videos. It allows your followers to learn about your capabilities and skills, which can eventually help in generating leads. Think of your Instagram profile as your digital portfolio. 
Additionally, start a dialogue with your followers by creating interactive content. Build your network. Connect with your counterparts and industry workers. Find the influencers to partner with. And just be real.
Q2. How do I promote my interior design business on Instagram?
Instagram provides an ideal platform for interior designers to promote their businesses. However, to use the social media handle to its full potential, you must have a clear content creation strategy. From using the Instagram grid to create color-coded or checkerboard patterns to introducing a variety in your Instagram posts, you can explore ample opportunities to promote your interior design business on Instagram. 
Additionally, you could also follow the right businesses and influencers, use interactive posts and share glimpses of your day-to-day activities on the project site. You could post step-by-step Do-It-Yourself tutorials and connect with a wider audience.  
Q3. What should I post as an interior designer?
As an interior designer, your Instagram posts must reach your potential clients as well as the people who are looking for ideas to redecorate a part of their home. Ranging from your project-related posts, such as striking stills, walkthroughs, and before-and-after visuals to informative slides, tutorials, and memes, you are free to share anything with your target audience. The best way to reach out to maximum followers is to post regularly and have a variety in terms of the medium of your post – be it an Instagram story, a reel, or an image. 
Q4. How do interior designers grow on Instagram? 
There's a lot that goes behind building your audience on Instagram. It is challenging, but it is certainly not impossible. Below are the following ways that can help you stand out even in this saturated market. 
Since most interior designers are seen doing the same thing, finding a style that is exclusive to you will make your content unique. 
Once you have a unique style, entwine that into your brand identity. Be it in the fonts, colors, or language of your copy, use certain elements from your style in your branding efforts. 
Connect and communicate with others in your industry. If you are well-connected, it will help bring you more opportunities. The best way to start could be by tagging other brands in your social posts or reaching out to the leaders directly. 
Instead of looking at your social strategy from a designer's point of view, consider it from a client's perspective. If you were a client, what would you like to see and in what flow? What elements of brand identity would you notice if they were missing? What kind of stories would you want to know? Use such questions as a basis to create and polish your content creation process. A well-thought-out process can help smoothen your client's journey with your brand right from the beginning.