Hand and power tools, sports equipment or goods, gardening kits – these are those common things that one can find in every home but are used only infrequently or only when the occasional need arises. Storing such rarely used belongings can be quite a challenge as most of them are bulky, of irregular shapes and sizes, difficult to stack and inconvenient to retrieve if stored in a cluster in a neglected trunk or cupboard. Here's where a well-designed outhouse or outdoor shed or storeroom comes to the rescue with latest interior design trends to watch out. Continue reading to know how certain design practices can actually help you achieve a spacious, clutter-free and organized outhouse.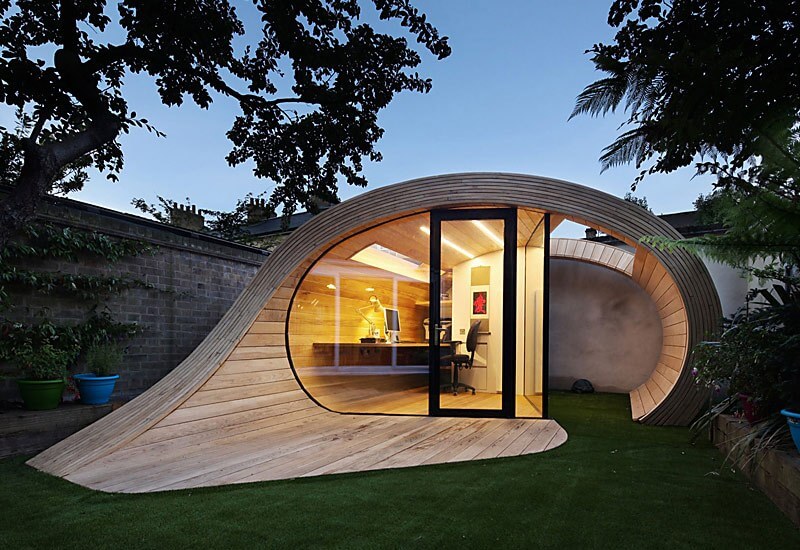 Image credits: pinterest.com
Here are the Best Design Practices for Outhouses
1. Always Begin with Planning
Make a list of the things in the house that can't be discarded but can come in handy if the need arises. In short, make a note every little thing that you'd like to be stashed in the outhouse or outdoor shed. Categorize these items on the basis how they need to be stored – in cabinets, on open shelves, on hooks and hangers, etc. Don't forget to keep in mind the fragility, the frequency of use, size, and compatibility with other stored objects, while determining the apt storage method of each item. Such a plan will help you assess and scheme your outhouse space in a more systematic also a floor plan creator software would work, tidy, and optimal manner as per your needs without the dangers of overstuffing or wasting space.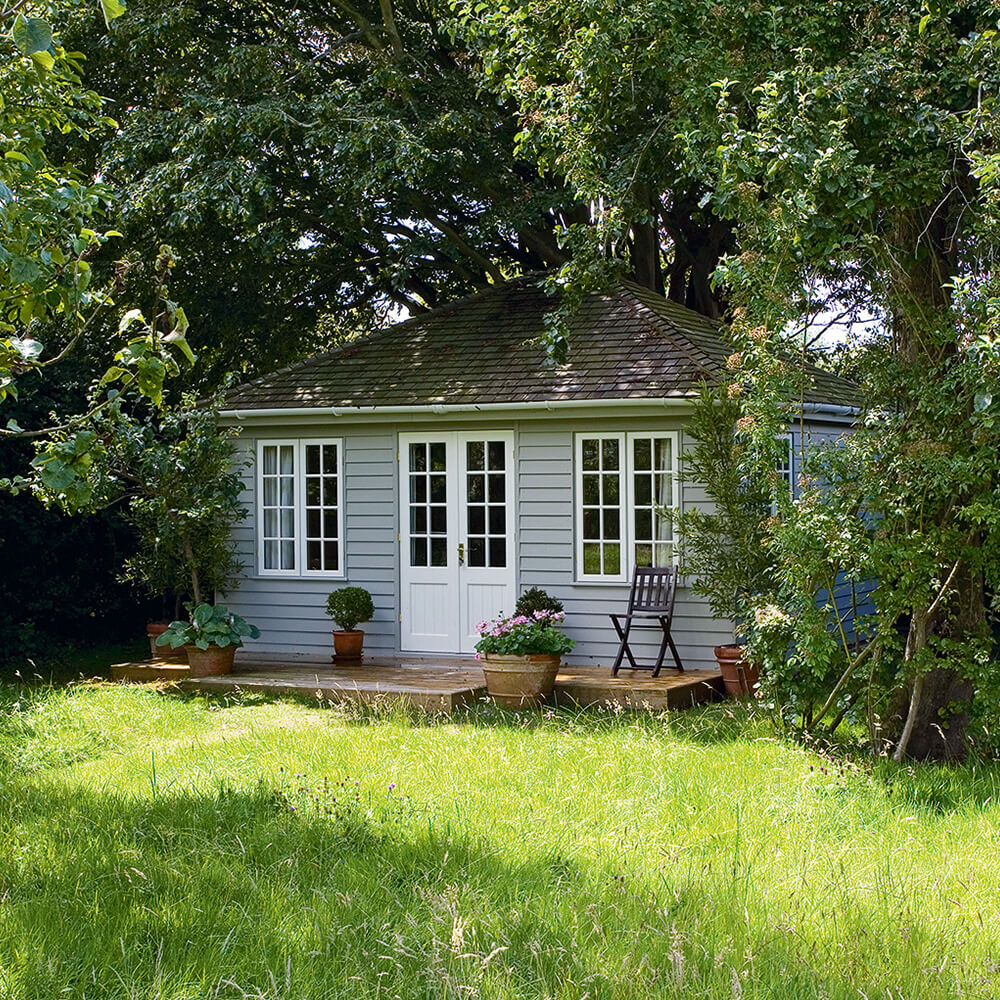 Image credits: pinterest.com
2. Optimal Usage for Tools
From a tiny nail to huge hammer – all hand and power tools come in handy sometime or the other to fix things in and around the house every now and then. You can't always predict when you might need a particular design tool. That is why they should be stored in such a manner that your entire range of tools is visible and accessible instantly. Plus tools come in such different sizes and varieties with sharp and pointed ends which make it all the more impossible to store them in a box as a cluster. Install pegboards on the outer sides of your cabinets or on the wall. You can then simply hang your tools on the pegboard with the help of removable hooks – facilitating quick and easy changes in the arrangements of the tools.
For your endless collection of nails, screws, raw plugs, etc. store them in hanging transparent plastic or glass jars. Yes, utilize even the underside of your cabinet and open shelves of the outhouse for storage. With the help of two screws each, fix the lids of your tool jars underneath the shelves and just screw on and screw off the jars instead of the lid whenever you need their contents.
Dedicate a separate large metal or plastic box for bottles and canisters of harmful liquids and chemicals like turpentine oil, kerosene, acids, etc. to prevent their fumes from polluting the outhouse's atmosphere and to safeguard the other stored items from damage in case of spillage.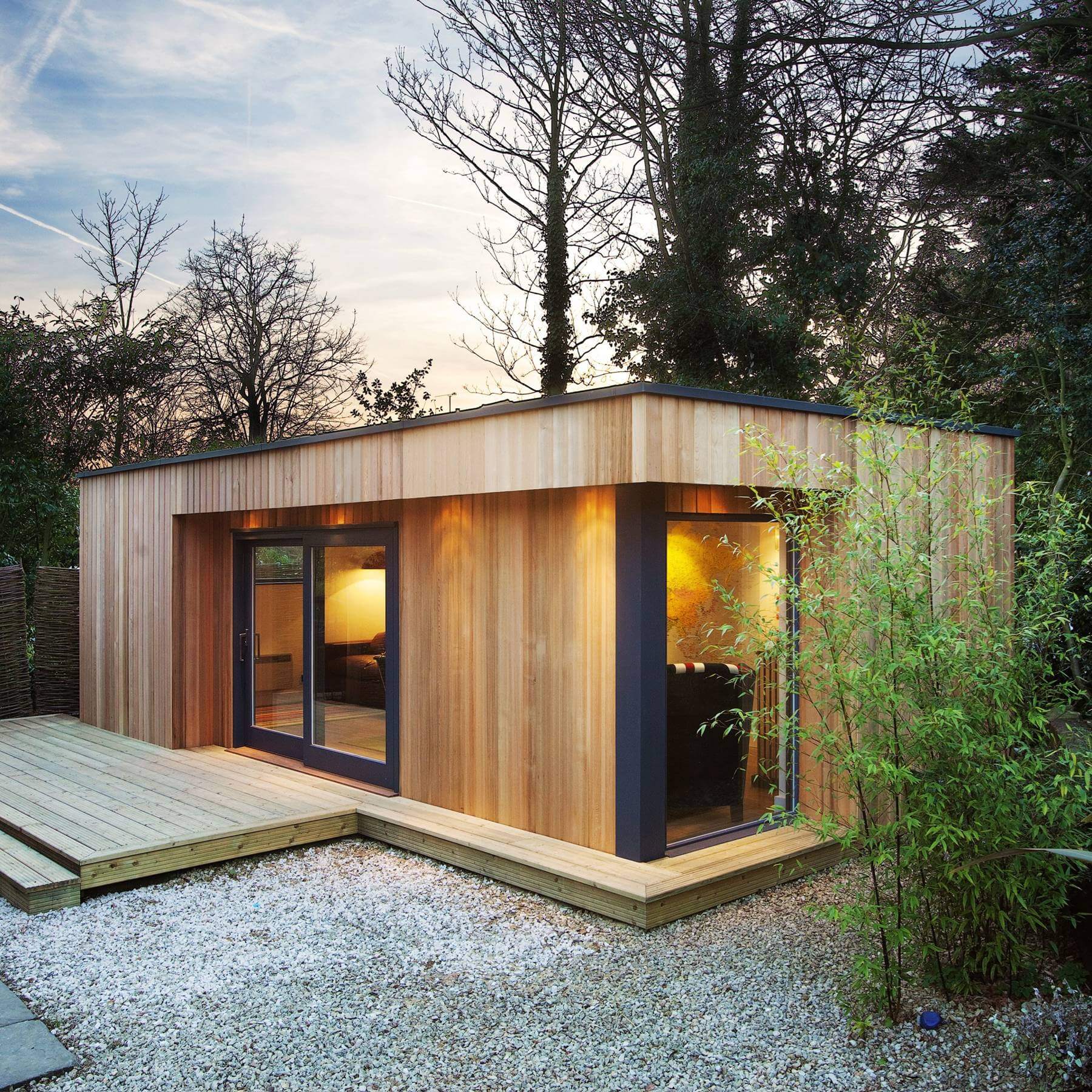 Image credits: pinterest.com
3. Optimal Usage for Game and Sports Gears
Stocking board games along with their packaging boxes can occupy a lot of your space of the outhouse. Try to store the boards collectively in a single box while their respective and pawns die, counters, etc. in separate pouches, all neatly placed in a kitchen lid rack.
Stock all your basketballs, footballs, rugby balls etc. in a laundry bag to keep them stacked up in a corner of the outhouse and to prevent them from rolling around and causing an accident.
With the help of waste wooden planks make your own narrow and elongated pallet crate. Screw it onto the wall at ground level and store all your bats, hockey sticks, etc. vertically placed. Apart from providing easy access, using wooden pallet crates help in keeping the floor of your outhouse clutter-free and provide more foot space.
Another way of keeping your outhouse floor less occupied is to install a moveable wall track system onto one of the outhouse walls. Apart from the convenience of adding, subtracting and shifting the hooks as per your changing needs, you can literally hang bicycles and other sizable sports equipment on the track's heavy-duty hooks.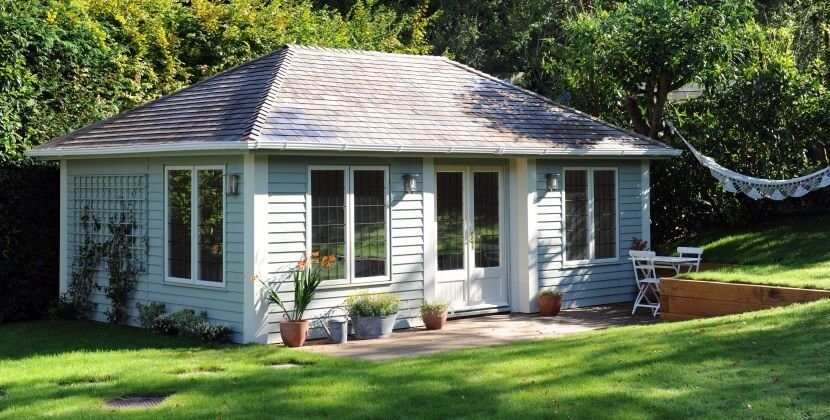 Image credits: pinterest.com
4. Optimal usage for Gardening Equipment
Rakes, forks, and shovels are not only voluminous but can also be dangerous causing injuries to your little ones if stored carelessly. If your outhouse is small, simply use the exterior walls of the outhouse to hold and store your gardening tools and enhance the beauty of your home garden. Just create divots of the size of the necks of each and every garden tool into a spare wooden plank. Fix this wooden plank on the outer side of your outhouse wall and insert the tools, upside-down, into their respective divots.
Take the metal part of an old car wheel, increase its circumference by wielding a thick metal wire extension and fix it on the outer wall of the outhouse. You now have the best solution for storing your spare hose or water pipes coiled up neatly.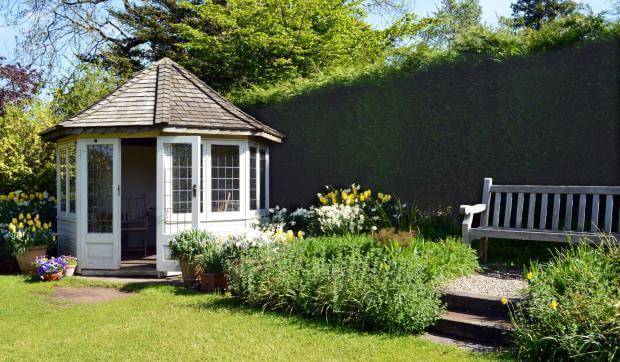 Image credits: pinterest.com
5. The Roof Offers Space too
None of your guests are going to visit your outhouse. Therefore, be innovative and make use of the roof too, if you have got too many things to store. By fixing sturdy and huge hooks in the roof you can hang all those bulky yet lightweight accessories and objects that you are rarely using.
With these outhouse designs, you can store almost any and everything, irrespective of the size of the outdoor shed. As a layman, it might not be possible for you to always come up with precise and apt spacing solutions. For the best outhouse interior ideas, it's wiser to consult a reputed interior designer who is well-versed with all the latest, practical and varied spacing and storage means or options. If you desire a stunning custom-made outhouse design, best-in-class products and to make every inch of your outhouse count, then all you need to do is leave all your spacing worries to Foyr – India's first technology-based interior designing enterprise.
Click to rate this post!
[Total:

0

Average:

0

]