Home » Design Ideas & Inspirations » 15 Best Bedroom Shelving Ideas for Storage in Bedroom
Bedroom Shelving Ideas
Smart bedroom storage solutions are essential for creating efficient interior details of a bedroom which must be beautiful, easy to keep, and trouble-free. A clever bedroom shelving idea will provide you with a place to showcase your favourite books, house plants, or any other unique collection you want to have nearby.
Shelves must be practical, providing both space and style, and maybe becoming multipurpose like just beside the headboard. one might use them as a little desk or dressing table. shelves must be practical, providing both space and style, and maybe becoming multipurpose.
one might use them as a little desk or dressing table. Therefore, one should give some time to create a very good bedroom shelve DIY idea no matter what is the size of the bedroom. Shelving may be a great addition to a bedroom; it's simply a matter of understanding where to place it and how to arrange it properly.
Before making any decisions, it is necessary to understand various variations of bedroom shelving, as this will provide a thorough understanding of the topic and assist in determining which decor idea is most appropriate for the particular small bedroom.
Read also – 20 Essential Things for A Perfect Master Bedroom
There are several kinds of shelves, however, the following are the most popular bedroom shelf variations:
It's the most popular since it's the easiest to use. It is found in every home. Such shelves are typically open storage solutions, however, sometimes they may also have doors to cover personal goods or compartments to store personal items. One may also buy a free-standing shelf with no floor space and both storage sections, depending on needs and capacity. They are pretty stylish trendy looking shelves for the living room.
Read also – 9 Amazing Master Bedroom Ideas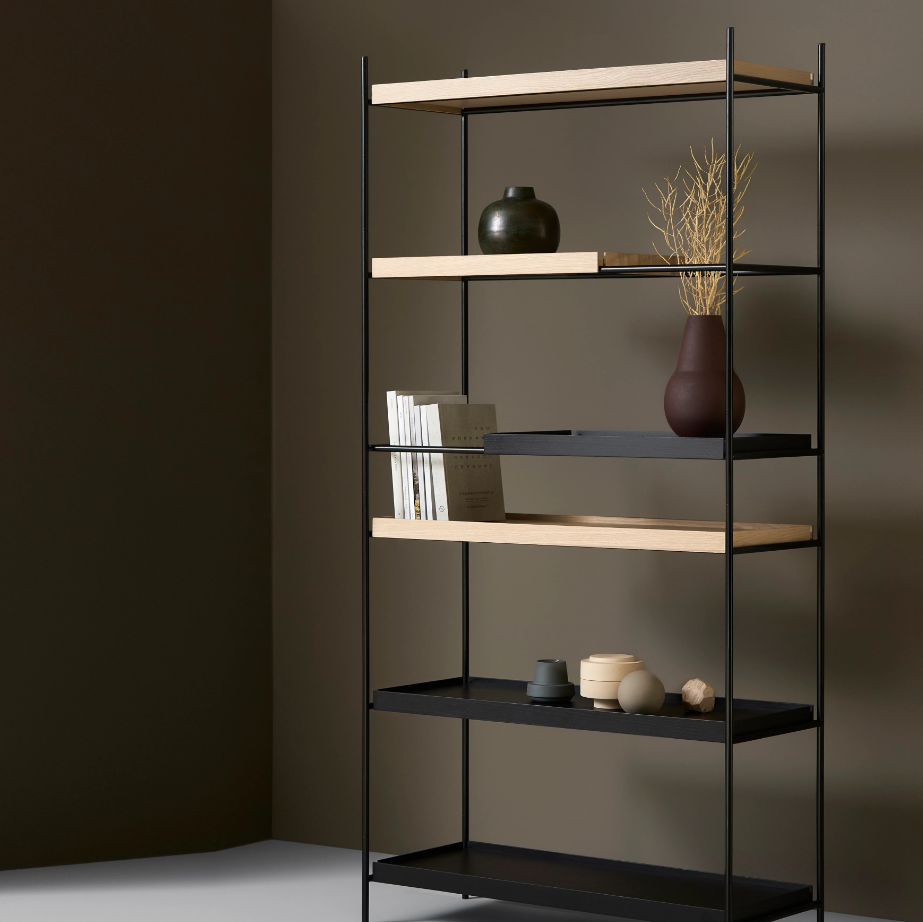 Image Credit: aplusrstore.com
The built-in shelves are really useful since they minimize clutter without taking up unnecessary areas. Integrated-in shelves are built into a home's walls or open spots. Alcoves may be successfully turned into built-in shelf units using this approach.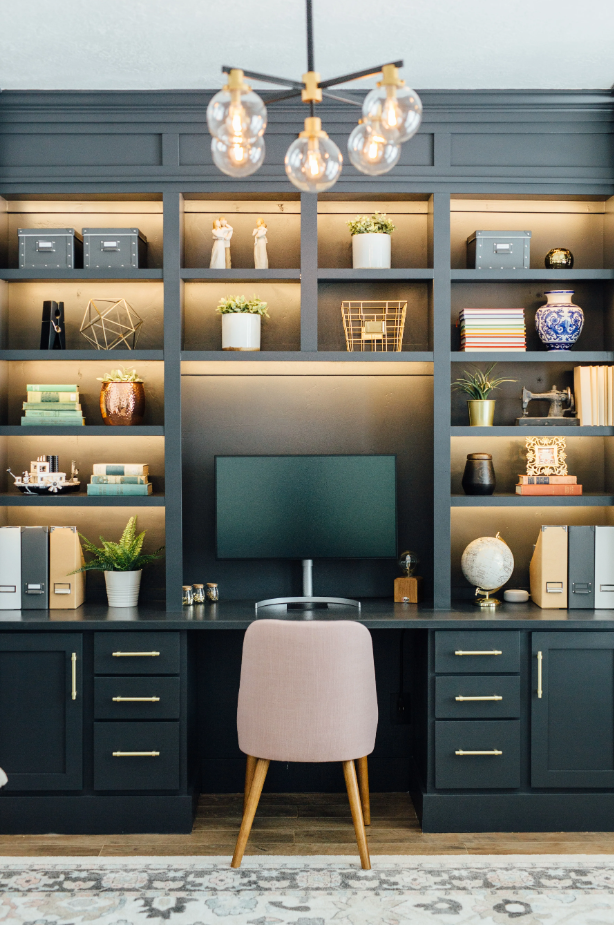 Image Credit: pinterest.com
These shelves are commonly used in houses to keep tiny items that would otherwise be thrown and fill up the space. Installing hanging shelves on crooked walls is not advised. One must take into account the maximum load capacity of the hanging rack and check that the minimum weight-bearing limitation is not exceeded when it is hung probably the most used option for home offices.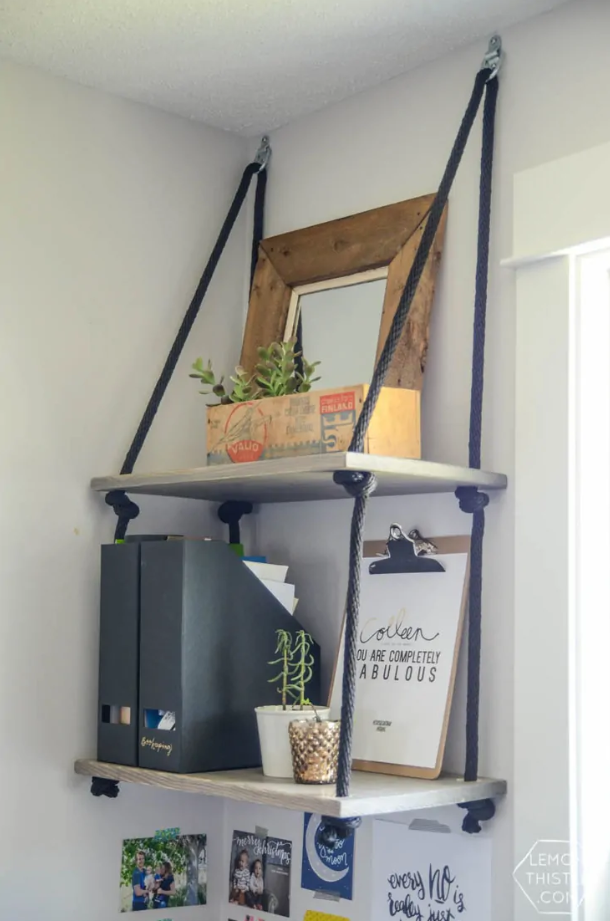 Image Credit: kenarry.com
Corner shelves are a wonderful method to maximize a room's storage space. Corner shelves are a wonderful way of organizing belongings in conveniently accessible areas and transforming useless corner space into functional shelving.
Fixed corner shelves and adjustable corner shelves are 2 types of corner shelves that can be found in stores. However, they might be categorized depending on the style in which they are built. Curved corner shelves, rotating corner shelves, angular corner shelves, and right-angled corner shelves are just a few examples.
Read also – 15 Best Master Bedroom Makeover Ideas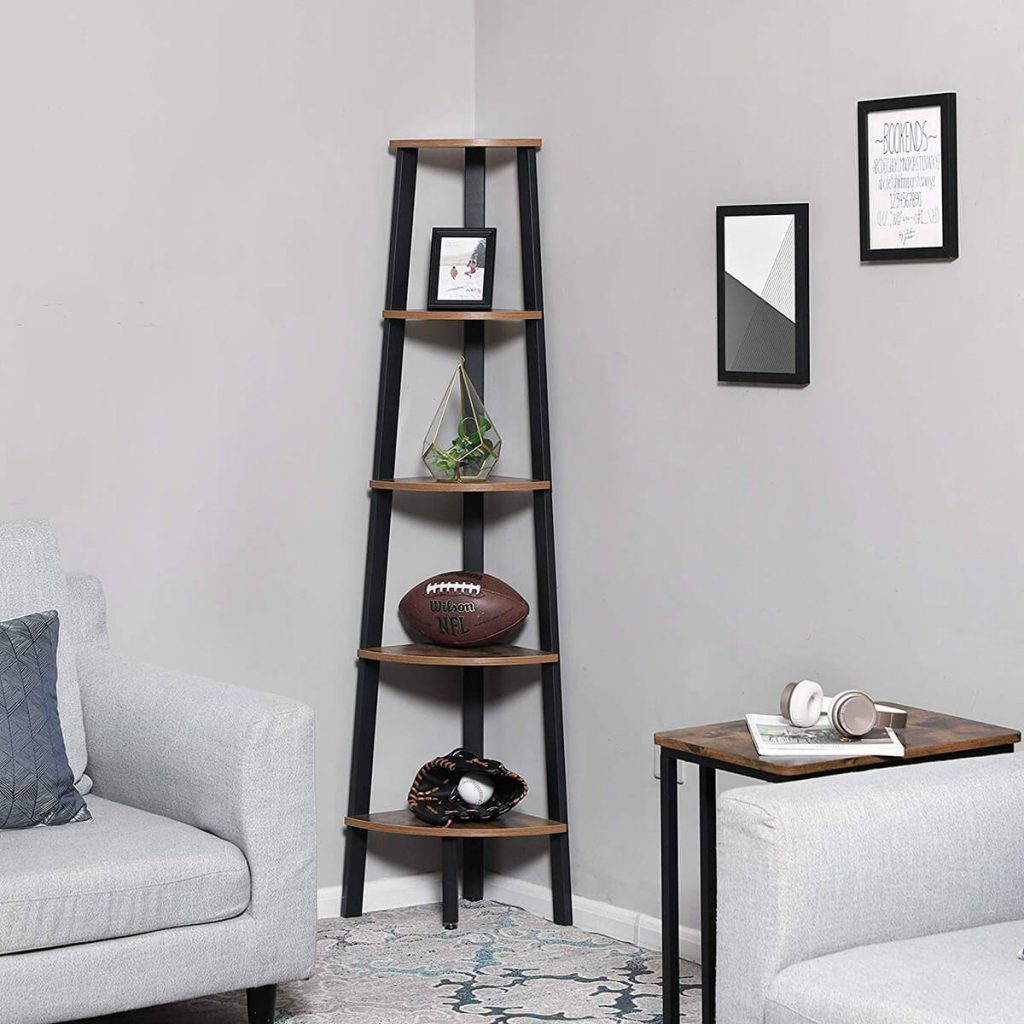 Image Credit: econaz.com.bd
Suspended shelves are among the most common types of shelves, and they're still fashionable in interior design now as they were years ago. They feature separate hooks that you connect to a surface where you wish to install your shelf. The hooks are usually composed of metal and feature a reversed L shape. They are attached to the wall before the shelf is installed by placing them across the hooks.
Image Credit: wayfair.com
Floating shelves are the most elegant and fashionable shelf option. The hanging shelves are extremely similar to this sort of shelf. The key distinction is that, unlike hanging shelves, floating shelves are installed with screws rather than hooks.
The major reason for naming this type of shelving floating is because any other components used are completely hidden, and the shelve is only visible on the wall, giving the impression that it is floating without any support best for the minimalist theme.
Read also – 14 Best Rustic Bedroom Ideas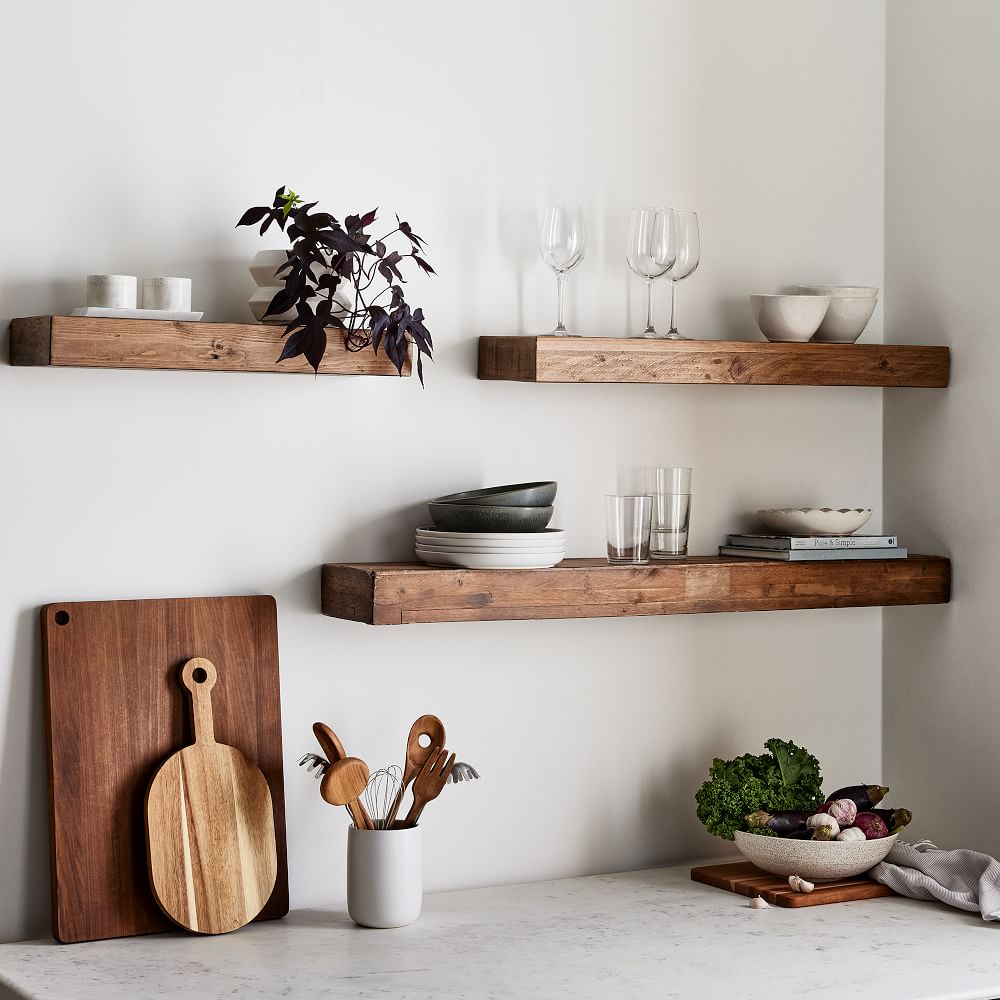 Image Credit: hgtv.com
If you have a tiny room that has to be changed regularly, or if you live in a hostel and want a fashionable shelf rather than a fixed one, this shelving system would work well for you. When it comes to storing small equipment, tool boxes, and other small household things, the separate racks of these shelves will provide you with a lot of flexibility.
So, after deciding on the sort of shelving that best suits your needs, you'll need to come up with a shelf design that works with the stuff you have. There's a whole variety of bedroom shelving types to pick from.
In bedrooms, many styles of shelves are commonly utilized. We think about a number of aspects when choosing a bedroom design and certain decorations, and it's just as essential to think about a number of aspects like saving wall space when choosing decent shelving.
Read also – 25 Space Saving Furniture Ideas for Your Small Homes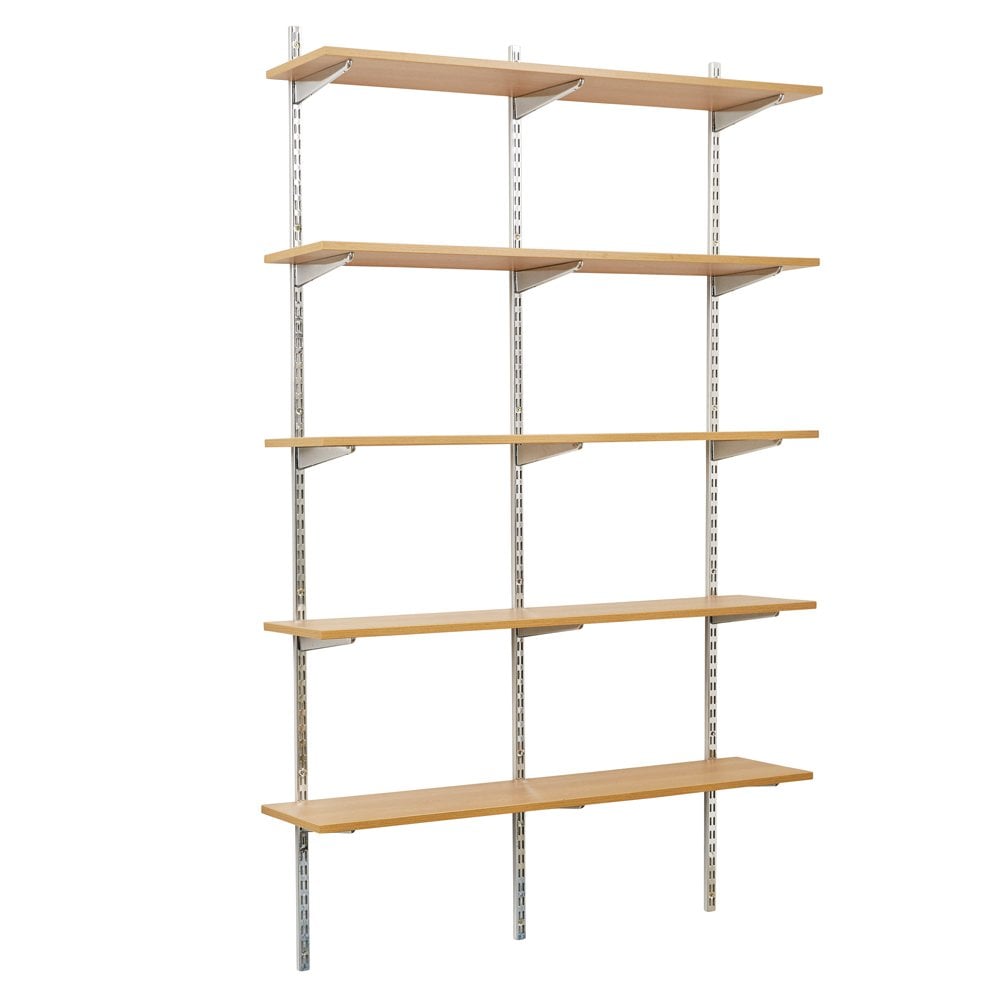 Image Credit: urbaboxx.co.uk
15 Best Bedroom Shelving Ideas for Storage in Bedroom
The following are 15 of the best ideas for making your bedroom shelving more attractive:
If you are a book reader and don't have enough place to store your books, a single suspended shelf may be added to your room. It will allow you to contribute to the attraction of the bedroom wall with your book collection, and that shelving will be a cool addition to your beautiful room on its own. It will also be incredibly useful since you will be able to keep all of your books close to your bed with extra storage, as most readers read in bed.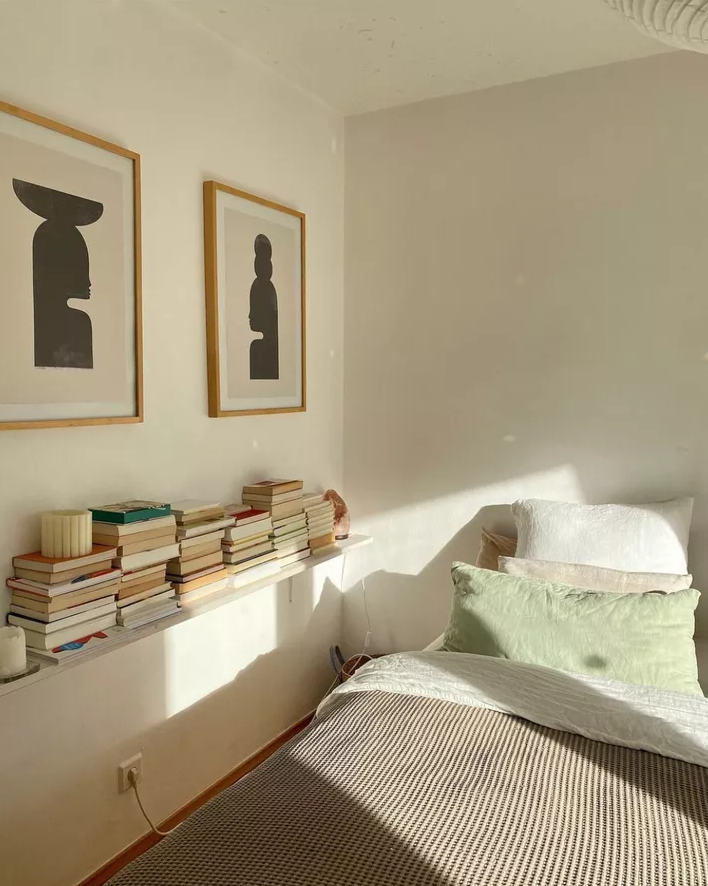 Image Credit: mydomaine.com
2. Make Use of the Area Above Your Bed
The wall above the bed is usually empty, even though it is the centre of attention. You must combine it with something unique. In-home decor aspect everyone is hanging paintings from Ikea in that place, but you could build hanging shelving above bedroom furniture instead.
However, you must first ensure the protection of your head by building such a shelf with the proper equipment. Another thing to keep in mind is that you want to keep the shelving simple and use light materials to design it and add storage because it's one of the best bedroom storage ideas.
because it will provide you with additional protection and will maintain the focal point of your bedroom clean. If possible, match the texture of your shelving to the texture of your wall, giving your decoration a more beautiful and natural appearance. Small showpieces might be used to fill the shelf space.
Read also – 8 Best Bedroom Remodeling Ideas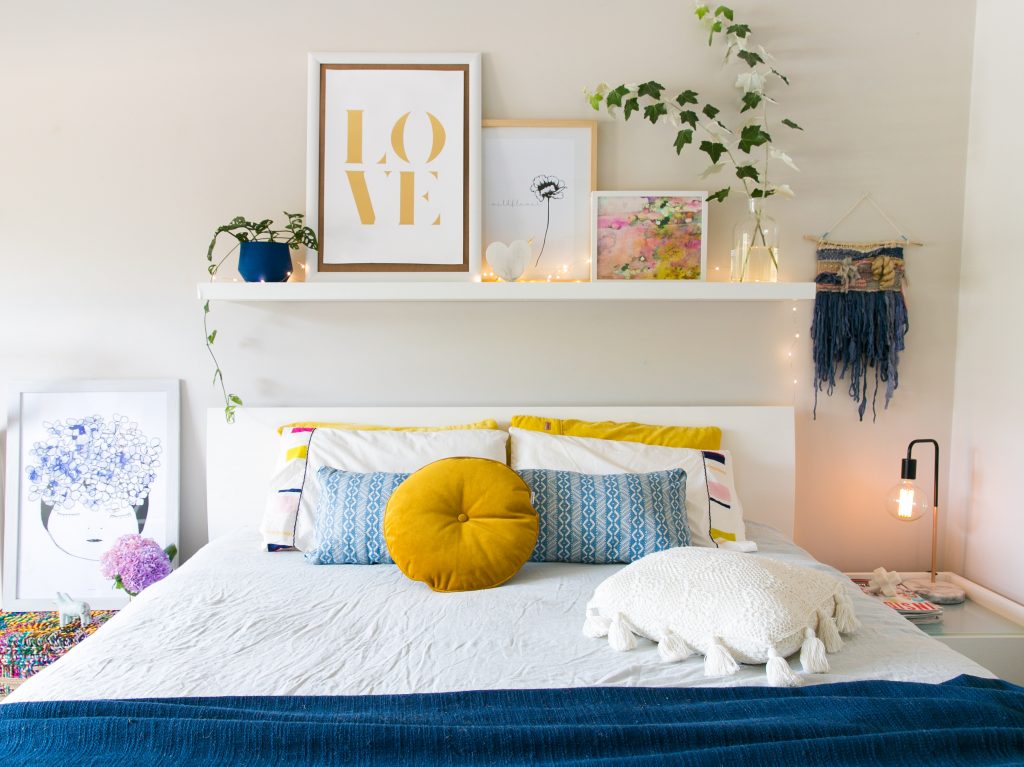 Image Credit: aanshop.com
In most cases, people build built-in cabinets in their bedrooms, but you may also add custom built-in bookshelves just like on Amazon. The built-in shelf offers the same amount of storage as standard bedroom shelving.
Because of the character and appearance, that built-ins can offer to a place, it adds so much more charm. Keep in mind that built-ins are always a lovely addition to any room in the house.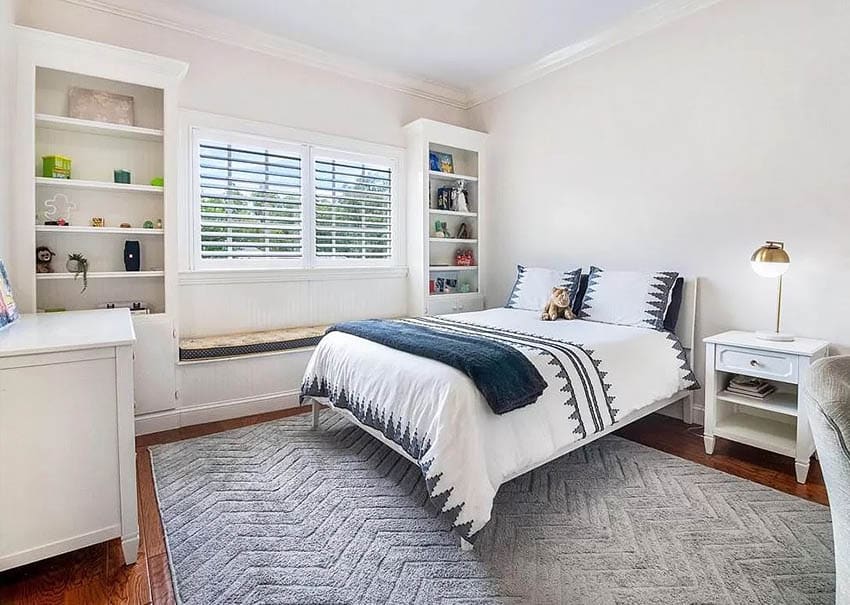 Image Credit: designingidea.com
4. Make a Corner for Shelving
If your room is a little larger and you have an empty corner with enough space in the kid's room, you may build a fully dedicated space for shelving where you can add their favorite books where they can read and chill.
Simply place a couple of large corner shelves, seats, and a little standing shelving unit that can be used as a side table and a shelf. After that, you may fill them with books or nice action figure collections.
Read also – 15 Best Guest Bedroom Ideas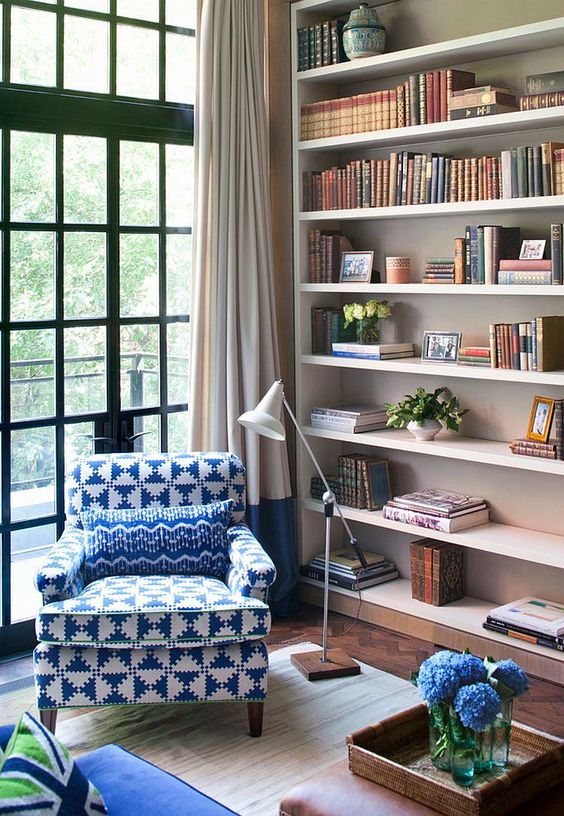 Image Credit: pinterest.com
You may utilize the entire wall for shelves if you have a large empty wall and want the shelving to be the main focus of your interior. With hanging shelves, suspended shelves, and floating shelves, you may completely modify it. Instead of making it bland by using the same shelving design across the entire wall, you may use a combination of all three of these styles to make it more gorgeous.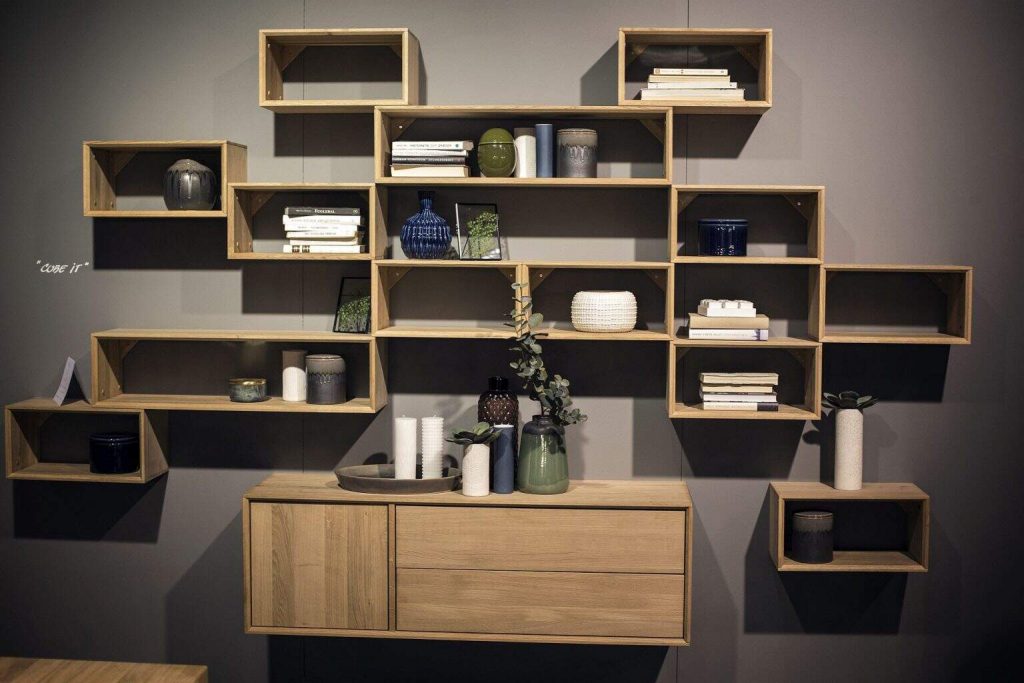 Image Credit: justdial.com
6. Floating Shelving in a Tiny Wall
Floating shelves are a great addition to a tiny bedroom. Small spaces are always filled with the most essential furniture, making additional shelving nearly difficult. In that situation, a floating shelf might help a bit. This type of shelf normally does not take up a lot of space, and it can always be mounted on a tiny wall is a perfect way to hand picture frames or store books and trinkets.
Read also – 25 Stylish Headboard Ideas for Your Bedroom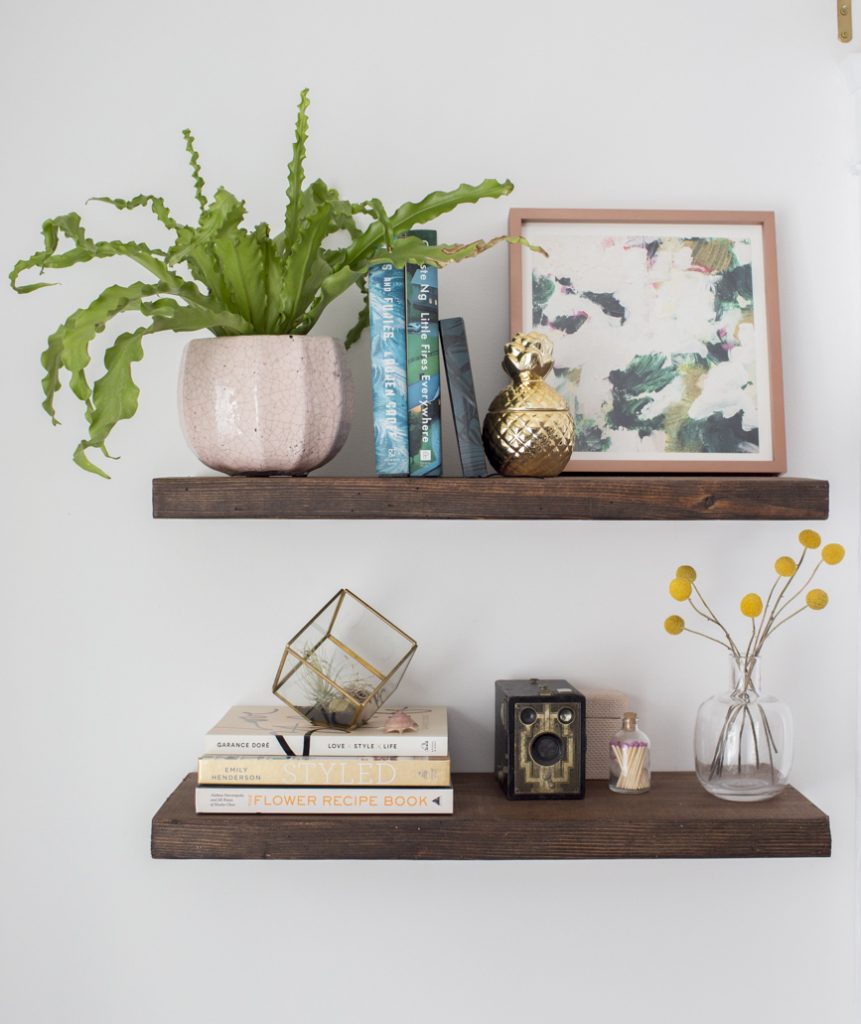 Image Credit: realsimple.com
If you have a few plants to grow in your home, you'll need to provide them with natural light. In that situation, wall shelves will not be enough, and you will need to take steps to build window shelves. This will be one-of-a-kind and beneficial to your plants.  Glass may be used as a hanging shelve, which is more attractive and suits the window glass.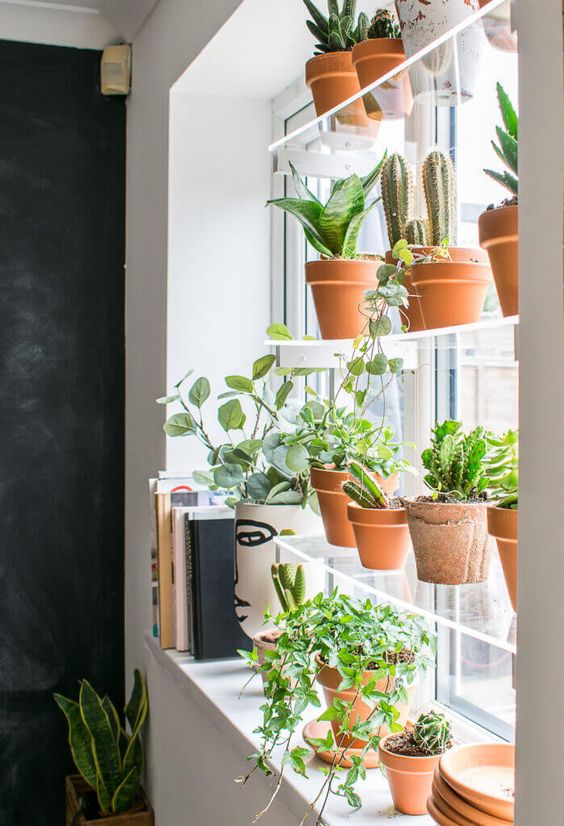 Image Credit: pinterest.com
The place above the door is often forgotten, yet this tiny area may be quite helpful. Installing a shelf above the door can provide you with additional storage space in a tiny bedroom. This simple above-the-door floating shelf allows you to store extra items that you need frequently but never seem to find on time. Of course, you may use this shelf for decorative purposes as well.
Read also – 10 Best Teen Bedroom Ideas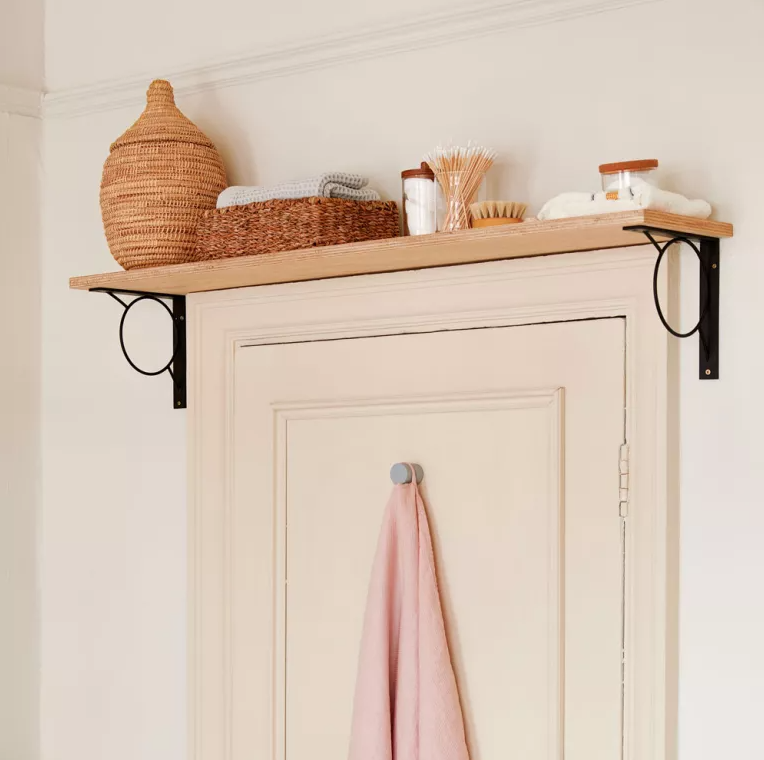 Image Credit: idealhome.co.uk
9. Take Full Advantage of a Bedside
Without tiny free-standing shelves, no bedside should be empty. This is an important component of bedroom shelving. Because you can store certain books at that place that are usually needed before going to sleep, and you won't have to get out of bed to keep them after reading them. You may also put important stuff like your phone, glasses, or even a table lamp there.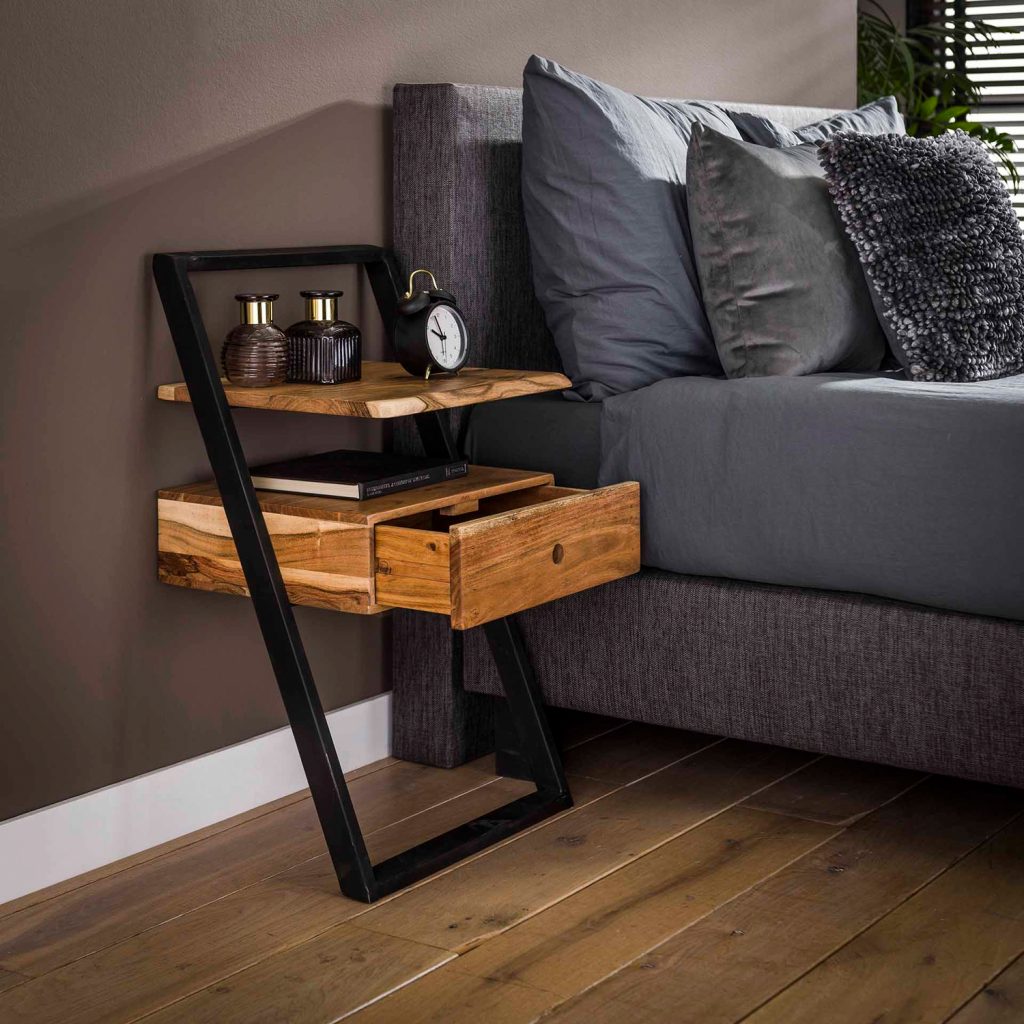 Image Credit: pinterest.com
10. Make Use of the Alcoves
Alcoves are ideal for providing extra bedroom shelving, so don't ignore them and put them to good use. Building storage units into alcoves are the most common choice, but if you want to make them more of a decorative highlight, add open shelves and fill them with books, artwork, and accessories. To cover the ugliest stuff, add some beautiful baskets to it. You may build the shelve around the bed's wall, giving you a lot of storage space.
Read also – Modern Bedroom Designs Vs Contemporary Bedroom Designs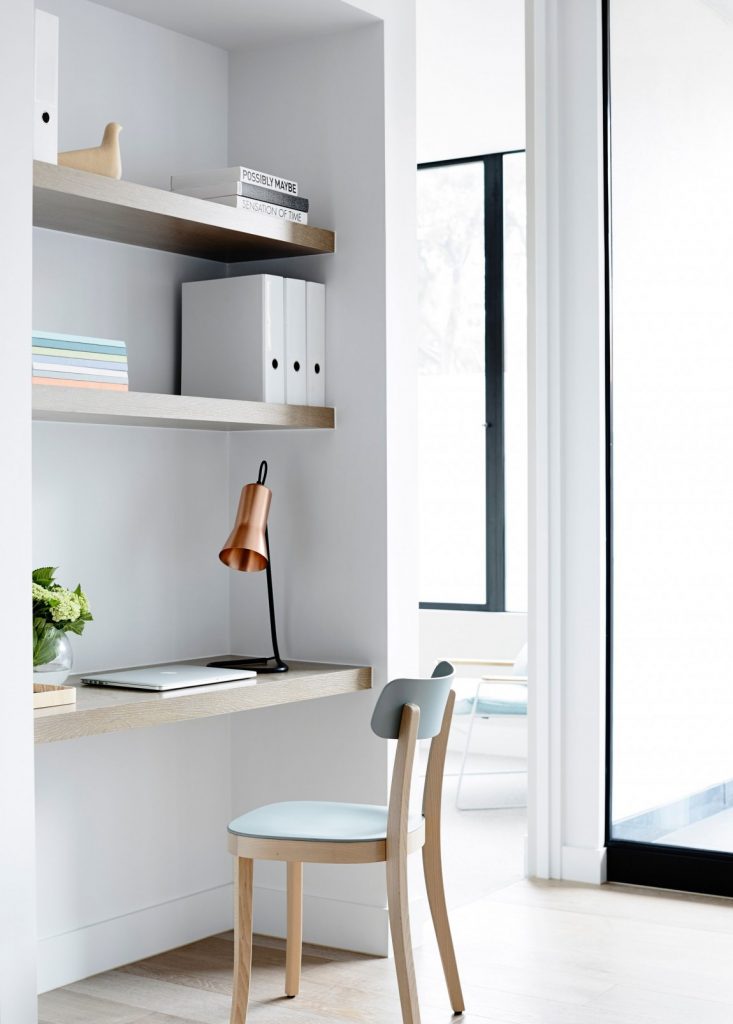 Image Credit: amartfurniture.com.au
11. Shelves Around the Bed
This shelf concept is ideal for book lovers who spend a few hours each night before going to sleep. It will keep the books close to you, allowing you to pick up whatever book you desire from your bed. You may also use the shelf on the side of the bed to store a water bottle, an alarm clock, and other little accessories to make it more attractive rather than just books to save space.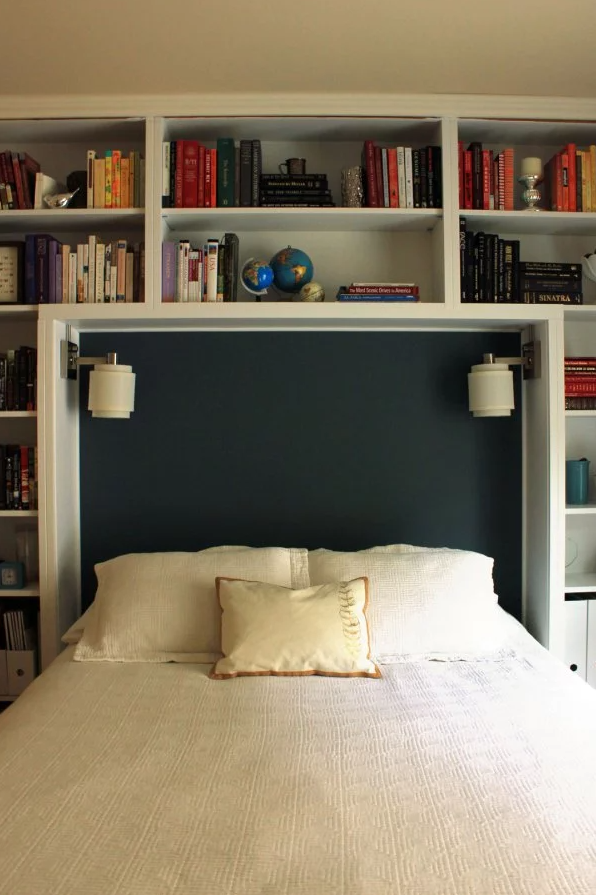 Image Credit: popsugar.com
12. A Hanging Shelving Unit
If you think that permanent shelving can be a trouble for you, you can think of hanging shelving which can be hung in the middle of the wall and will cover up the whole wall as a good decoration.
You can add traditional materials to build this kind of shelf for example using jute rope for hanging the shelve. It's ideal for that odd tiny location in the room, but it'll also work in the door and a variety of other places.
Read also – 25 Types of Rooms in a House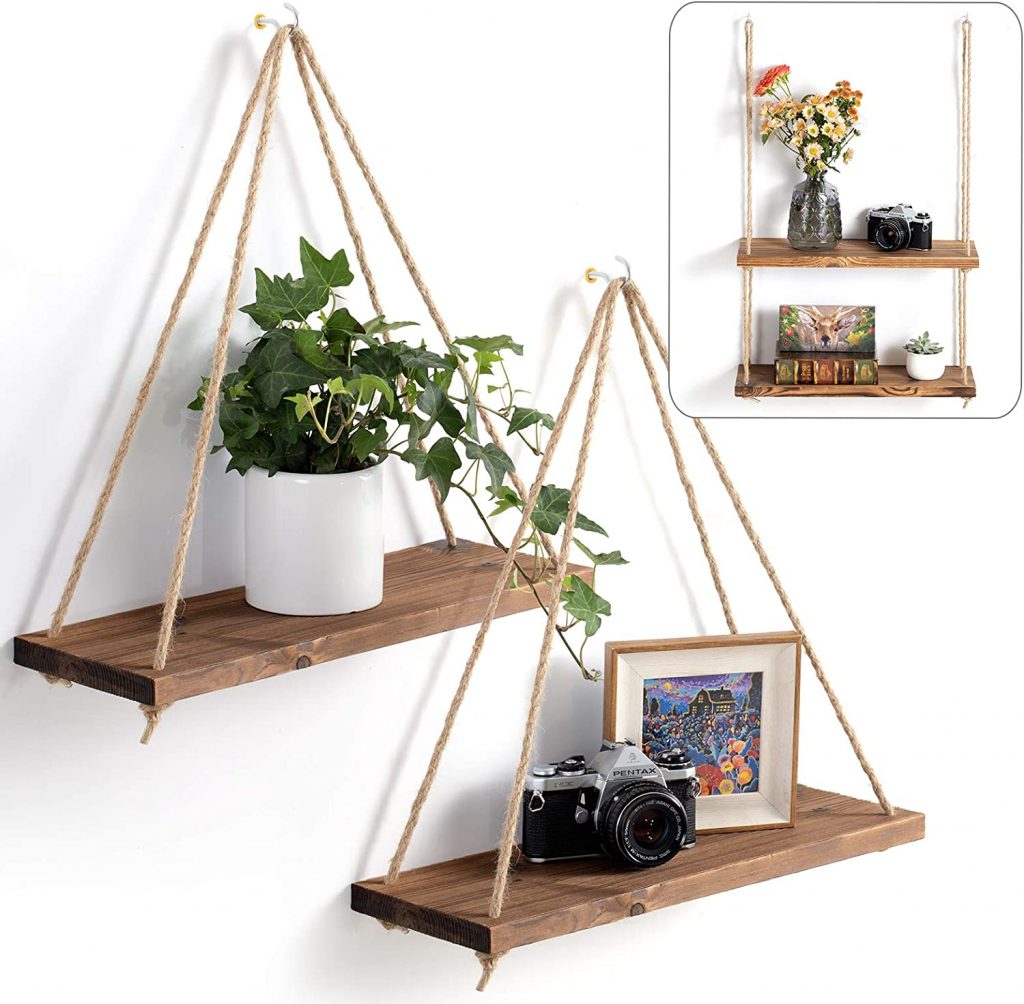 Image Credit: amazon.com
13. A Box Framed Shelving
Some people may wish to use the shelves for more than simply storing stuff; they may want to add a decorative aspect to the area or have organization ideas in mind. This box-shaped bedroom shelf idea can give your room a nice aesthetic look while also providing some more storage.
It may be shaded to match the wall colour, making it an integral part of your design, and this box shelf looks great with only two items on it.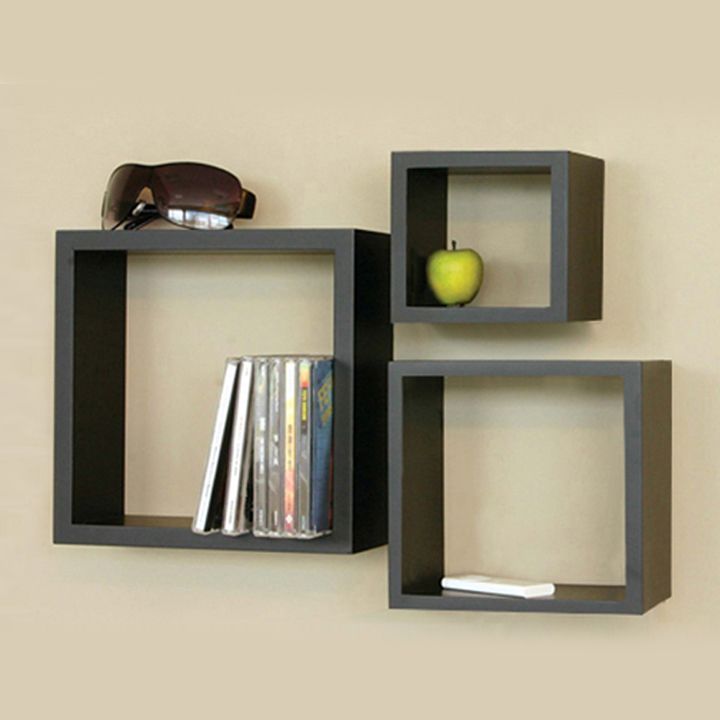 Image Credit: pinterest.com
14. Floating Corner Shelves
Corner shelves are a wonderful way to make the most of a small space, but mix them with the floating shelf idea for a more stylish look. The hidden hardware on the corner unit is simply attached to both walls at the corner.
On each of them, you can keep a variety of little plants as it has plenty of space. It is recommended to keep it simple with only one or two components; it should not be messy. If you use it near the bed it can also serve as a bedside table in some circumstances.
Read also – How to Add Color to Home Without Painting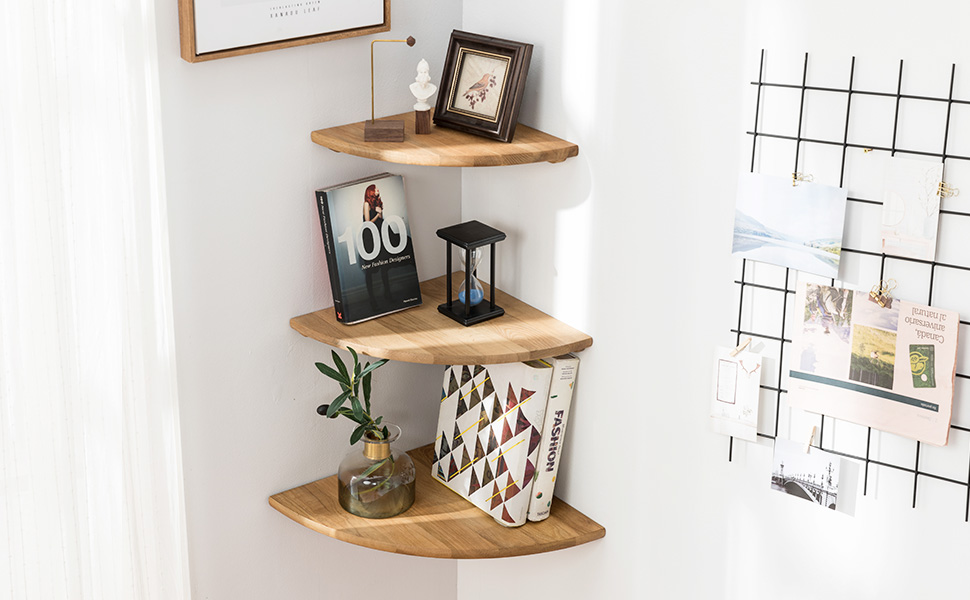 Image Credit: gotosellers.com
15. Rotating Corner Shelf
It's a brilliant design that makes the most of every inch of the space. This shelf will give you additional space in the corner. Three standard shelves are equivalent to the capacity of a rotating shelf.
You may keep books in one section and other sorts of objects in the other, allowing you to choose which section to highlight at any particular time. Because that type of shelving is usually extremely small, you may use it as a bedside table.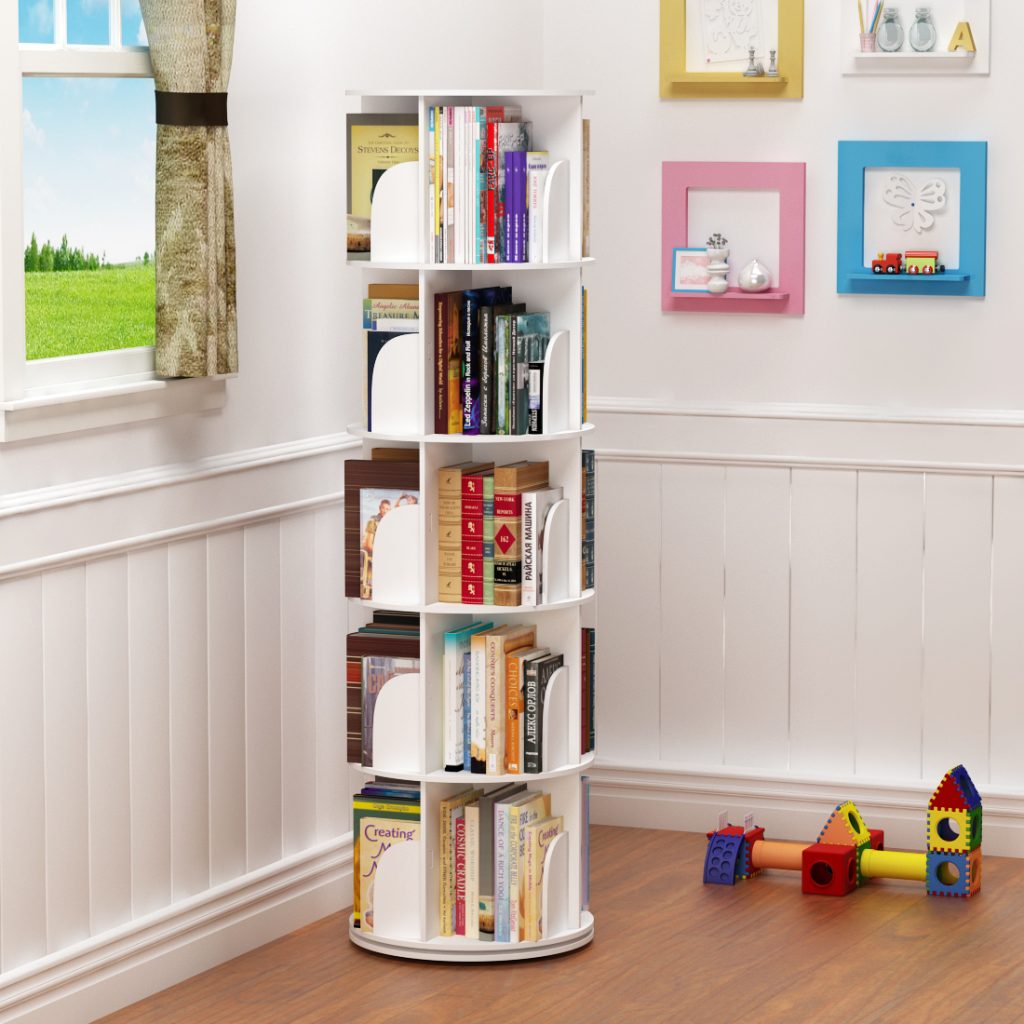 Image Credit: malls-365.xyz
Foyr Neo for Bedroom Shelving
Choosing the ideal decorating for your bedroom is difficult because only a few people are experts in this field. Try Foyr Neo if you want to see a large range of bedroom shelving and choose the finest bedroom shelving concept for your bedroom.
Foyr Neo allows you to plan, create, and render your bedroom in just a few minutes. It also gives you access to 70,000 items that have been modelled. Foyr Neo will let you customize your bedroom in 3D with a 360-degree view.
The golden rule of shelf decoration is to avoid making too much mess. Then, as is usual, arranging things in a variety of shapes, sizes, and thicknesses is a wise decision. Make the best choice for your bedroom because it is the place where you spend a great amount of time and it deserves a decent appearance that will also give you a good vibe.
1. What can I put on a shelf in my bedroom?
You can keep some important items, such as a tiny clock or a little table lamp, or you can keep items that are related to your hobbies, like plants, books, candles, action figures, etc.
2. Is it OK to put shelves above the bed?
It's a great idea to make your bedroom looks unique, but you must ensure that the shelving is properly installed if you don't want to injure your head.
3. How can I make my shelves more appealing?
The golden guideline is to keep everything as clean as possible. Then arranging things in a variety of shapes, sizes, and thicknesses is a wise decision. Start with the larger items, then place little objects along shelves, covering them here and there and grouping them together if possible. In any display, it's also a good idea to leave some space around the items.
4. Is it OK to put a bookcase in the bedroom?
It's an excellent and practical suggestion. Because most people read books before bedtime, it will keep the books close to you, allowing you to pick up whatever book you choose from your bed.