Home » Blog » 8 Instagram Challenges Faced By Interior Designers
Instagram Challenges for Interior Designers
"This is a beautiful space. Did you design it? Really? Please share your Instagram handle. I want to redecorate my home. I would love to see more of your work."
Today, Instagram handles function like phone numbers. Everyone, especially a designer, is expected to have one. The number of Instagram followers defines a business's value. Professionals like interior designers can use social media platforms such as Instagram and LinkedIn to their full potential to grow their small businesses.  
However, using an Instagram account to expand an interior design business also means that one needs to be au fait with the Instagram algorithms to maximize their reach and get noticed. One also needs to be careful about the hashtags and filters they would use in their Instagram posts to ensure they are going for the right kind of publicity. 
When interior designer starts a business account to promote their design services on social media, they may face several challenges. A few Instagram challenges for interior designers are discussed below.
Read also – 15 Ways To Build An Interior Design Brand on Instagram
8 Instagram Challenges Interior Designers Are Facing:
1. Cannot maintain consistent posting
Social media marketing thrives on consistency in posts to create an impact. With millions of Instagrammers posting multiple posts every single day, it is easy for the interior designer to feel overwhelmed and find it difficult to stay up-to-speed. 
Consistent posting on Instagram essentially means planning the frequency, timing, and content of each Instagram post, reel, or story.  By being consistent in their Instagram posting, the interior designer builds the credibility of their design firm. Their followers become aware of the trend of the posts, thereby maintaining their interest and engagement.  
Emily Henderson, for instance, is a famous interior designer from the US, an active blogger, and the author of the New York Times bestseller 'Styled'. She makes it a point to share at least one post every day on her Instagram page. While most of her posts showcase her style of interior design, she also throws in references to her blog, making full use of the Instagram handle to promote much more than her design services.
Read also – 15 Ways To Increase Instagram Engagement for Interior Designers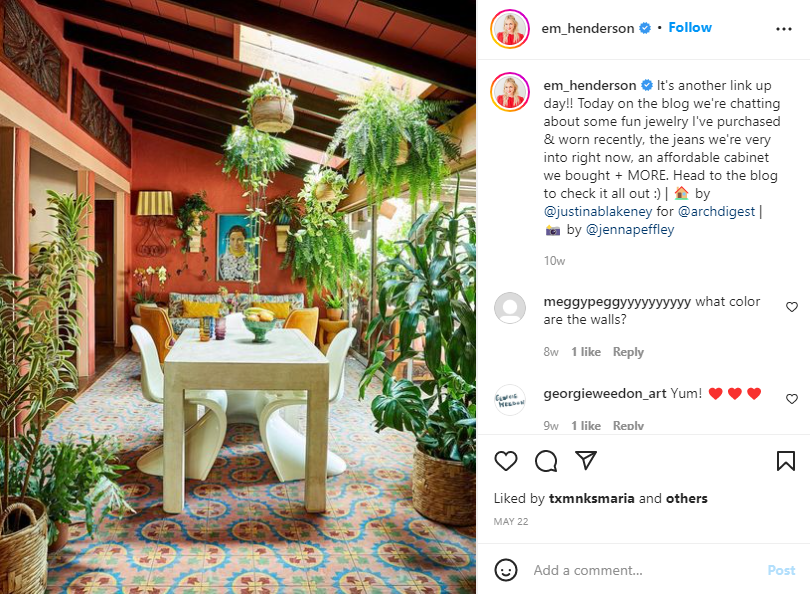 Image Credit: instagram.com
2. Not responding to comments on time
Running an interior design studio is a challenge in itself. So is managing one's design firm's Instagram handle. Clients love attention, and they like to be heard and valued. So do Instagram followers and viewers. 
In the initial stages of a growing interior design business, when the number of clients is relatively few, the designer can attend to each of their concerns promptly. Similarly, with fewer viewers and followers on one's Instagram page, it is easier to respond to their comments on time. 
However, as the business grows, interior designer struggles to manage the multiple requests from their many clients. The same happens in the digital world as well. Responding to viewers' comments on time is an important contributing factor to the overall success of an Instagram page.
Read also – 20 Instagram Marketing Tips For Interior Designers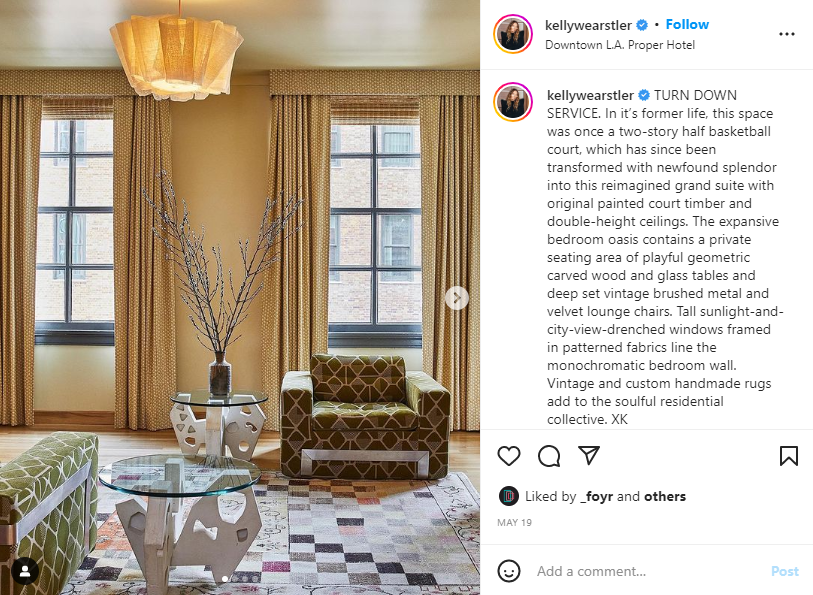 Image Credit: instagram.com
3. Not posting at the optimum time
When it comes to posting on Instagram, the time at which the target audience would be able to see the post is very important among the various marketing strategies. An ill-timed post can simply go unnoticed. 
Interior designers are experts in creating beautiful, functional spaces. But they often struggle to identify the optimum time to post content on their Instagram page so that their viewers, followers, and potential clients see it on their Instagram feeds.
One way to find out the best time to post on Instagram is by noticing when a post gets maximum likes or comments. However, for interior designers, signing in at the exact time when they think their post would engage the maximum number of followers may not always be possible.  
Read also – 12 Unique Instagram Content Ideas for Interior Designers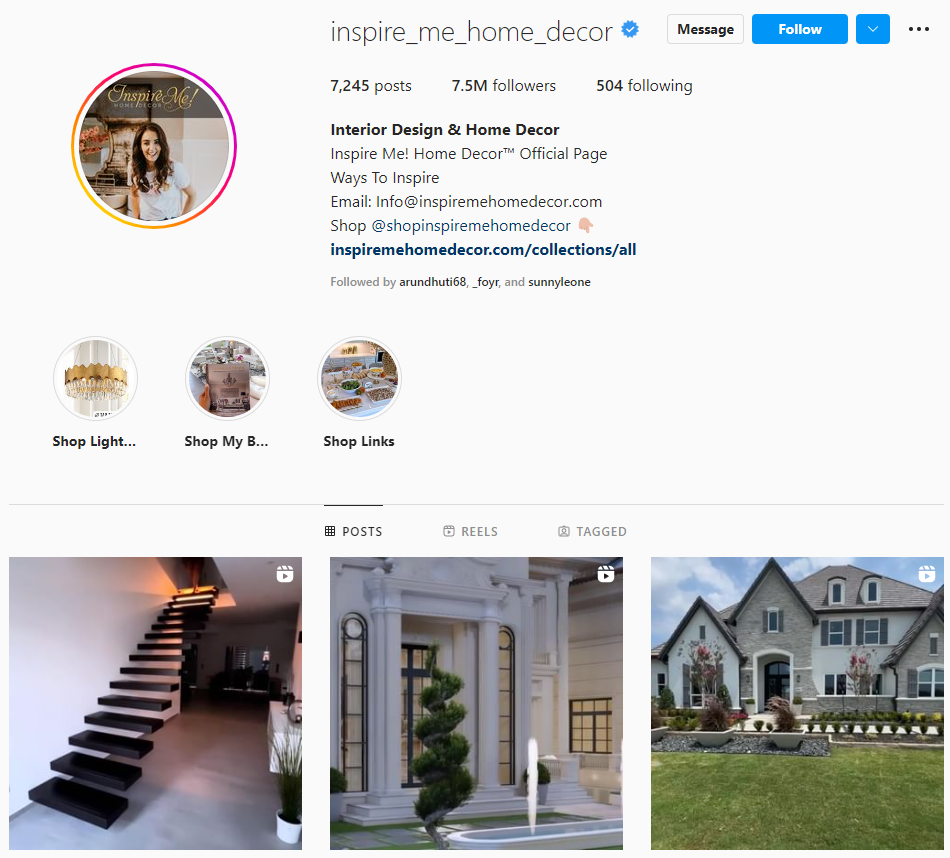 Image Credit: instagram.com
4. Difficulty in editing images and making videos
Instagram is a global platform. With hundreds of thousands of Instagram users and influencers throughout the world competing for popularity, the quality of Instagram posts has evolved tremendously and continues to improve every day. 
Taking a simple picture from one's phone, applying a basic filter, and uploading it on Instagram is now a thing of the past. The editing of images and videos is now as important as the quality of content posted on Instagram. 
All projects completed by an interior designer are unique, with specific design inspirations and stories. So, interior designers often find it difficult to organize and plan the aesthetic of their Instagram profiles.
Read also – 20 Best Interior Designers Instagram Accounts To Follow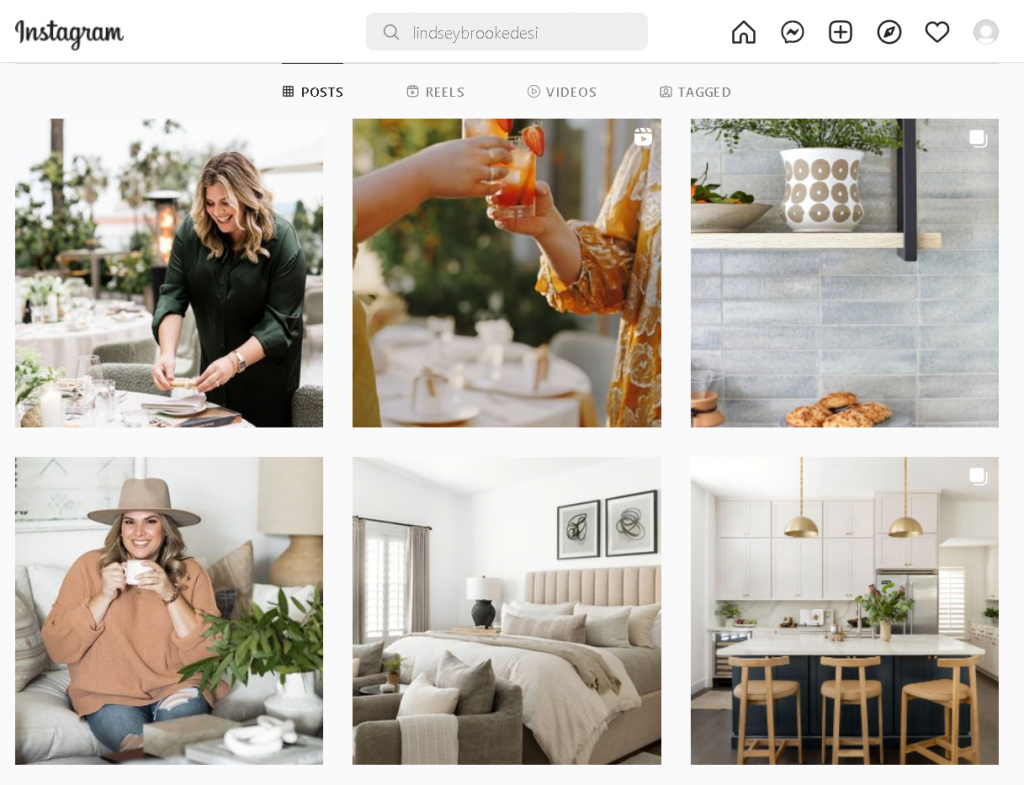 Image Credit: instagram.com
Once the interior designer is ready with high-quality images and videos to share with their target audience, they face the challenge of finding the appropriate caption to complement their posts. 
Captions provide a context to followers and potential clients and help them understand details that may not be apparent from the visual content. Without the right captions and hashtags, the viewer may completely miss the intent of the post. It can also lead to multiple interpretations and reactions. 
For example, the interior designer may post an image of a living room to showcase a specific home decor item.  Instead of getting comments on the home decor item, they may end up discussing the details of the wood used for the table or the painting hung on the wall behind the sofa. 
A good caption adds character to the post and engages the target audience in the desired manner.
Read also – Top 20 Interior Design Influencers To Follow On Instagram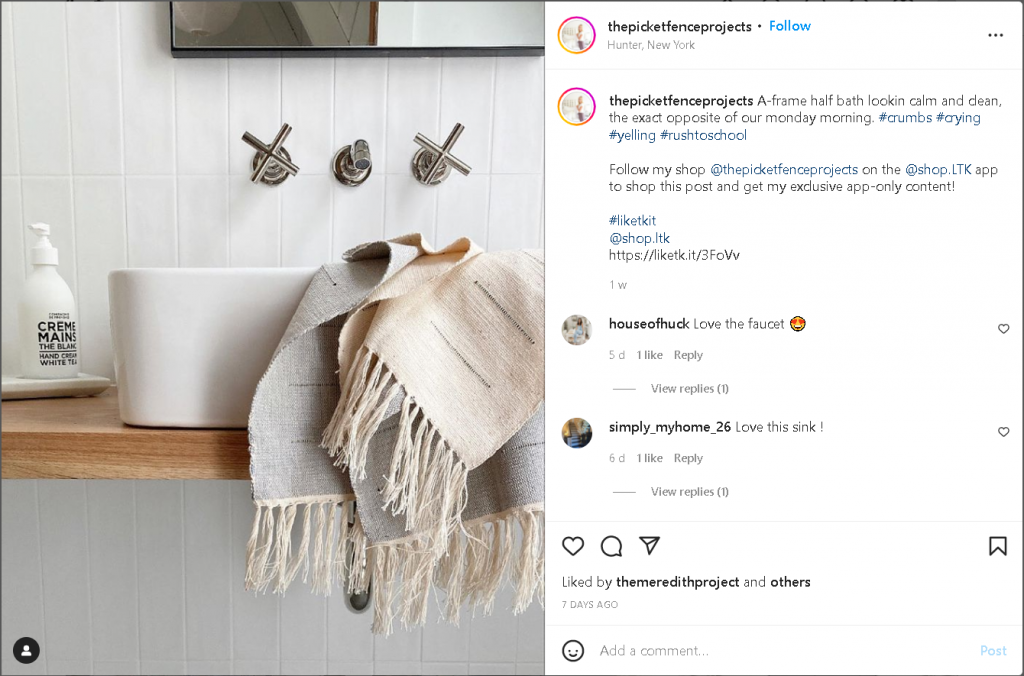 Image Credit: instagram.com
6. Profile bio is not optimized
If an Instagram handle is like a phone number, the profile bio is like a key to the Instagram account holder. It is the first thing that is offered to profile visitors, giving them an insight into the business. 
An interior design professional often struggles to find the appropriate bio statement for their Instagram profile and tends to write a detailed description of their business, design philosophy, and services.
An ideal Instagram profile bio is a series of crisp, to-the-point, attractive words strung together to inform the audience about what to expect in the posts within two seconds. 
A popular interior designer on Instagram, Kelly Wearstler, for example,  has a clearly defined bio for her Instagram profile. She starts with the industry, that is, 'Interior Design and Architecture', then goes on to mention her position in the business, her interests, and other roles. It is enough to let the target audience know who Kelly Wearstler is as a person and professional.
Read also – The Ultimate Guide To Building A Strong Interior Design Brand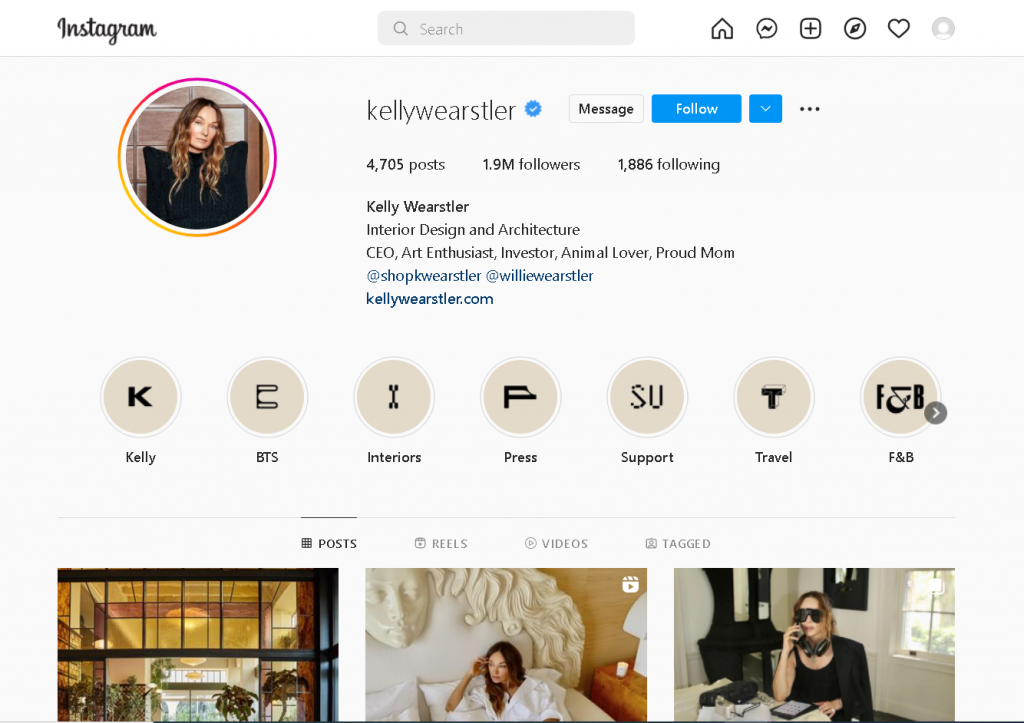 Image Credit: instagram.com
7. Not updated with the trends
Instagram has an unimaginable user base, ranging from business owners, celebrities, and influencers to people looking for some entertainment and inspiration. To thrive on the Instagram platform and get noticed, one needs to focus on Instagram's marketing trends while building their marketing strategy.
In the interior design industry, the components will be limited – a shot of a dining room, a video of a home decor item for a neglected corner of the lobby, and a layout plan of a bedroom. Most often, the interior designer will simply add a filter to the image and post it on Instagram with some well-researched hashtags. 
With Instagram flooded with concepts and strategies for expanding the reach of a profile, a mere filter may not have the desired impact. Instagram marketing trends keep changing at a rapid rate.  
The Instagram market is competitive, and to get noticed, one is required to go out of the way to create unique, outstanding content. One could even tie up with a contributor to amplify their social media presence or collaborate with a popular influencer. 
There are many options.  An interior designer just needs to develop an effective Instagram marketing strategy while keeping the latest trends in mind. One could listen to podcasts or subscribe to YouTube channels, read social media news, or observe the posting trends of their counterparts. Inspiration may be found everywhere.  
Read also – 14 Best Content Marketing Ideas for Interior Designers
8. Not seeing the desired results
An interior designer spends a fair amount of time and energy to create Insta-friendly content. At times, despite using the most popular hashtags and including a captivating description of the post, getting the desired results becomes an Instagram challenge for interior designers.
This often demotivates them and makes them give up on the idea of investing in the management of their Instagram handle. They tend to go back to the traditional methods of gaining popularity – referrals or shelling out chunks of their income on expensive marketing.
Read also – 15 Problems Most Interior Design Business Faces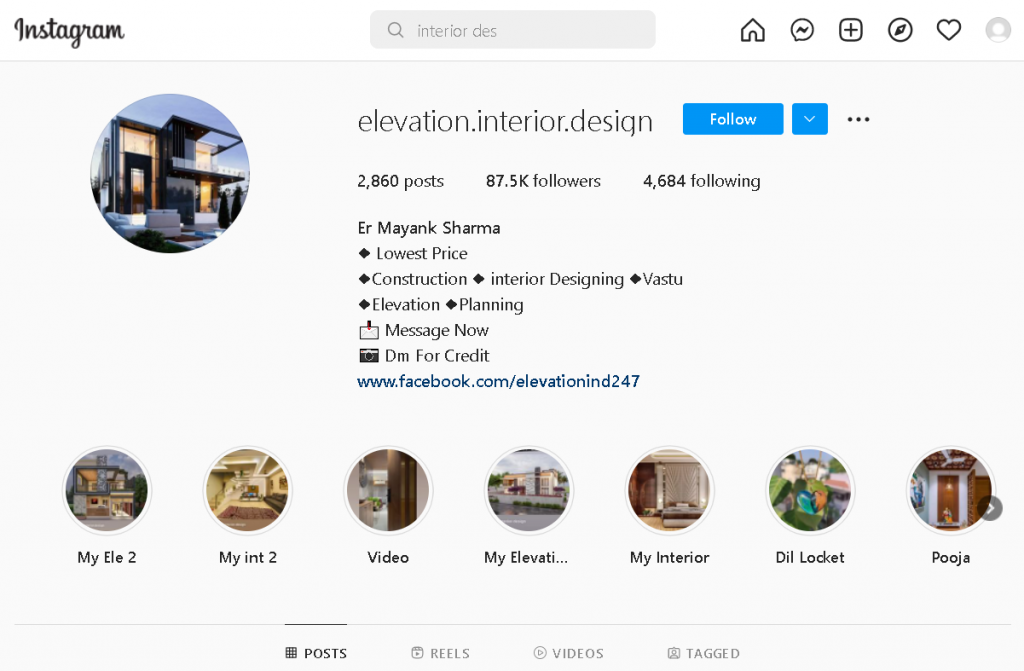 Image Credit: instagram.com
Managing Instagram can be challenging for interior designers, especially because of the dynamic nature of Instagram marketing strategies. Interior designers must be open to regularly updating their social media strategies in line with changing trends on Instagram. 
From posting their projects to sharing tutorial videos about redecorating a nook at home, Instagram presents many possibilities for interior designers to get noticed and shine. 
Instagram may seem easy to use, but unless one learns the tricks and tactics to stay up-to-date with the new trends and features of the app, one may not be able to tap into its full potential. 
A number of interior designers have found success in promoting their work on social media. It has enabled them to grow their clientele and initiate dialogues with their followers on interior design ideas. By gaining an insight into what the larger community prefers, they have been able to tweak their design ideas to impress many. 
They can also find inspiration by following successful interior designers on Instagram. It would also enable them to find fitting solutions to the challenges of Instagram.
1. What are some challenges that interior designers face?
For many years, the interior design industry has relied on referrals and expensive marketing to gain popularity. It has been considered a luxurious profession, with the clientele largely consisting of a limited number of high-society members. 
Self-promotion is one of the biggest challenges that interior designers face today. The other challenges that interior designers face in the 21st century include:
Limited income owing to limited project opportunities

Managing difficult clients

Fulfilling client requirements without wavering from personal design concepts and philosophies

Managing time

Ensuring quick turnarounds
2. How do interior designers use Instagram?
Social media platforms have brought the interior design to every household, inspiring people to rethink the spaces in their homes and offices. It has also given an opportunity to interior designers to connect with the larger population, understand their preferences and ideate redecorations of small spaces, and uplift the living environments of many. 
Today, interior designers use Instagram to showcase their designs and talk about their services. The most common uses of Instagram for interior designers include:
Sharing personal stories and design inspirations

Showcasing the 'before' and 'after' of their projects

Building their design portfolio

Sharing DIY tutorials and behind-the-scenes

Using Instagram advertising to promote their business

Sharing the latest interior design trends, color palettes and themes
3. How do interior designers grow on Instagram?
The best marketing tips to grow your interior design business on Instagram include:
Collaborate with popular and trustworthy contributors and influencers

Use your graphic design skills to create engaging content for your viewers and target audience

Post consistently

Use popular hashtags in an effective manner

Generate a schedule for posting your content

Post Instagram reels and videos to showcase your design ideas

Add locations, and tag others in your posts

Use interactive posts to build trust among your followers

Connect with your followers by humanizing your posts, organizing giveaways, and responding to their comments and reactions to your posts.

Stay up-to-date with the Instagram trends
4. What should interior designers post on Instagram?
The best thing about Instagram is its versatility. There are a plethora of content ideas to post on Instagram. For interior designers, Instagram acts as the perfect platform to display their designs and promote their business throughout the world. To stand out, interior designers may post the following on Instagram:
Design tips and DIY ideas for home decor

Interior design themes, boards and trendy color palettes

Behind-the-scenes

Important milestones and celebrations

Introduction to the team

Design Portfolio

Interior design trivia

New arrivals