Home » Design Ideas & Inspirations » 8 Best Wardrobe Design Ideas To Beautify Your Master Bedroom and Home
Wardrobe Design Ideas
What is a wardrobe?
It is a place where you start your day every morning.
It is where you don your armor to conquer the battles of the day.
It is what turns a bonus room in your house into a bedroom.
A wardrobe need not always need to be a walk-in closet in order to transform a room into a master bedroom but it sure does add that special USP to make your room feel like your own.
Regardless of whether it is a master bedroom, a kid's room, or a guest room, closet space is a necessary addition. Therefore, today we shall discuss a few incredible wardrobe design ideas to help beautify your mundane rooms into something extraordinary.
Read also – 7 Best Balcony Design Ideas To Decorate Your Home Balcony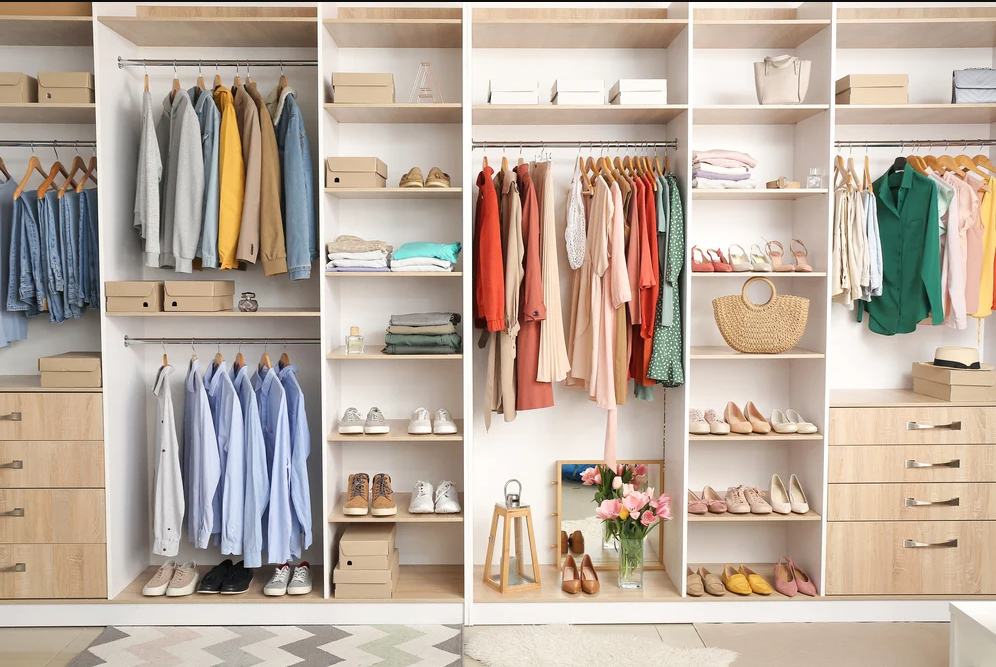 Image Credit: pinterest.com
8 Best Wardrobe Design Ideas and storage Solutions for Master Bedroom Closet:
Before we get into the design ideas for your bedroom wardrobe, we want to discuss a common functionality issue in small homes. It is unlikely that a small room can fit a large custom closet, which seems to demotivate our readers during a home makeover.
Therefore, let us discuss some small closet ideas before we get to the good stuff.
1. Small closet ideas
Here are a few well-defined ideas you can use for your closet system in a small room:
Install built-in storage solutions with lots of shelving and an armoire door.
Use cabinetry with both pull-out drawers on the top and cubbies on the bottom.
Opt for portable, foldable wardrobes in guest rooms.
Unleash your creativity with some DIY closet systems.
Take the minimalist route and infuse wardrobe designs with sliding doors.
Use tall, freestanding closets with maximum vertical space instead of broad, wide ones.
Create a separate hanging space along with a reach-in wardrobe closet for suits and dresses extraordinaire.
Read also – 10 Unique Ways to Enhance Master Bedroom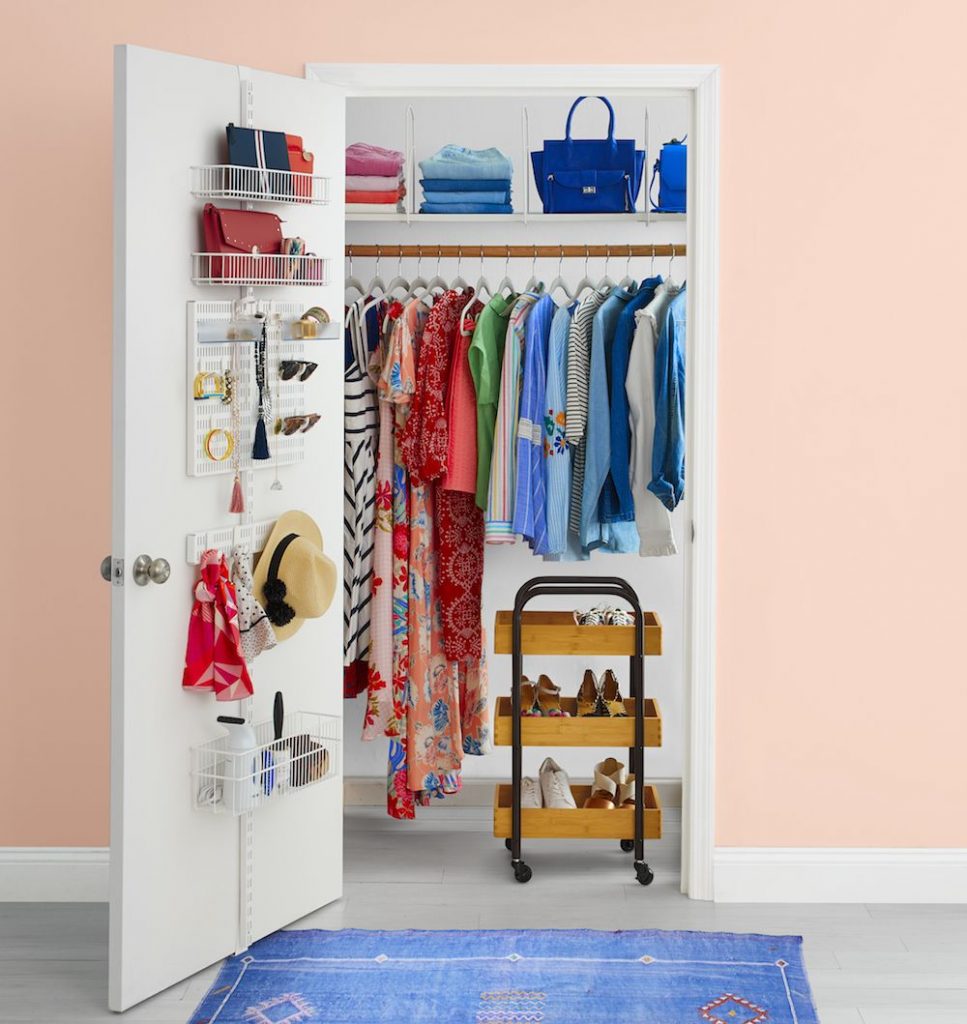 Image Credit: goodhousekeeping.com
2. Bedroom wardrobe ideas for larger rooms
Now, when you design bedrooms in your home, you need the different components to meld into your interior design theme. If you have ornate bedposts and beautiful décor, then your wardrobe design must be just as stunning as the rest of your interior design ideas.
Therefore, when you have sufficient closet space, why not make the most of your home interiors with exquisite closet ideas. You can have a master closet in a master bedroom with a designated dressing room such as that of Christian Grey, or opt for minimalist themes and modular sliding door wardrobes.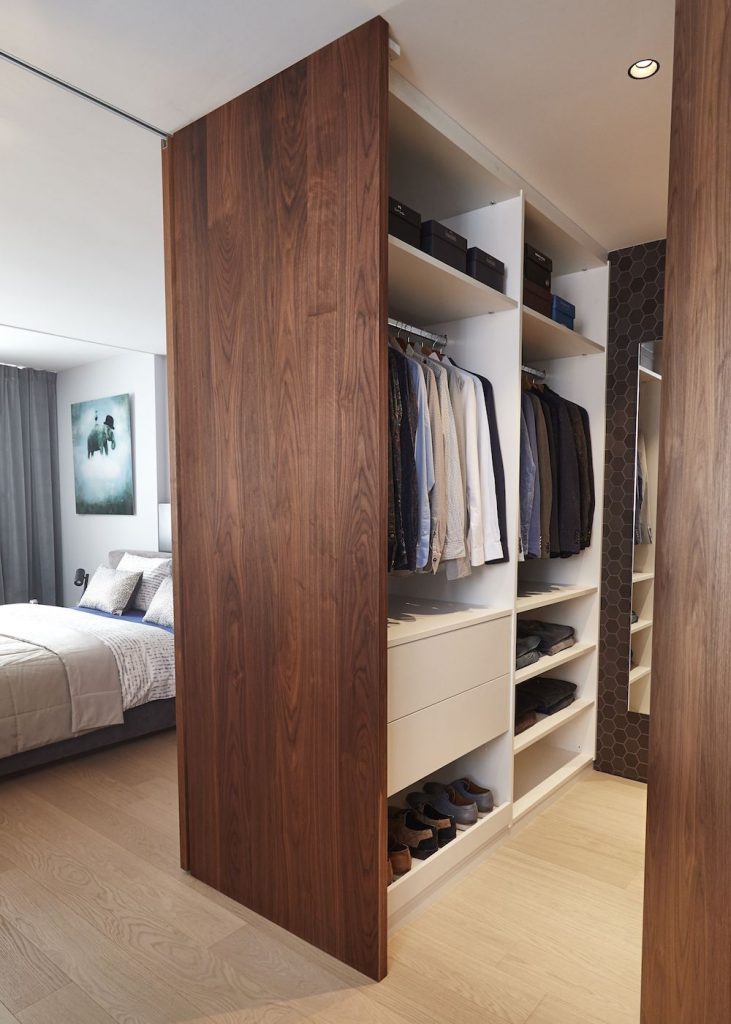 Image Credit: pinterest.com
Here are a few ideas to get started on wardrobe design ideas with your interior designer:
a) Check the available space to choose an appropriate size of closet
b) Much like any piece of furniture and fixture in your beautiful home, you need to start by evaluating the amount of space you have available to fit a closet.
c) If you have an expansive space after installing the bed, side tables, and overall room décor, then consider a walk-in closet or master closet. You can install a hanging space for your expensive suits and dresses. Consider segregated shelving for daily wear and inexpensive clothes and pull-out drawers to organize your accessories such as cravats, belts, sunglasses, watches, etc. You can also install a sweet dressing room inside the closet with cubbies to hold your tie pins, broaches, hair accessories, earrings, bracelets, and whatnot.
d) If, on the other hand, your closet space is limited yet enough for a large-sized closet, then you can choose a broad reach-in closet with hangers and shelving. You can choose a swinging door if it does not interfere with the available space in your bedroom or install sliding doors for convenience.
e) If, however, you find the space too limited for either of these, then you can choose a tall closet design with intensive shelving. Check out the closet organization trends on the internet and use tension rods and DIY cubbies to make extra space in your freestanding closet.
Read also – 14 Best Rustic Bedroom Ideas
3. Choose your desired type of wardrobe design
Speaking of the types of closets you can fit, you also need to pay attention to the style and capacity of your closet.
In modern home interior design, an in-built modular closet with significant shelving and hanging space is quite popular. These closets also come with drawers to store your valuable.
For a more traditional wardrobe design, you can choose from a range of wooden or stainless steel designs or almirahs. These wardrobes may seem smaller in size but they provide adequate storage space. They also have small closet space allocated for hanging small items of clothing. They also feature drawer space and a small locker with a hidden compartment for your valuables.
You can also choose minimalist designs with sliding glass doors and broad storage shelves to neatly arrange all your belongings. These also work well for guest rooms where the space is not in constant use and doesn't call for extensive closet organization.
In terms of wardrobe design, you also need to consider the built-in, freestanding, and walk-in closet options. Each has its own merits but the choice depends on what kind of design best tickles your fancy.
Read also – 10 Best Teen Bedroom Ideas
4. Evaluate your need for storage space
When choosing a closet design, you also need to consider your need for storage. What kind of storage solutions work best for the outfits and accessories you own.
Ask yourself, do you absolutely need hanging space or can you fold your clothes and store them away?
Do you need a designated space to store your winter wear?
Do you need drawers in your closet or are you more comfortable with a cabinet for your delicates, socks, and other necessities?
Do you want to store your accessories in your closet or designate a space in your dressing area for them?
These questions will help you determine what kind of closet design and how much storage space you need.
Read also – 10 Small House Design Ideas To Beautify Your Tiny Home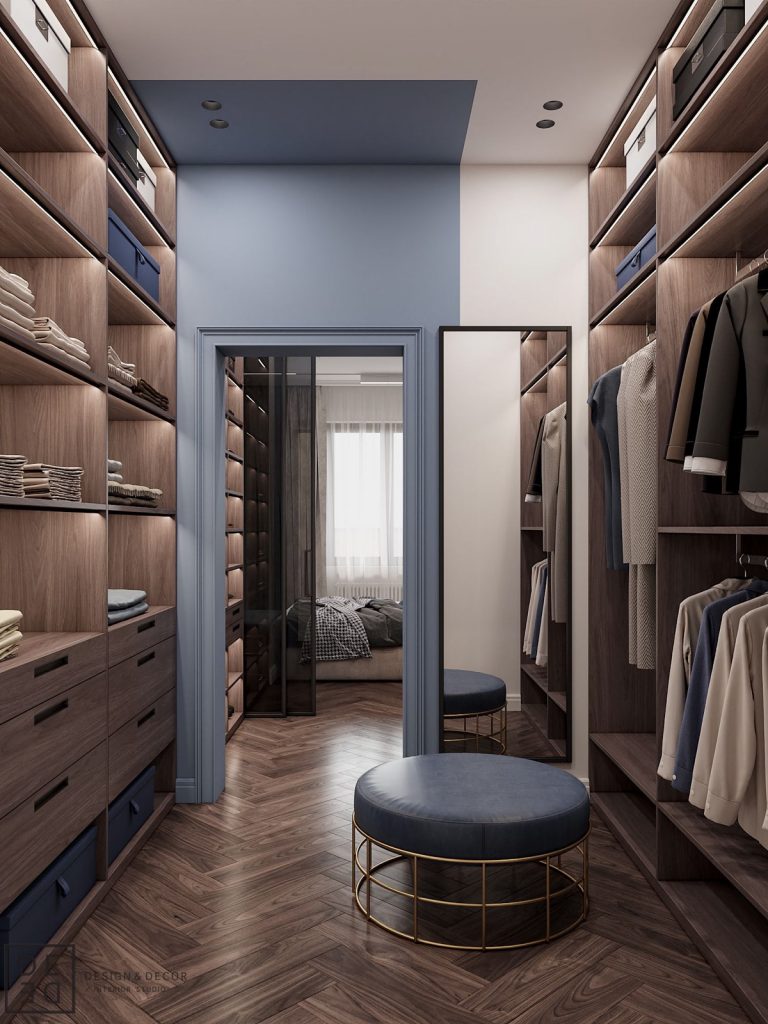 Image Credit: w2media.org
5. Pick a material for your custom closet
Now that you know the style, size, and design of your desired closet, let's look at the options for materials.
Needless to say, you need sustainable and sturdy material for your shelves. You could probably use iron or steel shelves but you will, without fail, need to install shelf paper to keep the rusting and chaffing away from your clothes.
The more ideal solution is wooden shelving. Here you have a few options. You can choose one with laminate on MDF, commonly known as Medium Density Fiberboard. The material is sturdy and has smooth surfaces to maintain the load of even your winter wear.
You can select expensive wood for the overall make of the closet. Pine, teak, cedar, ply, etc. are all good choices. Do take some time to check the quality of the wood with your custom closet designers.
Finally, for the door, you can choose intricate armoire artistry on wood or glass panels. You can select a combination of the two as well, wherein the panel of the door is glass whereas the frame is wooden. Choose an opaque glass, translucent one, or transparent piece as per your preference.
Read also – 20 Essential Things for A Perfect Master Bedroom
Image Credit: wakefit.co
6. Embrace innovative storage solutions for functionality
Don't just consider traditional closet designs for your storage needs. Get creative with hanging shelves, built-in cubbies, or cabinets with lots of drawers.
A walk-in closet is great for the master bedroom but in a kid's room, you can always choose a small one-door wardrobe along with a cabinet of drawers to help them keep things organized.
In a guest room, you can simply settle for an appropriately-sized cabinet with two or more large drawers and cubbies with doors. You can also choose one with full-length drawers for added spacing.
Read also – Best Master Bedroom Decor Ideas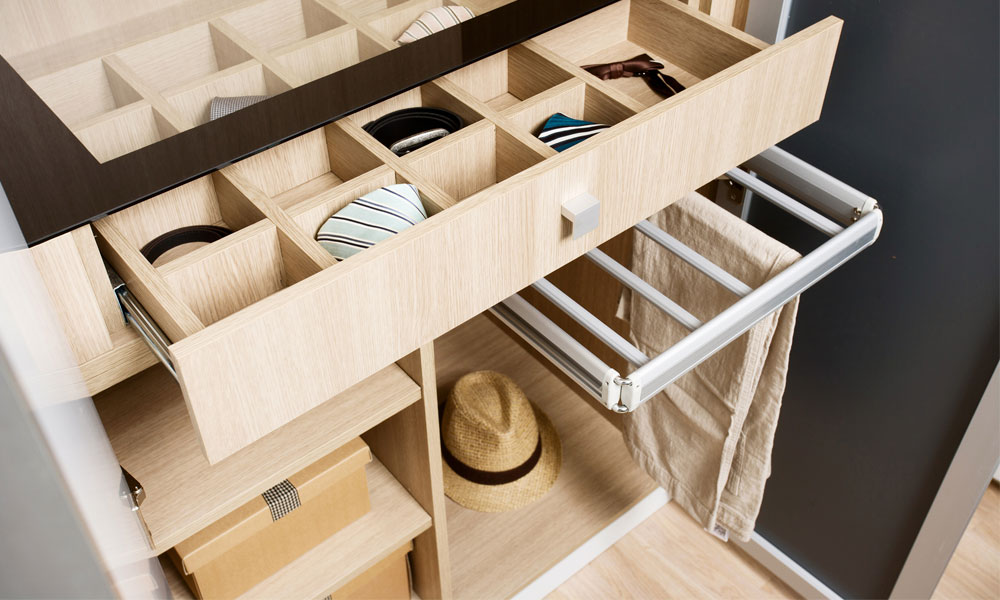 Image Credit: pinterest.com
7. Light up your wardrobe
For one, you can add an LED light inside your wardrobe for some much-needed brightness. This is, of course not for walk-in closets where you absolutely need accent lighting and bright lights to illuminate the large closet space. You can also hang some wall art or install hanging décor for a bit of valor in your master closet.
For the freestanding wardrobes, you can line the entire perimeter with string lights or incorporate overhead lighting just above the closet door. You can also choose pendant lighting for added effect, although bear in mind that they might interfere with your free space and vision.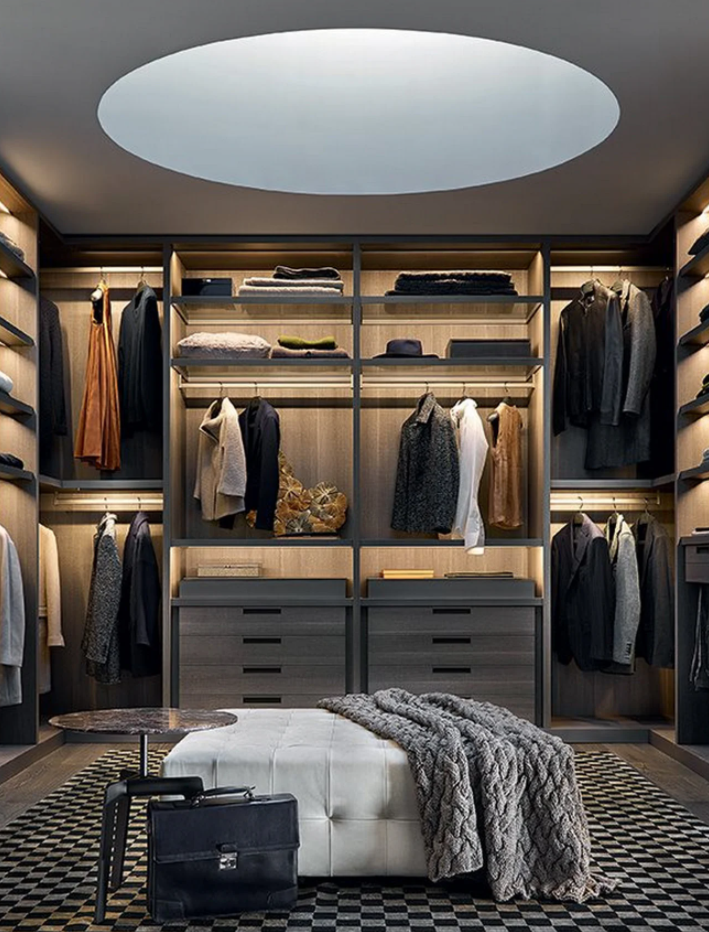 Image Credit: poliformaustralia.com.au
8. Accessorize
Lastly, just because your closet provides storage solutions, doesn't mean you can't pretty it up.
You can choose to repaint your closet to befit the color palette of your bedroom design ideas. Then proceed to decorate it with personalized items.
You can make it a point to pick up a miniature model of every place you visit during a business trip or vacation you take. For the kid's room, consider decals, whimsical stickers, comic book characters, etc.
If you do not wish to deter from the classic closet look, then consider ornate doorknobs, beautiful handcrafted wooden designs for the doors, or plate glass featuring exquisite designs. This way your closet maintains its simplicity while still adding a little vigor to the interior design.
The interior design of your house doesn't just limit its functionality to the living room, home office, kitchen, or bedroom walls. Every piece of furniture, every item of décor contributes to your home interiors. Your closet plays an equally important role, therefore choose the pattern and design with care.
Read also – 30 Best Modern Bedroom Design Ideas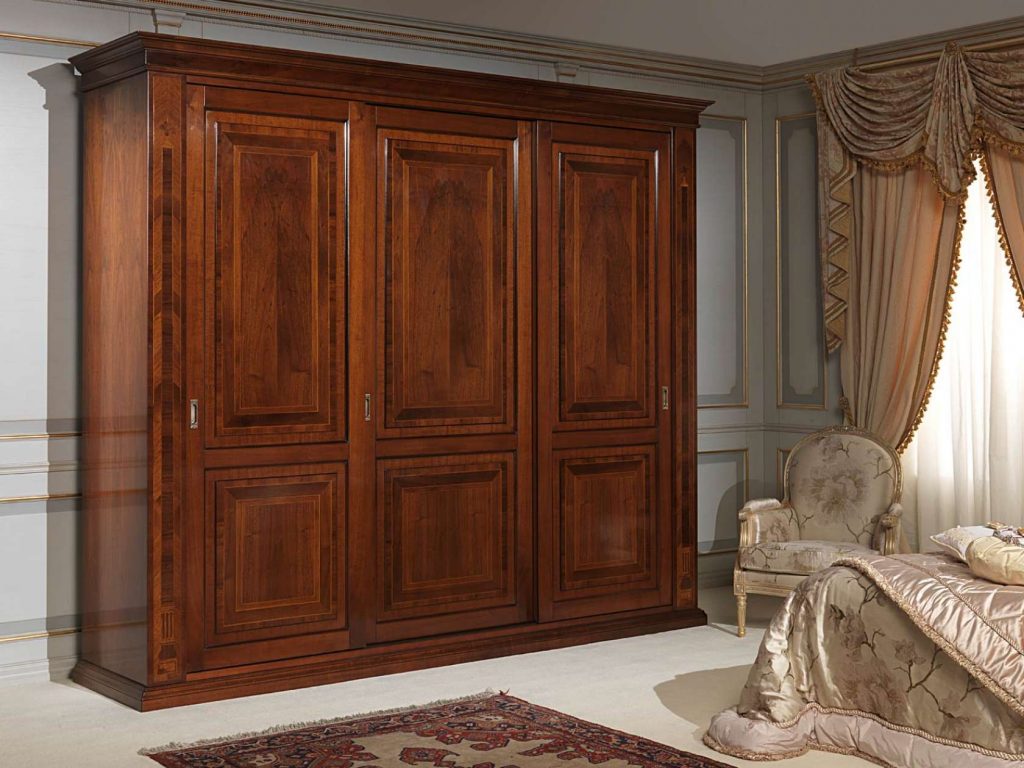 Image Credit:vimercatimeda.com
Conclusion
You can take a stroll down to IKEA or flip through the new Pottery Barn catalog and you will certainly find incredible storage solutions regardless of the size of your bedrooms. Or, you can choose to use the Foyr Neo software and run the ideas with your interior designer. Based on the overall home interior design, they can help you curate unique closet designs or connect you with custom closet designers to befit the bedroom design.
We hope you find suitable ideas in this article to incorporate into your wardrobe closet.