Home » Design Ideas & Inspirations » 10 Best Gallery Wall Ideas To Design Your Blank Walls
Gallery Wall Design
Are you searching for ways to make your home look spacious and elegant? We got you!
 We understand that you have a reserved and specific budget to add finishing touches that brings the colour palette, decor, and furniture together in your living space. Choosing the right wall art will have you and your guests spellbound and make your gallery go from functional to spectacular!
 The gallery wall should be designed in such a way that every wall tells an interesting and beautiful story. In fact, if you have a collection of much loved-art family photos or postcards you can also use them as they are one of the most popular techniques to add a touch of personality and thoughtful designs to any room!
 Let's get to know some exciting gallery wall designs and different styles to create your gallery wall a breeze. In this post, we will pull together all the elements of a successful gallery wall that will facilitate your journey to pulling together a gallery wall.
Quick Tip: Before we brief you about the tactics to design your gallery wall, let us quickly help you through smashing a bunch of holes in your wall:
Determine the total space of the wall and the amount of space you need to fill your wall.
Decide all the pieces you want to decorate your wall with, including artwork, photos, paintings, etc.
Lay all your pieces within that area, ensuring you keep them around 2 to 3 inches apart, so it does not look overcrowded.
Read also – 20 Best Kitchen Wall Decor Ideas to Design Your Kitchen
10 Best Gallery Wall Ideas for Your Interior Design Projects
Are you looking for a one-stop solution to help you save time in designing your gallery wall? Reading our guide will enable you to save more than 1/4th of the actual time needed to decorate a gallery wall! Scroll down to our foolproof step-by-step gallery wall design formula:
1. Create a Peppy Color Palette
Sticking to an exquisite colour palette can immensely uplift your spirits and the look of your gallery wall. Not only will it add depth, but it will also create a statement. Also, it is one of the best ways to transform your dull and regular-looking room into a full of character and moody charm.
 At the same time, it is important to remember that all your pieces must feel similar in tone and intensity to your chosen colour palette.
 If you look at the image below, you can sense that a dynamic balance of different works of art with distinctive shapes, colours, sizes, and textures is crafted on the wall, giving it an accomplished look!
Read also – The Psychology of Colors in Interior Design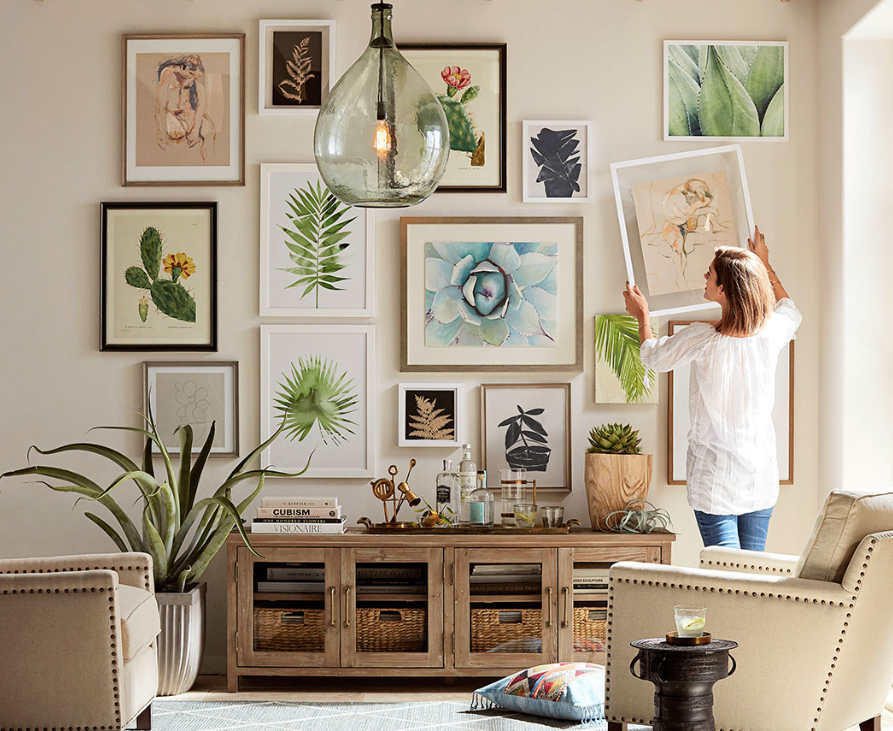 Image Credit: potterybarn.com
2. Assemble your Abstract Art
Assembling your art does not mean that you need to set matchy prints into coordinated frames. Instead, random assortments can bring the most out of your gallery wall. The unique wall line art will work well even with scattered cushions and a distinctive statement rug.
 Do not spoil it by overthinking! Frame anything that makes it special to you be it a postcard from a favorite vacation, a kid's artwork, or anything that will give it a fun and unfussy look. No need to panic! Even if you cannot think of any such thing to decorate on your gallery wall, you can create a designer scheme by heading online shopping from platforms like Habitat.
Read also – 15 Best Winter Decorating Ideas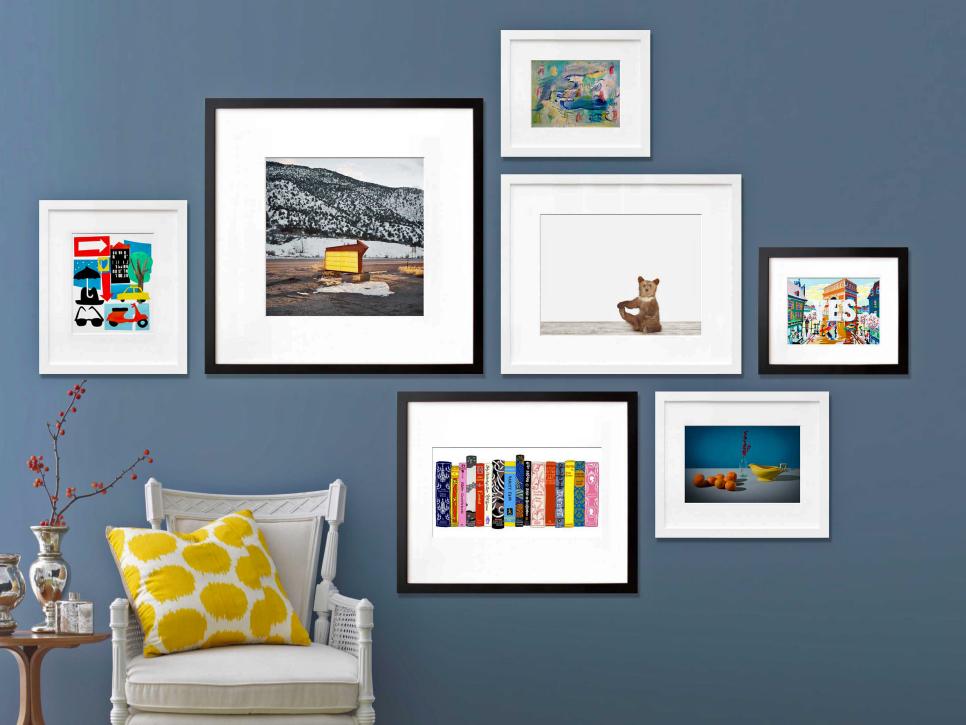 Image Credit: hgtv.com
3. Create a Dynamic Atmosphere in your Dining Area
Adding a tasteful selection to the dining room is a great idea to serve up some style with your relishing dishes. Isn't it? It is one of the effective ways to add positivity and good vibe to your home. Moreover, it will maximize the snug space of your dining area.
 So, what gallery wall designs can suit your dining room the most? Using bright and vibrant photos featuring your favourite dishes is a good idea to create a culinary theme. Simultaneously, lemon or lemons' art can be affixed to the dining room wall to create a Tuscan theme or you can also relish the retro vibes by popping Keebler- Magic Middles or any similar product on the wall.
Read also – 11 Best Home Decorating Ideas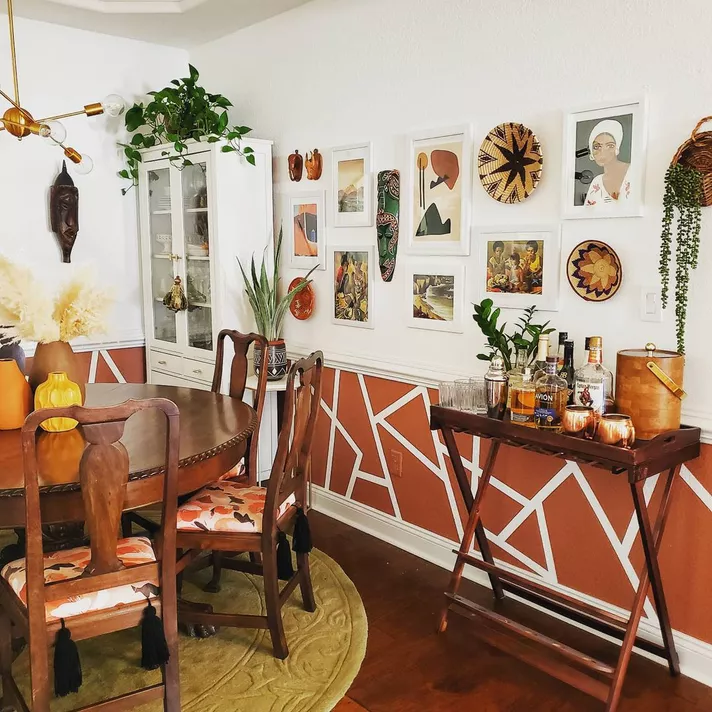 Image Credit: mydomain.com
4. The Alternating Symmetrical
Want to recreate your gallery look? Mix your horizontal and vertical pieces to give your gallery an artistic look. One can create a mini collection of a couple of pieces together, just like a gallery wall.
You may not even need to align the top and bottom of the column or rows. However, the only thing required is to keep the space between each frame consistent.
An asymmetrical look will make the wall boring and regular. Therefore, keeping it unnatural, with a touch of playfulness, you will be able to nail your gallery wall designs!
Read also – How To Use Positive and Negative Space in Interior Design?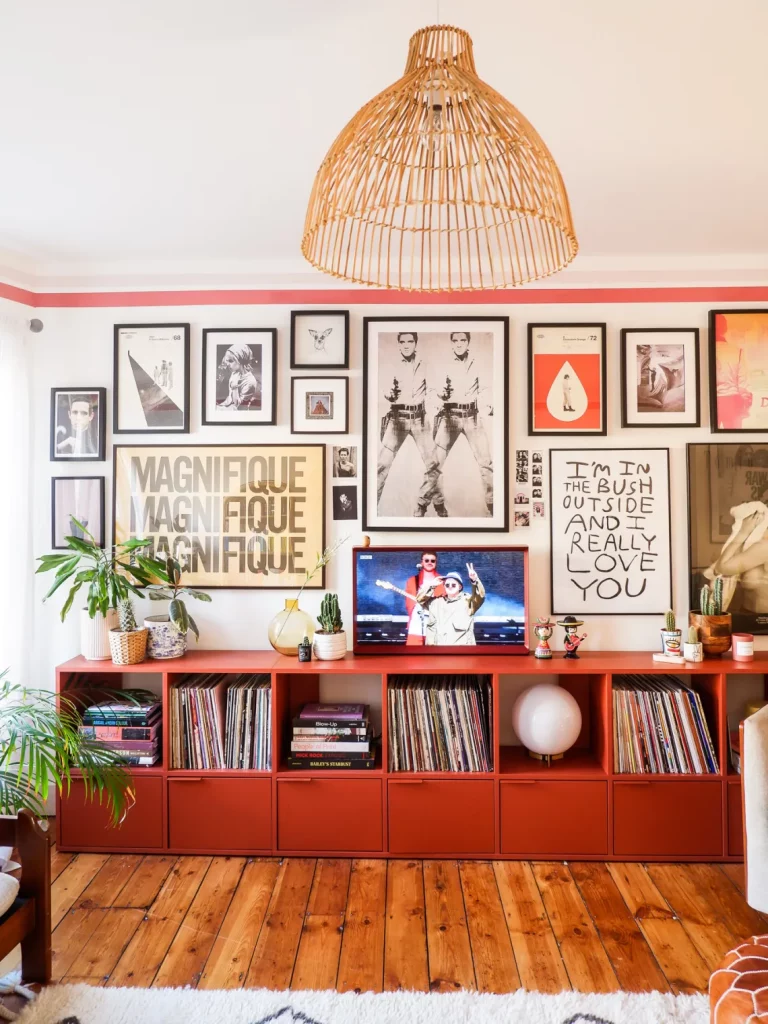 Image Credit: emmajanepalin.com
Why not make the best of your mantel in your home? If you have any! Gather the frames, plants, and knick-knacks, and layer them on the ledge of your mantel. You can also change the art and tabletop frames often if you want to keep them new!
Read also – 14 Wonderful Fireplace Decor Ideas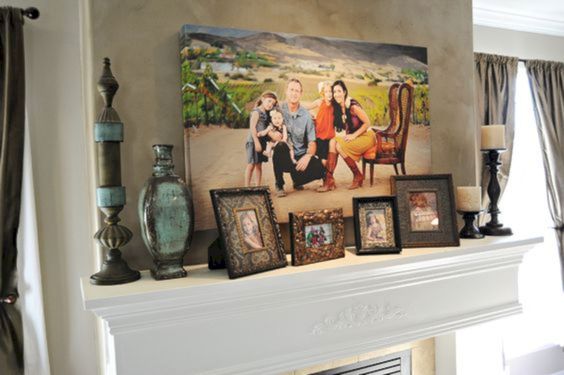 Image Credit: pinterest.com
6. Use Ceramics to Shake up a Gallery Wall
Why hide your beautiful tableware in the cupboard? Decorating your gallery wall with exclusive ceramics is one of the best ways to add a contemporary style and character to your home!
Build your gallery wall with exquisite ceramic pieces. The best way to bring new energy, elegance, color, pattern, and texture to your home is to hand them on the wall instead of lining them up on the shelves. You can add more value to these ceramic pieces by adding your favourite prints, accessories, photos and incorporating your own personality into your home.
Read also – How To Choose The Materials for Interior Design?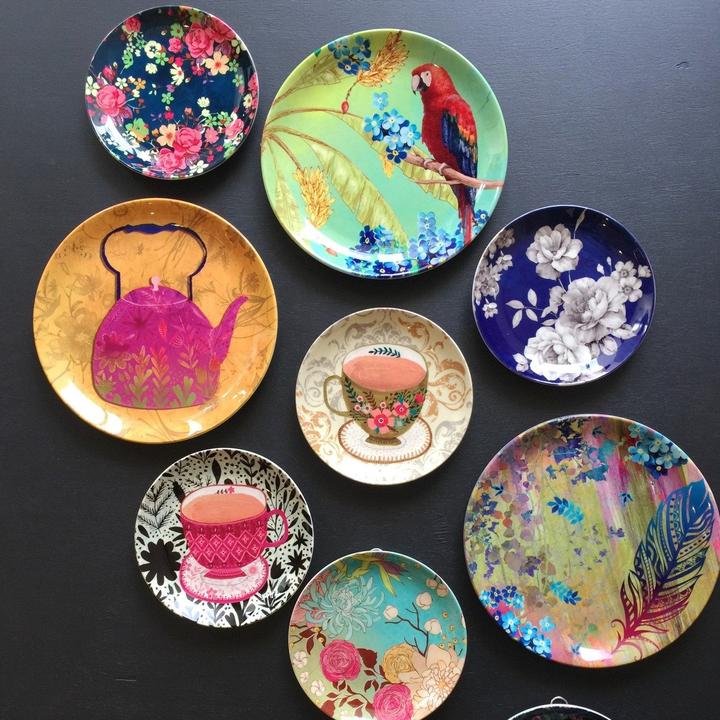 Image Credit: amazon.in
7. Build a Floating Gallery
Why not create a beautiful gallery with interactive floating thumbnail images? It is a great way to gain a sense of 3-dimensional depth when viewing space. Therefore, it is said to use a float mount when in doubt!
Anything can work and instantly elevate the look of your gallery, be it a ticket stub, a polaroid, a stamp, a key, etc. You can order shadowbox frames from platforms like Ikea, or get your existing piece to a magnificent framing with Framebridge, and float mounts the item yourself using foam adhesive stickers, matte board, or card stock.
Read also – 27 Interior Design Tips and Secrets From The Pros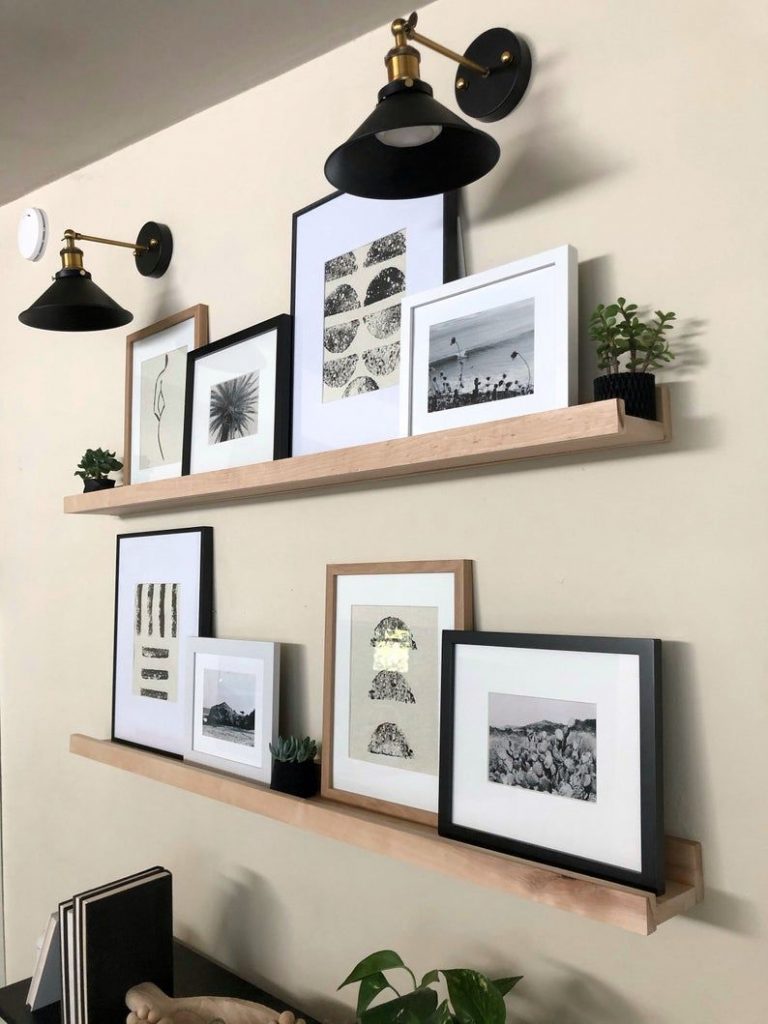 Image Credit: wdmws.com
Want to refresh your living space? Creating the perfect gallery grid in your home is the next big thing in decor. It is a compelling way to add style and favourite artwork to your home.
If you are planning a gallery wall design to feature a grid of frames, you can pep up the grid-style with your family photos and mix them with the photos of the places you have visited or even the ones on your bucket list. With this layout, your grid appears to be more purposeful.
Another gallery wall idea one can opt for is to hang the artwork or exceptional paintings behind the sofa or the living area to give it a stunning look. Remember, to make your grid look accurate and consistent; you will have to measure tape handy to keep all the prints and frames of the same size.
Read also – 9 Amazing Master Bedroom Ideas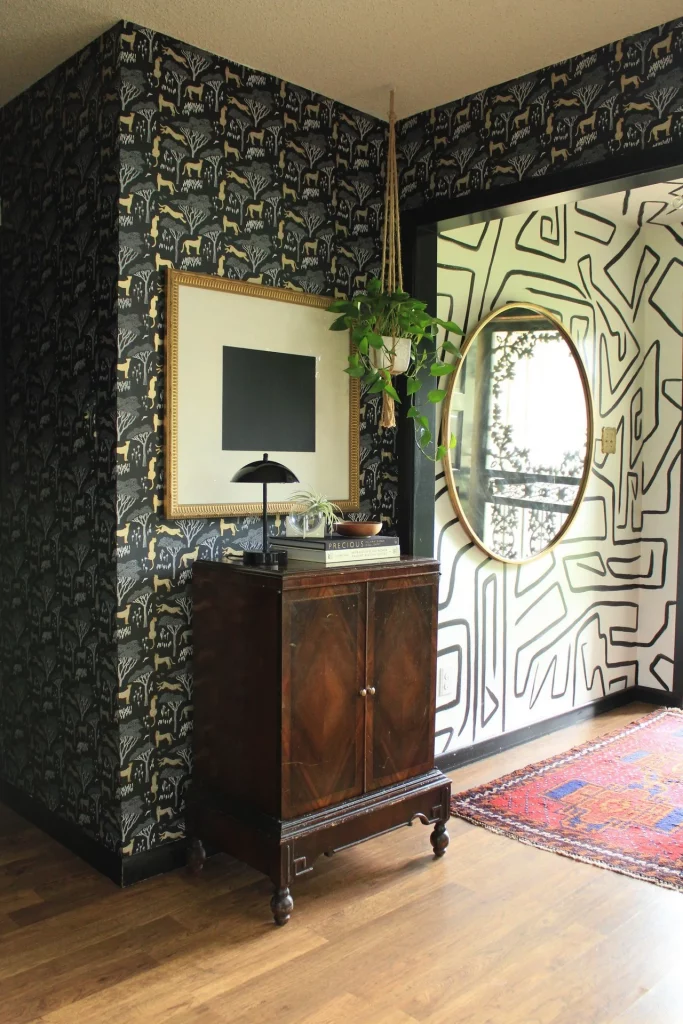 Image Credit: hyggeandwest.com
9. Add Reflective Elements
Adding a character to your property is effortless by featuring reflective elements on your gallery wall. Choosing captivating wallpapers, a bold mirror, and contemporary artwork makes it easy to achieve a modern and dazzling look.
Another reason to make your gallery wall feature reflective elements is to create an illusion that the room is bigger. Place the mirror near a light source or lamp to enhance the brightness of the hallway.
Read also – 15 Best Music Room Ideas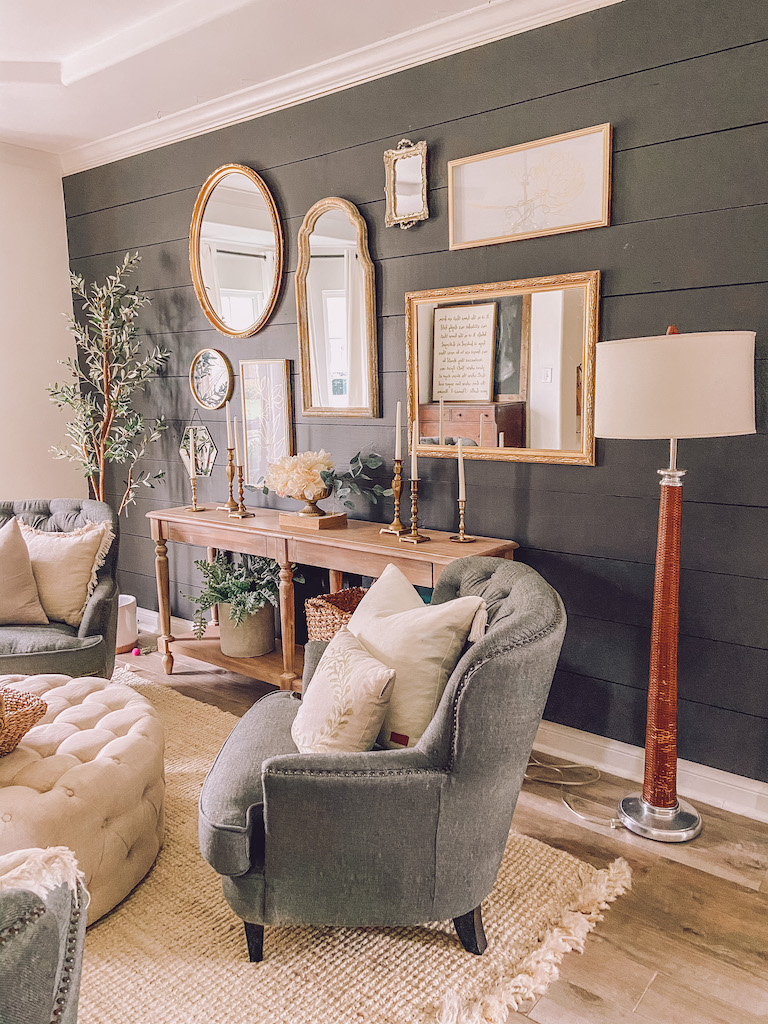 Image Credit: lifebyleanna.com
10. Anything can be Art - Give it a Personalised Touch!
Spruce up your blank walls with creative artwork by giving it a personalized touch. Yes, anything can be art, and you can fill that up on your gallery wall to provide a flawless and unique look!
 Art is an expression of our emotions, desires, thoughts, and intuitions. It has no boundaries and no language barrier. It's about sharing the way we experience the world and the extension of our personality.
 You can depict the same on your gallery wall by including a few personal items such as an old photo with your nanny, your first date napkin, an old drawing from your friend, your vows, or anything, and leave everyone spellbound exhibiting your thoughts!
Read also – 20 Decorative Wall Paneling Ideas for Your Room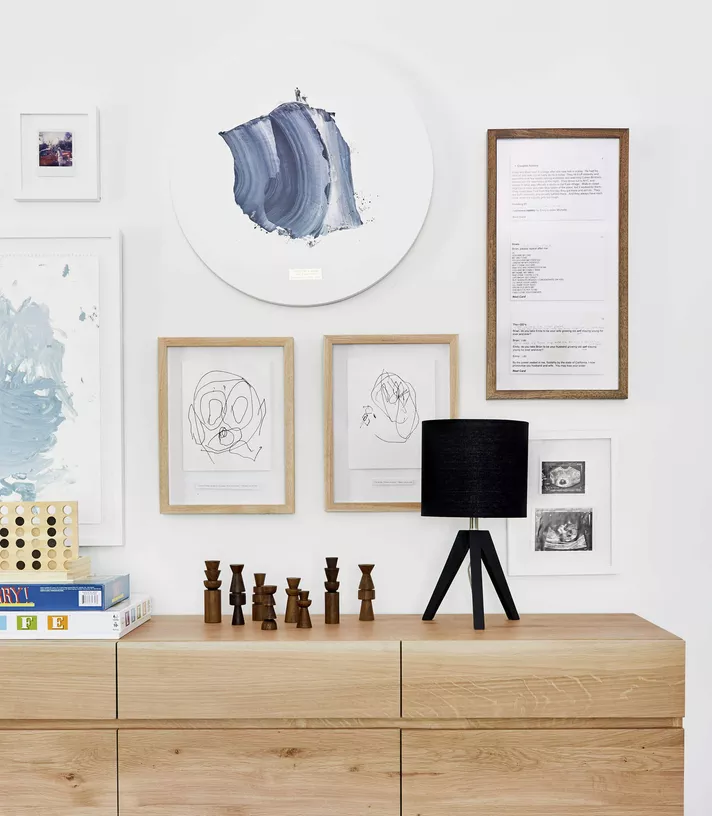 Image Credit: mydomain.com
3 Methods To Plan Out Your Gallery Wall:
You would not want to unnecessarily nail holes in your walls until you have a concrete plan. Isn't it? Out of these 3 ways, you can layout your gallery wall following any one of these 3 ways:
Before you purchase anything, be it an artwork or painting, to hang it on your gallery wall, digitally laying out is the most feasible option that gives you a precise idea of how they will work or fit in your empty wall space.
It is the easiest way to uplift your gallery space that does not require any technical skills. All you need is the measuring tape, and mark off an area on the floor in your home that is the same size.
Decorating your gallery wall this way is quite labour intensive, but laying things on the wall will give your home an astounding look!
Read also – 8 Best Window Treatment Ideas
3D Objects As a Gallery Wall Art
It can be tricky to figure out how to creatively fill your gallery wall's sizeable blank space. However, with some planning, one can transform the empty white space into a canvas that will bring your unique style to life.
Hanging the 3-dimensional objects will give the whole thing more visual effect and depth. At the same time, it will give a more personal touch and a less stuffy look on your gallery wall. Some of the pieces that will look amazing on your gallery wall include:
Embroidery Hoops

Ceramic Wall hangings

Sconces

Neon Lights

Woven Baskets/Bowls

Bold Mirrors

Plush Wall Charms
Aren't you bored of the empty wall that contributes no value to your beautiful home? Let your house narrate a compelling story by stitching together beautiful memories and artwork. Give a perfect finishing to your gallery and augment its look by designing your gallery wall flawlessly!
1. How do you decorate a gallery wall?
An empty wall is like a black canvas! Many great gallery wall ideas let you decorate and create an attractive wall by incorporating your admired artwork and using different-sized frames into a wall collage.
2. Is there an app to design a gallery wall?
Fortunately, there is an app that makes it less challenging for you to design your gallery wall. With the 'Gallery Wall Designer app, it has become easy to explore trending statement pieces that will allow you to see how all the pieces you decorated on the wall interact with each other. How interesting is that!
3. How do you build a modern gallery wall?
Art can be expensive, and curating your memorable photos can take plentiful time. However, if you know some effective ways of creating an exquisite gallery wall that gives it a charismatic look, you can pull together a gallery wall that meets your expectations. You can hand up your favourite photos, puzzles, paintings, and other art forms to give your empty wall a different look.
Even if you are working with a small space, you can still give your gallery a creative focal point, depth, and fascination by executing these unique gallery wall ideas.
4. How do I create a gallery wall template?
The foremost step you must take is to prepare your wall space and ensure you have ample blank space. Once you have done that, collect the framed photos and artwork you want to hang on your gallery wall.
 Next, create your intriguing templates and measure an apt space for hangers. The next thing is to affix your hangers where you have decided to hang your frames! Finally, hang them all and enjoy the change!
5. How many frames must a gallery wall have?
 Ideally, a gallery wall must not be infused with more than 4 to 6 frames. However, it depends on the size of your gallery wall as well. It is also suggested to measure at least 2 inches of gap between the frames you hang on the wall to create energy and interest.