Home » Design Software & Tools » 8 Best Free Landscaping Architecture Software Tools in 2021
Principles of Landscaping and Information
Landscaping is a process that enhances the aesthetics of the exterior of a building. Landscaping can be done by adding plants as green architecture is very important, changing the terrain, or constructing structures such as fences and patios.
In modern constructions, landscaping refers to the process planning and development of gardens to enhance the visual appeal of a home or a building and to provide usable outdoor space to the inhabitants. 
Principles of Landscape Design
Proportion, repetition, order, and unity are four landscaping principles that are used by professional architects to create visually stimulating landscapes that are attractive to sell your architecture services better, as well as useful.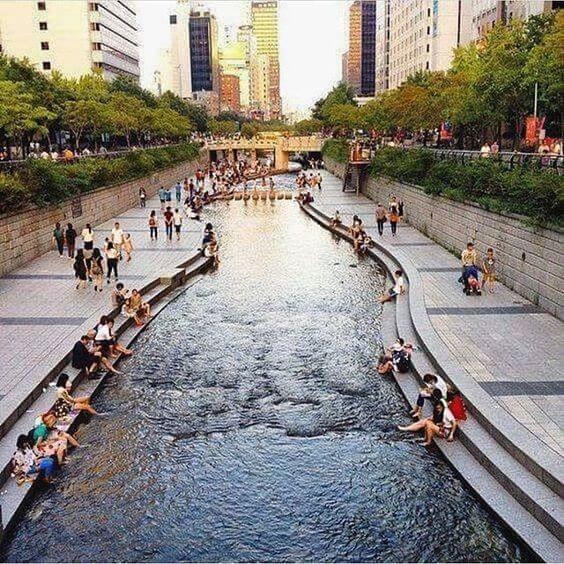 Proportion
Proportion is the size of a particular object in relation to other objects in the surroundings. Maintaining the right proportion between different elements in the landscape, such as plants and hardscapes is essential to create a pleasing landscape. Modern Landscaping software, with the use of mathematically accurate tools, enables the designers to design landscapes with perfect proportions.
Repetition
Repetition helps to create familiar and predictable patterns and sequences throughout the landscape. Designers repeat some features and elements with virtual reality in landscape architecture design in order to bring a sense of predictability and make the space look comfortable. Architects use 3D Landscape software to integrate common sequences into the landscape without making it look dull and boring.
Order
Order refers to the balance between the different elements in the landscape. There are two ways to bring order to a landscape or a garden, the formal symmetrical balance and the informal asymmetrical balance. Choose whatever fits your style and requirement. If you are clueless about how to achieve order, you can use free Landscaping software that provides examples of landscapes and gardens.
Unity
Though there are different elements in a landscape, it is essential to maintain unity amongst all of them. All the components are interconnected, and work together to create a theme for the entire landscape with architectural tools and software. Amateur designers can use free Landscaping software to select interesting themes and styles for their landscaping projects.
Uses of Landscaping Software
Landscaping software helps architects and designers to turn their ideas into reality. The software streamlines the process of drafting landscaping designs and aids in correcting inaccurate representation of the plans. 
Architects can make effective presentations of their ideas about transforming the landscapes of buildings using modern Landscaping software. The 3D visualization features make it effortless to explain different elements of landscaping to the customers and make changes wherever required keeping in mind the architectural graphic standards.
Landscape software makes it easy to include models of outdoor elements such as buildings, vegetation, roads, and vehicles around the building. 
There is a colossal list of free Landscaping software available for architects, designers, and amateur homeowners, who prefer to do DIY projects. Building Up and SmartDraw are a few of them. Here, we list out the features of some of the popular software.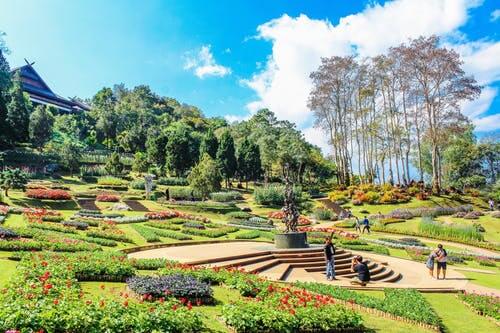 1. Building Up
This a free Landscaping software from SketchUp.
The software allows you to design the landscape for any terrain. 
The different tools featured in this software can be used to design small terrace or backyard gardens or large outdoor parks.
The tools provided in the software enable the designer to import the exact image of the terrain that needs to be landscaped.
2. Realtime Landscaping Pro
It is a professional Landscaping software, which also has a free download option.
The software uses 3D modeling, which makes the designs come to life.
You can take help of presentation softwares to create 3D presentations and movies to explain the features of your design.
The software includes over 5700 varieties of landscaping plants, trees, shrubs, cacti, palms, etc. it is easy to select the plants that suit the climatic conditions of the area you live in. 
The software also provides a plant growth tool to visualize how the landscape will look in the future. 
You can also create in-ground, and above-ground swimming pools and spas, and also customize deck designs.
The powerful Landscaping software has a huge library with over 12000 objects to design ponds, patios, yards, gardens, fencing, driveways, decks, etc.
3. SmarDraw Garden Design Software
This Landscaping software is easy to use for beginners.
Apart from designing gardens, this software can be used to create structures such as patios, decks, footpaths, grills, etc. 
You can design and print landscape designs to any scale, including the Metric scale.
Users can import, export or modify vision, using SmartDraw tools.
It is not an online Landscaping software and needs to be downloaded.
The software provides secure collaboration by providing shareable links.
4. Plan-A-Garden
This is a free Landscaping software suitable for all kinds of users.
It can be used to design large as well as small gardens.
It is easy to create, save and edit landscape designs. 
The software has options to suit every kind of home, and if you cannot find a scenery matching your project, you can also upload your photos. 
You can choose from a range of brilliant textures that add beauty to your landscape design.
5. Garden Visualizer
This Landscape software uses 3D design. You can move around the garden space as if it is actually there. This feature helps you to understand how your garden will look in real life. 
Users can design beautiful garden landscaping ideas, visualize them and edit them when needed.
It provides a unique feature of adding the actual building into the landscape design.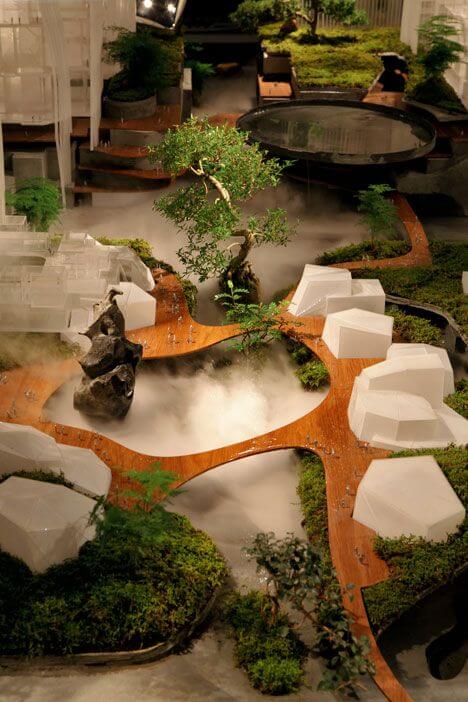 6. Garden Planner
This is an online Landscaping software, which can be used without downloading.
Easy to use for beginners.
The software also has a free download option, for those who want to save their designs. 
7. My Gardena
It is a professional Landscape software that provides a host of features. 
The software provides an option to view example gardens using real-time walkthrough feature. 
After designing and planning, this Landscaping software also allows you to print the shopping list. 
It is a new 3D modeling software in the market.
This interactive landscaping software is easy to use.
It has a range of tools to help designers and architects in designing fabulous landscaping designs.
Apart from the Landscaping software discussed above, there are many other software available on the internet. A little research will help you pick the right Landscape software, suitable for your requirements and level of expertise.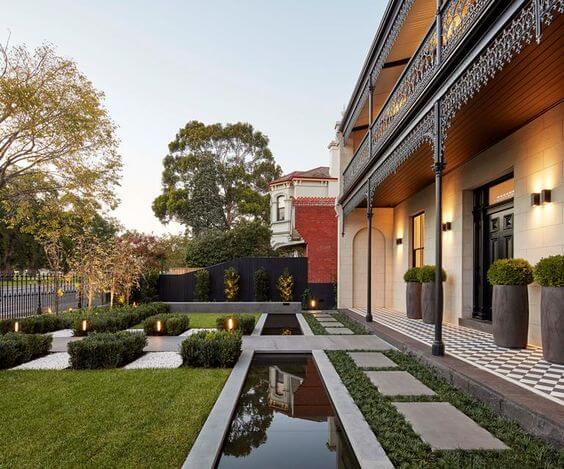 Now that you know about the principles of designing landscapes and features of a few landscaping software available online, let us look into the evaluation criteria while choosing landscaping software.
There are a lot of websites offering free Landscaping software online. However, before using the software, it is essential to know about the hardware requirements for each Landscaping software. Choose a free software that can be used with the existing hardware, if you want to cut costs. It is recommended to choose software that is compatible with the operating system of your computer. 
A quality Landscaping software will allow you to import photos of your home and garden from your camera or smartphone. Once you have the images, it is easy to design the landscape by adding different elements to improve the aesthetics of the design.
Choose landscaping software that is easy to use and has user-friendly features. Consider your expertise in using the software, before choosing one. Most of the free Landscaping software companies offer free tutorials and online sessions for beginners. 
Consider your requirements. Do you want a 2D software or a 3D Landscaping software with visualization tools? Once you know your needs, it will be easy to select landscaping software that can cater to your specific requirements. 
Choose Landscaping software that facilitates efficient collaboration. Most of the modern software provide easy links to share with team members and clients for fast and effective collaboration. 
Now that you are well informed about the principles of landscaping, different free landscaping software and the factors to consider while choosing a software, go ahead and start designing your project using the best software that suits your skill level and your project requirements.
Click to rate this post!
[Total:

0

Average:

0

]