Home » Design Software & Tools » 9 Best Free Landscape Design Software Tools in 2023
Landscape Design Software
The landscaping of a home is an integral part of both architecture and design. Think about it, it's the space that all your neighbors, visitors, and even the homeowners notice first when entering the house. It may be a backyard or the front yard, a street-view or fenced, regardless, it is the space that adds aesthetic value to a financial real estate investment.
For interior designers, landscaping has been a challenge because it doesn't follow the conventional color palette, themes, and furniture designs but it is just as important. If the landscape is shabby as compared to the beautiful indoors then the overall aesthetic appeal of that home diminishes significantly.
So, as an interior designer, what do you do to solve this problem? How can you design an exquisite, not to mention professional landscape to beautify the house?
Don't fret just yet, we have a solution.
You can use one of many landscape design software programs to plan out the layout, design features, overall functionality, and the best way to make the outdoor space seem appealing as well as practical.
Today, we will share a list of landscape design software options to aid you in your quest. Whether you want to add a backyard swimming pool, or a vegetable garden, or a pergola, or water features, or simply convert it into an outdoor seating space, you can do so using these landscape design tools.
Read also – 15 Best Interior Design Software
9 Best Landscape Design Software and Tools To Design Your Landscape Area:
Before we start listing the options for you to choose from, we need to share valuable insight with you. Most of the software programs listed below allow you to use a free trial so you can decide whether or not you want to continue using them.
We just want to say that if you find a landscape or home design software that works for you to facilitate all your design needs, then make the decision to pay and use all the features available.
Even the best free landscape design software will only take you so far. If you don't have options for different templates, floor plans, high-quality 3D rendering, and various furnishing choices, then it is hard to make an impression on a client. The price that you pay for a design software is negligible as compared to the easement in your design process. So do consider it.
The choice is yours but at least now we'll know that we helped you decide why it is worth it. Please read on to know more about the best available design software programs for your landscaping needs.
Read also – 10 Reasons Why Landscape Architecture Is Important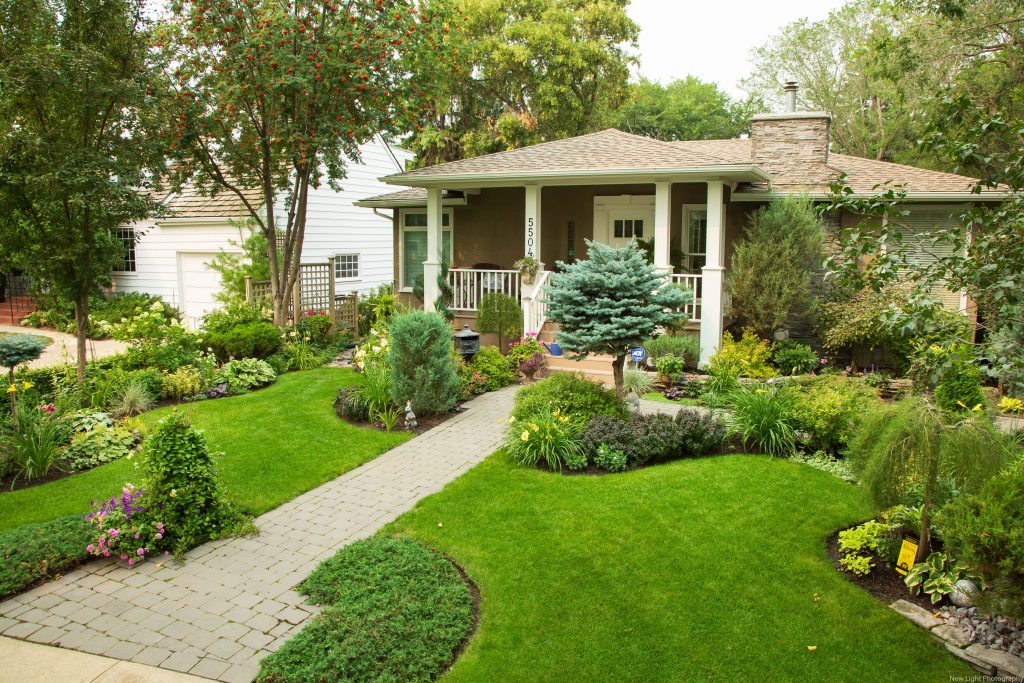 Image Credits: edmontonjournal.com
Foyr Neo is our most affordable and brilliant choice for all your design needs.
This home design software takes care of the interiors and exterior landscaping design with an articulate selection of design programs. The app is extremely user-friendly so beginners and professional designers find it highly beneficial. There is a free version available for 14 days trial so you can design a project and see for yourself just how effective it is.
You can sign up for the advanced design functionality for only $49 per month and access all manners of 3D modeling and 3D rendering of all your design work. The landscaping options include everything from what trees and shrubs to plant all the way to accessories that will beautify your garden design.
The reason Foyr Neo is our personal favorite is that it allows both interior and exterior design options. You can check out the available tutorials to learn how to use every feature to your advantage.
It is a cloud-based platform available on both iOS and Android. You can easily design and save these files and also share them with clients for feedback. You can design virtual tours so they get an accurate idea of what you have in mind and how the design plan will translate to reality.
Add anything from plants to sprinklers, to pavers, to a backyard 3D warehouse. The 3D mode is particularly helpful for augmented reality and rendering.
Apart from that you can also access a multitude of floor plans, templates, and create photo-realistic renditions of the landscaping project in the paid version. You can design ad redesign as many times as you want by making simple adjustments as per your client's suggestions.
Read also – 20 Best Home Design Apps for House Interior Design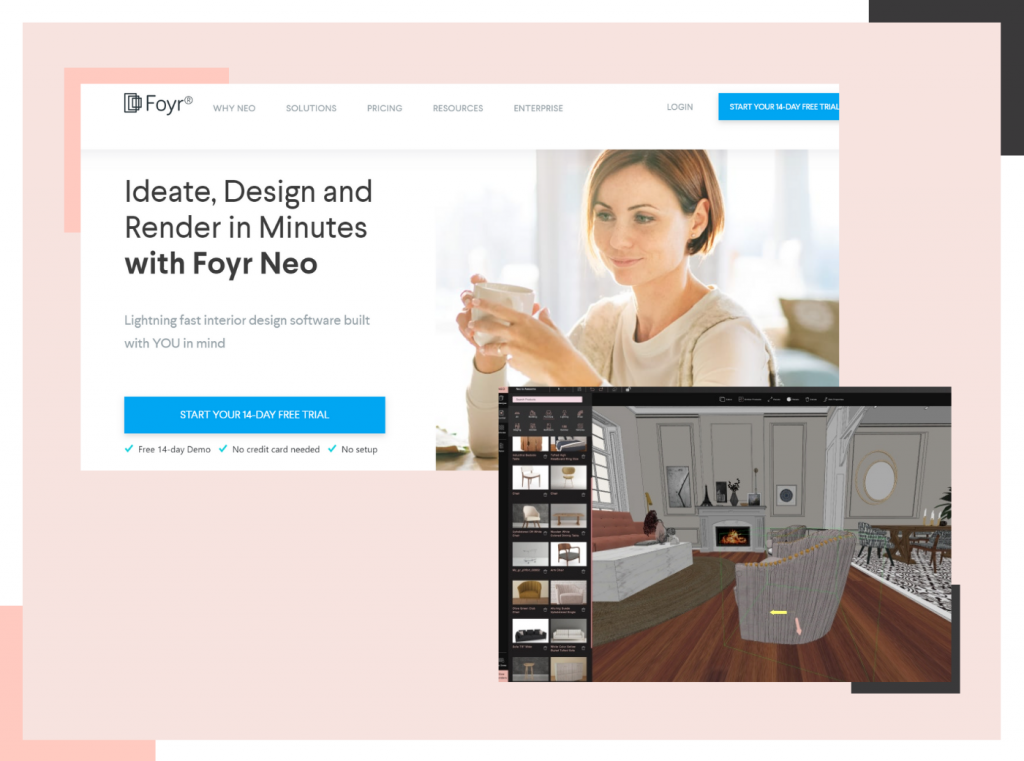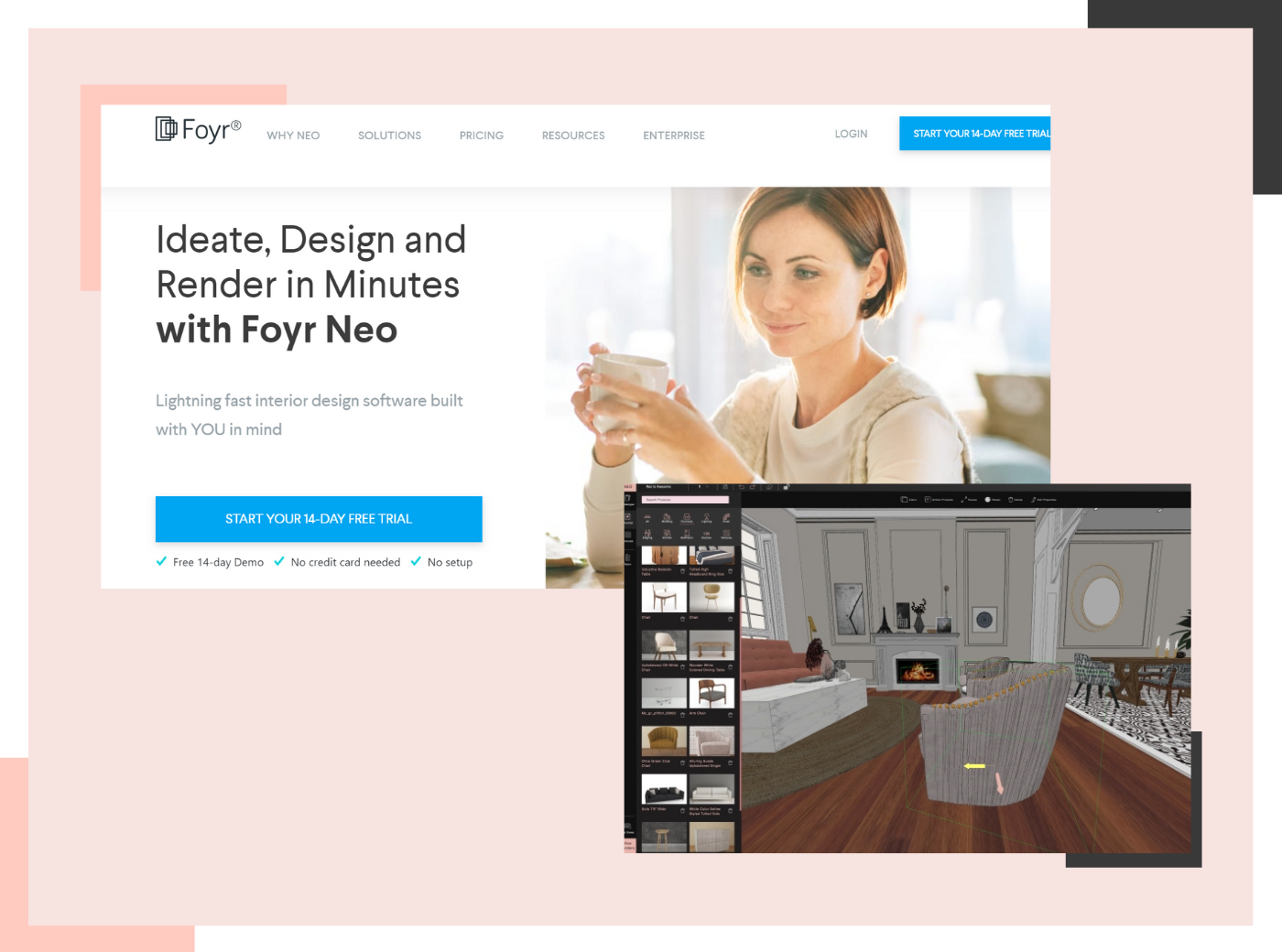 A design tool for professionals, SketchUp provides an array of landscaping features and meets the demand for high-quality 3D models.
This software program allows home interior design and landscaping thereby making it a good choice for anyone who wants to create 3D renderings of their design model.
However, the interface of SketchUp is anything but user-friendly. If you want to design appropriate plans then you need some knowledge of coding. The design software is not at all automated like Foyr Neo.
Furthermore, it is hard to create photo-realistic images on this platform due to its complicated and limited resources. Therefore, while you may be able to create a virtual tour, the images won't accurately decipher your landscape design.
Read also – 21 Best 3D Modeling Software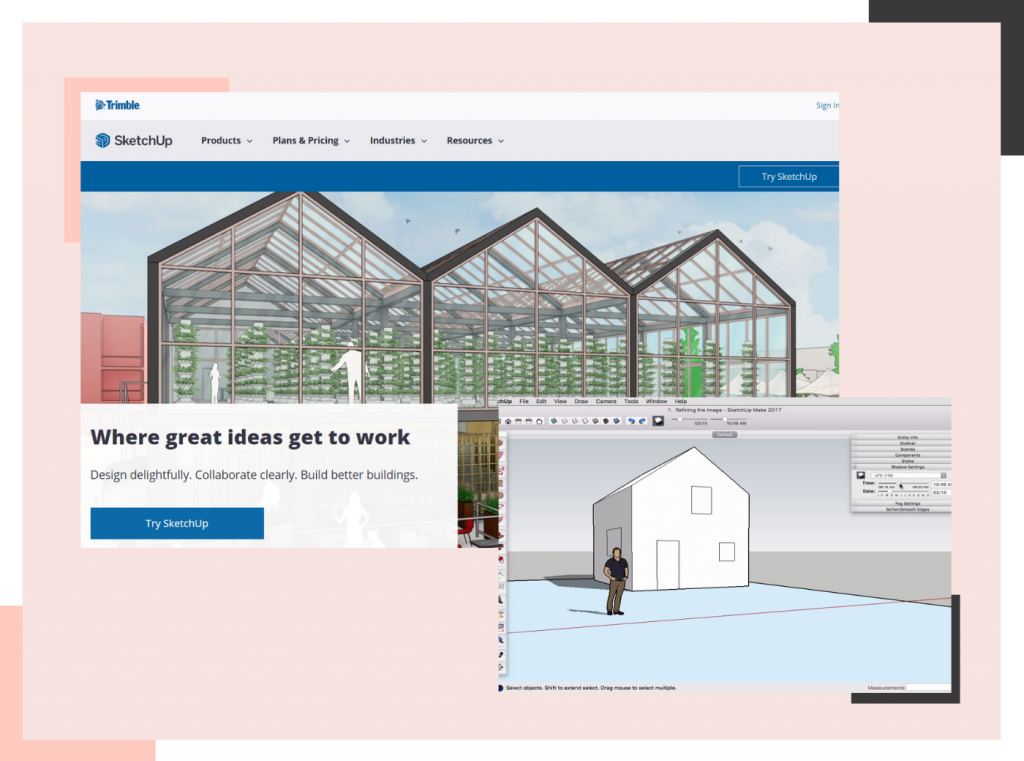 One of the top home design software programs that also allow landscaping. SmartDraw is a user-friendly, downloadable software design that allows you to design the patio, pavers, garden, and outdoor spaces in general. It also allows you to add a grill or swing, and other accessories to the deck for an accurate idea of the garden design.
You can render 3D models of your design and share them easily with clients. The problem is, the walkthroughs may lack clarity if they don't have supportable software available. Also, since SmartDraw is not cloud-based like Foyr Neo, you stand a chance of losing all your data if your operating system crashes. Plus, the download option is not ideal because it can slow down your system considerably.
Read also – 12 Best 3D Architecture Software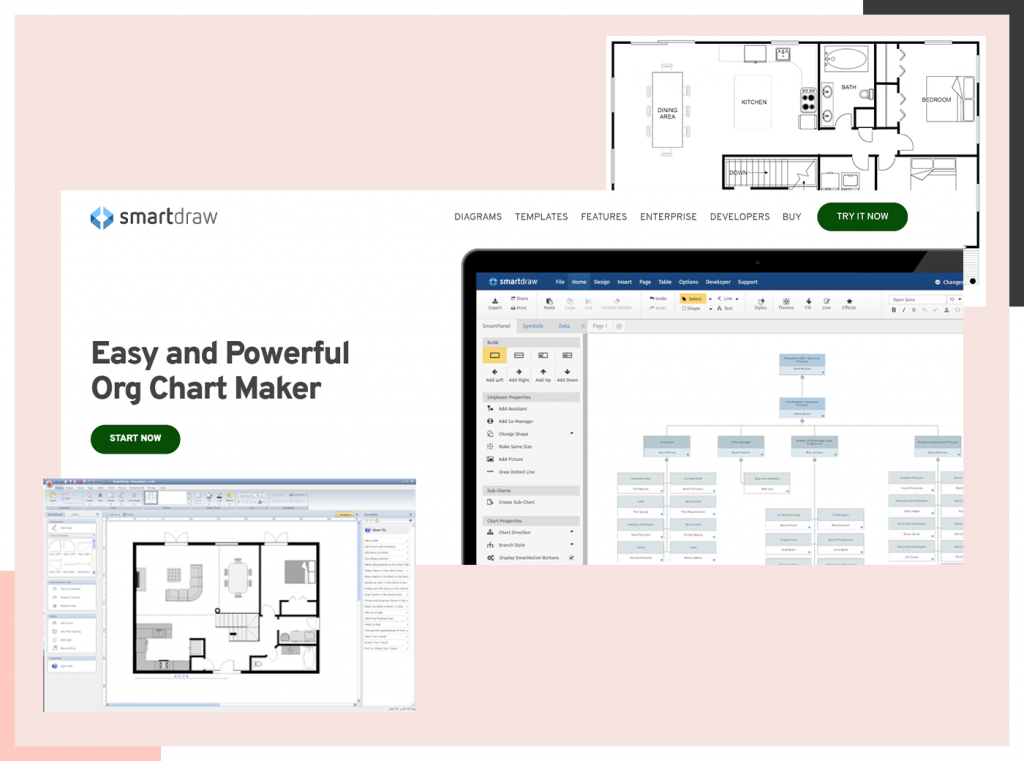 VizTerra is a garden design software that is available for both online and offline use so landscape designers can develop 3D models from 2D rendering. The app has a free trial which you can use before you delve into app purchases.
VizTerra offers a broad library of design options to choose from. Therefore, Windows users can definitely use it for their design needs. However, VizTerra is not available for iOS platforms and mobile devices. You can only use it on computers, which means you cannot design on the go or redesign components impromptu when clients specify something. It makes it a little challenging for professional landscape designers.
Read also – 5 AI-Powered Interior Design Software Tools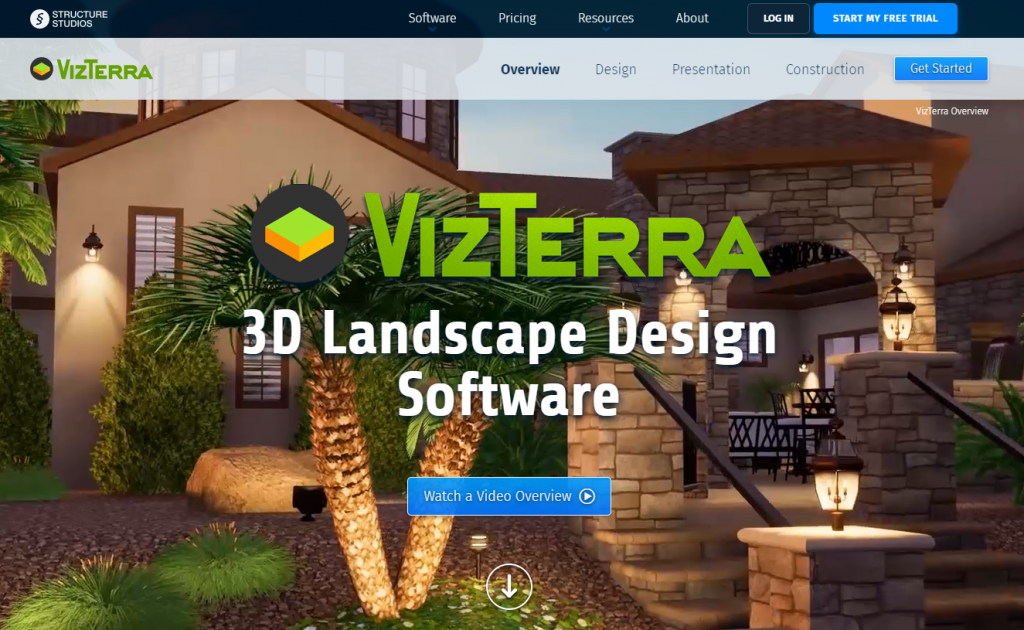 Image Credit: structurestudios.com
A viable option for landscape and home designers, Real time landscaping is a large downloadable program that allows several design features.
For one, you can create accurate renderings of your design ideas and share them with clients. The Pro version of this application also facilitates the use of water features and decor items in your landscape design.
The application program does consume a lot of space but it allows you to make changes to the design plan as and when required to redesign. You can also share ideas with a gardener or landscaping expert to bounce ideas. Once you share your landscaping design, redesign, and complete the project as per the client's satisfaction, you can use the app to create invoices as well and collect payment on services rendered.
The platform is ideal for professional designers but not so much for beginners. The additional installation also takes up a large space in the hard drive, which could slow down your system. So choose this software program only if it suits your needs.
Read also – Architectural Graphic Standards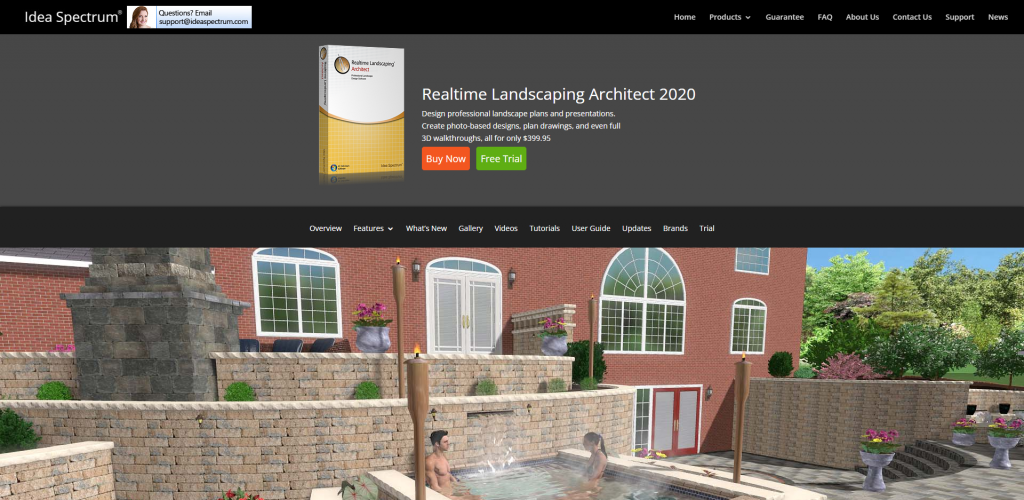 Image credits : ideaspectrum.com
A user-friendly garden and landscape design software that offers a multitude of options for your garden design needs. The program is available on Windows platforms on your PC so you can check out feasible creatives for your landscape.
Idea Spectrum allows users to explore what kind of trees they want towering over their property, what plants to ground, and which pretty flowers would brighten up their landscape design.
Although the app is quite feasible, it does not offer any free versions for trial or otherwise. You make a purchase, you use; that's the deal. On top of that, it only works on Windows computers therefore impromptu redesign is out of the question.
Read also – 12 Best 3D Visualization Software For Designers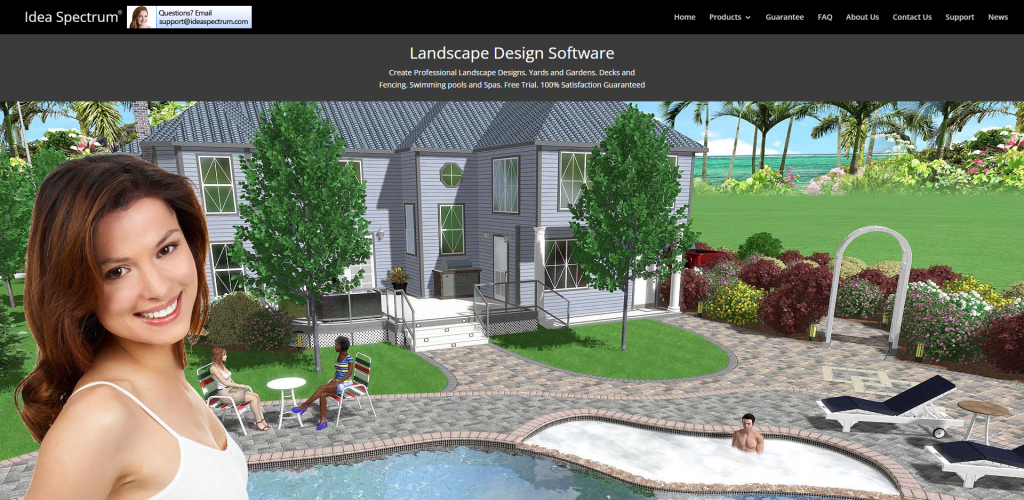 Image Credit: ideaspectrum.com
If you're looking for free landscape design software for your one-time need with not too many complicated options, then you can go for Pro Landscape.
You can simply use an image to add your plants, pavers, garden or patio furniture, grass, etc. to the layout. There are some stability issues but that is common for free design programs.
Although the app is free to use, it does require in-app purchases for additional design features. If you're a professional designer then we do not recommend this for two reasons.
One, the design options are pretty limited, almost basic. Two, it has a lot of advertisements that redirect clients to landscaping professionals nearby. There's a good chance you might lose business.
If you are a homeowner, then you can use this app to get a basic idea of what your garden design should look like. You can check where you want to place which item in vague and use your instincts to fill in the gaps.
Read also – 10 Best Furniture Design Software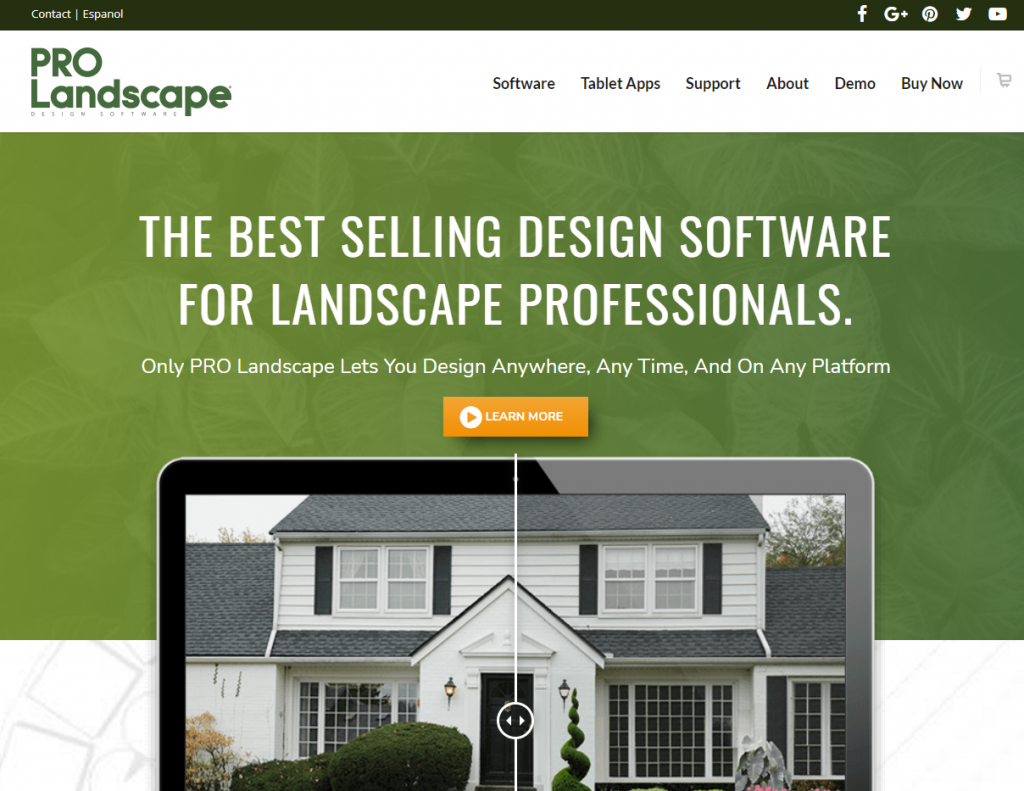 Image Credit: prolandscape.com
If you have an Apple iPad or an iPhone, then iScape can be of help to you. All you need to do is turn on the app and hover around the garden space.
The iScape app will identify the layout available for the landscaping project and allow you to make alterations and check what works. It is reliant on a sophisticated system of augmented reality that you can manipulate by adding and mirroring the elements available. There are a wide variety of plants, trees, garden accessories, and fences to choose from.
Although an excellent choice for homeowners who try to find a perfect balance in their outdoor space on their own, this app is not that great for professional designers. For one, this is not exactly a CAD software system, therefore the levels of designing are pretty low.
Furthermore, it only works on Apple operating systems so if your client is using an Android OS, you will face some problems. It doesn't really allow you to export your design files, which pretty much limits your options to only working with iOS-using clients.
Read also – 9 Best Interior Design Apps for Design Your Home Interiors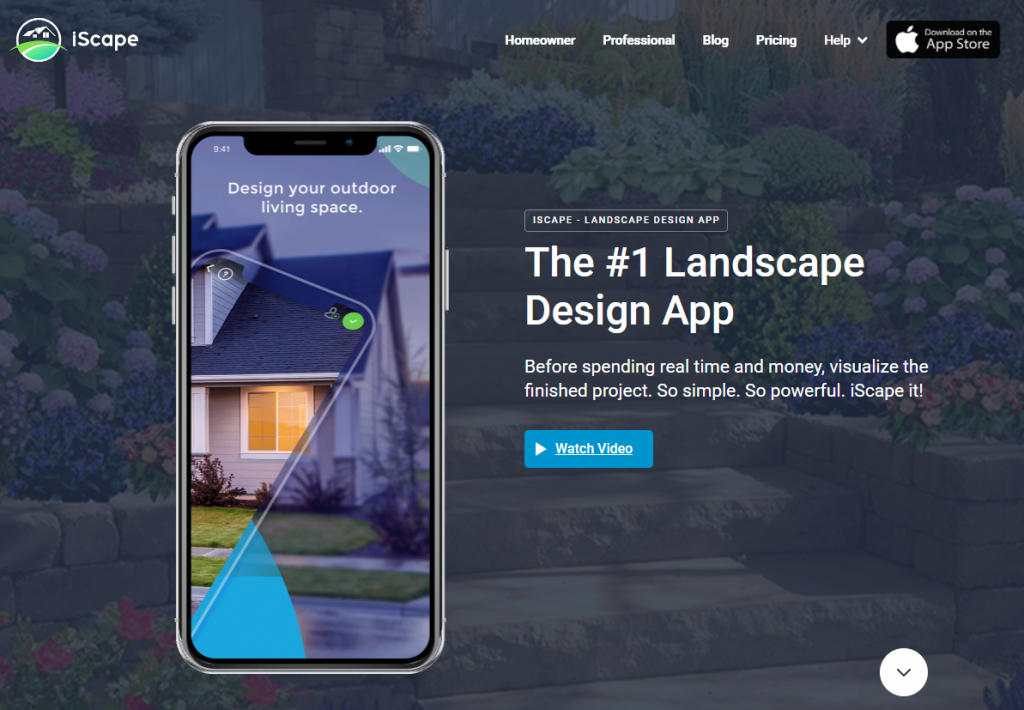 Image credits : iscapeit.com
A user-friendly software program that allows you to choose a variety of planting options from a wide-ranging library. You can customize your plants, add photo-realistic imagery and a lot of other features to your garden design.
It is a good product for beginners, however, professional designers may find it a bit lacking due to its 2D planning mode and limited hard scapes. Homeowners may not get an accurate idea of their outdoor space when they see the walk-through, which is a little problematic despite the 3D viewing option after a 2D planner.
Despite its drawbacks, it does work on both Mac and Windows platforms thus making it simpler for sharing. It uses a drag and drop interface so selecting the options is super simple. You can try it out for a base fee ad see if it works for you. It doesn't fare well as compared to Foyr Neo but nothing really does.
With the growing need to accommodate the means for air purification and anti-pollutants in the vicinity of a livable home, landscaping is quickly becoming a need rather than a choice.
A beautiful garden with trimmed hedges or a backyard swimming pool for hot days, or even majestic water features perhaps with a fire element looks amazing. More than that, incorporating eco-friendly options in order to find an ecological balance in this upended climatic depletion is essential.
Read also – 15 Best Kitchen Design Software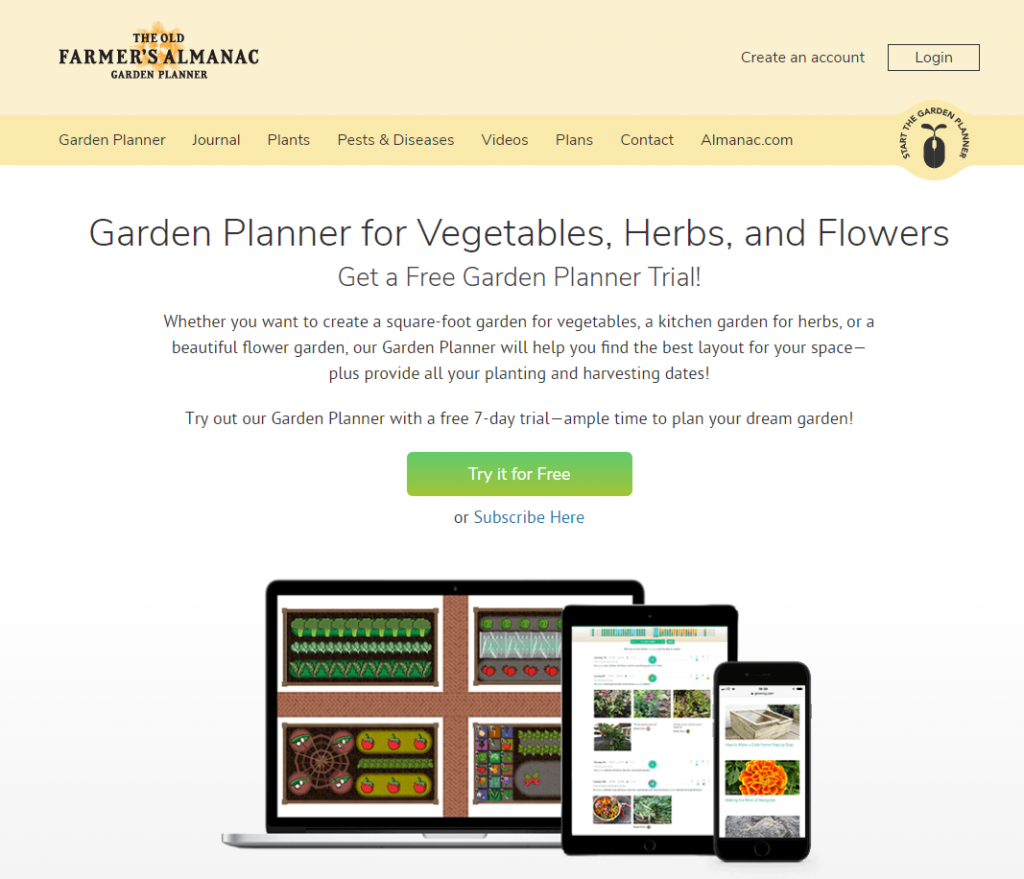 Image Credit: gardenplanner.almanac.com
Conclusion
If you can create a rock garden or add plants and succulents to enhance the aesthetic value of a property, it is only secondary to the deeper purpose that you're actually furnishing homeowners with the means to breathe clean air. The landscape design software programs mentioned above will equip you with the necessary landscaping tools. You can use them on Apple iOS or Android operating systems based on their availability.
Among all other design programs, we promise that the Foyr Neo software is worth every penny and in reality, doesn't even cost that much. It provides high-quality options for 3D designs and leaves a little wiggle room so homeowners can add DIY touches to their landscaping too.