Home » Interior Design Styles » A Guide To Transitional Interior Design Style for Your Home
What is Transitional Interior Design?
Just as the name suggests, transitional style refers to a style caught in the middle; it's a mix of both traditional and modern styles – it's a design style that interior designers incorporate to weave in a classic look with modern functionality. Designers use inspiration from various styles, instead of just a single one, to create a unique style that gives the Home a 'homely' yet modern feel.
A great way to describe a transitional interior design style is arriving at a harmonious balance of comfort and luxury, feminine and masculine, and a mix of vintage and antique home decor with modern decor. If you're wondering how to achieve transitional decor, we've got some excellent design tips in this guide, where you can learn how to mix traditional elements to achieve a transitional design style. 
Read also – 21 Types of Interior Design Styles
What are the differences between Traditional and Transitional styles?
While transitional styles may emulate traditional designs, there is a huge difference in both styles.
Traditional spaces are typically neutrally coloured; think of light colours like pastels and beiges. Transitional styles, on the other hand, are not afraid to mix colours and patterns. Transitional styles are more contemporary as compared to leaner traditional styles. They give the room a more relaxed and breathable vibe compared to a slightly more uptight traditional interior design style.
Elements of Transitional Interior Design
Some of the primary components of creating a transitional interior are as follows –
Easy Furnishings: Comfortable modern furnishings that are functional are the highlight of the transitional interior design style. The idea is to create a modern and comfortable look. Many designers opt for a more classic and elegant living space look for traditional fabrics. 
Neutral Palette: Think of basic colours like greys, beiges and creams – that's what makes a transitional style.  
Organic Textures: Organic or earthy textures go very well in transitional style homes; think of natural elements or furniture and home decor that resembles elements of the outdoors while being modern and functional—for example, rustic clay plant potters. 
Minimal Artwork: While pops of colour or patterned fabrics are alright, transitional styles follow minimal accessories or artwork. 
Natural Light: Transitional spaces celebrate natural light. They allow for open floor plans where natural light can easily flow in to give the room a relaxed vibe. Since these spaces are based on the concept of 'less is more.'
Read also – Guide To Use Textures in Interior Design
Characteristics of Transitional Interior Design
Features of Transitional Interior Design
Colors in Transitional Decor
Furniture used in Transitional Design Style
Lighting for a Transitional Interior Design
10 Ways to Add Transitional Interior Design Style to your Home
1. Pick Your Neutral Color
Neutral colour schemes accompany transitional style homes – greys, whites, sand, taupe, moss etc. These colours are then given depth with second or third layers of bolder colours like blues, greens, and browns so that the designer achieves a good mix of both traditional and modern styles.
Read also – 10 Ways To Add Traditional Interior Design To Your Home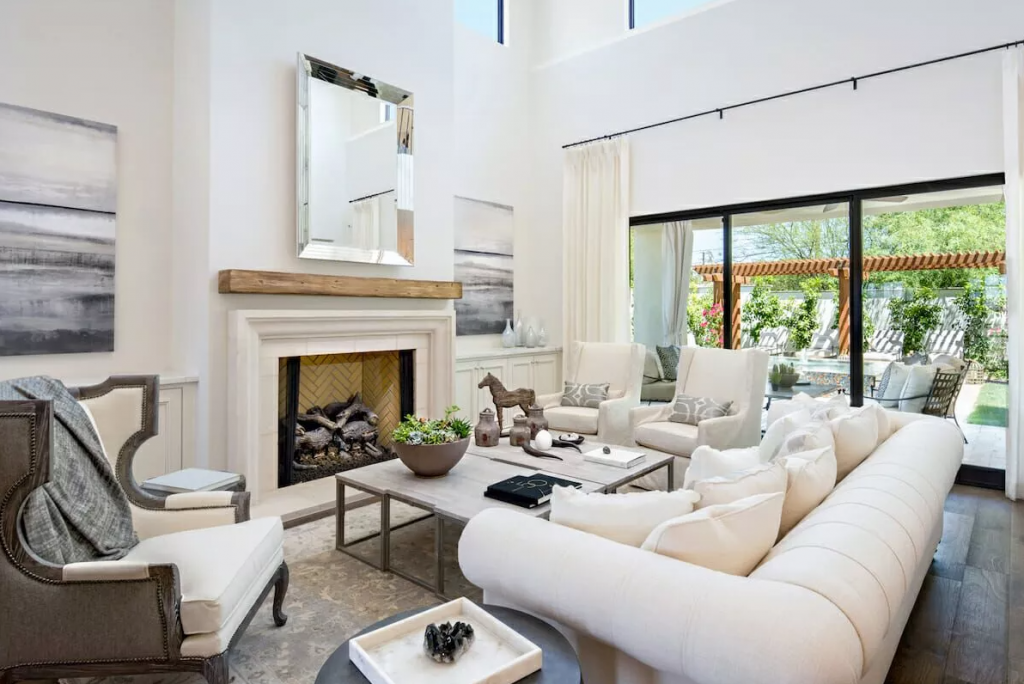 Image Credit: decorilla.com
While the transitional style directs you towards using neutral color tones, to give the room a modern vibe, you should use colorful accessories. Artwork, home decor pieces, furnishings, and fabrics – are all great ways to add a pop of color, pattern, or abstractness to the interior space. These also add character to the room and help you define it based on the client's personality. A good balance between the two can give the room a very elegant, yet quirky persona. 
Read also – Importance of Accessories in Interior Design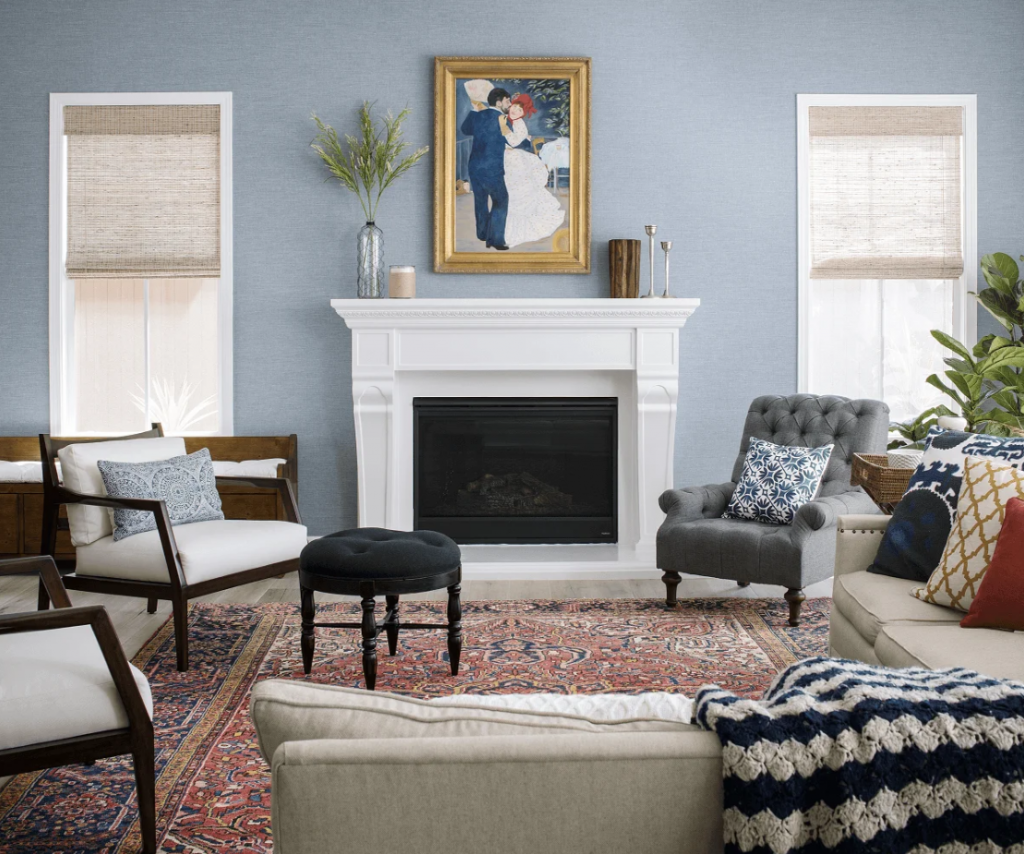 Image Credit: pinterest.com
What is the one element in a room that can add a little flair and drama? Cushions, of course! Cushions or throw pillows are a great way to add a little oomph to a plainly colored room – and the best part? You can change the covers from time to time to change the color scheme and design of the room. Don't be afraid to overdo the cushions – choose different colors, patterns, and styles to brighten dull transitional interiors. 
Read also – 14 Best Modern Industrial Interior Design Style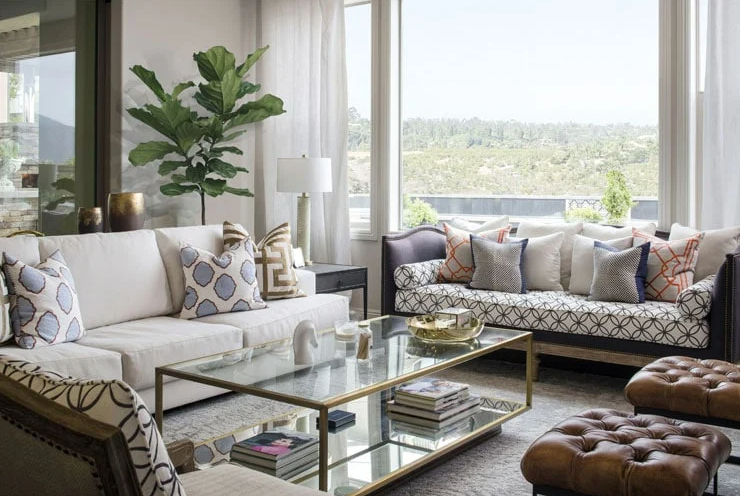 Image Credit: pinterest.com
4. Transitional Design Appropriate Furniture
When it comes to the transitional home decorating style, it's important to pick the right transitional furniture pieces. In traditional design, designers used larger pieces of furniture that made a statement; in modern homes, you will find smaller pieces of furniture that are more functional and less dependent on only aesthetics.
A great way to strike this balance is by using traditional furniture but giving it a spin by upholstering it with younger and fresher fabrics. 
Read also – 15 Ways To Add French Country Interior Design Style To Your Home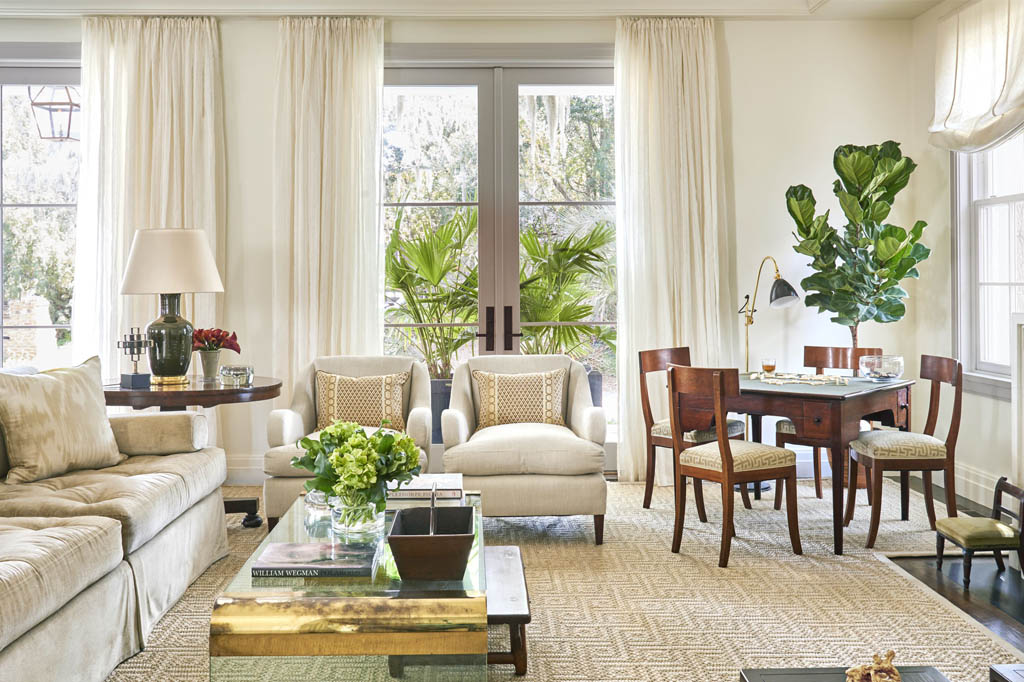 Image Credit: gambrick.com
5. Don't Forget the Lighting
Lighting is a very important part of any interior design style. In the transitional style, designers rely on contemporary lighting – they push boundaries with quirky and unique light fixtures that flood light into a room.
Many designers also use a large statement light piece as the room's focal point to style the rest of the lighting around it. Another important aspect of the transitional style is natural light – so make sure you install enough glass windows, mirrors, or metal surfaces for natural light to flood in, and reflect off. 
Read also – 15 Best Ways To Increase Natural Light In Your Home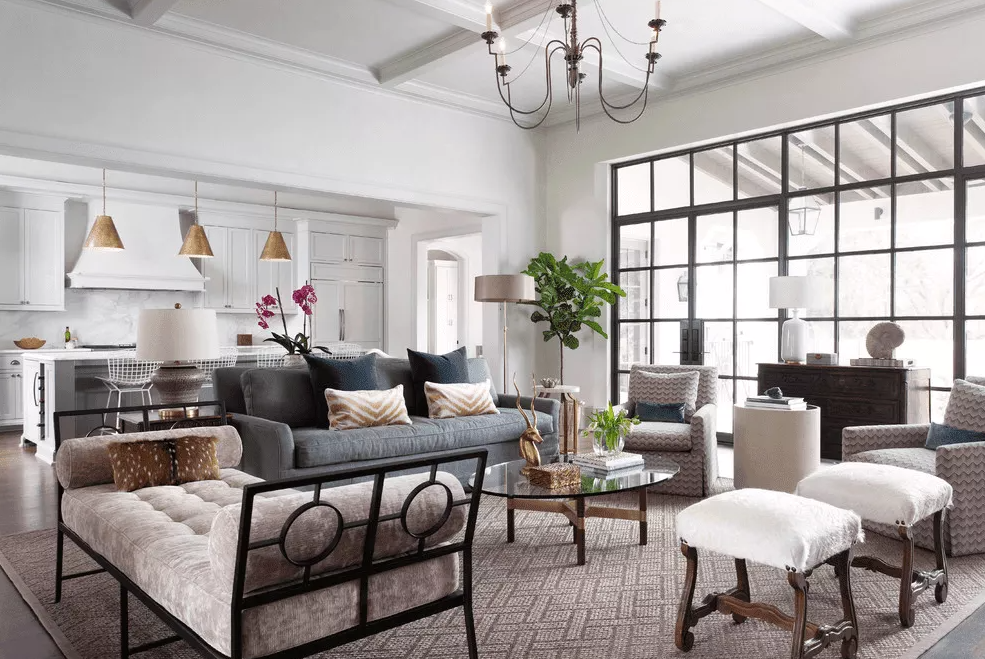 Image Credit: decorilla.com
Metallic accents scream modernity; most homes these days have metallic accents in kitchens, bathrooms, and bedrooms. These give a modern yet classic vibe. Use colors like bronze, gold, silver, and copper for lighting, accessories, furnishings, etc. to create a modern yet classic interior look. 
Read also – 16 Ways To Add Shabby Chic Interior Design Style To Your Home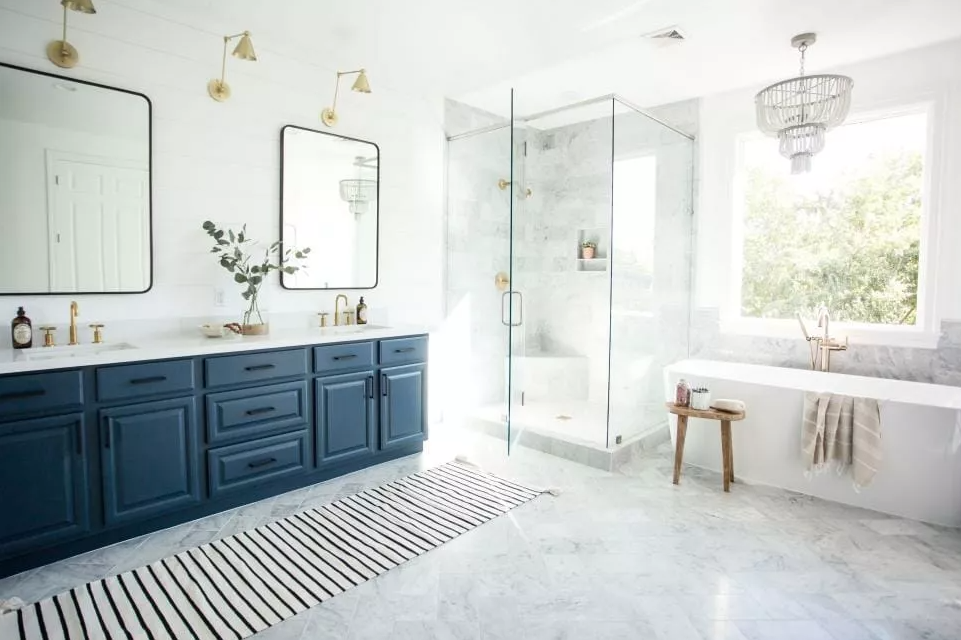 Image Credit: decorilla.com
7. Use Carpets To Add Depth
Carpets have a way of giving a room a traditional and vintage vibe. Choose carpets that have a modern print or color scheme to add depth to a room's interiors. Carpets can be added to bedrooms or living spaces. They give off a luxurious and plush feel while retaining the room's modern functionality – especially if chosen in the right colors and patterns to complement the transitional style. 
Read also – 15 Ways To Add Coastal Interior Design Style To Your Home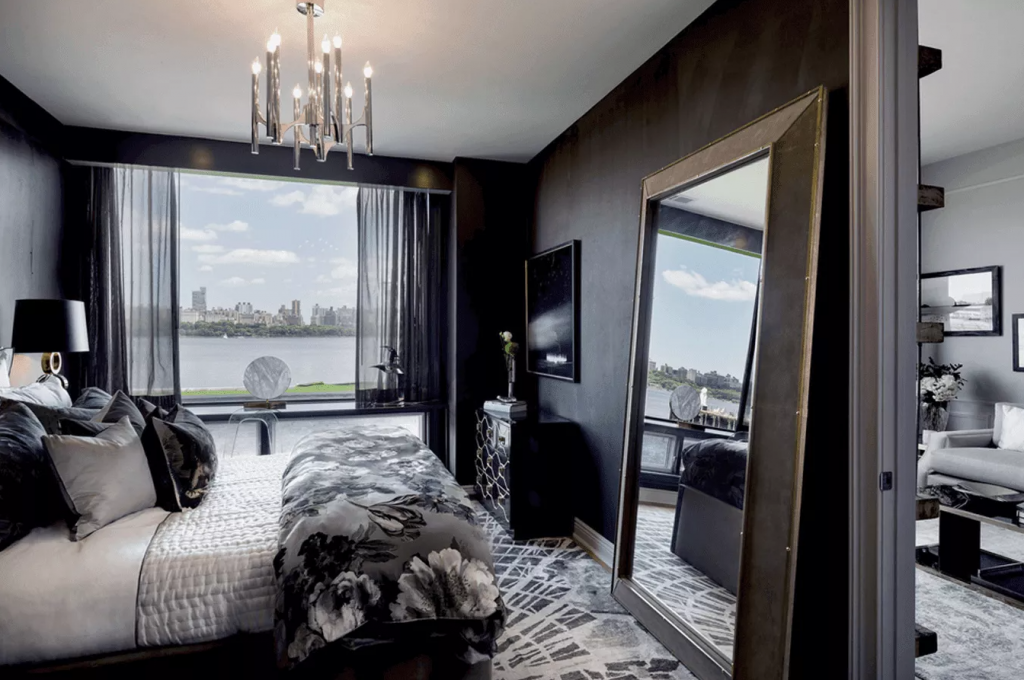 Image Credit: decorilla.com
Another great way to add a transitional vibe to a room is by using an old-timey statement piece. Use a traditional piece of art, furnishing, or home decor to create a focal point in the room, and then design the rest of the room using modern furniture and accessories around it. Look into your attic or basement for something old and traditional that can be used as a centerpiece – and create a color palette around this.
Read also – 10 Ways To Style Your Home With Eclectic Design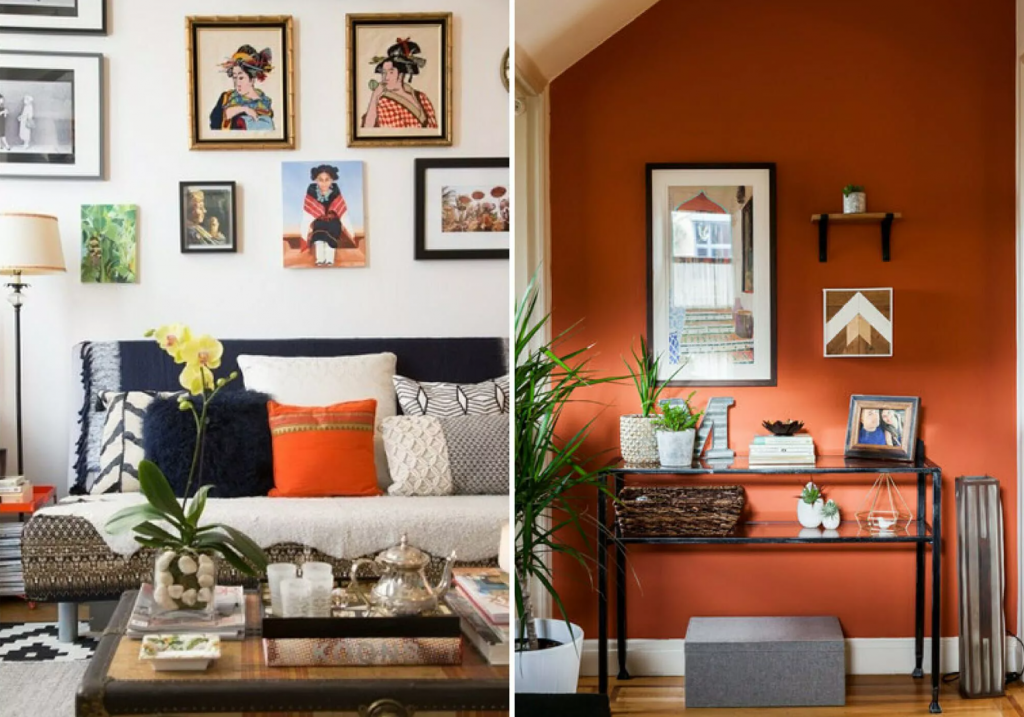 Image Credit: decorilla.com
Nothing is more modern than contemporary art – especially since your walls are painted in neutral tones. To create a complete transitional look, focus on contemporary artwork and home decor pieces to spice up the rest of the room. This will help retain an elegant yet minimal feel.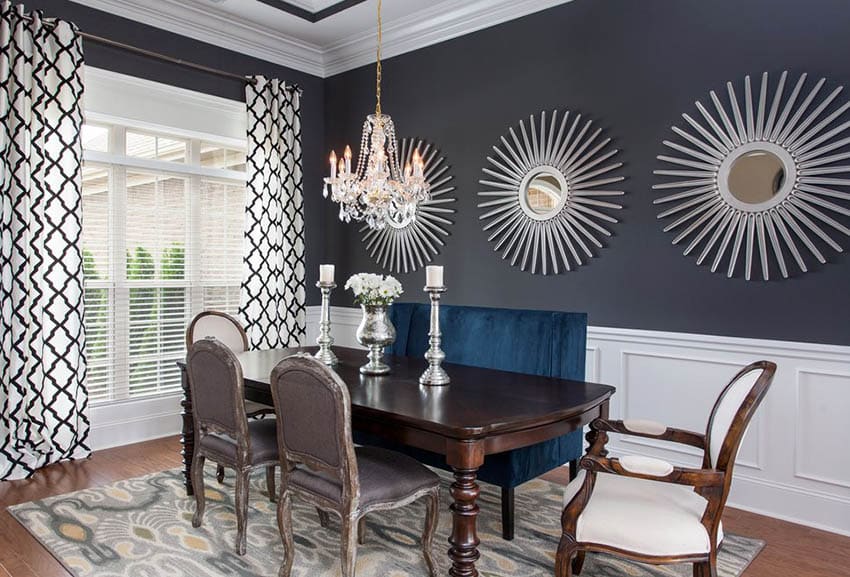 Image Credit: designingidea.com
Wood is a wonderful component – it is timeless and adds a touch of elegance when used right. Wooden furniture, materials, and fabrics that resemble a woody texture are great for transitional interiors because they balance traditional and modern styles.
Use wooden furniture to complement neutrally coloured walls, wooden home decor pieces, or brown cushions/ throws on the couch. Consider using rattan to keep the home design in a contemporary style.
As an interior designer, if you're looking for ways to create interesting transitional interior design styles in your home, then browse the Foyr Neo for more inspiration. Access the latest industry designs and trends, and interact with expert interior design professionals. Sign up for a free trial, or access the resources and tools to create beautiful transitional designs.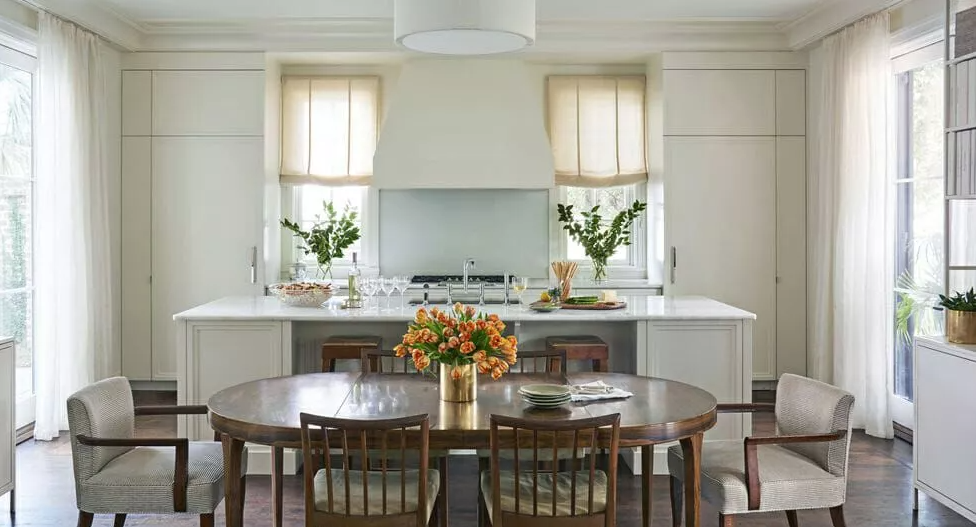 Image Credit: decorilla.com
To achieve the perfect blend of modern and traditional designs, interior designers need to do their research well. This type of style involves mixing and matching pieces from different eras. In addition, designers can play around with many design elements to make their clients happy. 
Create a contemporary design using clean lines, straight lines, minimal artwork, and modern elements. Take inspiration from mid-century modern room design styles to achieve a timeless design.
1. What is a transitional design in interior design?
Transitional design in interior design refers to a design style that incorporates traditional elements with contemporary design and modern elements. 
2. What is the transitional style in home decor?
The transitional style in home decor refers to a blend of a modern and vintage look. This style involves mixing interior design styles that have become popular over the decades. 
3. What makes a design transitional?
To embrace a timeless design and transitional aesthetic, go for a modern yet vintage feel which celebrates a mix of natural lighting with easy furniture and smooth details that blend well together. 
4. What is the most popular interior design style in 2021?
Some top trends in interior design styles in 2021 were using lighting as a main element, using the kaleidoscope effect, using exterior cladding, and using elements of nature indoors.