Home » Design Ideas & Inspirations » Importance of Mood Boards In Interior Design
Mood Boards in Interior Design
Discovering an idea is relatively easy when compared to expressing it. All creative folks agree that a lot gets lost between visualizing something in their heads and executing it. 
Creative energies are like gold dust. Whenever a designer's mind is soaking up inspiration from the outside world and processing it, that outline of the expression needs to be secured so that it becomes the bible for the execution of the task at hand. 
The originality of the idea trickles down from the imagination to the execution stage, hence, the need for mood boards.
Read also – 21 Types of Interior Design Styles
Mood boards are collages (digital or physical) that portray materials, designs, fonts, color schemes, and other design elements that suggest an idea's final expression or outcome. 
Mood boards are a cohesive take on a designer's vivid imagination. The design language is divided into various elements, which are then addressed separately alongside a commentary to ensure that both the designer and the clients see things from the same vantage point.
Read also – How To Create Mood Boards For Interior Design?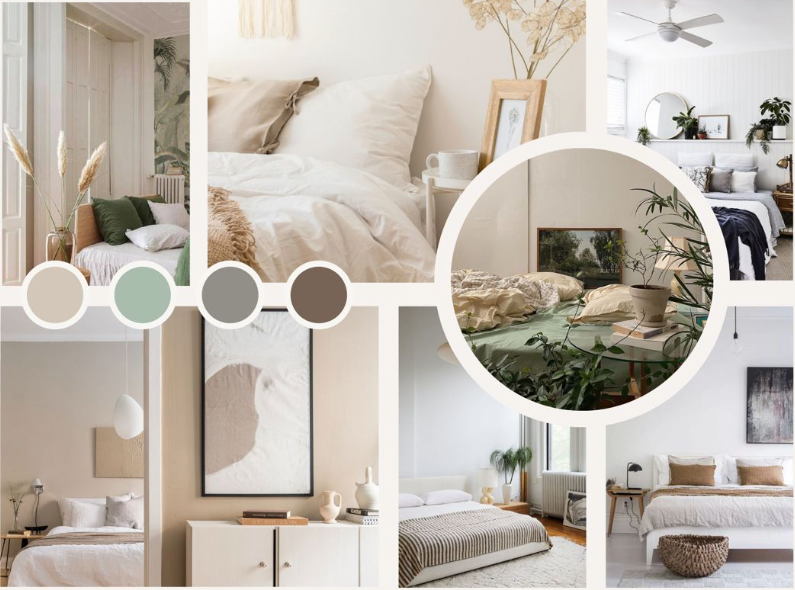 Image Credit: pinterest.com
Why are Mood Boards Important for Interior Designers?
Mood boards are multifunctional visual organizers that are used for many reasons. A good mood board may assist the design process, ensuring that the overall look and feel are compatible with the client's vision and requirements.
Mood boards are a great tool at a designer's disposal if he/she is looking to hone in on a specific aesthetic for the client's project before digging in. Mood boards may express much about the final design's appearance and feel with much less time and money invested than mockups and prototypes.
A mood board is a great visual aid for presenting design concepts to clients. For example, many clients have no idea what it means when an interior designer uses terms like "bohemian," "rustic," or "traditional." But if the designer shows them a mood board that includes such elements, clients may immediately communicate their feelings about the concepts.
Design teams may work together more effectively with the help of mood boards. 
Here are a few reasons that explain the importance of mood boards in the design process:
Importance of Mood Boards in Interior Design Process:
a) Ensuring that the client approves of the designer's thought-process
Instead of spending hours perfecting a single look to have the client reject it and make designers start all over again, providing a basic mood board depicting the initial idea and asking for their opinion is better.
The pursuit of perfection is a common pitfall for designers. When the designer's goal is to generate as many ideas as possible, striving for perfection wastes time.
Mood boards allow designers to brainstorm concepts swiftly without worrying about implementation logistics. The designer's initial proposal isn't the finished product; it's a jumping-off point for discussing the idea, which is the most critical element.
b) Fostering a Connection with the Customer
Personal preference dramatically affects one's perception of what is aesthetically pleasing in a design, making this a highly subjective topic. Therefore, it's crucial to acquire the homeowner's input before finalizing a plan for their property.
If a designer has lucked out and landed a client who knows precisely what they want, he/she could ask the client to make a Pinterest board and post pictures that capture the feel of the client's ideal home.
Suppose the board aesthetic ends up being all over the place. In that case, a few straightforward questions can help the designer understand the thinking behind the various design decisions so the designer can set priorities.
Clients are given a voice at every turn, thanks to mood boards. This helps foster teamwork by reducing the likelihood of problems arising later. Clients who feel heard and comprehend the reasoning behind a designer's choices are more likely to trust the designer's judgment.
Thus, designers may dispel the widespread belief that they act haphazardly while making decisions. In addition, if clients believe their input is crucial to the final product, they are more likely to be pleased with the outcome.
Read also – 16 Interior Design Rules Every Interior Designer Should Follow
What if the clients have nothing to back up their claims? It will likely be challenging for designers to picture what they're thinking.
Mentally sketching out an image is usually out of the question since it leads to too much confusion. Instead, interior designers can project the final design by spending only a few hours on a complete mood board that blends their ideas with the clients'.
Prompt client input allows designers to hone the concept from its inception, giving them a leg up on the competition.
Clients who prefer the particular use of colour may have difficulty settling on a colour scheme for the project.
Making a colour mood board that exemplifies the feeling the designers want to convey is the ideal approach to tackle such a project. What's essential is the mood that a particular colour scheme evokes, not the furnishings.
One way to stand out is to display your unique style.
Read also – 20 Client Presentation Tips for Interior Designers
d) Designers Shouldn't Hesitate to Take Risks
True artists don't confine themselves to a single idea. Instead, they create something unique that the customer will approve of.
Mood boards allow interior designers to swiftly create creative variations of the original concept.
A minor adjustment to liven things up or something daring that bears the designer's stamp might go a long way.
Because the client has engaged with the designer partly because of his/her portfolio, they may be interested in hearing the designer's recommendations for improving the space.
Read also – How To Create A Bedroom Mood Board Design?
The culmination of any digital designer's process is the final design board, which should include a shopping list of all the items used to create the finished product.
This style board, also known as a mood board, is distinct from the earlier examples we discussed and is all that the client will need to put your idea into action. 
If designers have to organize everything independently, they may use the bookmarklet or import directly from Pinterest to store images, videos, and other resources related to particular projects.
Alternatively, they may categorize their favorites by style or function to keep them together for use in other projects. With this method, they may quickly and easily have access to the fashionable items they have selected. Designers can keep their unearthed treasures to themselves or show them to the rest of the creative world.
In this day and age, physical sample boards have been rendered obsolete by their digital counterparts.
Making physical presentation boards, keeping collections of samples and swatches, locating them, and organizing them into life-size concept boards are no longer practical options (at least not for all projects and certainly not for e-design work).
On top of everything else, designers must make personal presentations to customers to sell their ideas (unless working with local clients only). Travelling to conferences to deliver presentations is very complicated. The entire world is now the designer's marketplace thanks to the ubiquity of the internet, and they should make the most of it. 
The internet has made it possible to collect photographs that inspire creativity and discover a means to convey ideas in a way that is speedier, more accessible, more environmentally friendly, and free of charge. 
By employing an online tool like Foyr that allows designers to create mood boards, they can make flawless designs without leaving the comfort of their creative space, no matter where they may be.
Read also – 10 Passive Income Ideas for Interior Designers
5 Best Online Mood Board Software for Mood Board Creation
Here are some of the best online tools to build mood boards:
Foyr is a new Mood Board builder that has amassed insane popularity among Beta users owing to its easy and intuitive UX. In addition, the company is rolling out a further 50 percent discount in the new year and will also give a 30-day money-back guarantee, so it's a win-win for users. 
With Foyr, designers can access 250 plus templates and customize them so that it bodes well with their inspiration. Moreover, it gives access to 50 plus upmarket furniture brands, whose articles can be dragged and dropped to the template from the interface. 
It is designed to increase cross-functional collaboration with the designs wherein clients can approve small design elements that have been incubated in the mood board separately. 
The editing options are second to none; designers have the luxury of removing the background and creating the perfect colour palette as and how they deem fit. 
Read also – 10 Best Mood Board Apps and Software for Interior Designers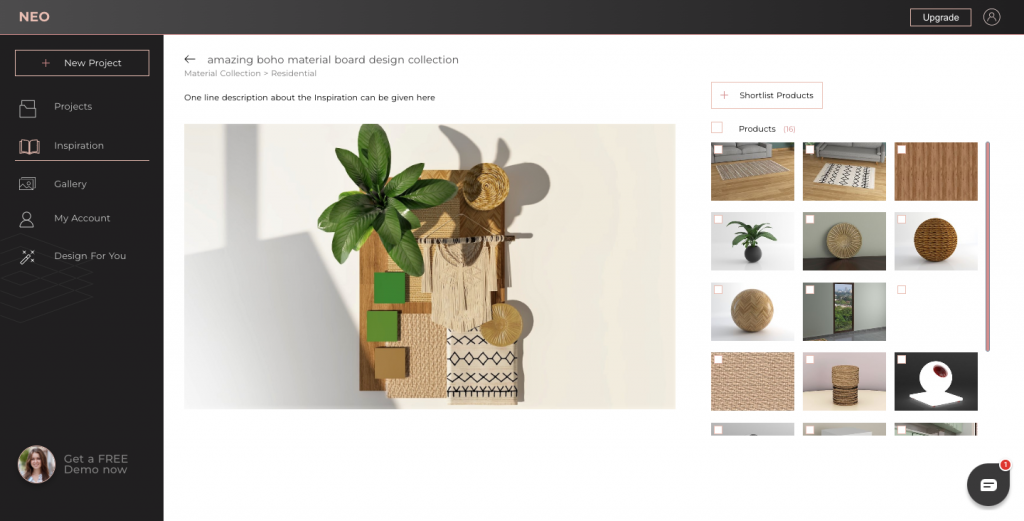 It is a valuable solution if one seeks a simple tool to manage his/her thoughts. The program can be used from any browser and provides as much room, and organizational depth as a designer needs to enable his/her imaginative creations to flourish.
One can use it as a quiet location (Dynamic UI) where one can think independently or a lively hub where one can work together. 
Making graphics for social media posts, newsletters, brochures, and book covers; Canva is the best option. For making different kinds of mood boards, it's also among the top mood board producers. Canva allows one to make a mood board with custom dimensions or by utilizing a premade template.
For the mood board's layout, one can select the grid option. If one wants to show the mood board to others, you'll need to save it as a PDF or save a screenshot. Invite your friends or coworkers to join your account if you'd like to work more closely together in real-time.
It is one of the most popular online mood board producers since it provides a wide variety of photos that can be used to construct mood boards. It surpasses the collection of any other conventional image library in terms of the quality and variety of the themes represented in its photos.
Read also – Pinterest Marketing for Interior Designers
Due to the extensive collection of images available for users to choose from when creating mood boards, Pinterest has quickly become one of the most popular online mood board providers. It exceeds the collection of any other traditional picture library in terms of the quality and breadth of the topics depicted in those photographs.
At some point in their careers, all designers face the challenge of effectively conveying their concepts to clients. This is because designing can, at times, come down to a matter of individual choice, particularly when it comes to the issues of interior design and architecture.
A mood board is an excellent tool for showing preliminary design concepts to customers in the field of interior design to get their feedback. 
Mood boards for interior design are also an excellent method for acquiring insight into designers' thought processes to arrive at their selections. They are also an effective method for preventing individual preferences, such as the client's preferred color, from making their way into the general concept of the design.