Home » Design Software & Tools » Which Interior Design Software Program To Learn?
Interior Design Software Programs
As technology has influenced the way professional interior designers process designs, it has become mandatory for designers to know and use industry-standard software. There is no dearth of software available in the market to ease and perhaps elevate your designs.
Software is becoming more and smarter with features like cloud rendering and AI-based designing. They have also helped bridge the gap between designers and clients by rendering the most realistic images helping the client to visualize their design project effectively. If a designer wants to get ahead in the race, he or she must know to work with a variety of software.
Read also – How To Learn Interior Design Software?
Challenges with interior design software programs
Just as there are advantages of being dependent on software, there are also various cons of working with the software. Not all software may prove to be economical in the long run and could end up being doing more damage than benefit to your firm.
1. One of the main drawbacks of some programs is that they have to be installed on a system and have virtually no online support. The licenses are also sometimes limited from device to device. This makes it very difficult to be on the move. You are tied to a particular desktop and are rendered helpless if you don't have access to it.
2. As they are offline, it becomes vital for your PC or laptop to have the necessary hardware to tackle such highly demanding and heavy software. Since most of the software requires high-end graphical support, you need to have a desktop that has the necessary graphic cards and RAM. This could burn a hole in your finances and may not be worth it in the short run. Smaller firms that are just starting cannot afford to invest capital in such expensive systems and may happen to lose out to the bigger better competition.
3. Not all software turns out to be a one-stop shop. This means you need to know and have the licenses to a host of software to achieve that perfect rendered image. You will initially need modeling software like Sketch-up, secondary software like V-ray for rendering your 3d models, and lastly Photoshop to add finishing touches. This means that the overhead cost of making a simple design rises threefold since you will need to purchase licenses for all three software. It is very difficult and not economical to have a workflow that involves more than two software.
4. Handling a certain set of software requires due to experience and expertise. This experience sometimes costs money in the form of taking courses to master the software. It could affect your hiring process as you may be restricted to a certain talent pool. This narrows down options and gives the designer very little to do when it comes to using such software.
5. Clients these days are looking for instant results and extremely fast paces design interventions. Since time is money, a client often needs updates and revised designs almost instantly. But unfortunately, the workflow from making changes and providing quality renders is a time-consuming process. Depending on your hardware capabilities, rendering times can vary. This may leave the client impatient and walking off to a competitor who would give faster design inputs.
Read also – 15 Best Free Home Design Software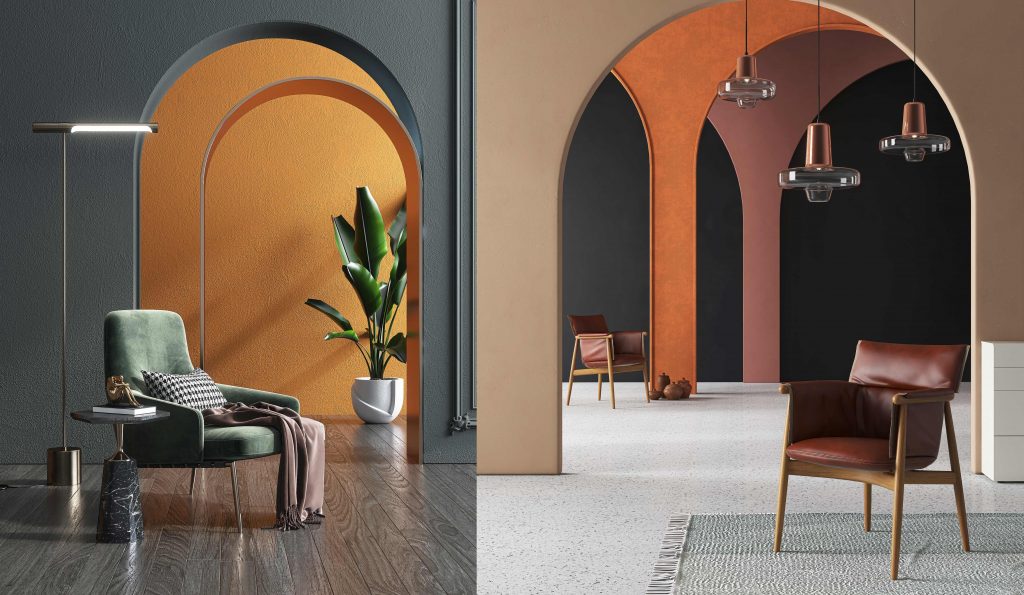 Image Credit: pinterest.com
Factors to consider while choosing interior design software
Choosing software can be a mammoth task. It all depends on what suits your situation and how much you can afford to invest in a given time. Moreover, one must also factor in the learning curve required to learn new software and the time taken to master it. Apart from the basics, the software can be judged by four different aspects.
1. Budget
More than not, all software used by architects and interior designers is licensed software that has really expensive payment options. They range from yearly subscriptions to permanent license purchase options. You need to take into consideration your budget not just for the time being but for the coming years at least.
The reason is that you would not want to shift to another software at the end of the year after mastering one particular program. One should also keep in mind that the software prices are subject to change and should plan accordingly.
2. Ease of Use
The accessibility, interface, and ease of use should also be researched thoroughly before purchasing. You need to check if the software seamlessly fits into your workflow. You don't want to be in the position where the software makes the workflow more complex rather than simplifies it.
The interface should be user-friendly and easy to grasp thereby taking less time to fully comprehend the software. The program should also be able to export data in multiple formats for better workflow. Overly complex software models can leave you more confused and left feeling stuck.
3. Hardware requirements
Since almost all the software's require to be installed on a device, naturally they require the best in processing graphics. This means that the hardware components in your system should be top-notch. You need to have a good graphic card, high RAM amongst other things. A designer would need to splash the cash if they need to achieve high-quality renders in a short time.
4. Feature set
Perhaps the most significant of all attributes is the number of features you get with the software. For a good quality end product, the software should have essentials like real-time ray tracing and materials libraries among other things. The more advance the feature set, the more freedom you have with your design process.
Read also – 15 Best Free Interior Design Software Tools
7 Best Interior Design Software to Learn:
Easily the most highly-rated software in the market right now. Keeping in mind the earlier attributes, Foyr Neo is a complete online solution that does not require installing any software of any kind on your device. This results in you, the designer, saving a lot of money concerning the purchase of graphic cards and other hardware components. The learning curve is virtually zero because of its easy and simple interface.
Foyr neo also boasts a large material, asset library, and readymade templates with great functionality. You can choose to start your design from scratch and finish it with quality 4k renders within minutes. There is no need to have any prior experience of any kind when it comes to using Foyr neo. In a nutshell, you can let your business thrive and grow for a very nominal cost all in one place.
Budget                                    ★★★★★
Ease of Use                            ★★★★★
Hardware requirements     Low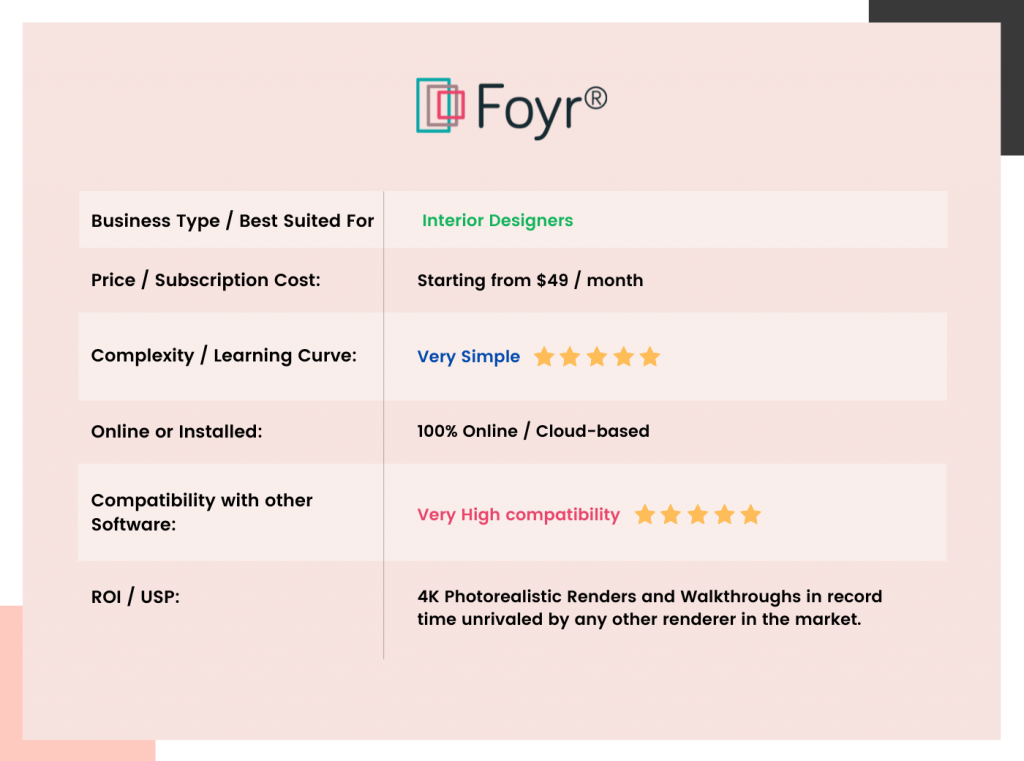 SketchUp is one of the most widely used software in the design industry. Unlike some beginner-friendly software, SketchUp is anything but that. There is a big learning curve and would take you some time to get accustomed to its interface. There is also a 3d warehouse where you can download readymade 3d models e.g. if you want to see how a particular IKEA sofa looks in your living room. There is a free version available for non-commercial use.
You also have the option to subscribe for a price of 120 USD per annum for beginners which are accessible only via the web and come with a very small feature set. But as being a professional, you are urged to go for the SketchUp Studio version that can cost up to 699 USD per annum. In a nutshell, SketchUp is not recommended if you have a very low budget while starting your design firm or if you have no background in basic 3d modeling.
Budget                                    ★★☆☆☆
Ease of Use                            ★★★☆☆
Hardware requirements     Medium
Read also – 10 Best Free Floor Plan Creator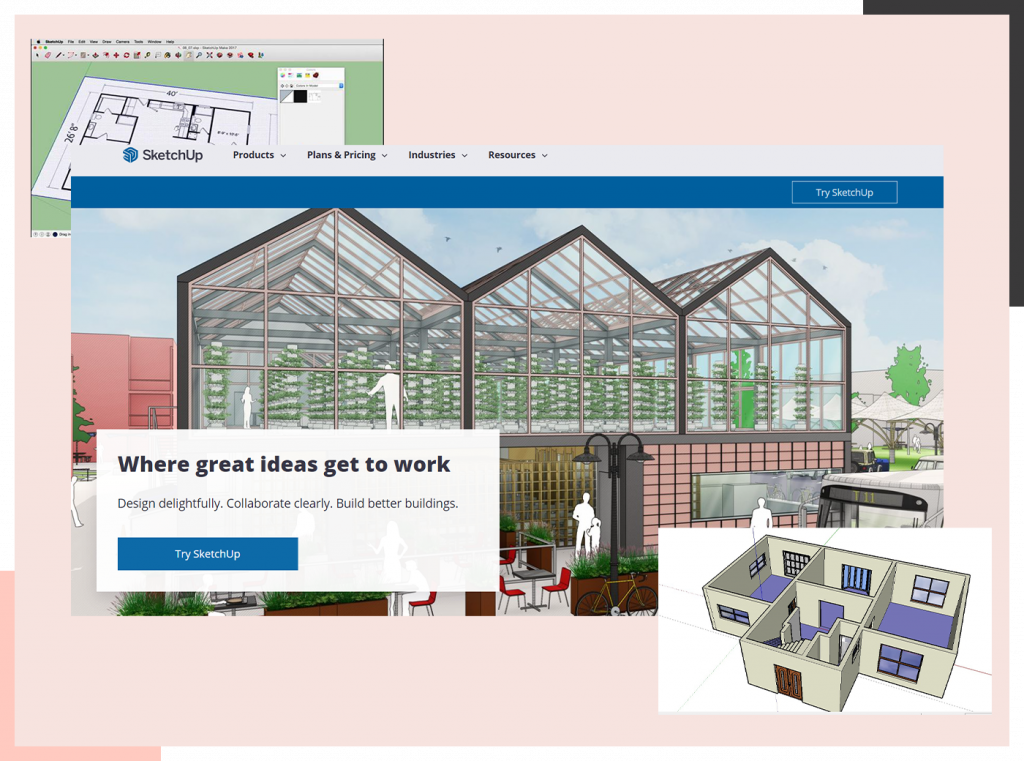 AutoDesk has firmly planted itself as one of the pioneers of 2d and 3d modeling software. But rarely is the 3d version of AutoCAD used to make 3d models and rendering processes. It is mostly used to draft 2d plans, sections, and elevations. If you happen to be an amateur designer or a student of interior designer the software can only be used for making floor plans and not interior decorating.
The 3d aspect is very complex and is not easy to grasp. You would have to spend some extra cash to learn how to produce 3d models in AutoCAD. It is available in both Windows and Mac systems, unlike most software. Apart from the time that you would have to put in to learn the software, AutoCAD is extremely expensive software to use. After its free trial of 30 days, there is a charge of a whopping 1775 USD to be paid annually. Hence AutoCAD is only great if you are a large firm and can afford to buy this software.
Budget                                    ★★☆☆☆
Ease of Use                            ★★☆☆☆
Hardware requirements     High
Read also – 21 Best 3D Rendering Software for Interior Designers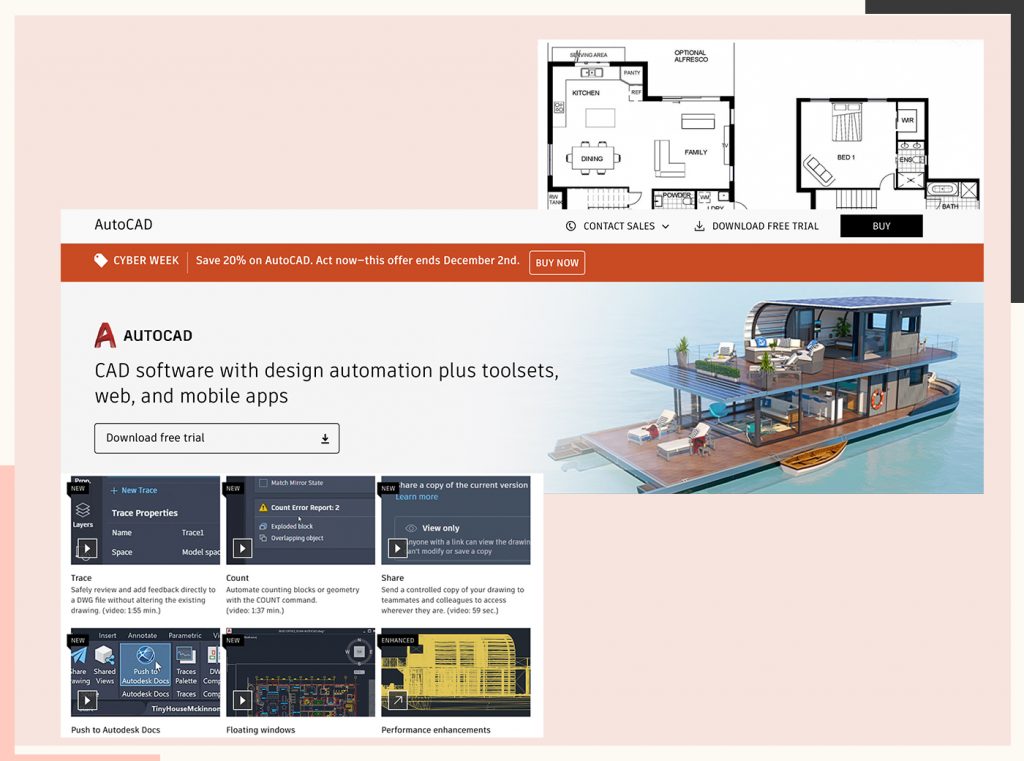 3DS Max would perhaps be the most vastly used software in the industry right now. If you have the necessary experience, 3ds max has exceptional features when it comes to 3d visualization, rendering, and walkthroughs. That being said the software is not ideal for newbies to the field, especially interior designing students.
Even smaller interior design businesses choose to overlook the capabilities of 3ds max because of its pricing and complex workflow. Just like any other AutoDesk product, 3ds max offers a 30-day trial after which you are supposed to pay up to 1700 USD annually. Expensive valuation and complex skillset make 3ds max and easily avoidable software despite its features.
Budget                                    ★☆☆☆☆
Ease of Use                            ★☆☆☆☆
Hardware requirements     High
Read also – 21 Best 3D Modeling Software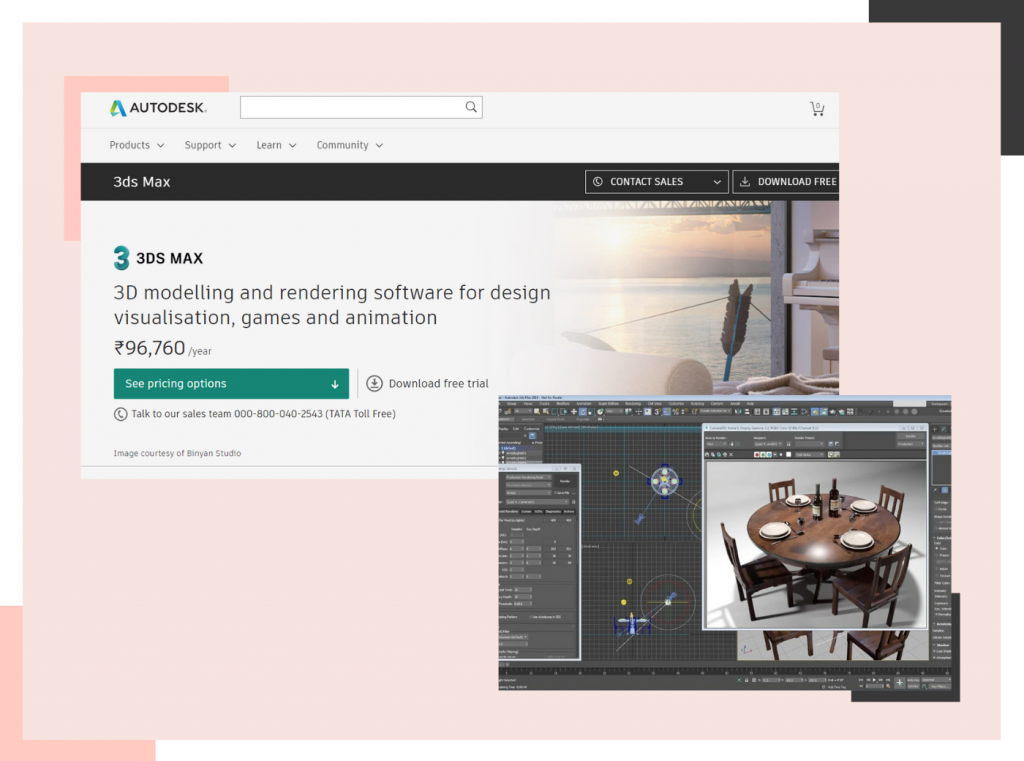 One of the very tools that are free to use for 3d enthusiasts. Blender has made quite a name for itself in the gaming industry. Its open-source license has indulged many gaming professionals to make the best use of it. However, just like some other software's, blender was made with animation and gaming in mind. It's quite difficult to make home interior visualizations on blender.
You may find it difficult to get support or tutorials from the blender community since interior designer professionals rarely use blender for their work. You can still create visualizations that are not too detailed complex bits are not recommended. Unlike FoyrNeo, where you can have visualizations, technical drawings all in one place, bender does not provide that capability. Although free, interior designers can only use blender for simple projects which makes them not very widely used in the interior design community.
Budget                                    ★★★★★
Ease of Use                            ★★★☆☆
Hardware requirements     High
Read also – 15 Best Free Kitchen Design Software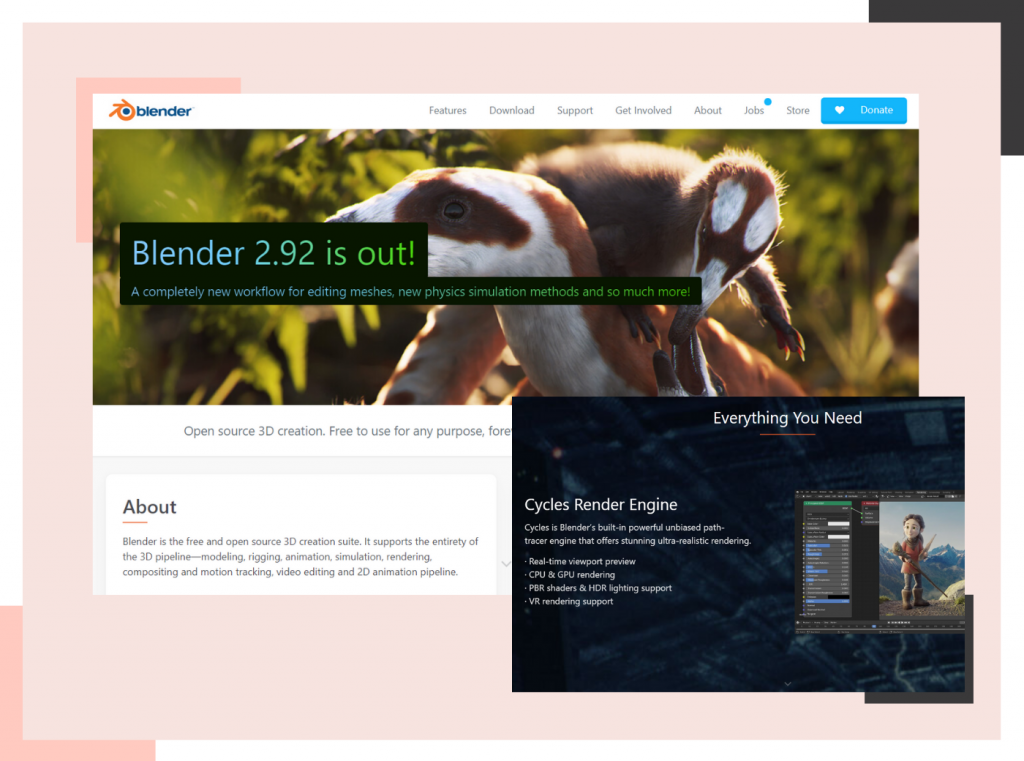 Another free and open-licensed software that can be used on ipads and mobiles as well. The highlight of Planner 5D is that you can make quick and easy 3d homes or 3d interiors with considerable ease. You can also choose to create photorealistic renders but that comes at an additional cost. This makes it ideal for professionals who just want a rough draft of their design which they can play around with easily.
It doesn't have the features to make detailed 3d renderings and 3d floor plans but can be used by homeowners to remodel their own homes. If you are a professional and plan to use this as software, you will be limiting your creativity and paying good money for realistic renders. Lack of creative freedom leaves this software wanting for more but can be used to make first draft designs.
Budget                                    ★★★★★
Ease of Use                            ★★★★☆
Hardware requirements     Low
Read also – 20 Best Home Design Apps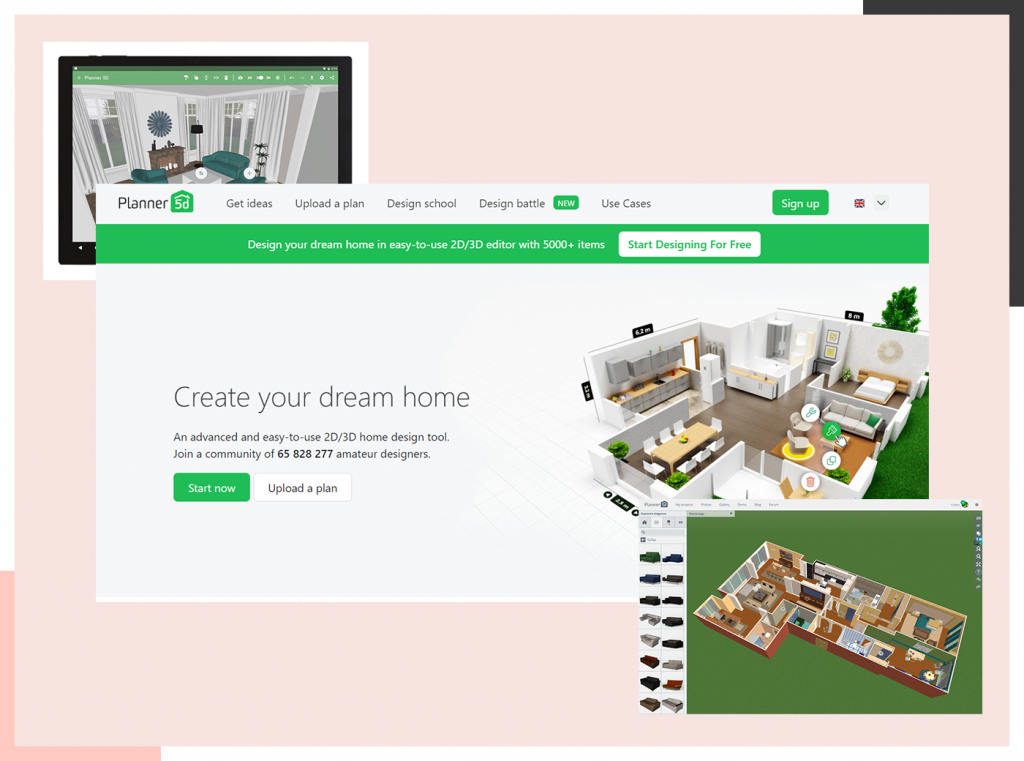 If you are feeling overwhelmed with all the complex design software's out there, Homestyler is a home design software that can let you breathe easy. It is easy to use interface and quick conversion from 2d floor plan to 3d design is commendable. The best part? It is free interior design software to use.
A lot of homeowners looking for home designs and interior designs students love this software because you can get quick results and design on the go with its design app available on android and iOS. You can instantly switch from 2d to 3d mode with a single click. However, the only con would be is just like planner 5D, the lack of extensive design tools renders it useless to make detailed interior designs.
Technical blueprints like lighting layout are not possible at all. It can be considered beginner-friendly and is a good tool to have in your arsenal if ever you want to create good, clean, and simple designs fast or showcase your design ideas.
Budget                                    ★★★★★
Ease of Use                            ★★★★☆
Hardware requirements     Low
Read also – 20 Best Floor Plan Apps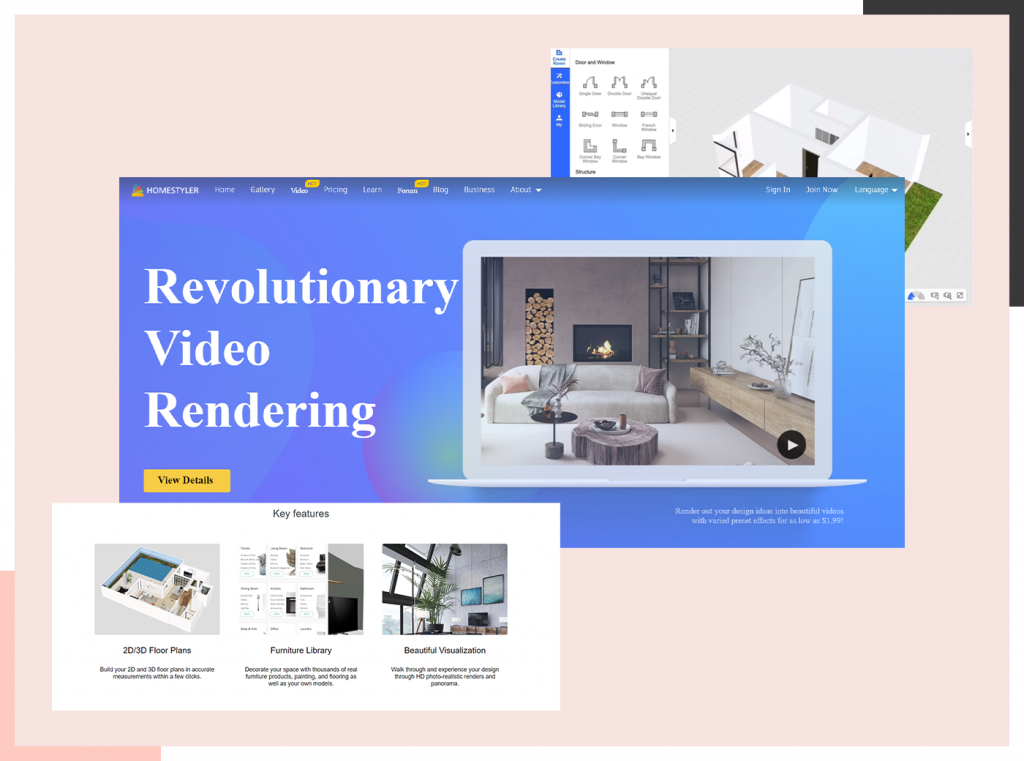 Conclusion
There are tons of other software in the market like Revit, Roomstyler, and SmartDraw that have become popular on social media. However, we have covered software that is similar to them or is better than them in most of the aspects. If we are to draw a conclusion from the list above, FoyrNeo can easily be regarded as the best interior design software there is in terms of budget, workability, and time taken to produce good results.
Foyr Neo also hosts a great community platform that you can learn from and understand how other firms and interior designers work FoyrNeo and other software. You can become a part of the community by signing up at community.foyr.com.