Home » Design Ideas & Inspirations » 8 Best Decor Ideas To Furnishing A Small Apartment
Furnishing A Small Apartment
In these times when the population is increasing constantly, there are fewer properties to let and too many families and bachelors seeking them. In order to bypass this strange new predicament, building associations and real estate contractors found an innovative solution to the problem.
Small apartments with reduced square footage.
These small spaces accommodate studio apartments and sometimes even average-sized one, two, or three bedrooms. Of, course, the contractors had to get creative with the design in order to facilitate sufficient storage as well as make the space feel roomy and comfortable.
This, however, created a slight problem for homeowners and interior designers since small spaces call for innovative design ideas. Thus, we thought we should share some creative ways and beautiful design plans to help you decorate your small apartment with a higher aesthetic appeal.
Let us know how you enjoy incorporating these design ideas into your small apartment home.
Read also – Interior Design Trends for Small Space
8 Incredible Decor Ideas To Furnishing Your Small Apartment:
When decorating your small spaces you need to evaluate the amount of square footage available for use. This is a good time to release the creative dragon inside you and furnish your small apartment such that it still appears expansive and accommodating.
Here are some design ideas to furnishing small apartments to help you out:
1. Choose your color scheme wisely
When considering small apartment decorating ideas, the first thing you need to do is choose a viable paint color for the walls. Although, it may seem like bright and dark colors appear more functional, trust us when we say, what you need are neutrals and light colors instead.
You see, light colors, especially white, beige, and other shades of the rainbow that run alongside the hues of a white palette actually make the room feel bigger. According to the reflective property of colors, light colors reflect the brightness from your lamps, natural light, etc. thus creating an illusion of larger floor space.
This philosophy is further reincarnated in your furniture and home décor as well. The lighter shades you choose for your pieces, the larger your room feels. Even though small apartments have the limited square footage, the subtle hues actually add to their overall space value.
Consider a white or beige flooring (tiles or carpeting as you please) with white walls, white doors, and light brown furniture pieces. The overpowering white or similar shades make the space feel monochromatic and reflect the light from your lamps all through the surfaces. The resulting room feels much larger than its actual square footage.
Read also – Psychology of Colors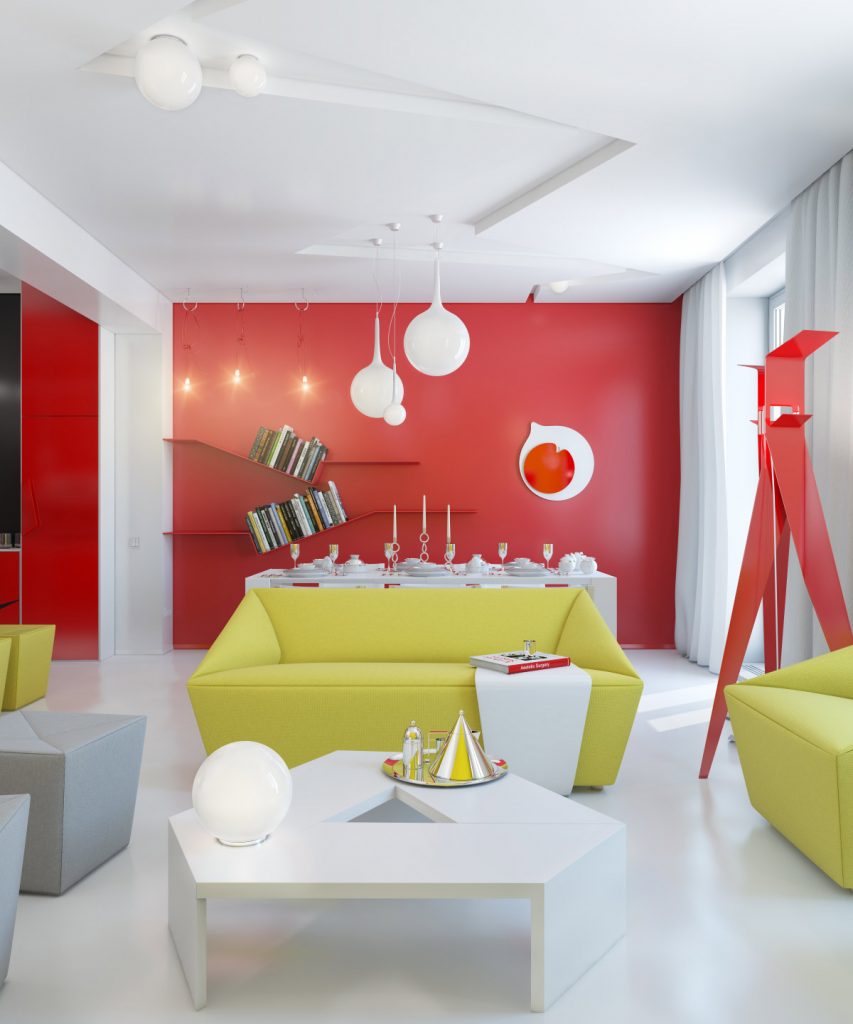 Image Credit: home-designing.com
2. Select a theme that uses clean and uncluttered design trends
Now that you got your color palette in place, let's talk about the theme. Since your small apartment has minimum square footage, you need to consider themes that utilize the least amount of floor space.
Oriental interior design often features minimalist design trends which work best in small homes. You can choose sliding windows and doors, low-height furniture pieces, floor mats, etc.
Consider utilizing the floor with cushions around the coffee table for entertaining guests instead of space-filling couches and chairs. The Scandinavian and Japanese have introduced some excellent solutions for minimalist designs.
Another excellent theme for small living spaces is Modern design trends. The basis of this design idea is to implement functionality therefore there are no excess items, everything has a place, and there is no clutter. You can use neutral colors, furniture with defined and clean edges, and foldable objects that perform more than one function for your convenience.
Read also – 6 Best Studio Apartment Layout and Floor Plan Ideas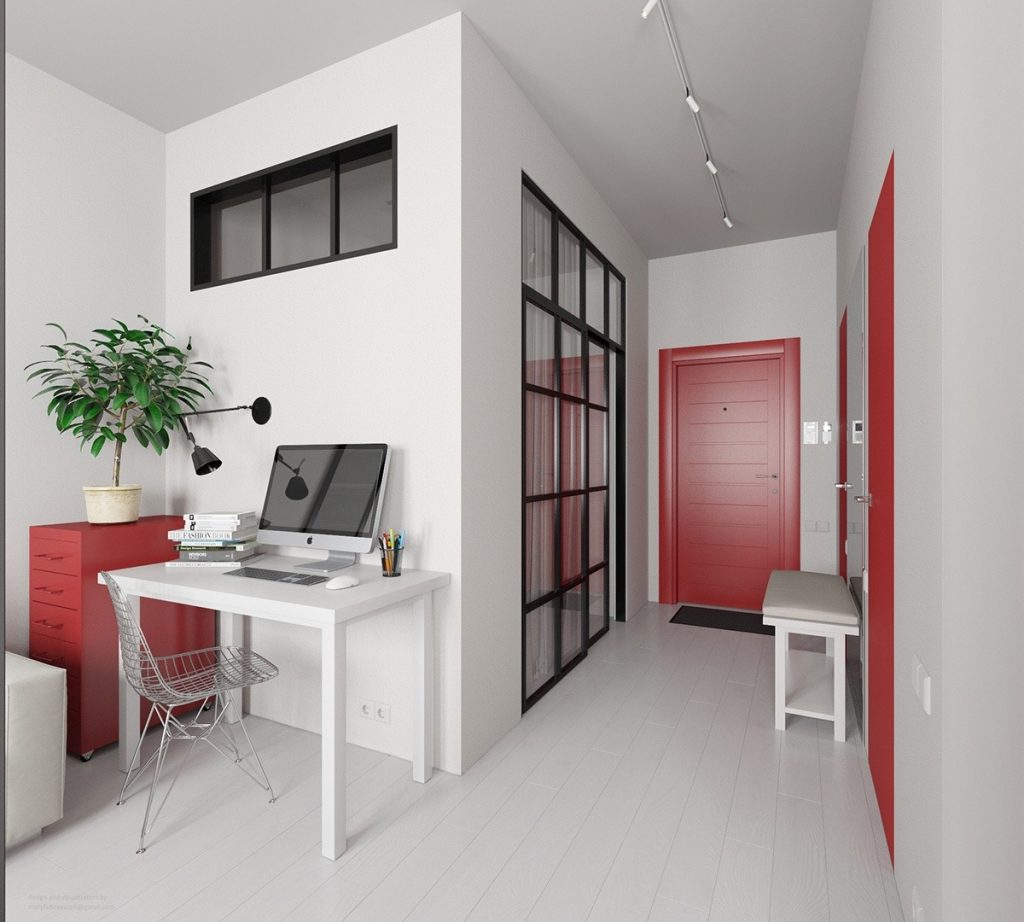 Image Credit: apppie.org
3. Opt for furniture pieces that perform double duty
Since we are talking about a small apartment with one or two bedrooms, or maybe even a studio apartment, we need to embrace creative ways to make space. New York is well known for accommodating small apartments where the landlord installs various nails and shelving to facilitate double-duty furniture pieces. Let's see what you can do with that.
For starters, consider a Murphy bed. Whether you have a studio apartment or one with assigned bedrooms, murphy beds are great additions. Not only can you pull them out into a bed at any hour of the day but you also have a seating area without having to place an extra couch in the limited space.
Next, have you seen the DIY furniture pieces promoted by Blossom, 5-minute crafts, etc.?
Well, you can incorporate a few of them. If you need help, here are some ideas:
Built-in wall-mounted study or dining table that folds to reveal a mirror on the underside.
Storage bins repurposed from wooden pallets with a hardy cushion to make an ottoman or extra seating.
Repurposing broken plates, bowls, etc. to create hanging flower pots.
Using tension rods and magazine racks to make extra storage spaces.
Converting existing furniture into a multipurpose one by installing racks or dividers.
We have a lot more, but we think you get where we're going with this. If you don't want to build DIY pieces then you can always find suitable options at IKEA, Amazon, etc. There are also excellent options available online by creative people who sell DIY furniture pieces.
These items are specially designed for small homes to accommodate extra storage without compromising the aesthetic value. Take a look, you may be pleasantly surprised by the selection. We sure were…
Read also – 40 Best Online Furniture Stores To Shop Trendy Furniture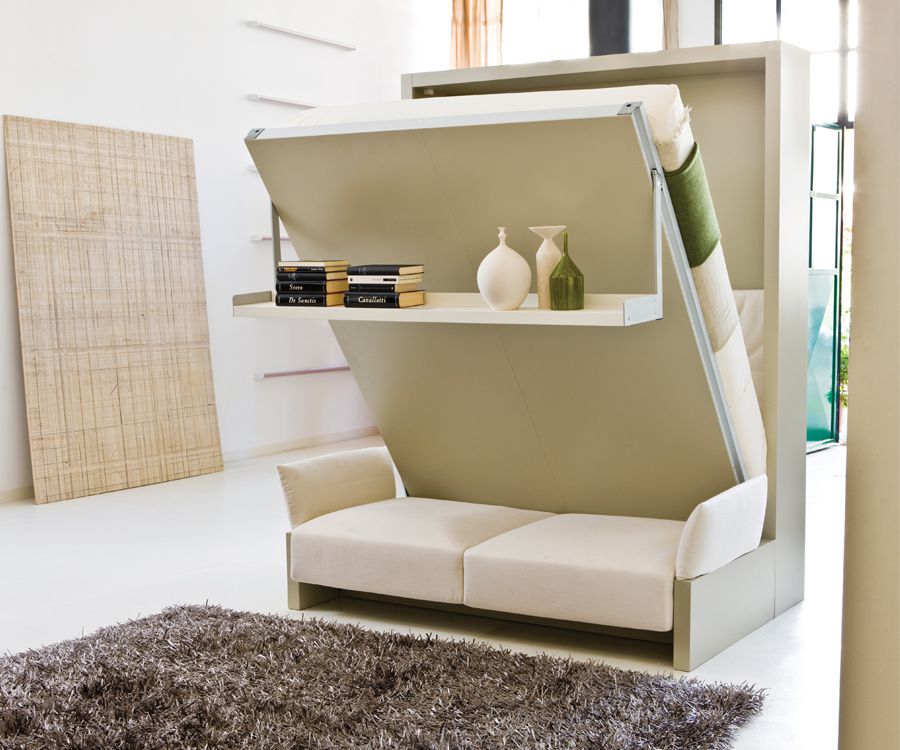 Image Credit: thespruce.com
4. Incorporate plenty of shelving
The biggest challenge in small homes is finding storage spaces for your stuff. It is not just about the furniture itself but the furnishing of home decor and displaying your prized possessions.
For one, you don't want to leave unappealing objects out in the open such as electronic wires, spare bulbs and tube lights, toys, organizers, and whatnot. You need to store them away from the public eye yet somewhere that you can access at all times.
Consider installing storage spaces in all the nooks and crannies. Studio apartments and small homes usually facilitate building shelving and cabinetry in the corners. You can also opt for furniture pieces with built-in cubbies or those with empty spaces underneath.
Use milk crates, wood pallets, or storage containers to hold your things and slide them under your furniture. You can use hideaway techniques by furnishing with drapes and table cloths to cover them up the under space.
Another useful storage solution for small homes is to utilize the vertical space and wall space to your advantage. Create shelving at a height or install tall bookshelves and cabinetry instead of broad ones. Store the everyday stuff on the lower racks while the less useful ones can go on the higher ones. You can access them with stools or ladders that you can also easily store away.
Lastly, remember to use unconventional spaces for storage. You can create some under the bay window or above your cupboards, bookcases, kitchen cabinet, under the sink, etc.
Read also – Modern Office Design Trends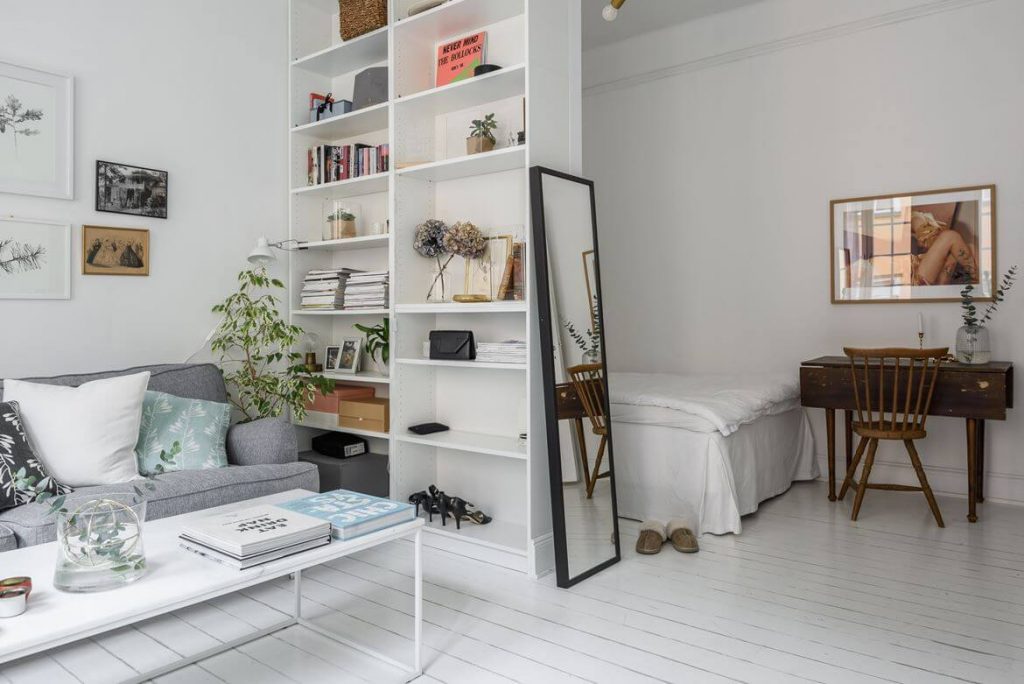 Image Credit: thenordroom.com
5. Don't shy away from screens and room dividers
In small spaces, room dividers can do wonders. You can create a distinct separation between the living room and bedroom in a studio apartment with a room divider. You can transform the space in front of your cupboard into a vanity room to change and do your makeup in privacy. You can even use them to carve separate play areas for kids while you are entertaining guests in the dining area. Room dividers are quite handy since they create virtual walls whenever you need to and they fold away for easy storage.
Secondly, consider installing slider screens. You can use foldable ones instead of concrete structures. They are innovative solutions to separate the allocated space for a home office, bedroom, guest room, etc. within the limits of a studio apartment. You can even use them to create an illusion of a separate room in one-bedroom apartments for the children or overnight guests based on your comfort zone.
Last but not least, there are curtains. You can use them to hide away cluttered shelving, a sleeping area near the bay window, a day-bed in the living room, or even craft a small bedroom within the larger room. They are also excellent implementations in small bathrooms as well. You can install a shower curtain or one around the small tub to hide away your bath space when not in use.
Read also – 14 Best Bathroom Remodeling Ideas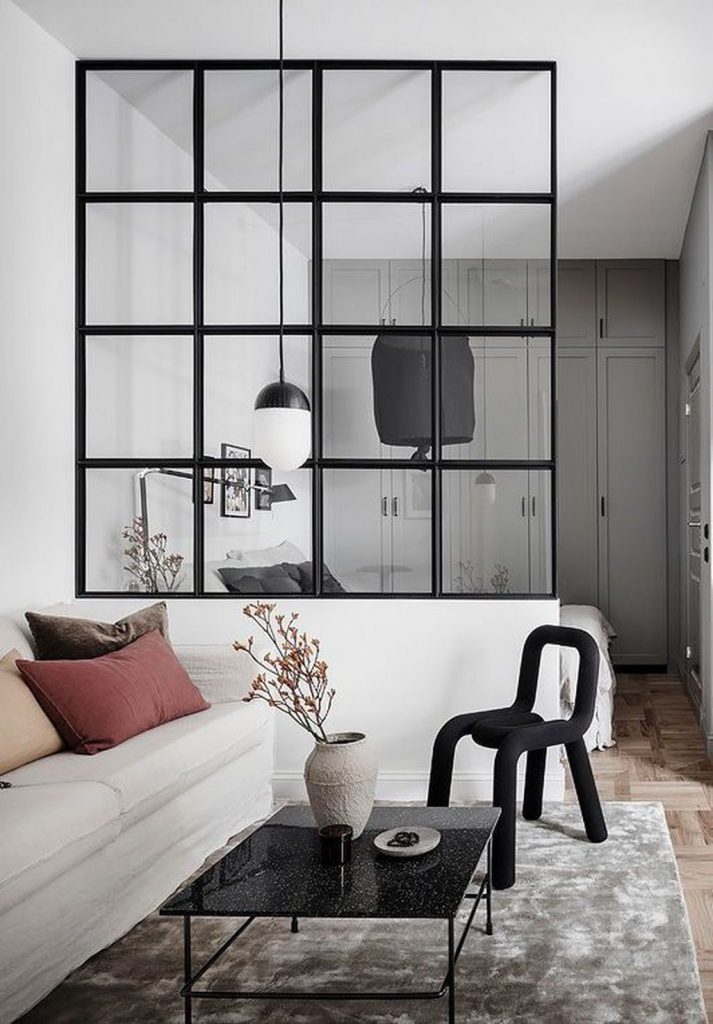 Image Credit: pinterest.ch
We have learned from Oriental interior design that you can never go wrong with utilizing the entryway of your small home.
Japanese cultures usually create an express foyer or a Genkan which is a small indoor porch. If you do not have a dedicated entryway in your small apartment, consider using area rugs to separate the living space or install floor mats near the doorway. You can even opt for a long carpet to mark the entry that leads towards the living area or dining room, basically wherever you want the guests to go.
You can install shoe racks in the entryway to save closet space as well as keep the small apartment clean and devoid of infections. Also, consider implementing a little greenery with indoor plants at the entryway. They brighten up the entire living space, add color, and positive energy to your household.
Read also – Japanese Interior Design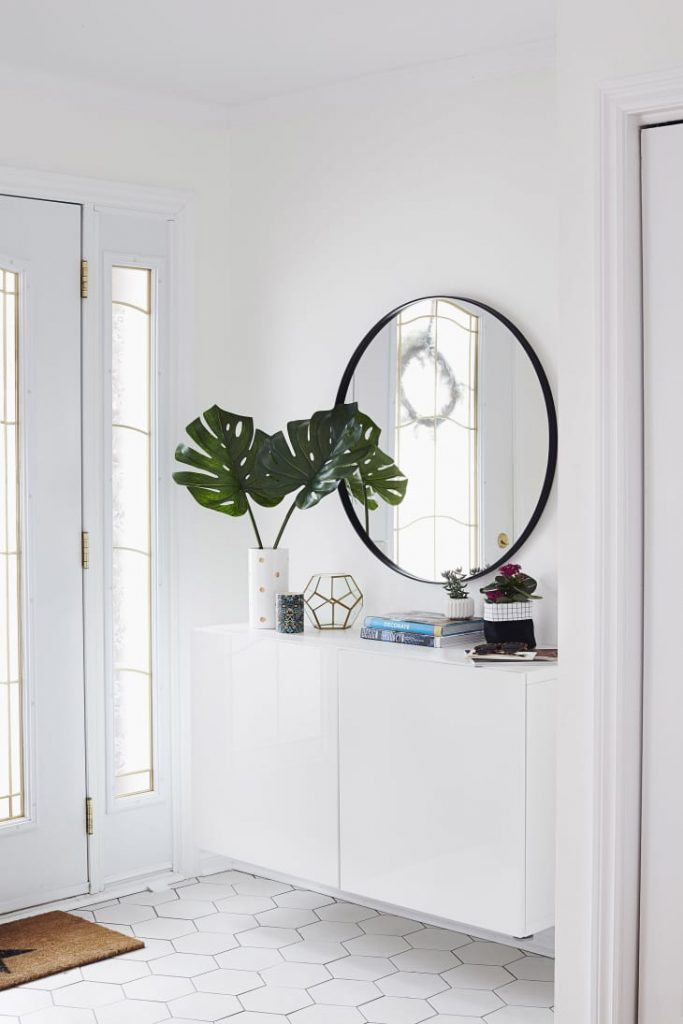 Image Credit: apartmenttherapy.com
7. Illuminate your small apartment
There is a lot of advantage to good lighting. When you have small bedrooms, small bathrooms, small living rooms, and other small sections all over your apartment, it is good to illuminate every nook and cranny as best as you can. The reflective property of light makes the space feel expansive and welcoming instead of dingy and uninviting.
To start with, install some bright lights all over the place. This way every little living space is illuminated creating an illusion of larger square footage. For the daytime, consider installing large glass windows, preferably sliding ones or boxed windows that open outward.
Use heavy curtains but keep them pulled back when entertaining or generally throughout the day to balance the chi in your small apartment. Natural light cleanses bacteria as well as illuminates any dirt and grime accumulating in the corner, thus stimulating you to clean it up.
For ambient lighting, you can incorporate floor lamps near the bookcase, dining table, living room, etc. You can also consider accent lighting to create a focal point in your small apartment in order to proudly display an exquisite acquisition such as an expensive painting, DIY home decor you may have purchased, antiques you acquired at an auction, and the likes. You can also implement table lamps in the areas carved out for your home office, study table workspace, side tables, etc.
Due to the limited square footage in small apartment living, it is best to install any floor lamps in corners so they do not interfere with the open spaces in your home. If you want to install decorative sconces then make sure they are at a subsequent height so as not to obstruct the general living space.
Read also – 9 Best Home Interior Design Tips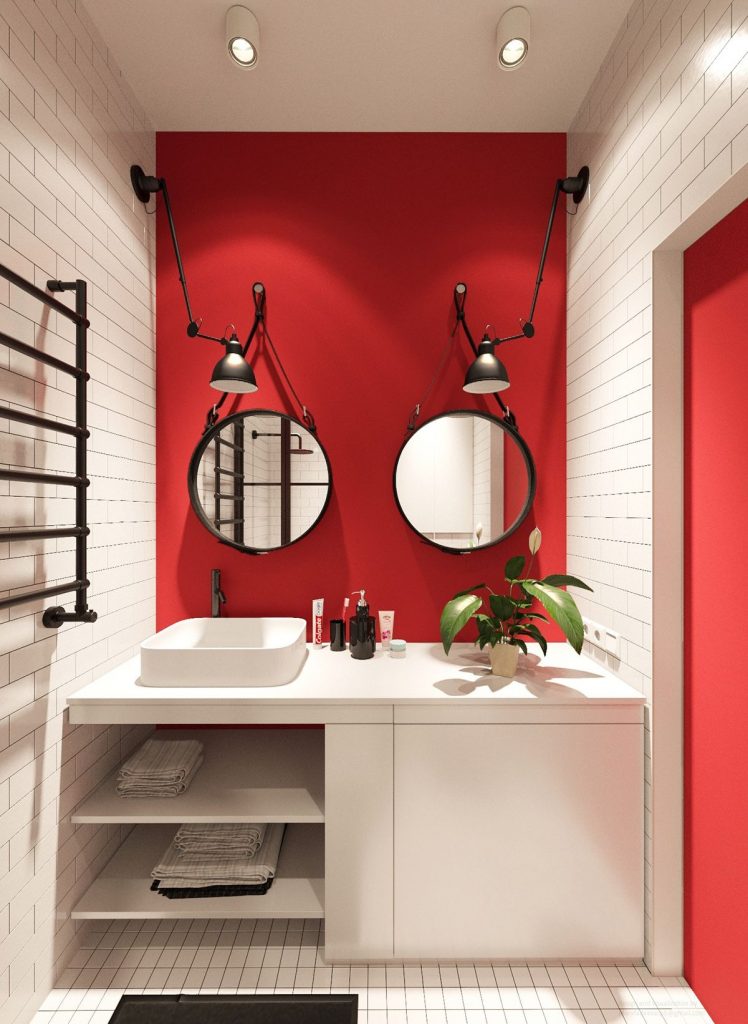 Image Credit: home-designing.com
8. Use reflective surfaces
Finally, when speaking of decorating ideas for small apartments, install as many reflective surfaces as you can. Mirrors, glass coffee tables, glass windows and room dividers, crystal pieces of home decor, etc.
If you're wondering why remember what we said about light colors and illuminating your home?
These reflective surfaces reflect echo the beams of natural light and lamps all throughout your home thus making the room feel larger. They also help illuminate the space further which only adds to the aesthetic appeal of your small apartment.
You see, apartment living with less square footage does not mean you need to compromise on the styling and aesthetic value. With little to no effort, you can easily transform a small apartment into a haven for your loved ones.
Read also – First Apartment Checklist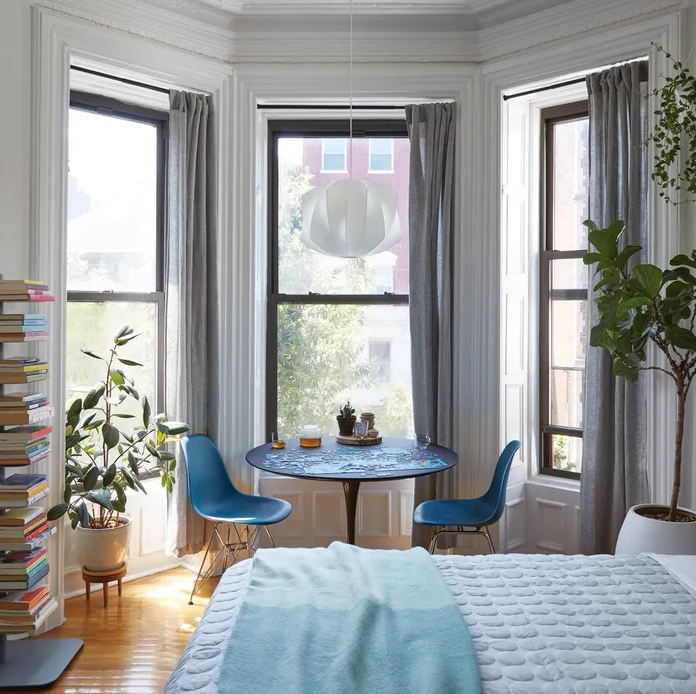 Image Credit: nymag.com
Conclusion
If you are still uncertain or discussing room ideas with your interior designer, consider using the Foyr Neo software to simplify the process. You can choose your floorplans, furnishing, home decor, and create 3D renderings for a realistic view of what your small space will look like.
Before you start the remodel, give the app a try and virtually design your dream home. This will help avoid mistakes and you'll know exactly what you need to brighten up your small apartment.
So, what are you waiting for?
Get started on designing the best interior design for small apartments and amaze your guests and peers. Your boss will be praising your skills of small space management for months to come, probably even give you that promotion based on your innate skills and creativity. Get your dream home regardless of the size of your property.