Home » Design Ideas & Inspirations » How to Design A Restaurant Floor Plan?
Restaurant Floor Plan
This is a map of your physical restaurant's space incorporating all the aspects of your establishment like the dining area, waiting area, kitchen, prep areas, storage, and bathroom, and how they fit together in your space.
A restaurant floor plan should include the kitchen, kitchen equipment like the refrigerator, cookers, and other large equipment. It should also include tables, chairs, the entrance, the waiting area, the bar area, restrooms, the backroom for staff, outdoor seating, a POS payment system, windows, doors, an emergency exit, and square footage.
Read also – How to Design a Kitchen?
Why Do You Need Restaurant Floor Plan?
Other than focusing on food and the service, a restaurant's layout plays a great role in enhancing customer experience. A restaurant's interior design has been proven to influence the ordering decisions of customers. A restaurant layout plays a crucial role in a restaurant's operations and workflow.
Design guidelines must be included in a restaurant layout plan and floor plan design. Ensure the design and the layout are in sync with the concept and theme of the restaurant. However, the restaurant's design will vary with different types of restaurant formats.
A restaurant layout ensures proper circulation and movement of the restaurant staff as well as the customers. With the COVID-19 pandemic that has caused a massive drawback in the hotel industry, the need for space is crucial. It is essential to have enough spacing between tables and all the social distancing instructions adhered to.
Read also – 6 Best Hotel Interior Design Tips from Interior Designers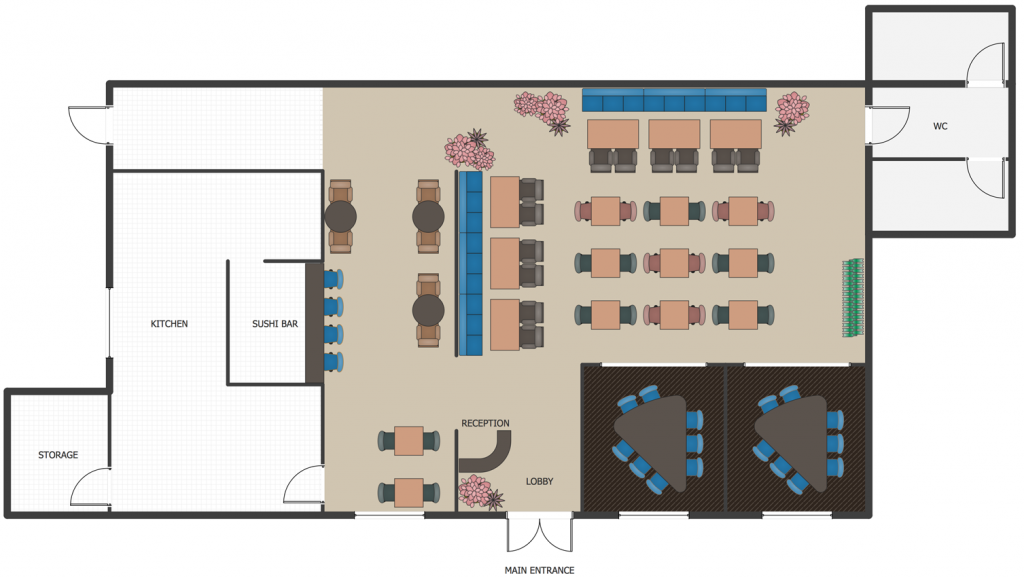 Image Credit: conceptdraw.com
The route used by the waiters when carrying food from the dining areas to the kitchen area should be straightforward and uncluttered for quick and efficient services. Since restaurant kitchens are prone to explosions and accidents from slippery floors, there must be enough space between workstations.
The spatial arrangement should ensure that the front end including the cashier's desk, entrance, reception, and waiting area is connected to the dining area and the back end. The back end carries the restaurant's kitchen, pantry, storage, and administration area.
The restaurant design should foster the smooth circulation of items from the pantry and storage to the kitchen restaurant. This will lessen troubles in transferring stock items to the kitchen and reduce delays in food preparation. The back end should be spacey separated from the dining area and well ventilated to reduce aroma and food preparation noise.
Read also – How To Draw A Floor Plan?
Considerations While Designing a Restaurant Floor Plan
1. Lifestyle
When putting up a restaurant you will want it to reflect the way you live. It is therefore important to choose a plan that suits your lifestyle rather than change your lifestyle to fit a particular plan.
2. Space needs
It is easier to expand in an existing space than to add space later. Therefore, it is essential to have extra space in your restaurant.
3. Changing needs
The current Corona Virus crisis has reminded us the need for space, especially in restaurants and eatery joints. Ensure you include enough space for social distancing.
4. Cost
Proper budgeting is important as much as finances are a hushed topic. Overspending may result in financial problems while underspending might cause dissatisfaction.
5. Location
Choosing the right location is critical. Are you considering a remote place that allows you to get away from the chaos in town? Or are you looking for an established community? Will you access stock easily and efficiently?
6. Shape and design of the room
Consider the structure of room I n relation to tiered floors as split level dining waste a lot of space, window locations, number and size of entertainment areas, required thoroughfares for customers to access tables and restrooms and more space between tables if guerdon trolleys will be used as part of the service.
7. Immovable objects
These include waiter's stations, pillars, staircases and display cases.
8. Exits and doors
Consider whether the doors are to be opened Inwards or outwards, fire exits, restroom doors and main entrance. Placing seats away from the doors will allow customers to have a rewarding dining experience.
9. Room placements
Putting bathrooms or toilets close together will save you on plumbing costs.
Read also – Commercial Interior Design Ideas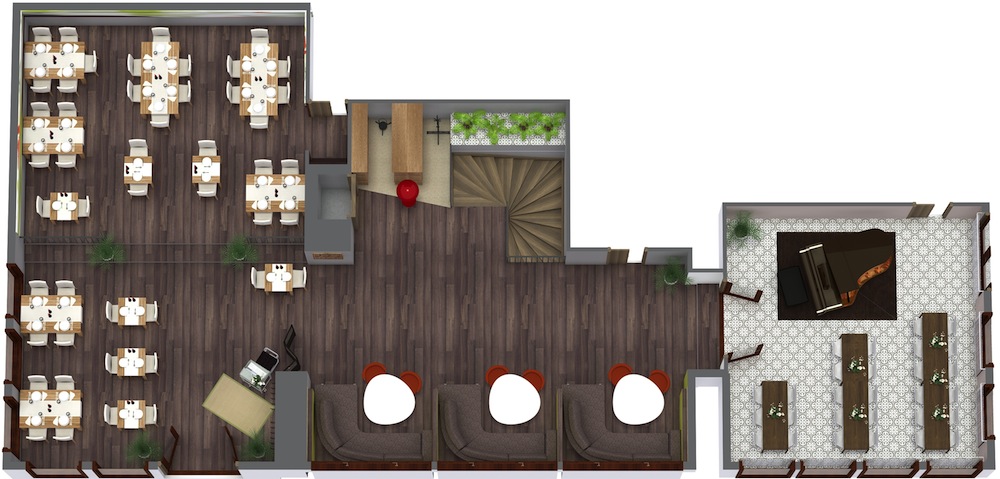 Image Credit: posist.com
Who Designs a Restaurant Floor Plan?
A draftsman prepares technical designs using specialized design software to convert the design into usable blueprints and other technical drawings. However, they take the plans to structural engineers or other licensed professionals for approval if an element in the building needs special considerations.
22 Best Tips for Designing a Restaurant Floor Plan
1. Count your operational restaurant spaces
The entry and the waiting area should communicate your content and appeal to passersby. Fine and casual dining requires consideration especially if you have wait times. Quick services and takeaways will require minimal space.
Kitchens need gas lines, water lines, electrical wiring, floor drains, and ventilation hoods. Commercial buildings will have loading docks for vendor deliveries. Back rooms are necessary to store sensitive information like cash reserves, tax documents and staff changing rooms and storage of their items.
Read also – 19 Floor Plan Mistakes To Avoid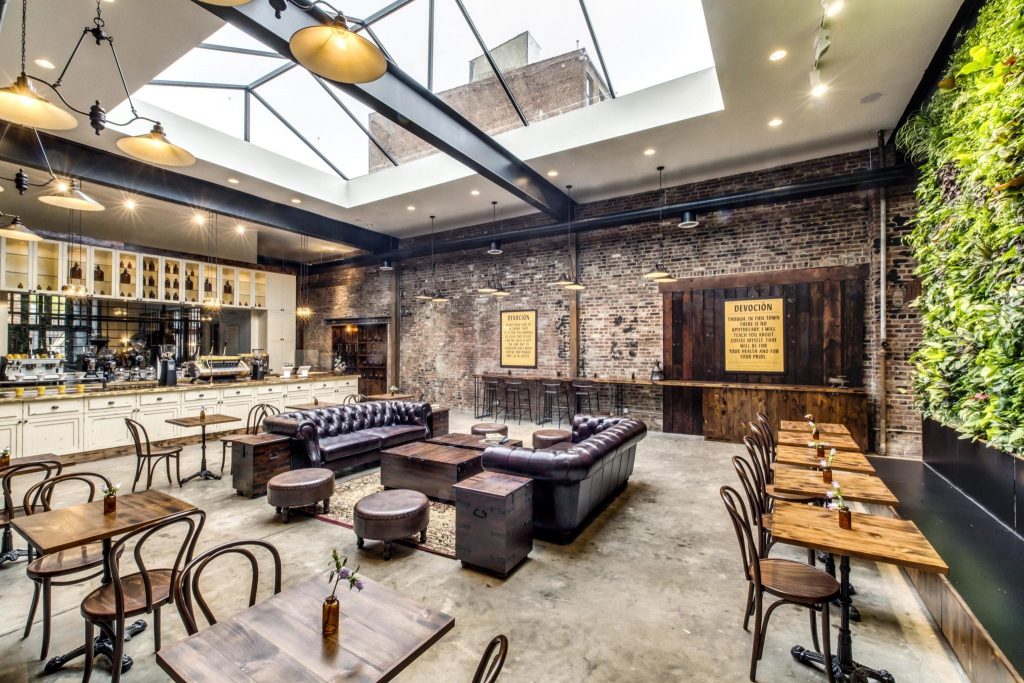 Image Credit: upserve.com
2. Consider the available space
You need to know your utilities location, interior elements that cannot change, and landlord restrictions such as where to receive deliveries and where entrances and exits face. Also consider zoning restrictions such as drive-through services, sidewalk seating and outdoor patios, and where to vent kitchen fumes and smoke.
3. Design your restaurant's dining room
Check with your local building officer for occupancy guidelines for your space.
4. Include your restaurant technologies
Whether you use a register or a POS System, you need to send order information from customers to your kitchen and payment information from your customers to your payment processor. Server stations with card readers or POS terminals for your dining are essential. They should be placed near electrical outlets.
5. Layout restrooms, entry ways and waiting areas
Doorways must be wheelchair accessible and at least one restroom stall in each bathroom that is wheelchair accessible.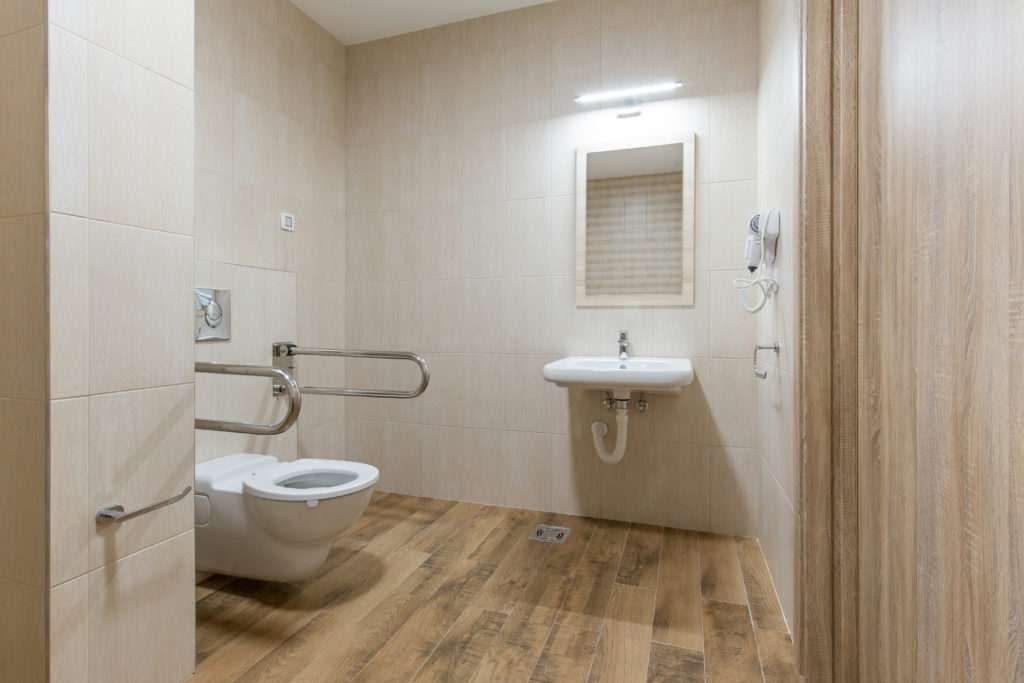 Image Credit: medplushealth.ca
6. Add bar counters, service counters and delivery areas
Consider bar or countertop dining areas if you have space as it is more profitable than large waiting areas as customers can order drinks as they wait.
7. Design your kitchen layout
Provide ample space for food preparations, cooking and server pick-up space.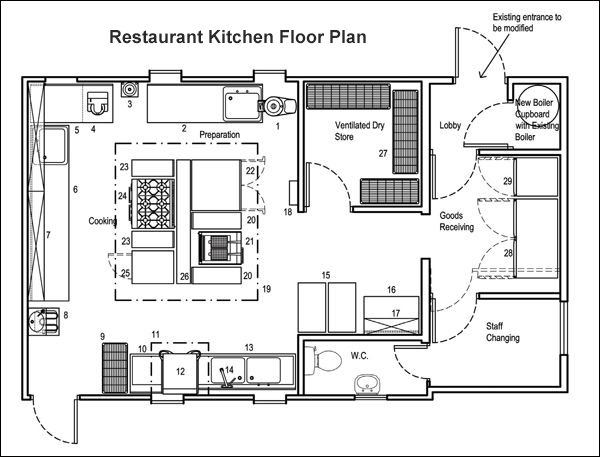 Image Credit: pinterest.com
8. Include staff areas and back office
It does not need to be large as it does not generate revenue and ideally, the staff is not spending long hours in them. Since your back office holds relevant information like hiring and firing documents, a back office computer, security systems hub, and safe at least two lockable doors should be included.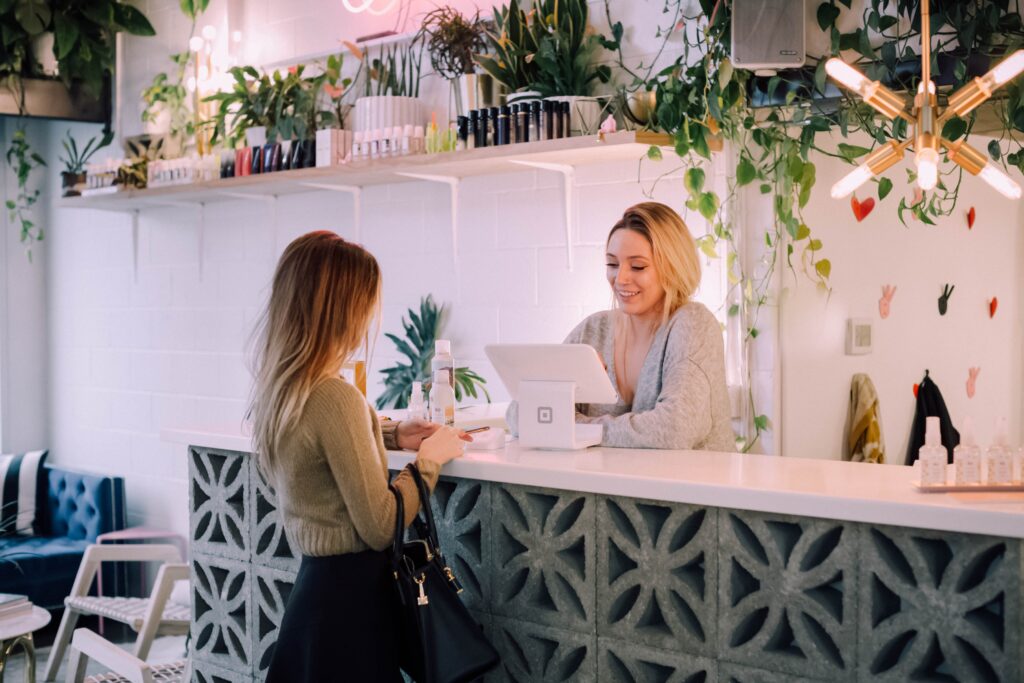 Image Credit: frontdeskmaster.io
9. Think of the furniture
You have to know the exact table dimensions and the chair sizes to ensure everything fits together and flows.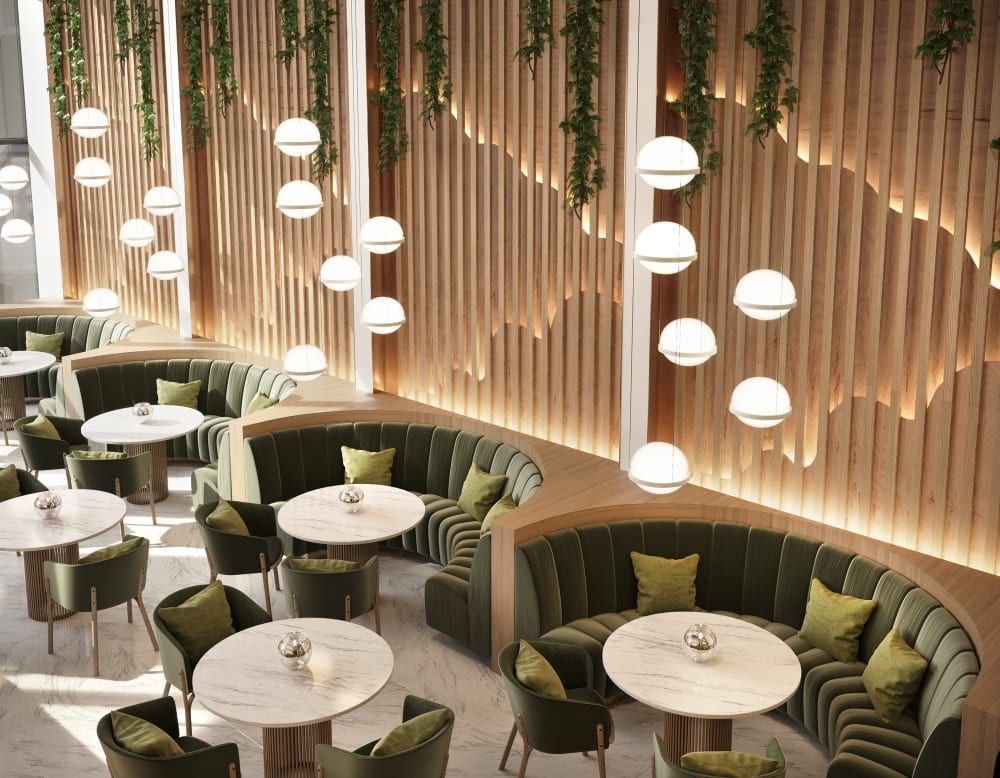 Image Credit: pinterest.com
Put major equipment along the walls leaving a wide center space to enhance strong communication and seamless movement.
11. An island configuration
You can put ovens, ranges, fryers, grills, and other principal cooking equipment together side by side, at the center of the kitchen. Other kitchen sections are placed on the perimeter walls to preserve a circular flow in the kitchen.
12. Allowing for Reduced Capacity and Social Distance
The current rules to comply with the COVID-19 measures have influenced sales in restaurants. Lost seats mean lost revenues thus, measures such as mobile orders and deliveries can be implemented to compensate for diminished revenues.
CDC safe guidelines require restaurants to use 6 feet social distancing floor layout plan. A typical banquet setup floor plan practicing the 6 feet social distance will require 19 seats per table. To mitigate the virus transmission, you should remove self-service fixtures or buffets and replace them with more seatings.
You can also use Plexiglas separators between customers between tables and bars and at your cash registers. You can also widen the aisles and guide foot traffic with floor decals.
In areas where there tends to be more congestion like the waiting area, reception, cash registers, and the restrooms, floor stickers may be added in 6-foot increments to show guests where they need to stand and wait. You may also post social distancing signs that outline the safety guidelines that customers are expected to follow.
Read also – How To Read Floor Plans?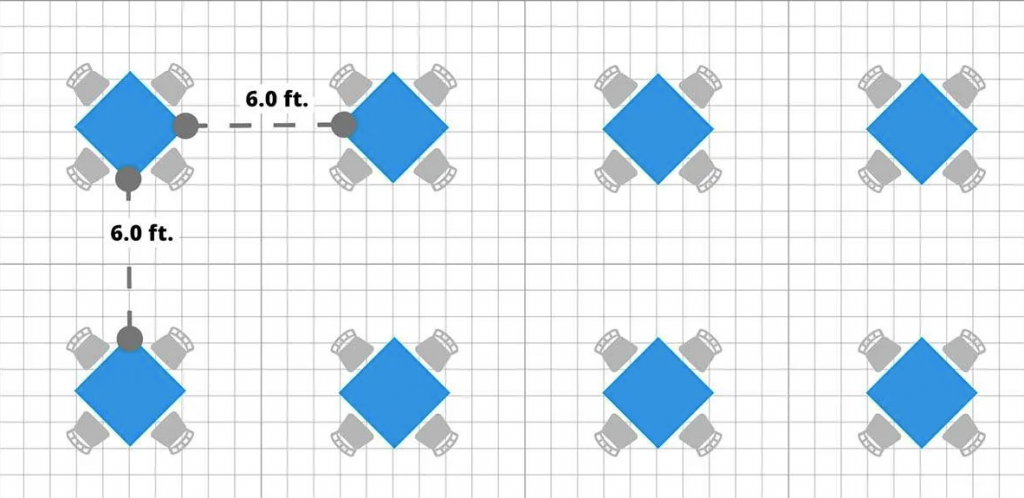 Image Credit: planningpod.com
13. Appliance and Furniture Layout for Restaurant Floor Plan
Three compartment sinks are necessary for washing utensils and ware washing machines quickly clean plates and other serving vessels for the full running of the kitchen. These should be located near the kitchen entrance so that servers can quickly drop off the dirty dishes.
They should also be near the storage area so that chefs can quickly find clean dishes. The storage area can be split into non-food, cold storage, and dry storage. Non-food storage areas can further be split into a section of disposable products and cleaning supplies and clean dishes from the cleaning area.
Cold storage can keep anything that needs refrigeration while dry storage is for non-perishables and other consumables. It may also be a receiving area for inventories. The meal cooking area will have large pieces of equipment like ranges, ovens, and fryers. The area can further be broken into areas like the baking, grilling, and frying station.
Read also – 15 Modern Dining Room Ideas for Your Home
14. Kitchen Layout-Electrical and Space Planning
The NEC requirements are that the pantry, dining room, kitchen, and countertop outlet should supply a minimum of 2 separate circuits of 20 amps but additional outlets are acceptable.
Kitchen appliances that need to be separated include garbage disposers, dishwashers, refrigerators, microwave ovens, electric ovens, electric ranges, and a circuit for the dining room. Small appliances like crock pots, coffee pots, electric griddles, and pizza ovens come with short two-foot cords. Thus, positioning the outlets accordingly is important.
Read also – Space Planning in Interior Design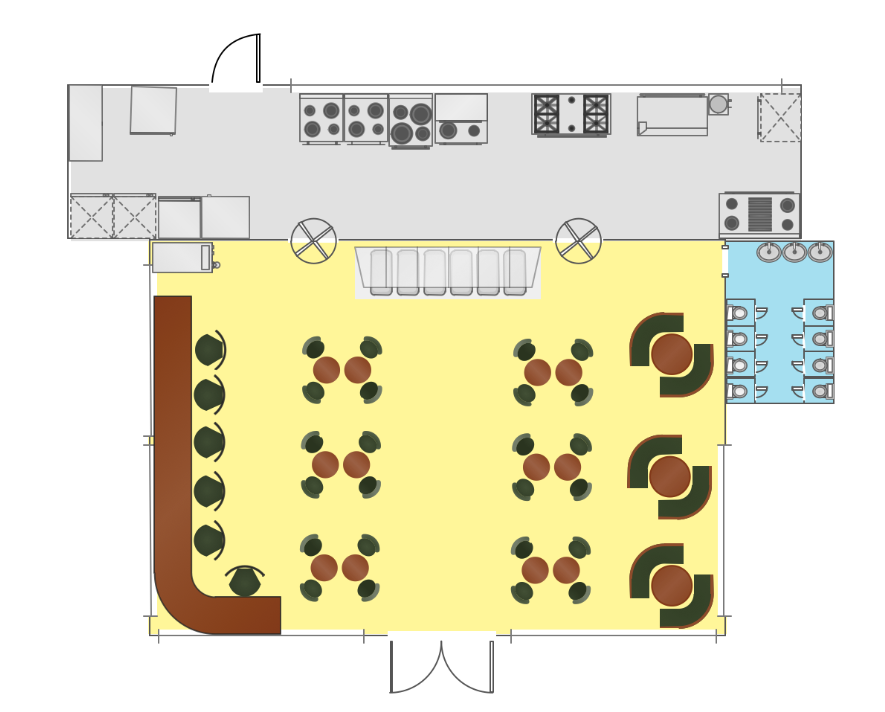 Image Credit: conceptdraw.com
15. Design Software to Create Personal Vision
The smart draw comes with many professionally-designed restaurant layouts to help you get started. It can be chosen to customize. It offers an extensive restaurant floor plan symbol library like furniture, bathroom fixtures, lighting, cabinets, decorative items, and landscape elements.
It designs commercial kitchens and optimizes storage, coolers, work station, and sanitation for efficiency and flexibility. It does not require you to be a designer and you can align and arrange everything perfectly. It has beautiful textures for flooring, countertops, and furniture.
The app offers an effortless collaboration where the team can work on the same plan by sharing it to a saved smart draw folder or by using a favorite sharing app. The app can also be integrated from any device with an internet connection. Once the layout is ready, it can be inserted into any application in just a few clicks or shared as a pdf.
Read also – 7 Types of Kitchen Floor Plans with Dimensions
16. Hiring an Architect for Regulations and Professional Execution
An architect balances the needs between builders, engineers, and the client. He is the ultimate decision maker and coordinates between the aesthetics and practical needs of the owner with the practicalities and design criteria of the engineer, builders, and local authorities.
As the owner's agent, the architect is responsible for technical design as defined in the contract with the owner. His responsibilities should be clearly stated in the contract. He is the initiator of the project from the beginning to the end.
Read also – Hiring an Interior Designer
17. Accessibility for Restaurant Floor Plan
18. Budget Management to Design Restaurant Floor Plan
Your restaurant's business plan represents its concepts and visions, revisiting it will help influence your floor plan and remind you of your original financial projection and budget. It should also define the operational needs of the business. Your branding strategy should also be outlined as it will affect the floor plan.
Consider your target customers to prioritize a clear path to the counter and ample room to wait for the order. The seats should be made more comfortable. You can also mix tables for solo dinners and small parties. Goals will guide you on decisions affecting aesthetics and ambiance like décor, lighting, and table setup.
Read also – 15 Best Free Floor Plan Creator
A restaurant's entrance can either draw or ward off customers. Not all restaurants have enough space to include a waiting area. If they do, they may opt to keep it separate from the dining room or use the waiting room as an extension to the bar.
Offering comfortable seating with menus to peruse as they wait is a great way to advertise the restaurant. The layout binds the sitting capacity. Customers' sitting preference is also important. Some like at the back corner, closer to the bar, and others in view of the kitchen.
Aesthetics is the only way to stand out in the crowded field. Due to shifting styles and designs incorporate new logos, name changes, and other crucial changes. However, it will be dependent on the terms and conditions of the leases.
21. Square Footage per Customer
It is attained by determining the room's length and width and then multiplying by 2 to get the total square footage. Include sections that do not contain seats and multiply the length and width to determine the square footage. Then subtract the non-seats areas from the total area. Then divide by 15 to determine the maximum seating capacity of the restaurant.
Read also – 20 Best Ways To Create an Open Floor Plan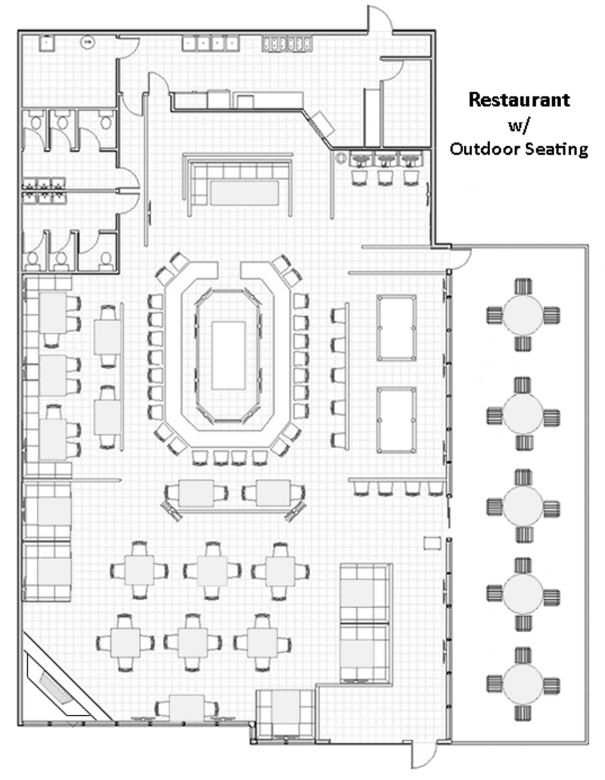 Image Credit: imagelato.com
22. Amenities and Bar Planning
Update your menu and fine dining frequently in your new restaurant, set up loyalty programs, organize special events, keep the restaurants clean and offer high-speed internet. Special programs can include karaoke or trivia nights. You can serve with your branded glass wares and napkins.
Hire a service to professionally clean the restrooms to promote your business. Most people check their social media while waiting for their food service or coffee. Offer them internet and it will make a difference for your full-service restaurant. Loyalty programs such as accumulating points and giving discounts will drive repeat sales.
Read also – 20 Best Floor Plan Apps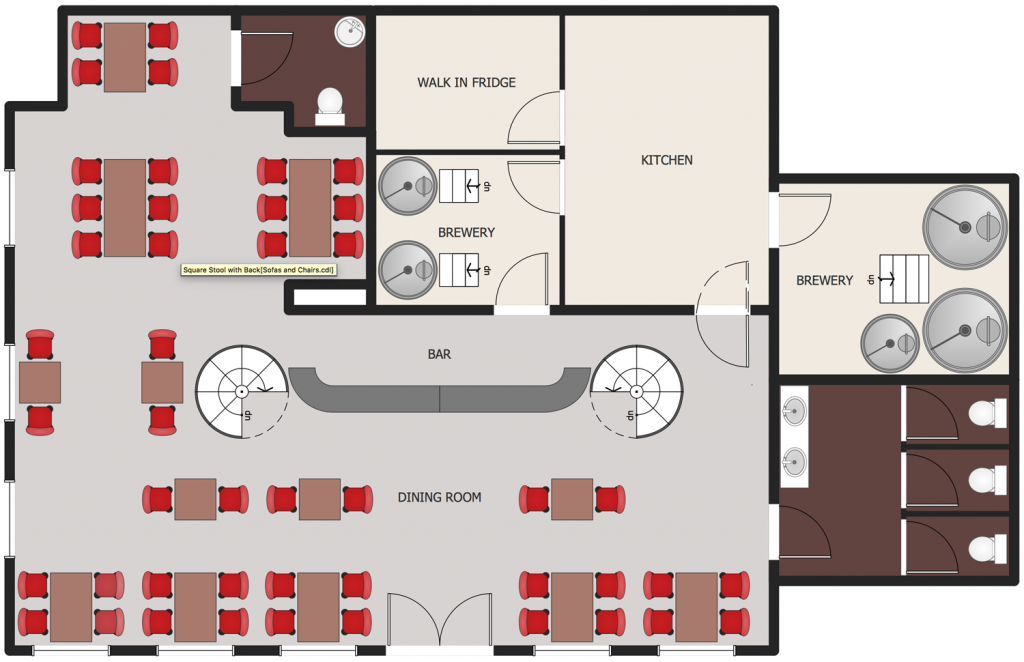 Image Credit: conceptdraw.com
Floor planning is dependent on many factors and adhering to the current rules on Covid-19 is equally important. You can maintain them with the aesthetics of fine dining and the inclusion of individuals in wheelchairs.
Social distancing can also be maintained by calculating the square feet between tables and distancing with uniform square feet. It. It is also important to set up a back of the house and establish an assembly line.
Improving your restaurant business may involve setting up the dining space, and kitchen design, designing your restaurant according to the disabilities act, renovating the food prep area, renovating the outdoor space, setting up a point of sale, arranging the sitting area, and having enough room.
This can be achieved by having an interior designer who can design your kitchen design, dining space, and counter service using apps like smart draw, and cad pro that will fit your type of restaurant and kitchen floor plan. You can hold large parties or fast foods or coffee shops to cater to your total food service.