Which Type of Staircase is Best?
The fundamental aspect found in buildings enabling access comes in different types of staircases designs and tastes. Some are a sight to behold. Others are as basic as their sole use, designed to bridge a large vertical distance by dividing it into smaller vertical distances known as steps. In the ancient days, stairs were made for several reasons, some were to protect the community from attacks made as a form of a burglar alarm.
The unexpected change of straight flight stairs from the burglar alarm would deceive the robbers causing them to trip in the darkness alerting the guards. Others were used for sacred rituals such as the Mount Girnar in India, while others were a symbol of royalty. Architects have articulated the art of making masterpieces converting dull houses to lively ones, offices, and museums. One's taste, space, and financial resources are the determinants to the types of stairs they want.
There are more than 14 types of staircases namely the L-shaped-shaped, Winder stairs, Spiral, Spiral case with landing, Circular, Curved, Ladder, Split, Space-saving, Floating stairs, I-Shaped staircase, Stairs with storage, Sculptural floating staircase, Bent metal, Floating stand-alone staircase, Stairs with bookshelves, Concrete, Marble, Carpeted, Organic, Graphical iron, Two-tone spiral, enclosed two-wall, partially open-one wall, Granite, Bifurcated, and Three-quarter turn.
We have all experienced the intriguing question of what was in the architect's mind when designing some stair types. The article will help you to understand beauty which will help in choosing the best types of staircases that your home deserves.
See also – 15 Best Interior Design Software
14 Different Types of Staircases
1. Straight Staircase
Literally, as its name, it has no bends. It qualifies for a linear flight with no change in direction. A straight staircase is the most common and affordable type of staircases. The design does not need any support, an attachment at the bottom and the top is all it needs. The bonus point of this design is its ease to install of railings and handrails. It is easy to move on them and it is friendly for toddlers and the aged due to its non-steep nature. Its simple appearance makes it suitable for minimal designs.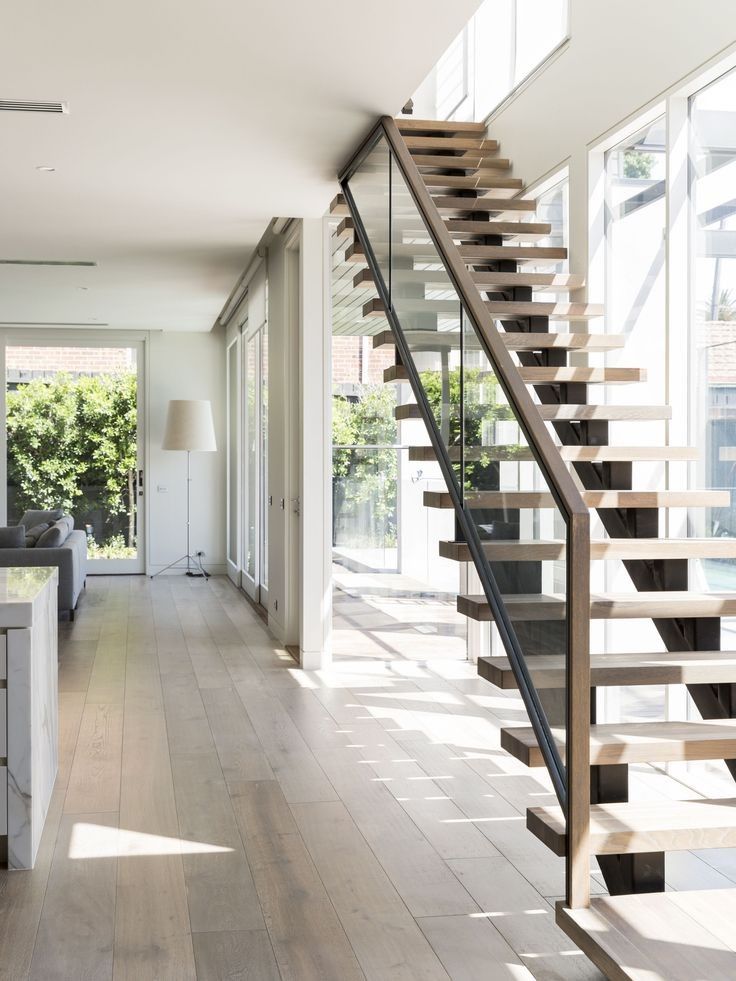 Image Credit: pinterest.ph
Though, it does not have to be boring. The addition of open risers, modern materials, and metallic railings can work the magic. Its drawbacks are it utilizes more linear space which, may affect the house design. It lacks privacy as compared to other types and straight staircases with more than 12 feet will require a landing. It has limited room for more designs and creativity.
2. Straight Stairs with a Central Landing
A high ceiling room or a staircase with more than 16 risers will require a staircase that is 12 feet high with a special landing. Its drawback is that it requires a larger space hence is applicable in commercial buildings than in private ones.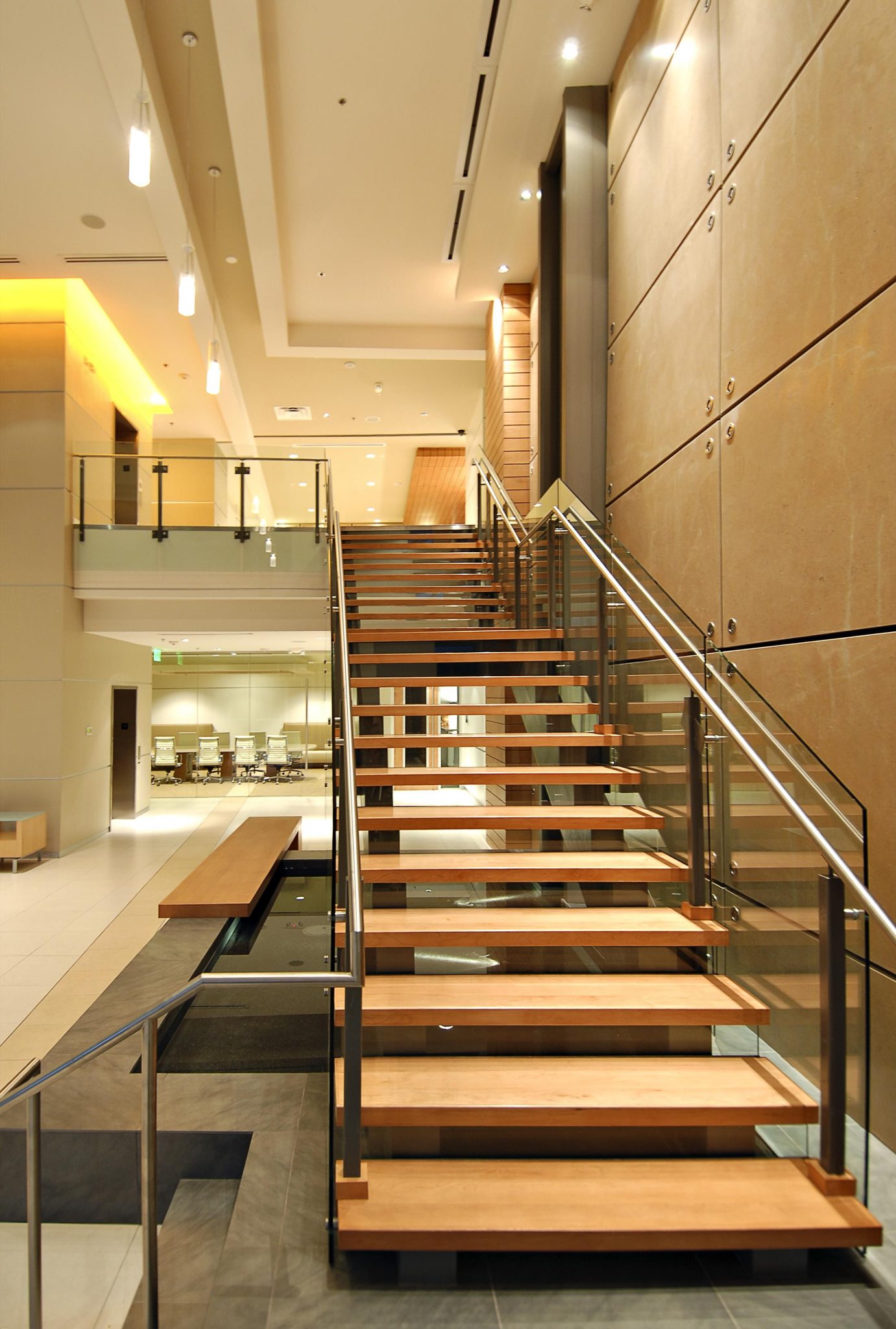 Image Credit: pinterest.com
See also – Types of 3D Modeling
3. L Shaped Staircase
L Shaped Staircase is basically a straight staircase with a turn or a bend. It can be either in the middle of a close end to another. The bend is usually 90 degrees, although it is not fixed to be 90 degrees. It is also known as a quarter-turn stair as its landing is either closer to the top or the bottom. L-shaped staircase utilizes less space and easier to navigate due to its wider landing. It is visually appealing and offers privacy due to the breaking barrier. It is safer as the central landing reduces the number of treads that one can fall.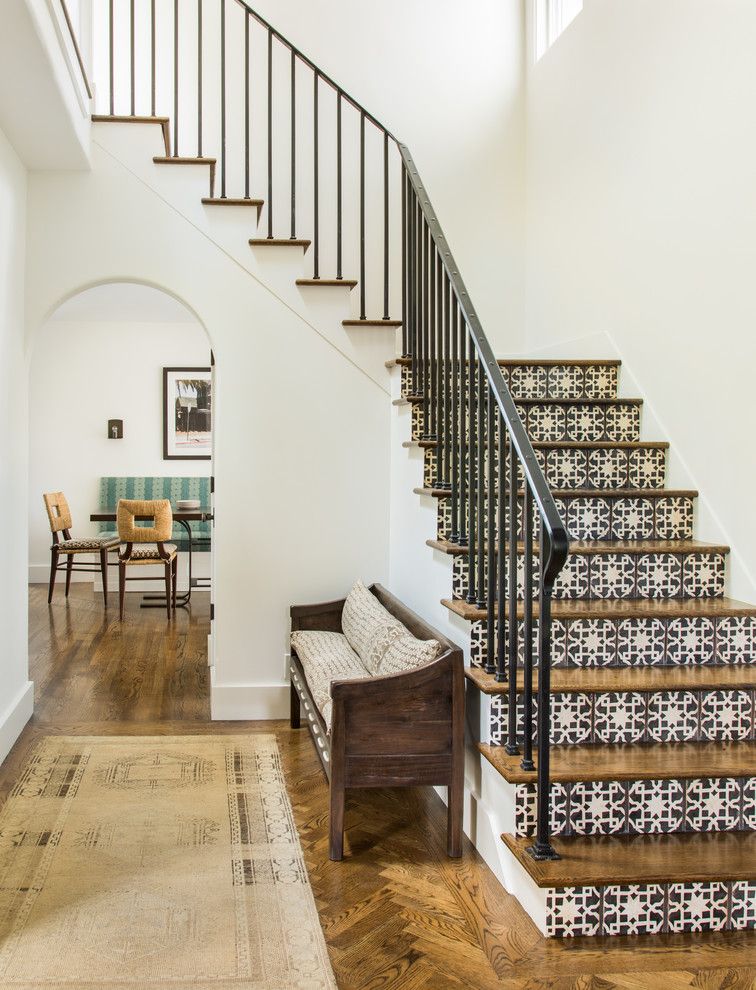 Image Credit: staticflickr.com
The landing provides space to rest while ascending and it can be located at the corner of a room and restricted spaces. L-shaped stairs can also help with sound transmission if the stairs are contained within walls. However, building the stairs can be hectic, its handrails require more skill to construct and they are installed in segments, support is required for landing and where basements are used, the stairs tend to be stacked over each other for storage. Hence, it can be difficult to move items in and out of the basement.
See also – Types of Interior Design Styles
4. U Shaped Staircase
U Shaped Staircase is two parallel flights of stairs joined by a 180 degrees turn landing. They are also known as the switchback stairs or the half-turn. U-shaped stairs are easier to fit in an architectural plan, the flat landing provides resting points when ascending, and are architecturally pleasant to view. They are the easiest to incorporate in a small space and are complex to build as compared to the other designs. U Shaped Staircase drawbacks are they are complex to measure and build and they require additional support structures for landing.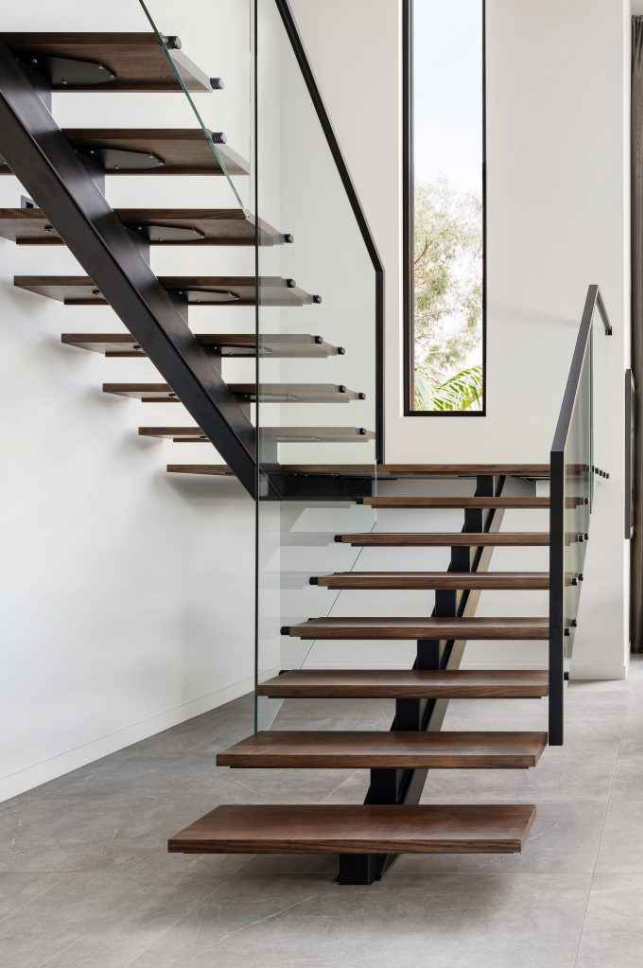 Image Credit: alicdn.com
5. Spiral Staircase
Spiral Staircase is design-centered around a pole such that if one looks at it from an aerial view, it forms a perfect circle. It is a no-go zone for the clumsy. It is compact but difficult to navigate. They are perfect for minimal spaces such as beach houses and city dwellings. The center pole and landings provide structural support for the stairs as they do not need extra support. Its drawback is that only one person at a time can navigate it as the footing requires caution and the inner portion of each step is steep. The spiral staircase is also difficult to move items using stairs.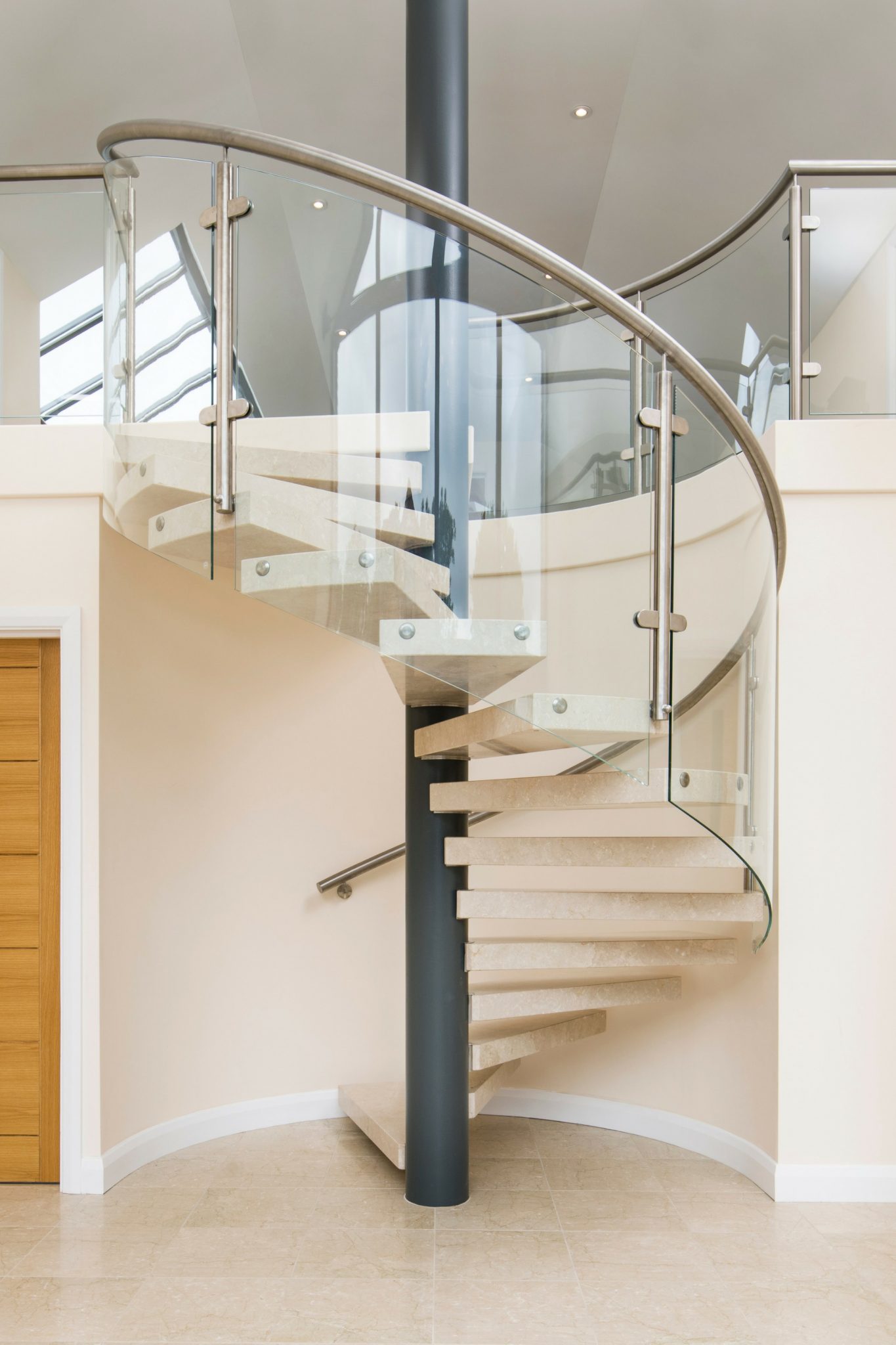 Image Credit: spiral.uk.com
6. Curved Staircase
The Curved staircase is continuous forming a helical arc and acquiring an amazing architectural view. It has a larger radius but does not form a full circle. It adds elegance to a house thus, is always located at the entryway to make an impression. They are easy to navigate when they have a larger radius. However, they are the most difficult type to build. It is in fact a pinnacle of achievement for any builder or fabricator. The curved staircase obviously makes it the most expensive to build distinguishing it from the different types of staircases.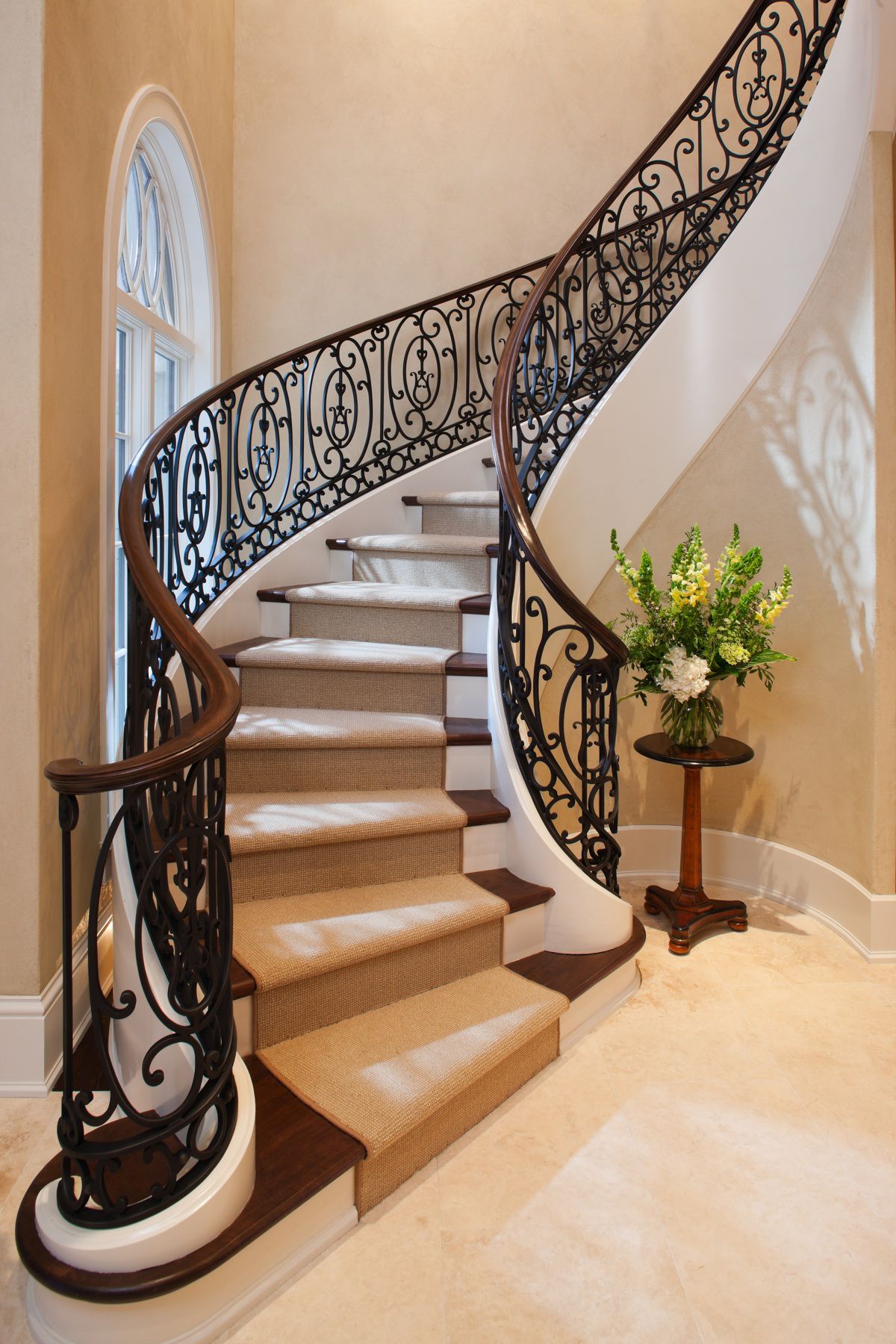 Image Credit: pinimg.com
See also – Types of Bathtub
7. Bifurcated Staircase
The Titanic staircase rings one's mind at the sight of bifurcated stairs. The scene where Leonardo Di Caprio's heroic act to save his lady begins on the stairs. The ancient style still maintains its royalty with the lower treads being wider than the rest. Balusters can be used to support the handrails to form beautiful pieces of balustrades. Well, the grandest of them all hails this type of stairs. It has a sweeping set of steps splitting into two smaller flights in opposite directions. The bifurcated staircase only drawback is that it utilizes more space. Thus, bifurcated types of staircases are more suitable for buildings with grand spaces.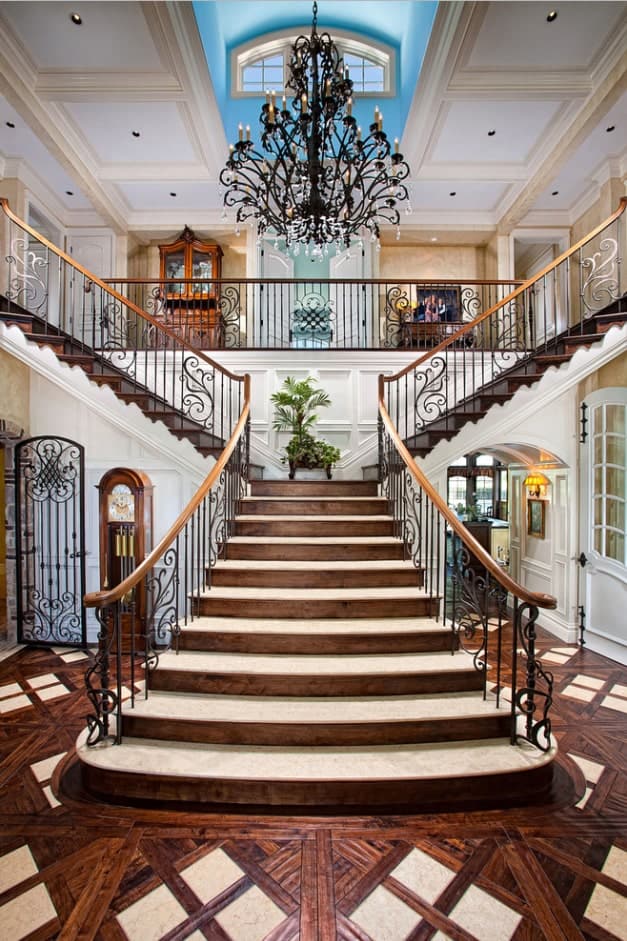 Image Credit: homestratosphere.com
8. Ladder Staircase
The Ladder Staircase can serve as a means of access however, building codes do not allow them to serve as a primary source of access. In residential homes, they are found mainly as a connection to the kitchen. This is because they utilize the little space to enhance movement. Ladder stairs are also applicable in libraries, docks, and lofts. They are the most compact way to get from one floor to another and are cost-efficient due to their designs. Ladder staircase may also have wheels or folds to move them away when not in use or to restrict movement. Their drawback is that they are difficult to navigate when descending.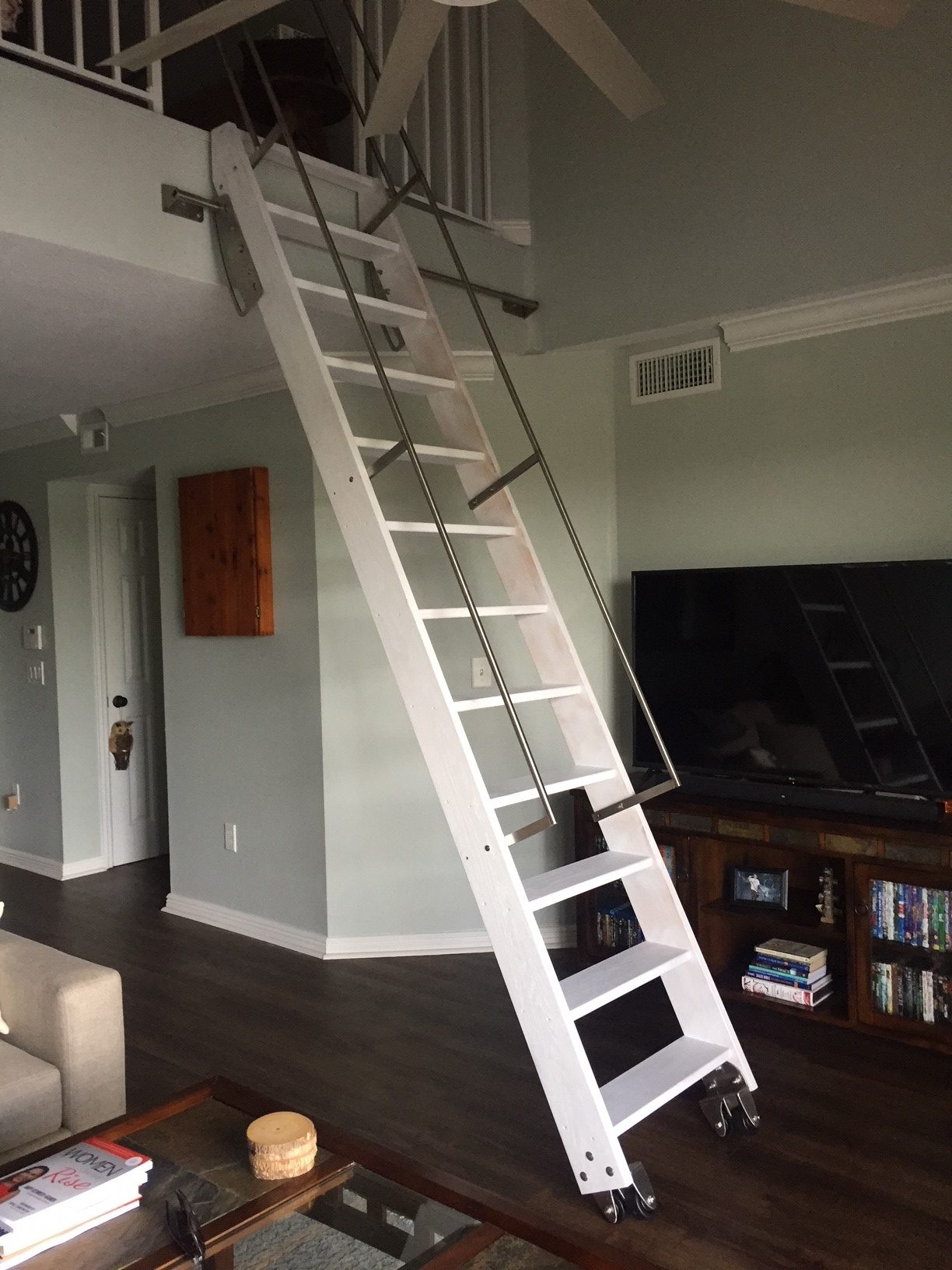 Image Credit: acadiastairs.com
See also – Best Home Design Software
9. Winder Staircase
Winder Staircase is a variation of an L-shaped stair but with a pie-shaped landing and triangular-shaped steps that transition at the corner. Balustrades can also be used instead of rails. They require less space than any other type of stairs and very common in older homes. The winder staircase is mostly used as secondary stairs. It mostly links the backdoor movement or accessibility to the kitchen as the primary stairs are located at the entrance of the house. The winder staircase has gained popularity in modern homes as they create a seamless transition meandering around corners. Its compactness makes it more attractive. However, it can be harder to navigate than the L-shape. Winder types of staircases can also be difficult to add a handrail and it requires center support.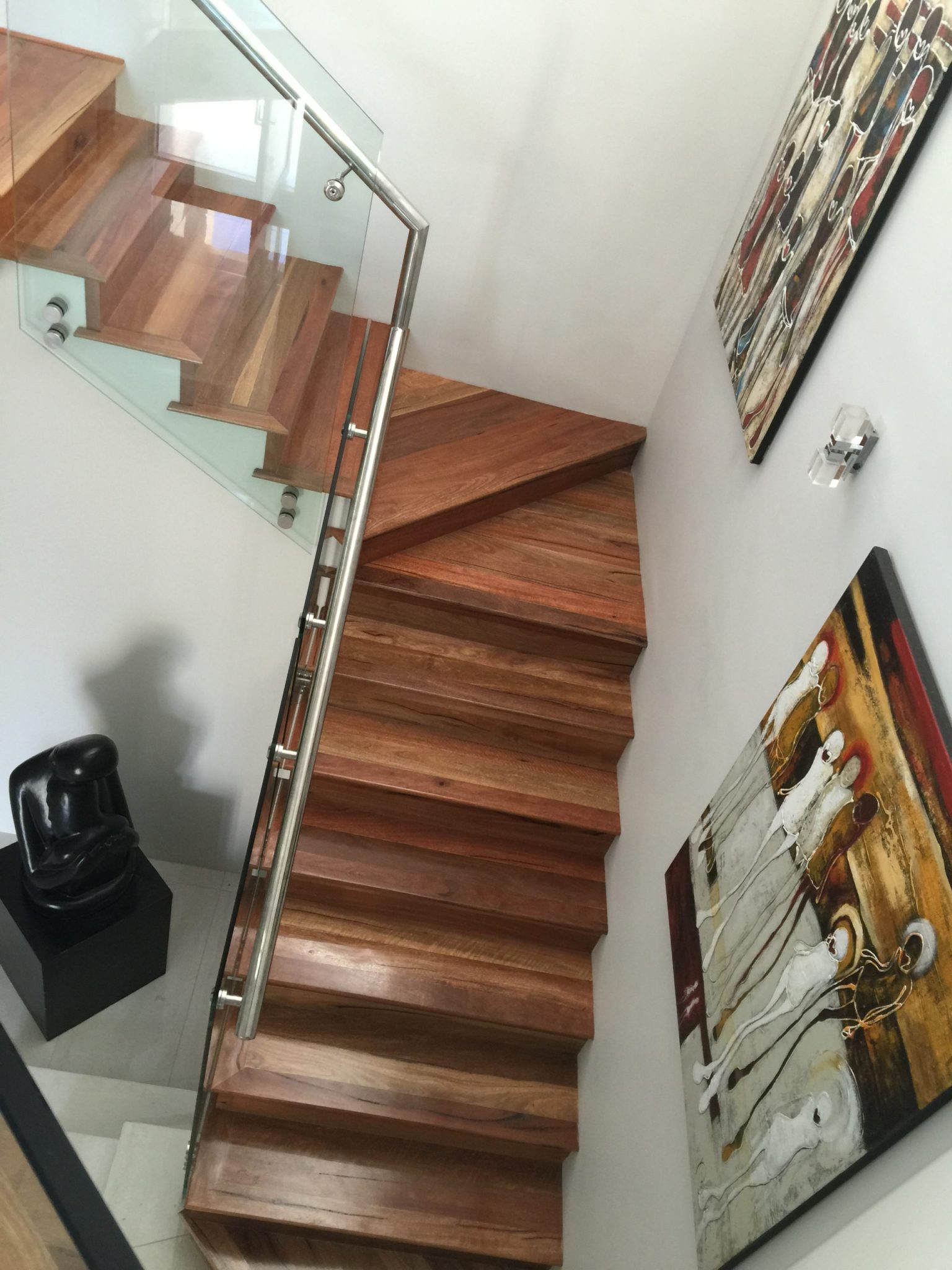 Image Credit: lifewood.com.au
10. Cantilever Staircase
Cantilever Staircase has stair threads that appear to be floating on air without support. The treads are fixed to one end with a metal frame by creating divets while the other end either secures a railing system or simply floats freely. The stair stringer can be exposed or hidden depending on the owner's taste. Due to this nature, they add interest and spaciousness to a room. However, certain configurations can be difficult to design and it is recommended that one checks with the local code regulations. Cantilever Staircase drawbacks are that the tread support needs to be designed to handle the weight of the individuals using the stairs. The stairs are also costlier than other designs due to additional structural requirements.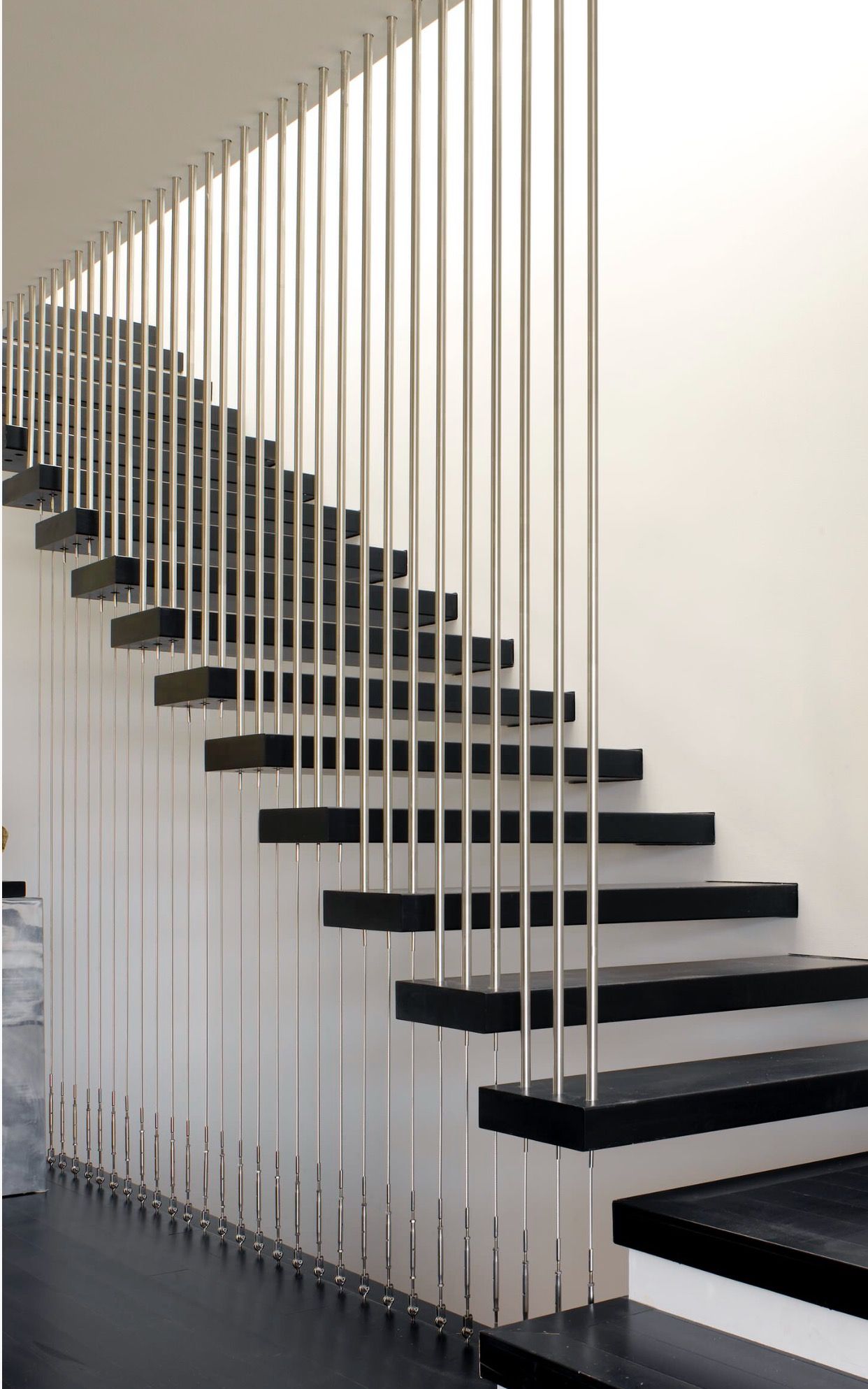 Image Credit: pinimg.com
See also – 3D Visualization Software
11. Circular Staircase
The Circular Staircase goes round and is tapered. The stairs originate from medieval times but they have been modified to add to its sleekness. The circular staircase is surrounded by glass instead of railings to add to its beauty. Vanish is applied to the wood to create a luster and uniqueness. Its steps are easier to navigate and it is more comfortable than a spiral stair. The circular staircase is also known as the helixed stair. It is suitable for individuals with a delight in vintage items. Maintaining it is relatively easy as the fundamental aspect is preventing warping on the wood. Its drawback is that it needs more space and it is costlier to build.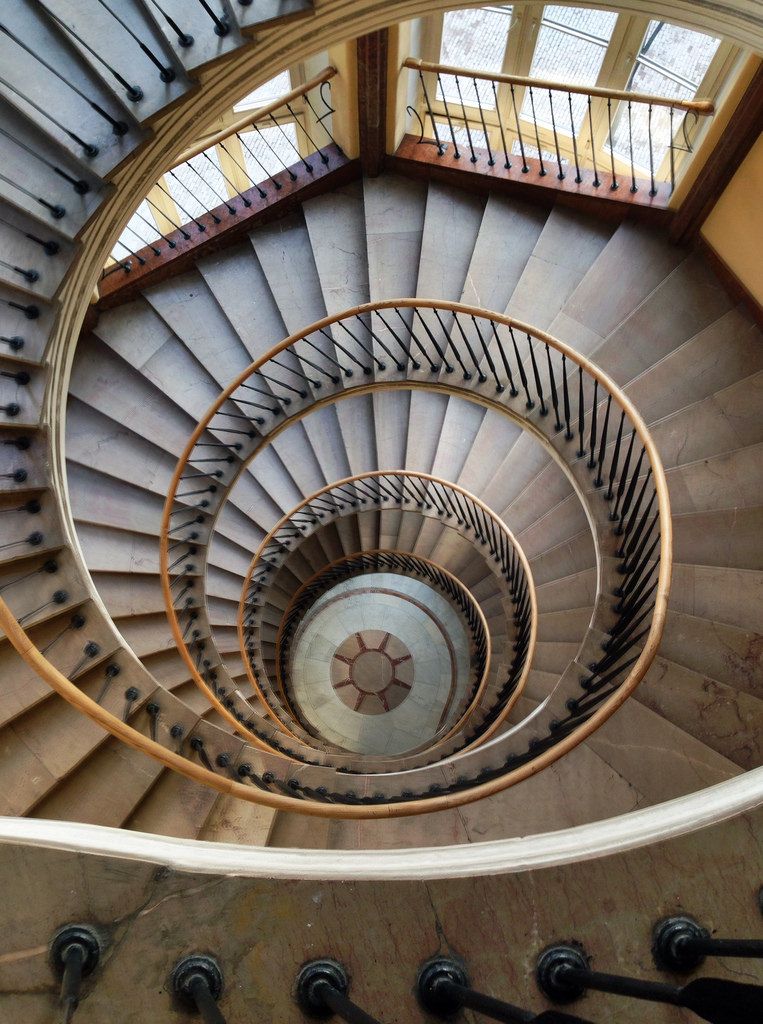 Image Credit: pinimg.com
12. Space Saving Staircase
The space saving staircase is efficient for a compact home. One can incorporate stairs that are steeply pitched, ribbon styled, or narrower in a smaller space. The ardent readers can utilize the space by creating a library at the bottom of the stairs. They will have saved on the space and still add a touch of elegance to space. With proper lighting or the availability of natural light to space, it further beautifies the area. The only drawback of space saving staircase is that it may create disturbance to a reader who needs privacy as the rest of the members use the stairs.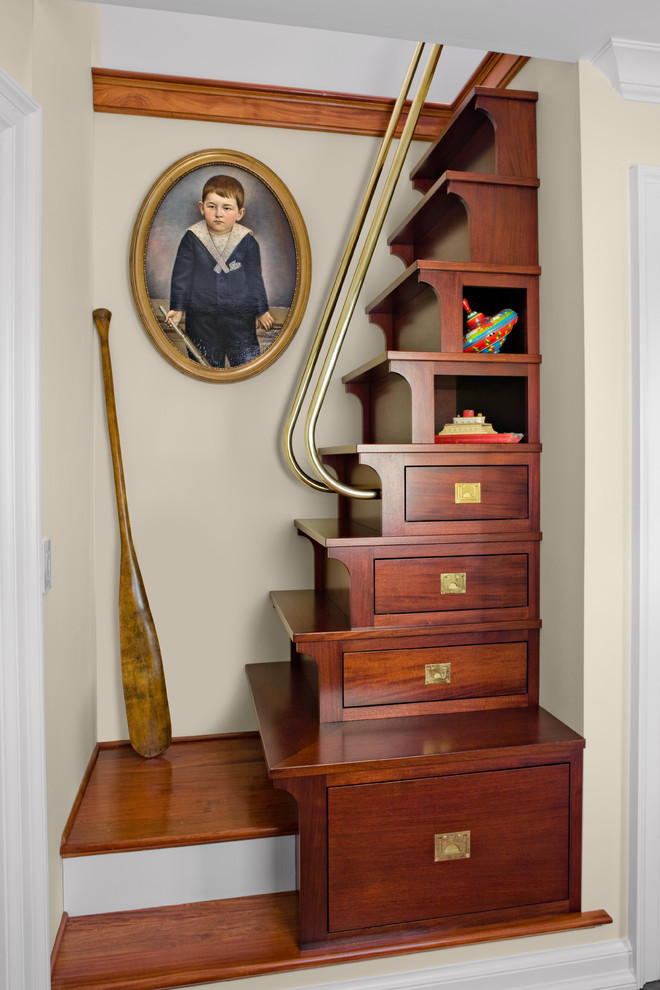 Image Credit: digsdigs.com
See also – Best 3D Rendering Software
13. Storage Staircase
The under-looked area beneath the stairs can be utilized by converting it into a storage area. Cabinets can be built underneath the risers or each riser can be turned into a drawer. Balustrades can be incorporated rather than rails to enhance its style and differentiate it from the common styles. One can store their necessities under the risers hence, utilizing the ignored space and creating room for additional items.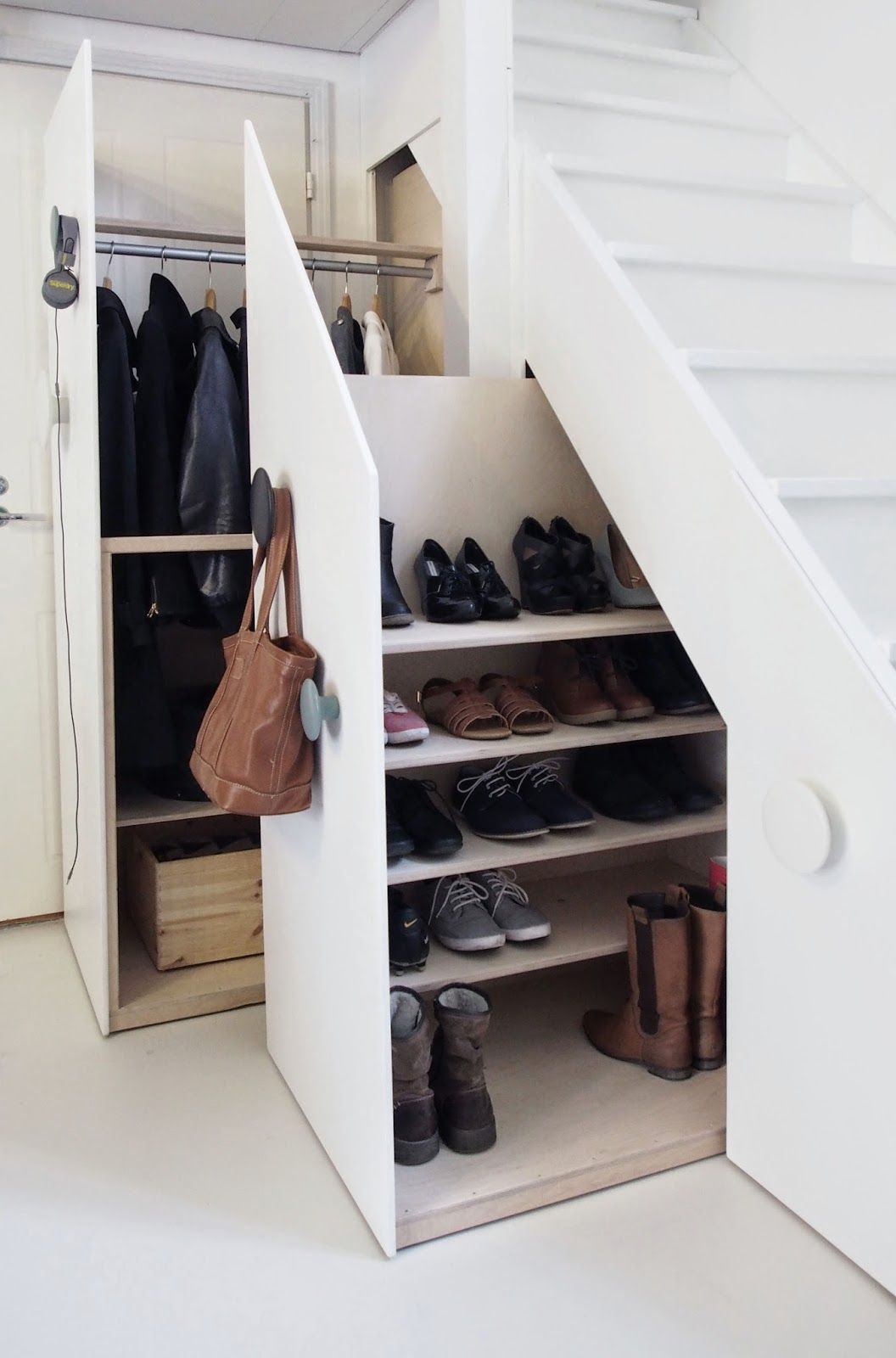 Image Credit: pinimg.com
Especially in winter, one can store additional food items or emergency first aid equipment and necessities. The only drawback of the storage staircase is that the users will need to frequently check, clean, and maintain if they have stored food items to avoid rodents and pests. Lighting is also necessary to enhance safety. Moisture should be avoided to keep off mildew and bad smells.
14. Bent Metal Staircase
Stunning it is, yes you are right, the stairs are made from bent metal and wooden treads. The bent metal staircase is so light and slender but sturdy and durable. The more adventurous individuals will delight in this type of stairs as it creates an adrenal rush as one ascends. The architects designed it specifically to intrigue your mind and appeal to your sight. The metal adds to its sleekness and enhances its space efficiency.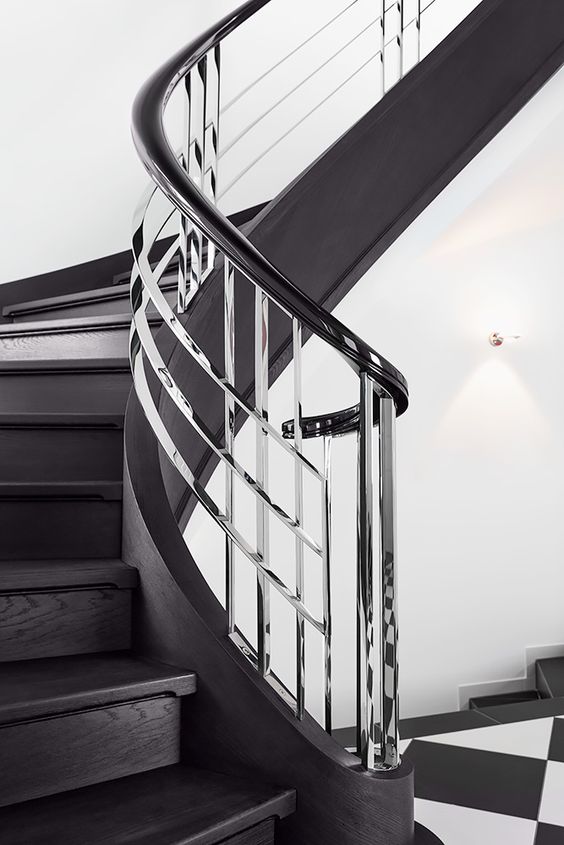 Image Credit: squarespace-cdn.com
The bent metal staircase drawback is that when one hurries in ascending or descending on the stairs, it may produce metallic sounds which may interfere with one's calmness. Frequent use by heavy individuals may cause the stairs to sag downwards distorting their shape. People with height phobias are not advisable to use the stairs as it will heighten their phobia.
The best types of staircases will depend on an individual's personality, financial availability taste, and preference. A young family with toddlers or aged parents may opt for the straight type of stairs as they are friendlier and require minimal maintenance. A commercial type of building will require straight stairs with a landing. An individual with a flair for elegance can incorporate a curve stair or a cantilever. A spontaneous or adventurous individual can incorporate a bent metal staircase.
A large family or with more young children can incorporate stairs with storage. Personalities with a flair for vintage items can incorporate circular stairs while individuals with spacious buildings who like grandness can use bifurcated stairs. Ardent readers and players like footballers, golfers, or hockey players can incorporate space-saving stairs to store their equipment.
Stairs are a reflection of one's taste, preference, and personality. Thus, one will need to understand their needs, likes, and tastes before incorporating different types of stairs. Maintaining the stairs is also an integral factor in making them stand out. A house's interior design is perfected and distinguished by one's preference on their choice of a set of stairs. One can decide to incorporate box newels or turned newels as their newel posts. Well varnished and maintained newel posts are as good as a new set of newel stairs
Design All Types of Staircases in Foyr Neo
Foyr software is the best software to design the staircase as it allows the creation of a valid staircase with quick and easy parameters entry. The software helps in calculating all the stair components such as the steps, risers, stringboards, racks, straws, poles, handrails, and banisters which can be printed and plotted in 1:1scale jigs. They can also be exported in the dxf format for importation into the cam software for machining on CNC machines.
The software is also able to display the 3D views of the created staircase with predefined views, zoom, and rotation tools for verification and presentation of designs to clients. In addition, the software is able to design staircases with up to 7 flights. Landings can be defined and each flight can be set at any angle with respect to the previous flight. Flights can also be defined as left or right with respect to the previous flight enabling an S-shaped staircase. The software uses a balancing function that evenly distributes the shape of the step around each corner or turn. The software ensures automatic and optimized dividing of balusters for closed and cut strings. Sign up for a free 14-day trial of Neo today.
See also – Download The Playbook for Interior Design in the New Normal