Home » Blog » NCIDQ Exam and Certification: Everything You Need To Know
What is NCIDQ?
The National Council for Interior Design Qualification, or the NCIDQ, is one of the most prestigious exams that a person takes to become certified in the interior design industry. The exam is conducted in three parts and has been developed by and is administered by the Council of Interior Design Qualification or the CIDQ. The CIDQ was founded in 1974.
This article discusses everything you need to know about the NCIDQ examination, how it can help you further your career in the interior design space, and an overview of the exam costs, dates, and resource materials. Ensure to check the NCIDQ website for updated information, reference materials, and important notices and updates, in addition to reading through content on getting a good passing score in the NCIDQ examination.
Read also – How To Get The Interior Design Certification?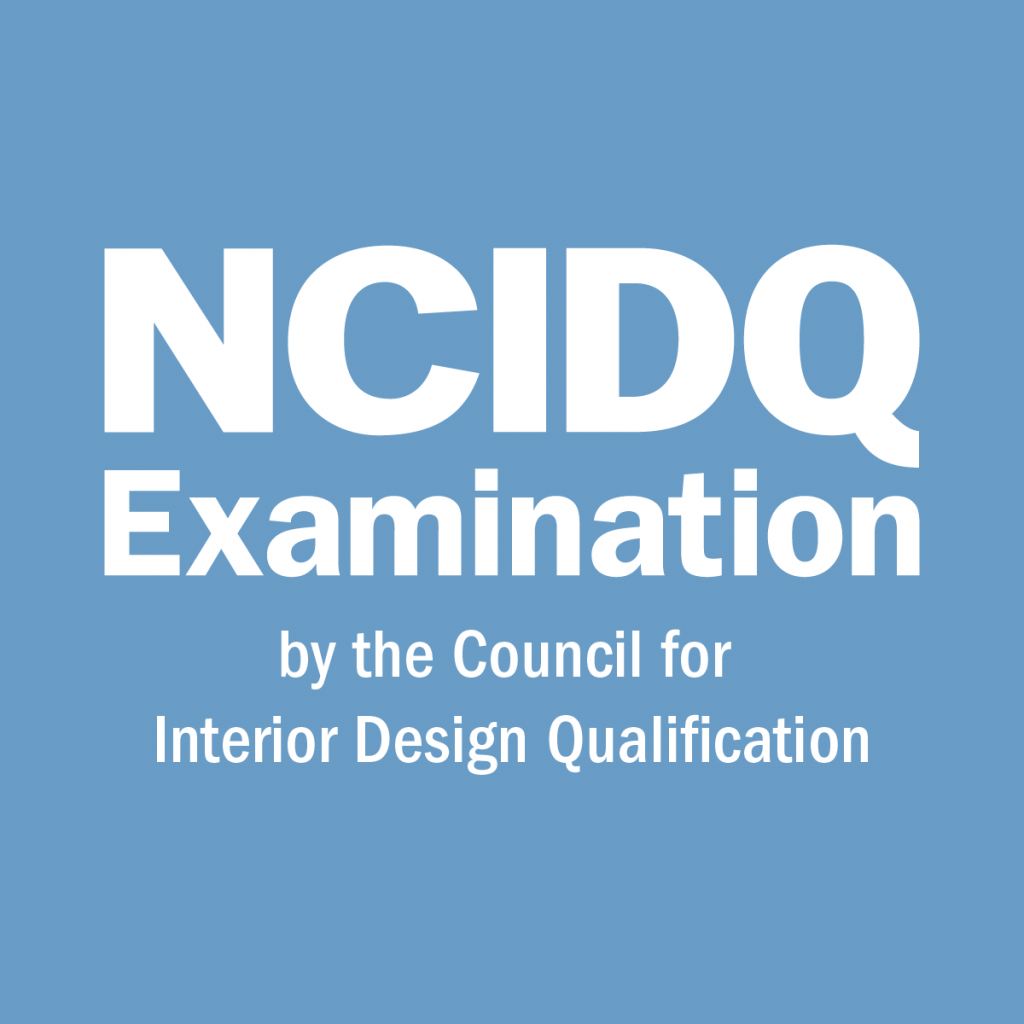 Image Credit: facebook.com
Importance of NCIDQ for Interior Designers
The NCIDQ examination has been conducted for more than 40 years now. This qualification is one of the reasons that most professionals in the design industry, and clients, have a lot of confidence in the interior designers they hire and work with.
The exam provides professionals with an edge over others in the field. It comprises a vast syllabus updated from time to time and reflects current skills and competencies required for designers to create functional, innovative, and secure design spaces. 
Which States and Provinces Require NCIDQ Certification?
The NCIDQ examination covers the North American jurisdiction. The United States of America, Nevada, Louisiana, Florida, the District of Columbia, and Puerto Rico require mandatory registration under the CIDQ to be a licensed interior designer. Many Canadian provinces also require designers to be registered under the CIDQ to practice.
Before starting your application process, make sure you check with the local jurisdiction and the CIDQ website to understand specific requirements, so you can accordingly take up paperwork.
While the state you are operating out of may not require you to be NCIDQ certified, you may need to be in other states if you plan to work in other states. Therefore, it's best to check the updated guidelines to ensure you have the latest information at your fingertips.
Read also – 10 Best Online Interior Design Courses and Classes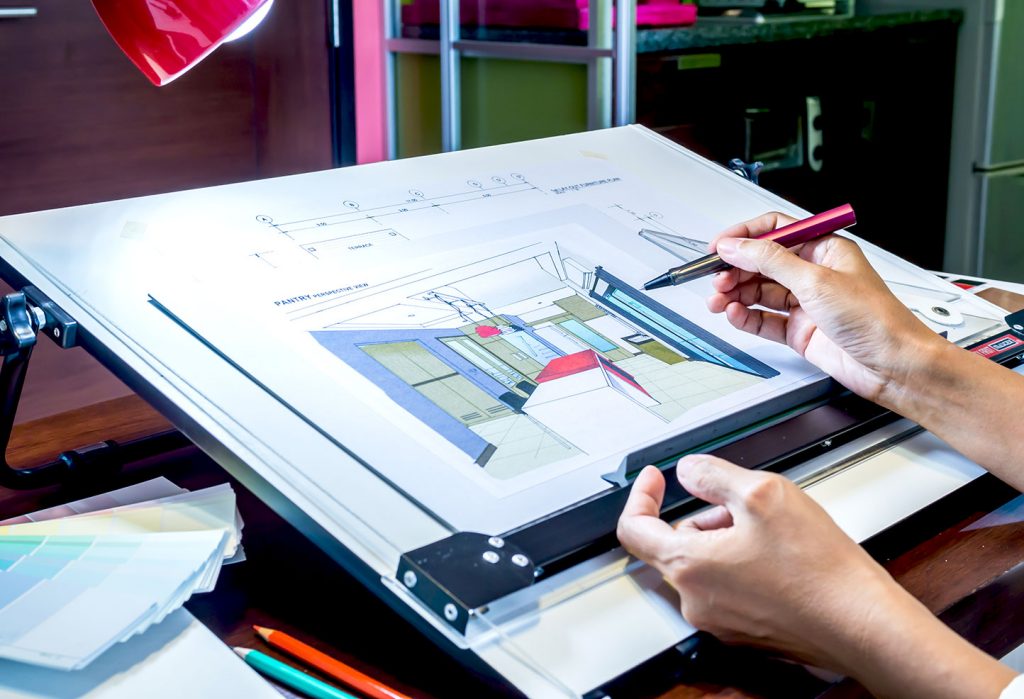 Image Credit: mcreelearningcenter.com
Types of NCIDQ Examination
Let's look at the top 10 ways intelligent technologies can be used in interior design. 
IDFX - Interior Design Fundamentals Exam
The IDFX includes 25 unscored questions and 100 scored questions. The areas addressed in this exam are Programming & Site Analysis, Building Systems & Construction, Construction Drawing & Specifications, Human Behaviour & the Design Environment etc.
For the IDFX, students have a period of 3 hours to apply their knowledge in the field and answer questions. The IDFX can be undertaken by students who are new to the area of interior design, graduates in their final year of a Bachelor's or Master's degree in interior design without any work experience, or students who have completed their education but do not meet the requirements set out by the CIDQ.
Read also – 12 Best eLearning Courses for Interior Designers
IDPX - Interior Design Professional Exam
The second computerised exam, the IDPX, is conducted through MCQs. To qualify for this exam, students need to have completed both their education in the field and have relevant work experience.
Students need to attempt 25 unscored pilot questions and 150 scored questions in this exam. With four hours to complete the exam, students are tested on their knowledge of Project Coordination, Building Systems & Integration, Building Codes & Standards, Professional & Business Practises etc.
The third exam hosted by the CIDQ is the practical or practicum exam. This exam is an interactive exam that can be undertaken by students who have completed their education and gained relevant work experience. In this exam format, students are provided three sets of case studies where their abilities in synthesising information regarding the design process are tested. 
The case studies range across small commercial, large commercial, and residential real estate projects. Students must display sound judgement concerning resources and utilise their knowledge to pass the test. For this exam, students have 4 hours where each question is worth 1 point, and answers need to be given holistically.
Read also – How To Become An Interior Designer Without A Degree?
NCIDQ - Exam Format, Duration, Cost, Exam Dates
Here's a breakdown of the NCIDQ exam formats for all three types of exams, duration, costs, and dates. 
| Exam | IDFX | IDPX | PRAC |
| --- | --- | --- | --- |
| Format | 125 MCQs – 100 (scored), 25 (unscored) | 175 MCQs – 150 (scored), 25 (unscored) | 120 questions with 1 point for each question |
| Duration | 3 Hours | 4 Hours | 4 Hours |
| Cost | $295 exam fee + up to $225 in application fees | $350 exam fee (one-time application fee of $220) | $450 exam fee + up to $225 in application fees |
| Dates | Twice annually: April 1-30 and October 1- November 24 | Twice annually: April 1-30 and October 1- November 24 | Offered throughout April, October, November |
Note: For updated information on the exam dates and costs, please check the NCIDQ website.
NCIDQ - Application Process
The application process for the NCIDQ is reasonably straightforward and provided on the main website.
Candidates need to submit – 
Official transcript(s)

Completed work verification forms

Proof of payment of application fee 
Please note the application fee is non-refundable.
NCIDQ - Books & Material Resources Links
To pass the NCIDQ examination, interior designers need to brush up on their design industry knowledge thoroughly. It's essential to put together all the resources, books, and study materials to make the preparation process more accessible.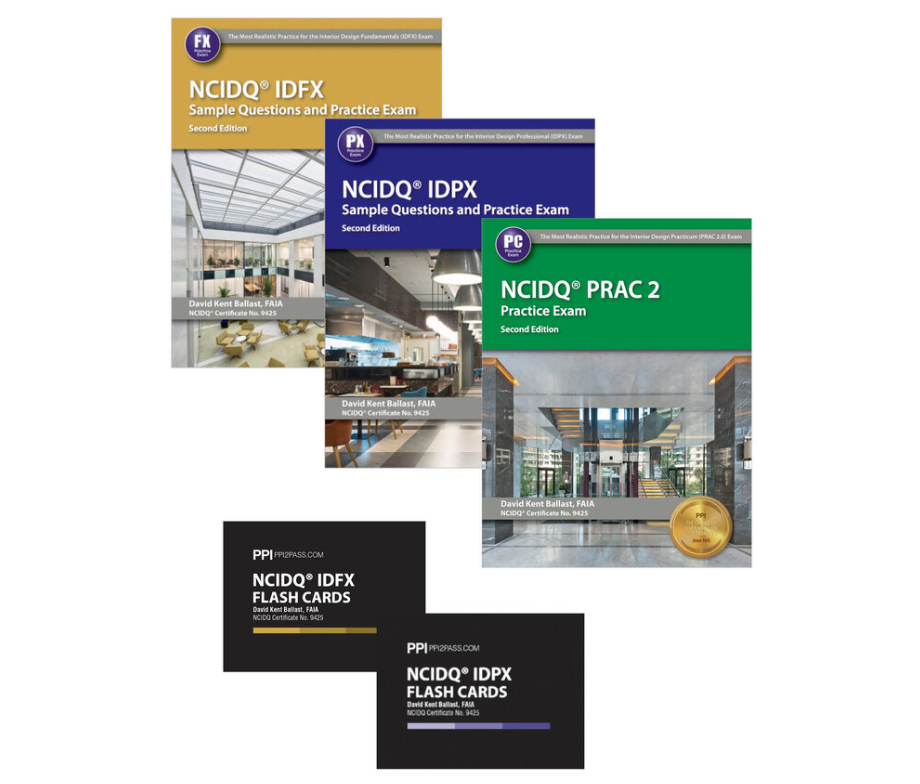 Image Credit: pinterest.ccom
Here's a list of the books & materials that may be helpful for interior designers –
1. Book – Interior Design Reference Manual, 6th Edition
Exam: IDFX, IDPX, PRAC
Topics Covered: The textbook covers a lot of specific topics for each of the exams
2. Book – Codes Guidebook for Interiors, 7th Edition
Exam: IDFX, IDPX
Topics Covered: Information pertaining to codes referenced
3. Book – NCIDQ IDFX Flashcards
Exam: IDFX
Topics Covered: The flashcards are excellent for brushing up on knowledge and revising topics for the IDFX exam.
4. Book – NCIDQ IDPX Flashcards
Exam: IDPX
Topics Covered: The flashcards are excellent for brushing up on knowledge and revising topics for the IDPX exam.
5. Book – NCIDQ IDFX Sample Questions & practice Exam, 2nd Edition
Exam: IDPX
Topics Covered: Helpful for going over sample practice questions to prepare for the IDFX.
6. Book – NCIDQ IDPX Sample Questions & practice Exam, 2nd Edition
Exam: IDPX
Topics Covered: With 275 practice questions, you will be well prepared to take the IDPX.
7. Book – Interior Design Business Handbook
Exam: IDFX, IDPX, PRAC
Topics Covered: Guide throughout the NCIDQ journey as it provides a holistic picture of the exam and profession.
8. Book – NCIDQ Interior Design Practicum: Practice Exam
Exam: PRAC
Topics Covered: Practice case studies for the PRAC.
Keep checking the NCIDQ reference list for information on resource materials and the updated syllabus from time to time. 
Read also – 15 Best Interior Design Books for Interior Designers and Students
How Much Do NCIDQ Certified Designers Make?
According to sources such as ZipRecruiter, NCIDQ qualified designers earn on the higher end in the interior design industry. Qualifying increases a designer's earning potential, whether they work independently, have their own business, or are employed at an interior design firm. 
Typically, interior designers with an NCIDQ qualification can make anywhere in the range of USD 40,000 – to USD 84,000. The average base salary for an NCIDQ certified interior designer is USD 63,000, as per Payscale. 
Different job titles have varying pay grades, but as a junior in the field, you can expect to start at an average salary of USD 50,000 per annum.
Read also – How Much Do Interior Designers Make?
10 Benefits of being NCIDQ Certified
Being an NCIDQ certified interior designer has a lot of advantages. As the interior design industry is flourishing, the need for designers to have qualifications sets them apart from those without one. 
Here are the top 10 benefits of being NCIDQ certified –
1. Gives You an Edge:
Taking the NCIDQ examination gives interior designers an edge over others who have not taken the exam. It also makes designers qualified to practice in certain jurisdictions where the exam is mandatory for practising.
2. Enhances Knowledge:
The NCIDQ examination tests an interior designer's abilities and skills across various subjects in the field. From understanding Building Codes to enhancing knowledge of one's design prowess, it gives clients and employers an indicator of the designer's expertise and abilities.
3. Displays Commitment:
If you are an NCIDQ qualified interior designer, it displays a lot of commitment to the profession. The qualification helps clients and employers understand how committed you are to your work and that you are in the domain for the long haul.
4. Earns You Respect:
The NCIDQ examination is a tough one to crack – it requires commitment, discipline, and a fair amount of studying. Once you pass the exam, you will be considered a respected designer in the industry compared to peers who have not taken the exam.
5. Earning Potential Increases:
Another main reason most interior designers take the NCIDQ examination is that it increases their overall earning potential. Interior designers that qualify are more likely to be hired by clients and are more likely to meet industry standards for invoicing their clients. The earning potential also increases for designers hired by interior design firms compared to their peers who don't qualify.
6. Elevates the Profession:
The overall interior design industry has elevated with an increase in the number of NCIDQ qualified interior designers. With more and more designers gaining this qualification, it is easier for stakeholders and clients to segregate and choose from a pool of committed and talented designers.
7. Helps with Legislation & Design Rights:
As a designer, if you are looking to establish your rights in terms of designs or the design process, having an NCIDQ qualification is highly beneficial. Designers without qualifications are legally restricted and cannot seek as many rights as those with qualifications.
8. Open up Job Opportunities:
If you have the NCIDQ qualification, you will be able to practice the art of interior design in a lot more states and provinces, which would otherwise not be open to you. If you are looking to expand your business and practice, get the NCIDQ certification.
9. Right to file liens:
As an interior designer, you may need to file for liens in respect of a design project – however, in certain states across North America, only registered or qualified interior designers have the right to file liens, making the NCIDQ a coveted qualification.
10. Helps Meet Goal Standards:
Around the world, almost 30,000 design professionals have the NCIDQ qualification. It is a prestigious title to achieve as an interior designer and helps you meet specific personal and professional goal standards.
Read also – The Pros and Cons of Being an Interior Designer
Interior designers and decorators gradually understand the importance of being qualified. The NCIDQ examination tests various content areas – from building codes to public health. The three-part exam comprises multiple-choice questions; upon passing, the interior designer is inducted into the prestigious American Society of Interior Designers or ASID.
 Before sitting for the NCIDQ for the first time, find out the eligibility requirements. As an NCIDQ certificate holder, you will have access to a lot more opportunities in the interior design industry. The qualification holds a lot of importance in establishing a professional practice in the field. Take practice tests and go through the study material before the NCIDQ examination so you can answer sections of the NCIDQ exam quickly. 
To become an NCIDQ certified interior designer, browse the Foyr Community. Here, you will find others who have passed the NCIDQ examination, understand how to get a passing score, develop an excellent study schedule that takes your well-being into account, create a study group with like-minded professionals, and learn more about the certification exam.