Home » Interior Design Concepts » What is Kitchen Triangle? Everything You Need To Know
Kitchen Work Triangle
Working in a kitchen requires you to complete a variety of tasks in order to prepare a meal, the most evident and usual of which are cleaning, food preparation, and cooking. The concept behind the kitchen work triangle is to clearly set out unique locations for each of these fundamental tasks, as well as to create an optimum work area to minimize the distance and effort required to work efficiently in the kitchen.
The kitchen working triangle will be prevailing always because it is designed very standardly to make meal preparing and cooking easier. It is a time-tested kitchen design guideline that assists in the planning of productive kitchen workspaces with clear traffic lanes.
Read also – Kitchen Layout Guide: How To Design A Kitchen?
What is the Kitchen Triangle?
The kitchen triangle is a design concept which is also called the golden triangle that controls activity in the kitchen by positioning vital functions in designated spots also known as main work areas. It is also used to design practical and visually acceptable kitchen layouts.
The main tasks in a home kitchen are done between the stove or oven, the sink, and the refrigerator. The work triangle is made up of these three spots and the imaginary lines that connect them, according to architects.
The concept is that by placing these three points close to one another, the kitchen will be easier and more efficient to use, reducing wasted steps. The concept is that the chef should be able to move freely between these three points such as the prep area, cook area and storage area and the distances between those points should not be too far or too near.
Read also – 15 Best Kitchen Design Software To Design Kitchen Triangle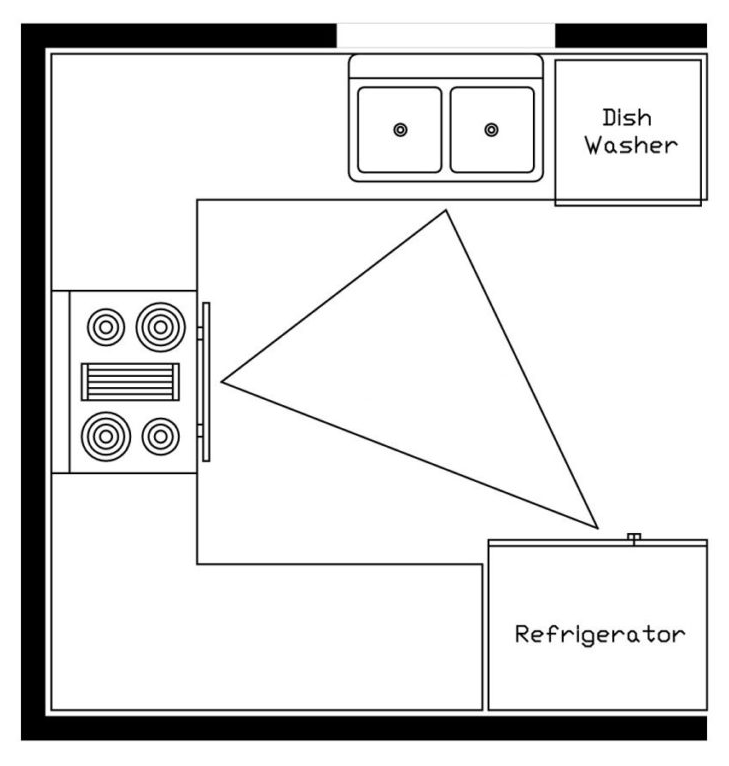 Image Credit: designsauthority.com
How To Design the Kitchen Work Triangle?
The kitchen triangle rule states that each side of the triangle should be not less than 4 feet and not more than 9 feet and the circumference of the triangle should be not less than 13 feet and not more than 26 feet. Cabinets or other barriers should not be more than 30 cm from any leg of the triangle.
Work aisles should be no less than 110 cm, as measured between the cooking zone, counters and cabinets or appliances. These should be arranged in a loose triangle to allow you to execute day-to-day activities with ease and without any hindrance. It should ensure that your working environment is practical, pleasant, and spacious enough – but not so large that you spend most of your time walking from one point to another.
Image Credit: weizter.co.za
The Purpose of Kitchen Work Triangle
The core purpose of the work triangle is to increase efficiency at all-important workstations near the cook without putting them too far apart or too close together, which might cause them to become congested.
The kitchen work triangle saves people from stepping on each other in a busy kitchen, and you may arrange them in a way that maximizes efficiency, even more, depending on your lifestyle.
So, regardless of the size or shape of your kitchen, it is all about finding out the best layout to maximize efficiency. It is also designed to reduce traffic disruptions from outside inhabitants who may use the kitchen at the same time as the main cook. 
Read also – 20 Common Kitchen Design Mistakes To Avoid
Is the Kitchen Triangle Concept Completely Outdated?
The kitchen work triangle was created in the 1940s to enable single cooks working in tiny kitchens to maximize productivity by placing the most frequently used parts — the cooking, food preparation, and storage facilities – next to one another and making it a great kitchen. 
The kitchen triangle is smart design tips and guidelines, according to most kitchen experts, but the changing demands of the modern family home design mean you don't have to follow it rigidly. Because many households today have many cooks working at the same time, the three points of the triangles are more likely to be 'working zones' inside a kitchen – especially in bigger kitchens with lots of space.
Nowadays, work zones have become popular among designers as an alternative to the traditional triangle design. After all, many individuals and homeowners these days have unique kitchen cabinets, appliances and demands, and the triangle is no longer a logical design. Kitchen work zones allow for greater creativity and originality.
Read also – 20 Best Kitchen Backsplash Ideas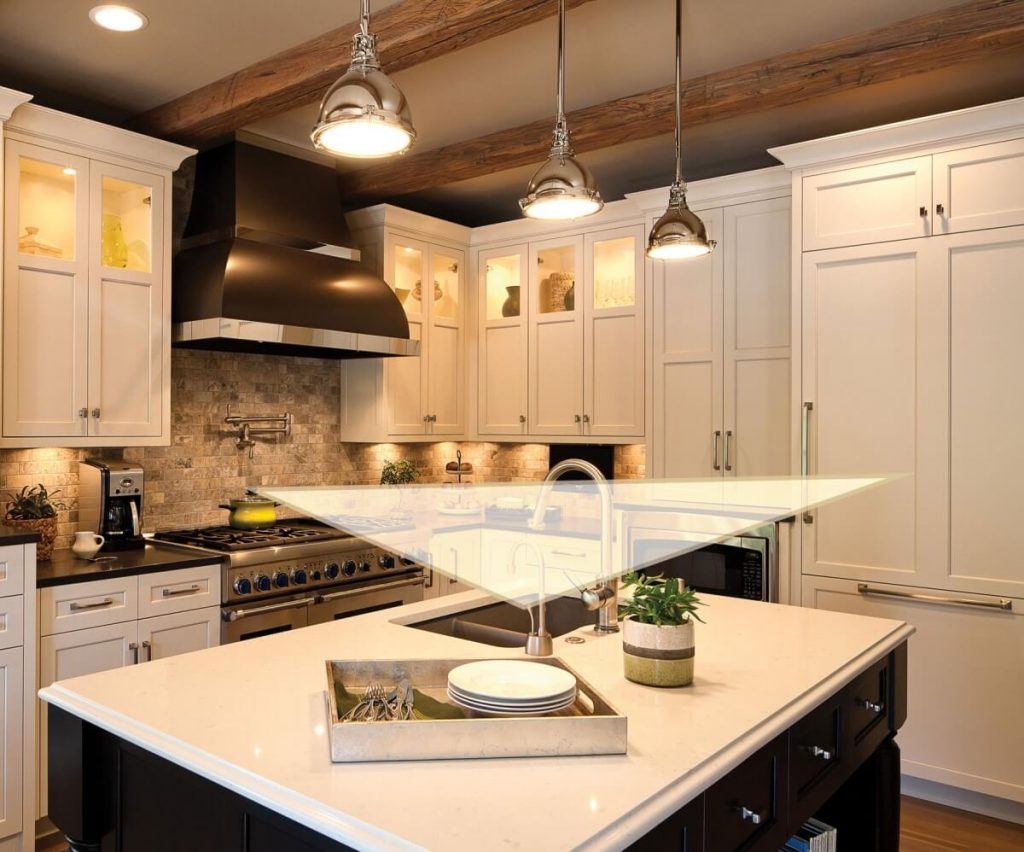 Image Credit: durasupreme.com
In 1929, during a women's exposition, the kitchen work triangle was first introduced as "circular routing." The idea fits in neatly with the popular at the time "scientific management" concepts, which emphasized labour efficiency and production but were later condemned for treating people like machines.
The concept was further refined in the 1940s by the Illinois School of Architecture, which brought it to its current form. The work triangle theory's outdated assumptions might be troublesome. Kitchens used to be primarily utilitarian rooms where the "housewife" could cook food.
Even today, for a single cook using the area, having the three primary kitchen elements close together is most advantageous. In today's world, habits and demands have evolved. The kitchen is frequently used by two cooks at the same time, and it is viewed as a more casual meeting spot for family and friends.
Furthermore, during the post-war era, kitchens have increased significantly in size, and a long list of appliances has become the standard. Today, we put a lot more demands on our kitchens than we did when the triangle idea was first introduced. Some designers feel that the kitchen work triangle concept should be abandoned entirely.
Read also – 80+ Modern Kitchen Design Ideas
Designing a Triangle Kitchen Island
The kitchen island is definitely one of the most sought-after features of any kitchen.  The benefits of having an island are numerous, as it frequently provides additional prep space and storage, as well as a designated gathering area for family and friends.
This three-sided design has many of the same advantages as its boxier predecessors, but it also allows for a cooking space that may be limited owing to square footage or traffic flow. With an all-white triangular kitchen island, cabinets, and seating, Heather Scott Home and Design show us how to redesign a glam, monochromatic cook area the proper way.
Warm wood details, a patterned tile backsplash, and mirrored pendants provide just the right amount of texture and intrigue. The triangular kitchen island's geometric design also works well in a modern kitchen. Remove the cabinet hardware and replace it with textured pendant lights to get this ultra-clean effect. Around the mid-twentieth century, kitchen islands were trendy as prep sinks/spaces and storage areas and walk-in pantries.
They have, however, grown into dining rooms, entertaining spaces, and even home offices. Some come with sinks and cooktops, while others are simply an open surface. The island has always been a popular component in kitchens, whether it is built-in, portable or a new kitchen remodel project.
Read also – 50 Best Kitchen Island Design Ideas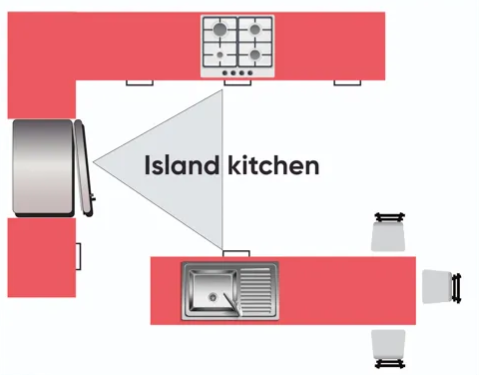 Image Credit: livspace.com
Advantages of Kitchen Triangle
The kitchen triangle may help you create defined main work spaces and an optimal route between your key appliances in a U-shaped or L-shaped kitchen design. 
It assists you in making the most of your kitchen. It is simple to install in small or medium-sized kitchens because of its dimension requirements. 
It provides you with work space. If you spend a lot of time in the kitchen, the triangle can assist keep your primary cooking area free of dry goods, barriers and traffic, allowing you to move about freely. 
The kitchen work triangle was designed in such a manner that it allows the cook to effortlessly switch between activities while keeping everything near at hand. 
Because of its user-friendly design, slicing onions, throwing them in a frying pan, and turning around to put the chopping board in the sink takes only a few steps. 
It's a really fluid design idea, and as a consequence, it's been used in both professional and domestic kitchens. 
The work triangle reduces traffic around the kitchen since it places everything within easy reach. 
With cabinets and other barriers out of the way, there's less possibility of congestion, and there's also less risk of accidents, such as tripping over a chair or knocking something off the table. 
Read also – 6 Best Kitchen Decor Ideas
Disadvantages of Kitchen Triangle
It is not the best choice for a group of cooks. The original kitchen triangle layout was designed with a single cook in mind. 
However, because today's kitchens are more social, and numerous people may cook at the same time, the triangle may no longer be the best kitchen plan. 
They aren't compatible with every design. Another downside of the triangle is that it does not function in every kitchen layout. 
A galley kitchen may not be able to use the triangle design due to a lack of room or counter space. 
The triangle may not be an effective plan for extra-large or open-concept kitchens, since many come with kitchen islands or separate food prep or food storage spaces, increasing the number of dedicated workstations. 
In recent decades, kitchens have not only gotten larger, but they have also evolved into a gathering places, with islands serving as a focal point for dining, drinking, and even simply mingling with visitors and family. 
Furthermore, with modern kitchen equipment such as dishwashers and microwave ovens finding their way into homes, a more ergonomic strategy is separating the space into kitchen zones such as preparing, cooking, baking, and cleaning sections.
Read also – 10 Best Kitchen Remodeling Ideas To Renovate Your Kitchen
What are Some of the New Layouts Countering the Kitchen Triangle?
The most crucial factor in creating an efficient and practical kitchen space is getting your kitchen layout right. A smart layout can help you make the most of your space, whether your kitchen is small and cramped or large and open.
1. One Wall Kitchen Layout
One Wall Kitchen, which consists of cabinets built against a single wall, can include upper and lower cabinets or shelving above base cabinets to provide a clean design. This simplistic structure, which is typically found in smaller kitchens, saves space without sacrificing functionality.
2. Gallery Kitchen Layout
The galley kitchen comprises two rows of cabinets facing one other, forming an inner corridor or galley between them, allowing for highly efficient cabinet usage. This concept maximizes every centimetre of space without wasting it by removing the necessity for corner cupboards. Because of the straightforward design, less specialized devices are required, making this a cost-effective solution.
3. L-Shaped Kitchen Layout
Another layout is the L-shaped kitchen which includes cabinets on two perpendicular walls and is a suitable option for small and big kitchens. Although the L-shaped kitchen's open-plan design allows for significant flexibility in the placement of appliances and work zones, the corner requires some innovative storage solutions to make it workable.
4. U-Shaped Kitchen Layout
The U-shaped kitchen has cabinetry on three neighbouring walls and is an excellent plan for bigger kitchens. This plan gives a lot of storage, but it might seem claustrophobic if the upper cabinets are on all three walls. It provides for efficient workflow and simultaneous usage by numerous people.
5. Island Kitchen Layout
The island kitchen, which is a popular choice in open-plan houses, provides a wide work table or storage area in the centre of the kitchen. Lastly, the peninsula kitchen layout is a kitchen counter that juts out from a wall or cabinets and is similar to the island kitchen.
Read also – 6 Best Kitchen Layout Ideas For Small and Large Kitchen Design
How Foyr Neo is the Best Software to Design Kitchen Triangle and Floor Plan?
Foyr Neo is an interior design program that lets to plan, create, and render projects in a matter of minutes. Furthermore, one does not need to install any program because they can accomplish anything from their browser. Instead of wasting time on the program, they may spend more time with the consumer.
For designing a kitchen, the floor layouts are only the start of the design. And with just a few clicks, one can import your 2D floor plan or design a new one from start. On Foyr Neo, one may explore and decorate the floor plan in an interactive 3D format with only a few clicks.
Consider transitioning to Neo from traditional interior design software for a more simple, efficient, and automated experience. One may boost client presentation with this program since it allows to render designs in photorealistic and 4K resolution.
One can develop, design, and even produce beautiful 3D spaces with only just one piece of software. Neo enables one to turn ideas into a cutting-edge 360-degree tour for improved customer interaction.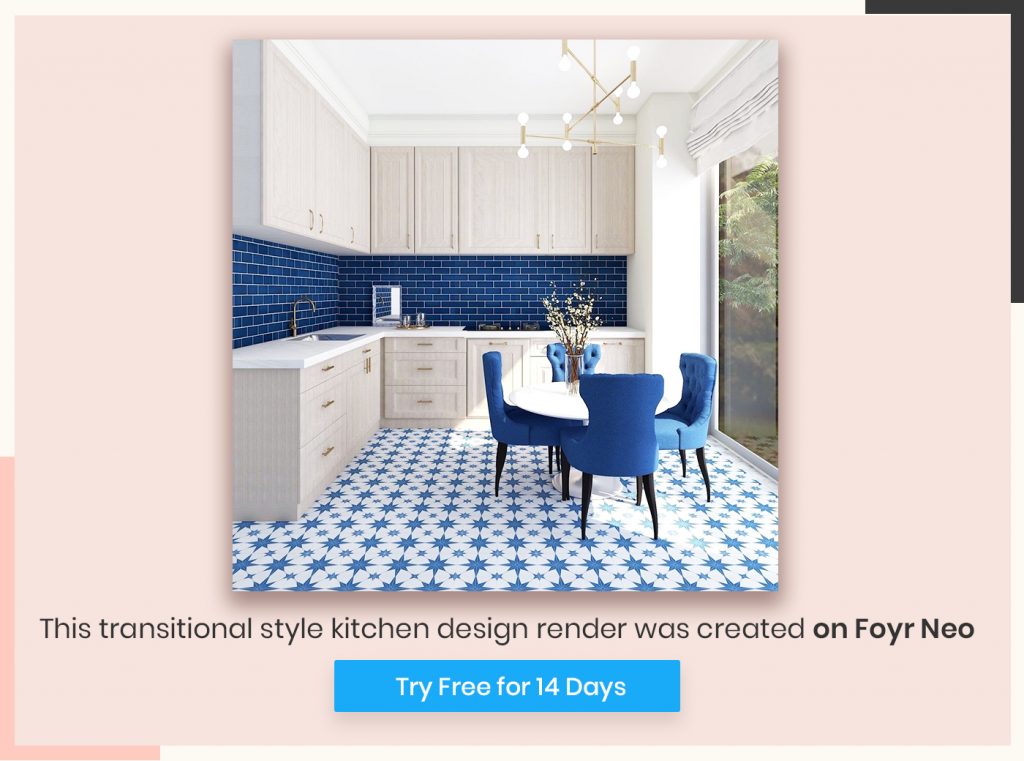 In conclusion, the kitchen triangle has helped a lot of people to make their workflow efficient for decades. It is the base for a lot of planned kitchen designs and layouts. However, it isn't applicable to all sizes of kitchens. For larger areas, the theory is tough to implement.
However, it works in most situations and there are several layouts to choose from. As time passes, new ideas and theories will develop and the kitchen triangle will need to develop and adjust accordingly.
FAQs
1. Why is it important to have a work triangle in a kitchen?
The kitchen triangle's parts depict traffic flow in a kitchen, with the goal of providing rotating movement between the operations of cooking, chopping/peeling, and storing. As a result, it's critical that no obstructions, such as a kitchen island or countertops disrupt the flow.
2. Do kitchen appliances have to be in a triangle?
The kitchen work triangle has long served as the benchmark for outstanding design and functionality.The National Kitchen and Bath Association (NKBA) recommends that no leg of the triangle be less than 4 feet or more than 9 feet long. The total length of the three triangle sides should be no more than 26 feet. Furthermore, there should be no significant traffic patterns passing through the triangle.
3. How work triangle affects the efficiency of the kitchen layout?
The work triangle is a logical arrangement of the stove, refrigerator, and sink that reduces wasted steps in the kitchen when you have precisely the appropriate amount of space between them. This guarantees that you make the most of your available space. A very well layout can help you get the most out of your available area.
4. Does a kitchen triangle between the fridge, stove and sink make a kitchen more efficient?
The kitchen triangle is considered a tried-and-true kitchen design principle that aids in the creation of efficient work areas with clear traffic lanes. It is crucial for a cook to be able to walk to the stove, refrigerator, and sink. Increasing efficiency and convenience by reducing foot traffic across the cook's workspace. It's critical not to have cabinets or islands blocking the passage from one spot to another for safety reasons.