Home » E-design » The Complete Guide For How To Start An E-design Business in 2023
Why and How to start an E-design business in 2023?
Many people begin a career in interior design because they want a creative career that helps others maximize their enjoyment (and utility) of their living spaces. However, there are also noticeable trends among modern workers who are looking for more flexible career paths with ownership and improved work-life balance. Accordingly, more interior designers are realizing the benefits of working for themselves as e-designers.
If you've considered starting your own e-design business, 2023 is the perfect year to get started as the barriers to this type of business have gotten smaller while the market continues to grow.
While building and running a successful business can be incredibly rewarding, it's not easy. This comprehensive guide will provide key insights and recommendations for launching your own e-design business, including where to find your first clients, how to conduct marketing on a shoe-string budget and critical operations tools you'll need for success.
Read also – The Ultimate Guide To Building A Strong Interior Design Brand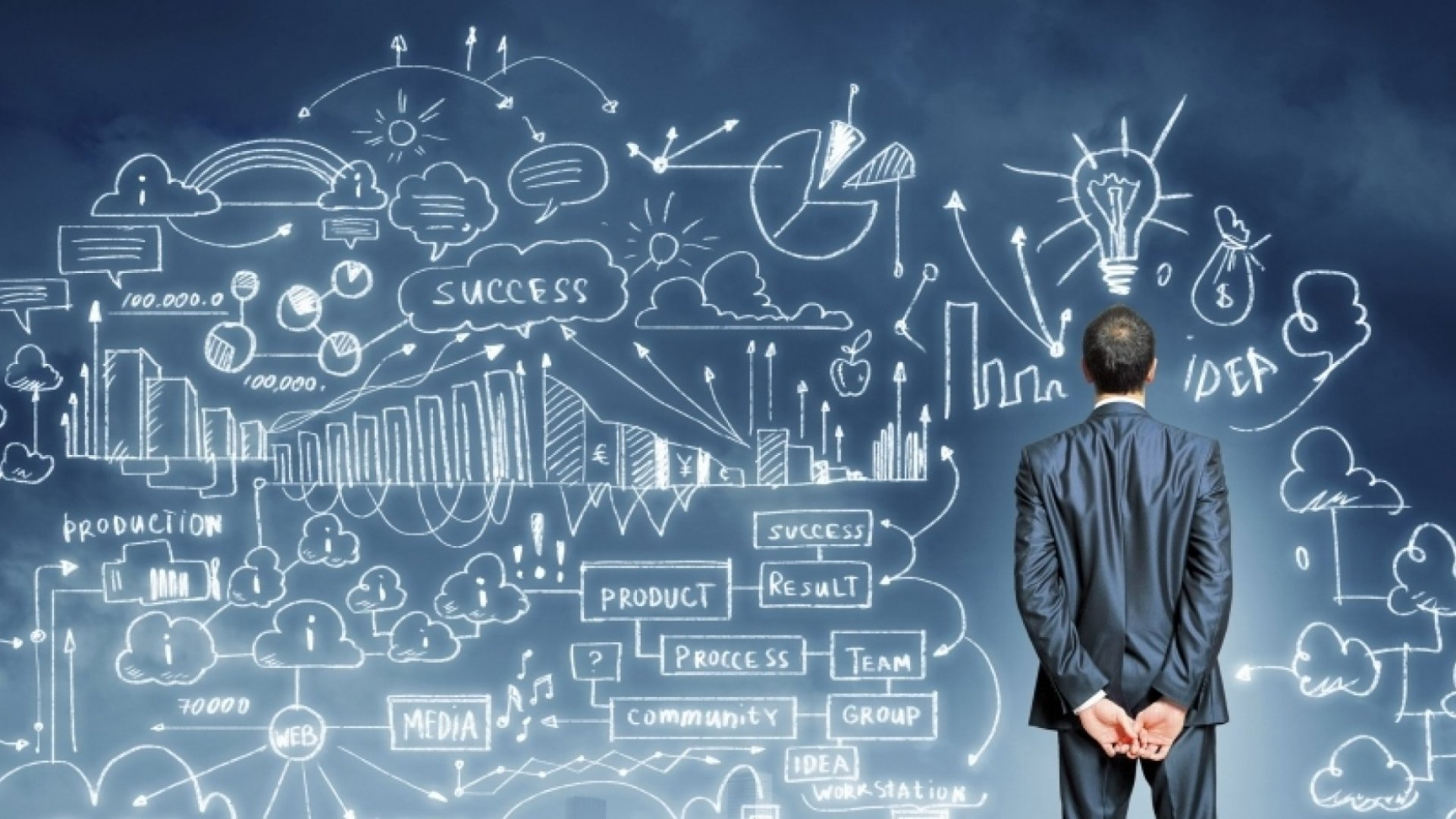 Image Credit: Magazine
Is 2023 a good time to start an E-Design business?
The interior design industry is expected to grow significantly over the next 5 years and e-design is the perfect way to access a burgeoning market that is different from the clientele targeted by more established and traditional interior design firms.
Although homeownership has slowed in recent years, many people still want to add a personal touch to rented homes and apartments, offices, or any place where they spend time. This newer market might have smaller budgets and more limited projects in some cases, but it's a much larger market overall, giving you access to lots of potential business.
Interior design clients are more comfortable than ever with buying and receiving services digitally and remotely. This is particularly true for younger generations who have grown up with modern technology and expect that many services can be delivered without necessarily meeting face-to-face.
Because more people than ever are online, digital marketing is continually becoming an especially low-cost way of reaching new clients, as we discuss later in this article. However, it is also important to mention that digital channels and ways of connecting (e.g., online meeting software) have also made it much easier to connect with clients globally. No matter where you are based you can easily reach and serve customers in many different countries.
Read also – How To Start Your Interior Design Business?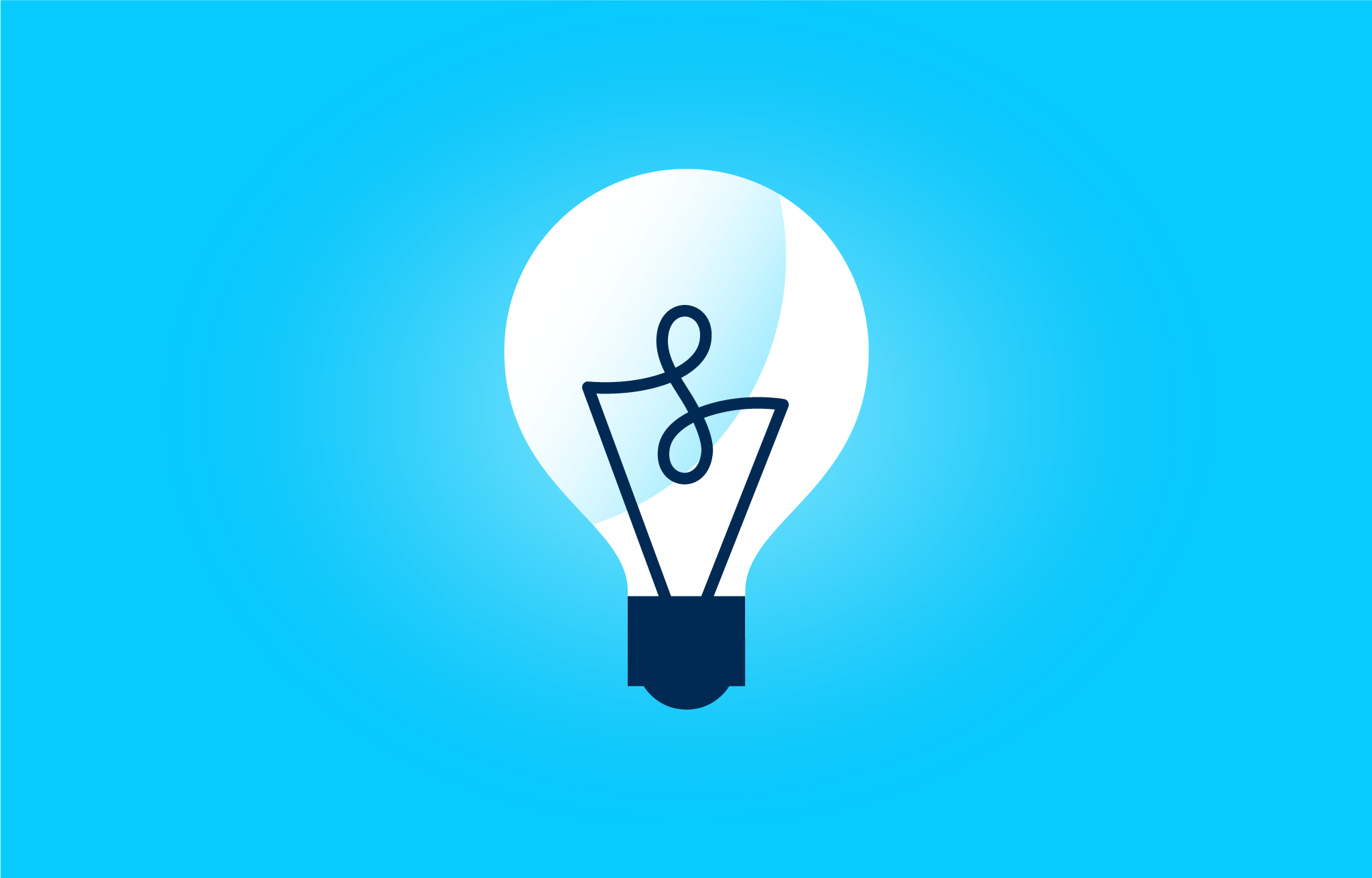 Image Credit: Asana
Best Tips and Tricks for Becoming a Successful, Self-Taught E-designer
When you first start a business in any industry you should write a basic business plan. Your business plan should determine your company goals, vision and mission statements, basic financial projections, and a high-level marketing plan to reach growth goals. Even if you're not an expert in business, you can still use this document as a master plan to help define the next steps and where to invest for future growth.
Professional development is a huge part of remaining competitive and up to date on advancements in the interior design industry. Whether you're just beginning your career and need help learning the basics of design or you're a seasoned professional striking out on your own, it's recommended to find educational resources that will help you hone your skills. Here are a few suggestions for good places to start:
The success of your business will depend largely on your ability to provide quality services and treat clients well. There are basic professional protocols you should follow when running your business that will help you stand out from competitors and earn trust long term. While these qualities aren't quantifiable (i.e., like a price discount) to a client, many will actually prefer interior designers with these attributes and they will return through the years due to better service. Be sure to cultivate habits and intentional practices that reinforce the following qualities:
Professionalism – make sure that you represent yourself and your business well by using professional language and a respectful tone and demeanor. Clients appreciate being treated well!
Communication – always respond promptly to inquiries from prospects and clients. Research shows that potential clients often give their business to the company that responds first.
Commitment – stick with projects even when they stall or become frustrating and difficult. Not every client will be your favorite relationship, but everyone appreciates their service provider continuing to show up and work through problems. A huge part of success is simply continuing to be there for clients after things get tough.
Read also – How To Become An Interior Designer?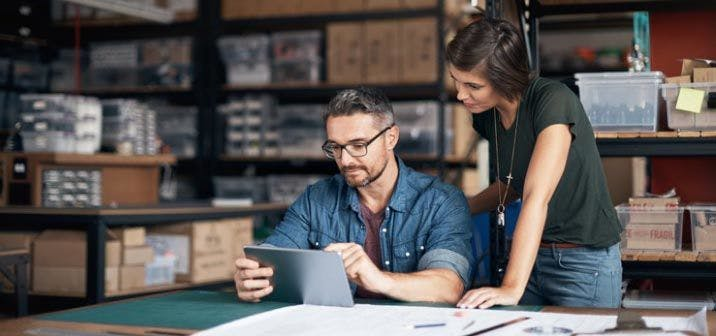 Image Credit: Arizona Technology Council
5 Areas to Focus on When First Starting Your E-design Business:
1. Services
Almost every business owner struggles to define their exact services when first starting out. It's very tempting to take any project that a client has, and it is ok to be flexible for the first few months or years. However, it will ultimately help you and your clients in the long run if you focus on specific service offerings. How will you benefit from "staying in your lane"? You will develop skills and expertise in a niche, making you more valuable, and your clients will get better service.
Common e-design services include design consultations and completed virtual room renderings and specifications that the client can use to complete a renovation themselves or present to a general contractor. Be sure to clearly list if you have specific expertise in certain rooms or styles, especially if those happen to be trending currently.
It's important to be clear with clients about what work you can't or won't do as part of your service packages. For example, as an e-designer, it will be more difficult for you to coordinate aspects of procurement, manage local vendors, assist with package delivery and pickup or complete some of the other hands-on tasks that local interior designers are able to offer. However, these traditional interior design firms will not be able to compete with your pricing (in most cases).
2. Pricing
While pricing is subjective, there are some basic rules you'll want to follow when deciding what to charge for your e-design services. If you set your design package prices too low you'll likely receive lots of requests for work, but will still struggle to get ahead. The most important guiding principle to follow is that your experience should inform what you charge. Unless you have more experience and a better portfolio than every other e-designer you probably shouldn't have the highest prices of any provider.
If you need a good starting point, try checking competitor's websites that offer the same or similar e-design packages as you adjust your pricing accordingly based on your quality, experience, or expertise in a niche. Don't worry if you need to continually refine your pricing over time – finding the right range can take years of experience and tweaking to land the e-design clients you want. In fact, we've written an entire article on how to determine pricing for your interior design or e-design business.
3. Starter Discounts
To help you secure some initial clients, consider offering a limited-time discount. This could involve giving one or two friends and family members a free consultation to help build your portfolio and get some free advertising when they share your work. Once you have a few projects under your belt, ask your clients if you can share the results of the project and let potential clients know that you're offering a limited time discount until a set date, or for the first few people to respond. 
Promotions and service giveaways are a proven way to build your prospect list by enticing people to give you their contact information. Advertising a discounted price might help you gain information from prospects who aren't ready to purchase now but will come back to you later when they are.
4. Marketing
Create a basic marketing plan. While we discuss specific tactics in the budget-friendly marketing section below, you should have some idea of your high-level marketing goals and the key performance indicators for your business. This type of marketing roadmap would have been previously outline in your high-level business plan and will typically include considerations like the following:
New clients month-by-month

Website traffic and conversions

Annual sales goal and supporting marketing tactics

How much of your revenue can and should be spent on marketing activities like advertising, SEO, website building, etc.
A marketing plan is critical because it helps you understand if you're on track to meet goals on a longer-term basis (i.e., quarterly or annually). When you're a business owner, and especially if you're the only employee, it's easy to get caught up in running daily operations and losing track of the reason(s) you originally started a company!
As part of your overall marketing strategy, spend a little time working on a mission statement, vision, and your unique and memorable brand. Ensure that your brand components (visual identity, tone of voice, etc.) are represented in each customer-facing piece of communication or advertising (e.g. logo, business cards, business name, domain name, email address, etc.)
5. Business Operations
Running a business is hard work, and if you're self-employed you won't have a partner to remind you about the routine administrative work that needs to be completed to keep your business running smoothly and profitably. When setting up your e-design business make sure that you have processes and forms like the following:
A

design questionnaire

for accurately and repeatedly assessing a client's tastes and preferences for their projects, even if it's just an initial meeting or phone call before you're working together.

Contracts

or another type of formal agreement on which you can request a written signature of your client. No matter how much you may trust a certain client or vendor it's critical that you keep a formal record of the verbal agreement which can be referenced at any time. This will protect your interests in the event that a client or vendor breaches the terms of an agreement. 
There are places online where you can get free templates of critical business operations tools like the ones listed above. Additionally, most of these business operations can now be completed and managed digitally, as we will explain in more detail in the next section.
Read also – Interior Design Sourcing and Procurement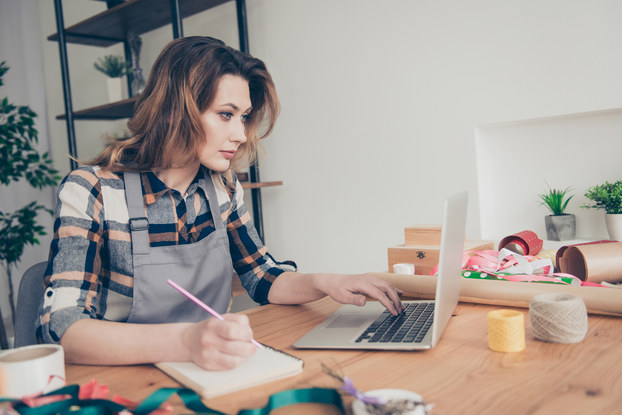 Image Credit: US Chamber of Commerce
Key Resources Needed to Run an E-design Business
No matter the size and stage of your e-design business, you should be taking advantage of the numerous low-cost or free resources to help drive efficiency and improve your service delivery.
1. Invoicing
Invoicing software will allow you to automate the sending and receiving of invoices or estimates, and many programs will also allow you to pre-schedule reminders to prompt a client if they haven't paid.
2. Project Management
Every e-design business owner will need to juggle multiple projects at once, and each project can have dozens of detailed steps to ensure that their tasks are completed on time. A simple and dependable project management tool will help you stay on track.
3. Communication
Scheduling tools like Calendly are a great way to make it easier for prospects or clients to request meetings at a time that works best for them.
Virtual meeting programs like Zoom, Google Meet, or Skype are absolutely essential for any e-design business. The nature of your business means that you will be continuously meeting with prospects and clients online, so the experience should be professional and reliable.
4. Interior Design Software
A professional-Calibur, intuitive interior design software is non-negotiable for any e-design business. You will work in the interior software on a daily basis and use it to produce and present beautiful, impressive renderings to clients. If your interior design tools are time-intensive and simplistic your entire business will likely suffer. Clients want to see realistic, photo-like renderings of their new space, and you should be able to deliver.
5. Affiliate Programs
Affiliate programs through online retailers are an excellent way to earn extra money when making product recommendations to clients. As long as your clients understand that you are using affiliate links (disclosure is required by the FTC), they are a somewhat passive way to earn income (especially if you're linking from content on your social media or your website). If you take the time to establish trustworthy relationships with clients and they like the products you've selected they likely won't mind that you're earning extra money for putting in the time to curate their shopping list.
Read also – Pinterest Marketing for Interior Designers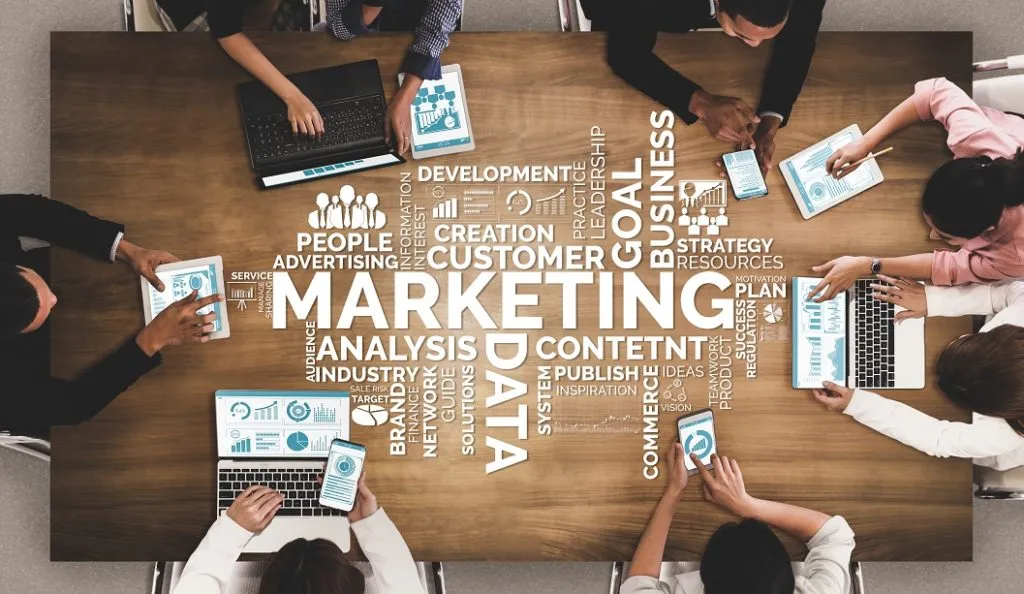 Image Credit: Corporate Finance Institute
5 Budget-Friendly Marketing Ideas for Your E-design Business:
Conducting effective marketing for your online interior design business does not have to break the bank. Here are 5 budget-friendly marketing ideas that will help your virtual interior design company get noticed and earn more business in 2023.
1. Cultivate a curated social media presence on platforms like Facebook, Instagram, and Pinterest. Social media is an ideal marketing channel (i.e., method of reaching new clients) for e-design businesses because people love using social sites to explore interior design ideas and find inspirational images or a mood board for their own projects from designers just like you. Unlike a typical business website, social media is a great tool for networking with similar businesses, potential customers and interior design industry thought leaders.
2. Large platforms have a built-in audience comprising millions of users, and you can have access to these audiences if you spend time building a presence and being active on their sites. Lastly, many of the most effective social media marketing tools and tactics are either free or very affordable, putting this strategy within reach of businesses at all stages. If you can't afford to build a website or don't have time, your posts on Instagram and Facebook can still attract new business.
3. Create a simple website that prospects can visit to view your work, find your contact information, learn more about your design process and services and submit an inquiry or request to talk further. A website is a key to being discovered online because it can be used to rank in search engine results. Adding content to your service pages or blog is the best way to improve your rankings on search terms related to e-design services. Organic (unpaid) rankings remain the best way to reach qualified prospects who are using search engines to find businesses like yours.
4. It's likely that one of your friends or family (or someone they know) is considering a home renovation project, even if it's a basic living room DIY project like changing a paint color, a design concept for a new room, or a total home design refresh. Ask those friends and family members if they can refer someone who could use your help creating a concept board and design plan and would be open to e-design assistance (local clients can still benefit from virtual design consultations). Make sure you have some type of simple marketing handout, video, or other collateral that describes your online design services.
5. If you have spare time and want to build your e-design portfolio, try using your home as an example project. Even if you don't buy the actual furniture or complete a full renovation, the before and after renderings you create will help potential clients visualize your style and capabilities.
Read also – Instagram Marketing for Interior Designers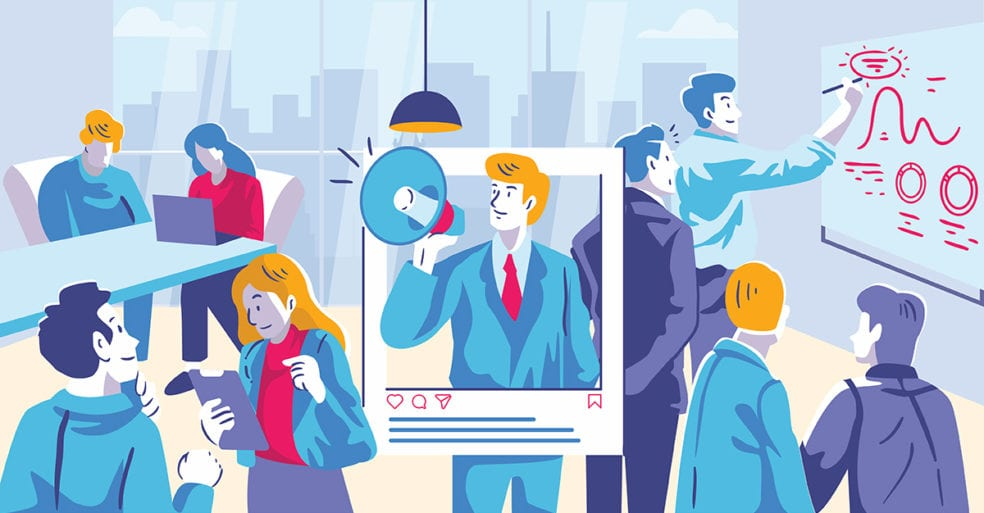 Image Credit: EveryoneSocial
How to Organize and Streamline Your E-design Business?
If you're running a successful e-design business in addition to a traditional interior design company, make sure you've clearly delineated the operations and services of both businesses. Traditional interior designers are increasingly adding e-design to their list of services because it helps them access a new market and potentially upsell clients once they begin working together.
However, in-person interior design projects are typically longer-term and might require you to charge for your time spent in meetings, traveling, producing designs, managing projects, conducting procurement, and much more. E-design should involve shorter-term projects that require less time and a clear deliverable at the project's conclusion.
Make sure that you've carefully considered your pricing, timelines, and exact deliverables and services for each business. Exercising discipline in this area will give each service you offer longevity and preserve your ability to remain efficient as client demands ebb and flow.
Build Your E-design Business on Foyr Neo
You need to provide quick turnaround times for your clients and to make sure that the projects are also profitable for you. Your software should support those needs and give you the flexibility, power and capacity needed to serve clients well.
Foyr Neo is the ultimate software for taking your e-design business to the next level. Quickly and easily create a floor plan, develop stunning e-design projects and get client sign-off on a final design from a stunning photo-realistic rendering. Whether you're focused on remote interior design services or more traditional full-service interior design, Foyr Neo will empower your business to better serve clients and improve your operations.
By combining the functionality of multiple tools in one platform we empower designers to spend less time with software and more time with their clients. You can try Foyr Neo free for 14-days now and experience the power of limitless design.