Home » Architecture Concepts » How To Create The Perfect Architecture Resume For Your Dream Job?
Architecture Resume
You all know an architect's job to be one of the most skilled and certainly high salaried. But did you know that architects are also one of the highest professions in demand?
We're pretty sure even cave people hired these visionaries to add form and structure to their primitive living situations. And why wouldn't they?!
Architects build extraordinary things out of nothing. That is almost god-like talent, to which, they also help humankind live better lives. So yea, architects are very much in demand, hence today we are going to help aspiring architects build a sustainable career in this field.
And you know where it all starts… The Architectural resume!
Read also – 8 Best Tips To Create An Interior Designer Resume
Why an architect resume is so important?
Any profession you choose in this life requires a dedicated profile to enumerate your capabilities, skills, credentials, and experience.
Not for nothing but if you are a freshly graduated student of architecture, you know it will take a while for you to gain some recognition in the field. This isn't a bad thing. You get to learn with years of experience how truly valuable your gifts are, and you have references for the same.
Anyway, circling back to the bedrock of our point, just like any profession, architects also require top-notch resumes to acquire the jobs they admire and fulfill the destiny they desire. That sounds nice, doesn't it…?
Well, a potential employer needs to know that the candidates who apply for the job are not only qualified and accredited but also have the soft skills, the basic necessities to complete an architectural project without a hitch. That is precisely what your architecture resume demonstrates, and if it is well-designed then you already made an impression before you meet the recruiters. I.E., you already have one foot through the door.
So let us take a look at the various components that you need to include in your architectural resume in order to create the best first impression on potential employers.
Read also – Best Architecture Design Software
How to create the perfect architecture resume for a job?
Start by referring to Architect resume samples
The first thing you need to do is look up some resume examples online. There are several popular architects' resumes available to help budding professionals. Not only will they help you learn what you should and should not put on the resume but you will also find suitable resume templates for your own.
Architecture resume examples are a great means to learning about the kind of software to use, soft skills and hard skills you need to add, the vitalities of the education section, and the prominence of work experience, especially for fresh graduates.
Read also – The Average Salary of An Architects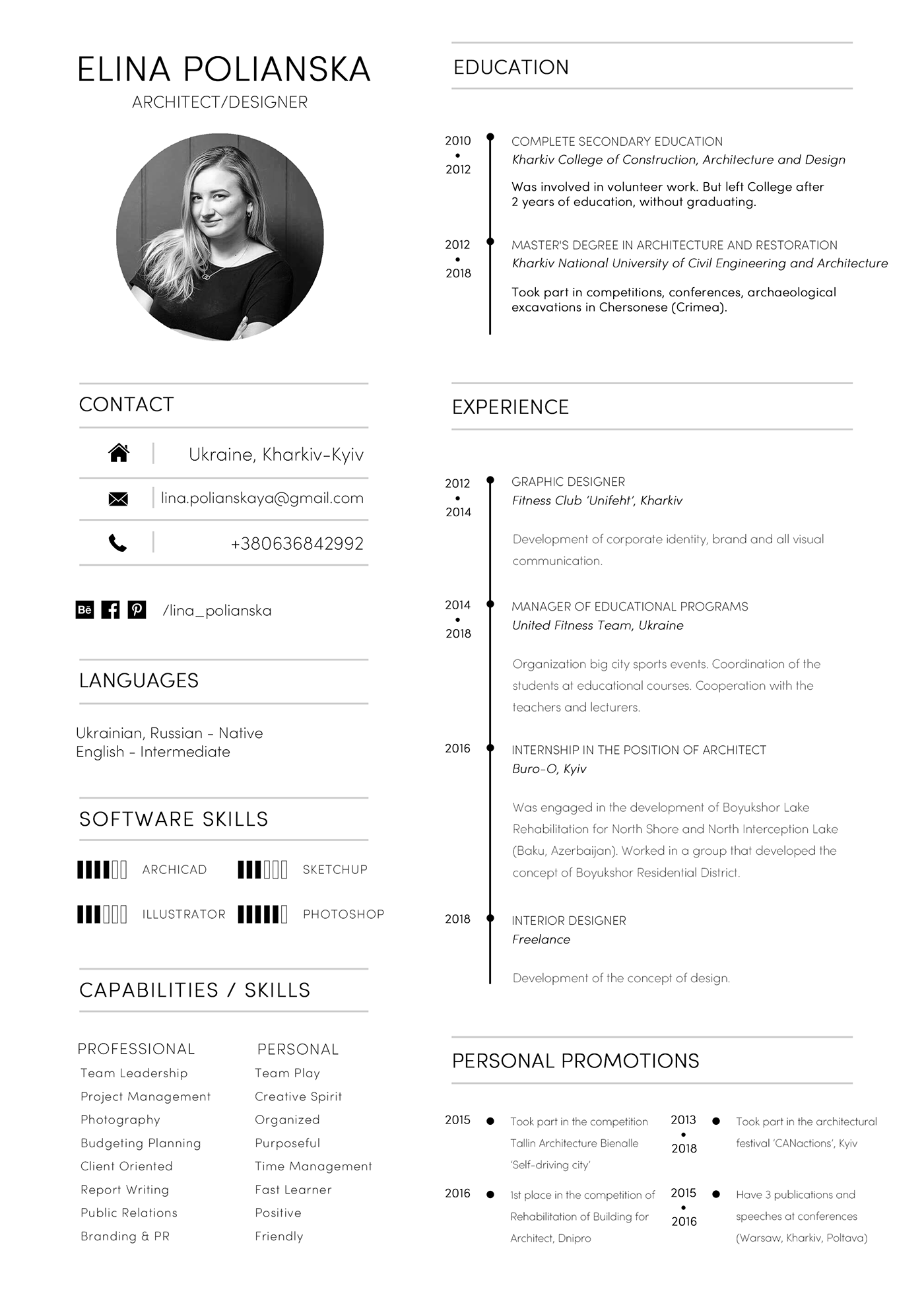 Image Credit: pinterest.com
1. Create a resume summary
Next, once you've chosen an ideal resume template from the architect resume examples, write a sweet resume summary.
A resume summary reflects upon the highlights of your resume. It is a few words used to describe who you are, what you've done, and what you are capable of accomplishing. Therefore, make sure to add only the important parts that will make a good impression.
Also, keep in mind that it is a summary after all. The entire resume already talks about, well… everything. So, don't add every detail to the summary. Keep it short, preferably within two lines or 50 words.
Read also – Life of An Architect
2. Jot down your career objective
Before you address this section, we would like to make a suggestion.
It is not a necessity per se to make a creative resume but you do need a catapulting factor and your resume objective provides the perfect opportunity.
Go through the architecture firm's profile and try to identify their core ethics, their driving force, and the underlying nuances of their guidelines. Once you've got them down pat, write a resume objective that carefully aligns your personal goals with that of the company.
When a hiring manager finds a resume that reflects heavily on the firm's values, you are already halfway to the list for the architecture job.
Keep in mind though, this is not a creative resume. Ensure that you do strongly feel for those core values otherwise you might get the job but you will be stuck pretending for the years to come. That is not a happy scenario.
Read also – Best Tips To Create High Quality Architecure Portfolio
3. Enumerate your professional experience
Senior architects sure have a ton of work experience that they can share with potential employers and recruiters. They can enlist all or the best projects they have worked on, citing references for verification. This undoubtedly adds weightage to their resume thus quickly shooting them to the top of the list.
Fresh architecture students, on the other hand, have a hard time with this section. However, bear in mind that you should never write things along the lines of:
'I don't have experience yet.
I'm waiting for my first internship/job.
Not applicable yet.'
These sentences are resume killers. The hiring managers want to know that you are proactive and take initiative.
Try listing some freelance projects, even if they were unpaid (don't mention the unpaid part.) You can also write about any elaborate freelance project management work or designs you created to help a friend or family member.
Read also – Architecture Design Language Standards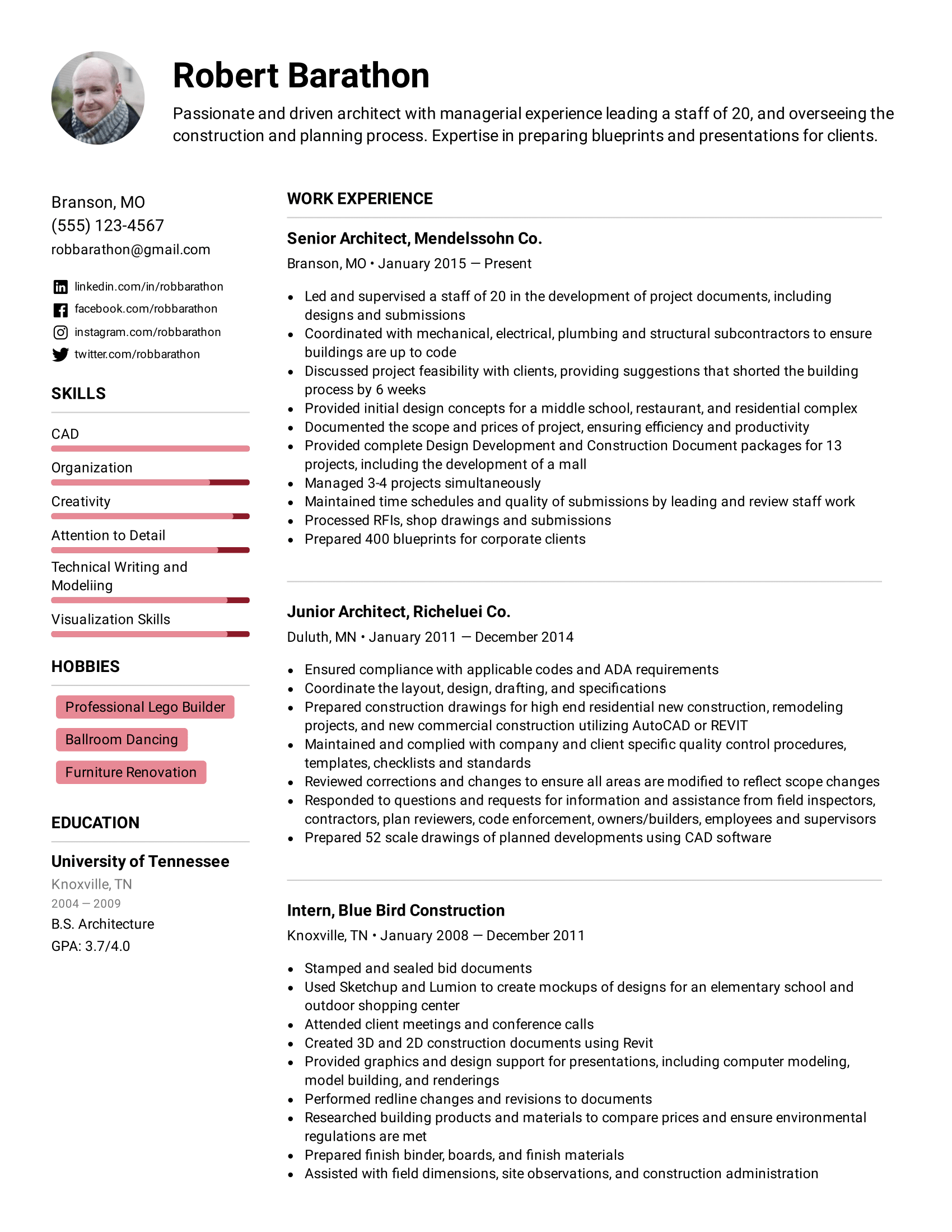 Image Credit: easyresume.io
4. Add the details of your education
The education section must contain all your undergraduate, graduate, and post-graduate courses with accurate GPAs. Keep it relevant to architecture as filling the space is only going to add redundancy to your architecture resume.
Also, if there were specific educational requirements posted in the job description then add them to your resume. Make sure you have finished the courses though as the recruiters will demand to see proof.
Read also – Best Interior Design Colleges and Institutes
We cannot stress this enough but please, oh please, only add skills that are relevant to your architectural career. You'd think we wouldn't have to say it again and again but you'd be surprised.
The skills section is an important part of any resume regardless of the profession. It is pivotal to show recruiters that you have the necessary skills to follow up on projects, understand client needs, and create designs to impress them.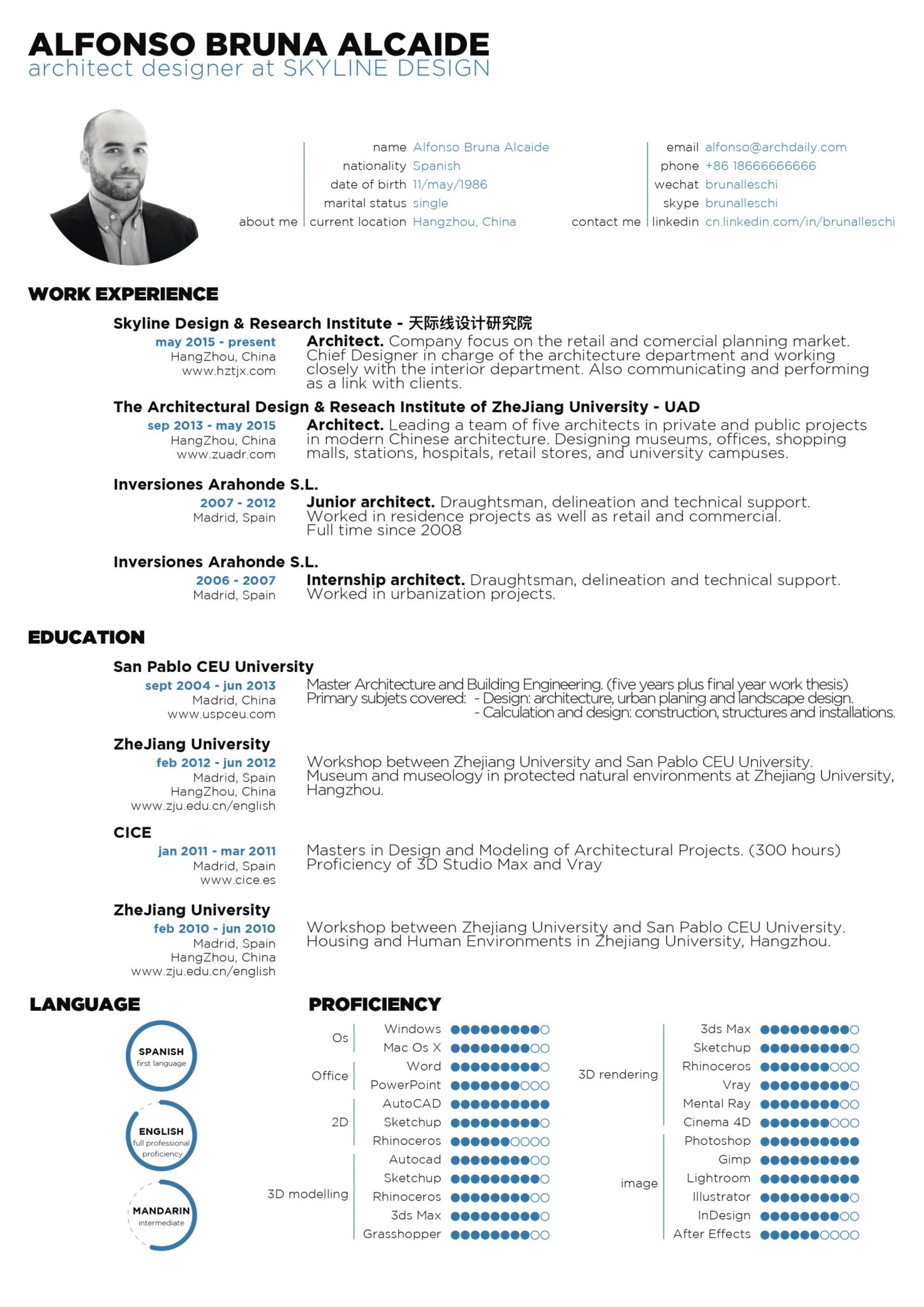 Image Credit: archdaily.com.br
Here are a few hard skills to add to your architect's resume:
Thorough knowledge of mathematics
Innate design skills (obviously)
Proficiency at using software apps and graphic design programs such as Revit, AutoCAD, Photoshop, SketchUp, etc.
Technical skills with MS Word, Microsoft PowerPoint, etc.
Science of structural element and design
Developing architectural framework
And here are a few soft skills that you require as an architect:
Adaptability
Collaboration
Communication
Creativity
Critical thinking
Decision-making
Leadership
Negotiation
Persuasion
Problem-solving
Project management
Teamwork
Time management
Work Ethic
If you are uncertain of your abilities in any of these skills, consider workshops and online courses to develop them. These skills are necessary for a successful career in architecture and it doesn't hurt to upgrade yourself at every turn.
Read also – Architectural Graphic Standards
6. Are you certified and licensed?
You need to add on your resume whether or not you are a certified member of AIA with proper accreditation. Also, in order to practice your craft in the United States, you need to be properly licensed.
If you do not have these credentials, add them to your resume as soon as you acquire them.
Finally, add an extra section to set you apart
An extra section in your resume design is used to include a USP factor.
Maybe you are a pro basketball player, or you have special skills in negotiation, or maybe you have traveled the world thus learning about various architectural designs. These special points set you apart from your peers and add spice to your job application process.
Read also – How To Get Your Interior Design Certification?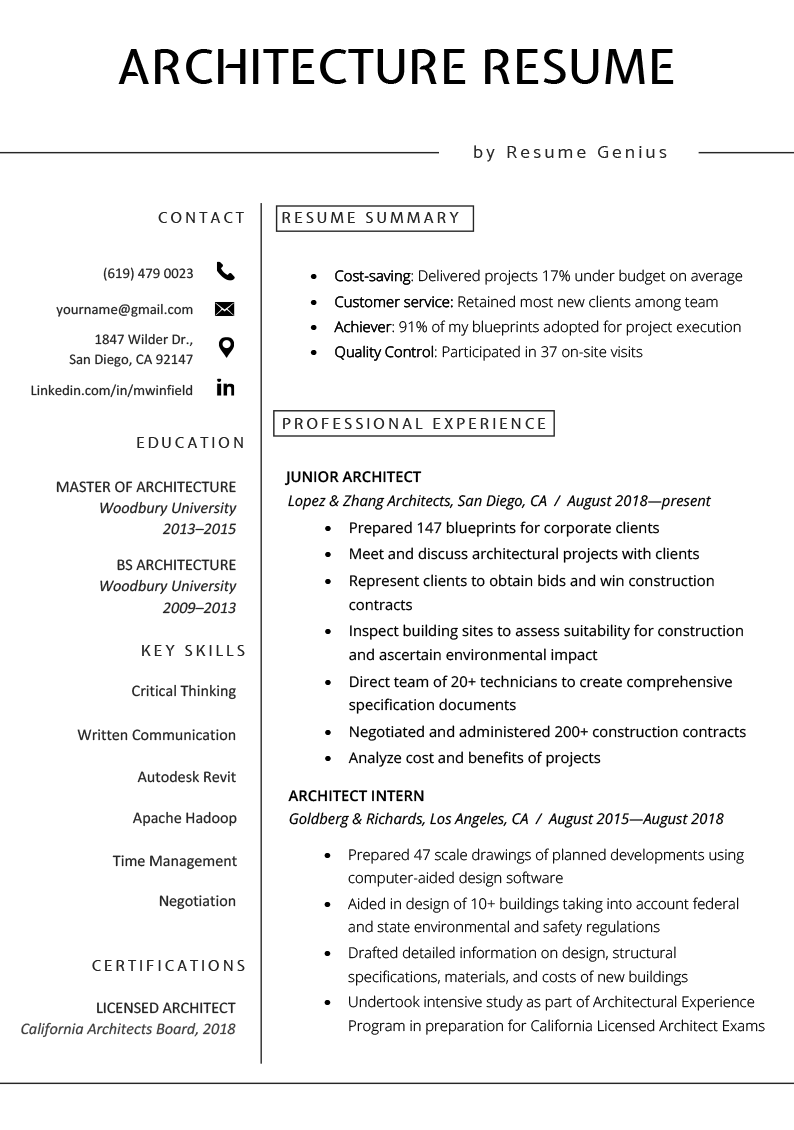 Image Credit: resumegenius.com
7. Ascribe a cover letter with the architect resume
You should add a personalized cover letter with your resume to further enhance the prominence of the skills you acquired in your bachelor's degree. Use bullet points for emphasis.
Next, highlight why you are the perfect candidate among other job seekers and how your goals align with the company, not just the job role.
Finally, subtly demonstrate how skilled you are at design and style with some creative resume and cover letter formatting.
Read also – What Does An Interior Designer Do?
8. Add general information (contact, references, etc.)
Lastly, don't forget to furnish your general information such as contact information, address, email ID, etc. These are best suited to be added above the header in a corner with your name. This section should be significant but never steal focus from the important parts of the professional resume.
Although you will find most of these points on an architect's resume, the problem is the placement. If you bury important information in a pile of irrelevance then your employer either ignores the resume or simply glances through. This is not what you want.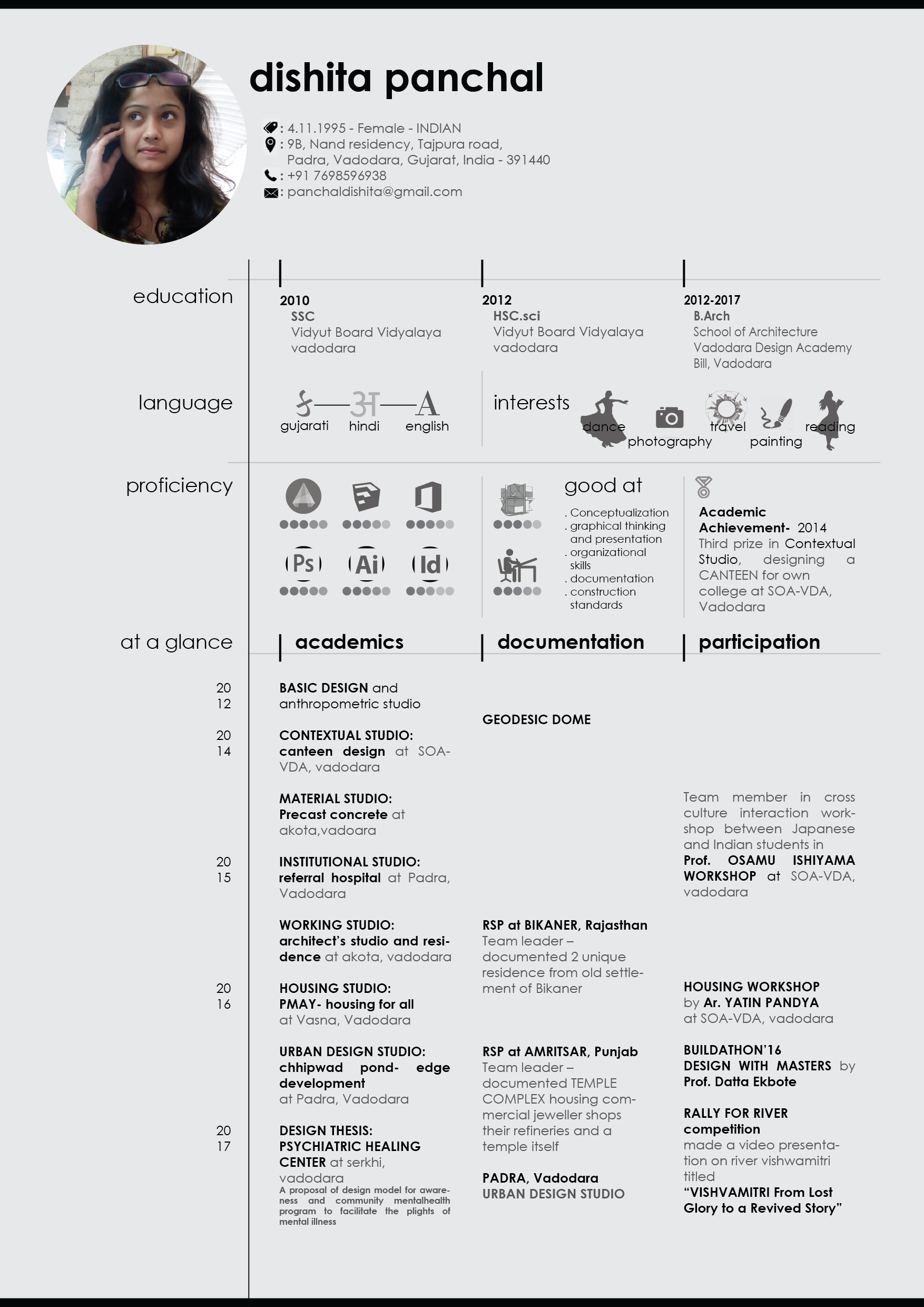 Image Credit: pinterest.com
Conclusion
Resume writing may seem tedious but if you do it right, you may not have to make another one for the rest of your life. The aim is to seem like an appealing candidate to the architecture firm so they hire you, preferably for life.
As a fresher, you may have some difficulty with the section on work experience. That is no reason to fret though. All you need to do is get a little creative. Consider using the Foyr Neo Software and whip up a few, beautiful architectural plans. Even if it is enlisted as freelance work, the hiring manager may be intrigued enough to request a showing. Voila! Now you can share your design skills during the interview, thus securing the job position for yourself.
You can choose a free resume layout or select from multiple high-quality resume formats. You may also create a modern resume online on LinkedIn or add the link in your resume builder. Use the above-mentioned points and build yourself an incredible architecture resume to astound and impress potential employers. Good luck!!