Interior design is a branch of design that deals with making a space aesthetically pleasing. It is a profession which wonderfully amalgamates art and science (creativity + technicality) thereby producing an output which truly resonates with the client's requirements. An interior designer is expected to don multiple hats – right from researching and understanding the nuances of the space to design multiple design concepts for planning the space, budgeting, procurement and stakeholder management etc.
Undoubtedly, one of the most sought-after professions of today, being an interior designer is not an easy job. One should be willing to put in hours of hard work for the end product to be well received. As a creative profession, the process that is followed to complete a project is often diametrically different as compared to the strict and rigid processes followed by other professions. Same is the case with designing a resume for an interior designer.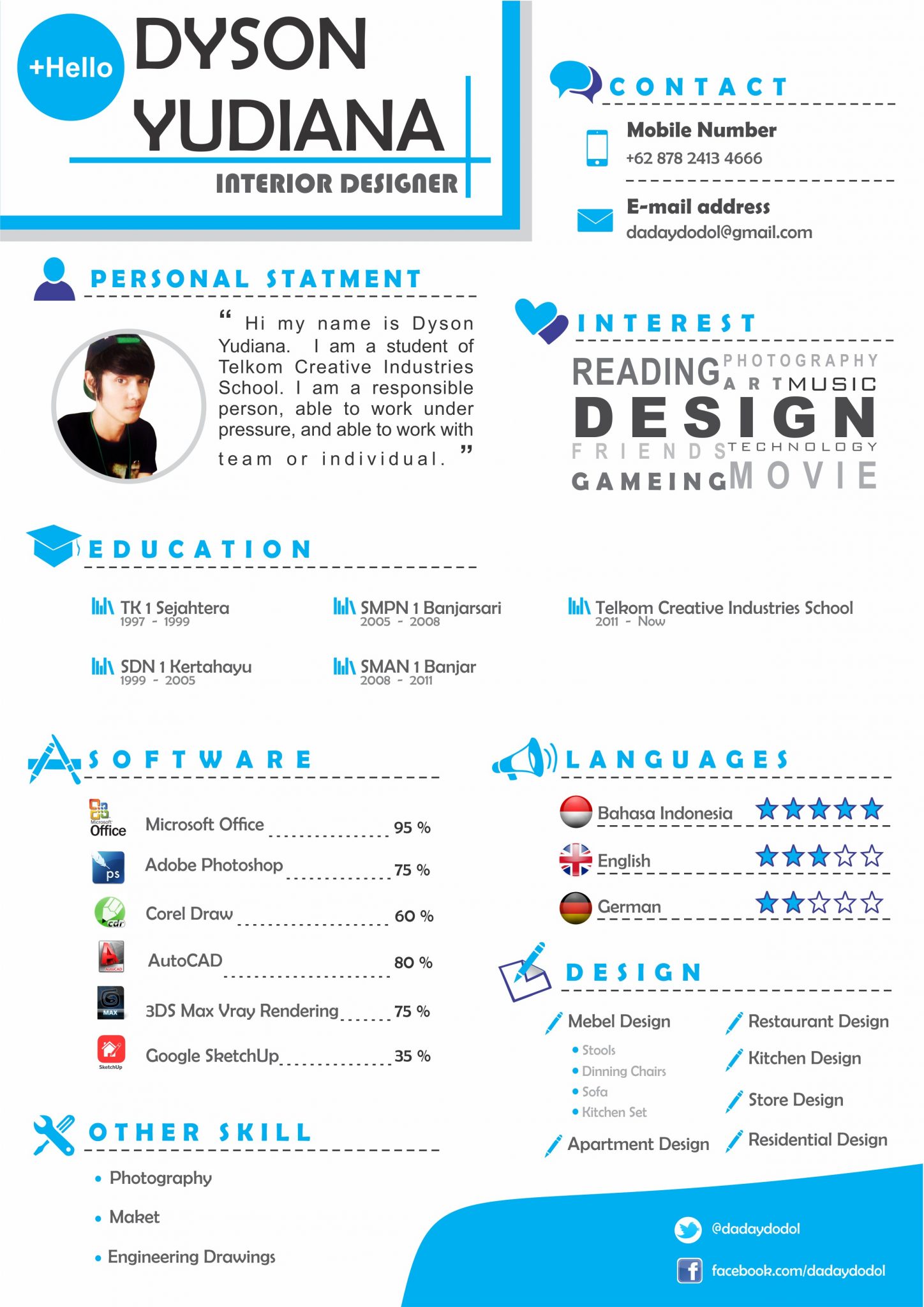 Image credits: google.com
A resume is quick to glance through the document (single paged, in most cases) giving a brief summary about a person's candidature in terms of his educational background, professional skills, and work experience. In a typical scenario, a person is judged on the basis of his resume – if he fits the bill as the perfect candidate or is a misfit for a particular role. A nice and crisp resume creates a lasting impression on the recruiter; the first impression of the candidate is on the basis of the resume.
While the importance of having a good resume remains, people, however, make mistakes while preparing their resumes. While interior design is a creative field – it is a no-brainer that the resumes have to be designed creatively. Blindly following the set template is not going to help the resume stand out, in probably heaps of others! In this fiercely competitive world, the resume should speak for itself! Designing your resume is an art! Below are some helpful tips if you are an interior designer and needs to make a fresh resume or modify your existing one:
1. Interior Designers Resume v/s Resumes of Other Professions
As previously mentioned, a designer's resume needs to convey the difference.  A designer's work, although extremely tedious, the process is enjoyable. In a heap of black and white, textual resumes, the one with color will definitely help pique the interest of the recruiter. This creative and fun nature of the profession needs to be communicated through the resume.
2. Choosing a Layout / Format
Before getting down to work, invest time in looking up for references. There are many portals and platforms which have innumerable creative resumes on them. Skim through a few and narrow down on 1-2 styles which you feel suit your taste.
The first step in designing a good resume is knowing how the layout should be. Getting an idea if you want the resume to be one solid color in the background, or if you want two or more horizontal or vertical sections etc. is important.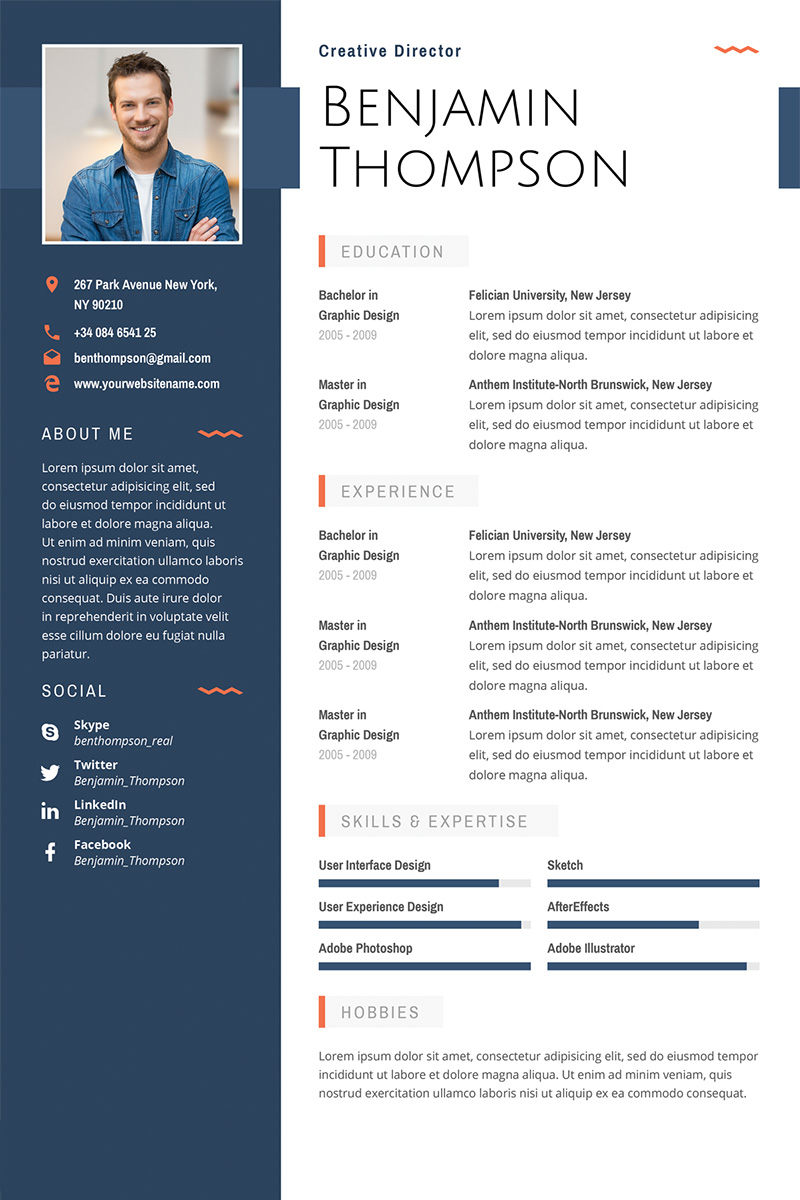 Image credits: google.com
3. Design Aspects: Color Scheme and Font Style
Once the groundwork is laid, comes the time to zero down on the color scheme to be used for the resume along with the font style. While being creative is good, but experimenting too much with color usage is also dangerous. After all, the resume should communicate the intent, so a subtle shade of any color would work wonders.
Same applies to the font type – please avoid using curvy and decorative fonts. In fact, it is best to stick to the standard fonts like 'Times New Roman', 'Calibri' or 'Arial' to make the resume look professional and fun at the same time. The font color needs to be black (for best legibility).
4. Data Selection and Segregation
This is a crucial task in itself! While you may have loads of projects and other accomplishments to your credit, you need to restrict somewhere. Spend some time in sorting out what information needs to be included in the resume and what can be scrapped off.
While the essential heads like 'Contact details', 'Educational Qualifications', 'Past Work Experience' (in the case of experienced interior designers looking for a job change) or 'Key Projects' (for the students who are preparing the resume to find an internship – the first tryst with the professional world), 'Professional Skills' (software and otherwise) are mandatory, you can take a call if you want to add a section mentioning your hobbies/ accomplishments/leadership positions held – if any.
Remember to avoid putting in excess information and the text which goes needs to be keywords and not long paragraphs.
5. Representation of Data
This is the stage which requires the maximum skills learned while studying design. Once the data is sorted and ready to be added in the resume, realize that you just cannot copy and paste the content as it is. The data has to be represented visually with the help of graphics.
Take reference from websites offering free graphics and use them wisely to convey a certain aspect: For example, if you want to communicate your educational timeline, then use a timeline graphic to convey; rather than mentioning it one below the other. Adding the right visuals helps in breaking the monotony of text and makes the resume look more appealing, balanced and crisp.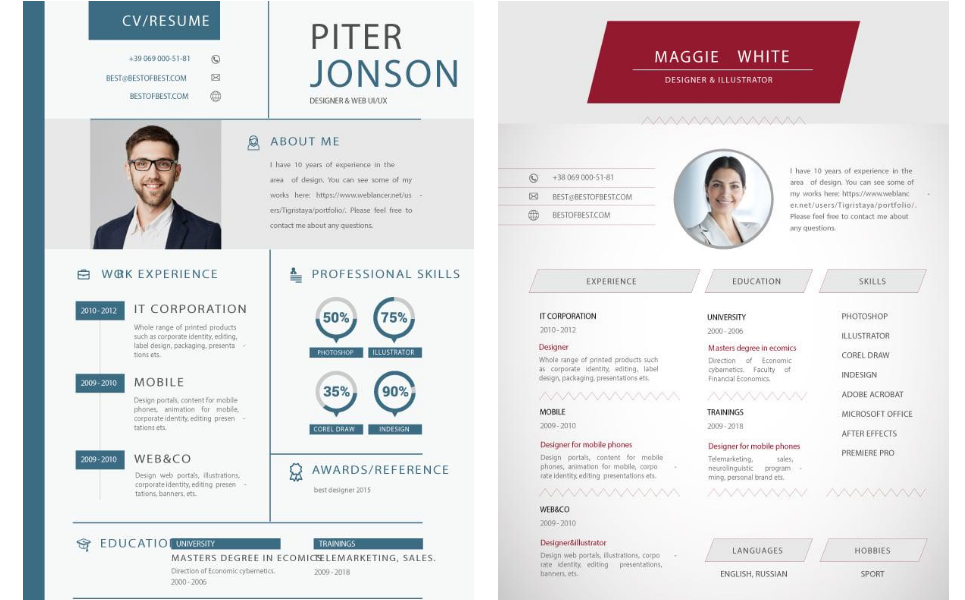 Image credits: pinterest.com
6. Miscellaneous
A designer's resume need not adhere to the stringent norms of otherwise no-nonsense professions like lawyers, engineers, management consulting etc. You may add a professionally clicked photograph of yours in the resume (ideally) in the left corner.
Once you follow all the above pointers in a systematic way, your resume will turn out to be a good one. Also, once you are done, do not forget to take inputs and comments from your family and friends. Simply ask them to review the resume and tell if it is conveying the intent in a to-the-point way or no and you are good to go! Happy resume-ing!
Click to rate this post!
[Total:

0

Average:

0

]