Home » Interior Design » Healthy Interior Design: 10 Tips To Create Healthy Spaces
The Need for Healthy Spaces
The last couple of years have made one thing clear – your home is your haven. With so much time spent indoors working, reflecting on oneself, and trying to stay healthy mentally, physically, and emotionally, it's important to be in a space that helps you achieve all this and more. 
With work from home becoming the new normal, people have begun shifting to suburbs and smaller towns and cities so that they have larger homes to call their own. But how do you ensure that your home interiors remain healthy? We've put together some of the best tips you can integrate into your home to create the perfect peaceful sanctuary.
Read also – 11 Amazing Home Decor Trends
10 Best Tips to Create Healthy Spaces:
1. Personalize Your Living Space
Considering that most of our lives are now spent indoors, it's important to create an indoor space that reflects the best of us. Whether you're working, relaxing, or entertaining indoors, adding personal touches makes each of these activities a lot more comfortable.
Most people try to make their interior environment as pleasant as they can by inserting functionality into their living spaces so that their interior space becomes easy to use on a regular basis. 
When we talk about personalization, it means doing up each different room in your home, uniquely, in your own way. For example, if you prefer soft furnishings, fabrics in neutral tones, or art pieces and photographs, then, by all means, ensure that your home has been designed keeping this in mind. A personalized interior space allows people to live more comfortably and truly call a place their home.
Read also – How To Design Your Dream Home?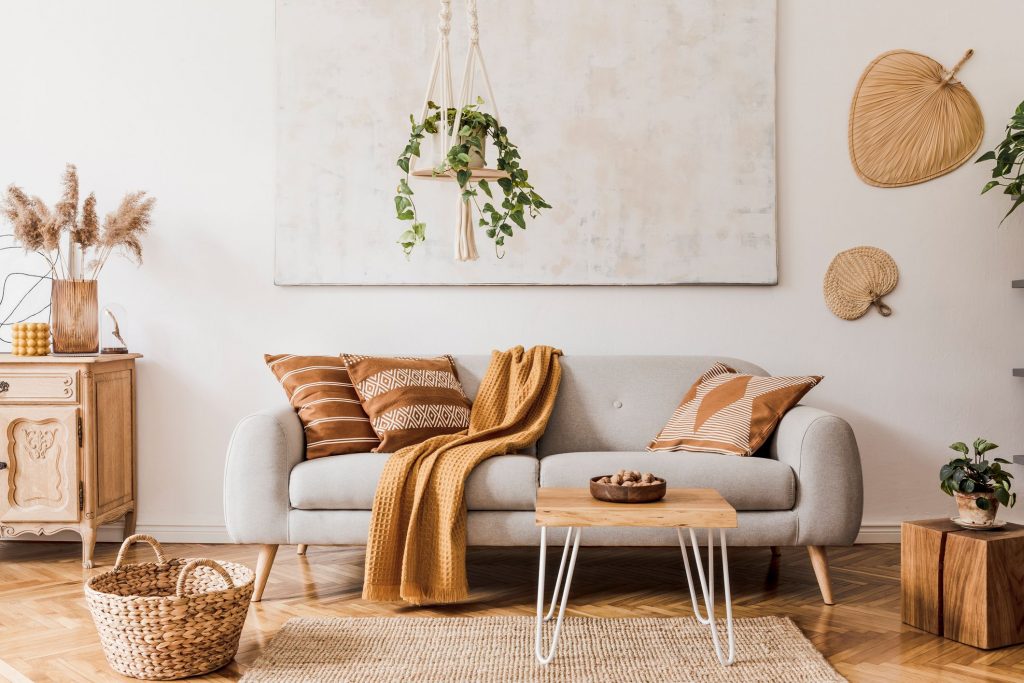 Image Credit: thespruce.com
Be it natural or artificial light; every home needs a good source of lighting. Did you know that lighting can alter your mood greatly? That's right. A lot of bright and warm light can keep your spirits lifted and your mood in check. Sunlight also has great health benefits as it is a source of vitamin D and a natural disinfectant. 
Regardless of the time of day, lighting is something every home needs, so it's important to fit in proper sources of lighting. Try to build large windows and doors which can be opened every day, to let the light in. Natural light is highly positive in nature, so let the sun work its magic. To maximize the light flowing in, opt for curtains and drapes in neutral or lighter shades. 
For night-time, try to fit in excellent sources of artificial lighting that can mimic daylight – especially in studies, workspaces, or reading nooks in your home. People often underestimate the power of a circadian rhythm – let the light in, and you'll notice the changes in your home yourself.
Read also – 11 Best Home Decorating Ideas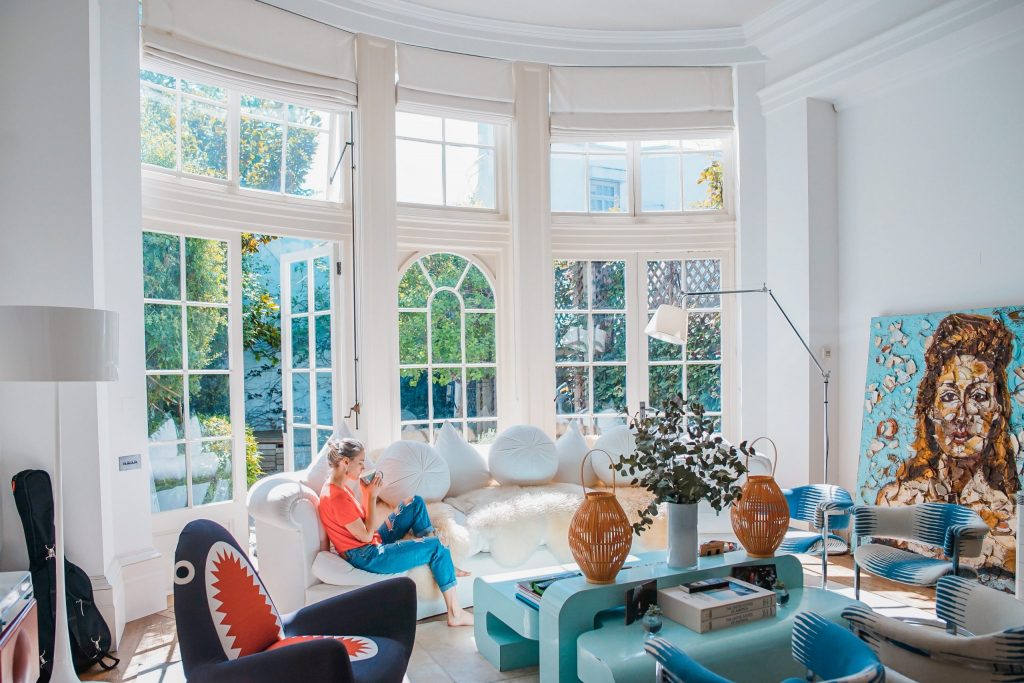 Image Credit: alure.com
3. Go Natural with Houseplants
Can't get to the outdoors? Bring the outdoors home to yourself! One of the best things you can do to your home is to make it into a small garden with the help of houseplants. Don't have a lot of space? Not to worry. The great thing about houseplants is that they come in all shapes and sizes and are great for absolutely any interior space.
Houseplants help to keep the air disinfected and clean impurities and dirt particles in the air. Surrounding yourself with plants also helps to keep your mood positive and lifted. If you're looking to turn up the happy vibes in your home, then get yourself some houseplants and give your home a natural makeover.
Choose indoor plants that not only look pretty but also have the power to purify the air around you. This will help you breathe better and keep toxins at bay.
Read also – 15 Easy Houseplants To Grow Inside Your Home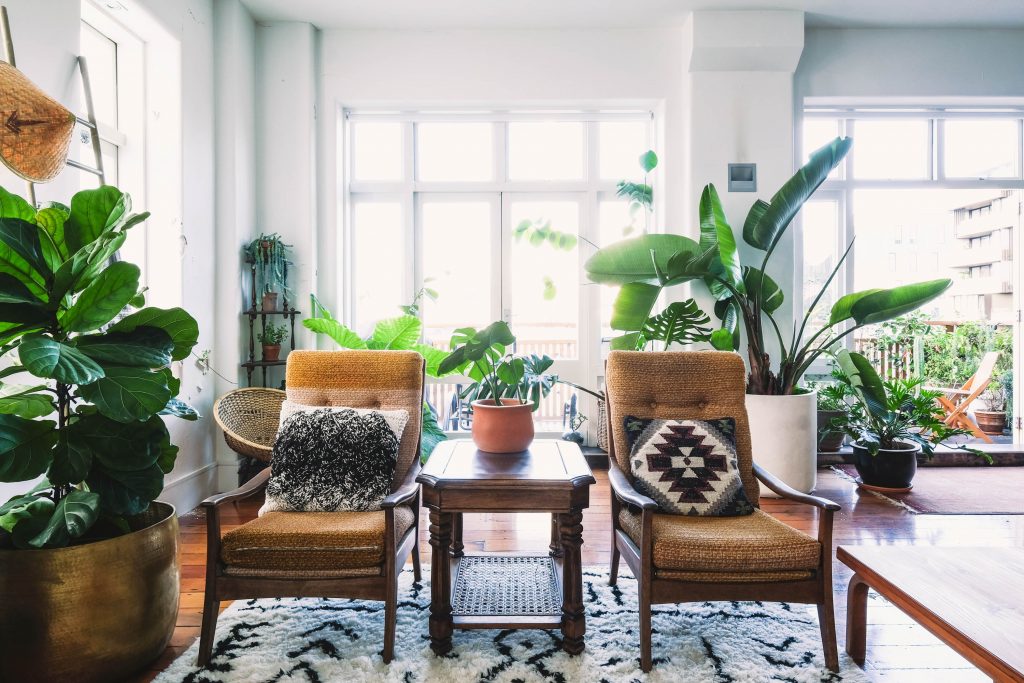 Image Credit: apartmenttherapy.com
4. Play Around with Colours
It's a known fact that colours can greatly impact a person's mood. This is why interior designers are extremely careful when choosing a specific colour palette for a particular room. Each room has a different vibe, and playing around with colours can help you achieve that.
For example, if you're looking to make your bedroom a relaxed space, go for whites, pale blues, or greens. On the other hand, to make your living room a more dynamic and energizing space, opt for browns, rusts, and maroons.
Many people use yellows to brighten up their kitchen spaces; many use neutral coloured tones in their workspaces/study areas to remain focused on their work. Work with an interior designer to understand how best you can use the different spaces in your room and use those colours to influence your mood, wellness, and overall lifestyle. 
Read also – 5 Ways that Interior Design Influences Your Mood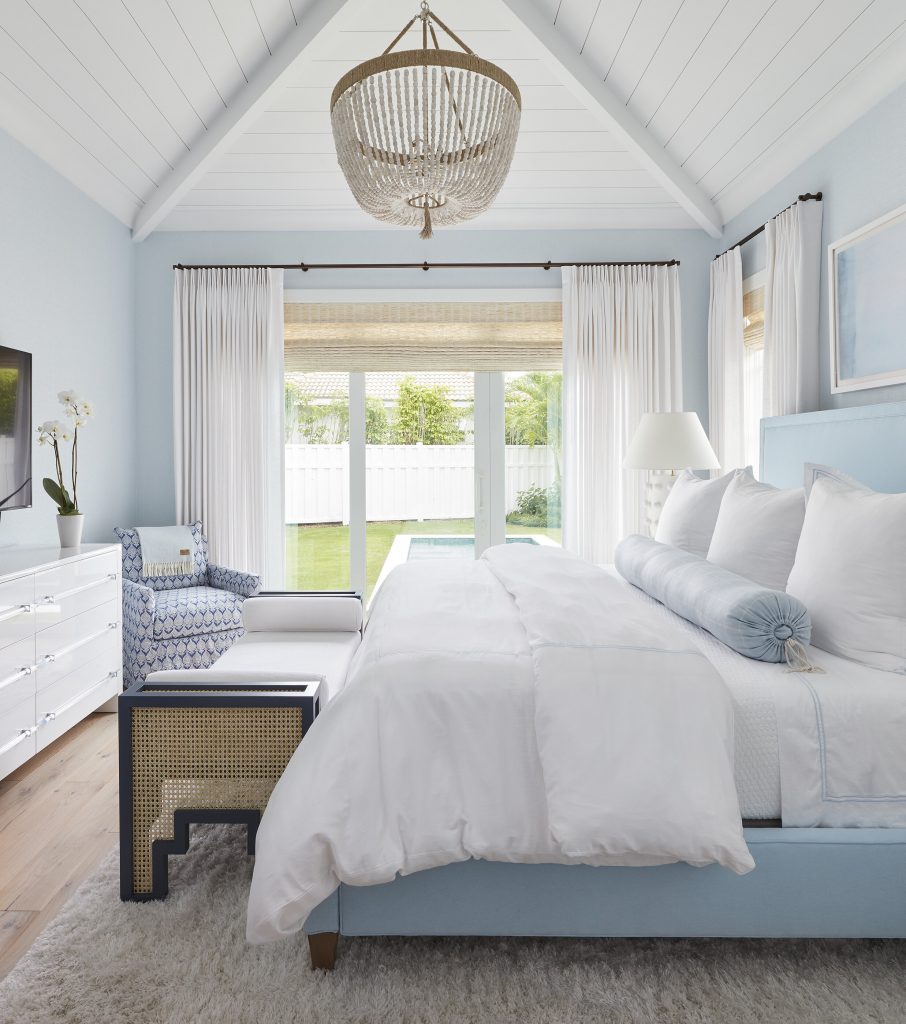 Image Credit: beachpretty.com
Did you know that energy can get trapped in your home? That's correct. Energy shouldn't be trapped. Instead, it should flow easily from one corner of your home to the other. How can you do this? By ensuring wide open spaces. Instead of cluttering your interior up with furniture, keep some space open to allow the energy to flow easily. 
From time to time, remove objects that have been lying dormant in your home, and instead, keep items that are frequently used or have a purpose in the room. When furniture or objects are just lying around, they tend to add to the clutter, and in turn, trap energy.
Let there be easy movement in your home in the form of a free circulation of energy, air, and light. This will help in creating a more positive and soothing atmosphere, helping you feel calmer.
Read also – 12 Ways To Incorporate Wabi-Sabi Interior Design in Your Home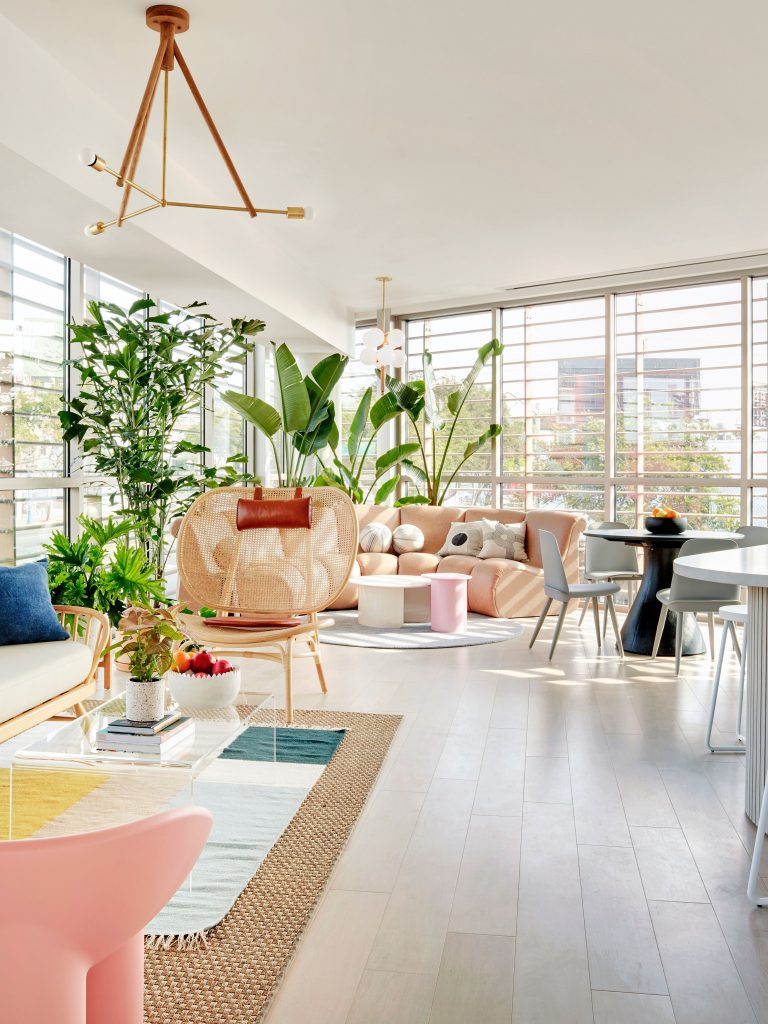 Image Credit: architecturaldigest.com
Essential oils are known for the soothing aromas they bring and their ability to release negative energies from a space. They tend to create a calming and relaxing interior space. Some great essential oils to use in your home are lavender, mint, chamomile.
An alternative to essential oils is using scented incense. Like essential oils, incense sticks also have a soothing effect and can calm a room down. Use sticks that give out an aroma of sandalwood, rose, lavender, or myrrh, and feel the energies in your interior space become more positive. 
Read also – How To Choose The Exterior Paint Colors for A House?
7. Clean Often, Clean Easy
A dirty home tends to add to a feeling of clutter and releases bad energy into a space. A clean home, on the other hand, is a welcoming and warm space. Clean spaces also contribute to the health status of your home – they keep germs and toxins at bay and help in maintaining a good standard of hygiene.
Now, more than ever, the pandemic has made people conscious of keeping their homes sanitised and clean at all times, but what about the furniture, fabrics, and decorative items that can't constantly be sanitised or cleaned that often? To keep germs and bacteria at bay, try using fabrics and materials in your home that can be cleaned easily.
For example, use cotton and linens for drapes and cushion covers; keep minimal objects on dining and coffee tables so that there is less scope of dust collecting, and keep a good disinfectant to clean surfaces easily. 
Read also – 15 Interior Decorating Mistakes That Make Your Home Look Smaller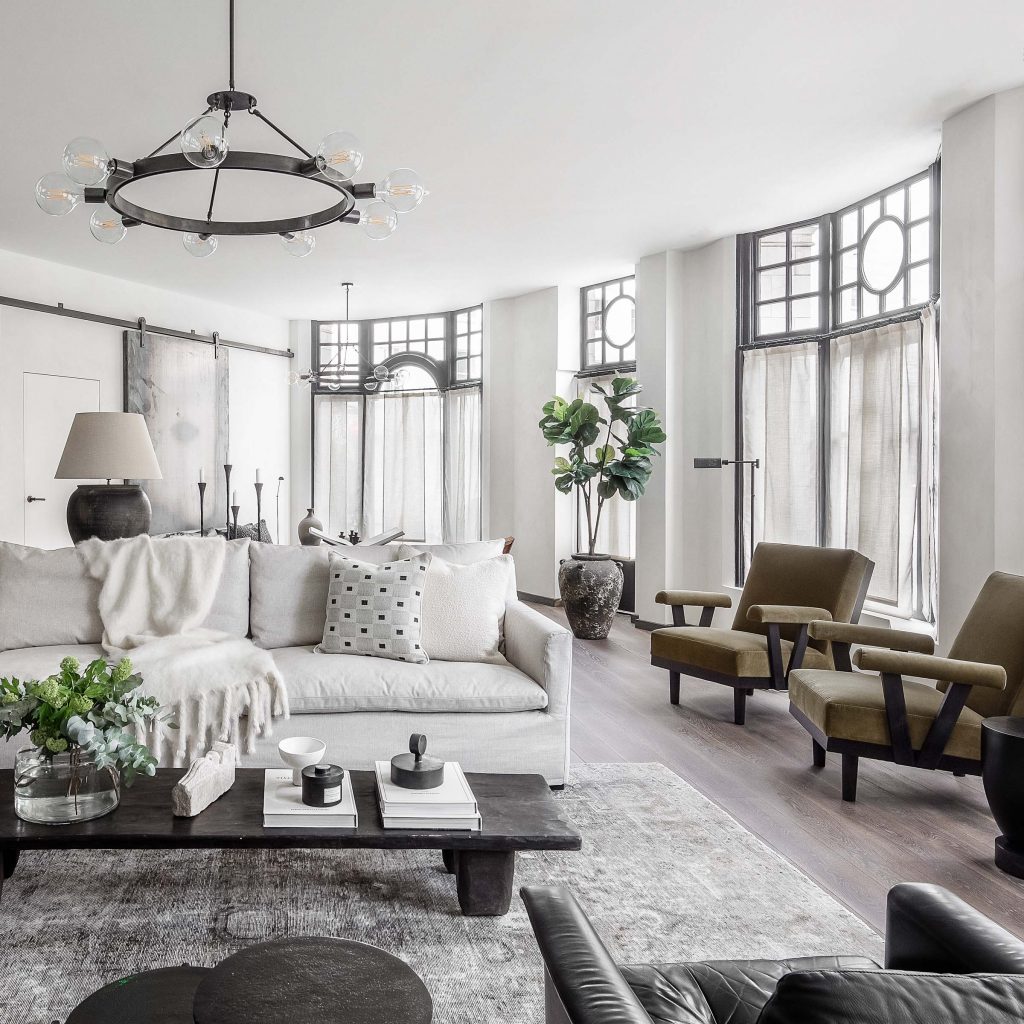 Image Credit: wallpaper.com
8. Focus on the Air Quality
We may have talked about the importance of houseplants to keep your home purified, but when it comes to your home's air quality, you can't compromise on your well-being.
To keep your physical health in check, it's important that you don't breathe toxins, impurities, and bacteria – things that exist in everyone's homes, irrespective of how clean they keep them. If you're looking to create a healthy home, start by investing in a good air purifier so that the indoor air quality in your home improves.
This will not only help you breathe easy but also sleep easy – contributing to a less-stressed lifestyle without you even knowing it! Reduce the air pollution in your home, and witness a direct impact on your personal mental health and physical health. 
Read also – 10 Ways to Turn Your Home from Toxic to Eco-friendly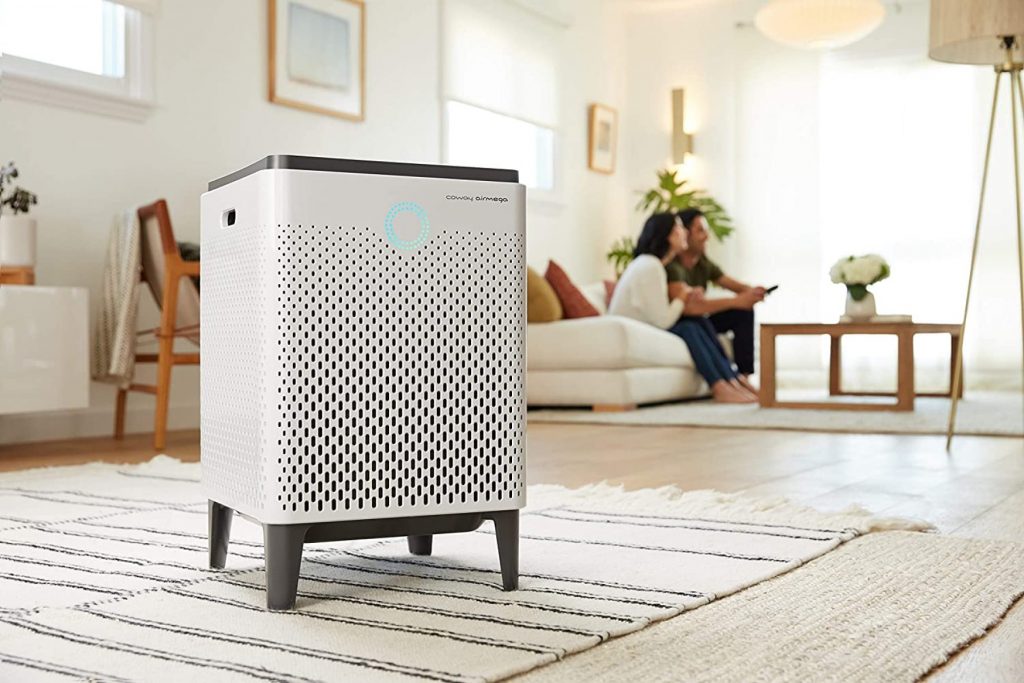 Image Credit: rollingstone.com
The pandemic has forced many to work from home – and ever since the start of 2020, people have found it difficult to convert their homes into workspaces. This is because most people seldom give thought to creating a home office space for themselves.
Instead of using your dining table or a makeshift chair and table situation to work out of, create a small home office for yourself. Use design elements to give your home office a minimalist feel. Use natural materials and natural elements like wood and stones to insert small shelves into the wall around your workspace. 
Read also – 15 Work From Home Essentials for Your Home Office Setup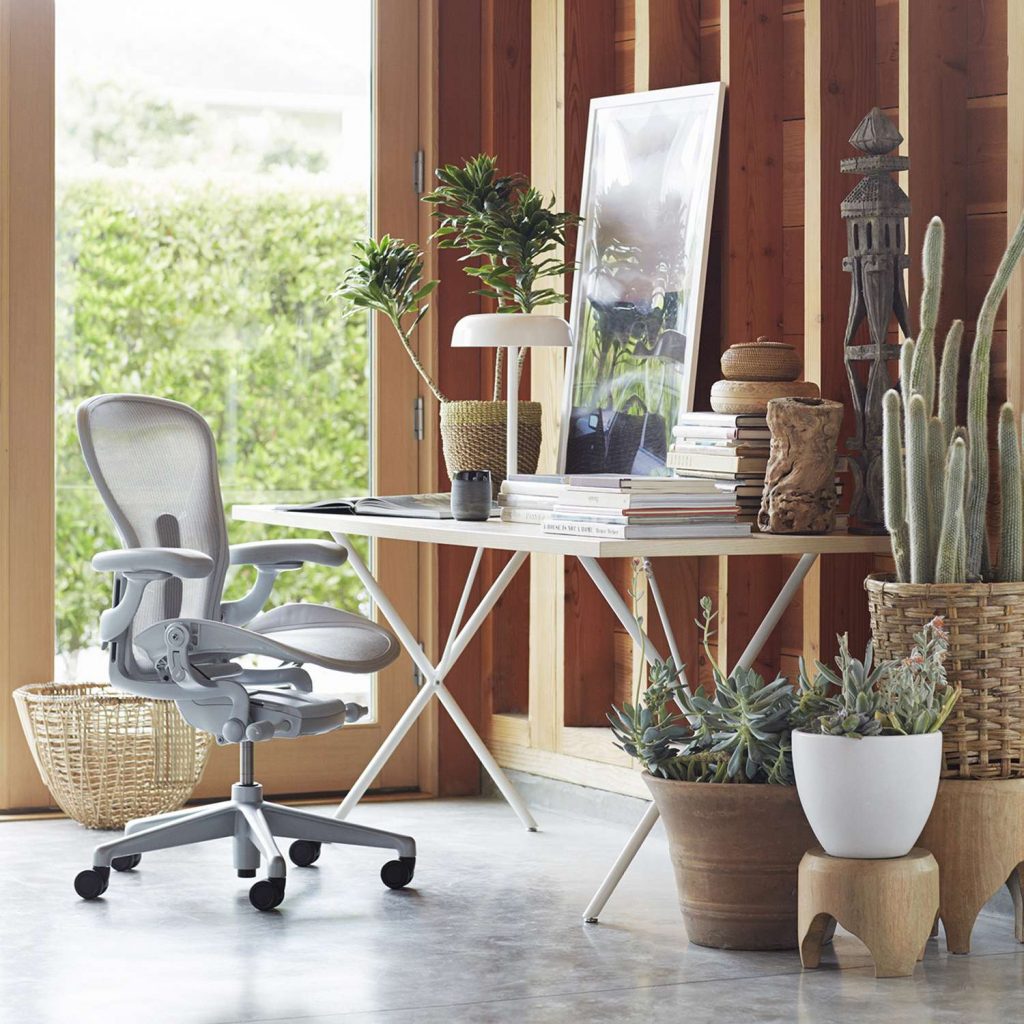 Image Credit: ylighting.com
10. Sustainability is Key
Our final tip to creating spaces that are healthy involves becoming eco-friendly. If your home design doesn't have aspects of environmentally friendly or natural elements, then we suggest giving your home a bit of a makeover to incorporate these.
Add greenery wherever possible, use healthy materials instead of plastics, and try to reuse or repurpose items instead of throwing them away – for example, fashion a vase out of a bottle of wine, or just put some lights into it to make a night lamp! Looking for more tips on wellness design? Log onto Pinterest for inspiration! 
Read also – 10 Effective Tips To Create Sustainable Interior Design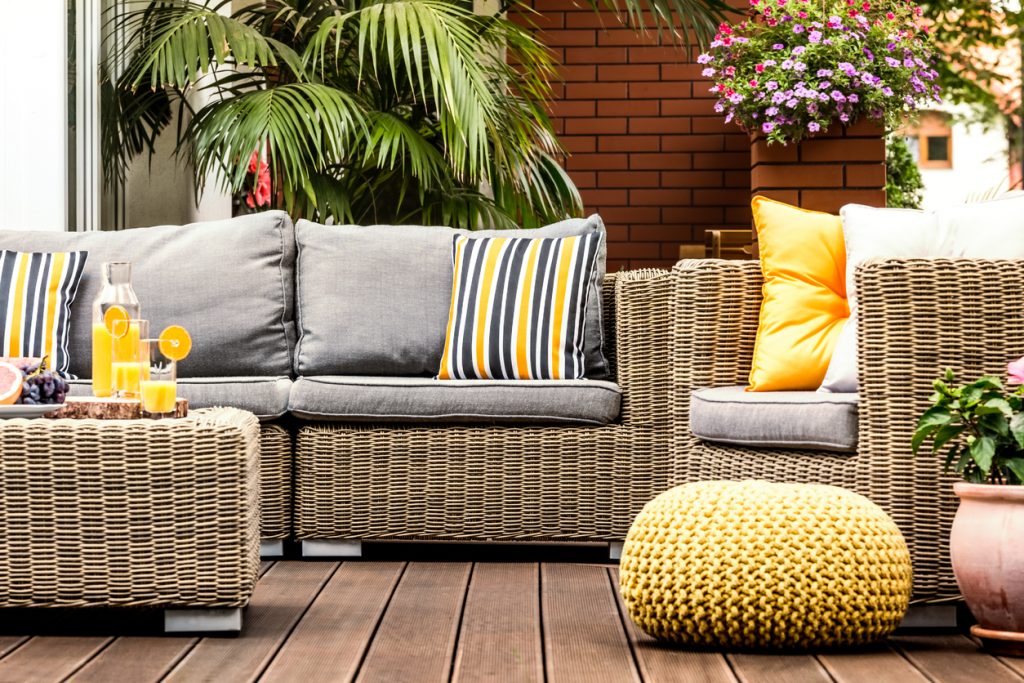 Image Credit: hadleycourt.com
Creating Spaces With a Healthy Touch
When you walk into your bedroom, you should feel calm. When you walk into your living space, you should feel excited and energised, and when you go into your workspace or study, you should feel focused. All these positive feelings come from a place of good health.
If you want to convert your home into a healthy space, then start by losing the clutter. Choose a minimal interior design for your home so that you focus less on 'material things' and more on yourself. 
Choose easy fabrics, houseplants, essential oils, and a healthy clutter-free, modern and sleek design to make your interior space highly functional. Looking for more interior design tips and interior design trend ideas on how to make your living space a healthy one? Join the Foyr Community! 
Eager to reach out to interior designers, professionals and peers? Excited to learn how to use the latest interior design technology? Sign up on Foyr today for a free trial!
Frequently Asked Questions
1. What is biophilia?
Biophilic design is a philosophy whereby human beings possess an inherent instinct to connect with natural elements and greenery. For example, the desire to have houseplants or skylights in one's home. 
2. How can I reduce air contaminants in my home?
An easy way to get rid of air contaminants in your home is to have houseplants like the Chinese evergreen, peace lily, or spider plant. These plants remove pollutants from the air and maintain good indoor air quality. 
3. How to make design spaces eco-friendly? 
Choose eco-friendly materials to build your home, such as bamboos, woods, jute, reclaimed fibres, etc. Opt for recycled materials and repurposing if you want to become eco-friendly.