Home » Design Ideas & Inspirations » How To Choose The Exterior Paint Colors for A House?
Exterior Paint Colors for A House
When most people think of redoing their home they tend to picture a dramatically restyled and overhauled house, both inside and out. While this might be true for some, and the best option given their circumstances, other homes might simply need a new coat of paint and some nice exterior features to completely change the look, feel, and curb appeal.
Adding exterior paint is a cost-effective way to redo the exterior of a home, which makes it a preferred option for many homeowners that want a new look without the hefty price tag. 
However, even though a new coat of paint can go a long way, it can also be a dramatic change that's hard to comprehend until the entire house is actually painted. Accordingly, it's important to carefully consider multiple options before making a final decision and changing the entire exterior of a home.
In this article, we'll walk through expert guidance for choosing the best paint color for a home exterior, and other pro tips on improving the curb appeal of a home.
In case you didn't know, Foyr is an online interior design tool made for amatuer and professional interior designers. So, while this article is written for interior designers who might be advising clients, it's the perfect starting point for anyone who's wondering how to pick the best exterior color of their home. 
If you're ready to help a client make a serious, fun, exciting change to their home, then let's dive right in.
Read also – How To Design Your Dream House?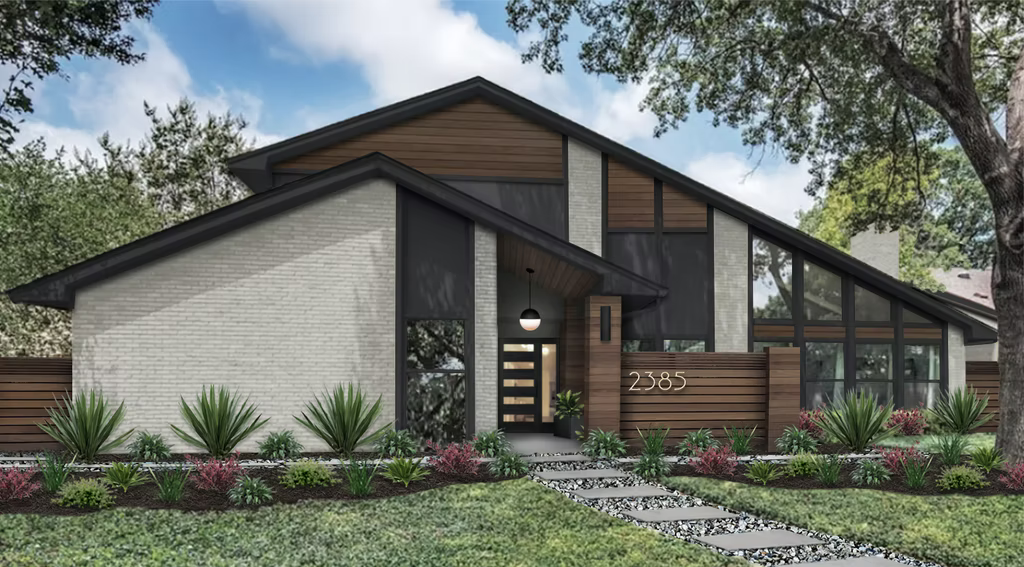 Image Credit: Brick & Batten
Common Color Schemes for Exterior House Paint Colors
Some clients are only concerned with what's in style right now, while others want a classic look. Ultimately, your client's tastes and preferences will drive the final decision about exterior paint colors. If you've already been working with a specific client before the exterior color was discussed, then you might a good idea of their style and a sense of where to start.
Sometimes a client simply isn't sure what they want. In these cases, it might be helpful to show them some common color schemes that work well with the existing style of their home – especially if they won't be doing any significant construction or home remodeling to the exterior.
We've listed some of the most common color schemes you'll see when driving through popular neighborhoods; these might be a helpful starting point for discussions with a client.
According to Better Homes and Gardens, these are some of the most popular current styles for home exteriors:
Dark green (often paired with dark wood undertones, black, taupe, off-white, or copper accents).
Charcoal gray (used with black, blue-gray, pure white, and natural wood tones).
Cream (used with natural wood, black, pastel, light blue, or copper accents
Classic navy (with white, light gray, dark gray, and wood accents).
Pastel (though common in tropical climates, this trend is now being seen more widely).
All black (a bold color choice, black usually looks best with only one other accent color, or if the entire exterior is the same color).
Most of these colors are an attractive choice that will look great on many different styles of old and new homes – and they aren't likely to ruffle too many feathers in the neighborhood.
Read also – The Psychology of Colors in Interior Design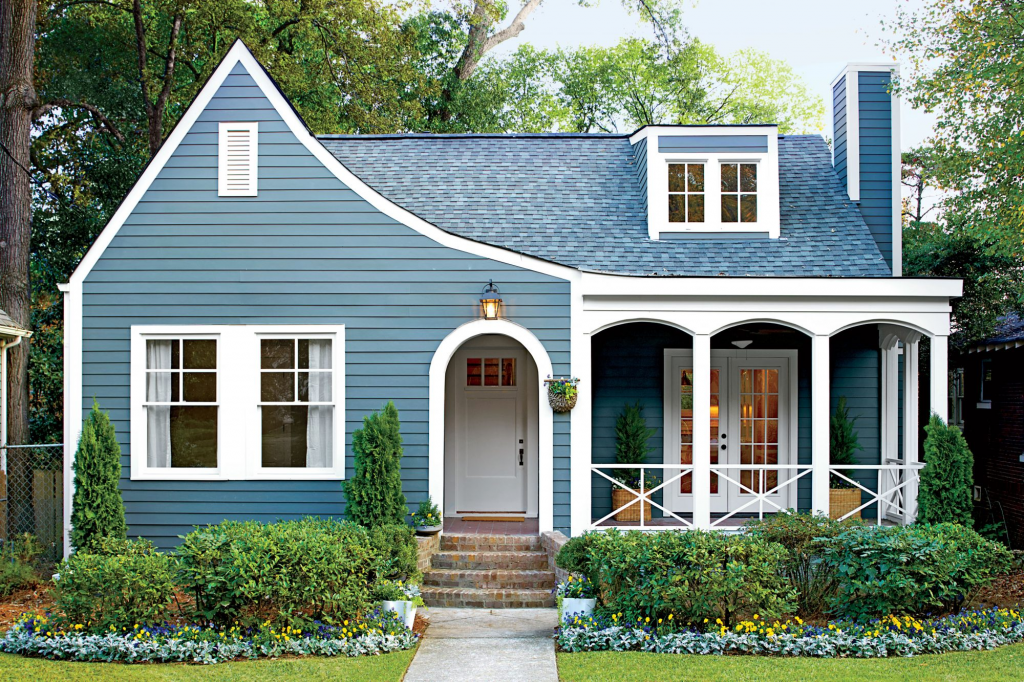 Image Credit: Southern Living
Ensuring the Best Possible Curb Appeal
What should you do if you're totally convinced that one specific color is the best choice for a home, but the client isn't sure or they outrightly disagree? It's up to the interior designer to respectfully make a strong case for their recommendation, even if the client ends up choosing something else.
One strategy to get the client on board with your color choices is to show them how the new paint job will significantly enhance the curb appeal of the home.
This enhanced curb appeal will help them if they choose to sell the home, and it will improve the exterior appearance, ensuring that the homeowners enjoy the house until they either decide to sell or do something new!
Picking a color that's a little bit "out there" might make it difficult to sell the house, later on, potentially costing the homeowners money or lost time.
Read also – How To Use Color Theory in Interior Design?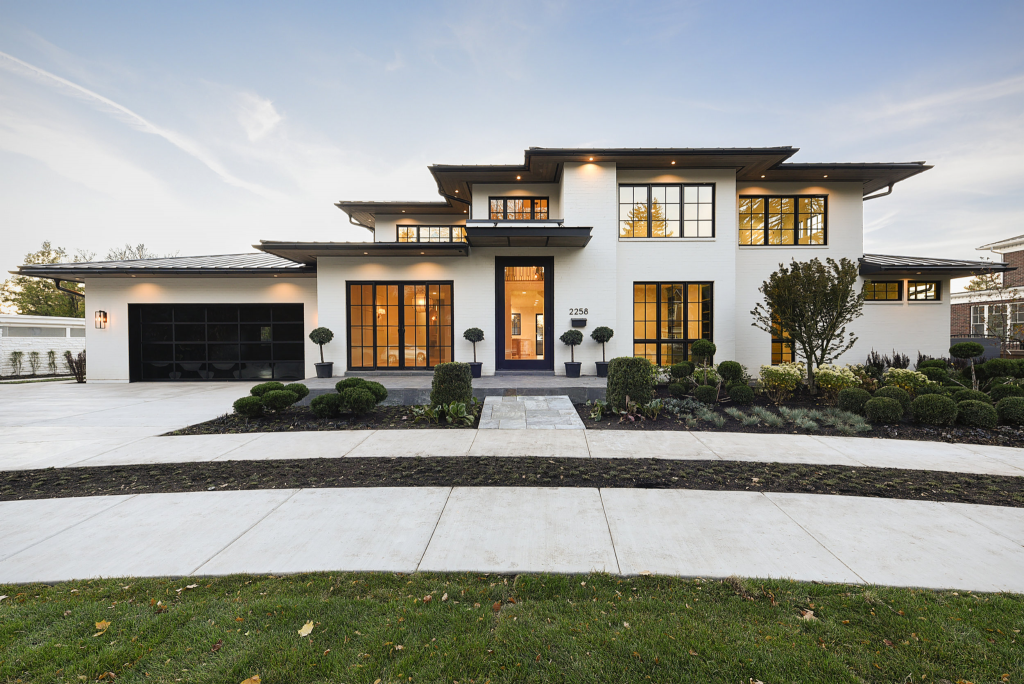 Image Credit: W Design Collective
Popular Paint Brands
Paint brands are able to replicate just about any color, but there are significant differences in the quality and finish of different manufacturers. Make sure that you help your client understand the pros, cons, and costs associated with each brand so they can make a well-informed decision.
Some of the most widely used paint brands include:
Sherwin Williams
Benjamin Moore
Valspar
Behr
Rust-Oleum
Glidden
Other key factors that you'll want to consider include the exterior materials, as this will determine what kind of paint is needed for long-term durability and appeal. The materials most often used for home exteriors include:
Brick
Cement
Stucco
Vinyl siding
Wood
Aluminium siding
Be aware that specific brands specialize in the paint for special purposes; a representative at your local supplier can help you understand the differences and make an informed decision.
Regardless of which paint brand your client chooses to use, you can easily provide lots of options by going to a local home improvement store or speciality paint shop and requesting paint chips (e.g., paint samples).
Read also – 11 Best Home Decorating Ideas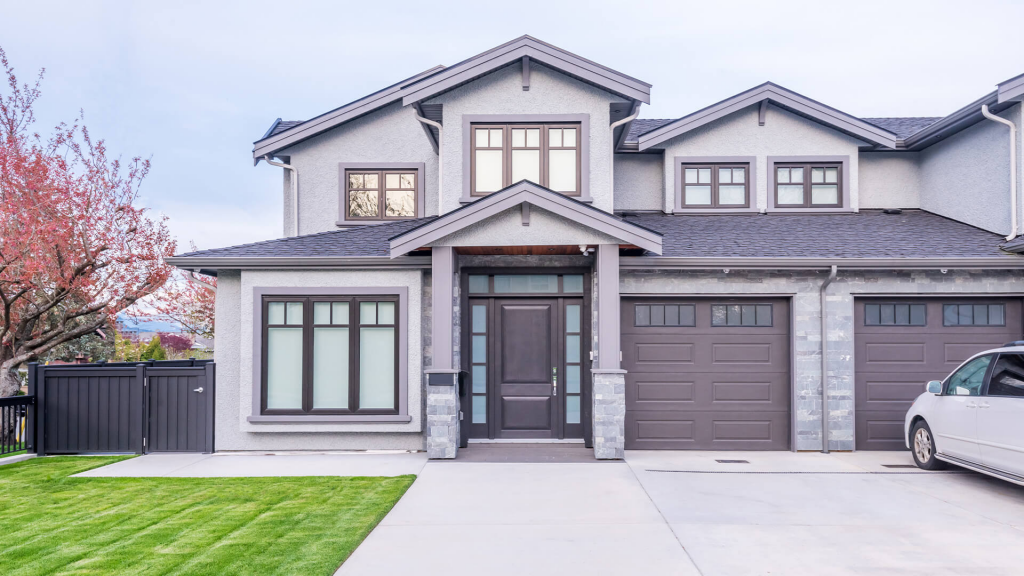 Image Credit: Build Magazine
10 Tips for How to Choose the Exterior Paint Colors for a House:
1. Follow the "rule of threes"
2. Color Combinations
3. Ensuring choise of exterior paint
4. Take you climate to choose color
5. Adding accent colors
6. Test the paint
7. Consider the natural surroundings
8. Accent colors to accentuate architectural
9. Match the existing color
10. Shade and tone
Use Foyr Neo to Find the Best Exterior Color for Your Home
Interior design tools like Foyr Neo were specifically created to help amatuers, the DIY crowd, and professionals create the stunning home designs needed to visualize dreams and turn projects into reality.
Using Foyr Neo's full suite of tools, anyone can quickly create full-home designs that depict the interior and exterior of a house, along with hundreds of detailed additions. The photo-realistic renderings will help you show your client how the project will look, and you can even use sophisticated lighting tools to portray different times of the day.
If you're ready to tackle a big exterior project, don't leave the end results to chance. Use Foyr Neo to "wow" your clients, get buy-in faster, and earn referrals for your top-notch work.
You can try Foyr Neo free for 14 days to experience the power of a platform that was made by designers, for designers.