Home » Design Ideas & Inspirations » Wool Duvet vs Down Comforter: Differences, Types, Pros and Cons
Wool Duvet vs Down Comforter
After a long and busy day, all we need is a peaceful and good night's sleep. Sufficient sleep is also important in shaping our physical and mental well-being. 
Now, besides a lucky few who can sleep well in any conditions or sleep environments, a vast majority of us need the right set of bedding, pillows, lighting, etc., to sleep well. Two such important elements are duvets and comforters. 
Choosing the right duvet and comforter for your home can not only offer great sleep but also transform your bedroom into a luxurious space. 
There are a variety of duvets and comforters, but the most popular ones are wool duvets and down comforters. 
But what are wool duvets and down comforters? Which is better? Should you use both together? Let's find out the answers to all such questions in this post, starting with the definitions of these bedding essentials for your bedroom.
As the name indicates, a wool duvet is a soft wool blanket. Wool is a great sleep inducer. In fact, studies have shown that wool can keep our heart rates lower during sleep. Having a lower heart rate during sleep is an indication that we are having a peaceful, deep, and restorative sleep. 
Wool duvets are usually not stitched or quilted; this gives them a 'less-finished' look. They are usually sold separately, like covers and coverlets. As they come separately, you have the luxury to mix and match them with other bedding components to create a unique tone for your bedroom. 
High-quality wool duvets are also hypoallergenic, biodegradable, breathable, and dust-repellent. They have the ability to control body temperature, unlike any other material. In other words, they keep you warm during winter and cool during summer.
Read also – 30 Stunning Master Bedroom Design Ideas
Image Credit: homeofwool.com
Here are the top three types of wool duvets based on the temperature levels they can withstand, their thickness, and the weight of wool batting used per square meter:
1. Summer duvet
It comes with 250 gms of wool batting and has a 0.9 cm thickness. It is best used for temperatures around 21°C to 24°C. 
2. Winter duvet
It comes with 500 gms of wool batting and has a 1.8cm thickness. It is ideal for 18°C to 23°C.
3. Extra warm duvet
It comes with 750 gms of wool duvet and has a 2.5 cm thickness. It is best used in temperatures around 15°C to 20°C.
Pros and Cons of Wool Duvet
Here are some reasons why you must consider purchasing a wool duvet for your home:
Pros
Fit for all seasons:

Wool has balanced thermal insulation properties, which makes it quite unique. This makes a wool duvet an ideal choice for all seasons; it keeps you warm during winter without any overheating issues. During summer, it will keep you cool by extracting all the moisture from the skin.
Fire-Resistant:

Wool duvets have excellent flame-resistant properties. It can reduce the spread of fire. As wool does not melt, there is also no possibility of it sticking to your skin. This makes wool fibers distinct from many other synthetic fibers.
Reduce common allergies:

Wool prevents mold and mildew. Its capability to quickly absorb and release moisture makes it impossible to create a condition in which mold and mildew survive. 
Hypoallergenic:

100% natural wool duvets can halt the spread of bacteria, dust mites, and other allergens. This means no cough or sniffles at nighttime. They also help maintain a good heart rate and optimal temperature, allowing our body to have deeper and healthier sleep. This is best for people suffering from allergies, skin sensitivities, and irritations.
Eco-friendly:

The best part about a wool duvet is that it is environmentally friendly, renewable, biodegradable, and sustainable.
Even though there aren't any major negatives, some people might find the following challenges while using a wool duvet.
Cons
Storage:

Though this isn't a major issue, as wool duvets can be used year-round, some people might prefer to sleep with a thin sheet during the summers. As a result, during the summers, you might have to find some extra space to store your wool duvets.
Weight:

A wool duvet is not a great option if you like to sleep light. The thick plush material can make the duvet seem heavy for some people.
Read also – 15 Best Winter Decorating Ideas and Trends for Your Home
What is a Down Comforter?
A down comforter is a feather-filled comforter. The small feathers used in a down comforter are usually extracted from ducks and geese. These feathers can trap air and moisture to maintain a warm temperature. 
Down comforters are usually fluffy and thick and are quite decorative. The down comforters are stitched and quilted in a certain pattern that keeps the material inside safe and evenly distributed.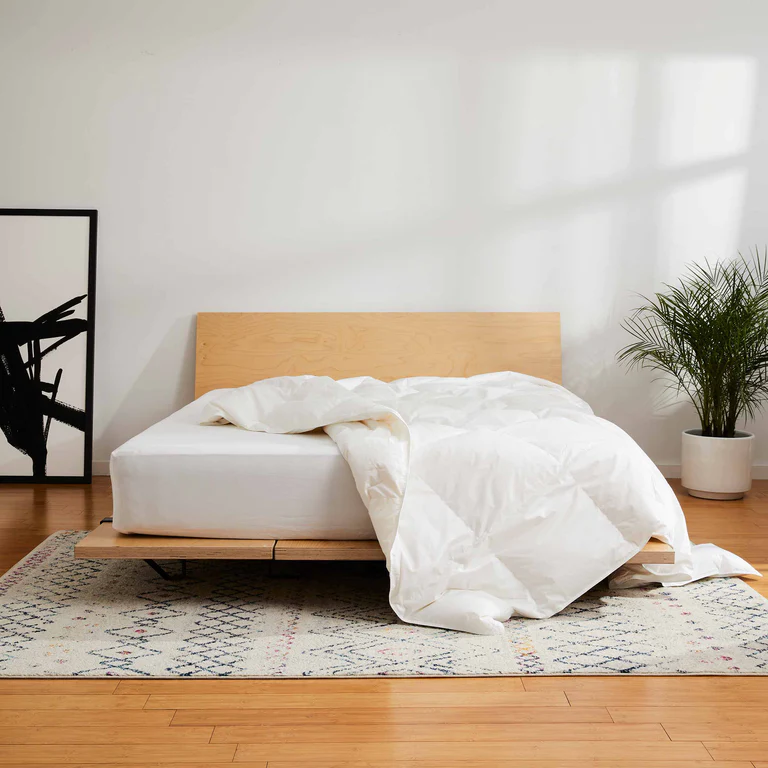 Image Credit: brooklinen.com
There are three main types of down comforters based on the material used –
This is the most popular down comforter available today. This is attributed to the larger down clusters it has. The end result is a much softer feeling when you use it. Goose-down comforters are also the warmest when compared to other down comforters. This makes it an expensive down comforter. 
Duck down comforters have clusters that are smaller than the goose-down ones. This is because ducks are much smaller than geese. (The size of the bird is directly proportional to the size of the down cluster, which positively impacts the softness)
Despite the smaller clusters, duck-down comforters provide good insulation and offer great comfort. Some people are sensitive to duck-down comforters, while some say it has an odor. 
As the name suggests, it has both feathers and downs as fillings (inside the comforter). Its softness is comparable to a feather-filled pillow. The best thing about this type of comforter is that it's quite affordable.
Read also – 25 Types of Rooms in a House
Pros and Cons of Down Comforters
Here are some reasons you need to own a down comforter for your bedroom:
Pros
Lightweight:

Down comforters are extremely lightweight, and in most instances, you won't even feel like there is a comforter on you.
Compressible

: Compared to non-natural fibers (like a wool comforter), a down comforter is compressible, making it easy to pack and store in small places. 
Environment-friendly:

Down in the comforter is made of natural materials extracted from birds. This makes the comforter sustainable and environment-friendly.
Warm:

A down comforter offers all the warmness you need in most types of winters. The fibers used in it offer excellent insulation to keep you warm.
Durable:

If you take enough care, down comforters will stay perfect and last a very long time.
Here are some reasons why it is not recommended to buy down comforters:
Cons
Moisture management:

Down comforters are good at absorbing moisture and keeping you warm during winter. However, sometimes, they can end up creating a humid condition that can feel damp.
Non-hypoallergenic:

It is not hypoallergenic and is not suitable for people with allergies. Although a few down comforters claim to be hypoallergenic, check twice.
Expensive:

Down comforters are costly. But this is because of their long lifespan and the great experience they offer.
Not easily washable

: A down comforter is not something you can throw into the washing machine with the rest of your clothes. There are specific washing instructions that need to be followed while washing it.
Read also – 15 Best Bedroom Shelving Ideas for Storage
Wool Duvet vs Down Comforter: Summary of differences
Now that you know all the basic details of both wool duvets and down comforters, here is a summary of all the major differences between the two so you can make a better choice:
1. Temperature Regulation
Wool duvets have thermoregulating properties naturally. This means they can be used throughout the year. On the other hand, a down comforter is a good choice for winter. This is mainly because it is designed to trap a lot of heat. 
Wool duvets have natural breathable properties. This automatically makes it highly odor-resistant. Down comforters have insulating capabilities, which means they constantly absorb and retain odors. 
The fibers in wool duvets are usually well-treated. This makes it extremely easy to wash using a mild wool detergent. Down comforters are a little hard to take care of. Even though it is machine washable, special care is required to maintain it in good condition. You need to clean it using a mild detergent and then perform line drying only. 
Remember, if down comforters are not treated properly, they might even lose their insulating properties due to clumping of the down feathers. In other words, it will lose its purpose.
4. Environmental benefits
Wool duvets are environmentally-friendly. They can be produced organically. Down comforters are also environment-friendly. But they are usually not as sustainable as wool. 
Wool duvets have excellent moisture-management capabilities. In fact, as we sweat, wool will absorb it from the body. It will end up creating a dry environment to sleep in. 
Down comforters are not known for their moisture-managing capabilities. They have the ability to capture moisture and create humid conditions. This damp condition will not only disrupt your sleep but also create an environment that will invite dust mites, mold, and spores.
Even though wool comes from sheep, you must understand that shearing wool from sheep is a natural process. It's just like a haircut; it can be done once or twice a year. This makes wool duvets an animal-friendly product. Down comforter is a natural byproduct of the food industry. The downs are extracted from the plumage of birds that are slaughtered.
Summer wool duvets are generally very light. However, they are not as light as down comforters. Winter wool duvets are much heavier and are suited only for those who do not mind a heavy blanket on top of them. Down comforters are known for their light-weightedness.
Woold duvets are hypoallergenic. This means they are fully resistant to allergies and dust mites. Down comforters are not hypoallergenic. They are not suitable for those prone to allergies and rashes due to contact.
Read also – 10 Tips to Create Healthy Interior Design
Bonus - Handy Tips to Care for Your Wool Duvet and Down Comforter
First and foremost, read the labels and tags attached to the duvet and comforter. By following the instructions, you will know if it's best to wash them at home or to take it to a professional.
It is best to wash them regularly, especially the wool duvet covers. Make sure to wash them as often as your pillowcases. With regular use, the duvet insert would require washing only once or twice a year. The down comforter should be washed once or twice a month or a few times a year based on factors like usage or if you use a sheet on top of it.
Stay away from washing machines with agitators as they can tear the comforters or make the down inside the comforters unbalanced.
For down comforters, do not use fabric softeners, as these softeners will most likely stick to the down and ruin the comforter.
Read also – Sustainable and Holistic Interior Design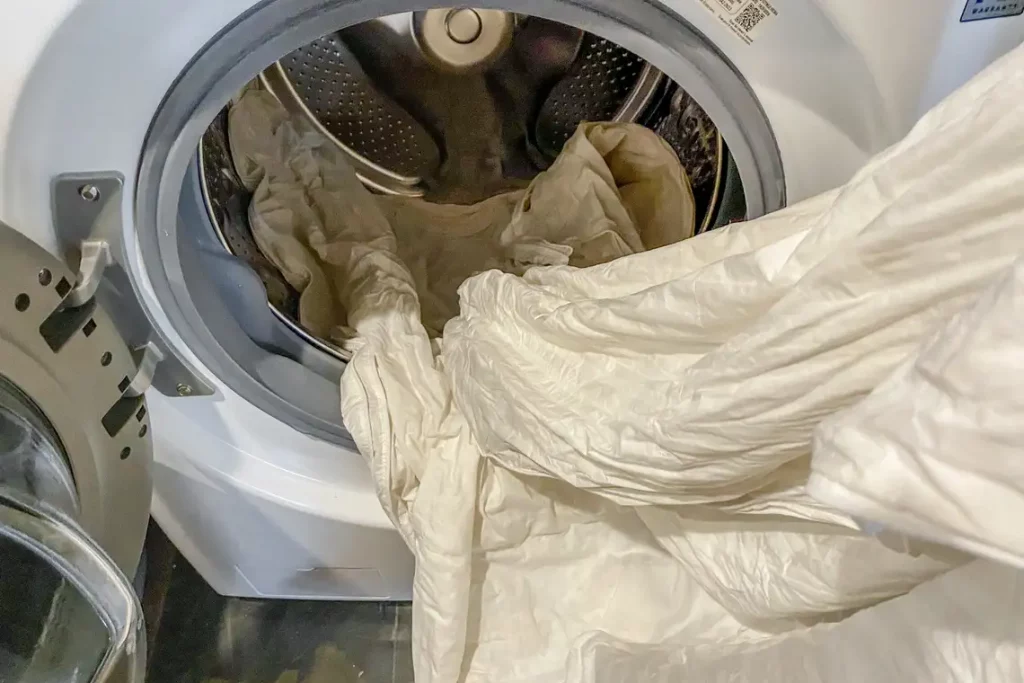 Image Credit: nytimes.com
There are a variety of duvets and comforters in the market. Still, wool duvets and down comforters are the most popular owing to their thermoregulating properties and the comforts they offer. 
But when choosing between these two, use the above information to decide the best one for your home. Take into consideration different factors like the harshness of weather in your area, possibilities of allergy, and sleeping style before zeroing down on one product.