Having a luxury home is a dream. A stylish, sophisticated, yet timeless interior design can turn a house into your dream haven. With modern architecture inspiring unique, boundaryless, flowy, and novelty designs, open-concept living is a popular favorite to make homes look more coveted and palatial. 
An extension of the open-concept living plan is the open-concept bathroom. While it may sound corny to some room planners, it's a beautiful concept, that when implemented right as per your tastes and needs, can be truly artistic, aesthetic, and highly functional. Open concept bathroom breaks down the separation between the bedroom and bathroom and provides a combined space for free movement. 
Dive deeper with us to understand what an open-concept bathroom is, and how you can pick design elements that resonate with your style, your bathroom's tone, space, and needs and add a twist to your home design.
Understanding the open-concept bathroom idea
The bathroom is a part of the master bedroom; there are temporary partitions to demarcate the two spaces, but the bedroom and bathroom make for one large space. The bathroom has no dedicated doors or walls and it shares walls with the bedroom.
Remember when you visit a luxury hotel the bedroom and bathroom look like uber-peaceful sanctuaries and where you can see right through the shower wall? They were the forerunners of the open-concept bathroom design, where the bathroom became a sub-unit of the bedroom with no clear distinction between the two. Homeowners began adding this design to their wishlist and began including the model in their room design.
Open-concept bathrooms give a unique makeover to your master bathroom/bedroom.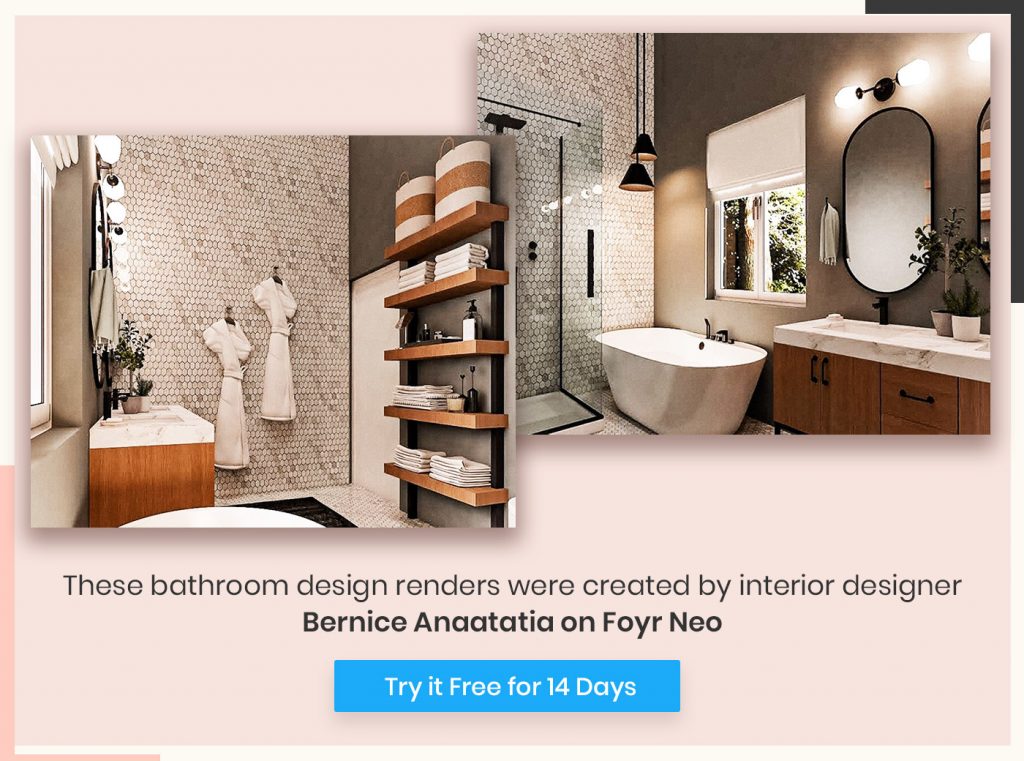 Disadvantages of having an open-concept bathroom
There are no walls, or only a few walls to conceal your bathroom, which means you cannot have guests over to your bedroom.

You cannot leave your bedroom door open and keep it barred at all times.

When you take warm showers in your open-concept bathroom, you're likely to humidify the whole room, which may make your partner uncomfortable. 

With semi-open or fully open toilets, there's no scope for privacy.

Bad odor, noise, and temperature changes emanating from the bathroom can disturb your partner. 

It's quite expensive to construct and maintain as a homeowner.

Quite hard to keep your bathroom clean and dry.
Advantages of open-concept bathrooms
Regardless of their cons, these bathrooms are loved for so many reasons. 
Here are a few:
This design is typically chosen by couples for their master bedroom, given that the open-concept bathrooms can spark intimacy between partners. 

It also greatly improves accessibility and gives you the ease of waking up and easing effortlessly into the shower. 

Native to the open-concept living rooms, open bathrooms also make small spaces look larger and allow for abundant natural light and ventilation. 

Sunlight, a natural disinfectant is ever so crucial in living rooms and wet and covered spaces like bathrooms. Having an open bathroom with plenty of natural light helps keep your bathroom hygienic.

Quite contrary to the general notion, open-concept bathroom floor plans are highly functionally efficient, in terms of managing storage, using space intelligently, and integrating technology. 
Read also – Building an open concept kitchen living room in 2023
Key design elements for open-concept bathrooms
Windows are deeply desirable in an open-concept bathroom. Since there are no proper walls and there's direct access to your bedroom, you need to be mindful of your window placement and the blinds you use.
Use a roller blind in the morning so you allow natural light to pass through without directly opening the windows. Another open-concept bathroom idea is to pull down opaque Roman blinds to shut out any visibility. Install skylights at the top of your shower area or your bathroom to allow for plentiful sunlight.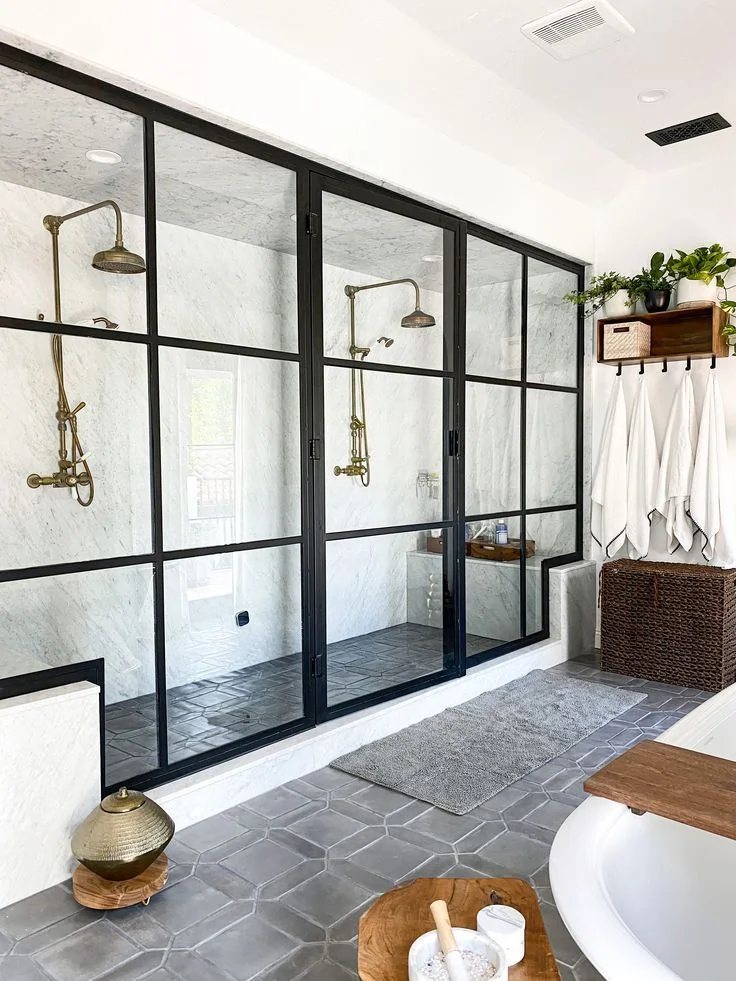 Image Credit: pinterest.com
Sink, shower, and drain specifics
Before you go sink shopping, determine how many sinks you'll have, your decorative style, and different types of sinks (single top, under-mount, vessel sinks, pedestal sinks, wall-hung sinks, etc.). 
You can choose from a wide range of sink materials, depending on your budget and style – porcelain, glass, metal, stone, ceramic, fireclay, and solid surface fixtures. Consider a console sink, a two-legged supported sink that lightens things up and creates more space. 
Do away with traditional showers and go for curved showers – they have a twofold benefit in interior design – they bring you closer to nature and also evoke a sense of calm. The shower drain needs to slope more and the floor inclination is designed to pave the way for water to enter the drain automatically. 
Install two rain shower heads for you and your partner to shower at the same time. If you want a superior showering experience, place different shower heads at different spots, and enjoy a stimulating, deeply refreshing shower. If you're going in for a wall-mounted shower, ensure it's controlled by one or two valves. For curbless, open showers, a large drain to prevent water stagnation is crucial.
Privacy-ensuring open-concept bathroom ideas
Torn between a closed and an open bathroom floor plan? The right privacy solution can help you find the middle ground. Here are a few options you can consider.
Imagine a large, thick wall between your bedroom and bathroom, with a huge mirror and an array of cabinets in it. That's what a fixed divider looks like in an open-concept bathroom design. It contains light spillage between the two spaces and acts as a visual screen. You can store bedroom and bathroom essentials on the respective sides of the wall. Since it doesn't touch the ceiling, it looks partially open but still partitions the space smartly. 

Have multiple, movable doors to separate your toilet, from your shower area to your tub and vanity. You can retract the doors whenever you want. Temporary, or permanent doors or partitions in your bathroom need to be 34 inches wide. 

If you want adjustable doors, you can choose sliding partitions that don't completely cover the bathroom but can be put anywhere you deem necessary.

Mark the difference between the bedroom and bathroom in your floor plan by incorporating a countertop, sink, and two-way mirrors, with two spaces on either side. 

Let your tub, vanity, and shower area be dedicated functional zones, with their own unique flooring or area rugs respectively. Toilets, on the other hand, can be contained with frosted glass or a partition wall.

Installing a fan in the shower can help drive exhaust and hot air outside before they enter the bedroom.

Water closets – a frosted/colored-glass enclosed space for toilets.

Heard of a nib wall – the bricked and tiled wall? You can raise a nib wall between your vanity and shower, to conceal your shower from the open bedroom. You can do the same for your bathroom as well, in an open-concept bathroom design.
Read also – 15 Common Bathroom Design Mistakes To Avoid
Innovative open-concept bathroom decor ideas
With two private spaces clubbed together, the sky's the limit to deeply infuse your personality in the design.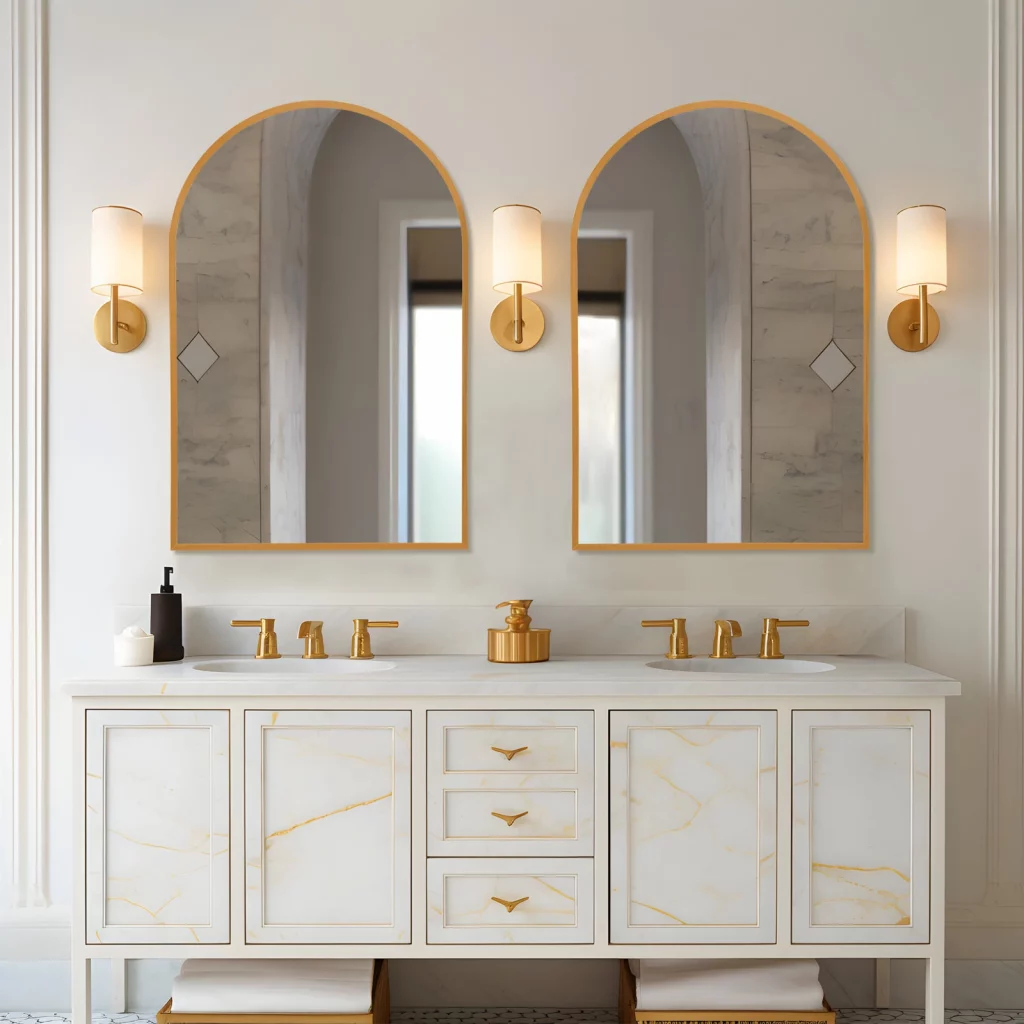 Image Credit: wayfair
Cabinet decor tips
One of the key elements of utility and decor in an open-concept bathroom is storage space. Install a wide array of cabinets, ranging from the cupboard behind mirrors, hidden draws that serve multiple purposes, drawers for towels and other facial items, and open niches to place rolled towels neatly. Have marble trays in your cabinet, to neatly organize hand towels and facial products.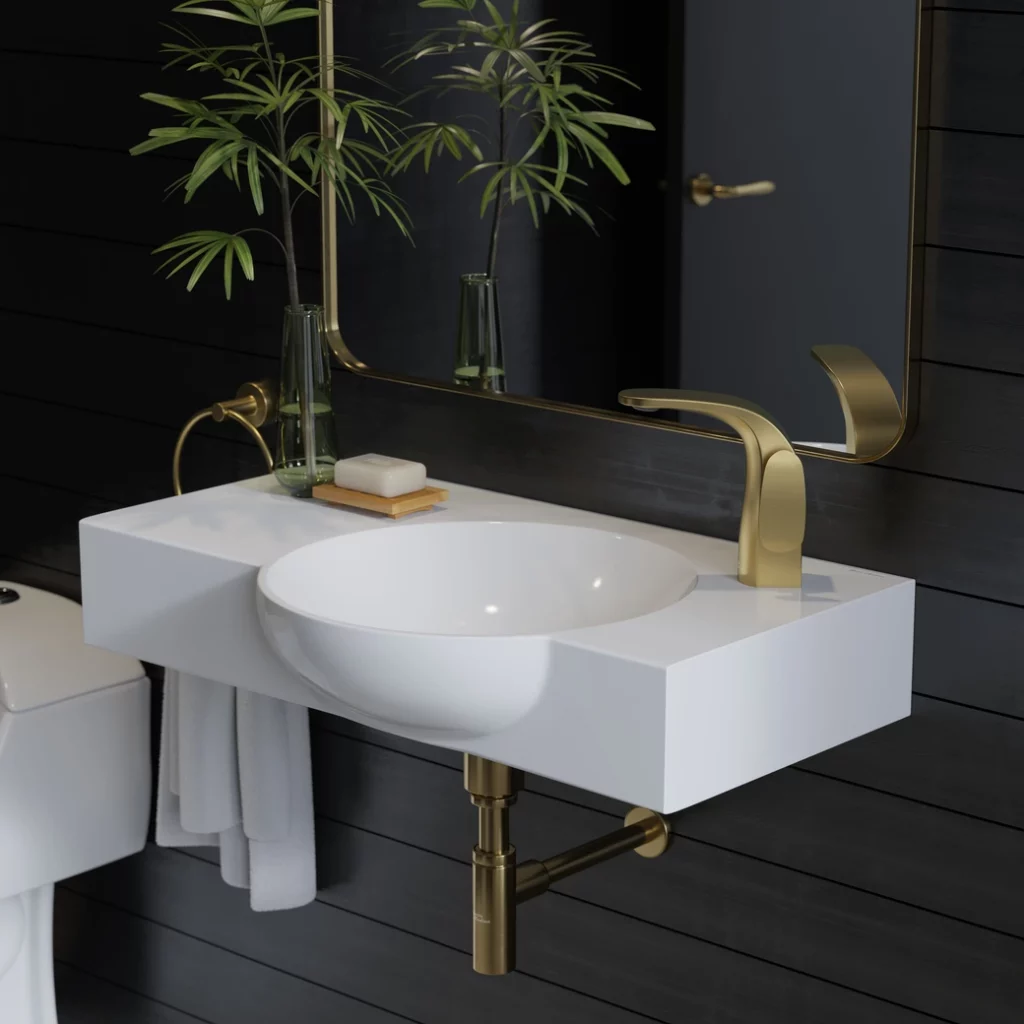 Image Credit: wayfair
Sink design hacks
If you have a small countertop, consider installing an under-mounted sink that allows for maximum surface area atop the counter, where you can place body care products. Go for double-arched mirrors and respective cabinets, if both of you need to regularly get ready to head out together.  
Prefer all stone vanities and sink tops with large veins, such as emerald, mauve, and brown, to add a touch of European charm and up your home design.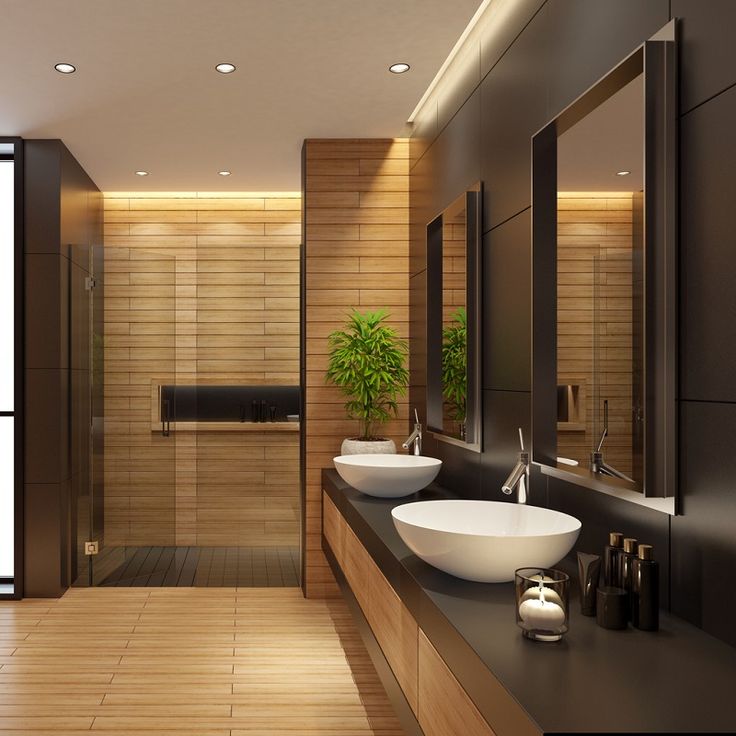 Image Credit: pinterest.com
Lighting essentials
A wet, slippery, and private space like a bathroom needs to be well-lit, to steer clear of safety concerns, more so for open bathrooms. To put on makeup and focus right, you need task lights in the vanity section. To put on soft, calming lights and relax in your bathtub, you need mood lights. To illuminate the curves and features of the bathroom, while adding a mystic glow, you need spotlights on the floor. For an overall muffled glow, go for coffered ceiling lights, or fix spotlights shining down — one photo of your bathroom is sure to win hearts on social media!
If your bedroom is poorly lit, you need a deep wall with LED light strips infused in them behind your mirror. Have special elements, a painting, or a vase or niches on the wall? Install lights near them to highlight their presence. Adding vintage sconces above the mirror and lights underneath the vanity section also helps in boosting the aesthetics of your bathroom.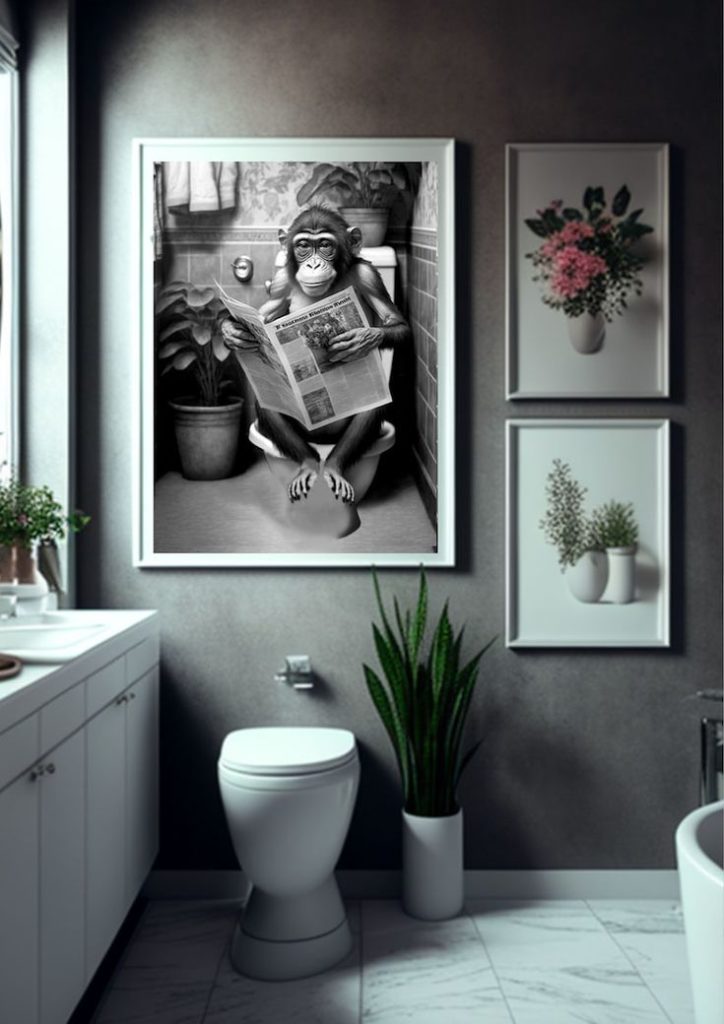 Image Credit: pinterest.com
Wall Decor
Another open-concept bathroom idea to truly personalize your bathroom, hang calming, refreshing pictures on the walls and pique the visual impact. It is not only a bathroom enhancer, it's ideal to make any room look like your very own room.
Read also – 20 Best Wall Decor Ideas To Decorate Your Blank Wall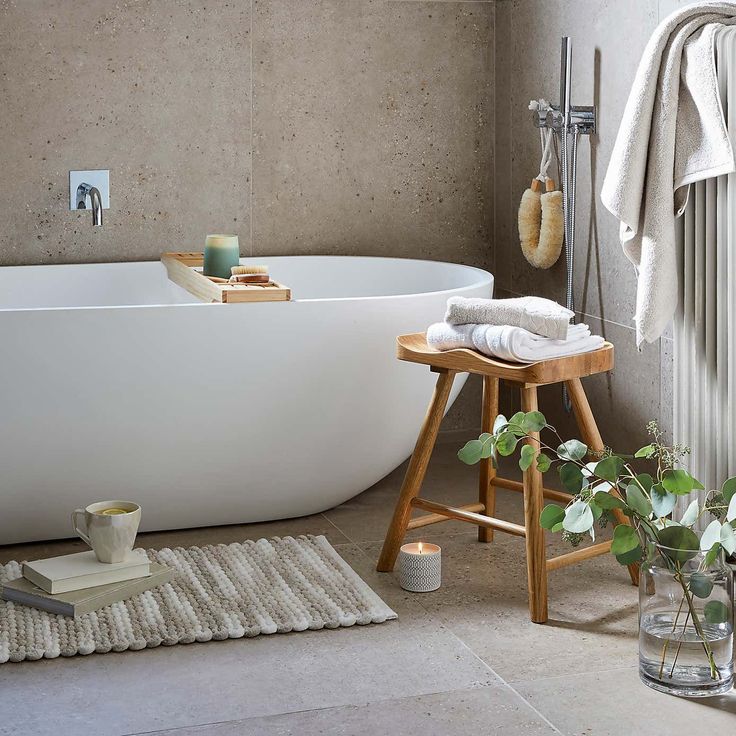 Image Credit: pinterest.com
Furniture in the bathroom – Sounds strange? It looks great!
Elevate your open-bathroom ambiance by introducing a piece of furniture. Place a small table next to your bathtub, to hold candles or a vase. You can also add an armed chair if you have a big space, where your partner can sit and converse with you as you immerse yourself in a refreshing bath.
For your child's open bathroom, you can install a tiny wooden stool near their bathtub, so you can sit and play with them as they bathe. Head to the nearest IKEA store and you'll find innumerable bathroom furniture options!
Now that you've combined your bedroom and bathroom, make certain their color belong together, and they are in complementary color schemes. If you have a dark, grey, or brown bedroom, choose a wabi-sabi theme for your bathroom as well – Armani grey marble for your sink top, dark marble mandarin stone tiles for the wall, and spray paint colors akin to the broader color palette. If you love soft color palettes, make sure to pair them with pale wood furnishings, such as blonds and honey tones. 
Faucets, taps, and other fixtures
If you're open to trying unconventional elements, you may come up with colorful faucets in 2023. Pick those in pink, moss green, terracotta, and white, based on your overall bathroom theme and the shade of your sink, and your overall color palette.
An open-concept bathroom bathtub usually calls for a freestanding bathtub. You can choose frosted glass bathtubs, as not only are they in vogue, but they add depth, look like crystal, and create a luxury vibe.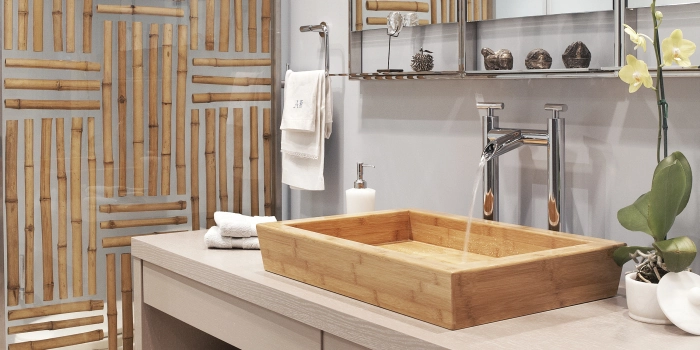 Image Credit: pinterest.com

Sustainable decor ideas
Rattan makes for a beautiful, versatile material for bathroom decor. Use rattan in different forms such as bathroom doors, light fixtures such as sconces, chairs, and room dividers to give a nice rustic look to your bathroom layout. Bamboo is a superb choice for cabinets, counters, and tiles, and is completely sustainable and affordable for your home design needs. 
Pick up low-maintenance plants for your bathroom. Ferns and monsteras do well in humid environments and make the perfect choice for an open-concept bathroom. 
Already designing your dream home in your mind? Bring it to life with Foyr Neo — your own mood board and design software for first-time and experienced homeowners and designers, to help you embark on your home design project, put together an open-concept bathroom and the rest of your splendid home decor, witness astounding design tips and see your future home in front of your eyes.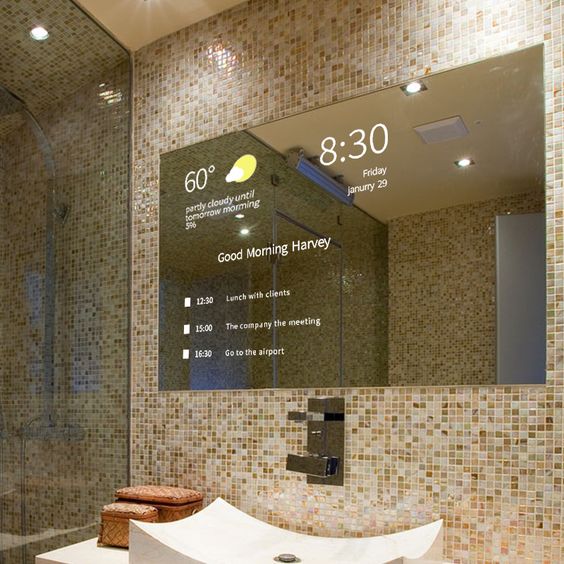 Image Credit: pinterest.com
Technological Integrations in Open-Concept Bathrooms
One primary installation you need to do is to install a fresher and ventilation system in your open-concept bathroom and consciously make space for it in your room layout. Measure the total volume of your space, and install a system that automatically exhausts the hot air and refreshes cool air to instantly clear any seeping moisture or bad odor. This system channels the exhaust into the water closet and the positive flow into the sleeping area, to make way for fresh air to circulate in the master bedroom.
Other technological integrations you can introduce are:
Smart mirrors let you switch to your favorite music and read the news for you while effortlessly boosting your room decor.

Smart toilets have bidets with heated seats, automatic flush, and a strip of LED lights beneath them.

Towel warmers and warming drawers to ensure you don't get out of the shower cold.

Electronic shower heads regulate temperature automatically.
Read also – 15 Best Small Bathroom Design Ideas To Stylish Your Bathroom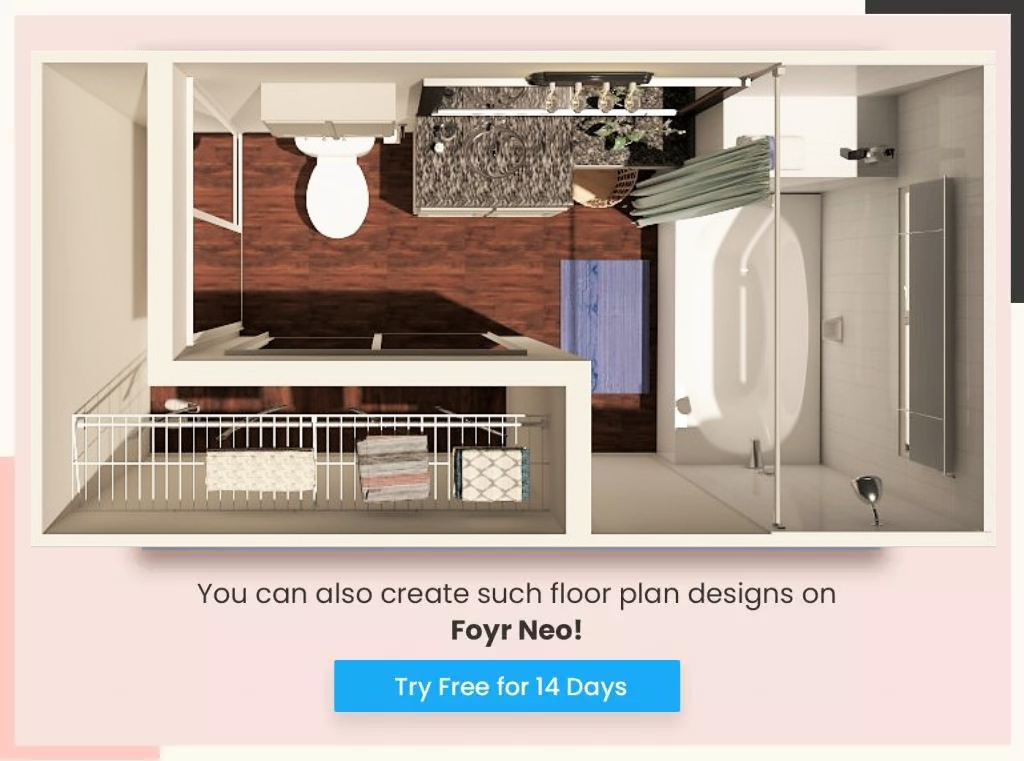 How to decide if an open-concept bathroom is right for you?
If you're impressed yet confused about whether you want an open-concept bathroom for your home remodel or a brand-new home, go over the following points and make a clear decision.
Lifestyle factors
Does your daily routine coincide with your partner's? Do you wake up and get ready at the same time? If not, your showering and shaving noises can mess up your partner's sleep.
Is privacy a huge concern for you?
If you cannot stand the idea of having a toilet with glass doors, and you want privacy at all costs, there are plenty of options to conceal the toilet temporarily when you use it. If it makes you uncomfortable, open-concept bathrooms are a no-go for you.
Does moisture in the bedroom bother you?
When you put on a warm shower and step out, the air in your room will be filled with moisture, leading to a humid environment. Since there are no walls to contain the air movement, your bedroom temperature will change momentarily. With moisture, airborne odors will also sneak into your bedroom. 
Read also – 12 Best Bathroom Layout Ideas To Design Your Bathrooms
Final Words
Open-concept bathroom designs are becoming a preferred bathroom design for new homeowners and for those undertaking home renovation projects and looking to spice up their home decor. They are excellent choices for people who wish to allow natural light and free ventilation in their master bedroom and allow unrestricted movement between the spaces. 
It ignites a spark amidst romantic partners, and with tons of decor and privacy options, you can wholly customize the bathroom and make it work for your needs, whilst enjoying all the benefits of an open-concept bathroom. 
Want to know how your home would look with this design in your bedroom? Sign up for the user-friendly Foyr Neo's 14-day free trial, choose from 50,000+ 3D elements, and 10,000+ pre-existing templates drag, and drop and ramp up your home decor with an open-concept bathroom in minutes. You won't believe how fast your room planning will progress after you've seen your vision come alive in Foyr Neo.