Every day you see a million things, a splash of colors, myriad patterns, and every time something touches your heart, you immediately want to incorporate it in the next design you create. 
As much as there are infinite colors and endless creativity in the world, your clients have infinite choices to make their space truly theirs. Too much choice makes it hard for them to decide what they want. As a designer, your ultimate aim is to show your clients a portal to the future where they see themselves living their best lives. A haven, completely for themselves, with everything they love and elements they didn't know they missed in their lives. 
For your clients to achieve this state of euphoria, you don't have to go through sleepless nights, and numerous frustrating revisions, and be left in the lurch as they figure out what they want. With the right 3D modeling software, not only can you make your client's dreams come true, but you can infuse character, personality, and unsaid emotions into the space and make an everlasting impact on them.
That sounds airy-fairy to you right now, but with the right tool, it can become your new normal. Stick with us as we uncover 3D designing in all its glory, plummet into what makes this design format stand out from the others, and how best you can deliver a scintillating space for the clients who have faith in you. 
Understanding 3D drawing and its application
3-dimensional drawing and modeling is a revolution in interior design, home decor, and architecture, as it has opened up a realm of infinite possibilities without draining resources, time, or cost. People's needs for a living are constantly evolving, and every client has a thousand interests, ideologies, preferences, and desires. With only handwritten drawings or 2D pictures, you cannot do justice to all of them and show your clients how their lives will be when they live in the space you design. 
3D drawing and modeling, on the other hand, can make clear the spatial intelligence you have, and show your meticulous planning and the artist you are. It is infact a graphical expression of your design thinking. Long gone are the times when you presented models or images in a client meeting. People now want to experience the future before they get to live it. So, a life-like simulation can cut out your work for you. This clearer-than-life simulation is possible through 3D designing, where every inch of the space is seen, every texture feels virtual, color is relished visually, and impact is felt at heart. 
To give the best of all worlds, you need a tool that accurately captures your thought process, gives form, shape, and color to your ideas, renders flawlessly, and transforms an otherwise 2-dimensional design into an outstanding 3D drawing. 3D was introduced to this world by the media industry to play videos and view images with immaculate clarity. We've extended the concept to almost all visual spaces, and interior design is no exception. Designing in 3D makes your client feel like you're showing a movie you made about them, their home, and everything they love. If that doesn't impress them, what will?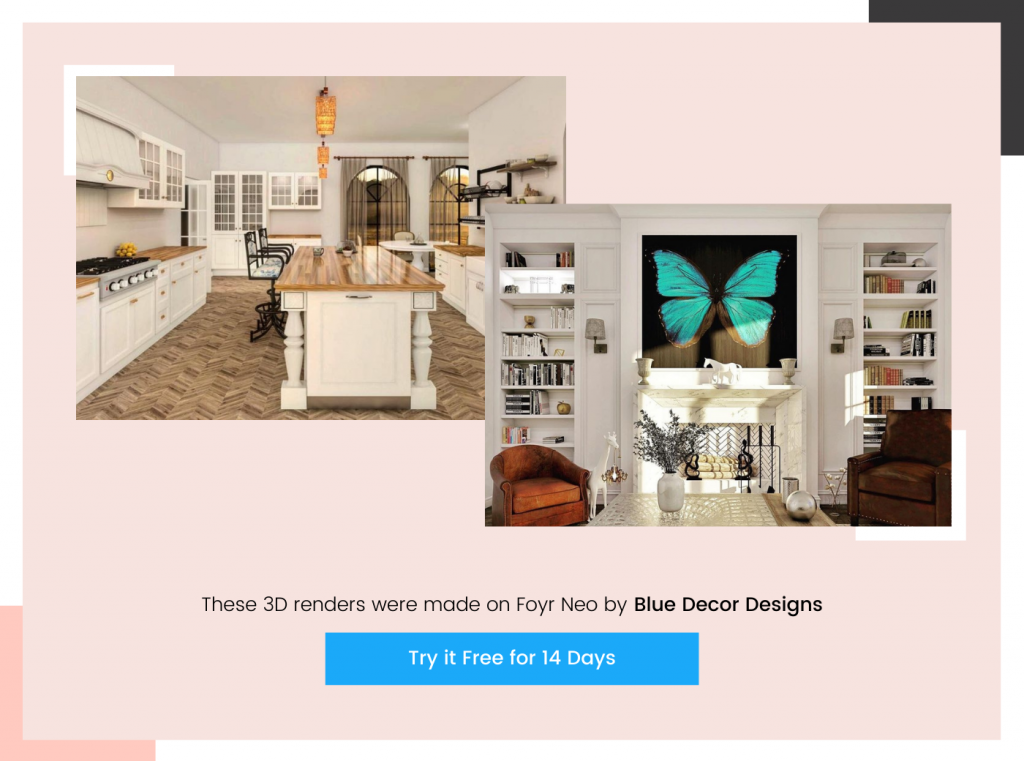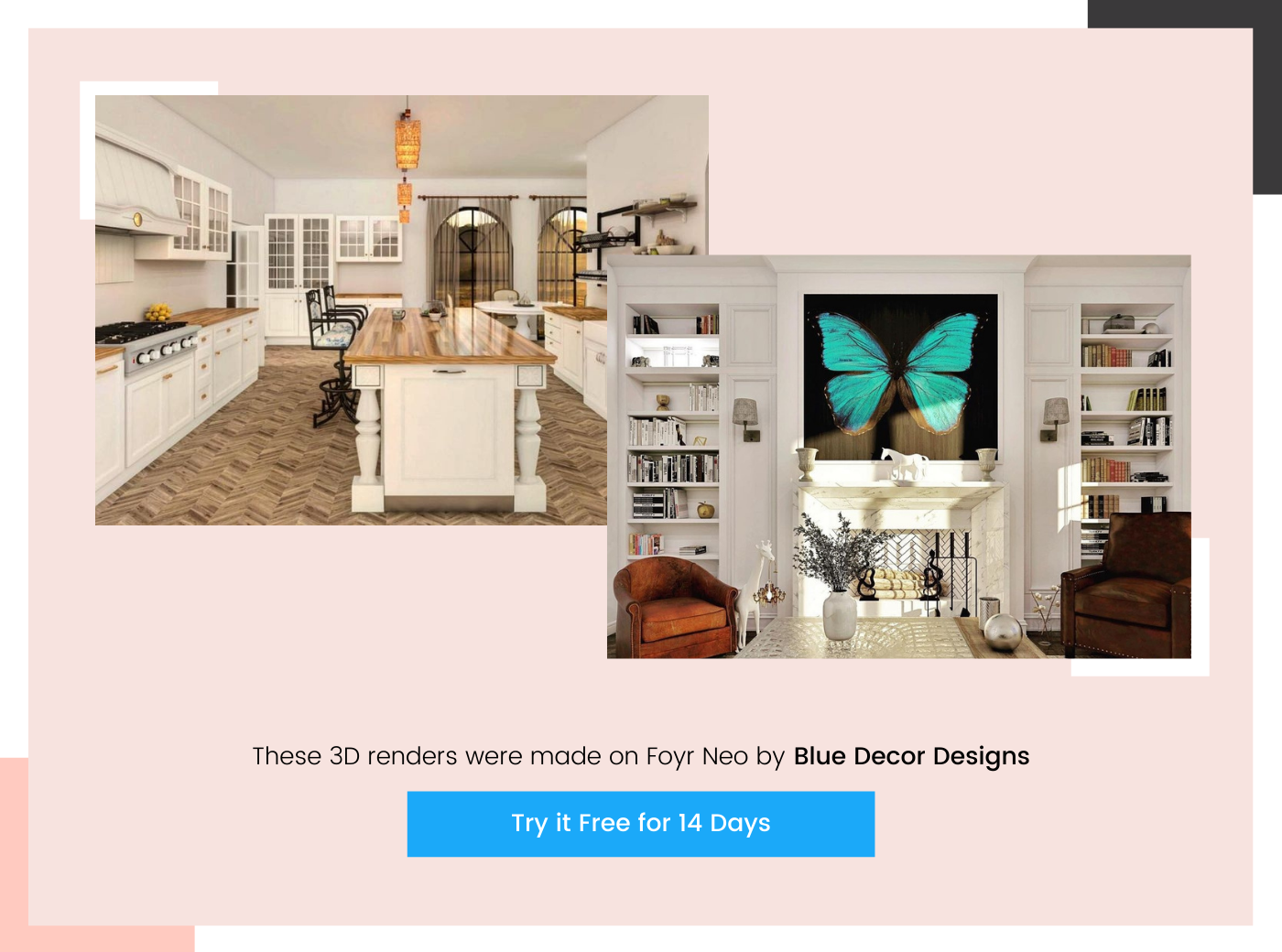 Key elements of effective 3D drawings in interior design
Given the number of designs that you go through every day, you'd have certainly laid hands on a 3D drawing tool. It's the same routine every time you open the tool. You draw up a floor plan and create all objects that have a space in your design based on their measurement and scale. Once that's done, you delve into finer details in terms of the materials the objects would be made of, models, surfaces, forms, and finishes in the living room. You also need to consider how different materials and surfaces interact with light, choose appropriate ones, and place them aptly. 
Next comes the most interesting part of placing light. Illumination is a key differentiator between a mediocre design and a marvelous one. You need to add light sources (main, ambient, task, accent, or all), and ensure they highlight the portions you need them to. Now that your design is almost ready, you choose which angles or perspectives to show your customers so they can see what you had in mind while designing and how you've deftly decorated their dream home with everything they love. 
Once you go through all that trouble, for you-know-how-long, you get to the rendering stage. You patiently wait for your carefully curated design to gain shape and it's almost like a penance. Whoa, reading it seems wearisome, how do you manage to do the same thing every day? Especially with multiple tools getting involved at every stage. Speaking of tools, let's go over some market-favorite tools (you may using a few of them now), and see what you're missing out on, and if you should go ahead with that renewal.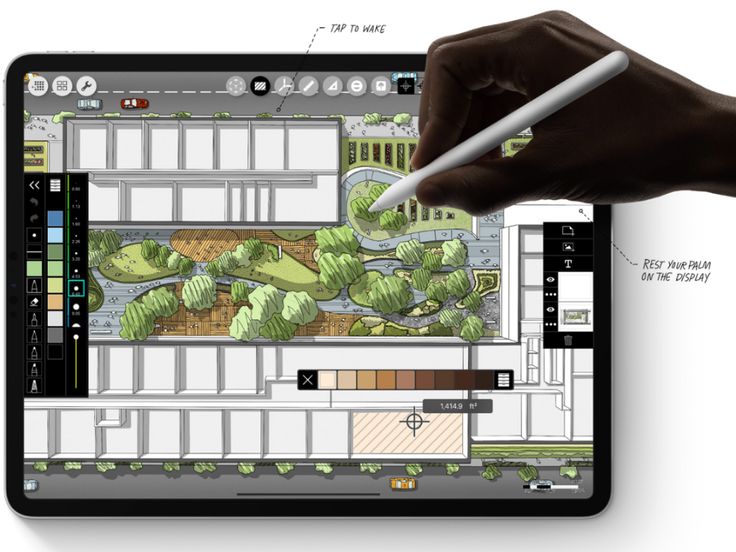 Image Source – Pinterest 
Tools and software for creating 3D interior drawings
You've been using a plethora of tools on your computer, special hardware for a long time now. You've wondered how other designers manage to turn in their designs in a fraction of the time, how theirs have zero compromises, and depict all ideas the designer and the client agreed on.
Meet Ana, an interior designer like you who has been using a bunch of design software to craft impeccable 3D interior designs. But every time she had to draw up one, she drew a basic plan in CAD, created 3D models on V-ray, increased the atmospheric effect, used Photoshop to process to make the design softer, and threw her creation into PremierePro to whip out videos from the 3D models she designed. Imagine the sum she spends on these tools every year, the system requirements they have, and the difficulty of learning. Given the huge sum you spend in renewing the 3D design tool every year, shouldn't you get access to premium features, with super-fast rendering, a supermachine to assist your process, and a stellar output every time? 
Let's take a sneak peek at the famous tools in the market, and how they all fare when compared to Foyr Neo – the all-in-one 3D drawing and design tool powered by a cloud engine with tons of features we derived from your wishlist. 
| | | | | | | |
| --- | --- | --- | --- | --- | --- | --- |
| Feature/Tool | Foyr Neo | Sketchup Pro | CAD | Revit | 3Ds Max | Vray |
| Nature of cost | Nominal | Reasonable | Expensive | Expensive | Expensive | Expensive |
| Learning curve | Super short | Short | Too long | Short | Long | Long |
| Ease of operation | ✅ | ❌ | ✅ | ✅ | ❌ | ❌ |
| Multi-purpose tool | ✅ | ✅ | ❌ | ✅ | ❌ | ❌ |
| Rendering time | Short | Medium | Long | Long | Too long | Too long |
| Customer support, and learning assistance | Yes, 24/7 support | Fair | Fair | Good | Great | Excellent |
| Ready to build design output | ✅ | ✅ | ✅ | ✅ | ❌ | ❌ |
| Feasible for small projects | ✅ | ✅ | ✅ | ❌ | ❌ | ❌ |
| An array of colors and options | ✅ | ✅ | ❌ | ✅ | ✅ | ✅ |
| 2D & 3D options | ✅ | ✅ | ✅ | ✅ | ✅ | ✅ |
Benefits of using 3D drawings in interior design
The 3D drawings you submit to your client aren't just designs, they are a depiction of the comfort, aesthetics, pleasure, bonding, ambiance, and vibe of their future home. Apart from simply color combinations and material variety, when you delve deep into these finer areas and carve out their needs and desires, you can create a masterful design, not to mention a breathtaking one using 3D drawing. 
The level of satisfaction and psychological status boost your clients get when they see a well-planned designed, functional, and beautiful space you curated for them, they are going to cherish it for a lifetime. Aesthetics are related to human pleasure and spirit. Your understanding of your client's aesthetic preferences, combined with your insights and spatial intelligence, powered by a super-fast, simple-to-use tool differentiates you from the crowd. 
Using 3D drawings has a multitude of benefits to it, and here are a few:
Changes can be accommodated easily into the 3D drawings

You save a ton of design ideas and design tips, which you can use for deeper, clearer, and richer conceptualization.

Save your client's money and resources which will otherwise be spent on rectifying design errors, or missing out on their preferences.

Get a whole lot of different views (plan view, section view, elevation view, ceiling picture, partial detail picture) for your client to eyeball without spending a fortune on photoshoots with several design possibilities.

No more painful revisions with no direction or clue whatsoever, clients can stop you midway and point out where exactly they want to see a change.

Knock presentations out of the park with stunning 3D drawings and stunning room decor.

Tailor- Make your client's home design for them with the best customization possible.
Designing any space, or building can be complex and give birth to many errors. When you're designing a particularly tough space where you need to show a strong hierarchy and demarcate the transformative relationship between spatial structures, you need a rock-solid 3D drawing by your side. Easy comparison of how different materials would look when used in different places, for them to decide whether to loose or tighten the strings of their pockets.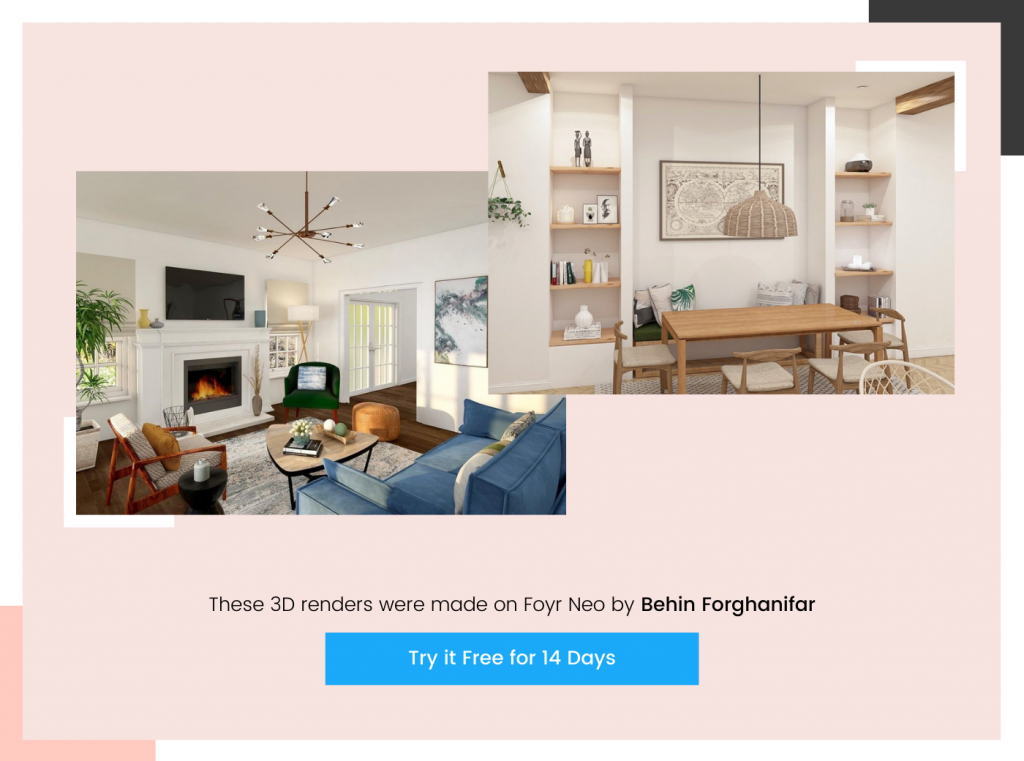 Foyr Neo – Revolutionizing 3D drawing in interior design
What if we told you that ONE tool could change your design trajectory altogether with the best 3D drawings you've ever seen in your career? Don't believe us? Let's paint a picture for you. You need an urgent 3D drawing done, it's a huge prospect, and impressing them would mean a fantastic project in your hands. But, the problem is, you're already swamped with work and you cannot afford to spend time toggling 4 different tools and perfecting your design. 
At this point, which tool would you choose?
| | |
| --- | --- |
| ABC Software | Foyr Neo |
| A steep learning curve that makes you undergo hours before you get your 3D drawings | A user-friendly interface and a short learning curve for you to learn and start instantly |
| Excruciatingly long renderings  | Rendering that ends successfully in only a few minutes |
| Heavy equipment and huge, unportable high-power systems  | A superfast cloud engine that aids your design process. |
| Late or no detection of inconsistencies, leading to errors in the 3D drawing | AI support to detect and fix errors, so your design is spot-free |
| Spending extravagant sums on multiple tool subscriptions | A mood board, floor planning tool, 3D drawing, design tool, modeling, lighting and visualization, and ultimate rendering all in one place, available in affordable plans. |
You can complete a 3-hour task in 10 minutes and get an output that's 10x better than before. This is what you'll experience every day if you switch to Foyr Neo. Be it a small trial project for school, or client projects, Foyr Neo is best suited to help beginners and expert designers. Hey, don't take our word for it. Sign up for our 14-day free trial on your laptop, and design away like a pro. We bet you'll fall in love with how quickly and intuitively Neo understands what you need and delivers it.
Steps to create impressive 3D interior drawings with Foyr Neo
You've taken the first step today, you've reached Neo. If you wish to sign up and start, here's what you'll be doing:
Step 1 – Sign up
Head to www.foyr.com, click on 'Try free for 14 days', sign up with your email account, and begin your Neo journey. No credit card information. We only want to give you the best there is in interior design and 3D drawing. 
Step 2 – Follow the tour guide
Once Neo opens, you can finish the quick tour/tutorial to show you around the tool. Not that you need it, the navigation is pretty straightforward and intuitive but we'd like to introduce our features to you.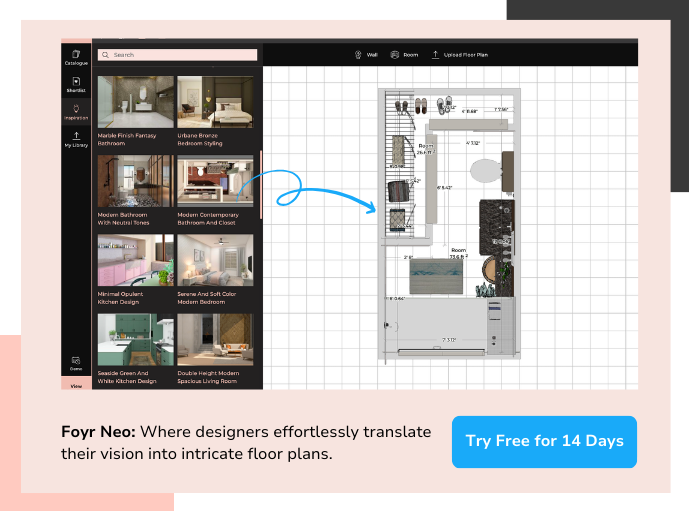 Step 3 – Start with the floor plans
If you've begun working on floor plans for your upcoming or ongoing project, you don't have to recreate from scratch. Upload your work-in-progress file, or start room planning with Neo, visualize it, make appropriate changes, and quickly proceed to design.
Step 4 – Pick your materials
Choose the constituents of your dream home. Browse through 50,000+ 3D elements and 10,000+ preset templates with tons of varieties and alternatives in every pattern, texture, material, color scheme, design, form, and shape. If you still want an extraordinary, super-specific element, raise a request and we can customize it for you in no time. Pick your materials and decide their specifications, so Neo can brew your 3D drawing.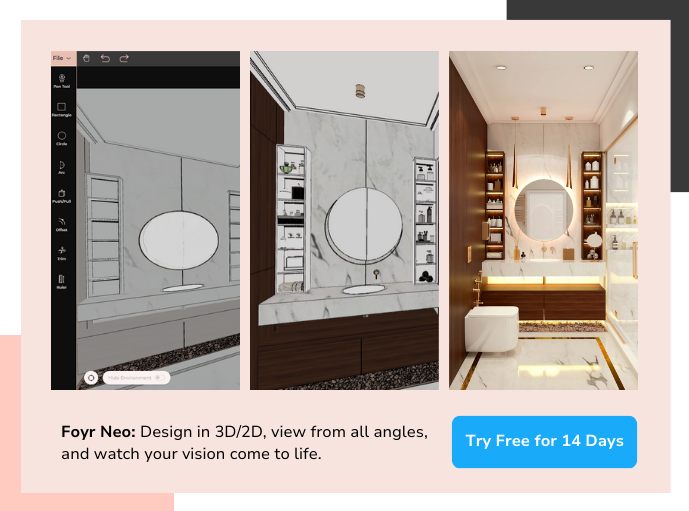 Step 5 – Construct 3D models and visualize them
Build models in 3D or 2D, view your design project from every possible angle with the best lighting, and witness it take a beautiful shape you've never seen before. Watch how simple everyday things like wall hangings, sofas, wall sconces, dining rooms, table lamps, dressers, and coffee tables come to life, and look hyper-real. 
Leave no room for ambiguity – zoom into every nook and corner and ensure it's aesthetic and functional. 
Step 6 – Enhancements to make your 3D drawing ethereal
Your first look is ready, Let's proceed to furnishing your 3D drawing with stunning touchups, material or texture changes, lighting, and improvisation, so your design looks like a place your client would love to move in today. 
Watch how AI works with you as your super-smart assistant, takes enhancements automatically, and gives you a superior, and clearer-than-life design.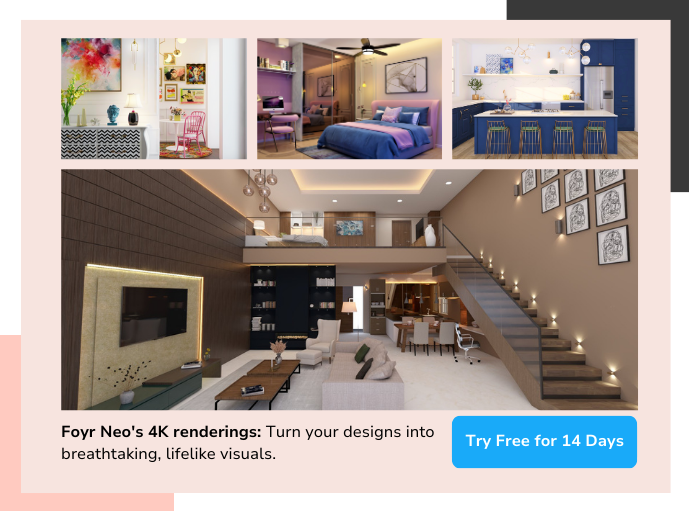 It's time to render. Go on hit 'complete', get up, and brew some coffee for the good work you did. Just when you grab a cup and return to your seat, you'll notice that the 3D model has finished rendering. That's how fast Neo's supermachine works.
Once you give a chef's kiss to your work product on Neo, it's time to send the freshly cooked design project to your client. No need to download files in multiple formats and attach them to your email. Simply derive a shareable link, and pass it on to your clients. They can log in, watch your walkthrough or witness your 2D image, leave their comments, and get impressed with your work quality in no time. 
Let's wrap it up
An advanced drawing methodology in interior design, 3D drawing has won the hearts of clients all over the world. With its immersive nature, immaculate detailing, and impeccable quality, it helps clients watch their mood board and social media inspirations come alive, and open a whole new portal to their future. 3D drawings also help you avoid unnecessary losses as a first-time homeowner, in terms of wrong fittings, unsuitable materials, furniture placement, oversized home decor, or undesirable paint colors that can wreak havoc on your budget and postpone the completion of your new home or home remodel. You get pristine quality designs so you can help your client shop your design ideas at IKEA.
It also helps you avoid a disconnect between designers and construction personnel, as it bridges the gap with its high-end detailing. If you're looking for a sustainable, high-quality, expert-crafted, affordable tool, you need to check our Foyr Neo – the one-stop destination for all your design needs.