Home » E-design » The Business of E-design: E-design Services & Packages
How to carve out your e-design packages?
First, decide what you want to offer:
With e-design, it's really up to you as a designer to decide what services you want to offer and don't want to offer as part of your suite or package. You can take a more high-touch, hands-on approach where you provide a very personalized experience. This can include sending physical copies of all concept designs and samples that are packaged in a thoughtful manner, complete with handwritten notes. Or you can take a more virtual and budget-friendly approach where you deliver your designs with fewer touchpoints but in a much faster time frame. So package prices can really vary from $200 all the way up to $10000 or more depending on the scale of the job and the complexity of the design.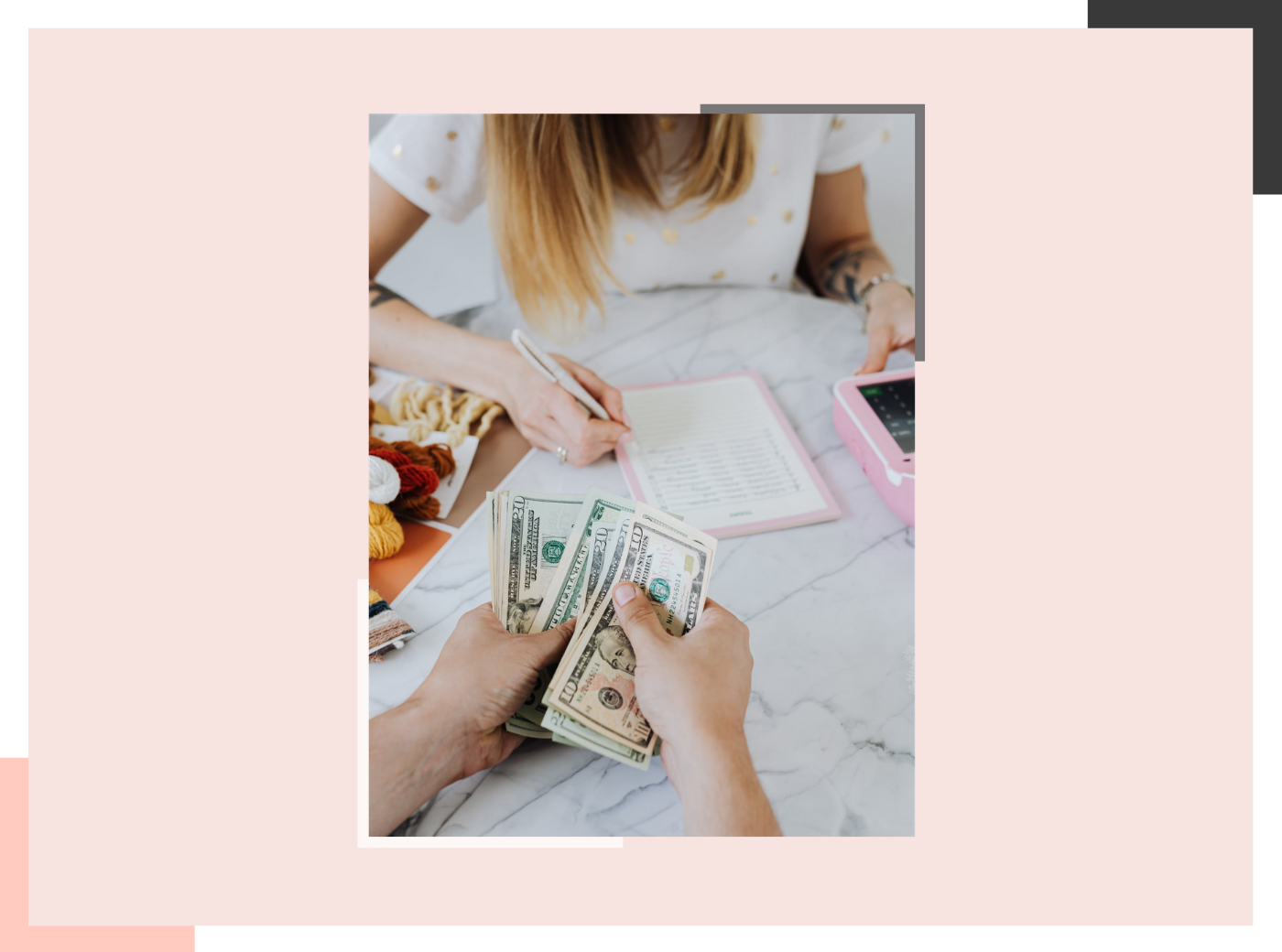 Stagger your e-design services into different packages:
The first thing you need to do when starting your e-design business is to figure out what you want to include and don't want to include in your bouquet of offerings. Figure out what you like to do, and what you don't like to do, and begin breaking those things out into packages. You can have several offerings in your e-design business: full-room packages, space-planning packages, virtual consultations, so on. You could even name their standard package, premium package, platinum package, etc, basis the inclusions and effort each would require. Here's a great Podcast by Wignut Social where expert e-designer, Chadney Wilmer discusses how she does it.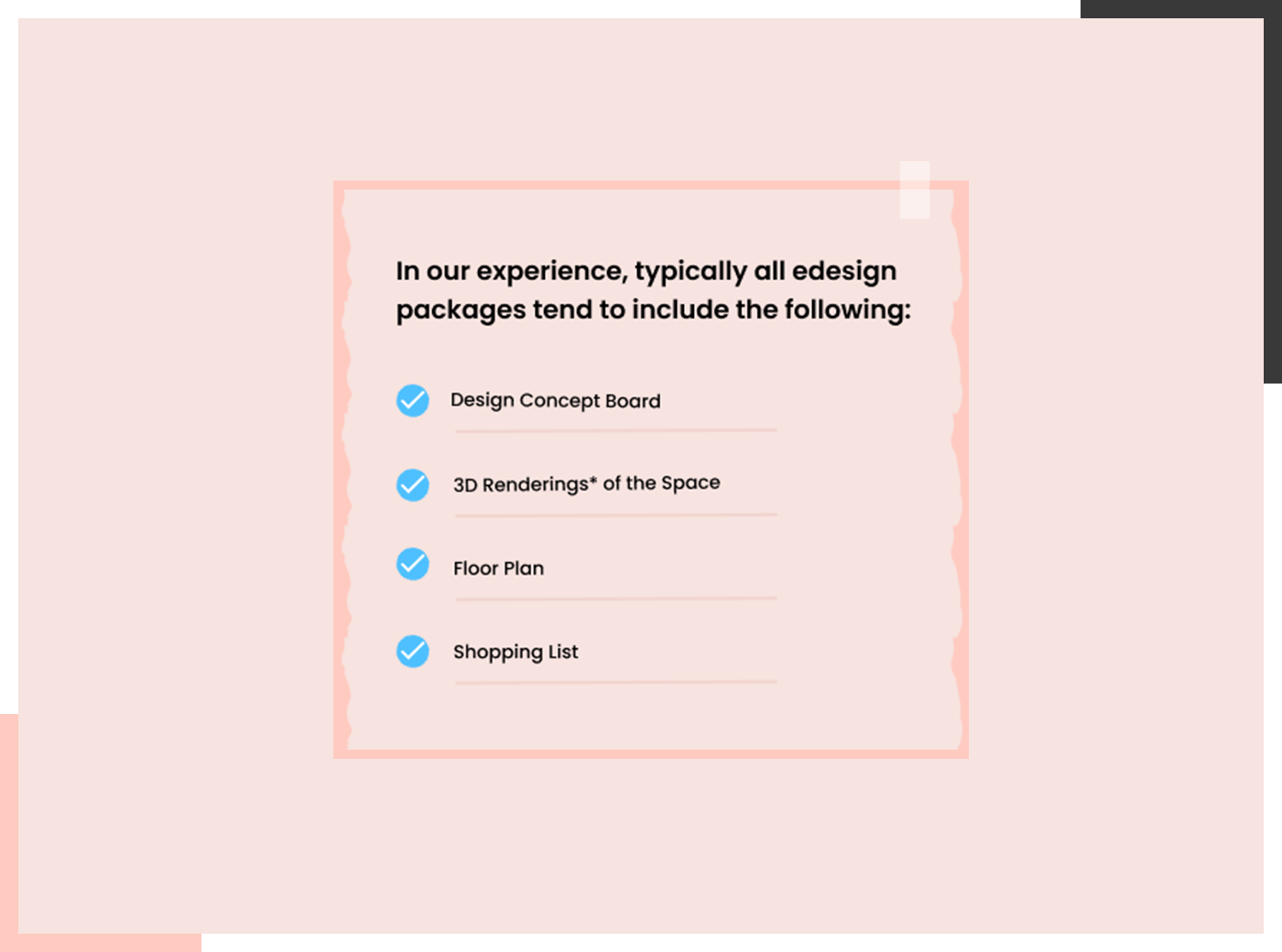 Did you know 3D renderings on Foyr Neo are less than $2 per render? Try Foyr Neo for free for 14 days!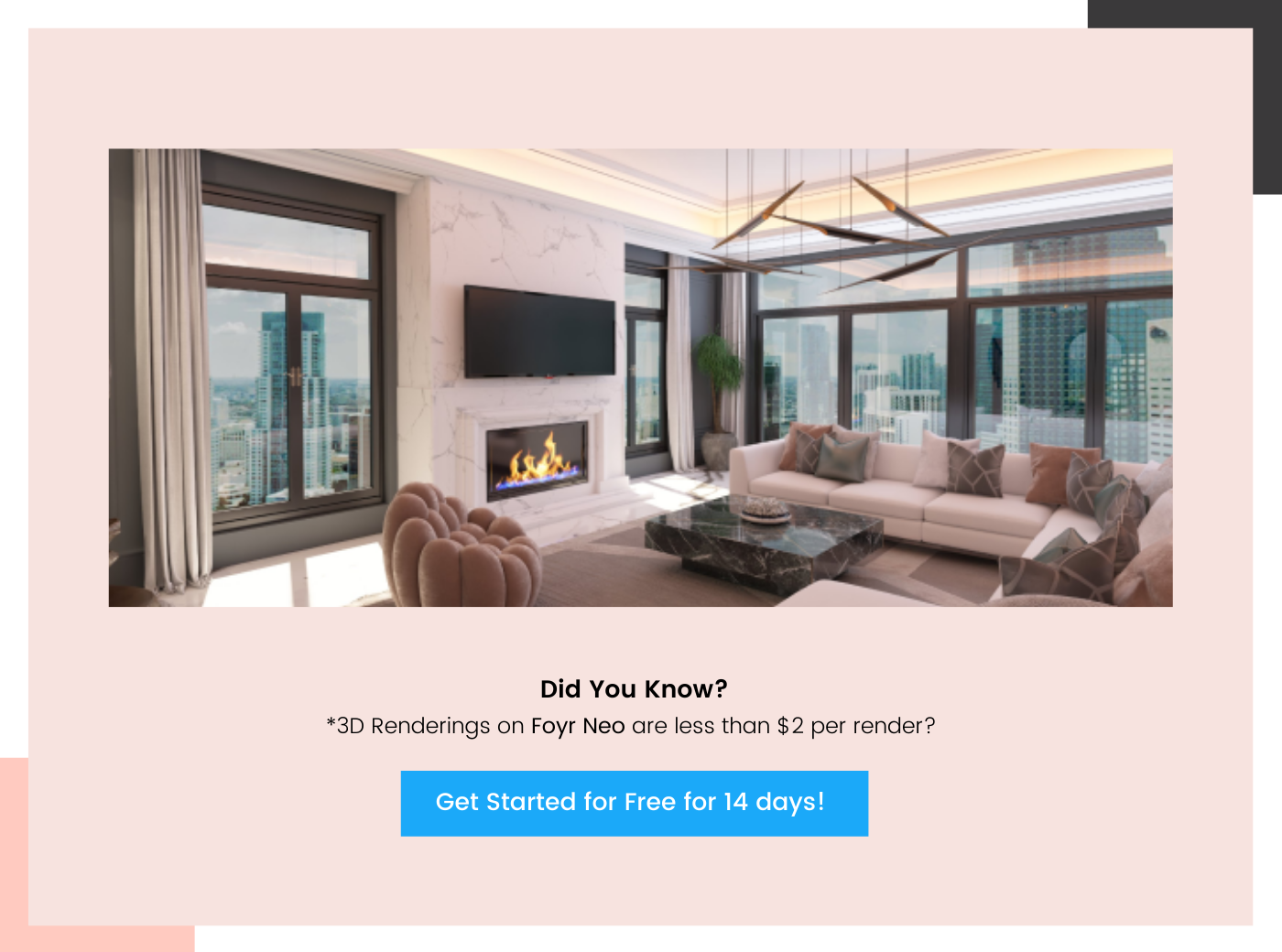 Communicate what you expect from your clients:
Clients who are extremely busy may not be the best fit for e-design – they might not be able to get the most out of it because of the time it takes to execute your design plan. You have to communicate this clearly in the beginning to manage your clients' expectations. Also, find out if they are comfortable communicating virtually through calls, emails, and video conferencing. Also, if they are able to communicate in an articulate manner what they would like their design to look/feel like and so on.
Pro Tip: Make little videos or a "getting started document/kit" including the basics and some critical things that would be helpful for your clients to support you adequately to make your e-design project a success. This would underscore the value of your service and set you apart from other accessible alternatives.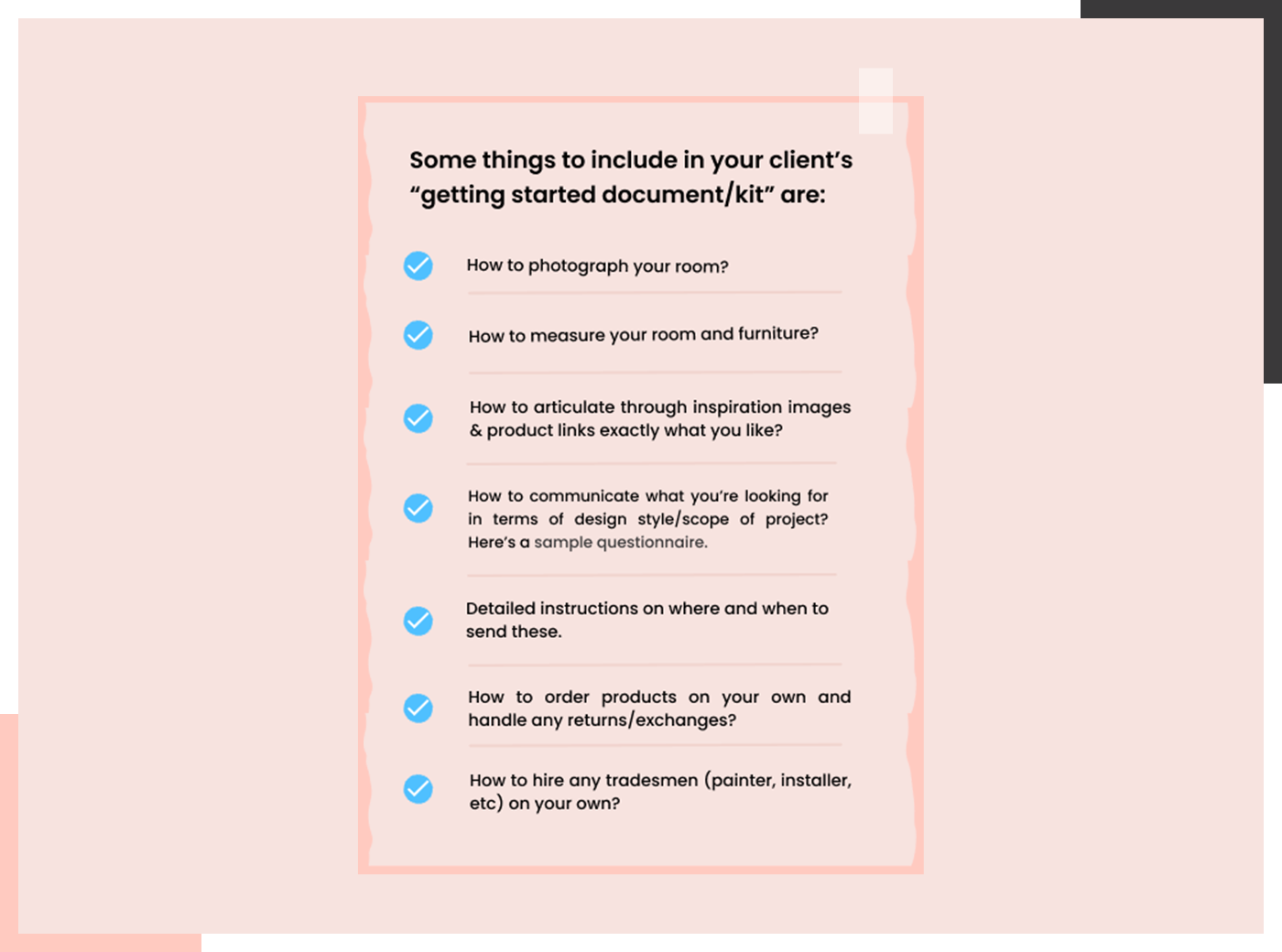 How to price your e-design packages?
Contextualise the expenses:
When setting the budget, make sure you understand your client's needs and let them know that they are paying for what they want and can make sense of your e-design pricing. Use things like forms, questionnaires, emails, and video conferencing tools to set up a clear communication cadence and a strict follow-up timeline for revisions and questions. Communicating in an organized manner, and setting the right expectations is key to the success of e-design projects. The more visuals and information you can provide that clearly communicate what the end result will be, the happier and more confident the clients are to pay.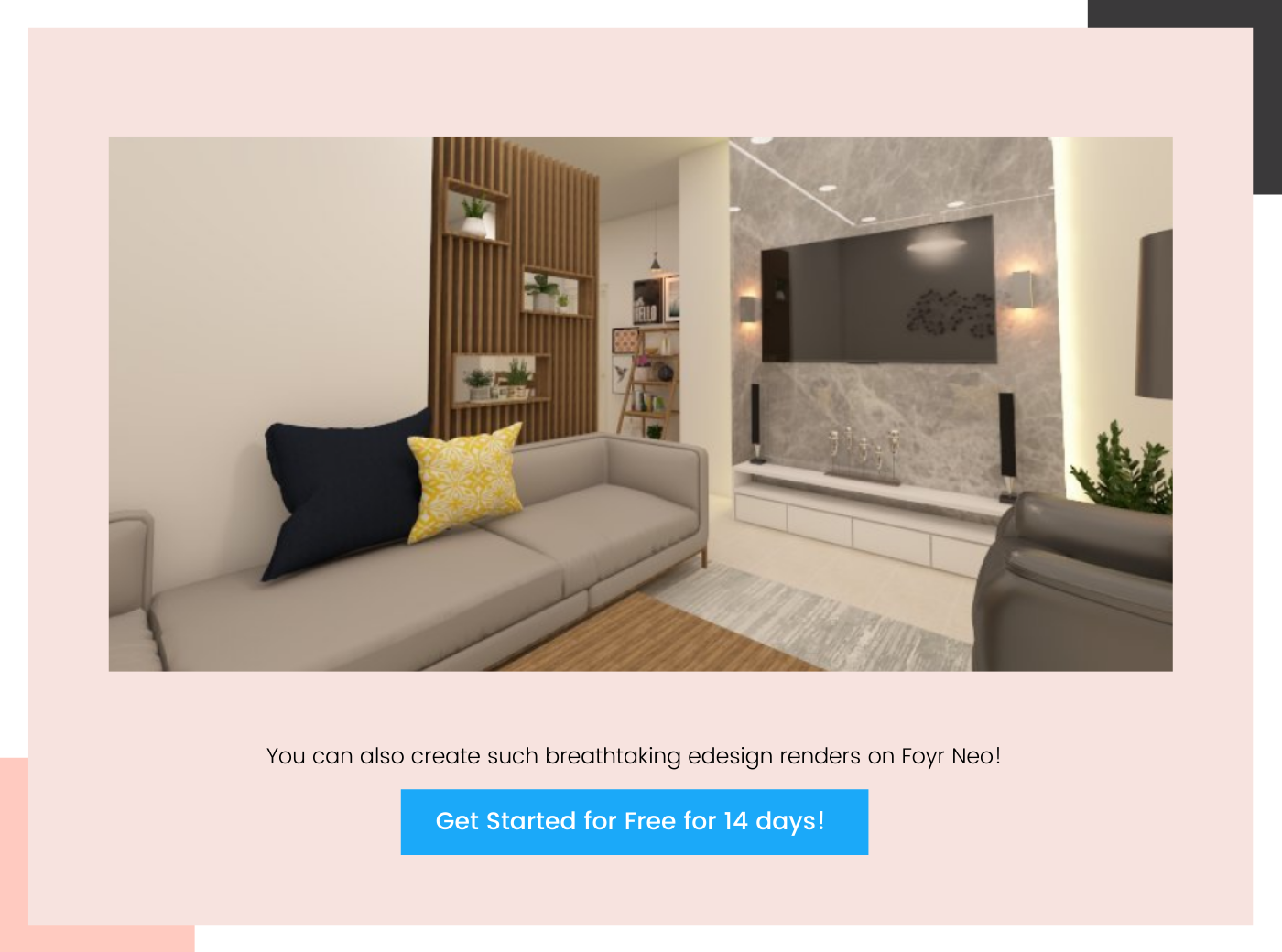 Break it down: 
Write out your process – from the first ice-breaker conversation to the wrap-up phone call and everything in between.
Think about what you want and don't want to offer.
Calculate how many hours you'll need to do the steps that are absolutely necessary (eg. the design concept board, the number of items you have to source, emails or packages you have to send, etc).
Add a little bit of a markup/buffer for extra costs, and you're set!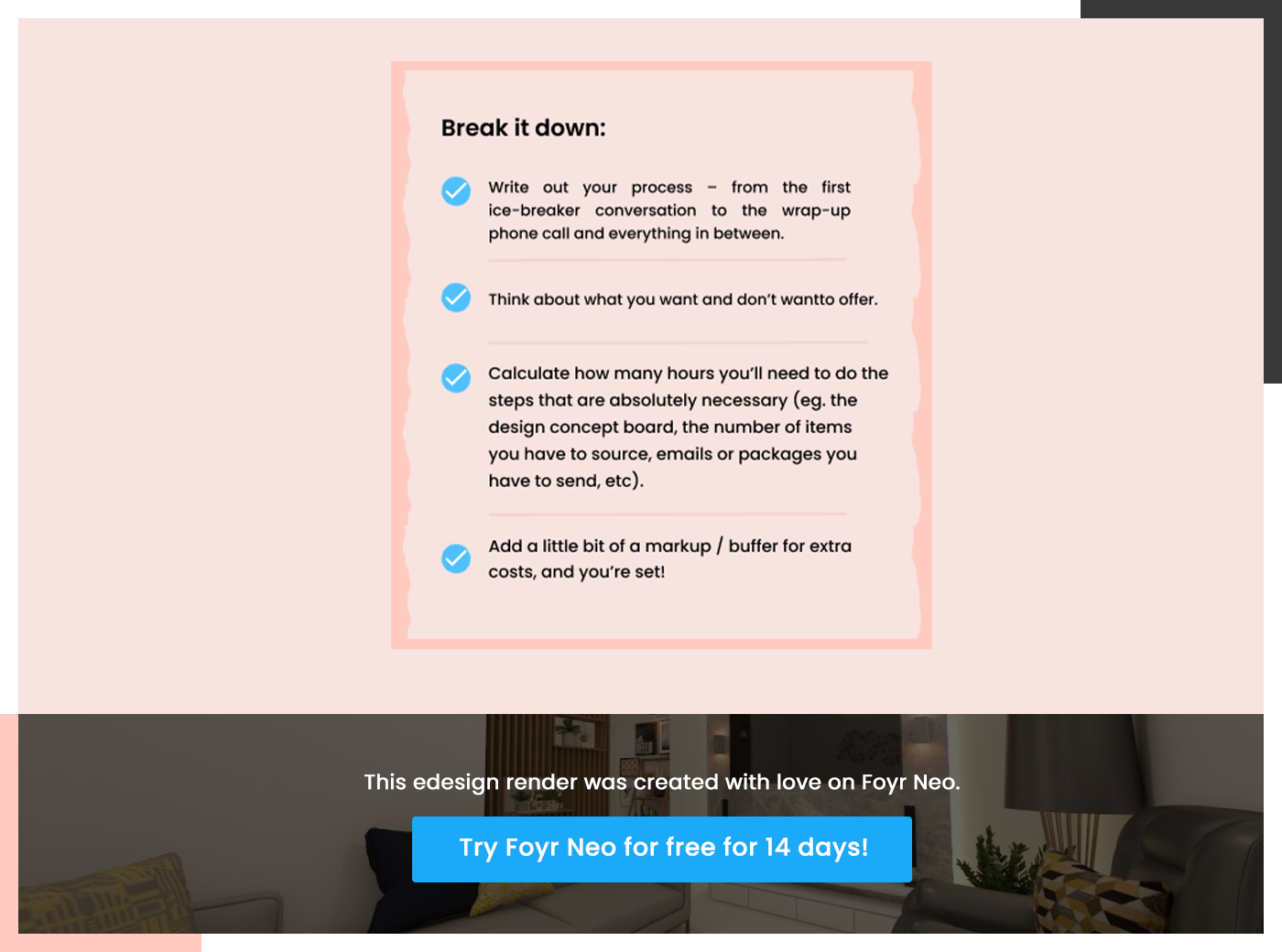 Focus on key features, benefits, and final outcome:
Avoid sharing every single detail of your e-design service on your website because it overwhelms clients. Keep it lean and zoom into the most exciting offerings. That will help put them money on the table. Also, refrain from discounting your services just because e-design is generally called the cheaper alternative. If you offer a fully custom, high-level experience, price accordingly! Make them forget that it's e-design – deliver a quality, on-brand service in every step of the process, if that's how you want to do it.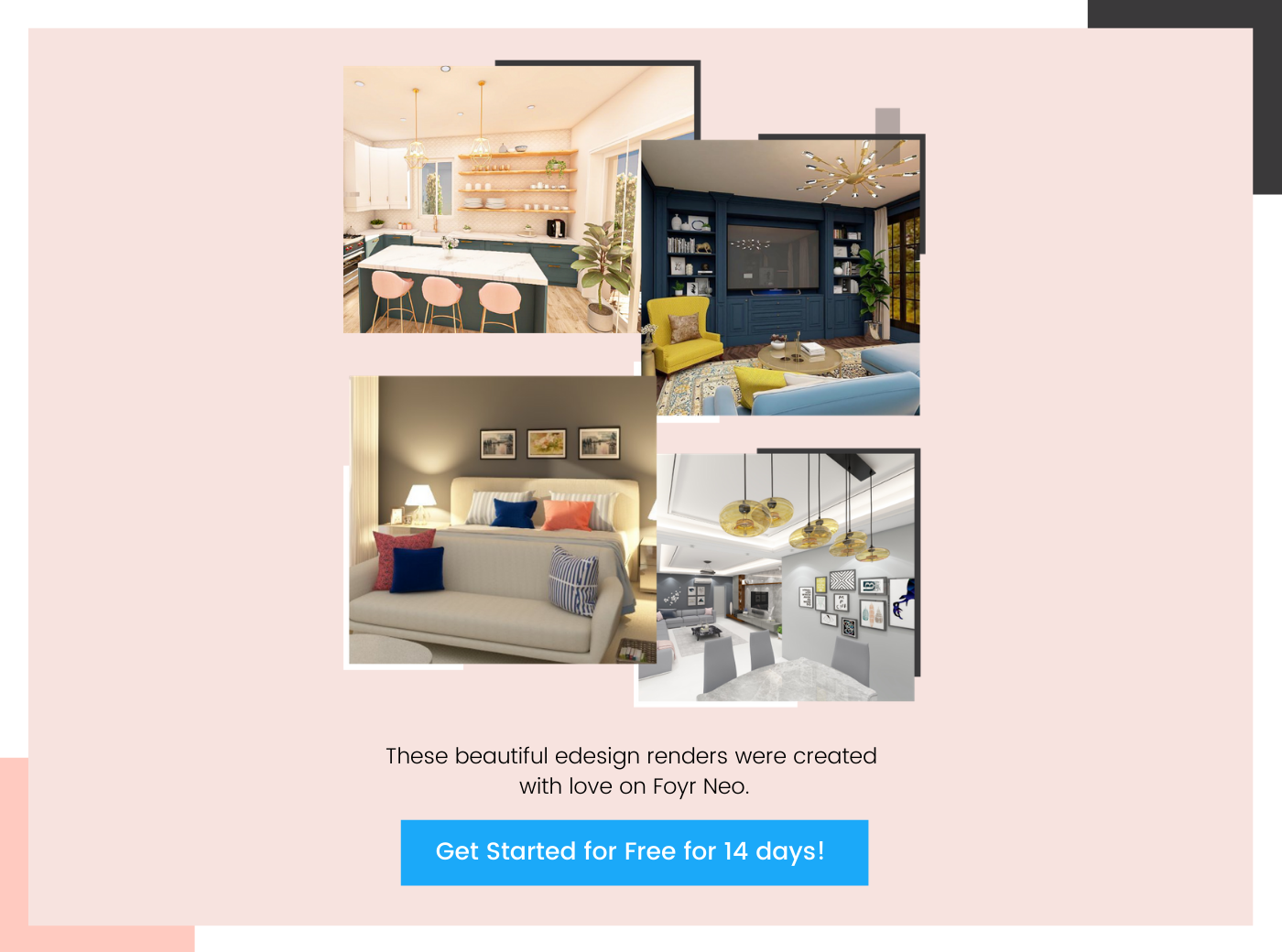 Here are some beautiful package examples by two of our favourite designers Laytricia Towery (918 Design Co.) and Chadney Wilmer (Mix & Match Design) that'll help you get a good sense of how you can carve out yours: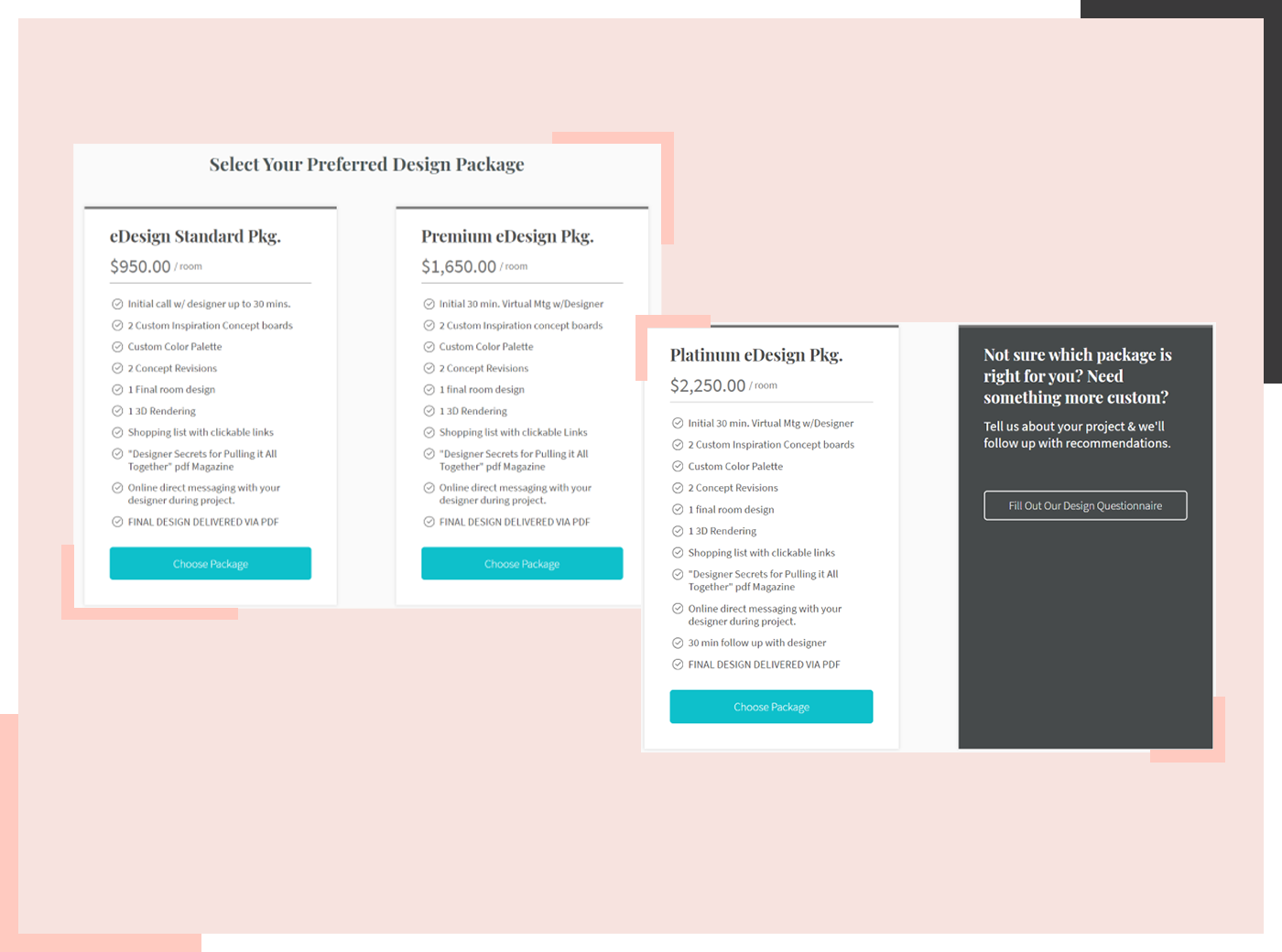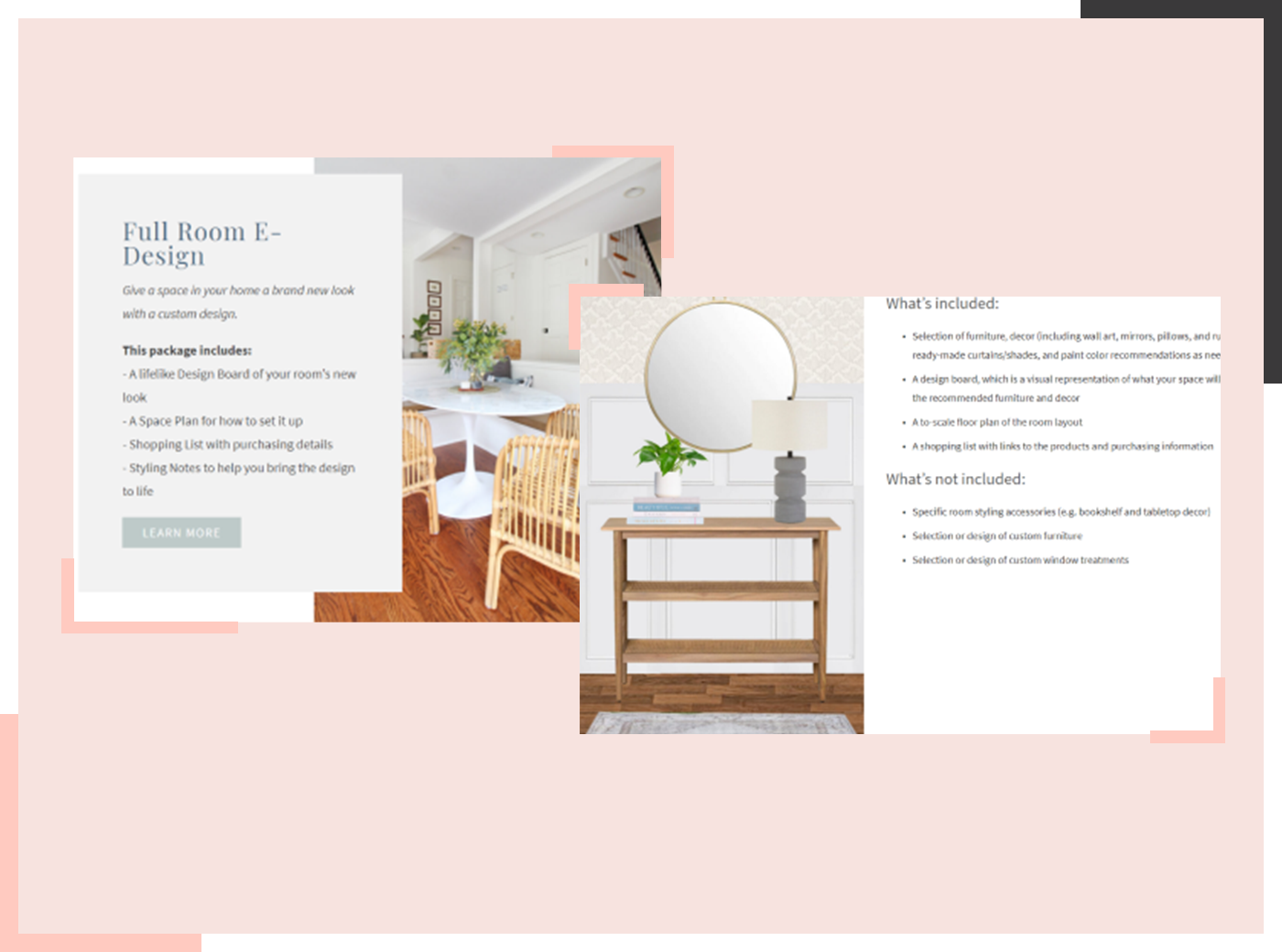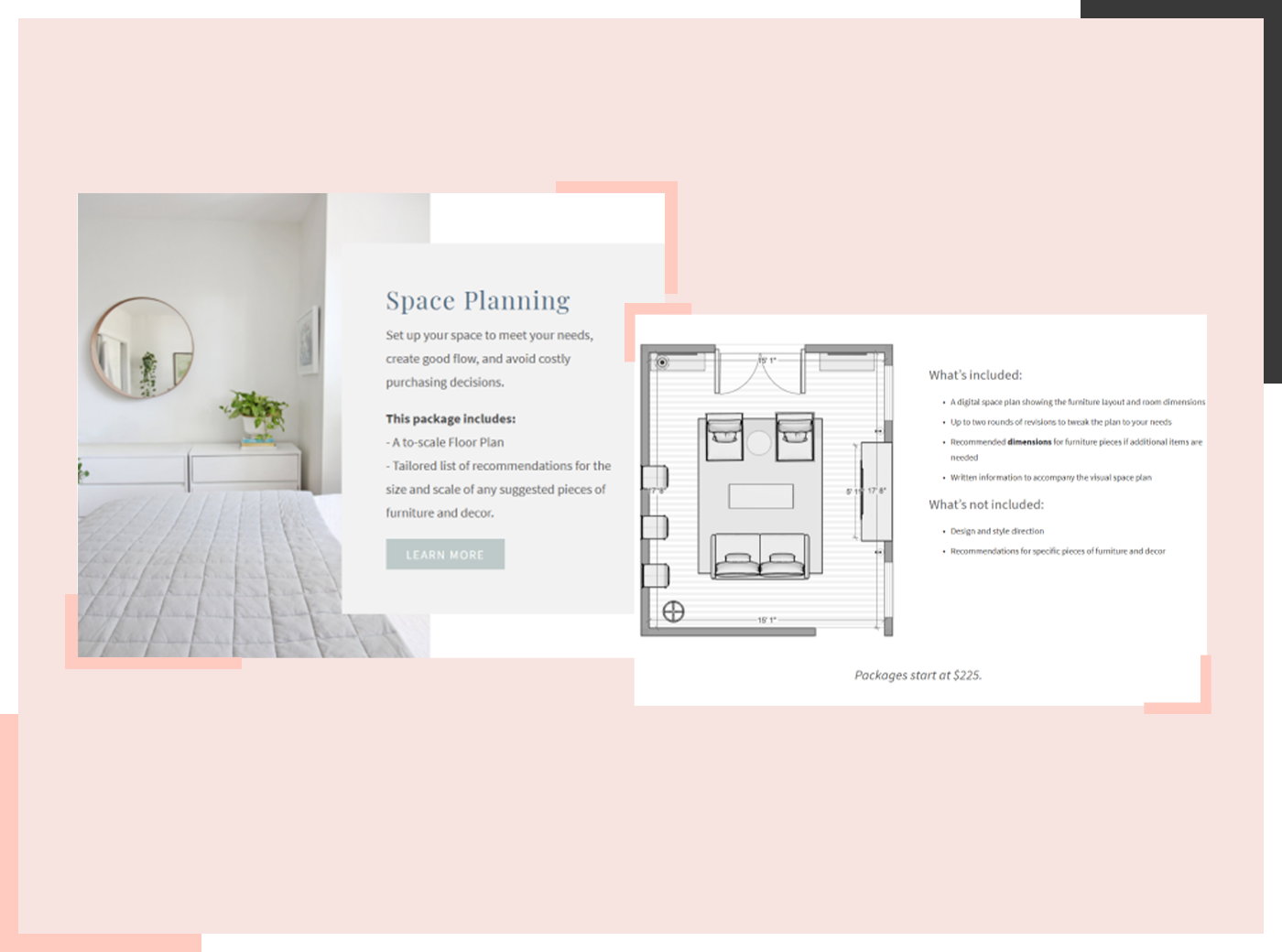 Here's one more interesting example by Studio VB Design: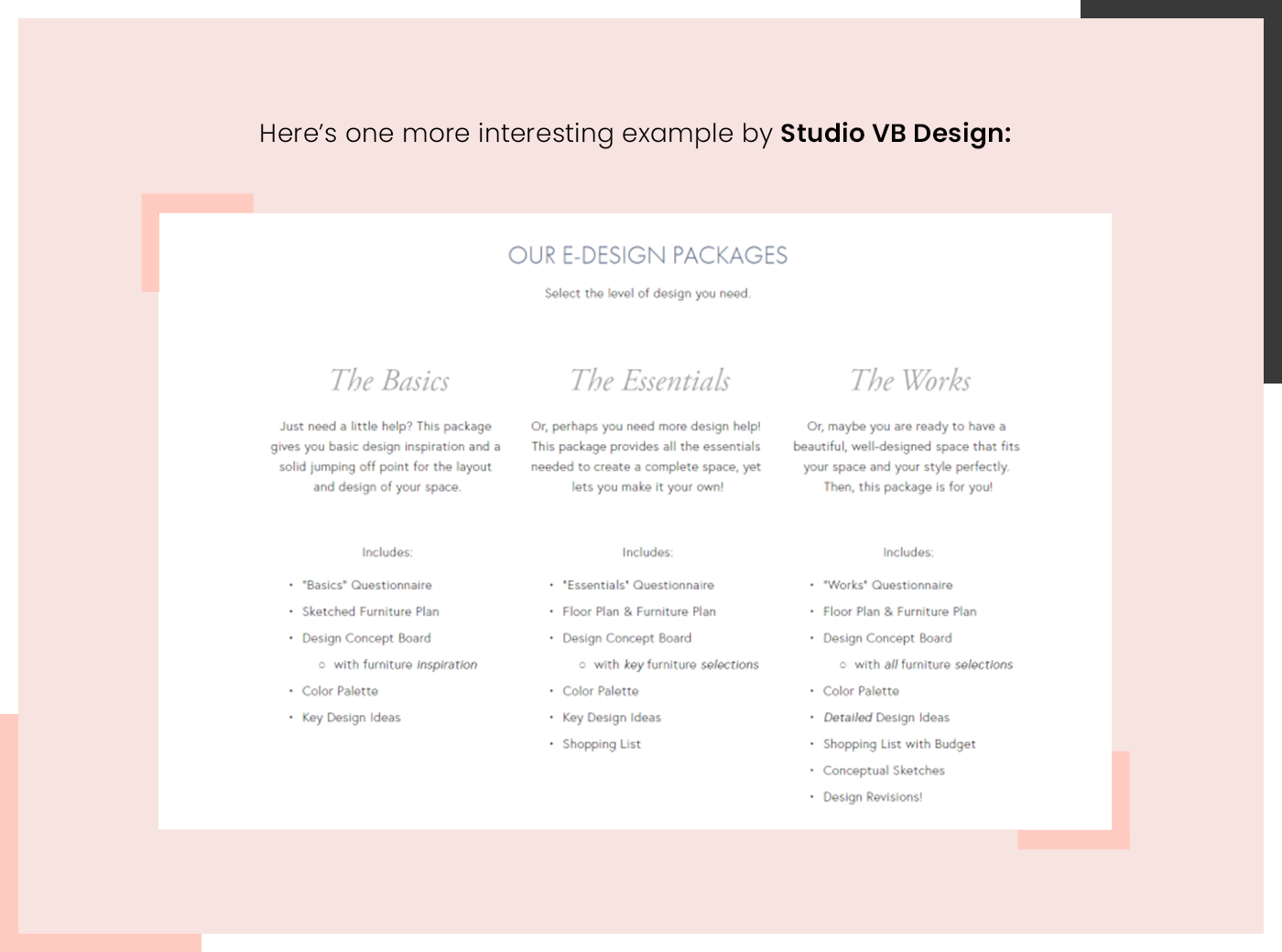 [ Bonus Insert! ] Here's another brilliant talk session by our favourite Lesley Myrick who talks about different packages and how to profitably pivot your business to e-design.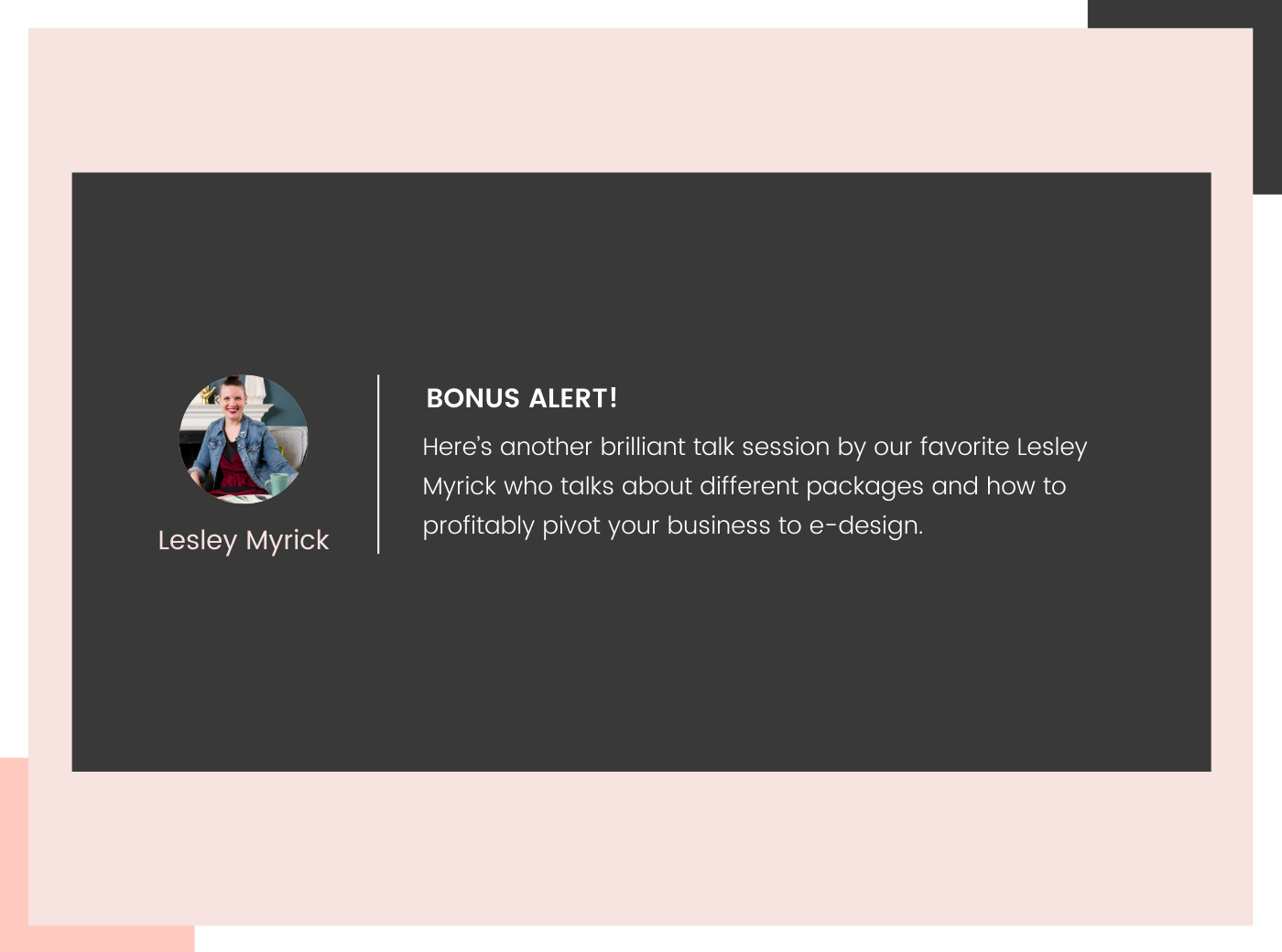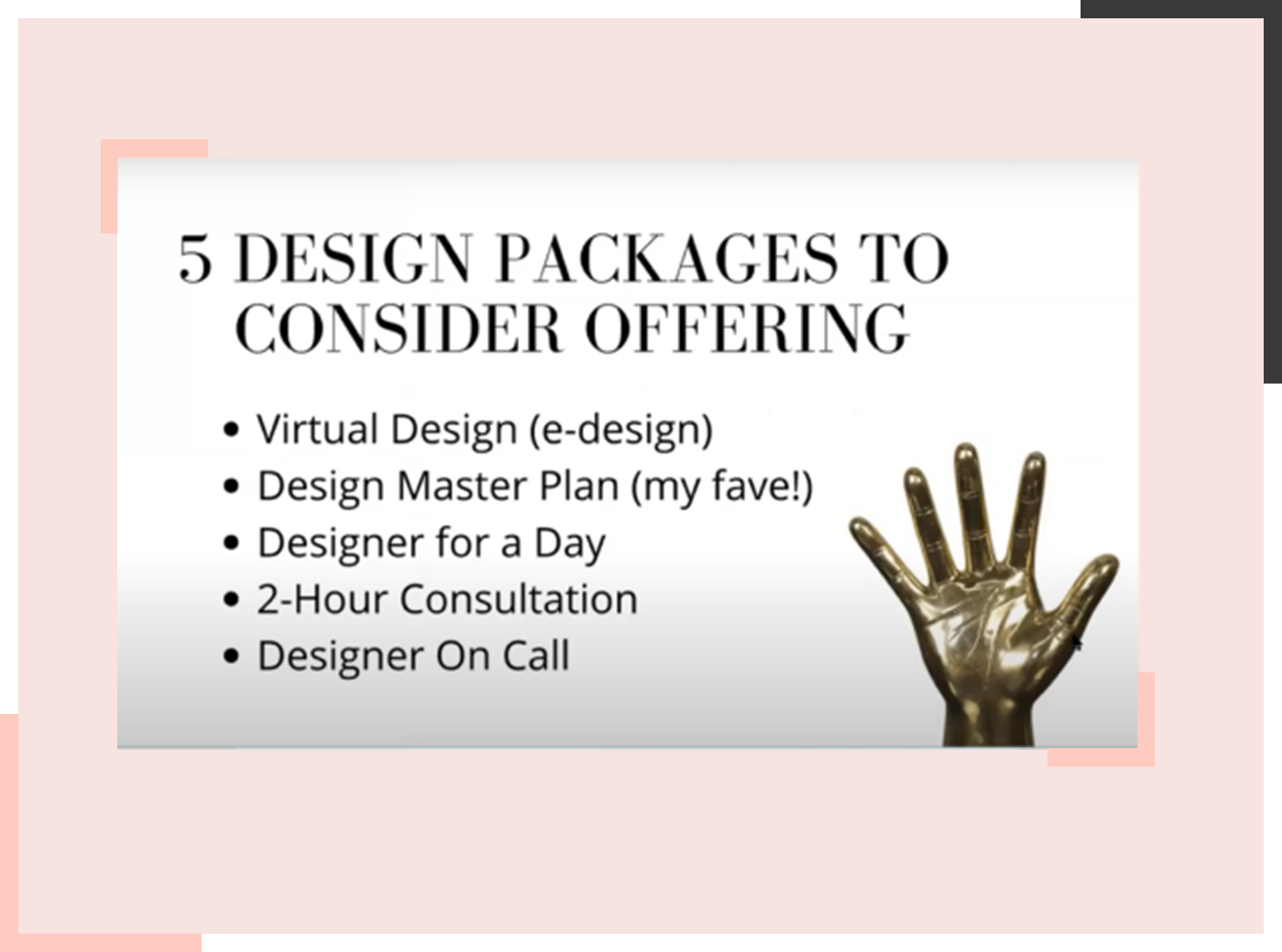 Check this out to learn a great way to help clients compare between your e-design packages and lean more towards the one you want them to!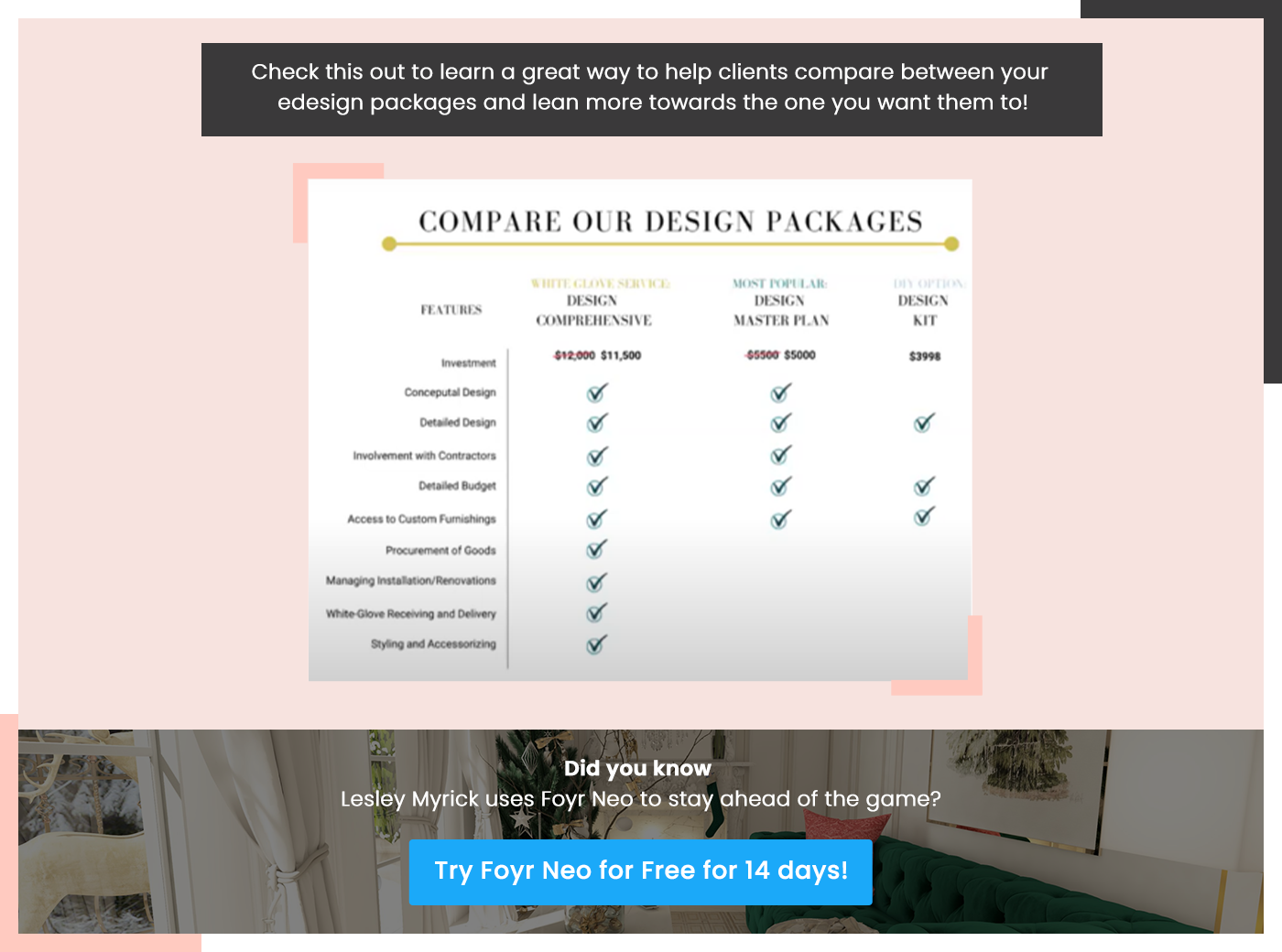 Did you know Lesley Myrick uses Foyr Neo to stay ahead of the game? Try Foyr Neo for Free for 14 days!
What should your E-design process include?
A Questionnaire:
Get your client to fill out a detailed questionnaire which covers everything from fabric, colour, and art preferences to timeline and budget. Here's a Sample E-design Questionnaire. The key is to try and get a good sense of your client's tastes because you really want to get to the bottom of their personalities and translate that into a design they love.
Read also – Interior Design Client Questionnaire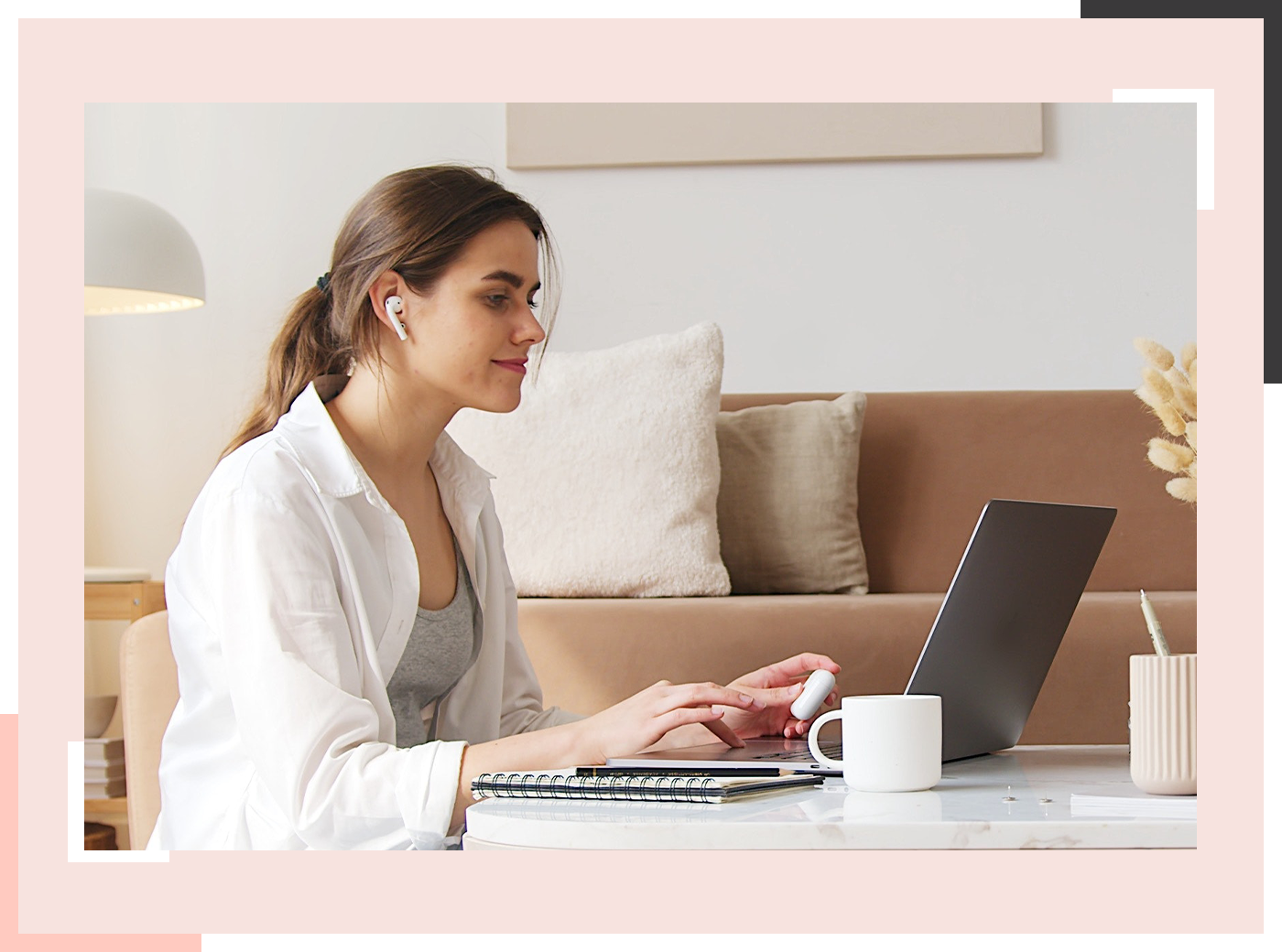 Your Client's Homework:
You need to then set expectations from your client, including asking them to accurately measure their space and furniture, take plenty of good photos, communicate what their sourcing and assembling capabilities are, the extent of the support they would need from you, and making note of any existing pieces they want to work into the new design so you can suggest an appropriate package for them.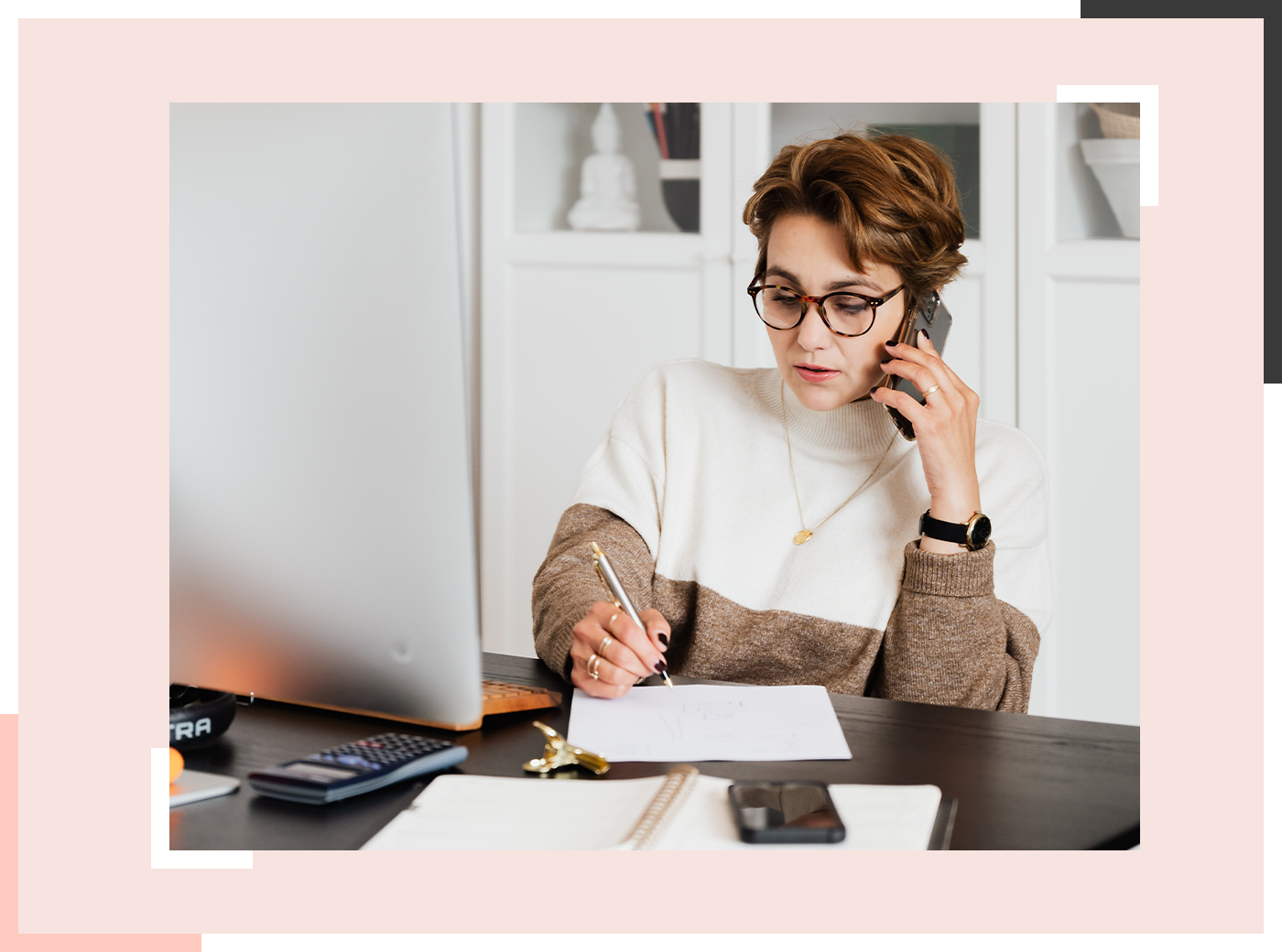 Design Concept/Mood Board:
A mood board is created based on the answers your clients provide in the questionnaire with inspiration photos. Most e-designers send clients a mood board to converge on the expectations before giving them the final design plan. You could even offer multiple mood board options before delivering the design plan to make sure you are vibing with your client on colors, patterns, and the general direction of the space.
Did you know you can make awesome Mood Boards on Foyr Neo? Get Started for Free for 14 days!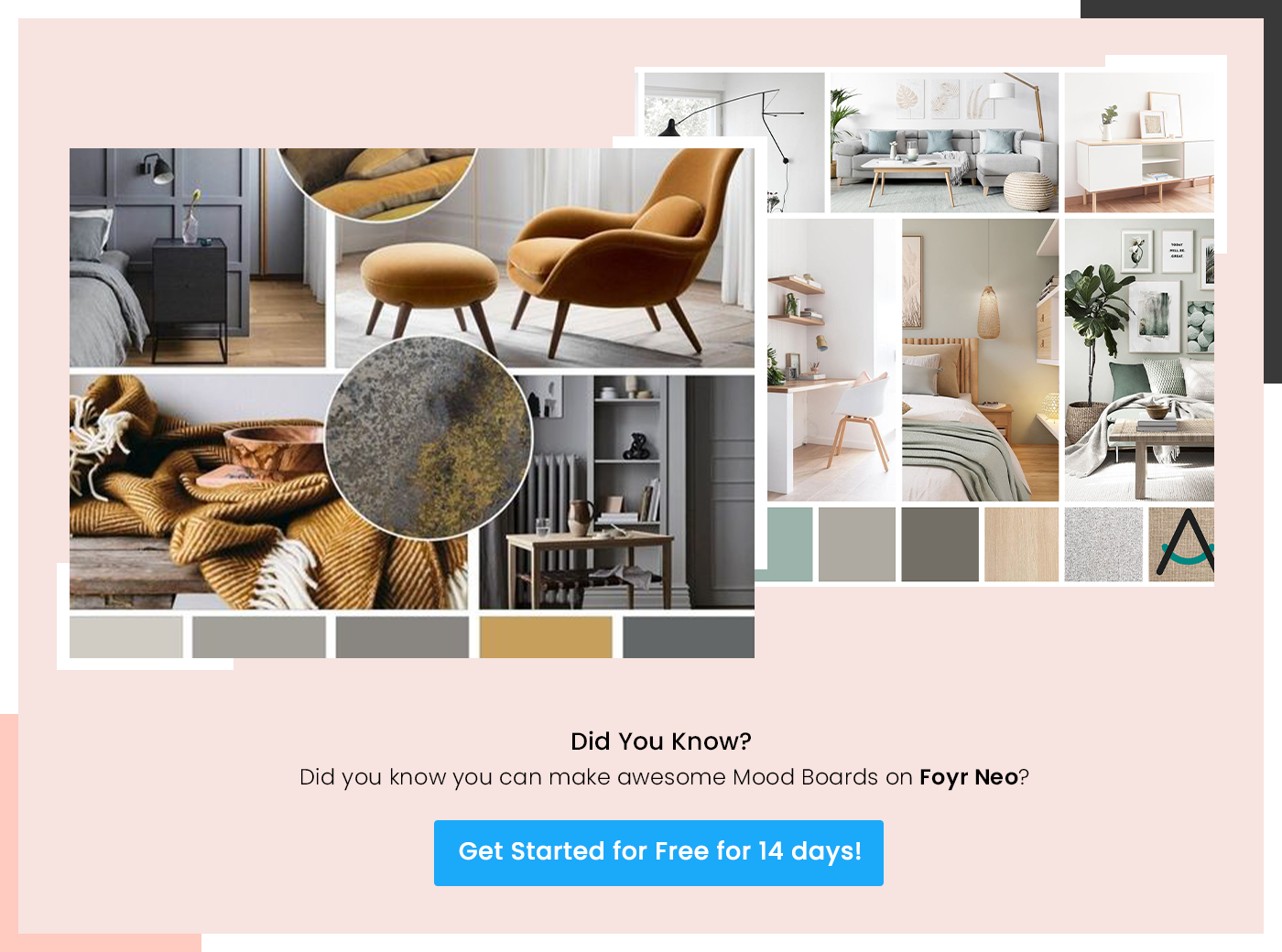 The Deliverables:
This is where designer offerings really start to differ. Designers offer everything from a single concept board to 3D mockups to a mailed box with your printed design and shopping list (with clickable links to products and where to source them from!).  There's no right or wrong option here, so just work out something that works for you! You can include a Floor Plan, Design Plan, Perspective Rendering, a Shopping List, and Styling Instructions in your signature plan. And if you feel that might be a little too much for some clients with more modest budgets, you could also offer A La Carte Styling Packages.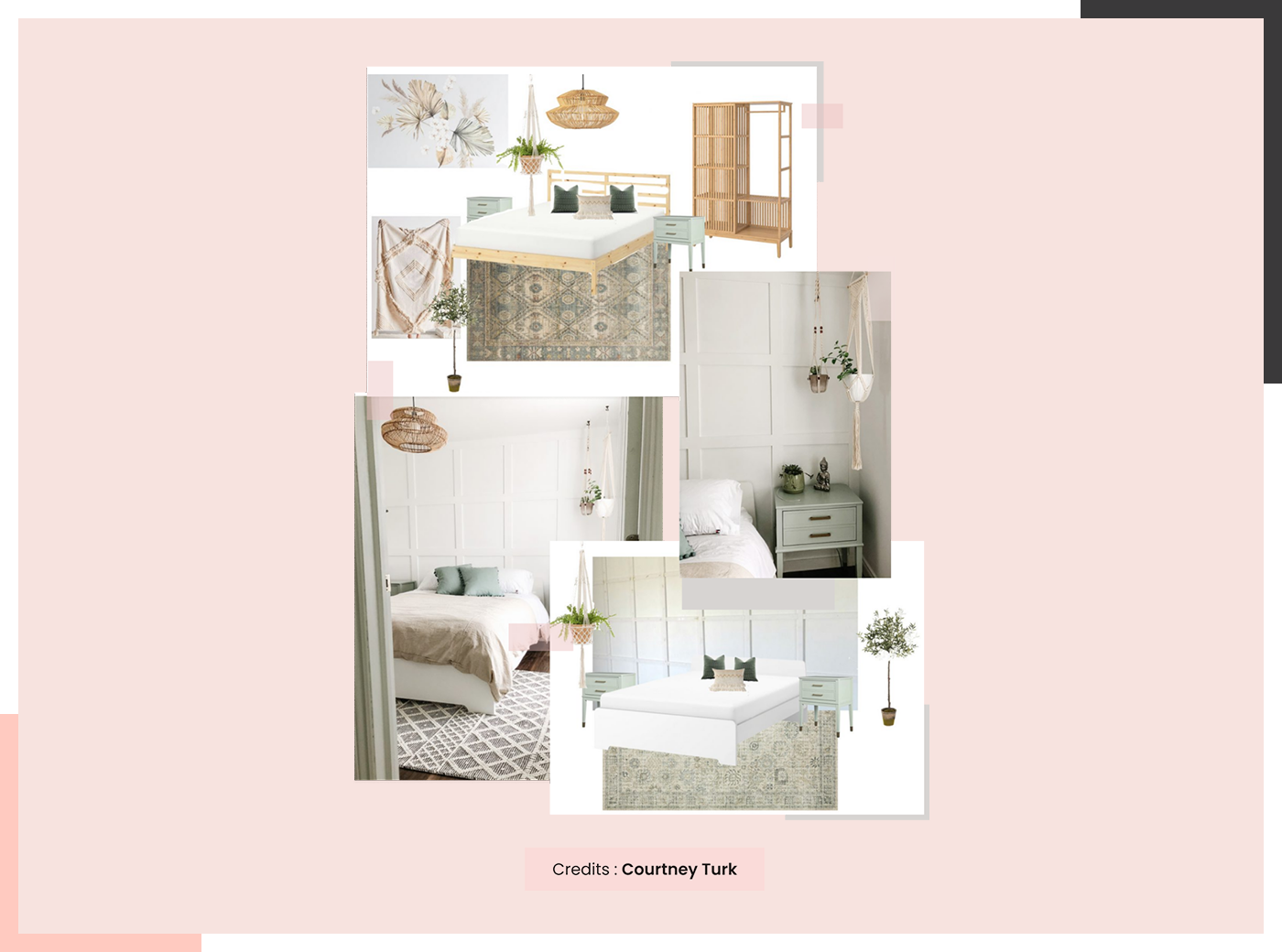 Here a nice example with some ideas on how you can share your designs with your clients: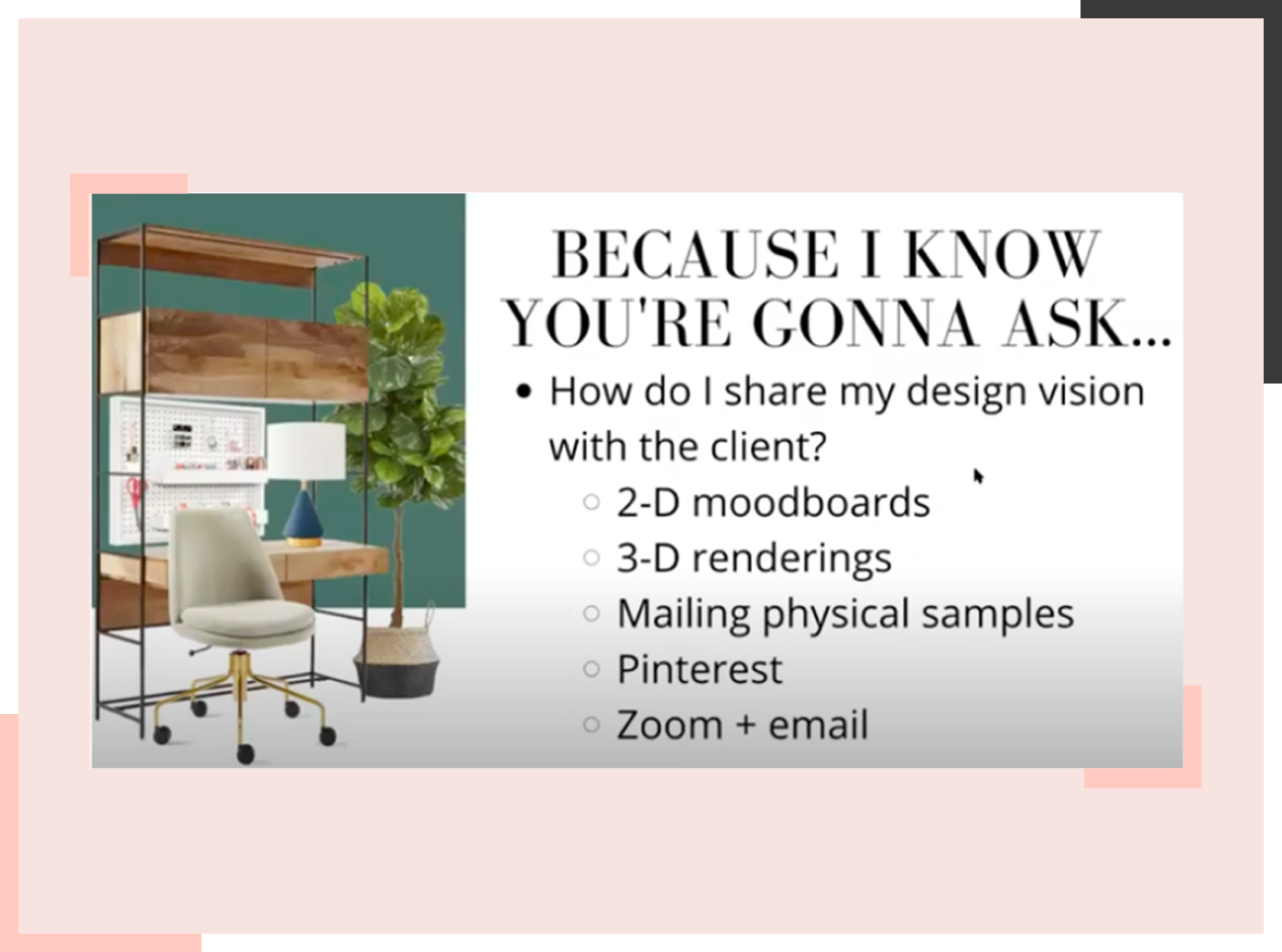 The Execution:
Your clients then purchase your recommended items at their pace and pull the room together once everything has been received. Some designers offer a Post-Design Conference Call (we highly recommend this because it shows you truly care and mean to journey with them all the way!) to help clients as they are placing their decor pieces, hanging their throes, styling their coffee tables, or even address any remaining questions to help them finish off space.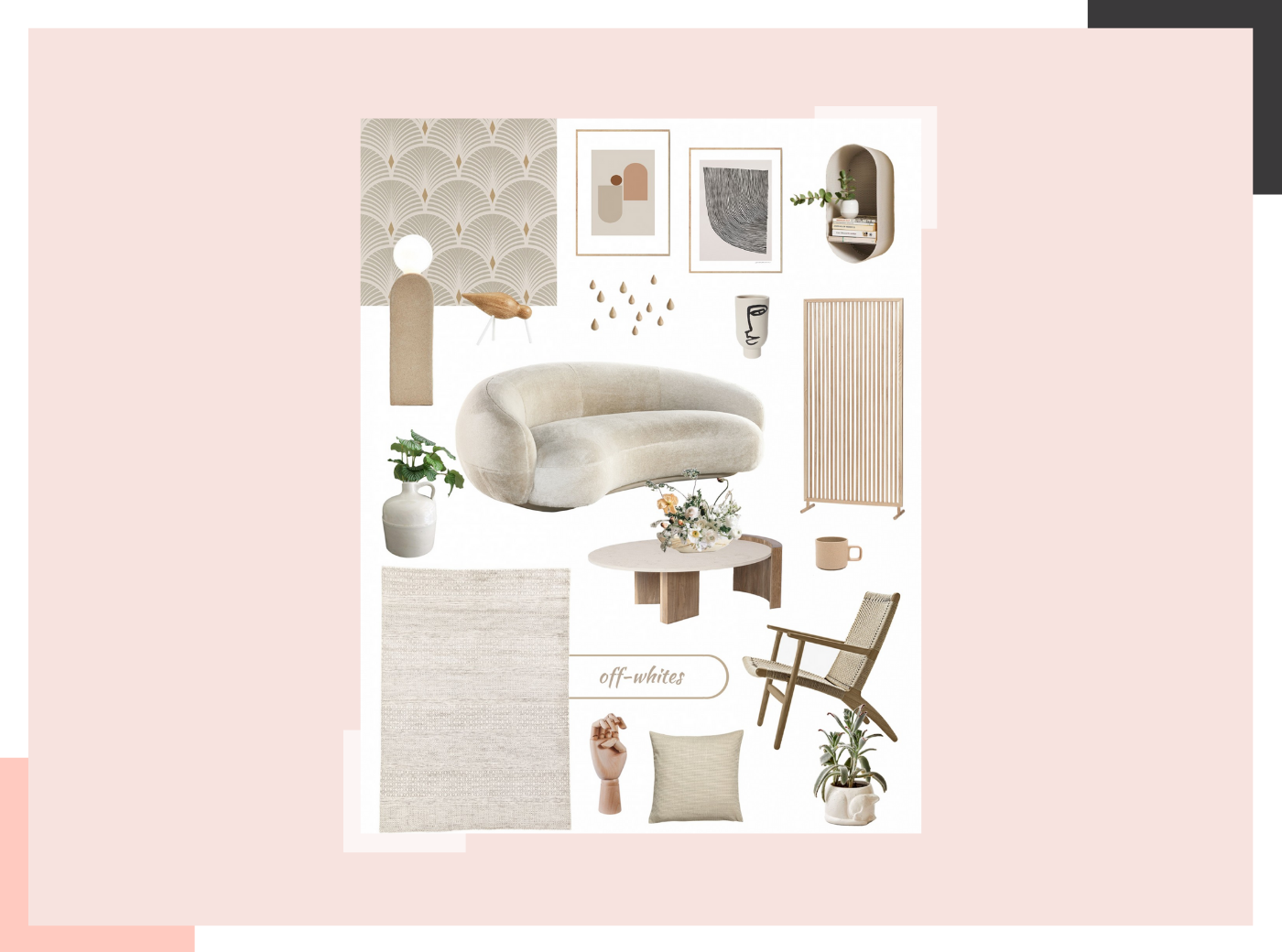 Here's an example of an E-design Process breakdown by Studio VB: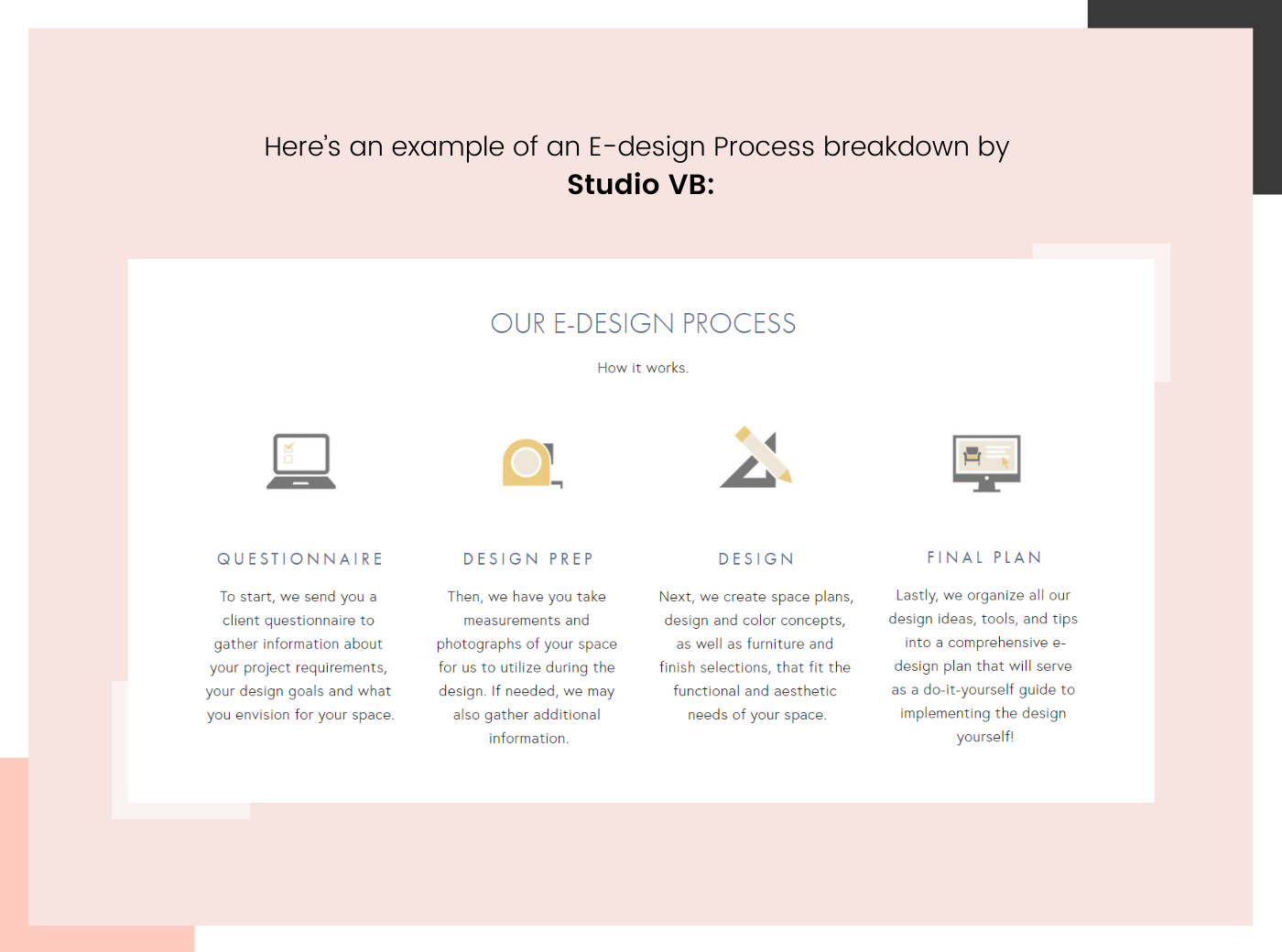 [ More Good Stuff! ]: We also highly recommend this Podcast by Designers Getting Coffee where this awesome designer duo, Lesley Myrick & Kate Bendewald deep-dive into their E-design Process.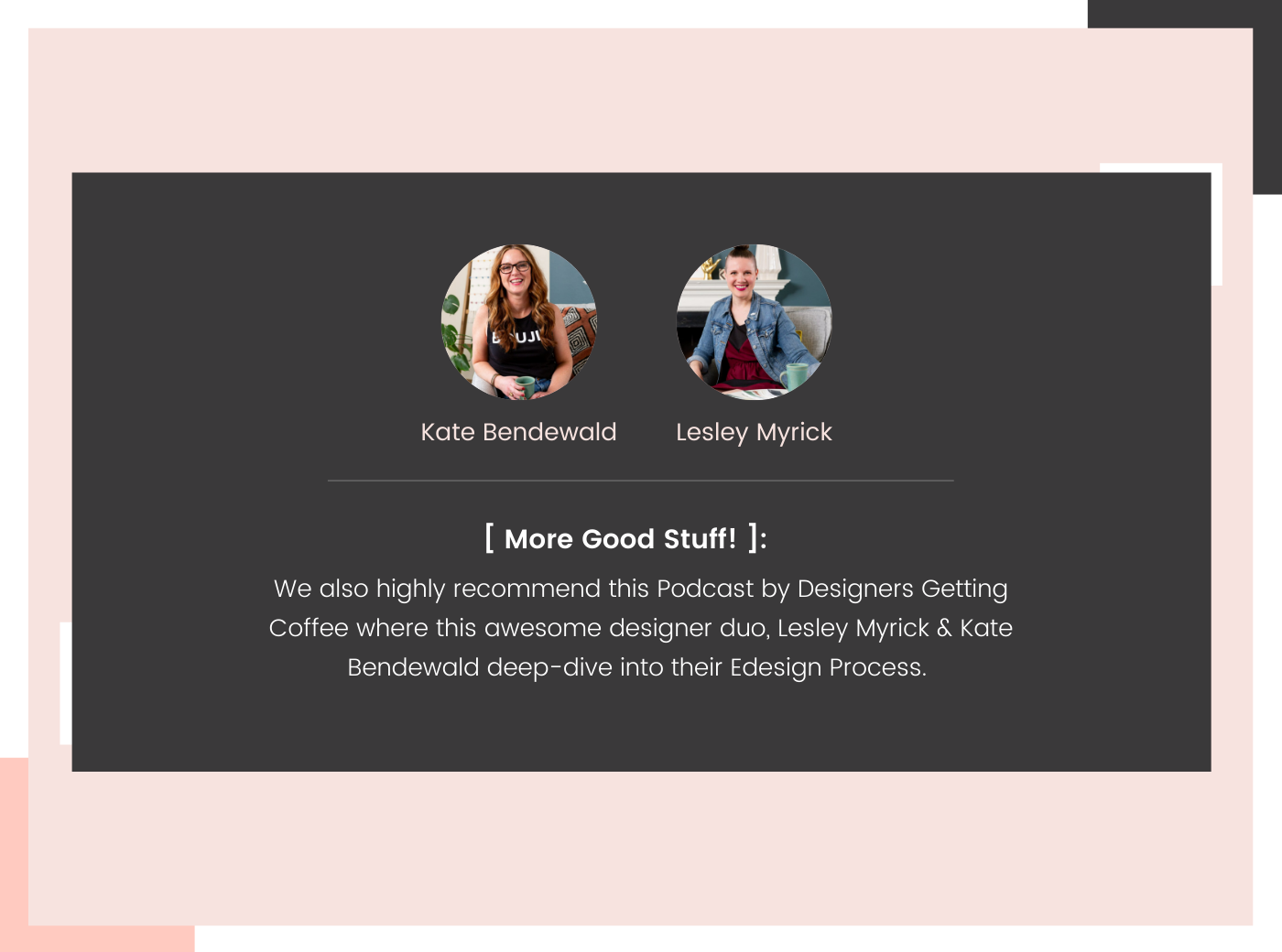 What tools do you need to set up your e-design package and integrate it with your business plan?
Software:
When it comes to e-design, you're going to need to invest in some e-design software, and in some training on that software, if you want to become a successful online interior design consultant or e-designer. This is because you constantly need to work on designing and 3D visualization software to help your clients visualize your designs and mental vision for space virtually. So best to find and know your way around a good one. Perhaps the best software to help you enable your e-design business is Foyr Neo because it helps you create breathtakingly beautiful 4K renders in minutes and even gives your clients a virtual 3D walkthrough of their space. We promise it'll get your clients sold instantly!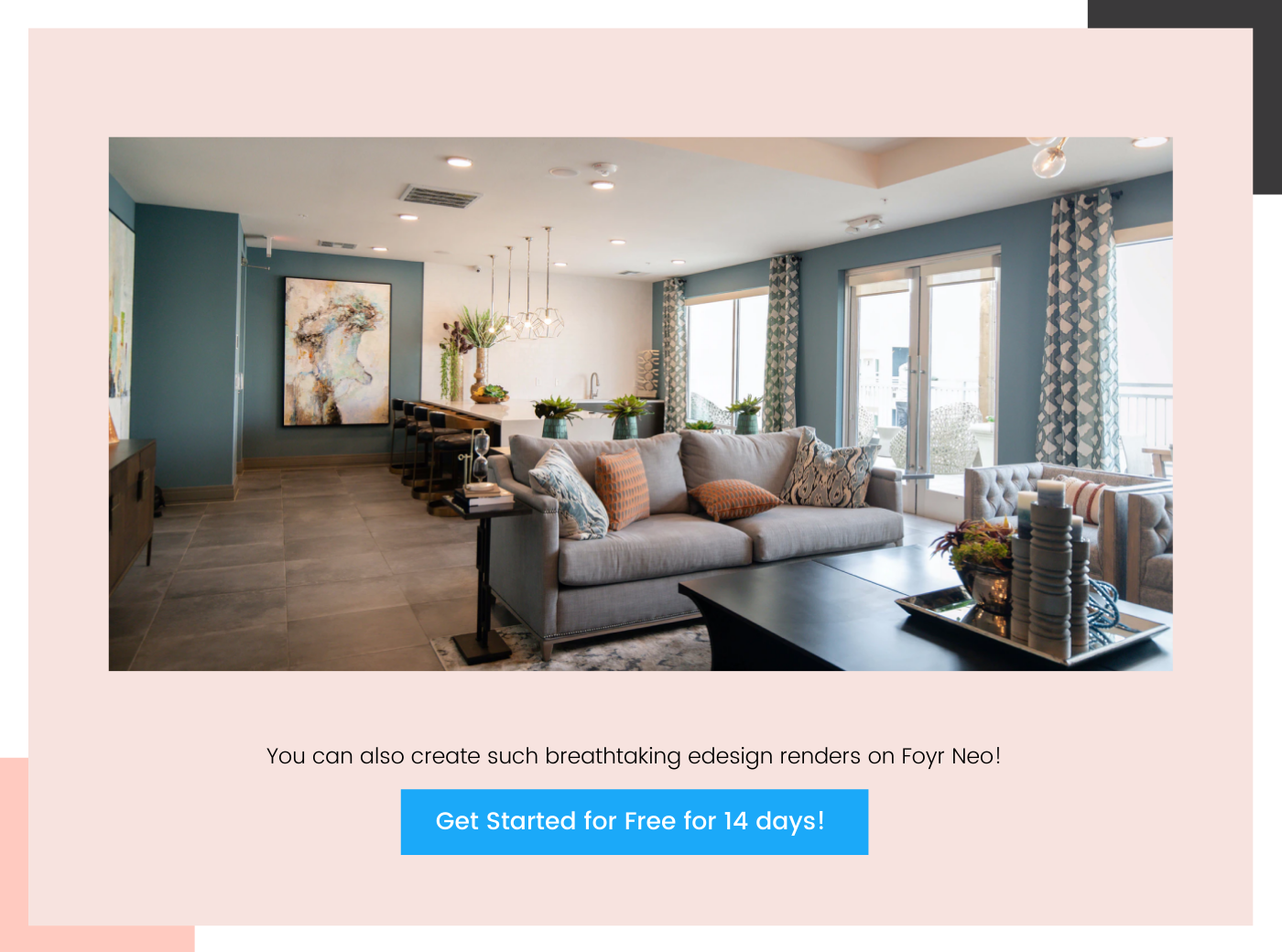 [ Things To Remember ] An e-designer today would typically need softwares or tools for:
(a) Hosting meetings — Google Meet
(b) Scheduling — Acuity
(c) Mood boarding — Morpholioo
(d) Floor plan creation — Floorplanner
(e) Designing — Foyr Neo
(f) Video / Audio recording (optional) — Cloud App (video); Audacity (audio)
(g) 3D rendering — Foyr Neo
(h) Walkthroughs — Foyr Neo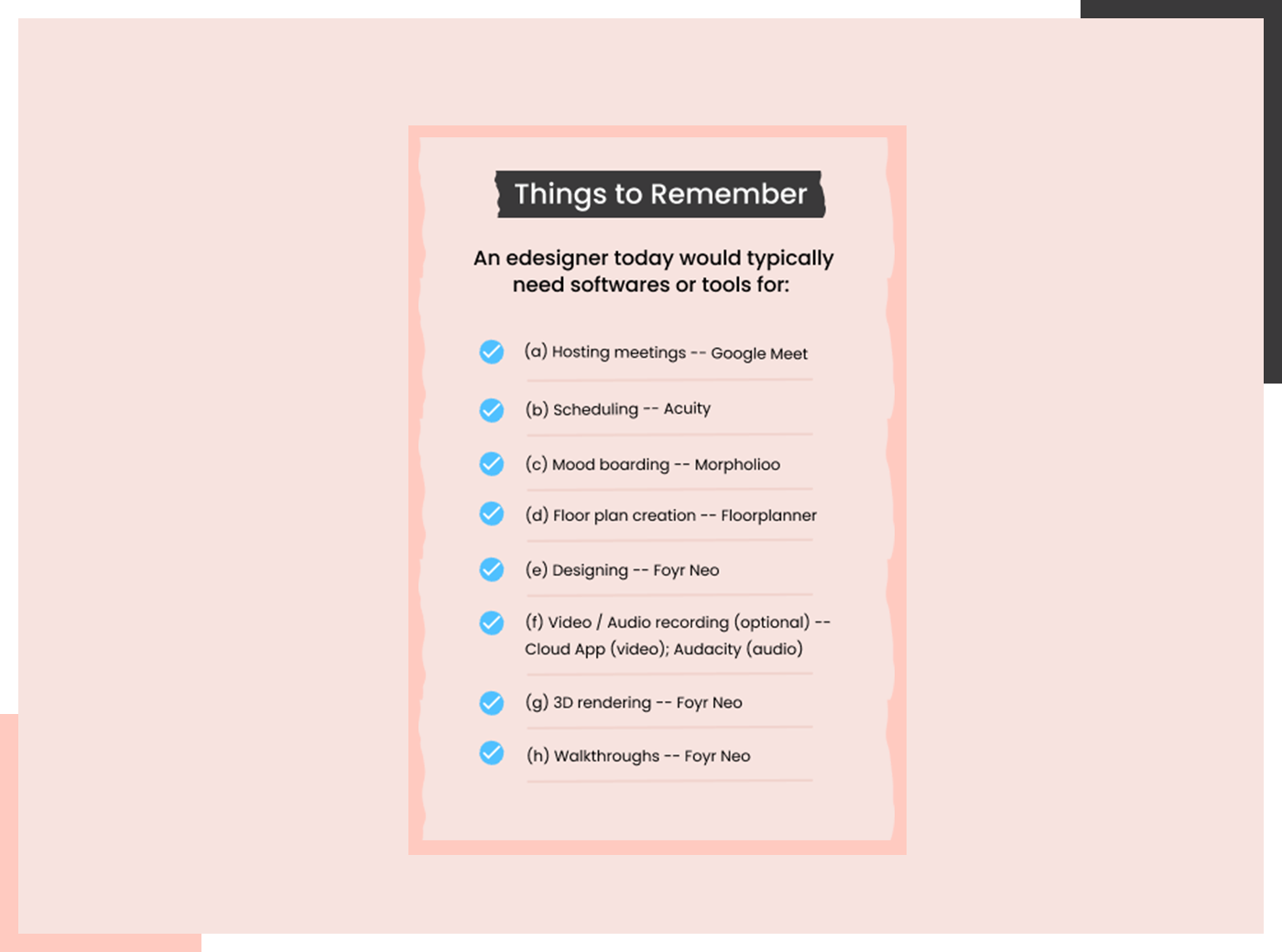 Marketing:
Just like with any traditional interior design business, your portfolio and aesthetic are going to tell potential clients whether they'd like to work with you. But you do need to market smartly and differently for e-design because it's all virtual and through social media. So you must watch how you're presenting your brand and your style because it becomes about attracting the right buyer personas for you. We have learned that Instagram is huge for online marketing when it comes to e-design, allowing designers to connect successfully with potential clients and book consistent business. We've covered this extensively in our blog on Marketing your E-design Services, should you want to go deeper.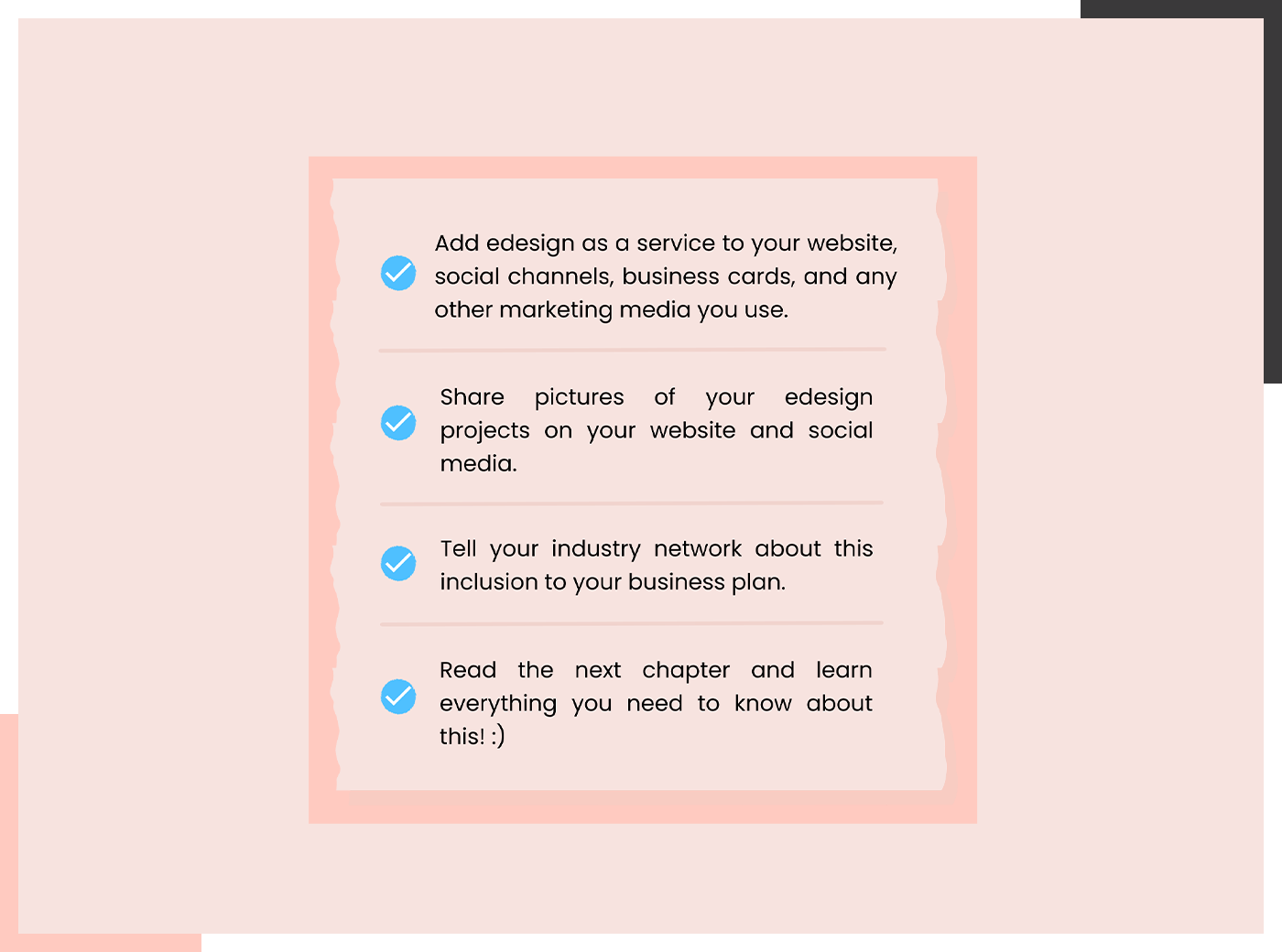 Add e-design as a service to your e-design website page, social channels, business cards, and any other marketing media you use. 

Share pictures of your e-design projects on your website and social media. 

Tell your industry network about this inclusion in your business plan. 

Read our next blog on marketing to learn everything you need to know about this! 🙂
Branding:
Whether you are a high-end luxury designer, a student, solopreneur, small firm or large firm – e-design can be fit for a slew of different kinds of designers. So make sure you are tweaking your e-design package as per your buyer profiles and business goals, and making your e-design projects adequately visible on all social channels.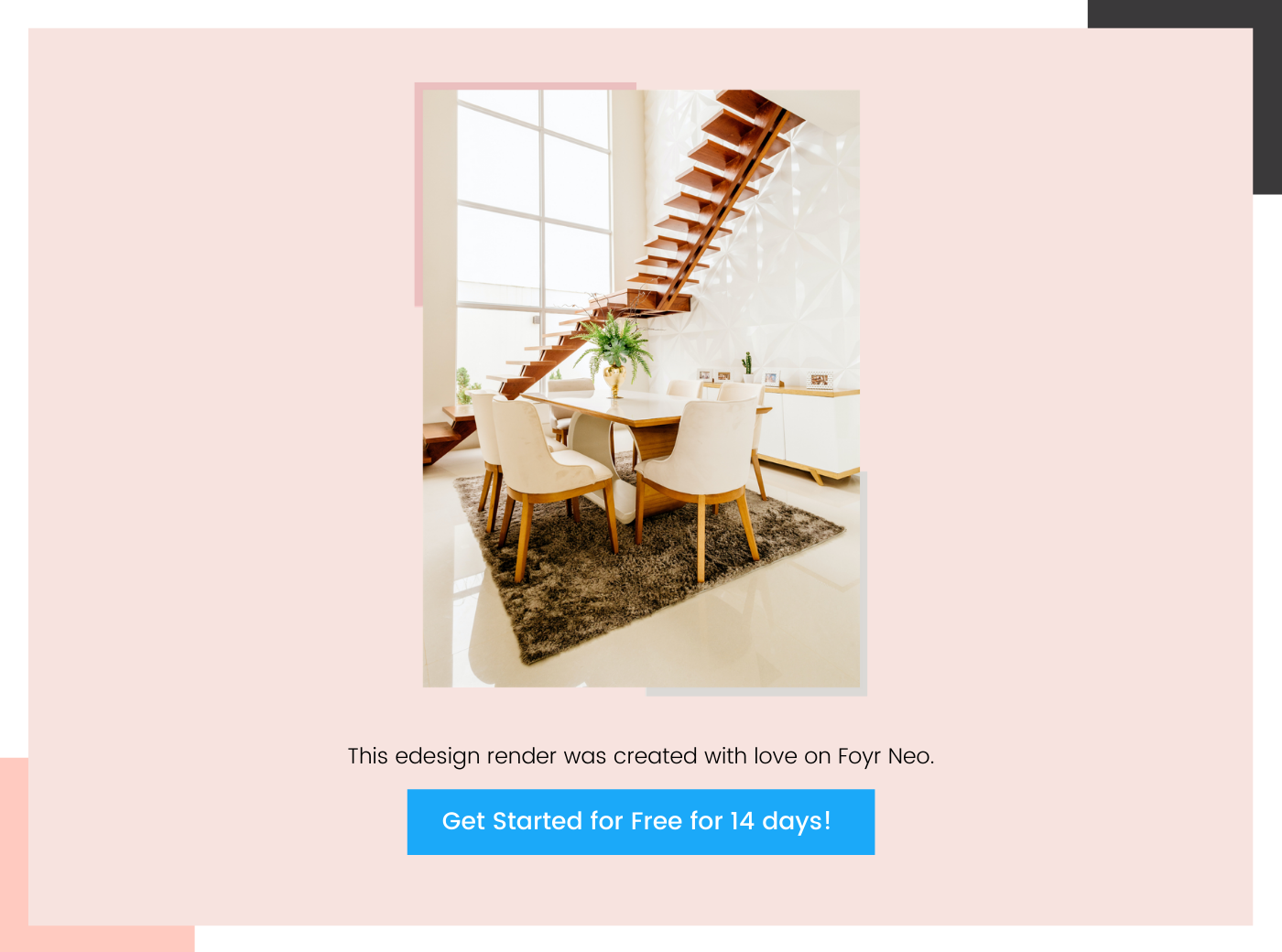 Presentation:
Make sure you set up a proper presentation mechanism by taking advantage of software like Zoom and other video-conferencing tools together with a strong wifi/internet connection to successfully hold virtual meetings with your e-design clients – and make them as frictionless and glitch-free as possible.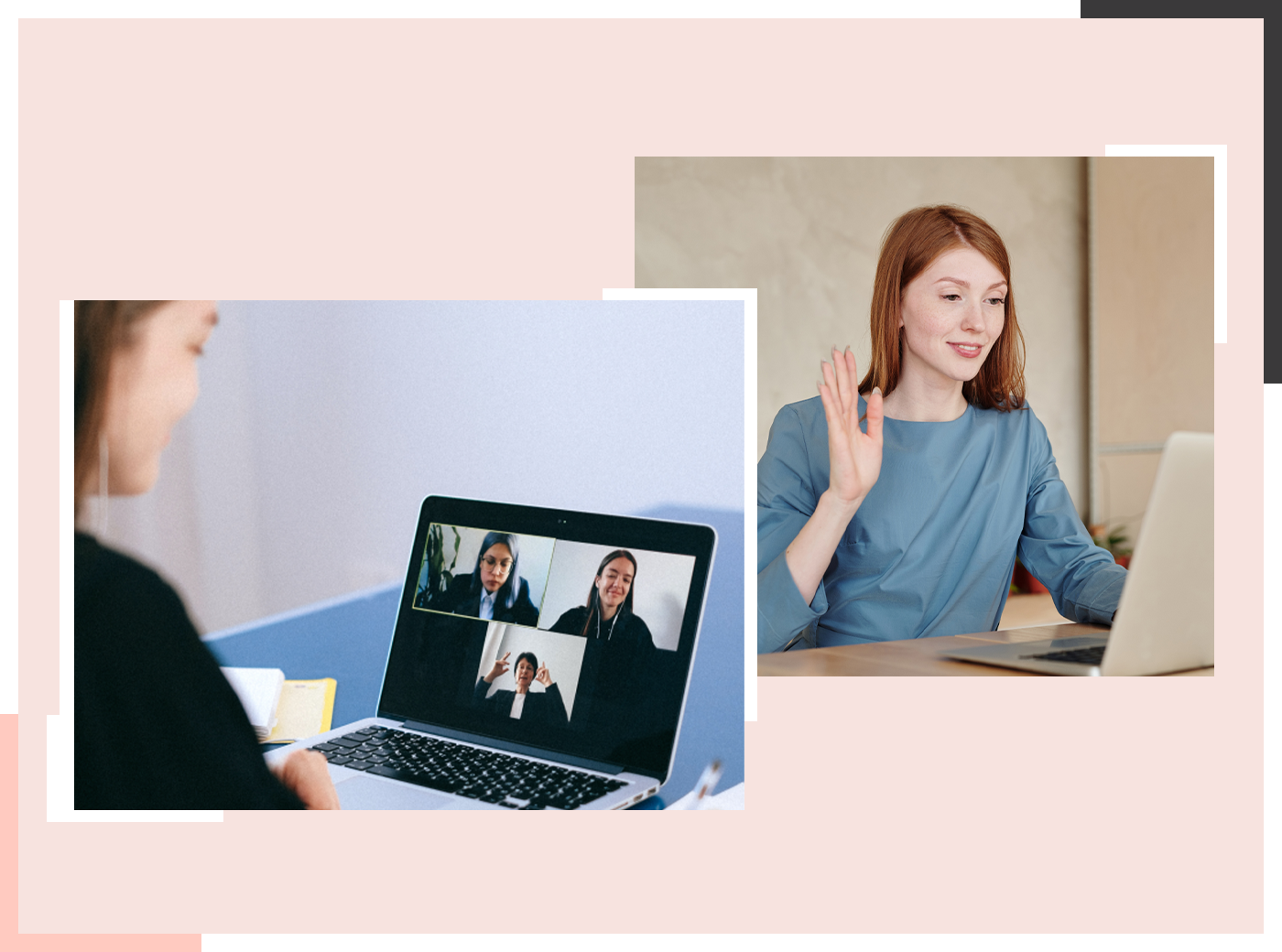 Read also – E-design Thriving In The New Normal With Online Interior Design Services