E-design Business Blueprint
The whole landscape and world of work has changed on account of the pandemic. Interior Designers today have completely pivoted to technology, started using a bunch of different software more heavily, and become more virtual than they were ever before like we discussed in our Ultimate Playbook for Interior Design in the New Normal.
Now the only way to land a client or show a design is online. So there is no better time to embrace e-design; expand one's virtual clientele, invite more opportunities and book more business. So whether it's due to the pandemic or the coming-of-age of cutting-edge technology (or both), now you as a designer can complete your interior design service successfully without ever even having to set foot in your client's home!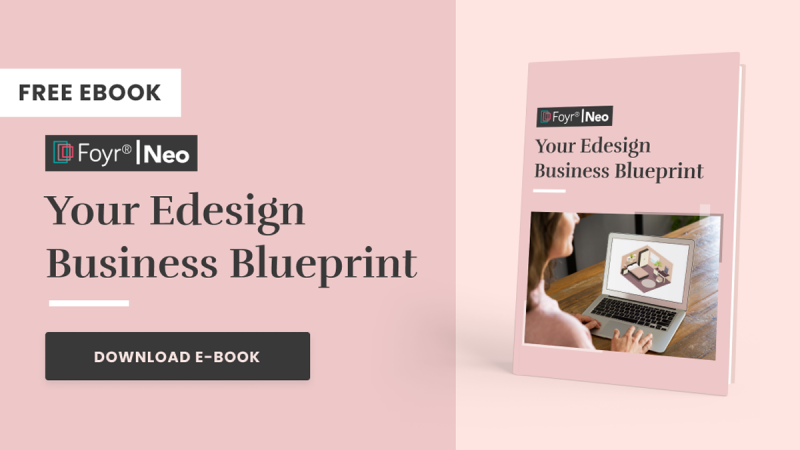 What is E-design?
Online: E-design is exactly what it sounds like: interior design services offered entirely online (via video conferencing tools, phone calls and/or emails). It is a great way to give a personalized experience to your clients without even getting your boots on the ground! Without the challenges of travel, the hassles of scheduling in-person meetings, procurement, installation and so on. So anyone, anywhere, even sitting halfway across the world can access your services as an e-designer without having to worry about location or safety.
High-margin: It is a simple, quicker alternative to full-service, traditional interior design because the service is performed completely virtually, removing the cost of travel time, physical interactions, sourcing or assembly. It is basically a functional, custom design plan or a "room in a box " that you as an e-designer create after learning about what your client envisions for that space. Which your client needs to then put together himself following all your detailed instructions or do-it-yourself guide.
Self-service: Not all of your prospects have the budget or the need for a full-service interior designer, so e-design is perfect for clients who need design expertise but don't mind spending time doing the legwork to prepare, manage and execute the design themselves. So e-design is a beautiful win-win for both the clients, who like to DIY or are on a tight budget, and you the designer, who can offer professional help while avoiding the hassles of on-ground execution.
Why E-design?
There's been a mindset shift: If you are a designer who has a signature style, you want to attract people in your spectrum wherever they are. Before the pandemic, to show seriousness, you'd have to travel to them or the consumer would find someone local to do the job. Now, you can do work around the world without physically being there and still be taken seriously.
It's a DIY generation: A lot of people (especially millennials) today do want access to designers, but don't always want them in their homes. It's a DIY generation (who watch HGTV, Youtube, and Social Media and consume all these "do it yourself shows") so they're largely born and bred in an industry that believes that they have it in them to do things on their own.
Interior Design is no longer just a luxury service: The earlier interior design was considered a complete luxury service. But now, with e-design, you have the opportunity to cater to a much wider bank of the audience (who may not always be your high-end or full-service clients) but still want value and access to your services and offer an additional and steady revenue stream for you.
A great skill-building exercise: A varied customer-base forces designers to think fast and learn new and disparate design trends. So e-design expands your skills to the eclectic tastes of a wider audience who can do things on their own but don't always have the creative or aesthetic acumen. So you get to broaden your portfolio and easily move from single space/room to complete homes, from 1 bedroom/2 bedrooms to single-family homes, from condos to beach cabins.
A healthy collaborative process: E-design gives you a ton of autonomy and creative freedom as a designer. It allows you to change things on the fly. And also frees you from having to worry about scheduling and other travel hassles. Here the prospects and customers give more time and are equally involved. So a more collaborative design process leads to happy customers.
Easy money: E-design is a hundred times more hassle-free when compared to turnkey projects. Here you don't have to worry about procurement or the execution hassles involved in a full-service engagement. Also, this is high-margin money which means customers pay for your time, design and purely the value you add.
Best of both worlds: It doesn't have to be all or nothing. With e-design, you can prove your design capabilities to a client. And if they see the need for your expertise end-to-end to execute a meticulous design, then they could even turn into a full-service client. So you can embrace a hybrid package & offer both e-design and full-service design in your portfolio or suite of services.
What does it mean for your business?
Makes you global: With e-design you're no longer niched or restricted to your geography, current region, or community. You can cater to anyone, anywhere. Even some very high-ticket clients who love your work but couldn't access you before because you were located in another part of the country or world. Which means that e-design is not necessarily always low rent.
Makes your business recession proof: The designers that have aggressively pursued getting themselves into a position of offering e-design as a standalone service is taking advantage of a much wider audience, and therefore more potential revenue. Because e-design gives you more reach in your country and even overseas, and far more opportunities.
Makes your brand more accessible & approachable: E-design is not only an opportunity for everybody to have affordability and access to professional designers, and expect a really strong outcome in the project. It is also a way to make people feel independent and like they're putting their own homes together. So here you have to think more about how the consumer wants to consume design.
Offers a reliable revenue stream without a great deal of effort: All you're doing is giving the right creative guidance like pulling a pallet together, finishes and furniture together, clickable shopping links, a space plan for where everything goes, – basically a room in a box. So with e-design, you're ensuring a steady revenue stream without the intensive effort of a turnkey project.
If you're interested in the subject of e-design, you'll be thrilled to know we have a whole book on it which can help you immensely to carve out your e-design business and services thereof.