What is the balcony? Is it just a bordered platform or exterior space projecting out of the upper floors of your home or apartment? It's not simply a structure. It's that part of your house that connects your home to the outside world or view while enjoying the privacy of your safe haven. Unlike the other rooms, this is the only space of your house that is easily and readily visible to others from the outside. That is why never treat a balcony design as unimportant because it reflects your personality and enhances your master bedroom often contributes to the first impression that an outsider forms about you and your house.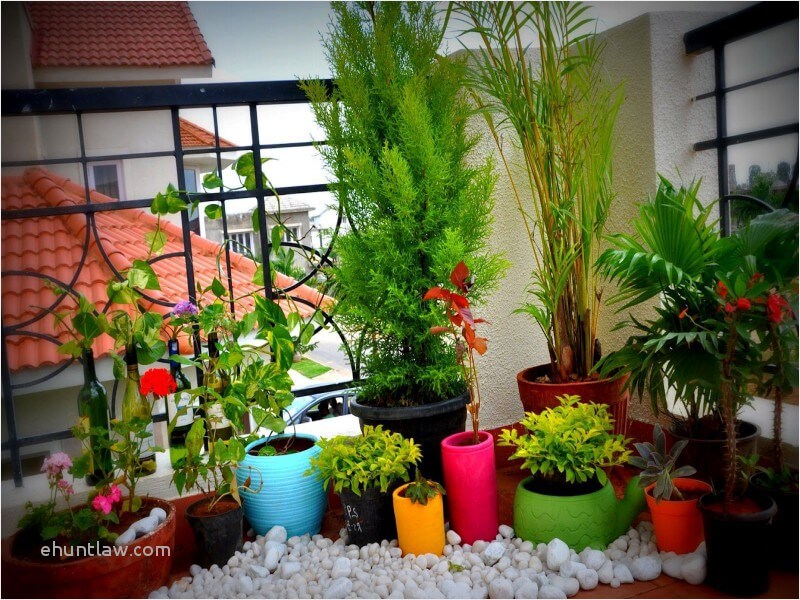 Image credits: krishijagran.com
Here are 5 ways to upgrade your balcony design:
1. The garden house balcony design
City life has its perks and disadvantages. You can't always afford to have an elaborate garden in the front yard or backyard with an ornate gravel path. This holds true especially if you live in apartments, where you can't even have your own terrace garden. This is where the balcony design comes in handy for your green fingers. No matter how small your balcony is you can still make it your cozy little, colorful garden with the right types of plants and plant container accessories. At the floor, go for a synthetic grass turf or a wooden planks flooring and fine textures. Use the ledge of the balcony for hanging flower pots. If you've got your neighbors at a cheek by jowl distance from your balcony, growing climbers like Devil's Ivy or Blue Morning Glory extending beyond the balcony walls (with the support of a wooden-mesh structure) can act as a natural screen, lending you privacy. Adorn your balcony's roof with Chinese or Japanese Wisteria vines.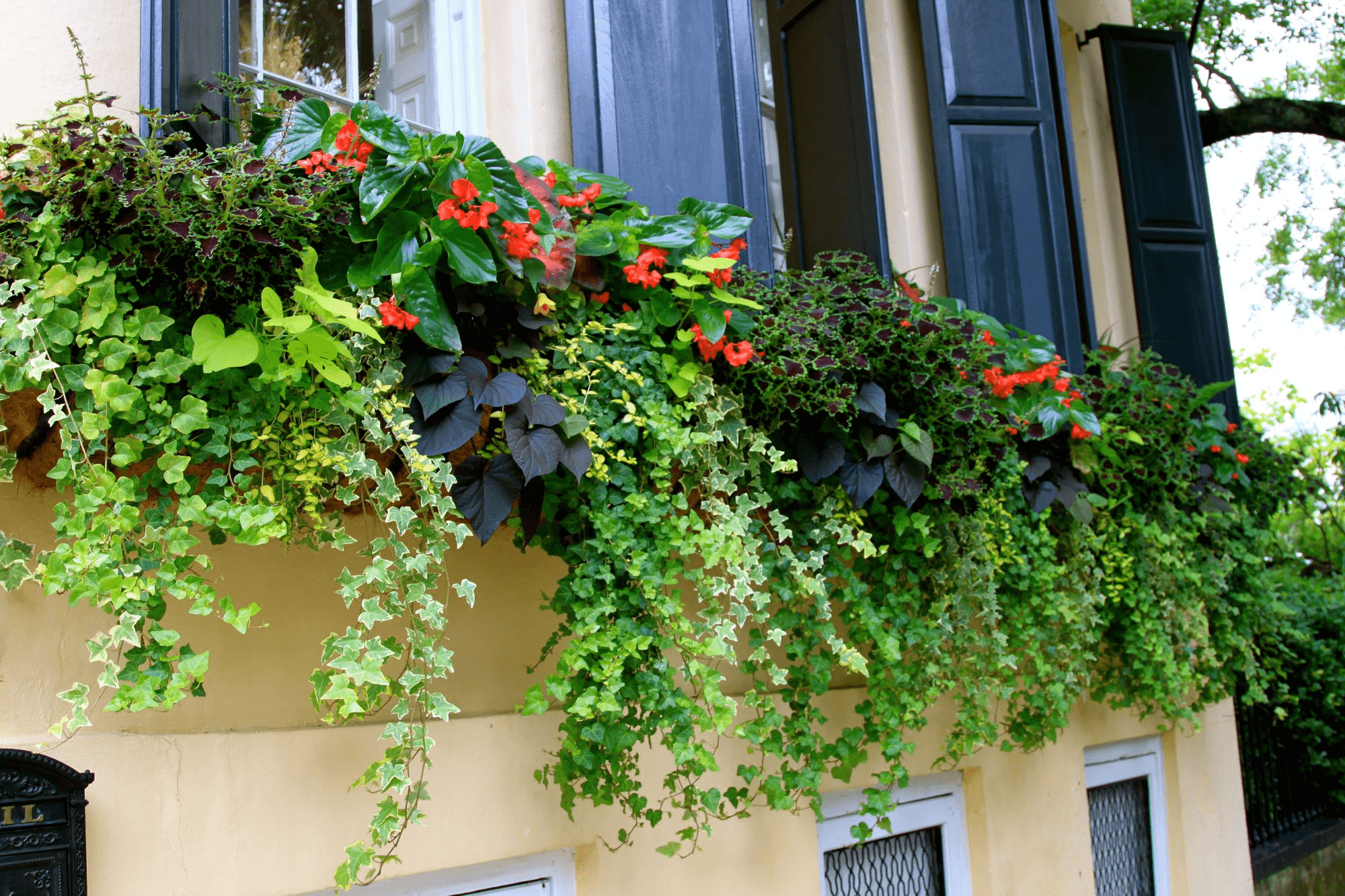 2. The glazed home balcony design
A glazed balcony design refers to when the entire open space of the balcony is covered in toto either with wire gauze or glass. You can go for this balcony design if you want to keep your home and plants pest-free.
Also, such a balcony design is well suited for flats that are located at the higher floors of the apartment where the velocity of the wind as well as the height can be too intimidating. A glass glazed balcony design can actually help convert your balcony into a mini or extended living room is equipped with the appropriate furnitures and fixtures.
Image credits: devaul.net
3. Balcony railing design
If you plan to have your garden in the balcony, then opt for a metal railing as opposed to a concrete or glass one. The rods of the metal railing can be used to hold plant containers and pots that are exclusively designed for railings and metal parapets. An added advantage of having a metal railing is that with its help, you can convert your balcony into your study as well. All you need is a multi-purpose railing table to keep your laptop or books on.
If you intend to use your balcony as a seating area to hang-out with your friends like a creative terrace design idea, then stained or ornately colored seamless glass railing will be splendid, especially when the sunlight falls on it.
If you already have a balustrade parapet in your balcony design, then growing creepers like bougainvilleas will only add the classic and vintage look to your house.
To add more colors you can also plaster on decorative wall tiles in the inner and outer sides of the parapet.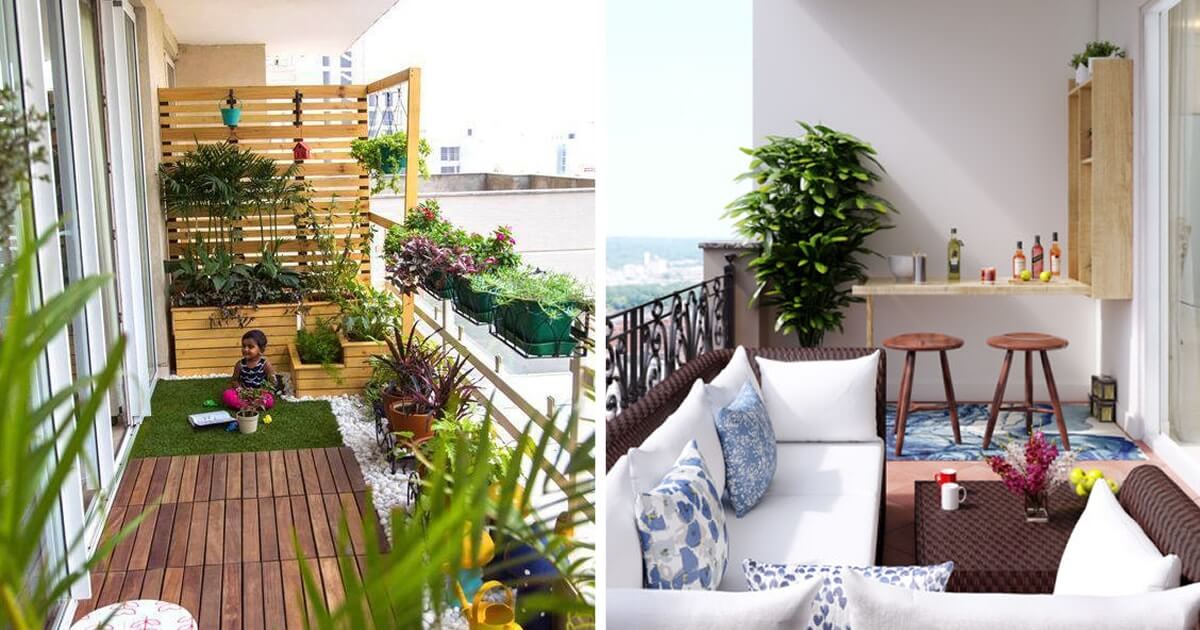 4. Furniture aspect of the balcony design
Try to select furniture that can bear extreme weather conditions – exposure to direct sunlight and rainwater.  Wrought iron chairs and tables will bestow that raw, cottage feels to your balcony garden. Plus, wrought iron furniture can withstand any type of weather condition, no matter how extreme. They are also very sleek units making them ideal for a small balcony design and traditional and modern homes.
Avoid plastic resin furniture. They might be a light-weight and easy to move option but can easily get brittle and faded due to being exposed to the sun. For a natural look and long lasting amenities, go for wooden furniture made of cedar or wicker or teak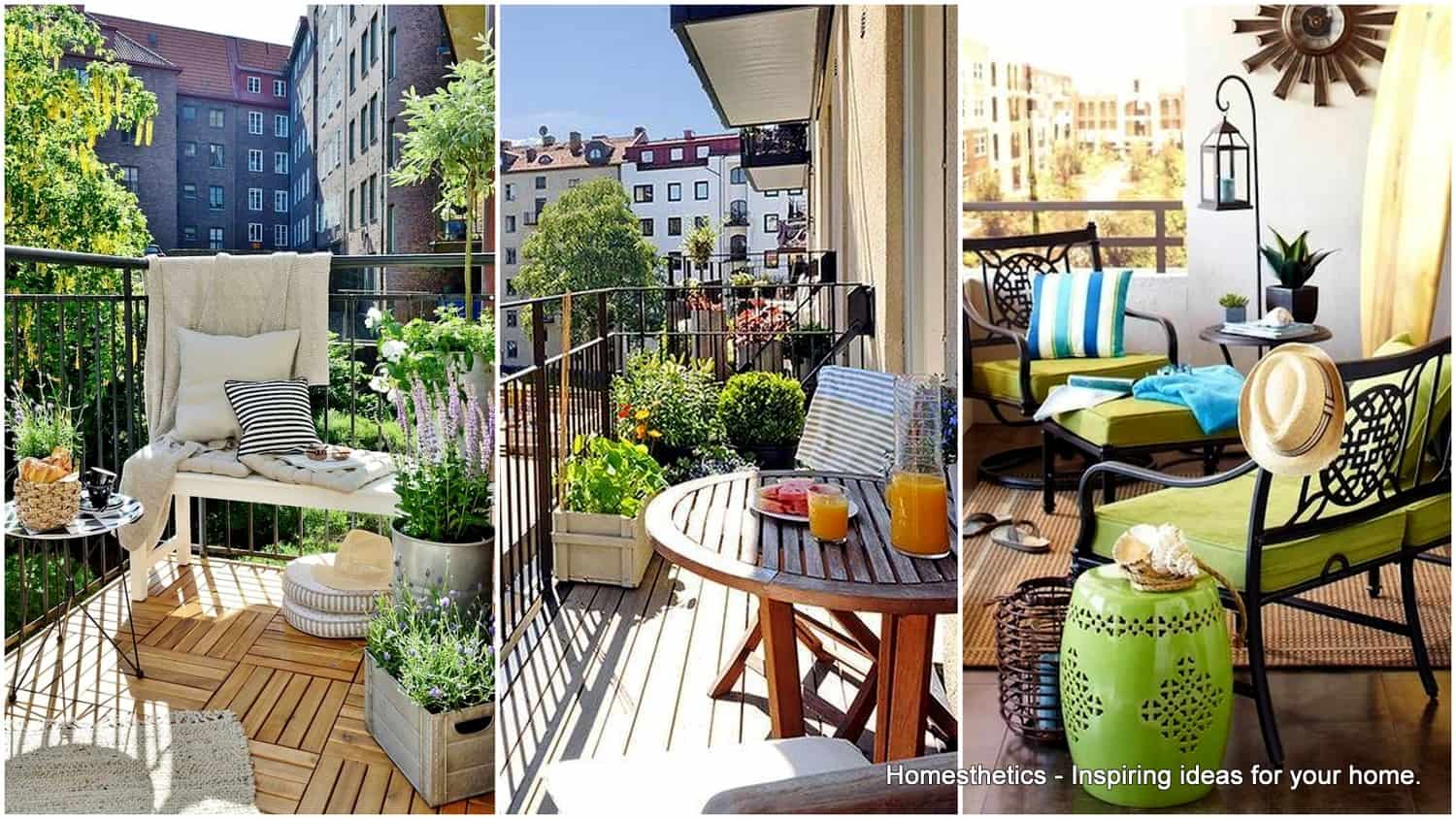 Image credits: in.pinterest.com
5. Accessories to enhance the balcony design
To make your home balcony design more versatile, make it cooking friendly as well. With the help of a hanging or railing barbecue paraphernalia, you can have your own grill festivities to make your home parties even more thrilling. If your balcony is roofless, it will facilitate your cooking spree even more as you don't have to have fears about your roof getting black due to soot.
To add some rhythm to your balcony, just hang a few wind chimes at the edge of your balcony roof.  You can mix and match chimes of various materials (wood, metal, etc.) and varied sizes in order to get an array of sound effects. If lights fascinate you more, then hang some ornate, vintage-looking lanterns instead. Sprawling a few springs or fairy lights too can do wonders.
To beautify your house's exterior, you can also have a window balcony or faux balcony or balconette outside your windows. A faux balcony is nothing but building a 3D railing around the outer side of the lower part of your windows. It not only adds some element and charm to your barren windows but also helps to prevent things from falling down (to a certain extent) when something accidentally falls out of the window.
Plus, even a faux balcony can be used to grow a mini hanging garden – bringing continuity of style and the natural look throughout the house.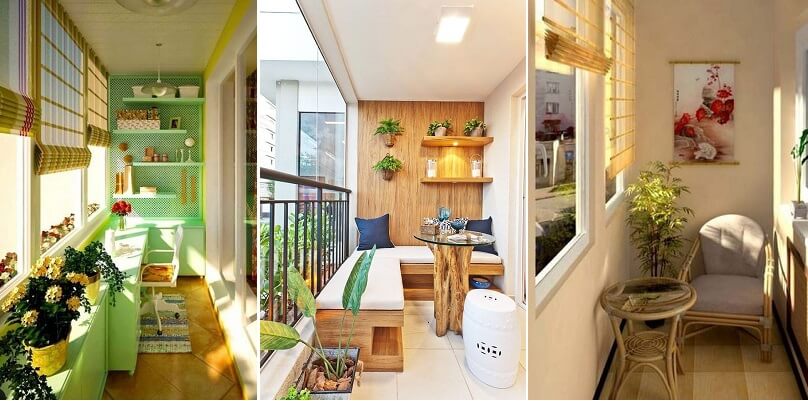 Image credits: in.pinterest.com
Whether your balcony is a veranda, a patio or a loggia it serves multiple purposes – a garden, a cozy place to laze around, a tea time hangout spot, etc. To make the most of your balcony space in terms of utility and beauty, it needs a clever home balcony design. In order, to sketch out such a balcony design you will need the guidance of an expert. If you are struggling with ways to upgrade your balcony design, then all you have to do is click here https://interiors.foyr.com/ to get in touch with world-class interior designers within your reach.  With Foyr, your infrastructural needs are resolved with our customized designs.
Click to rate this post!
[Total:

0

Average:

0

]