Porch Interior Designs go an important way in giving your home more feel-good vibes. Here are some of the top Tropical Porch Interior Designs which will amaze you and make your home beautiful.
Feeling stuffy at your apartment and want to take a break to a tropical paradise? Feel like the home you go back to has become just a place of sustenance? Want to visit the sun-kissed beaches you've seen on TV? Well, the closest thing you can do is to bring the excitement to your home instead.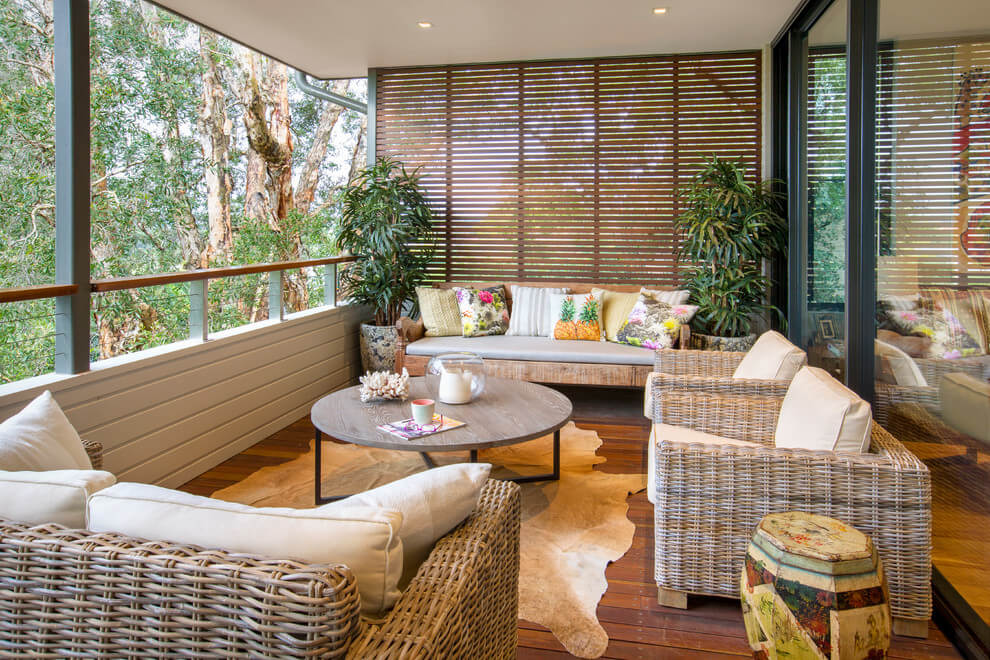 Image credits: pinterest.com
Sit Back and Track Through Some of the Best Interior Design Ideas.
1. Materials to Use
Stick to bamboo, seagrass, wood, abaca, teak, or other similar materials that are commonly found in tropical environments.
You could even add plants, folding chairs and palms with fabrics inspired by cool bright colors and sandy wallpapers.
Materials should be neutral or brightly colored but can have sharp tones with indoor plants or wooden accessories.
Opting for wood textures and also creates a beautiful balance with the cool colors of the sea.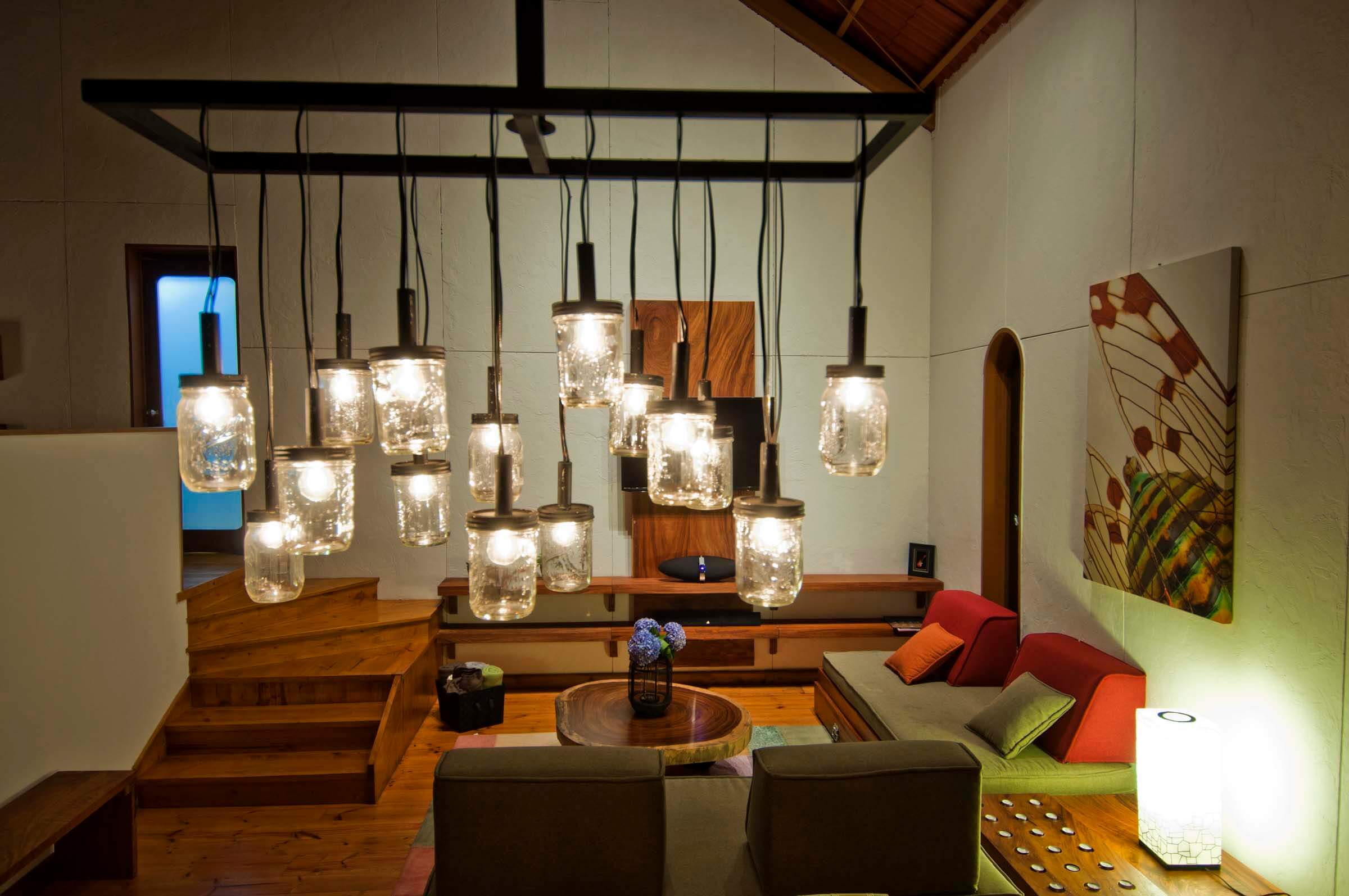 Image credits: pinterest.com
2. Porch Decorating
Tropical porches use exotic aspects of the Caribbean along with coastal creations from India.
Decorating by using nature-inspired items like conch shells, reefs and seashells to the design can really bring a tropical feel to the decorated stunning bedroom.
You can set up a mini bar in a corner if you are having company over.
Add a swing in the corner for a more rustic feel.
3. Using of Colors
Unlike more common colonial styles, tropical home designs have a lot of bright and brave tones and patterns.
The shades are usually inspired from the sand, sea, tropical food, or the ever-present breezes felt in the beaches.
Adding earthy color tones that remind one of summer are best recommended.
Strong shades of blue, terracotta, yellow, green or brown work well in bohemian colourful design for creating a laid-back atmosphere as well as colors of common animals seen in the tropics.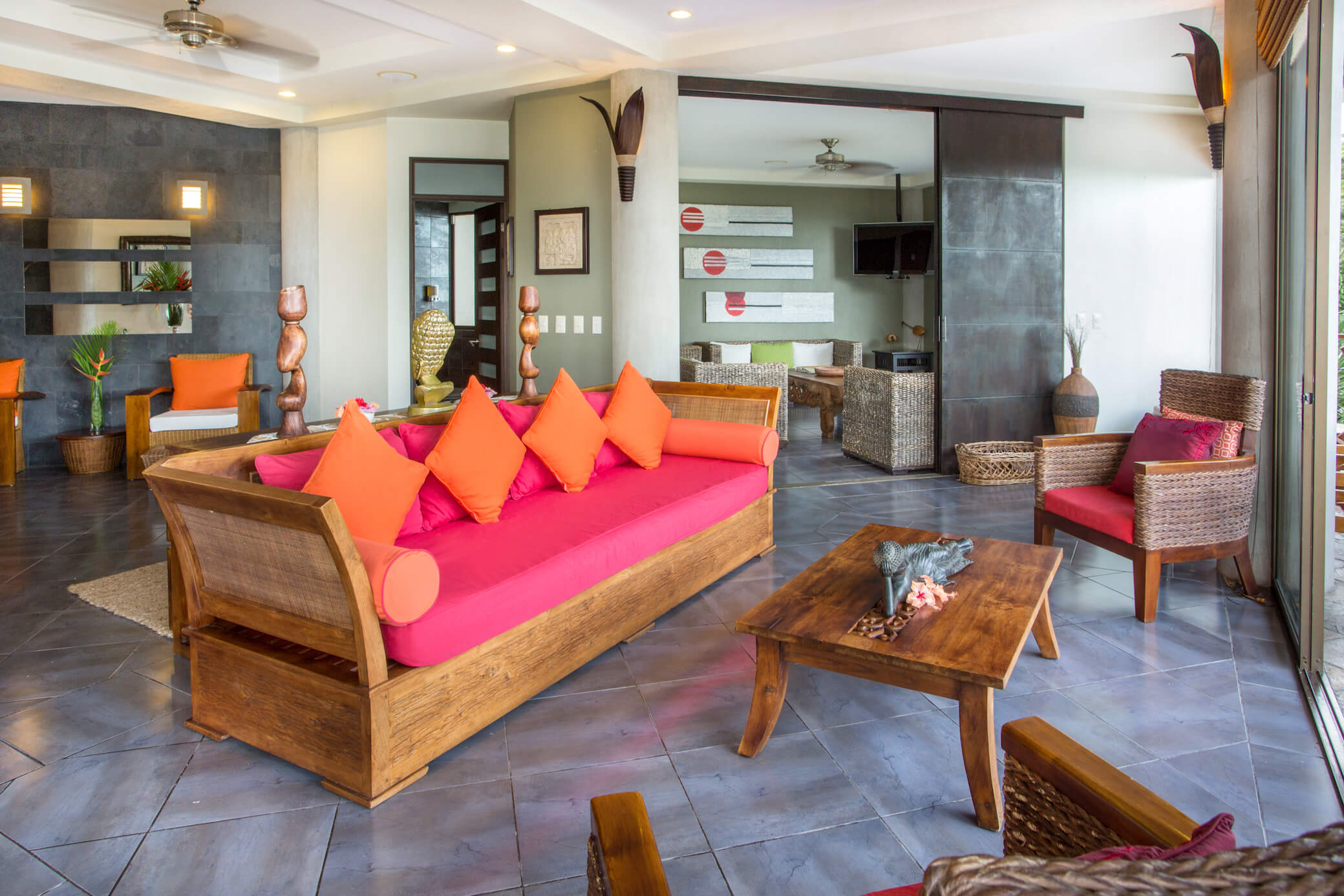 Image credits: pinterest.com
4. Wallpapers and paint options that win.
Most tropical interior design trends have used actual plant or bold wallpapers with patterns reminiscent of the sea.
These also go well as hanging carpets and drapes that can be seen on low rise porches and walkways in such tropical destinations.
Start by using large-leaf plants, oversized banana leaves, fronds or birds.
5. Proper Lighting
Light in tropical styling is an important thing to deal with.
As discussed, use neutral and nature-oriented colors with smooth textures to support light dispersion.
Some homes even have balconies with low positioned lights and pendant lights (made from bamboo, rattan or abaca).
Be sure to use positive themes when thinking about creating artificial light setups such as animals, parasols or common tropical fruits like pineapples.
To create a dreamy tropical paradise bathroom with some bathroom lighting ideas, opt for beautiful fairy or twinkle lights. To add a soft glow to the bathroom.
When it comes to lighting you can experiment with hanging lanterns, tiki torch lights and even straw lights.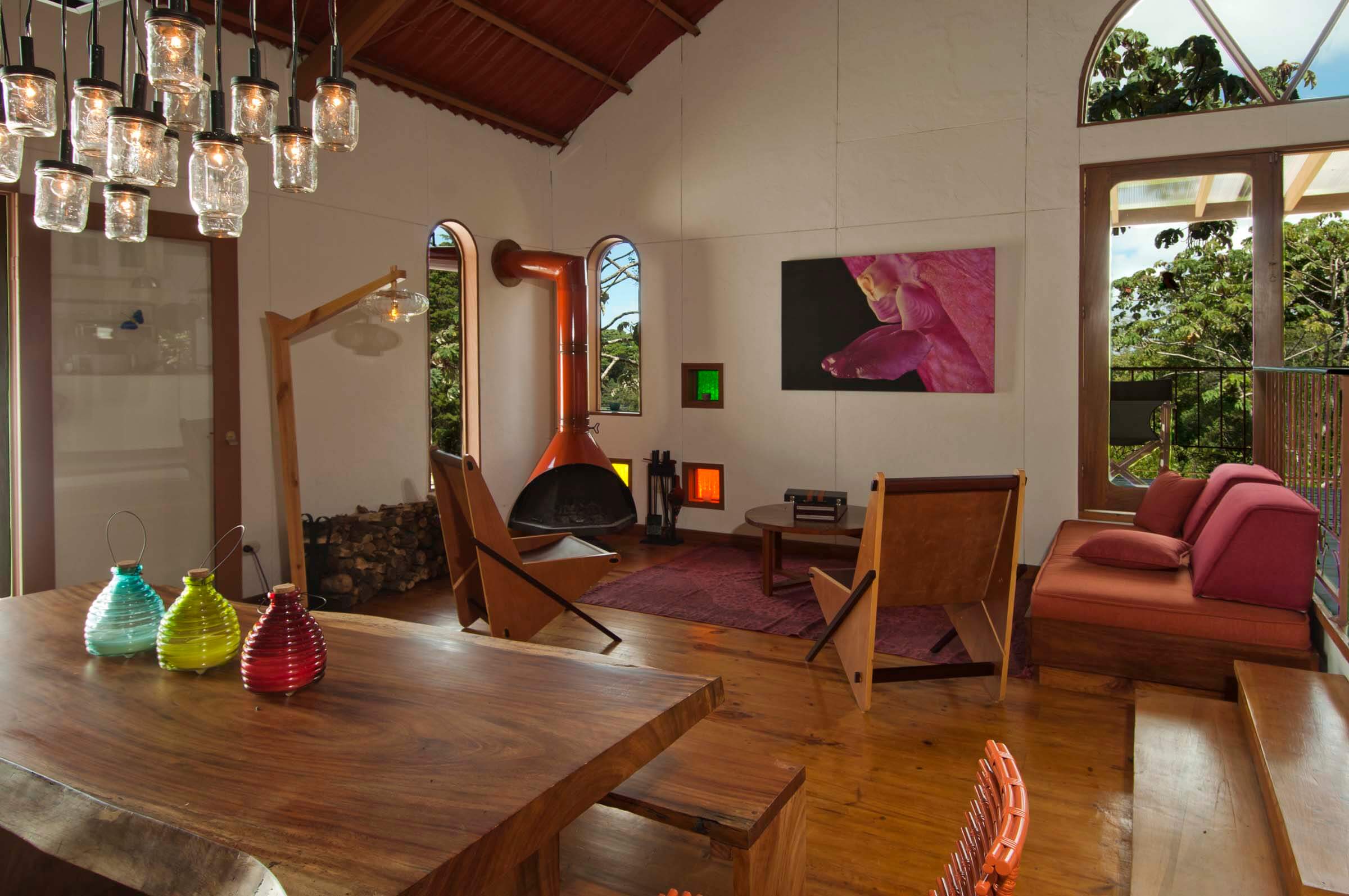 Image credits: pinterest.com
6. No Windowing Woes
If you've ever spent time on a boardwalk, you probably yearn for spaces that don't have windows or doors since you tend to enjoy the great outdoors.
Authentic tropical interior design should have uncluttered porches that are wide with wooden blinds instead of curtains.
Take note that the materials used should be as natural as they can should in a motive of save the design save the world.
For the fabric covers surrounding the porch, choose light and pastel tones that make you feel alive and calm.
7. Floors and Ceilings
Carpets are a big no for floors and should be avoided on porches as well.
Instead use colored laminated floors, possibly ceramic types that resemble sandy beaches or the sea surface.
Ceilings and walls can have pastel shades and can include naturally textured wallpapers.
Decorate the walls with colorful natural artefacts that are rich in colors of blue, green and golden yellow.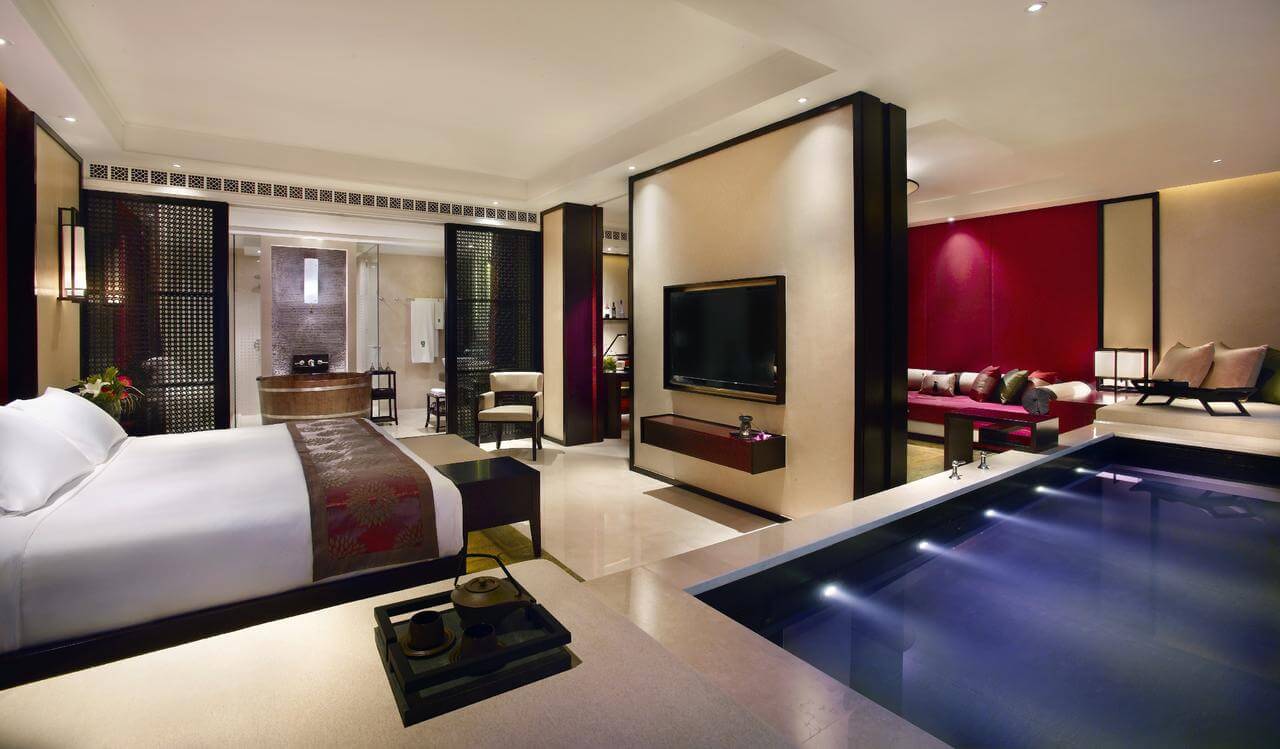 8. Getting All the Accessories Together
Add some tribal items like tiki totems and masks, small indoor fountains or even aloha designs and benifits of 3D interior design for home buyers.
Have objects like tropical fruits- coconut, pineapple, tropical flowers on the table for a relaxing atmosphere.
Putting ornaments and faux animal items- like faux ivory, tusks and fake fish busts can bring a whole new level of reality to your home.
Throw some animal prints for the fabrics, pillows and seats.
9. Porch Furnishing
There are two ways to go with this. Use either darker items such as wood and mahogany or lighter furnishings like warm iron.
These materials produce a great welcoming vibe to any home and can make the place feel cooler yet comfortably warm. Be warned though, wood usually is a breeding ground for pests and should be maintained often.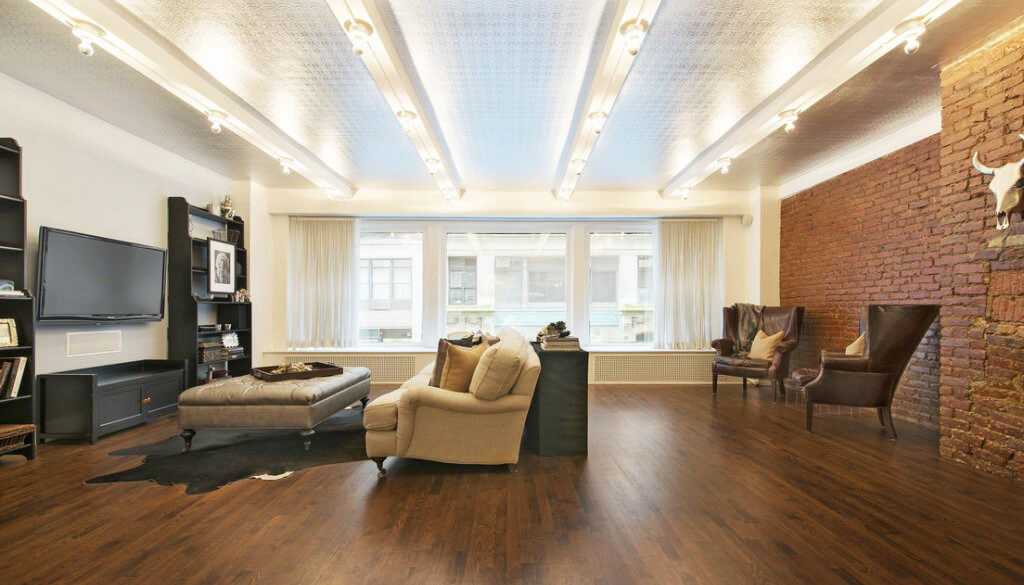 Image credits: pinterest.com
10. Small Tropical House Interior Design
Add a mini pool or jacuzzi outside that serves as a great backdrop to the porch.
Populate the walls with natural textures and earthly designs.
Paint the walls in plant themes like light yellow, green and white.
Maintain a garden that should be visible from the living room. If space can't support one, consider creating a small nursery of flowers or a commercial interior design. Create a mini forest if you will. The greener it is, the more cooling effect it can have.
Create as much open space as possible to explore through and let the colors explode on before your eyes.
It's important to remember that a person's best perspective of the tropical destination differs but the objective remains clear- to create a space that is tranquil and alive. Create a nook that reflects your personality and sense of style, giving you most comfort, to make sure your days at home are pleasant and enjoyable.
Click to rate this post!
[Total:

0

Average:

0

]